Korea is not only the land of kimchi, but it's also filled with the most aesthetic cafes with some having unimaginable concepts and interiors. If you're ever heading to Seoul, which is the capital of South Korea, here are 25 Cafes in Seoul to check out!
Table of Contents
Cafes in Seodaemun-gu
Gwehdo Coffee Roasters
Situated amidst many other hipster cafes and restaurants in the Yeonhui-dong neighbourhood, Gwehdo Coffee Roasters is a chic space with a modern design. Ordering at this cafe is a unique experience, as your dishes will be served to you through a conveyor belt, just like what you might expect at a sushi restaurant.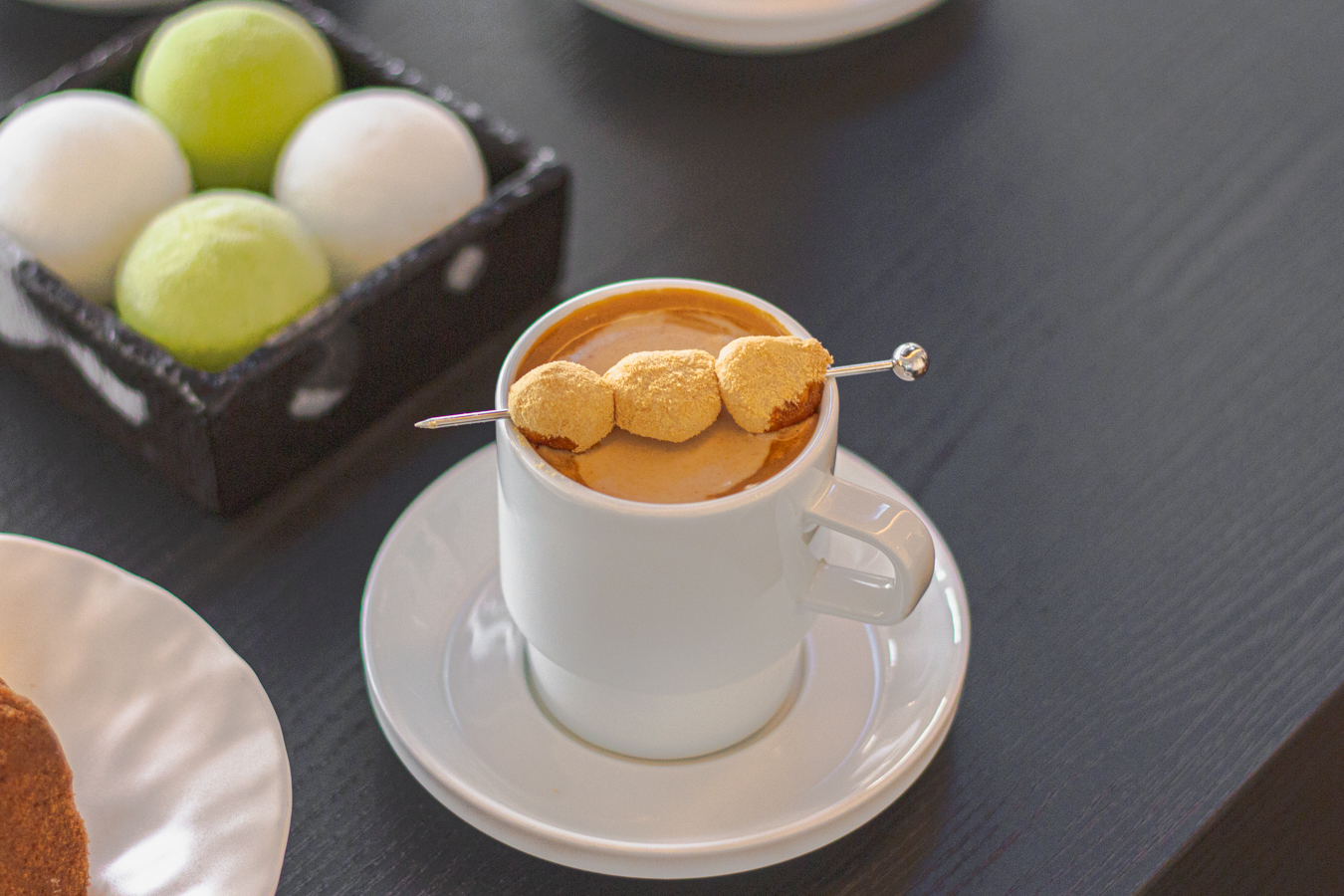 The Injeolmi Einspanner is a must-try – it comes with a skewer of rice cakes that sits atop a layer of roasted soybean cream and is definitely one of the best einspanners that we have tried! A small selection of other desserts like Coffee Mousse and Honey Cake is available as well.
Pieces of Seoul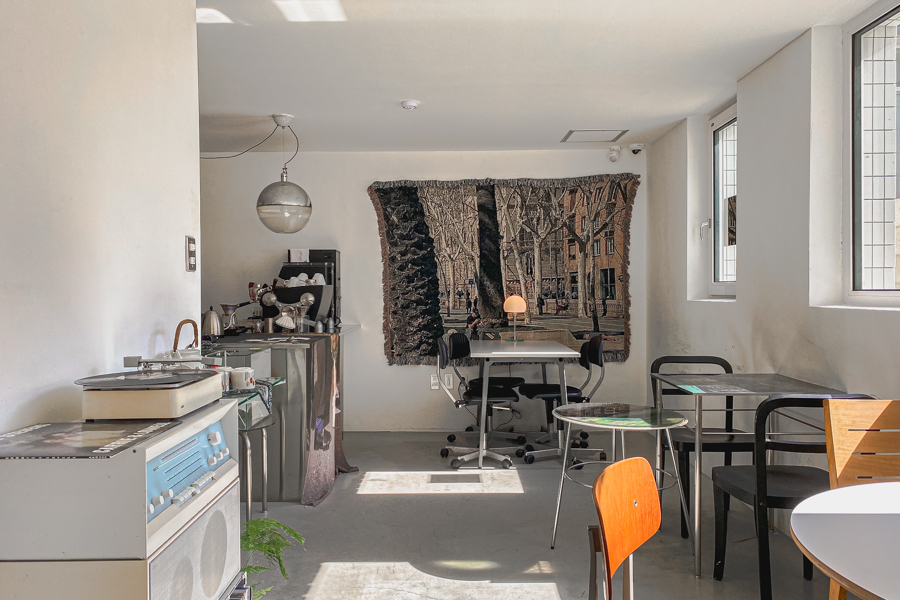 Pieces of Seoul is a one-of-a-kind spot in Yeonhui-dong that reminds us more of a museum than a café. Its rustic, industrial-style design extends to both the interior and exterior of the premise. Besides selling food and drinks, Pieces of Seoul also sells products like intricately crafted blankets, tables and coasters. If you are stopping by the area, it is a great spot to pick up some souvenirs while enjoying a cuppa! The cafe sells desserts such as Madeleines and Basque Cheesecake, and espresso-based drinks like Americano, Latte and Mocha.
*On Google, the cafe is noted as permanently closed, but a quick search on Naver Maps & their Instagram shows that the cafe is still operating. 
Cafes in Mapo-gu
Quafe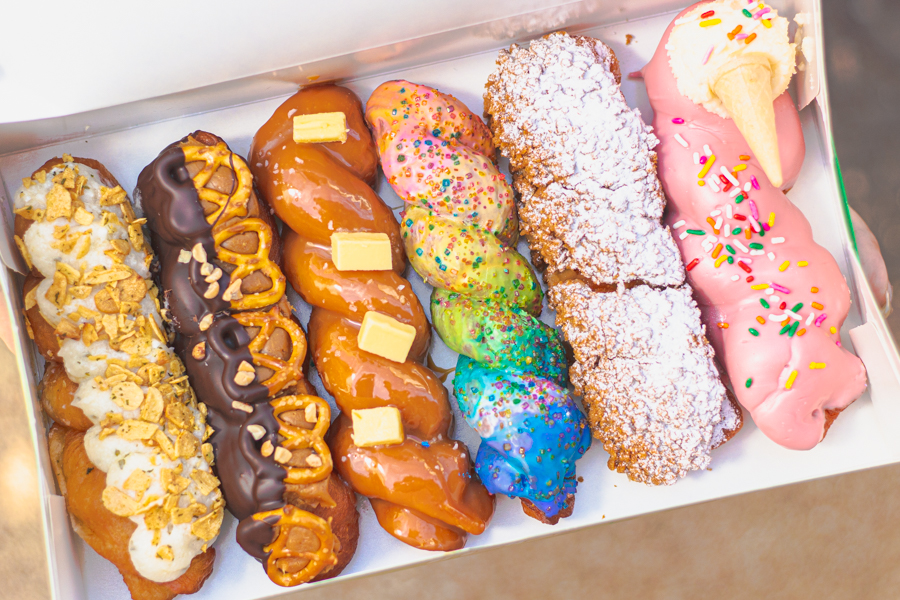 Located in Seoul's Yeonnam-dong neighbourhood, Quafe is a dessert cafe offering a refreshing twist on Kkwabaegi (traditional Korean donuts). It spreads over two levels, with seating space for customers available on the second floor. Quafe mixes potato into their dough, and is thus able to achieve an addictively chewy yet soft texture that patrons can't seem to get enough of! The most popular option is the Unicorn Twist, which has a sweet cream soda flavour, but other flavours like Salted Caramel Twist, Tiramisu, Corn Crunch, Crème Brulee, and even Garlic Butter exist!
Perception Coffee
Award-winning cafe Perception Coffee is located slightly further away from Hongdae, near the Hapjeong neighbourhood. Many patrons flock here just to gawk at the interior design, especially their ceiling which is comprised of wooden 'waves' that have a seeemingly hypnotic effect. Their beverage selection is highly raved about as well – especially their Signature Espresso menu. It features three different drinks named 'Atmosphere of the Place', 'Temperature In The Day' and 'Memory of the Moment' which are each crafted to perfection.
Cafes in Jongro-gu
Donut Jungsu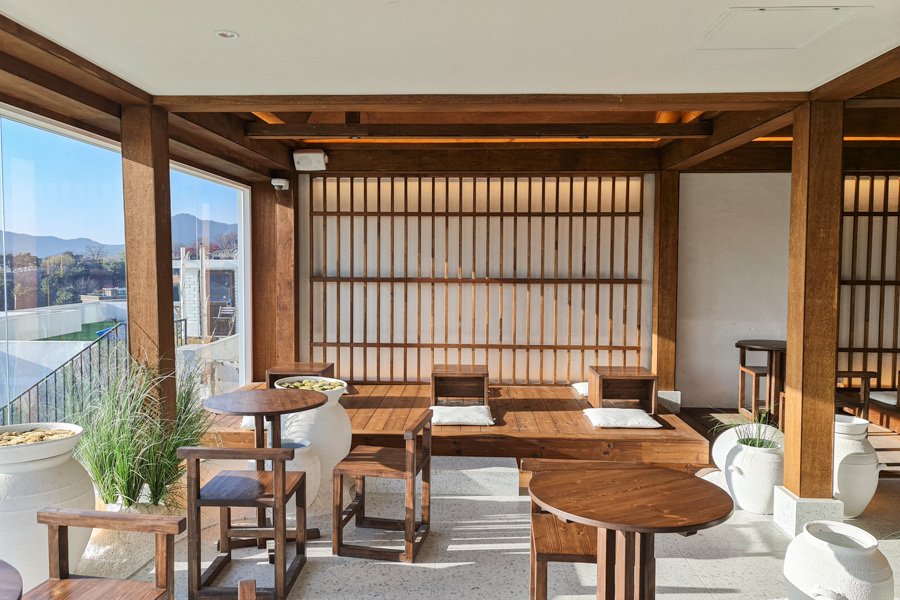 Up for a cafe experience with a view? Donut Jungsu, located in Changsin-dong, serves up pillowy soft donuts in a selection of different flavours. The best part of Donut Jungsu is the breathtaking view that it is famous for! Coupled with the minimalist hanok-inspired interior, it gives the café a soothing and relaxing vibe. You can try out unique flavours like Green Onion Cream Cheese Donut and Gangwon Potato Donut and wash it all down with their selection of beverages, including Cinnamon Yuja Lime Ade, coffee tea and ade.
Tertre Café
Located at the top of the Changsin-dong neighbourhood, Tertre Cafe overlooks the entire Seoul, giving patrons one of the best views of the city. It is not uncommon to find Tertre Cafe packed with people trying to get a glimpse of the sunrise/sunset through the cafe's full glass-to-ceiling windows.
There are a couple of unique drinks available here, such as Black Latte, Malcha Vienna, and the Pink Ade. There are dessert options like Lotus Ang Butter and Brownie Pot as well. Sipping on the beverage of your choice while relishing one of the best views of Seoul is truly an unforgettable experience!
London Bagel Museum
Situated in Anguk, London Bagel Museum is one of Seoul's most popular cafes, and it is common to find snaking queues at any time of day. The freshly baked bagels are continuously replenished for patrons to help themselves to – they come in a mix of sweet and savoury flavours like Blueberry, Dark Chocolate, Pepperoni Cheese, Spinach Cheese and many more! It is also recommended to pair your bagels with cream cheese, which comes in flavours like maple pecan, garlic spring onion and truffle pesto. While most patrons opt for takeaway, you can also dine in and enjoy the British-themed interior décor!
Cafe Onion Gwangjang
The popular cafe chain, Café Onion has opened its fourth and newest outlet in Gwangjang Market. The cafe is decked out in an open-air industrial theme featuring raw concrete and exposed brick. You will find benches and stools in an outdoor seating area, covered in the brand's signature 'Onion' tape. One of the many unique things about this outlet is that they only serve one food item, which is their Strawberry Pastry Pizza – a flaky, buttery pastry that resembles a croissant and is served with strawberry jam. Drink choices include their signature Hazelnut Latte and Omija Tea.
Check out a comparison of the different Cafe Onion outlets in Korea to decide which one to visit!
Tidewater
Tucked away in an alley within Seochon Village, Tidewater Cafe can be found in a gorgeous hanok that makes it worth hunting for. The minimalistic interior and use of natural materials make the atmosphere super zen – there's even a water fixture at the entrance that provides soothing sounds of flowing water.
Tidewater Café's signature items are their honey cakes, which come in three flavours – Walnut, Choco and Lemon. Coffee-based beverages include Vanilla Latte, Valrhona Mocha, and teas are available in flavours such as Peachy Oolong and Rooibos Supreme.
Cha Cha Tea Club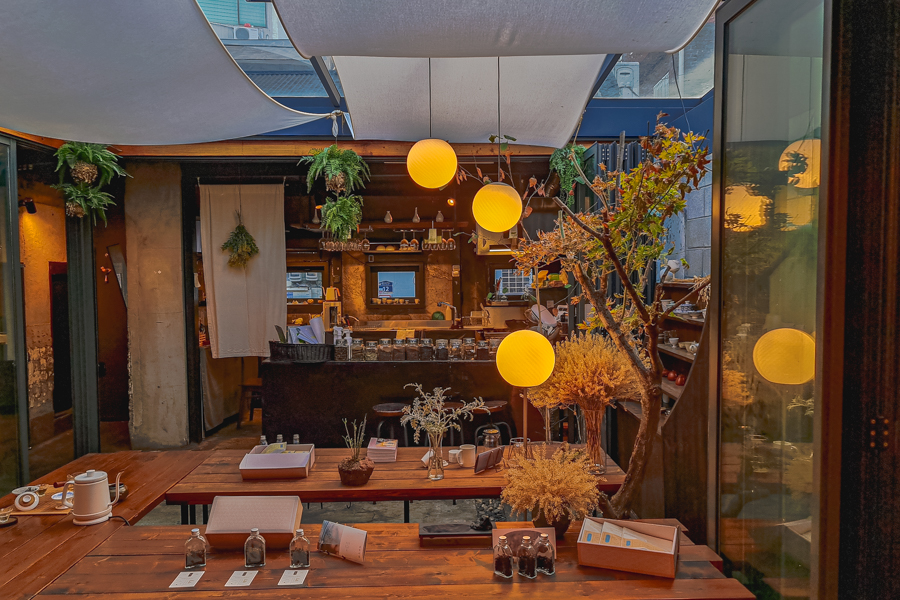 Cha Cha Tea Club located near Dongdaemun is definitely not the most accessible, but the secluded location and unassuming exterior only accentuate the pleasant surprise that awaits you when you step in! A hanok-style interior with lots of wooden surfaces and brick walls, Cha Cha Tea Club exudes a warm and inviting ambience. They serve a variety of teas such as White Tea, Oolong, Red Tea, Pu'er and one of the highlights is you can have the experience of brewing your own tea! Pair your tea with the dessert of your choice – there's Black Rice Matcha Cake, Rice Cake Castella and many more options for you to choose from!
Halff Coffee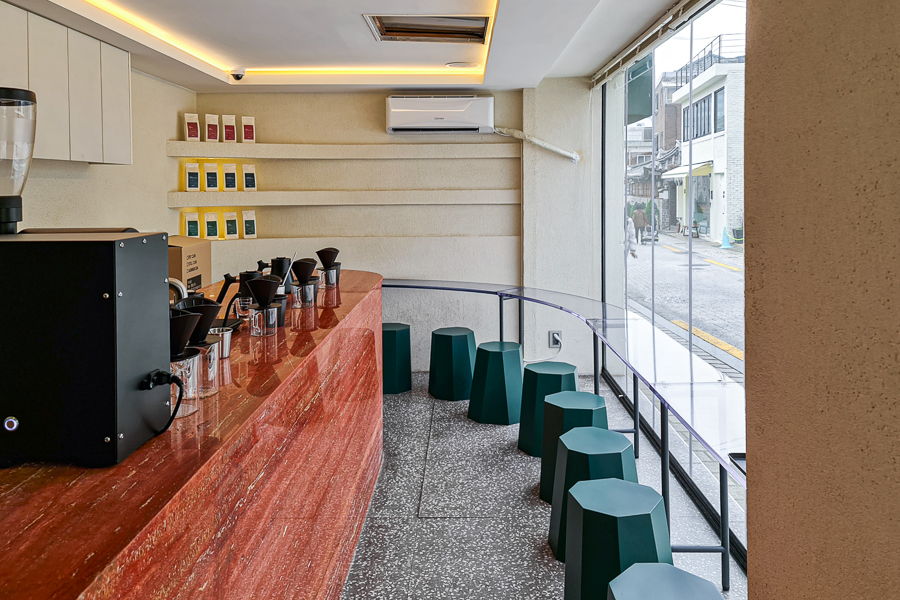 Halff Coffee has stores in a couple of locations in Korea, namely Cheonan, Daegu and Seoul. Their outlet in Anguk is one of the many cafes near Bukchon Hanok Village. It is a cozy two-storey joint – the roasting takes place on the second floor while the main seating area is on the first floor. The Anguk outlet only sells drinks and offers quite an extensive selection of coffees. They have options like Banana Cream Latte, Sesame Cream Latte and their must-try, the Butter Cream Latte. It comes with two distinct layers of coffee and cream that when combined, give a wonderful blend of textures and flavours.
Cafe Low Roof
Situated near Bukchon Hanok Village, Cafe Low Roof is a spot that has a remarkable concept. When setting foot into the storefront, it appears like any other modern cafe with clean lines and a minimalist theme. However, in the backyard of Cafe Low Roof lies Hyigyeomjae, a Hanok built in the 1920s. Its majestic architecture gives a beautiful contrast to the modern design of the cafe. Caffeinated beverages include Americano, Flat White and their Signature Cream Latte while dessert options such as Chestnut Cream Croissant, Financiers and Scones are available as well.
Cafes in Yeongdeungpo-gu, Jung-gu and Yongsan-gu
Pont Cafe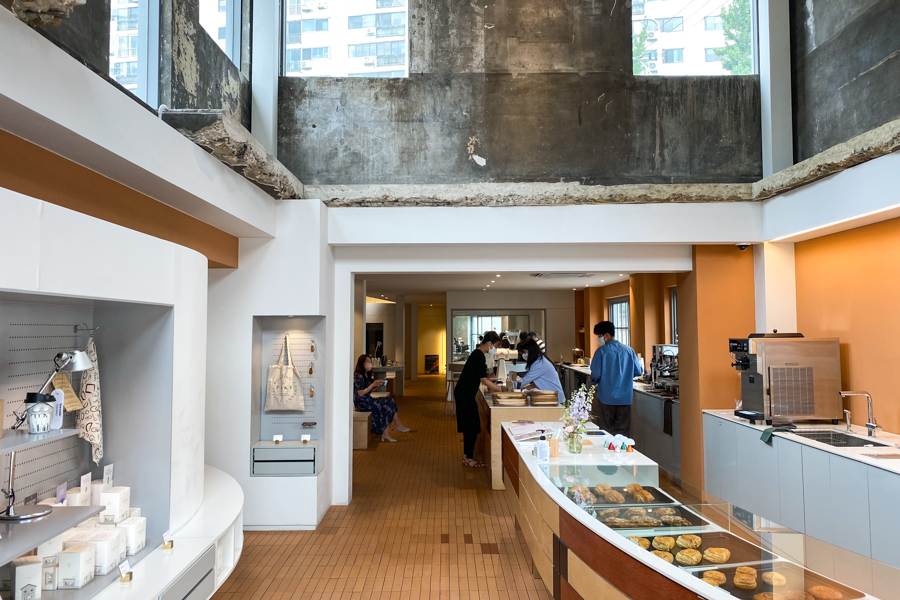 In the heart of one of western Seoul's oldest industrial neighbourhoods, Mullae-dong, lies Pont Cafe. It is one of the handfuls of cafes that have slowly popped up in Mullae-dong over the past few years. The design of Pont Cafe is certainly something to appreciate as it retains the original charm of the factory building that it is located in while incorporating modern elements. Indulge in buttery, flaky pastries like their Canele, Choc Twist and Almond Croissants. Coffee-based beverages like Espresso, Latte and Flat White are available as well.
Seoullo PH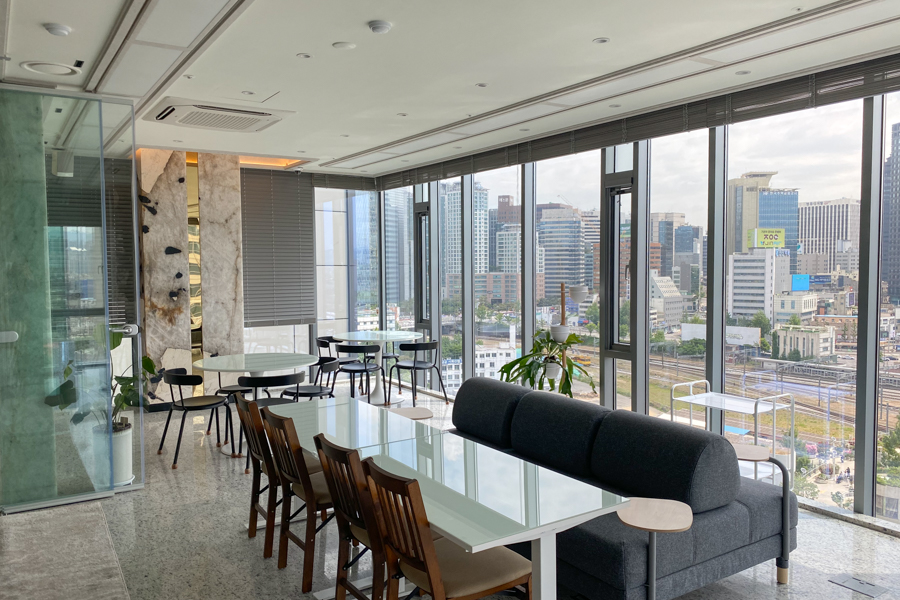 Seoullo PH is another café with a mesmerizing view – it's located within a high-rise building close to Seoul Station, making it easily accessible for everyone. Upon entering the premises, you will be welcomed into a huge space that spans three floors. Liberal use of marble and the ceiling-to-floor windows which let in a lot of natural light give this establishment an airy and luxurious feel. Seoullo PH is well-known for its brunch menu, with options like Steak Salad and Burrata Cheese Salad. Drinks like Iced Corn Latte and Grapefruit Ade are available as well!
Urban Plant Seobinggo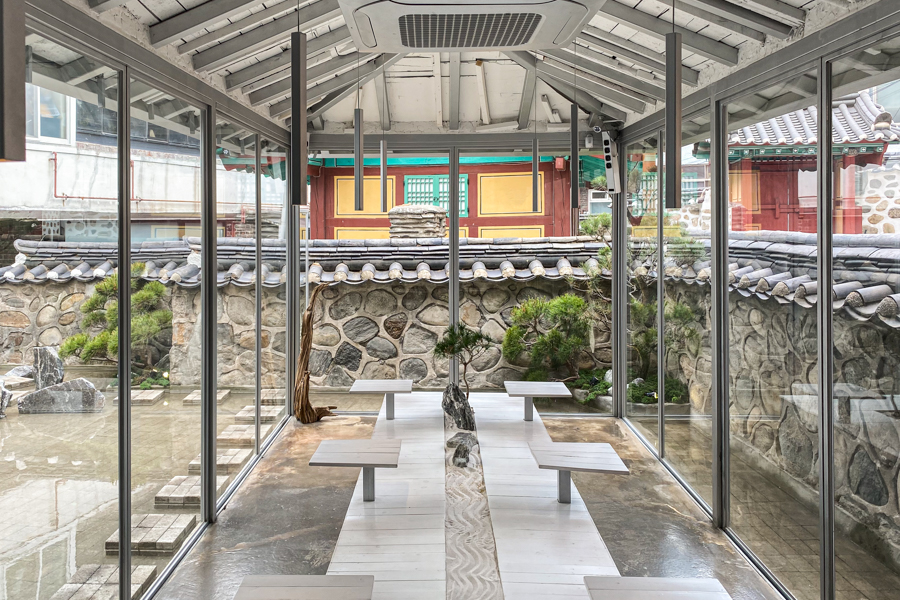 Urban Plant Seobinggo has to be one of the most beautiful cafes in Seoul! Follow the stepping stone walkway that leads you over the shallow pool, and you will be welcomed into a space that combines both modern and traditional features to create a timeless and eye-catching design. The items on the menu are equally as visually appealing – with drinks such as the Green Flow, a drink resembling a Matcha version of an Einspanner. Another highlight is the Chocolate Mousse Cake and Canele, featuring a 'rock' perched delicately on top of a canelé, which is filled with a thick, rich layer of mousse when dug into.
Oats Coffee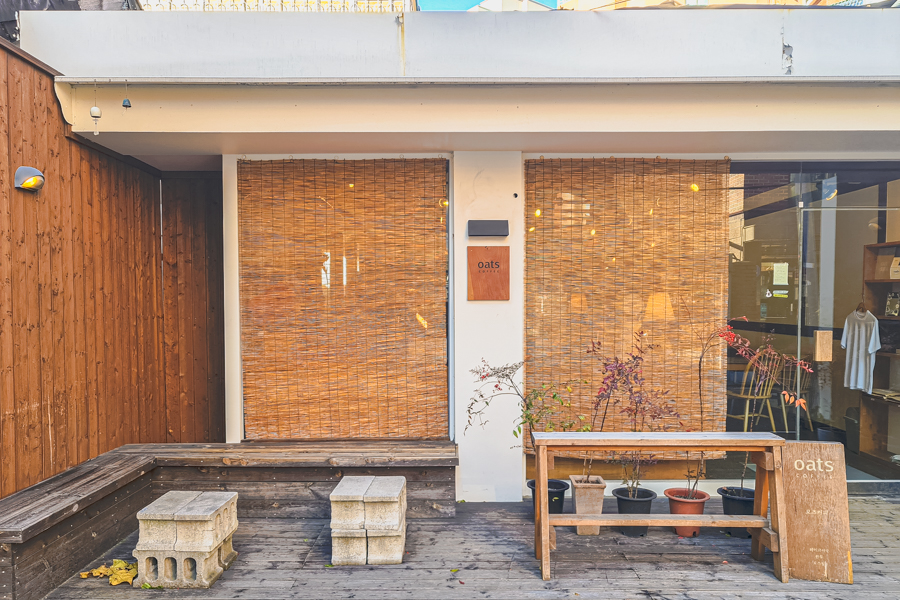 Oats Coffee is renowned for its Einspanner, a drink made by topping black coffee with cold whipped cream. Their Yongsan branch is conveniently located near to Sookmyung Women's University Station (Line 4) and Namyeong Station (Line 1). The cafe is tastefully decorated with wood and tatami, befitting the industrial vibes of Yongsan-gu. Other beverages include drip coffee, Milk Tea and Matcha Latte. Be sure to pair your drink with a scone, which comes in different flavours such as Butter, Cranberry, Matcha and more!
Cafes in Gangnam-gu and Seocho-gu
Ichi Seoul
Ichi Seoul is located in Sinsa-dong, somewhat hidden from the crowds that mainly head for Garosugil. It has a simplistic design, with modern design elements such as wood slats making the place refreshingly elegant. Some of the drinks that Ichi Seoul sells include Basil Strawberry Latte, Cherry Cinnamon Ade, Basil Kiwi Ade and more. Ichi Seoul's ice cream, especially their Mugwort Ice Cream is definitely worth a try as well, and can be served in a variety of different styles depending on your preference!
Hrr Seoul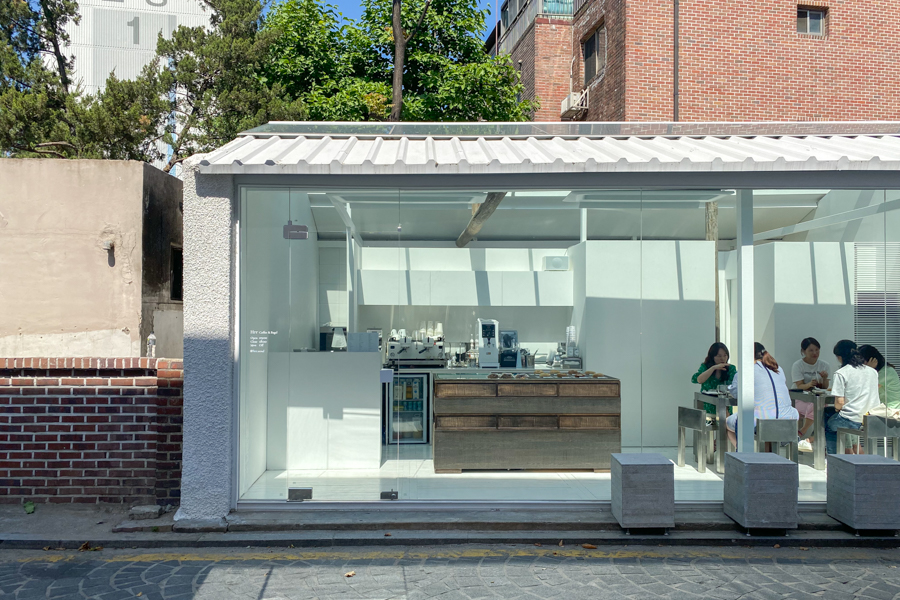 Hrr Seoul is another cafe that specializes in serving bagels. It is located near Jamwon Hangang Park, so be sure to stop by if you are visiting! Paying homage to the site's heritage as a ferry dock, this glasshouse cafe features an all-white interior with some wooden furnishings.
The bestsellers here are the bagels, which come in flavours like Blueberry, Squid Ink Cheese and Cheese Potato. Like any good bagel shop, they also sell a variety of cream cheese like Maple Cinnamon, Chives Bacon and Corn! You can also find Drinks such as Latte with Condensed Milk, Lemon Ade and Choco Shake.
Cafes in Seongdong-gu
D Flat Cafe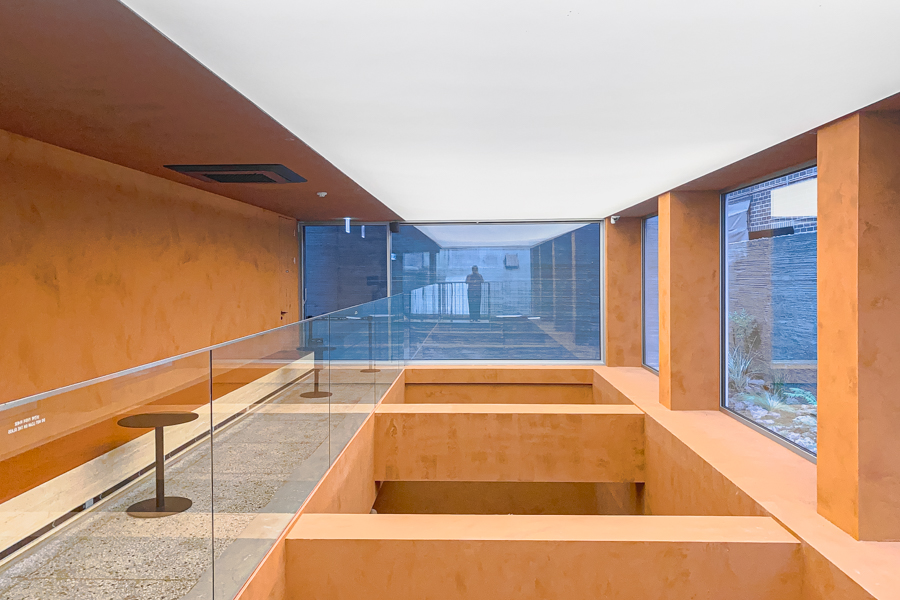 Located in the bustling neighbourhood of Seongsu, D Flat Cafe is as popular amongst locals as it is with tourists. It features a super instagrammable interior with modern architecture and walls that are painted in a unique camel shade. D Flat Cafe is a great spot for those looking to get some work done, and they even have power points to charge your devices. One of their menu highlights is the Drip Coffee which comes in many bean options. Other beverages include their signature D Flat White and Ice Cream Latte. They also have dessert options like Green Tea Triangle and Chestnut Tarte.
Seoul Angmusae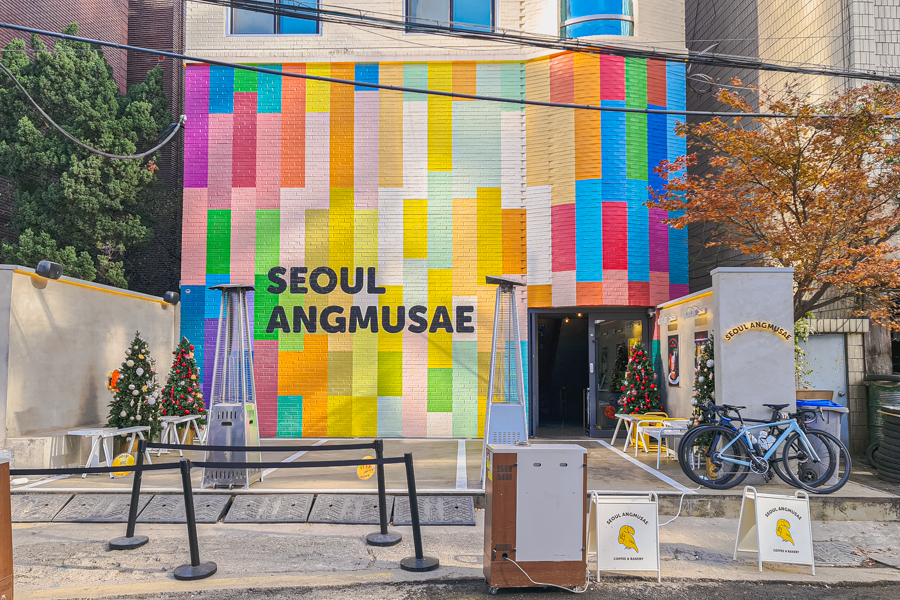 It's impossible to miss Seoul Angmusae while walking through Seongsu – thanks to its colourful wall that has catapulted it to Instagram fame. The Kouign Amann and Cinnamon Rolls are the specialities here, and the sheer variety of flavours that you can choose from is amazing! Some of the options include Matcha Mochi Kouign Amann, Kouign Amann Rum Raisin and Chilly Pizza Cinnamon Roll. The desserts are delectable to look at as well, with one-half of the Kouign Amann covered in toppings, and the other half retaining its buttery, flaky texture!
Cafe Knotted Peaches
Cafe Knotted is an established chain in Korea, specialising in doughnuts. Their Seongsu outlet is one of their largest – it also houses Downtowner, a popular burger joint and a stall selling their premium gelato cones. The cafe has a modern, trendy design with lots of bright colours and is full of spots where you can snap a picture for your Instagram! Light and fluffy doughnuts come stuffed with fillings like Milk Cream, Vanilla, Batto's Peach and Mint Choco! There are also beverages like Americano, Café Latte, Vanilla Latte and Peaches Soda.
Woody Zip
Woody Zip is located in Seongsu-dong, in a residential district further away from the busier areas of the neighbourhood. Housed on the second floor of an unassuming building, this retro-style cafe is filled with wooden fixtures and décor that gives it a homely feeling. Some of the novel items on the drink menu include Woody Caffeine, their signature coffee topped with pistachio cream and Green Tea Latte. Other dessert items include their selections of Terrines, Monakas, and even a Mugwort Brulee.
Grandpa Factory
Grandpa Factory is widely known for being featured on K-dramas and variety shows like Vincenzo and More Than Friends. The entire space comes across as being one with nature – especially with elements such as the built-in treehouse, which can be accessed via the second floor and the rooftop filled with greenery. Grandpa Factory serves some interesting drinks like Dirty Einspanner and Hallabong Ade. They also have mains consisting of dishes like Shrimp Pomodoro, Avocado Chicken Breast Salad and Mixed Mushroom Risotto.
Foreplan Cafe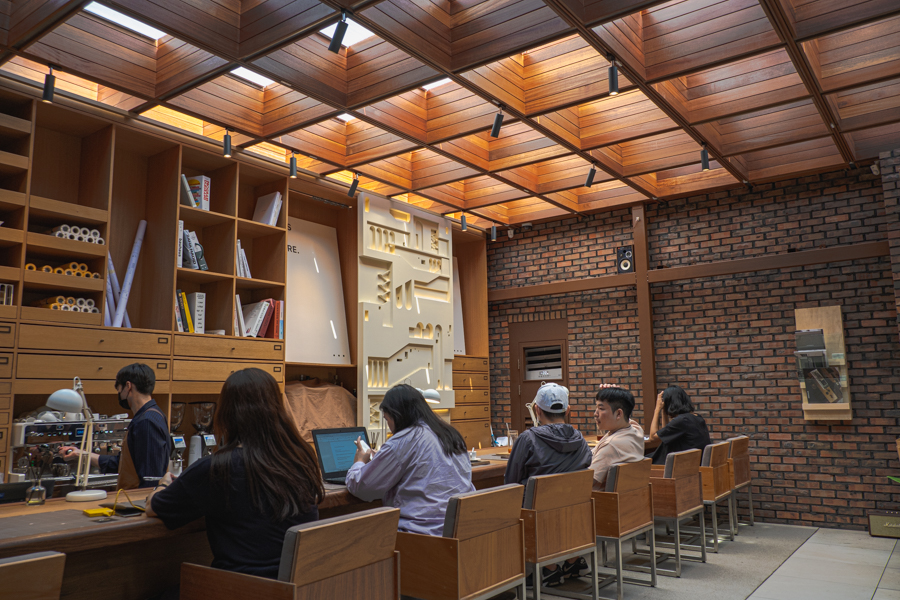 Located in Seongsu, Foreplan is a unique architecture-themed cafe opened by architects. With an interior that looks almost like an architect's office, perfectly blending elements of wood, glass and bricks – this cafe is worth visiting when in Seoul!
Cafes in Eunpyeong-gu
Eunpyeong Hanok Village Cafe (1in1jan)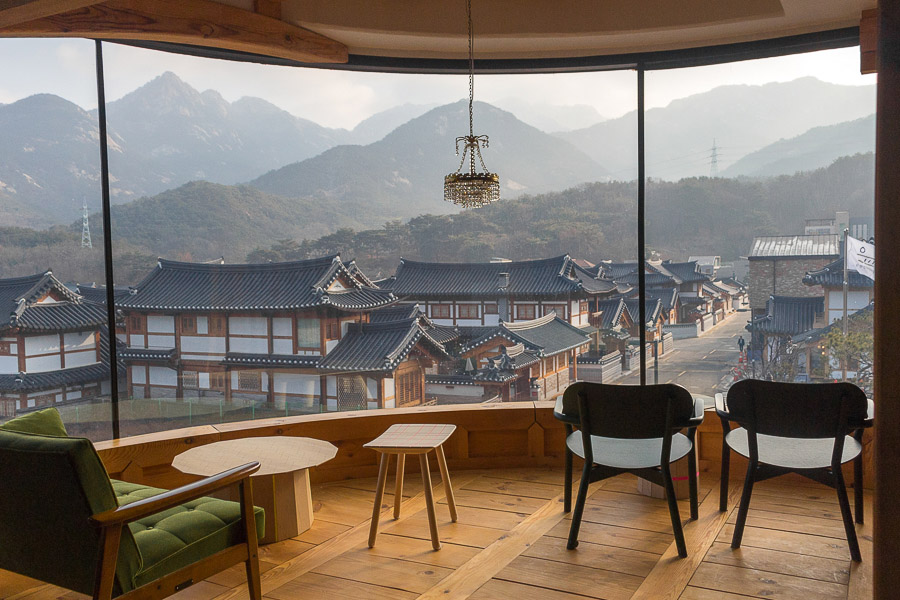 Near the outskirts of Seoul next to Bukhansan mountain lies Eunpyeong Hanok Village, a relatively low-profile hanok village that is not known to many. Overlooking the village, 1in1jan, a cafe housed in a 5-storey building provides a breathtaking view of the entire village. Wooden flooring and antique furniture give this cafe a hanok-themed aesthetic. One of the highlights is the Grapefruit Tea, made from handmade concentrates to give a better flavour. Their traditional rice cake desserts, such as the mal-ee-ddeok, filled with red beans are also one of the many delicacies.
Undoubtedly, one of the best cafes in Seoul!
For other Cafe-related Articles:
*Follow MiddleClass.sg on Facebook, Instagram, TikTok, and Telegram for more food, travel, and trending stories