Popular bakery cafe, Nudake, has done it again. While their previous cafe spaces have been attracting crowds, their new croissant-themed cafe in Sinsa-dong is on a whole new level.
Arriving at 4pm on a weekday, the snaking queue outside is filled with both locals and tourists. While queuing, we were informed by the staff that the bakes might sell out, but that didn't stop anyone – people continued to line up for a taste of these cute croissants.
Croissant Heaven For Pastry Lovers
The croissant theme isn't subtle but is right smack in your face. The croissant journey begins even before you enter the cafe, from a parody of the banana tape art on their building wall to croissant-shaped door handles. Inside, you'll find a huge croissant statue, with croissant accentuated furniture, staff in croissant-themed outfits alongside a whole display table of croissant bakes.
There's no online queue system right now, so the only way is to queue up outside, even if you're opting for takeaway. When we visited around 4PM on a weekday, while queuing, the staff came out to announce that bakes might get sold out while in the queue.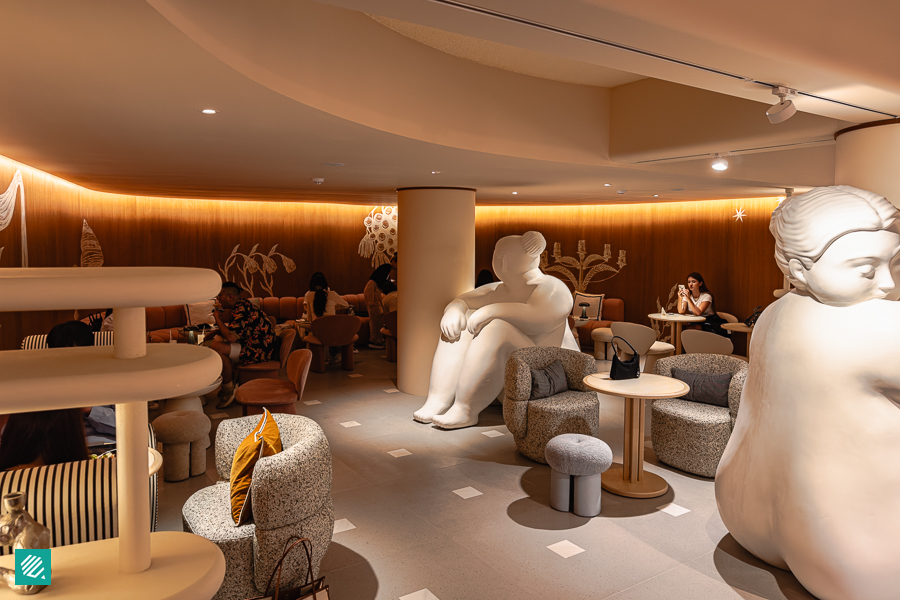 Once you manage to pass through the croissant handle doors, the staff will direct you to the second floor where you secure a table, before heading down to order your food and drinks (and take some photos of course).
And yes, when we managed to enter, most of the bakes were gone. Thankfully, some of the onigiri-shaped croissants were left, so we managed to snag those.
Nudake Sinsa Menu
If you've been to other Nudake outlets, you'll also find the Peak (25,000won) here, which is their signature black-coloured croissant cake with a gooey matcha center. While the other outlets have the micro-croissant, there's a huge onigiri-shaped croissant for sale here, at a hefty price of 100,000won.
The bakes to go for here are the Oniwassants, which is their term for onigiri-shaped croissants. It was evident that the Pollock Roe Oniwassant (5,500won) and Green Onion Oniwassant (5,500won) were the popular ones as they were all sold out, leaving behind 3 other oniwassant options.
There were also other bakes such as Galettes and an interesting Croitteok (6,000won) which is a cross between a hotteok and a croissant.
As for drinks, you have the usual Flat White (6,000won) and Long Black (5,500won) alongside their signatures such as the Nu Latte (8,500won) which is a latte with silky caramel cream.
We managed to snag the Basil Lemon Oniwassant (5,500won), Kimchi Oniwassant (5,500won) and Walnut Vanilla Oniwassant (5,500won), with the Kimchi one being our personal favourite. The slight spicy kick worked well with the crispy and flaky exterior, which made us go for a second bite almost immediately.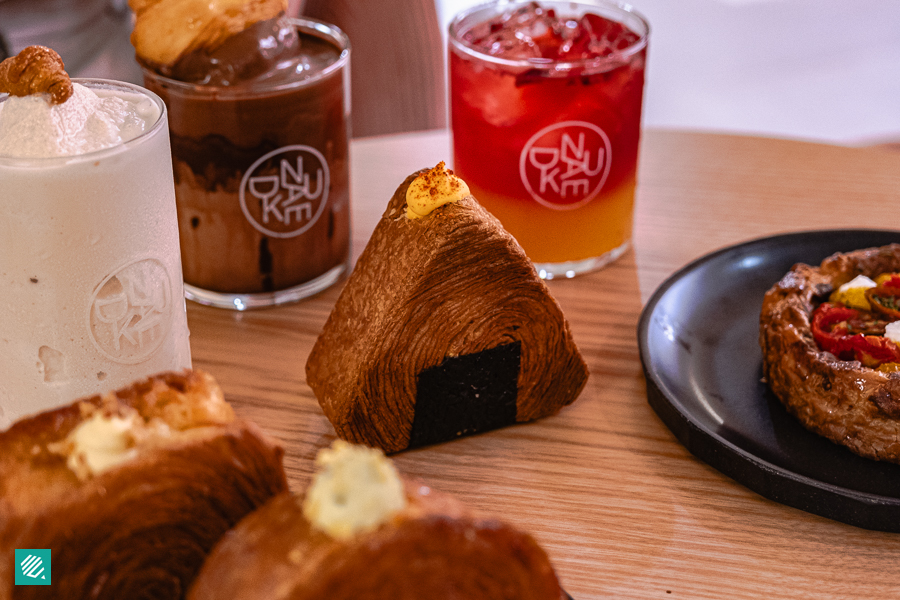 On the other hand, the Basil Lemon Oniwassant kind of confused us with its flavour combination, worth a skip tbh. The Walnut vanilla-flavoured one is a safe pick for those who aren't too adventurous with their food.
Don't worry if the bakes are sold out, because the Croi Choco Latte (8,500won) is topped with a croissant! The layer of decadent chocolate cream was crazy indulgent, and we have to say, made a delicious dip for the croissant. After finishing the croissant, mix the cream with the rest of the drink – it's like a dessert and drink in one!
The Micro Shake (9,500won) is a nutty peanut butter shake topped with the infamous micro croissant. It reminded us slightly of the peanut butter shake over at Cheese Industry, with the same intense nutty flavours. Might take a while to finish this whole thing though.
For something lighter, the Fruitea Ade (7,500won) is a good pick, as it uses non-carbonated tea ade with hibiscus and chamomile resulting in a balance of sweet and sour flavours.
Croissant Cafe in Korea
For croissant-lovers, a visit to Nudake Sinsa is a must. Even if you're not, the way the cafe has positioned itself in branding is quite an eye-opening experience. Do be prepared to queue though. We highly recommended visiting on weekdays, before lunch.
Nudake Sinsa (누데이크 신사)
서울 강남구 강남대로162길 43
43 Gangnam-daero 162-gil, Gangnam-gu, Seoul
Mon-Sun, 11am-9pm
Nearest Subway: Sinsa Station (Line 3), Exit 8
*This was an independent review by MiddleClass
*Follow MiddleClass.sg on Facebook, Instagram, TikTok, and Telegram for more food, travel, and trending stories