When you think of the word 'summer', you'd usually associate it with the overbearing heat, sweltering sun and an uncomfortable amount of sweat, mostly attributed to the fact we're in Singapore where it's summer all year round. But in South Korea, summer is a time of celebration – the holiday is jam-packed with festivals, summer-only activities and unique summer foods that are meant to compliment the season. So if you're hesitant about travelling to South Korea during the summer when everyone else goes in autumn or winter, you shouldn't be! Here's our definitive guide to things you have to do in Korea for the summer:
1. Try Korean Summer Foods 
The Koreans have perfected the art of chilled noodles and soups that not only keep your body cool but also stimulate your appetite in the sweltering heat.  Here are three quintessential Korean summer foods you should try: 
Samgyetang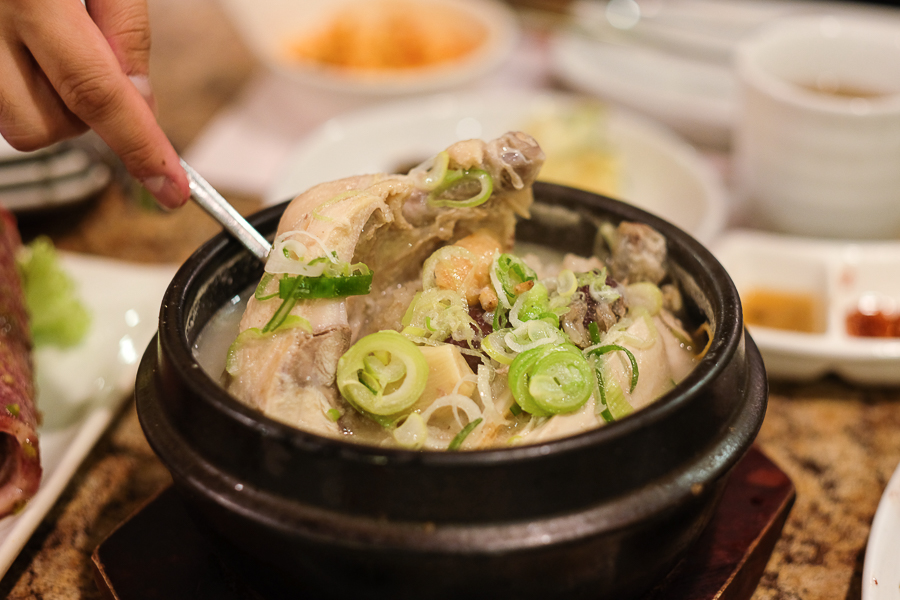 Samgyetang translates directly as Ginseng Chicken Soup and is one of Korea's most popular summer dishes. It is hearty and highly nutritious, packed with ginseng and a whole fresh chicken stuffed with glutinous rice served boiling hot in an earthen clay pot. While it sounds counterintuitive to be eating hot foods in the summer, it's a common local practice in Korea called 이열치열 (iyeolchiyeol) or quite literally 'managing heat with heat'.
This is the belief that by generating more heat to encourage sweat, the body is better able to restore the internal balance of energies and helps boost your overall well-being. Whether you choose to align with this belief or not, Samgyetang is delicious and definitely worth the try. Here are 3 restaurants you can add to your list: 
Tosokchon Samgyetang Seoul (토속촌 삼계탕)
This restaurant is one of the most famous and popular soup restaurants in Korea and they add chestnuts into their soup for a unique twist. 
Address: 5 Jahamun-ro 5-gil, Jongno-gu, Seoul, South Korea
Operating Hours: 10am to 9pm
Goryeo Samgyetang (고려삼계탕)
Opened in 1960, this is the oldest chicken soup restaurant in Korea, also securing placement on the Michelin list 6 years in a row (from 2017 to 2022). 
City Hall Main Outlet:
Address: 55-3 Seosomun-dong, Jung-gu, Seoul, South Korea
Operating Hours: 10.30am to 9pm
Gwanghamun Outlet:
Address: 5-1 Sejong-daero 23-gil, Jongno-gu, Seoul, South Korea
Operating Hours: 10.30am – 9pm (Mon-Fri), 10:30am – 8:30pm (Sat-Sun)
Hosu Samgyetang (호수 삼계탕)
There's only one item on the menu here and it's their Samgyetang. Their broth is unique for its thick consistency, which differentiates it from the traditional Samgyetang soups that are more liquid.
Address: 274-1 Dorim-ro, Singil-dong, Yeongdeungpo-gu, Seoul, South Korea
Operating Hours: 11 am to 9pm
Naengmyeon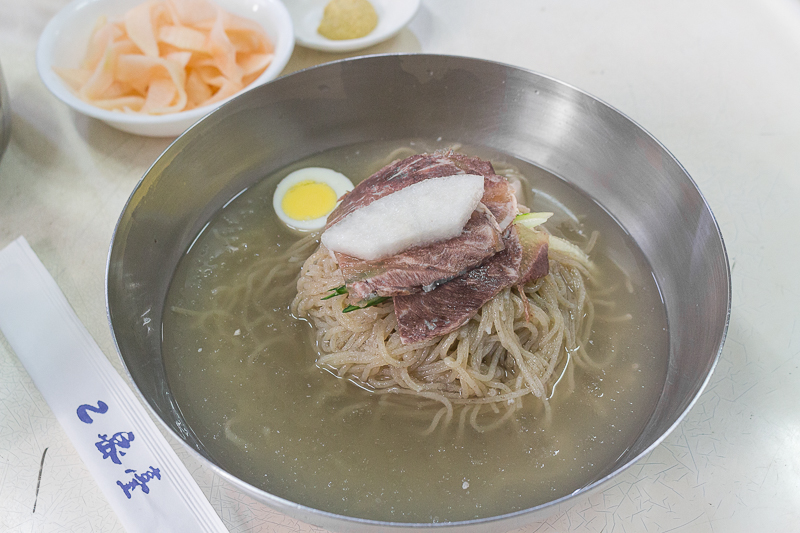 Another classic Korean summer food is Naengmyeon, literally translated as 'cold noodles'! The most common is Mul-Naengmyeon,  buckwheat noodles with an icy beef broth with cucumbers. Fun fact, this version has its origins in North Korea (also known as Pyeongyang Naengmyeon), and was popularised during the Korean War. 
You can also try Bibim-Naengmyeon, noodles dry tossed in a spicy, sweet sauce; Makguksu, a specialty of Gangwon province that specializes in a thicker noodle; Kongsuksu, which is served with a creamy and savoury bean broth made with soybeans, sesame and other nuts or Chogye guksu, a cold soup version made with chicken that has a unique but satisfying flavour. There are shops all over Korea that offer their take on each of these noodles, so if you're feeling the heat, you can indulge in some refreshing noodles! 
Some restaurants you can try: 
For Mul-Naengmyeon, 
Neung Ra Do
Address: 12 Sanun-ro 32(samsibi)beon-gil, Unjung-dong, Bundang-gu, Seongnam-si, Gyeonggi-do, South Korea
Operating Hours: 11am to 10:30pm
For Chogye Guksu,
If you're an EXO-L, you'll be happy to know this place was recommended by EXO member Baekhyun!
Misari Milbit Chogye Guksu 미사리밀빛초계국수 본점
Address: South Korea, Gyeonggi-do, Hanam-si, 덕풍동 38 -3
Operating Hours: 9:30am to 9:30pm
For Makguksu, 
Saembat Makguksu
Address: 644 Sinsaembat-ro, Sinbuk-eup, Chuncheon-si, Gangwon-do, South Korea
Operating Hours: 10am to 8.30pm
Bingsu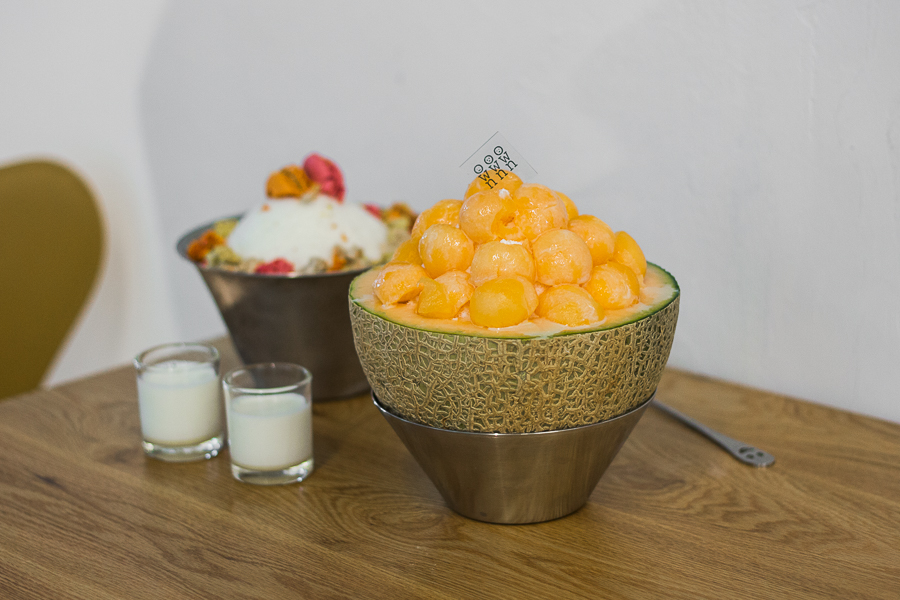 No Korean summer is complete without at least one Bingsu – Korean shaved ice. They take Bingsu very seriously, so it's no surprise that you can find a wide variety of innovative flavours, ranging from seasonal fruits like watermelon and mango to decadent additions like chocolate and green tea. You can also try a classic Pat Bingsu, or Red Bean Bingsu, for the OG experience. You can find Bingsu relatively easily in Korea, but here are some places you can start with: 
Sulbing
Sulbing is a chain franchise and they have over 490 stores all over Korea, so it's easy to locate, especially in tourist spots. The address we've given is for one outlet in Myeongdong! 
Address: 27 Myeongdong 3-gil, Jung-gu, Seoul, South Korea
Operating Hours: 10:30am to 11pm
This quaint cafe is located in Busan, so it's a trip away from Seoul, but it's worth the journey for its famous red bean and green tea Bingsu! 
Address: 28 Suyeong-ro 394-gil, Suyeong-gu, Busan
Operating Hours: 10.00am to 10pm
2. Plan A Summer Trip 
While Seoul is a beautiful city, Korea has so much more to offer! If you're wondering what to do, we recommend travelling out of Seoul to experience the unique cultures and landscapes of the surrounding regions, which house a number of exciting summer activities: 
Go Camping, Even Better, Go Glamping! 
Glamping, a combination of the words 'glamorous' and 'camping', is popular amongst Korean locals. Instead of the dirt and mess that comes with conventional camping, glamping promises comfort and aesthetics in the form of well-decorated glamping grounds with modern amenities that are still surrounded by nature. 
Korea boasts a number of plush natural landscapes that are perfect for glamping trips. If you're looking to plan one, you can consider these places: 
Nanji Hangang Park (Seoul)
Located along the Han River in Seoul, Nanji Hangang Park is the largest camping site in Seoul with a capacity of up to 2,000 people (or 165 campsites!). The space offers a large variety of different tent sizes for rental on top of 24-hour shower rooms, BBQ pits, and even an exciting array of activities like BMX, a riverside swimming pool, and inline skating! You can rent tents for between 6,000 won to 50,000 won depending on the size of your party. 
Address: 487-257 Sangam-dong, Mapo-gu, Seoul
Hours Of Stay: 11am-10am (The Next Day). Check-in begins at 10.30am.
Admission Fees: No Admission Fees, Facility Usage Fee ranges from 5,000 won to 100,000 won depending on the services used
Reservation available online at hangang.seoul.go.kr, or take a look at the rough estimates for tent rental and maintenance costs online.
Starlight Sea Pension & Glamping (Chungcheongnam-Do)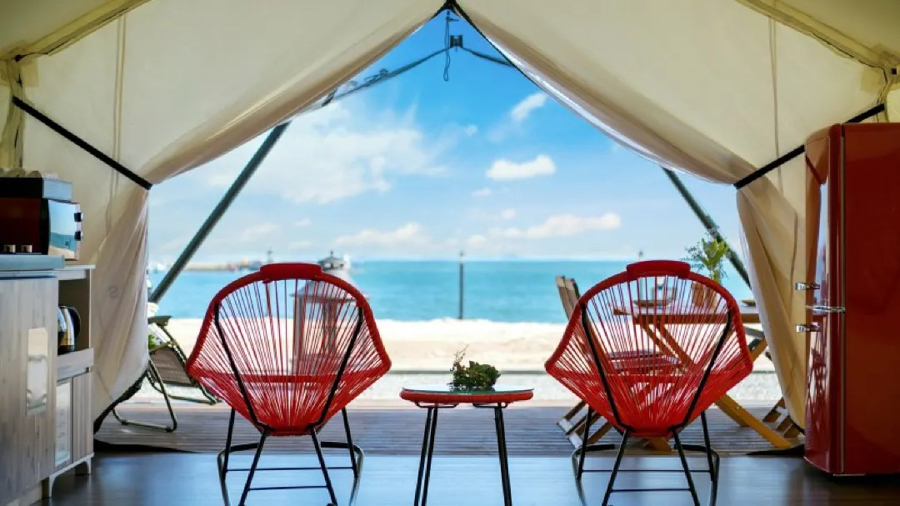 This glamping site is located in Chungcheongnam-do, the Southwest-most province in Korea and sits right at Hakampo Beach, boasting a stunning seaside view. Soak in the beachside while lounging in their luxury glamping cabins equipped with air-conditioning, a fully functioning kitchen, and private bedrooms. If you're looking for a glamping experience that promises comfort, Starlight Glamping is definitely up your list. The cost of the glamping cabins ranges from 99,000 won to 639,000 won and you can rent other items like a BBQ pit and firewood. 
Address: 21-37, Hakampo-gil, Wonbuk-myeon, Taean-gun, Chungcheongnam-do
Hours Of Stay: Check in 3pm, Check out 11am the next day
Admission Fees: 25,000 won (Adults and children over 8), paid on-site
Reservation online at http://starocean.kr/html/reserve.php?cate=01.
Sanjeong Lake Glamping (Pocheon)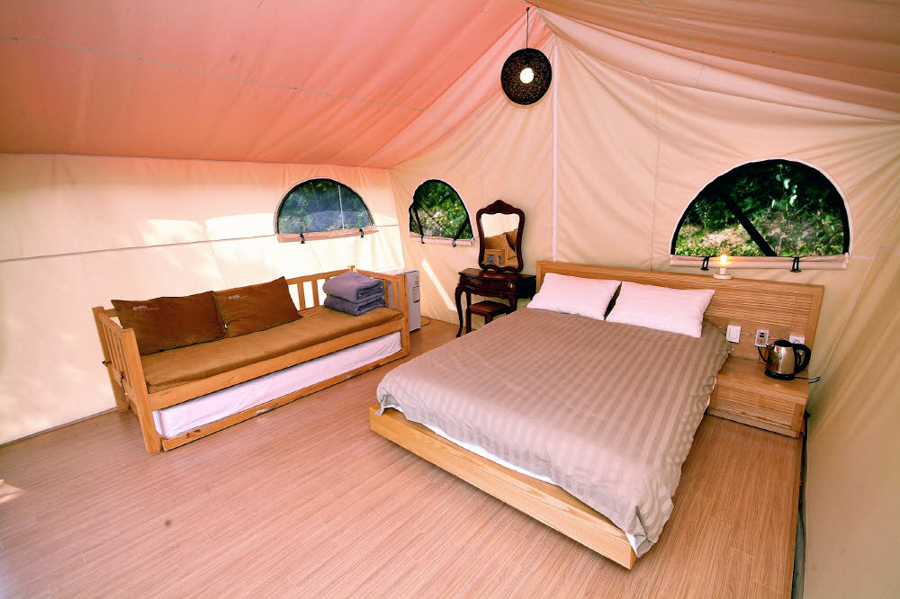 Located in Pocheon, this glamping site sits near a number of Pocheon's famous natural attractions including Nakcheonji Falls, Myeongseongsan Mountain views, and Jainsa Temple. You can enjoy fully equipped rooms with facilities like a fridge, Wi-Fi, and private decks. Because of its proximity to so many activities, you can spend the day exploring the nature trails or dip in the swimming pool. Take a peek at how the rooms look online. Each room is based on a minimum occupancy of 2 people and a maximum of 4. 
Address:361-2 Sanjeong-ri, Yeongbuk-myeon, Pocheon-si, Gyeonggi-do
Hours Of Stay: Check in 2pm, Check out 11am the next day
Admission Fees: Varies depending on the reservation calendar.
Reserve a cabin via their official website or Agoda.
Take A Trip To Gapyeong
Gapyeong is a city located in Gyeonggi-Do, a province only about an hour away from Seoul. The proximity makes it a popular summer destination for locals, similar to how Johor Bahru is to us Singaporeans. You can take the ITX train from Yongsan Station in Seoul to get here. If you're thinking of what to do here, Gapyeong is famous for hosting a few popular tourist spots like: 
Garden of Morning Calm
One of Korea's most popular gardens, the Garden of Morning Calm is filled with different varieties of plants and flowers that change with the seasons. It also hosts many festivals and exhibitions each season to celebrate the flora, making for many dreamy, Howl's Moving Castle-esque photo opportunities. In the summer, check out festivals like the Iris Festival (early May to June), the Hydrangea Festival and Exhibitions (July) or the Rose of Sharon Festival and Exhibition (Late July to August), showcasing the blooms of over 250 varieties of roses atop the Sharon Hill. Garden of Morning Calm is also located within Nami Island and near Petite France, making it a good pitstop or starting point to explore Gapyeong. 
To get here, you can take the Gapyeong City Tour bus from Cheongpyeong Terminal, or take an intra-city bus from the Cheongpyeong Subway Station. More details can be found on their official website. 
Address: 432 Sumogwon-ro, Sang-myeon, Gapyeong-gun, Gyeonggi-do
Opening Hours: 8.30am to 7pm
Admission Fees: 11,000 won (Adults), 8,500 won (Youth), 7,500 won (Child)
Tickets can be purchased on-site. 
Water Leisure V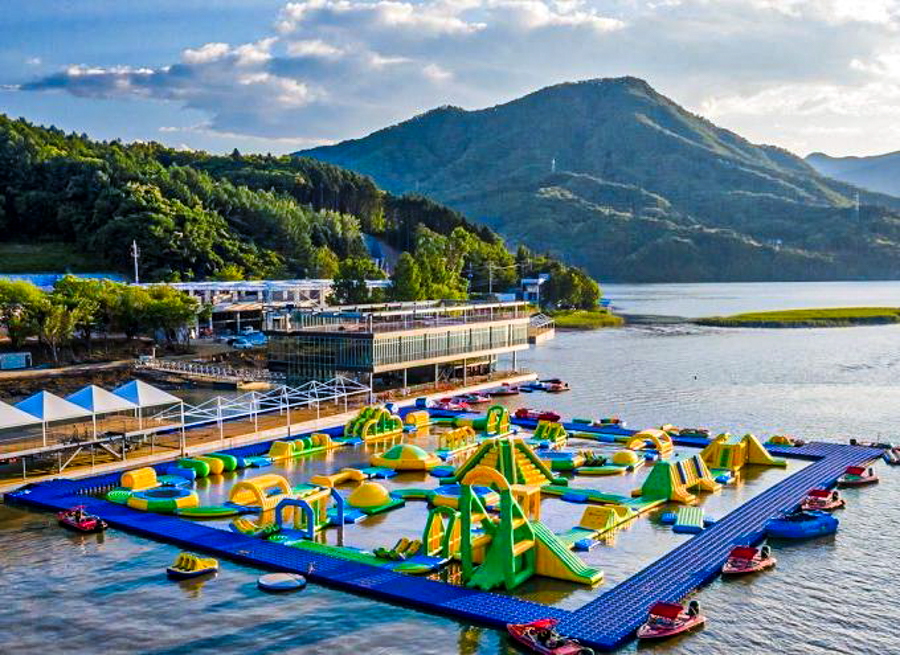 Gapyeong also houses a lot of water parks, but one of its most famous has to be Water Leisure V (수상레저(V)브이), which you might have seen on a lot of Korean variety shows like Running Man and Infinity Challenge. The place boasts a huge inflated water playground with motorized activities like banana boat and wakeboarding, water slides, plus the ever-famous Blob Jump! You can see it in action here: 
You can experience these activities in a variety of passes and packages, ranging from just the entry ticket to a 2D1N package. There are also various websites that offer day trips to the location, such as this one from OneDayKorea. The entire compound is equipped with locker rooms, shower facilities, and even a convenience store, so you spend more time playing on the water without worrying about your items.  
To get here, you can either take a taxi from Gapyeong station or make arrangements with the agency you got your package from. More information can be found here. 
Address: 487 Bangha-ro, Namsan-myeon, Chuncheon-si, Gangwon-do
Opening Hours: 9am to 6.30pm
Admission Fee: Depending on the package you take 
Gangchon Rail Park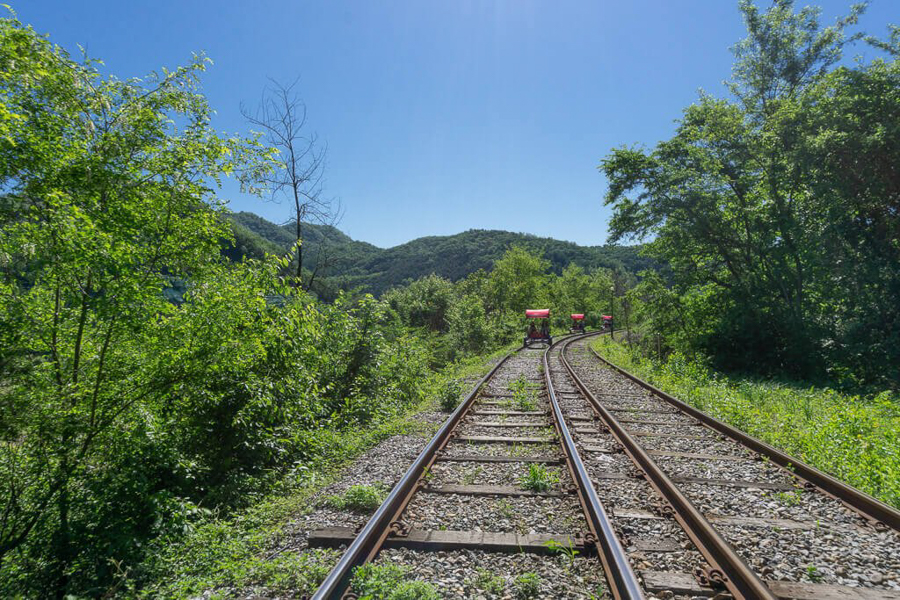 If you prefer a scenic route, try the Gangchon Rail Park. Its part of the now-defunct Gyeongchun railway that ran for over 70 years, and transformed into three different rail routes that surround the stunning Bukhan River. Some of its grounds, like the Gyeong-gang train station, have been featured in popular K-dramas like The Letter (1997) and Doctors (2016) which add to its fame. The mode of transportation is via a mini 2 or 4-seater rail train that you manually power by paddling, so expect to ride over bridges, through tunnels, and enjoy the beautiful mountain scenery. 
The longest route is the Gimyujeong route which spans about 8.5km with a rest stop called Nanggu Village and a romantic 20-minute train ride that brings you to Gangchon station before you can board a shuttle bus that brings you back to the original starting point. Or you can opt for the two shorter, round-trip routes: the Gyeong-Gang route or Gapyeong route. Both routes start at the respective train stations (Gyeong-gang and Gapyeong) and cross the 30m high Bukhan River Railway Bridge, where you can enjoy a view of the water.  
Whichever route you choose, it's a bit of a workout but the payoff comes in the guaranteed picturesque views! For more information on the routes and how to get here, check the official online site. 
Address: 1383, Gimyujeong-ro , Sindong-myeon, Chuncheon-si, Gangwon-do
Opening Hours: 9am to 5.30pm
Admission Fee: 35,000 won for a 2-seater, 48,000 won for a 4-seater
Tickets available at their official website, or via Klook or Trazy.
3. Hit The Korean Water Parks
Cool yourself down in one of Korea's water parks! They have some of the largest water parks in the world, complete with resorts, rides, and hot springs for maximum enjoyment. You can add these to your list: 
Caribbean Bay Water Park (Gyeonggi-Do)
Located right beside Everland Theme Park, Caribbean Bay Water Park is one of the largest water parks in the world, offering over 20 rides including spas and leisure activities. Try rides like the Mega Storm, a 355-meter long and 37-meter-high water slide complete with twists and turns, or the Tower Boomerang Go, where you swing between two 19-meter peaks. If you're not into heights, you can opt to cruise along the 550-meter River Way or make a splash in the Indoor Wave Pool. The entire water park is also family friendly with dedicated kiddie spaces for children, making it great for family trips! 
Ticket prices range from 49,000 won (Afternoon only) to 74,000 won (Full day) depending on the season, with different pricing for adults and children. You can even get a full pass for both Everland and Caribbean Bay if you're up for it! The water park is also easily accessible via its own shuttle buses or public transport. For more information on ticket bookings and how to get here, you can check out their official website.
Address: 199 Everland-ro, Pogog-eup, Cheoin-gu, Yongin-si, Gyeonggi-do
Opening Hours:  Can vary depending on the day, best to check the website to check operating hours for the day
Admission Fee: Ranging from 30,000 won to 74,000 won, depending on the season and time chosen
Exact pricing and tickets are available online at their official website.
Ocean World Water Park (Gangwon)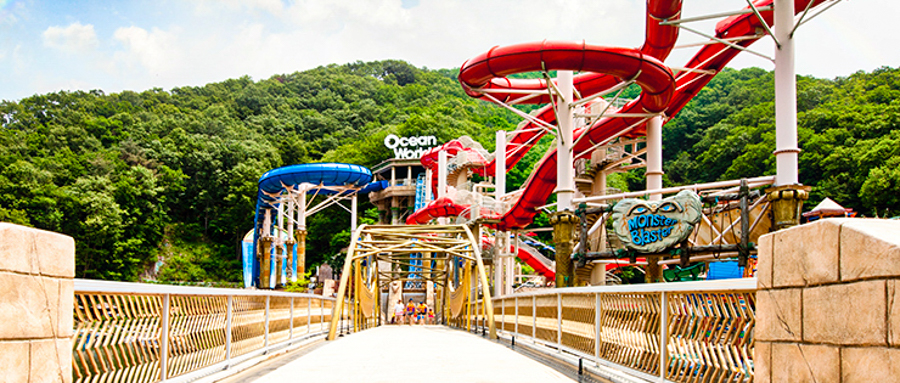 Ocean World Water Park is ranked as Korea's number 1 water park and number 2 in Asia, for good reason! Its large Egyptian-themed expanse houses 4 different zones – Dynamic Zone, Indoor Zone, Mega Slide Zone and Extreme Zone – each with its own activities designed to meet the needs of everyone. 
You can go rafting in the Super Extreme River with a current generated by 150 tons of water pumped through flood gates and slide down the Monster Blaster, the world's first and longest (300m) 3-seater tube slide. Not up for a challenge? Enjoy swimming in the Indoor Zones with indoor pools or unwind in their jjimjilbangs (Korean traditional spas) ranging from saunas to full spa sessions. 
Like Caribbean Bay, tickets are tiered by seasons and duration of stay and range between 35,000 won to 50,000 won for adults and children. Prices vary depending on the season and day, so its best to head over to their official site to find out more.
Address: 262 Hanchigol-gil, Seo-myeon, Hongcheon-gun, Gangwon-do
Opening Hours:  9am to 6.30pm
Admission Fee: Ranging from 35,000 won to 50,000 won depending on season
Exact pricing and tickets available online at their official website, or via Tripadvisor and Klook.
Gimhae Lotte Water Park (Busan)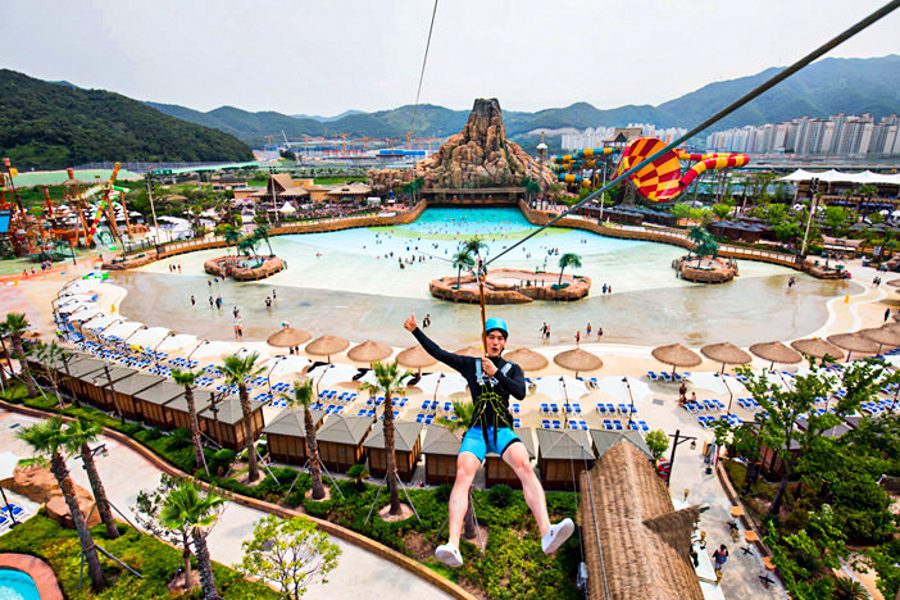 Step into the Polynesian-themed Gimhae Lotte Water Park which boasts an extensive list of indoor and outdoor water rides! If you're a thrill seeker, you can race your friends on the 19-meter high, 120-meter-long Race Slide, go surfing at Wild Surfing and face the Giant Wave, Korea's third largest wave pool. There are also plenty of indoor rides like the Tiki Aqua Flex, the largest indoor water play area in Korea, or speed in the Indoor Tube Slides. You can also dine at one of their 15 restaurants and cafes, or unwind at their Tiki Island Spa which has a sauna, jjimjilbang, and even an outdoor spa!
Tickets range from 30,000 won to 46,000 won depending on the duration of your stay. As this water park is located in Busan, transportation is accessible via the local subway and bus lines. For more information, you can visit their official website.
Address: 262 Hanchigol-gil, Seo-myeon, Hongcheon-gun, Gangwon-do
Opening Hours:  10am to 6.00pm
Admission Fee: Ranging from 30,000 won to 46,000 won
Exact pricing is available online at their official website.
4. Visit The Beaches 
Summer is not complete without a trip to the beach. Luckily, Korea has quite a few beaches that you can visit, most notably in Busan! 
Haeundae Beach and Gwangalli Beach (Busan)
View this post on Instagram
Haeundae beach is one of Korea's most famous beaches, lining Busan's commercial Haeundae district with clear waters and soft sand. It's open all year round and hosts many festivals including the annual Haeundae Sand Festival which falls around May to June. The beach is also part of the Haeundae Special Tourist Zone that includes other attractions like the SEA-LIFE Busan Aquarium and a walking trail along the coastlines, so there's no shortage of things to do! You can also consider heading to Gwangalli Beach, which is opposite Haeundae Beach. Here you can get a clearer view of the Gwangandaegyeo Bridge that connects Haeundae to Suyeong, Busan's residential district. At sunset, the unobstructed views are picturesque and worth staying for. 
Address: 264, Haeundaehaebyeon-ro, Haeundae-gu, Busan (Haeundae Beach)
219, Gwanganhaebyeon-ro, Suyeong-gu, Busan (Gwangalli Beach)
Opening Hours:  9am to 6pm
Admission Fee: Free
Eurwangni Beach (Incheon)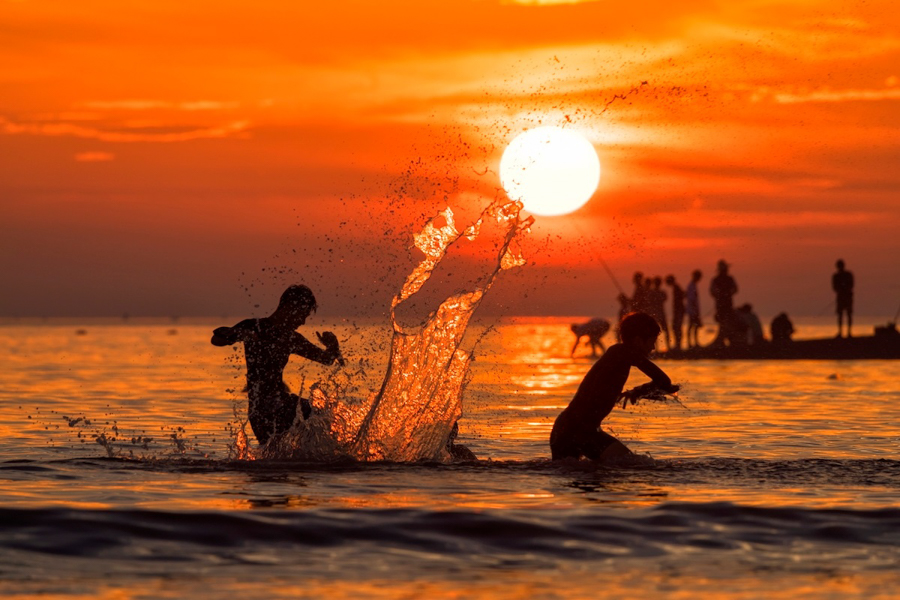 As the name suggests, Eurwangni Beach is located in Incheon, near the Incheon International Airport. It's a smaller beach at 700 meters with an average depth of only 1.5 meters, but it boasts a naturally curved coastline, pine forests, and nice sunsets that make it popular with locals. It's a dedicated National Tourist Site and has activities like banana boating and jet skiing to keep you occupied! You can get here from Seoul via the Incheon Bridge or Yeongjong Bridge, or you can take the bus services 111 or 306 from Incheon Airport.
Address: 16-15, Yongyuseo-ro 302beon-gil, Jung-gu, Incheon
Opening Hours:  24 hours
Admission Fee: Free
Outdoor Swimming Pools (Seoul)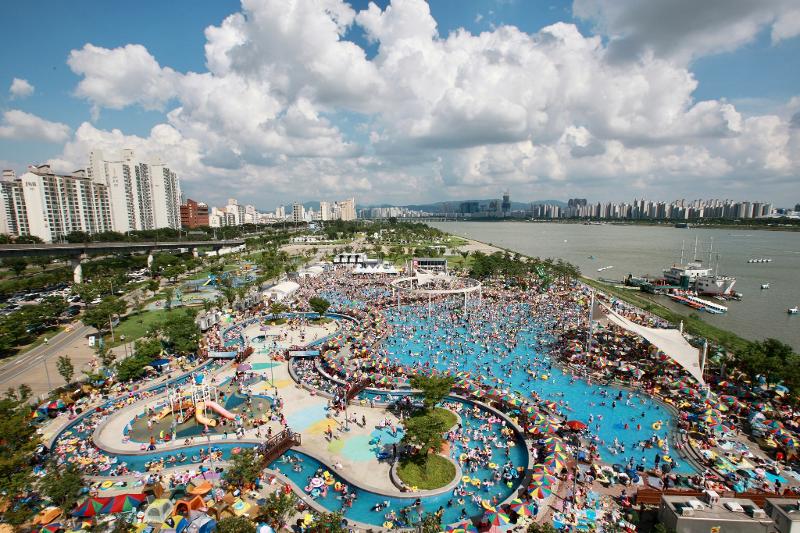 However, if you find yourself without time to go to the beach or coastal areas, you can opt for visiting the Hangang River Park outdoor swimming pools instead. These are only available in the summer season from June to August, making them a limited-time Korean summer activity in Seoul. Of the 11 Han River Parks, 4 parks open outdoor swimming pools: Ttukseom, Yeouido, Gwangjang Naru, and Jamwon, all offering an exciting lineup of water slides, fountains, and even a swirling vortex tunnel. 
Ttukseom and Yeouido have the two bigger swimming pools and therefore offer a better variety of activities, but Gwangjang Naru and Jamwon offer more privacy as their capacities are smaller. You can easily choose which pool to go to depending on your preference, as all of them are within walking distance of a subway station. All swimming pools follow the same pricing for admission: 5,000 won for Adults, 4,000 won for Teenagers and 3,000 won for Children. 
Ttukseom Outdoor Swimming Pool
Address: 139, Gangbyeonbuk-ro, Gwangjin-gu
Opening Hours:  9am to 7pm
Subway station: Ttukseom Resort Subway Station, exit 2 & 3
Yeouido Outdoor Swimming Pool 
Address: 330, Yeouidong-ro, Yeongdeungpo-gu, Seoul
Opening Hours:  9am to 7pm
Subway station: Yeouinaru Subway Station, exit 2 or 3
Gwangjang Naru Outdoor Swimming Pool 
Address: 319 Cheonho-dong, Gangdong-gu, Seoul
Opening Hours:  9am to 7pm
Subway station: Cheonho Subway Station, exit 1. A 10-minute walk from the station. 
Jamwon Outdoor Swimming Pool 
Address: 221-124 Jamwon-ro, Seocho-gu, Seoul
Opening Hours:  9am to 7pm
Subway station: Sinsa Subway Station, exit 5 or 6 
5. Attend Korean Summer Festivals 
To top off our list, you can participate in a variety of Korean Summer festivals! Each region of Korea has its own version of these festivals celebrating a unique part of their local culture. While many of them have ended at the time of writing, the activities are still worth a mention in preparation for next year's editions! Here are a few we recommend:
Boryeong Mud Festival (Chungcheongnam-Do)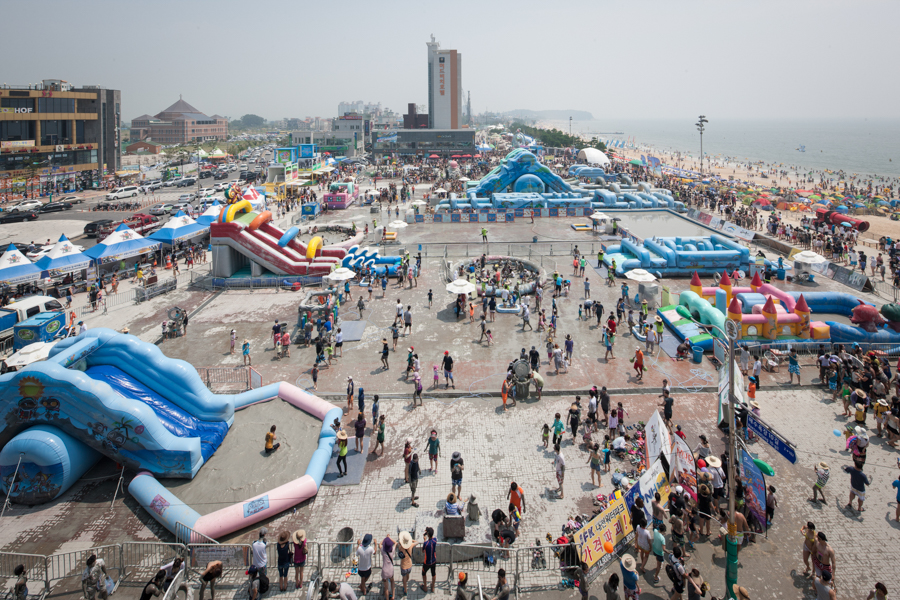 You heard that right! Embrace the mud at the Boryeong Mud Festival, one of the area's biggest and most famous celebrations. Held between July to August annually, the festival promises a lineup of exciting activities like fireworks, live performances, and busking. The mud in Boryeong is from Daecheon beach, and is known to be full of benefits, including anti-aging and healing effects. The festival usually takes place around end-July every year, for more information, you can visit the official website.
Address: Sinheuk-dong, Boryeong-si, Chungcheongnam-do
Operating Hours: 9.30am to 6pm
Admission Fee: Free, but with extra fees for each activity
Get the tickets on their official website. Usually, third-party websites like Trazy also offer packages for the mud festival. 
Hangang River Festival (Seoul)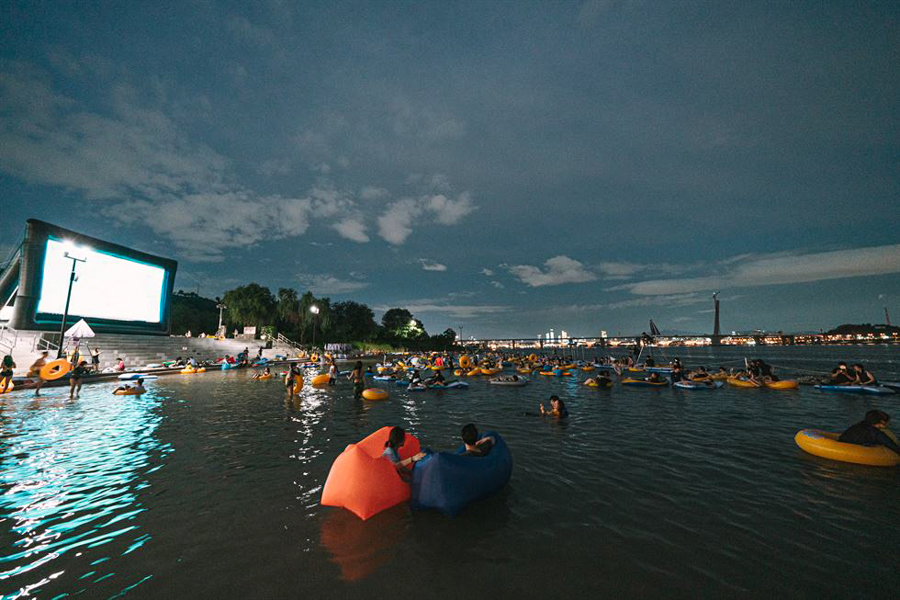 The Hangang River Festival promises 18 days of creative fun that maximizes the vast expanse of the 11 Han River Parks. You can do activities like water sports, arts, and performances as well as cultural exhibits highlighting Korean culture. Some highlights of this year include a Hangang PET Boat race, where participants float on boats made with recycled bottles, a romantic Hangang Night Walk, and an outdoor Hangang Movie Night! Check out 2022's list of activities online. 
Address: Jamsil Park, Tteukseom Park, Yeouido Park, Banpo Park
Operating Hours: Dependent on the activities
Admission Fee: Free, but with extra fees for each activity
Purchase tickets on-site at the Hangang River Festival. 
Pocheon Herb Island Lavender Festival (Gyeonggi-do)
Running through a field of fresh, purple lavender sounds like a dream, and you can do exactly that at the annual Pocheon Herb Island Lavender Festival! In celebration of the blooms, this festival offers limited edition lavender lattes and ice cream, a tractor ride around the lavender fields, and exclusive lavender merchandise like dried lavender flowers and scented candles. However, Herb Island itself continues to remain open the rest of the year for other festivals if you're interested in visiting! Learn more about Herb Island here. 
If you're interested in visiting Pocheon during other seasons, Klook has a one-day tour that includes Herb Island and other attractions in Pocheon!
Address: 51, Cheongsin-ro 947beon-gil, Sinbuk-myeon, Pocheon-si, Gyeonggi-do
Operating Hours (Herb Island): 10am to 9pm (Weekdays except Wednesday), 10am to 10pm (Saturday), 10am to 10pm (Sunday)
Admission Fee: 10,000 won (Weekdays, Adults 17 and Above), 12,000 won (Weekends, Adults 17 and Above)
Ticket prices vary for children, senior citizens, and infants, so check out Herb Island's website for more detailed information.
Purchase tickets on-site at Herb Island. 
Bonghwa Sweetfish Festival (Gyeongsang-do)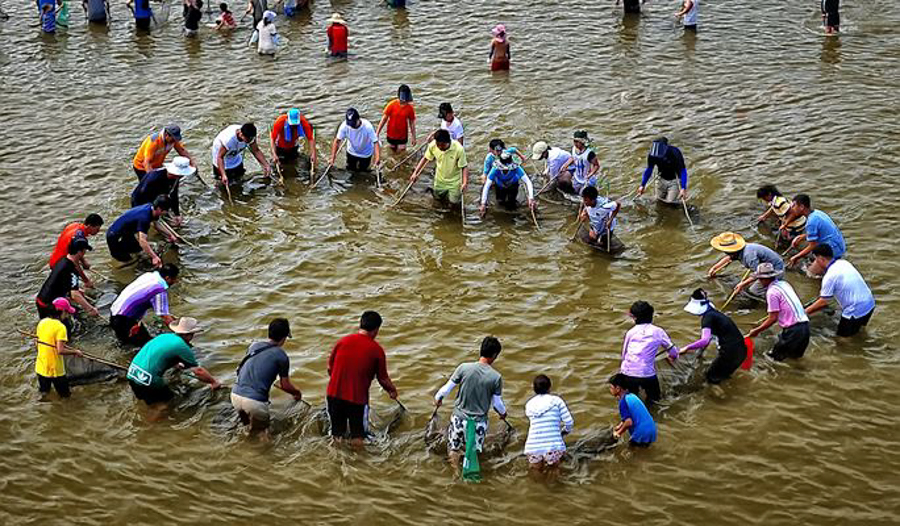 Sweetfish is a local specialty and pride of the Bonghwa region. Held annually from July to August, the Bonghwa Sweetfish Festival holds a whole lineup of events to celebrate this fish. There's a Sweetfish food market, photography exhibitions, live performances, cultural tours, and even a whole segment where you get to go into the water and catch the sweetfish yourself! Learn more about the Bonghwa Sweetfish Festival here. 
Address: The full regions along Naeseong-ri, Bonghwa-gun, and Gyeongsangbuk-do
Operating Hours: Depending on the activities
Admission Fee: Free, but with extra fees for each activity
Get tickets online via KKday.
Enjoy a Memorable Summer in Korea!
These activities are only a few of the many that Korea has to offer, but we highly recommend that you try them if you have the time! Don't be afraid to head out of Seoul and give these summer activities a try when you're in Korea! However, even if you're in Seoul during summer, you can still experience the best of summer through food and limited-time activities like the Hangang Outdoor Pools! Have you been to Korea during the summer? What were some of your favourite activities to do in Korea during summer? 
*Follow MiddleClass.sg on Facebook, Instagram, and Telegram for more food, travel, and trending stories!