The first food that comes to mind when talking about North Korea has definitely got to be Pyongyang naengmyeon, aka cold noodles. Naengmyeon was said to be a delicacy in Pyeongyang and Hamhung and became popular throughout Korea after the Korean war.
While naengmyeon can be commonly found all around South Korea, Pyongyang's version of the cold noodle is usually made with buckwheat noodles topped with slices of beef, slices of pear and pickled vegetables. The ingredients are harmoniously brought together with a chilled broth, usually made using beef or pheasant.
Eulmildae
While getting a bowl of Pyongyang Naengmyeon in North Korea would be the best and most authentic experience, it might not be an option for everyone. But thankfully, there are a couple of legit restaurants in South Korea serving the exotic delicacy.
Eulmildae started off as a small shop selling Pyongyang Naengmyeon in 1971. The small shop has been serving naengmyeon for nearly 50 years and the restaurant is still ever so popular. Especially during summer, when Naengmyeon offers a nice refreshing touch from the burning, sweltering summer heat.
The restaurant gives off an old school vibe with the slightly tattered signs on the building, aged white walls and an almost 70s kind of Korean restaurant interior.
I expected the restaurant to be pretty empty since it was winter but was caught by surprise at the number of people slurping on bowls of icy cold naengmyeon.
Menu at Eulmildae
At Eulmildae, there are 3 main kinds of naengmyeon. The most popular one here at Eulmildae is the Mul-naengmyeon (12,000W), served with cold refreshing broth.
The other two is the Bibim-naengmyeon (12,000W), a dry version of the mul-naengmyeon, topped up with a bright red sauce that's slightly spicy and the hwoi-naengmyeon (16,000), which is basically a version served with raw fish.
Other items include Mung-bean pancakes (9,000W) and boiled meat platters (30,000W-60,000W).
Mul Naengmyeon at Eulmildae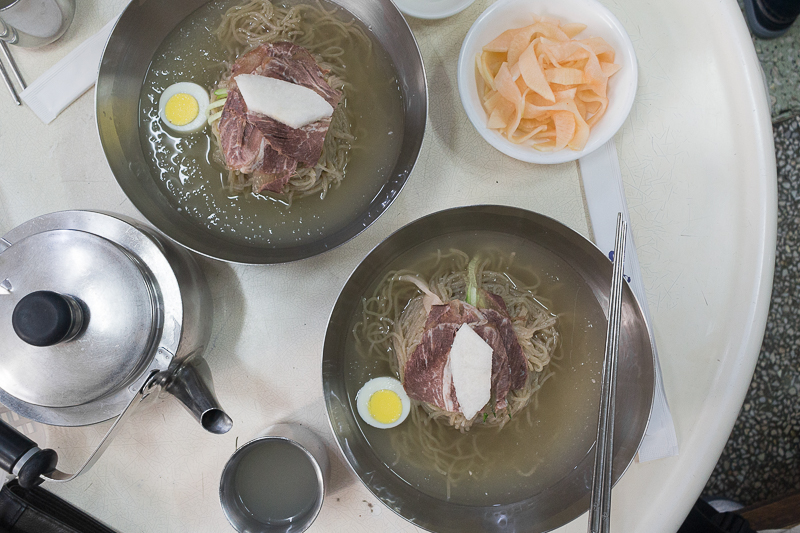 On the table you would see some pickled radish strips and a kettle. This kettle does not contain plain water or tea. Instead, it's filled with warm soup. Perfect to warm your stomachs for the icy goodness that's coming your way.
The Mul Naengmyeon is served with strips of radish, cucumber, some boiled meat, hard-boiled egg and a slice of pear. You can also see some traces of buckwheat in the noodles.
How to Eat Naengmyeon
When eating Naengmyeon, some people like to cut the noodles first. Maybe it's just me, but sometimes I feel like I'm about to choke when eating the springy noodles. Hence, I prefer to cut mine.
Secondly, some people will add vinegar and/or mustard to their bowl of naengmyeon. I'd say try the broth by itself first and then add in the condiments according to your preference. You wouldn't want to miss out on the rich taste of the broth.
Some people even add a few sprinkles of chilli powder.
Mix everything together and enjoy.
How does it taste?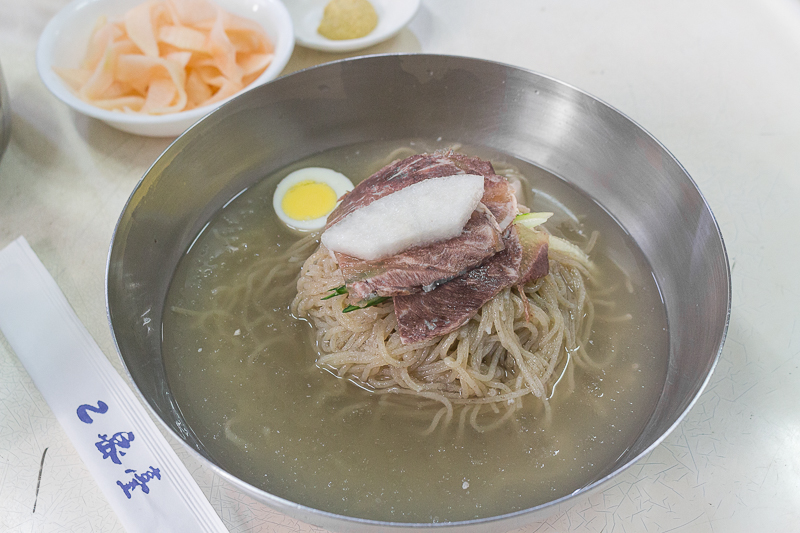 Eulmildae's cold noodles are, indeed, cold. Almost icy I might add. You might even find some ice slushy in the soup. But I can imagine how refreshing this would be on a hot summer day.
The noodles are perfectly chewy and did not induce an 'i-think-I'm-choking' feeling. The combination of the crunchy cucumber and radish strips with the noodles made the textures of the entire dish so much more fun.
The first bite in and one might find this dish a little bland (and extremely icy), but may slowly get hooked by the clean flavours of the broth. I personally found it very addictive after a few mouthfuls and I instantly understood why this dish was so popular. On the other hand, I can also understand why this might not appeal to some people. A bit of an acquired taste here, but overall a dish with clean flavours and very, very refreshing.
Eulmildae Outlets in Seoul
Since its inception in 1971, Eulmildae has since opened many more branches. However, we highly recommend visiting the original outlet in Mapo-gu for a better dining experience.
Otherwise, you can visit the outlets in Gangnam or Jamsil, just to name a few, if it's more convenient for you.
Eulmildae (Original Outlet)
24 Sungmun-gil, Yeomni-dong, Mapo-gu, Seoul, South Korea
Mon-Sun, 11am-10pm
*Follow MiddleClass.sg on Facebook, Instagram and Telegram for more food, travel and trending stories!