Korea is known for its amazing food, vibrant culture and magnificent scenery, but it also hosts some of the best festivals in the world.
Whether in spring, summer, autumn or winter, Korea has plenty of festivals that are sure to bring you lots of joy! Many of these festivals also form an important part of Korean heritage, making them a great means of experiencing local culture.
Here are 20 famous festivals in Korea that you should not miss on your next trip!
Spring
Damyang Bamboo Forest Festival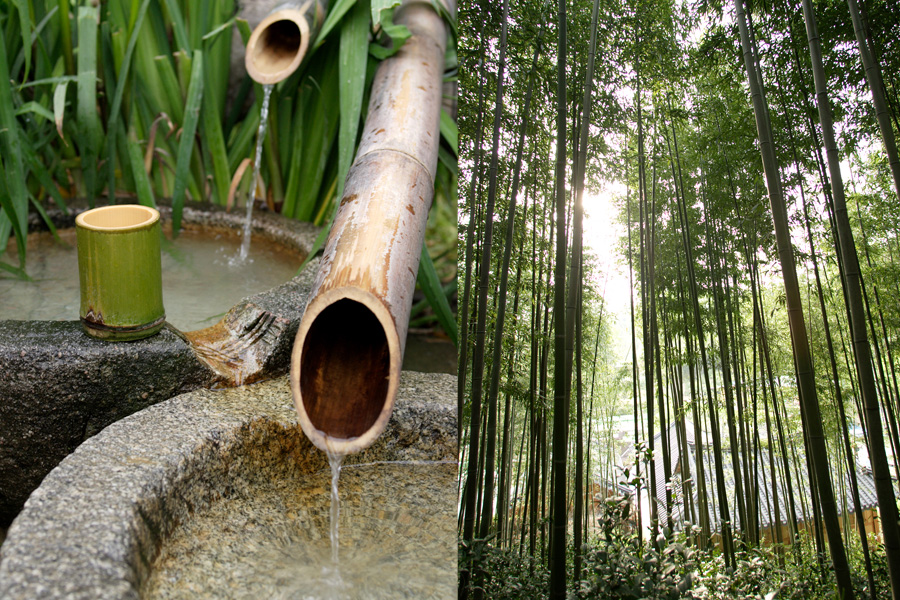 The only one of its kind in the world, Damyang Bamboo Forest Festival is a treat for lovers of nature. The majestic display of bamboo forests is a sight to behold, and you can spend some time relishing the cool and fresh air in the atmosphere. There's a hanok village to explore, as well as some bamboo-themed activities such as a bamboo foot bath, bamboo water rafting and catching fish with bamboo baskets.
Date: Not announced yet for 2024
Price: Entrance fee is 3,000 KRW
Jinhae Gunhangje Cherry Blossom Festival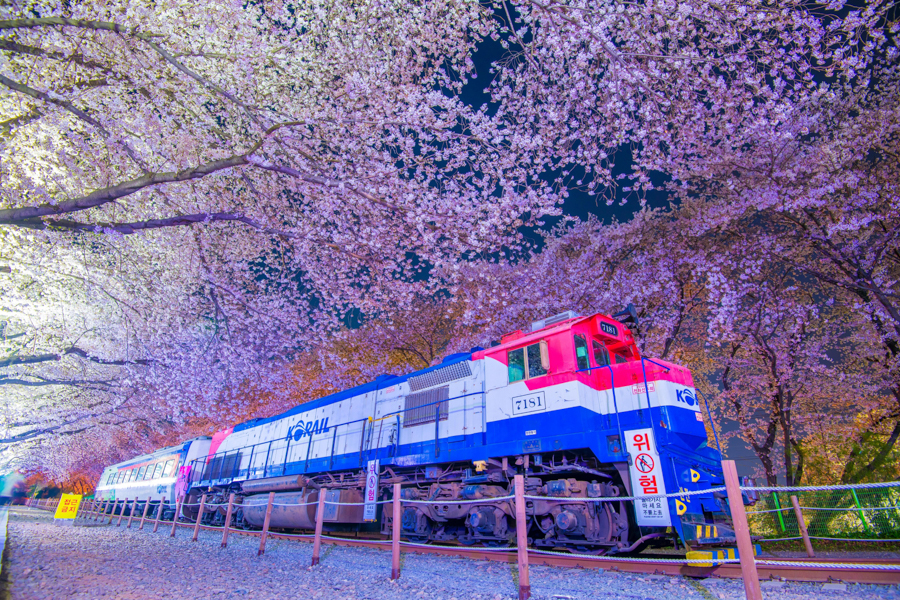 During the spring season, cherry blossoms can be found in quite a number of spots in Korea –the Jinhae Gunhangje Cherry Blossom Festival is the largest and most popular of them all. The city of Jinhae is in fact the main base for the Korean navy, and this festival commemorates the Korean military and Admiral Yi Sun-shin, a legendary military officer. During this season, the entire city is enveloped in cherry blossoms, and there are plenty of photo spots for you to snap some Instagram-worthy photos. You can also try food from the stalls nearby such as Cherry Blossom Ice Cream.
Date: Not announced yet for 2024
Price: Free entrance
Boseong Aromatic Tea Festival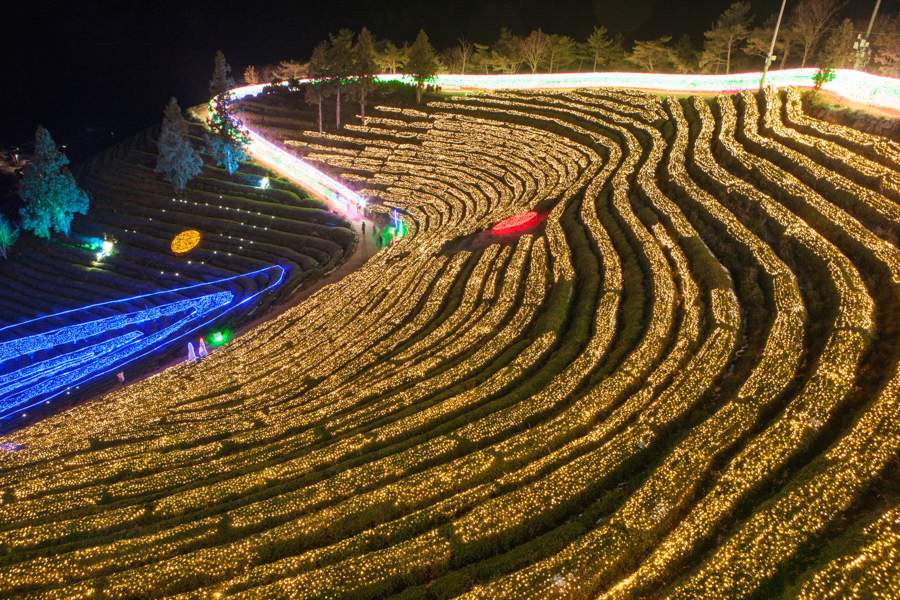 Head over to Boseong to explore Korea's largest tea plantation, and the birthplace of Korea's tea industry. The lush green valleys of tea leaves provide some of the most serene views you can find in Korea. The Boseong Aromatic Tea Festival offers hands-on experience at tea-making, where you can try your hand at picking tea leaves and learn to make tea the traditional way. Learn about Korea's rich history in tea-making, as well as the types of tea that you can find in Korea. Along the way, indulge yourself in delicious snacks and desserts such as a refreshing cone of green tea ice cream.
Date: Not announced yet for 2024
Price: 4,000 KRW for adults, 3,000KRW for seniors
Everland Tulip Festival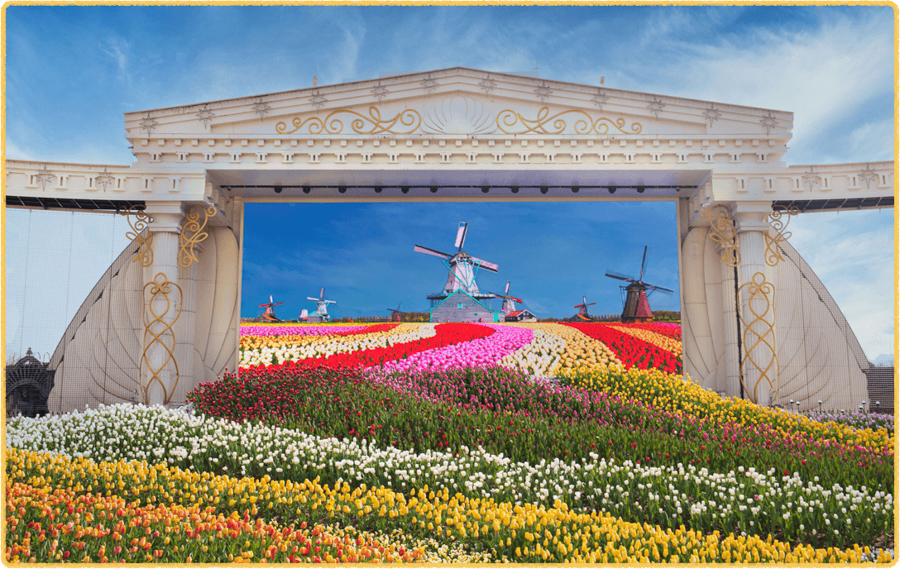 Be transported to a floral fantasyland with Everland's Tulip Festival. Featuring over 100 different varieties of flowers, this festival truly embodies the spirit of spring with its colourful display. There are many different zones, each with its own theme such as a café, zoo and more – complete with plenty of spots for photo-taking. Other attractions include "Photo Wonderland", a performance featuring mascots dressed up as flowers, bees and so on. There's even a firework show complete with lights, music and special effects.
Date: Not announced yet for 2024
Price: Admission tickets to Everland theme park range from 36,000 KRW to 58,000 KRW for children and 46,000 KRW to 68,000 KRW for adults depending on the season.
Jeju Fire Festival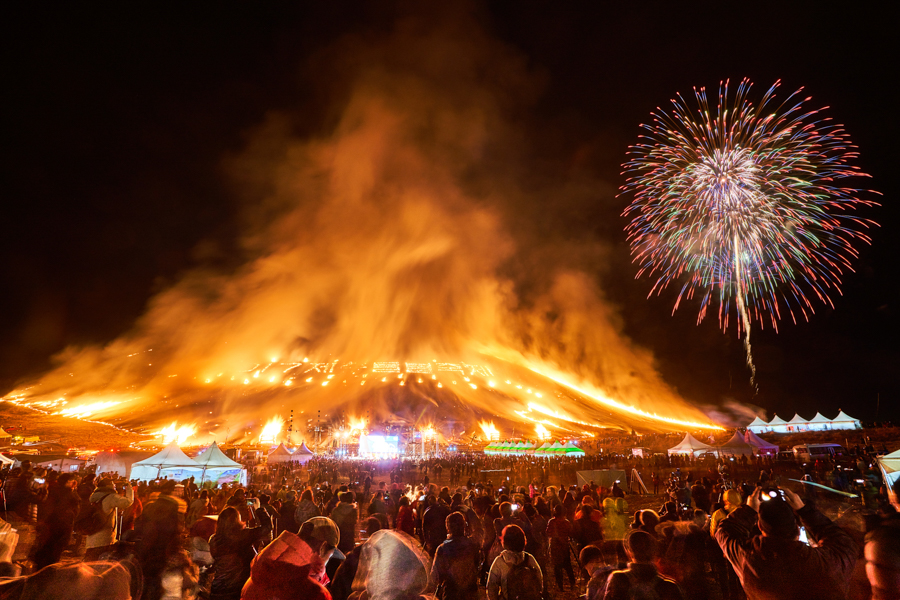 The Jeju Fire Festival is a three-day long celebration to welcome the new year. This festival holds huge cultural significance in Korea – it can be dated to the ancient practice of burning old grass to get rid of pests and prepare for the new season. The entire city of Jeju partakes in a series of fire-filled festivities to pray for good health, happiness and bountiful harvest in the new year. As the sky is lit up with fireworks and flame, the entire city of Jeju looks dazzling, glowing in a hue of fiery orange. Visitors can also participate in a series of traditional folk games, dances and get to sample traditional foods sold at the festival.
Date: Not announced yet for 2024
Price: Free entrance, varying prices for activities
Summer
Taebaek Sunflower Festival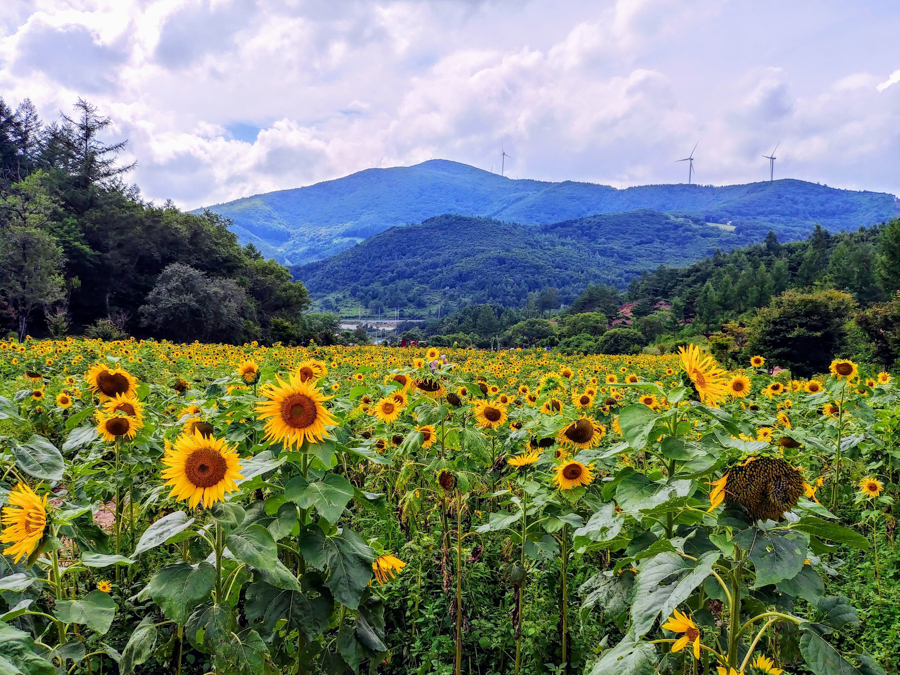 Head to Guwau Village for a breathtaking display of over 300 species of wildflowers and endless fields of sunflowers that never seem to end! It's home to Korea's largest sunflower patch, spanning 100,000 square meters. Apart from the beautiful display of flora, visitors can get to plant flowers, try making sunflower oil and even feed animals. Taebaek Sunflower Festival also features dance performances, a live band, art exhibits and more.
Date: July – August 
Price: Free entrance, varying prices for activities
Buyeo Seodong Lotus Festival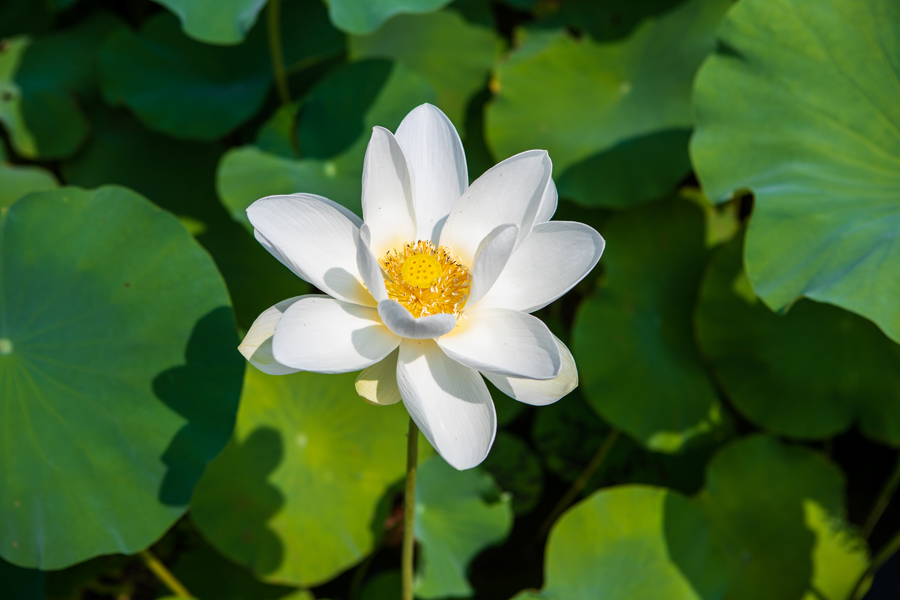 Looking for a different kind of bloom? At Buyeo Seodong Park, lotus fields bloom during the month of July, forming some of the prettiest floral displays you will ever see. One of the highlights of the festival is also the cultural performance about the love story that blossomed between King Mu of Baekje and Princess Seonhwa of Silla. There are also a bunch of lotus-themed activities for you to try – make handicrafts such as soap and candles, indulge in local delights made with lotus plants, or sip on some freshly brewed lotus tea.
Date: July 
Price: Free entrance, varying prices for activities
Jeongnamjin Jangheung Water Festival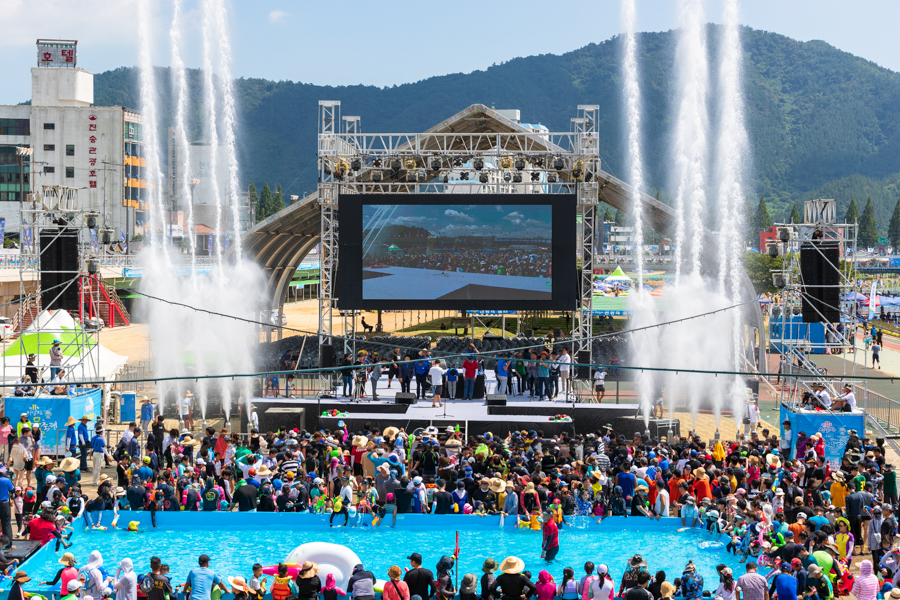 What better way to stay cool this summer than to get wet in a massive water battle? Jeongnamjin Jangheung Water Festival is one of the biggest water festivals in South Korea, boasting an entire day of water-filled activities. The streets of Jangheung will be full of party-goers armed with water guns soaking each other all day long. There are a slew of activities available including underwater tug-of-war, water slides, banana boat, jet skis, and even a huge concert to end it all off!
Date: July – August
Price: Free entrance, varying prices for activities
Hwacheon Tomato Festival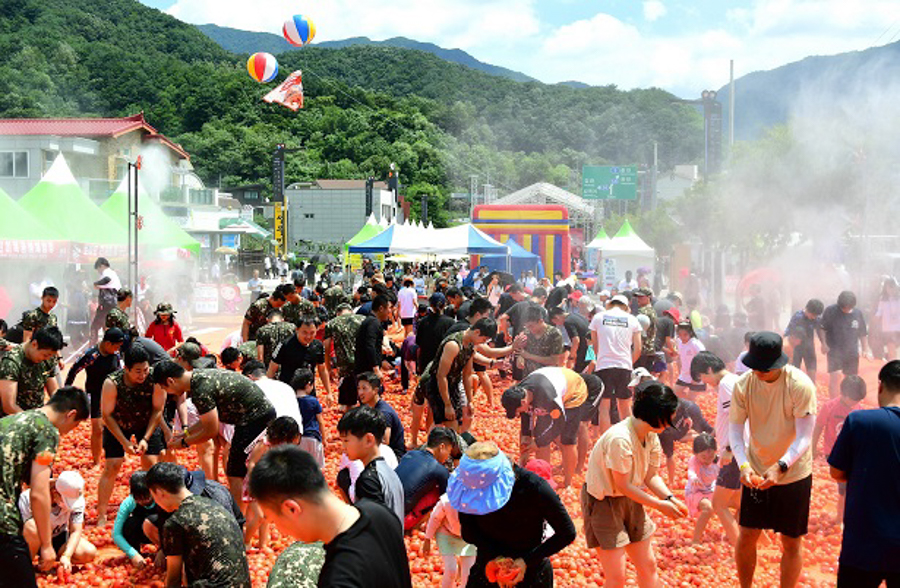 You may have heard of La Tomatina in Italy – Well, this is Korea's take on it! This festival was originally held to promote Hwaaksan tomatoes which are grown in the Hwacheon region to help increase the revenue of the agricultural town. One of the highlights is the Gold Ring Tomato Hunt, in which participants have to find fake golden rings hidden in a sea of tomatoes, which can be exchanged for real gold rings. You can also partake in tomato wrestling, try some tomato makgeolli, make tomato juice and buy local products made with tomatoes.
Date: August
Price: Free entrance, varying prices for activities
Muju Firefly Festival
Witness one of the most stunning displays of nature at the Muju Firefly Festival. Towards the end of summer each year, thousands of fireflies light up the night sky while onlookers marvel at the extraordinary sight. Visitors can also write their wishes on lanterns before setting them free, adding another beautiful display. Other activities available include exhibitions, workshops and overnight camping.
Date: August
Price: 15,000 KRW per person for firefly exploration
Autumn
Busan Film Festival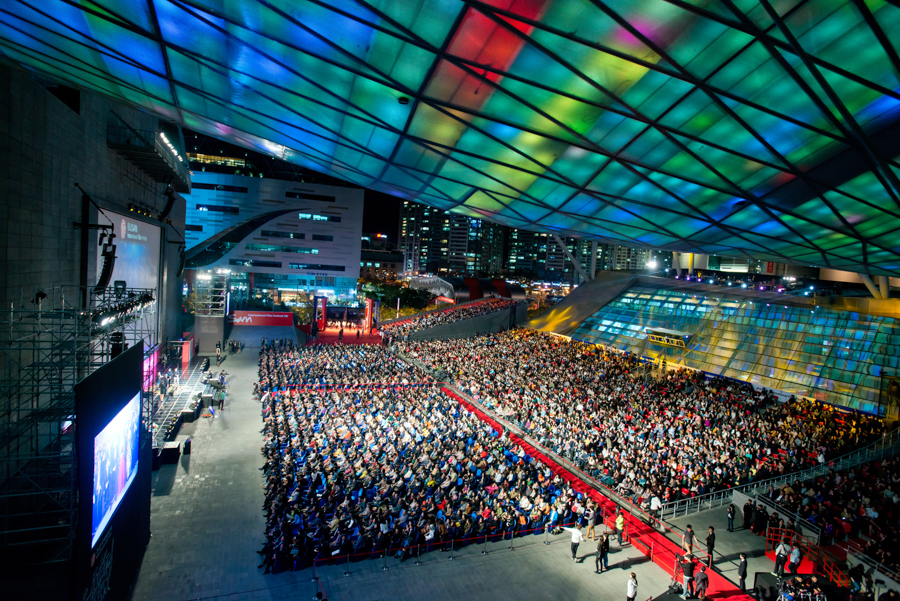 If you're a film fanatic, you've certainly heard of the Busan Film Festival. One of Asia's biggest film festivals, it showcases hundreds of movies from over 70 different countries, drawing a crowd of more than 200,000 people. During the 10 days in which the film festival is held, Busan comes alive, bustling with people from all walks of life. Movies from all genres are screened during this period in venus across the city – there's even free night-time beach movie screenings available to the public. While you are in Busan, you can also check out some of the other attractions such as Gamcheon Culture Village.
Date: October
Price: Ranges from 7,000 KRW to 30,000 KRW depending on the type of ticket chosen
Jinan Red Ginseng Festival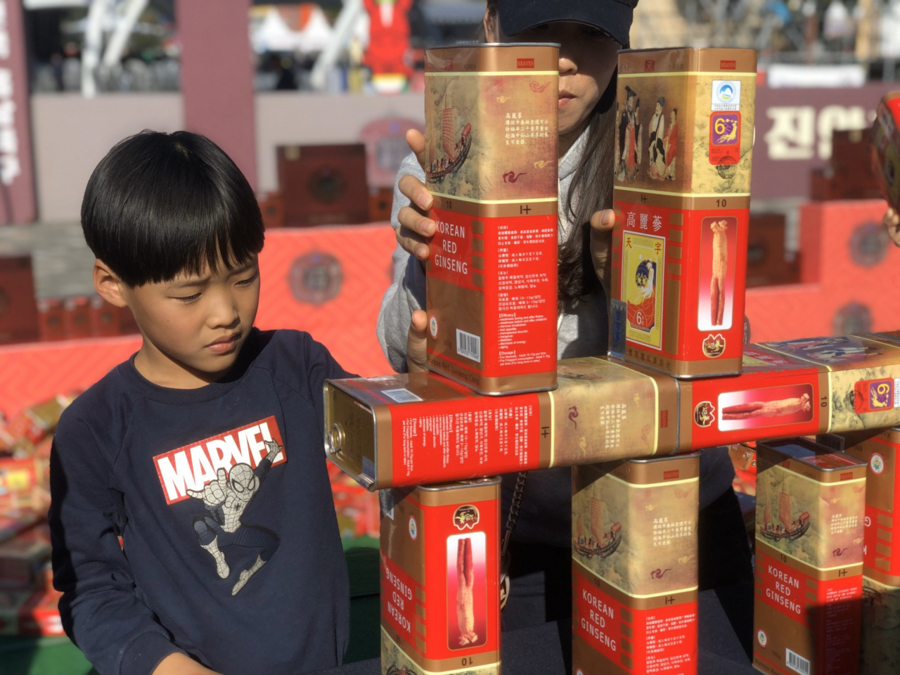 One of Korea's specialty products is red ginseng, and the Jinan district in Korea is known for producing some of the highest quality red ginseng! Held annually, the Jinan Red Ginseng Festival aims to raise awareness about the myriad of health benefits that red ginseng can provide.! While there, you can feast on local delicacies made with red ginseng, including red ginseng tteokbokki, red ginseng choco pie and red ginseng steamed bread. Here's a tip – some sellers will be offering good discounts on red ginseng products so be sure to hunt for some bargains!
Date: August 
Price: Free entrance, varying prices for activities
Seoul International Fireworks Festival
Every year, Yeouido Hangang Park hosts one of the most spectacular displays of fireworks in all of Korea. The event draws in a crowd of close to 1 million people, who watch the firework display from different spots in Yeouido, such as Hangang Bridge and N Seoul Tower. Each year, teams from different countries will showcase their best pyrotechnics as the audience eagerly onlook the burst of different colours that light up the sky. Street food, games and music performances are also available at this festival!
Date: Not announced yet
Price: Free entrance, varying prices for activities
Seoul Silver Grass Festival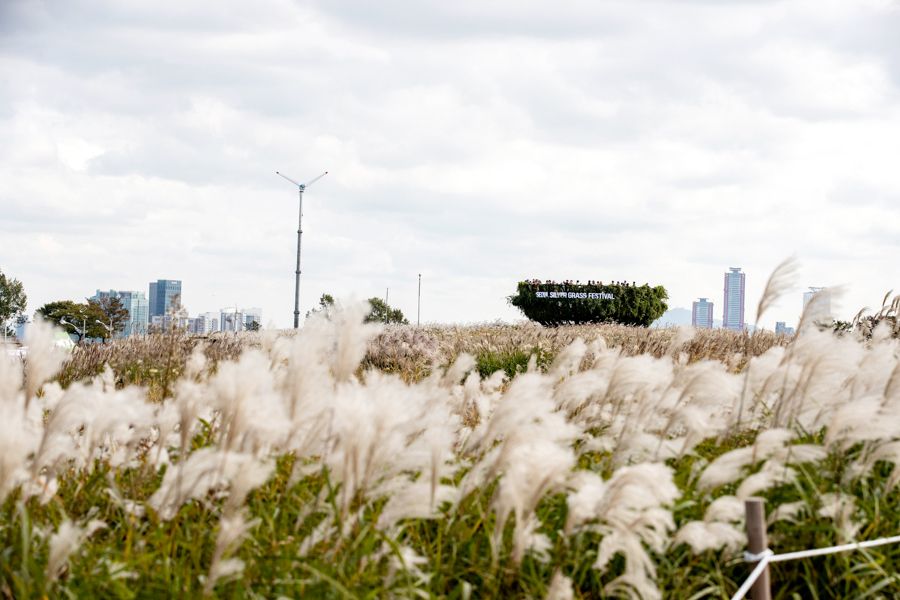 During the autumn season, Haneul Park hosts the Seoul Silver Grass Festival. Many visit Haneul Park to gaze at the stunning cityscape of Seoul while watching the sunset, and to admire the vast fields of silver grass. This is also one of the best spots to see pink muhly grass, which blooms in the fall. You can find plenty of Instagram-worthy photo opportunities here! The journey to get to Haneul Park is not the easiest, as it involves climbing up 291 steps, but the glorious views when you get to the top make it worthwhile! Alternatively, you can take a tram up. (2,000 KRW for one-way, 3,000 KRW for two-way)
Date: Not announced yet
Price: Free entrance
Andong Maskdance Festival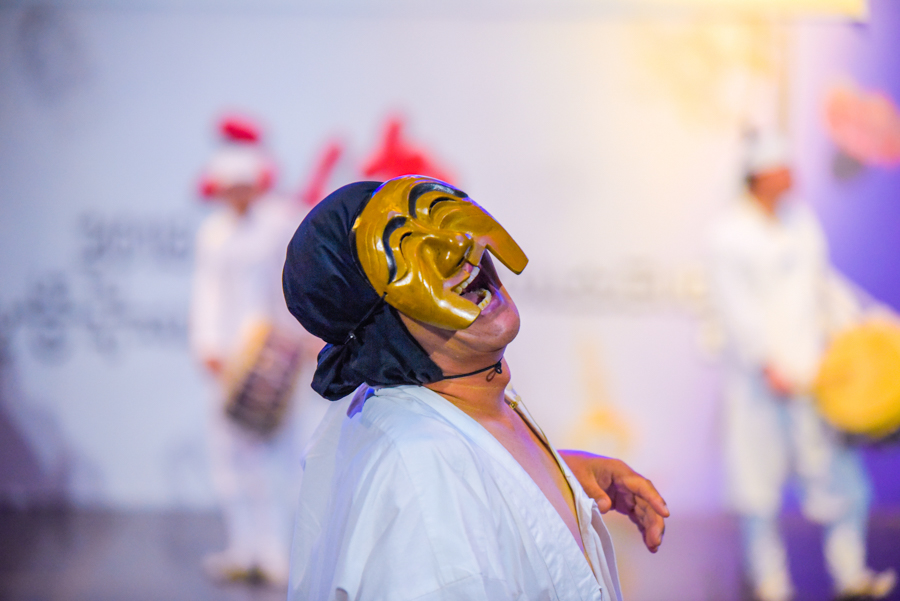 If you are looking for an authentic Korean cultural experience, you are sure to find it in the city of Andong. Home to Hahoe Folk Village, a UNESCO World Heritage Site, many visitors come here in the autumn to watch traditional mask dances and enjoy the performances put on by the troupes. You might even get a chance to don a mask and join in the fun! The festivities last for 10 days in total – and there are even hanok rooms available if you are looking to spend the night! Before leaving, head to one of the shops to pick up your very own mask as a souvenir.
Date: October 
Price: Free entrance, varying prices for activities
Winter
Go-go Ski Festival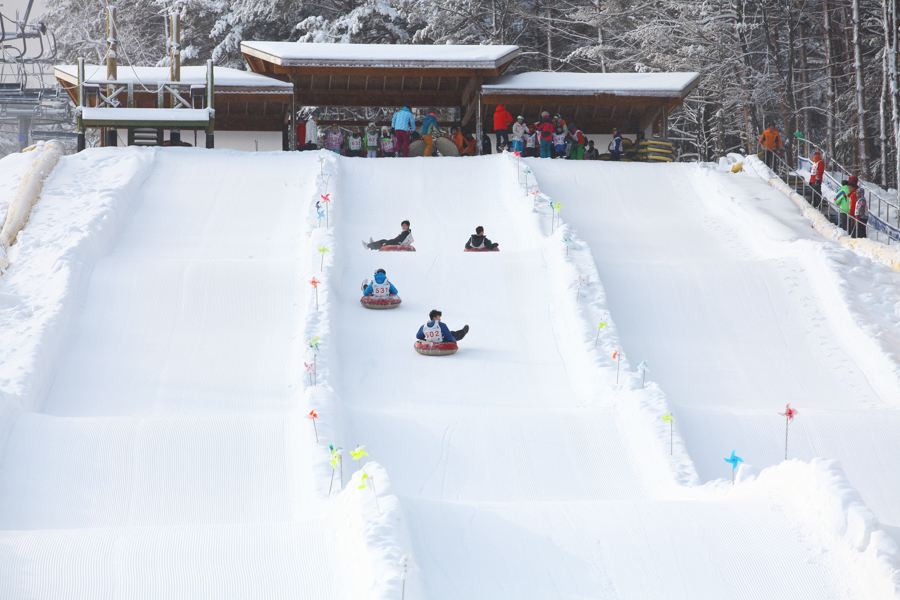 The Go-go Ski Festival held at High1 Ski Resort is one of the many ski festivals that take place in Korea during the winter season. Whether you are a novice or a pro, the Go-go Ski Festival has activities that everyone can enjoy! You can take snowboard lessons from instructors, take part in an amateur skiing contest, or watch the various performances that are on display. Hop one of the ski lifts for a ride to the top of the slopes, where you can get a bird's eye view of the entire resort. It's also a great spot to snap some photos with Korea's snowy mountains in the background.
Date: January – February 2024
Price: Varying prices for activities
Hwacheon Sancheoneo Ice Festival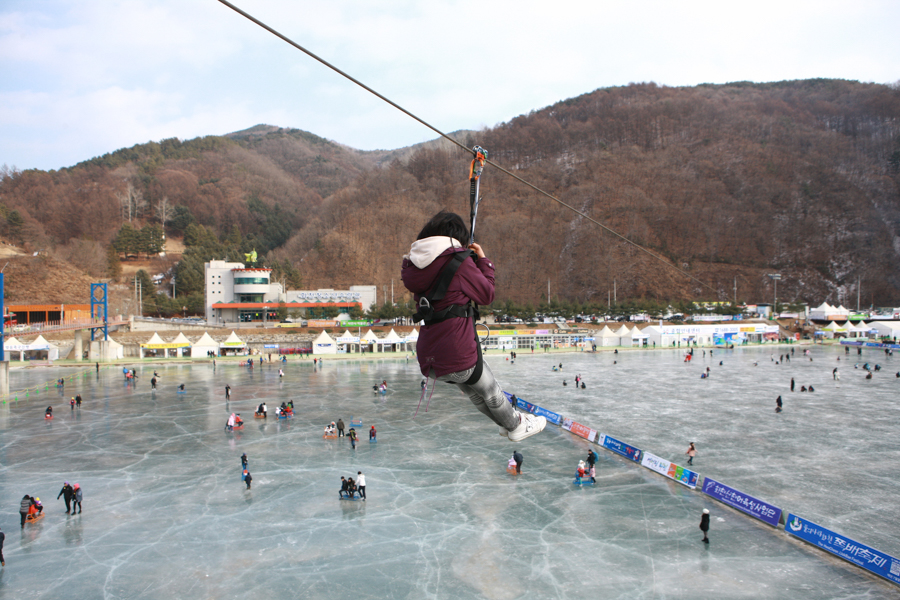 Regarded as one of the top four winter festivals in the world, Hwacheon Sancheoneo is a fun-filled fiesta that attracts over a million visitors each year! The main attraction of the festival is ice fishing, where you can fish for fresh trout from holes dug into the ice, before bringing it to the cooking station to be grilled on the spot. You can get your fix of adrenaline from sledding, skating and even ziplining over a frozen lake. Be sure to check out Hwacheoneo Cinema, the world's largest indoor ice sculpture exhibition, featuring life-sized sculptures of famous Korean landmarks.
Date: 7 Jan – 29 Jan, 2024
Price: Entrance fee is 15,000 KRW
Hongcheon River Ginseng Trout Festival
Head over to Hongcheon River for a chance to catch the famed "Ginseng Trout" – named after the six-year-old Hongcheong Ginseng they are fed with. While there, you can check out some of the other attractions such as Snow World, admire the beauty of traditional Korean thatched cottages and enjoy performances by local singers. If you're up for an ice-cold challenge, you can even try out bare-handed trout fishing!
Date: Not announced yet for 2024
Price: Free entrance, varying prices for activities
Inje Icefish Festival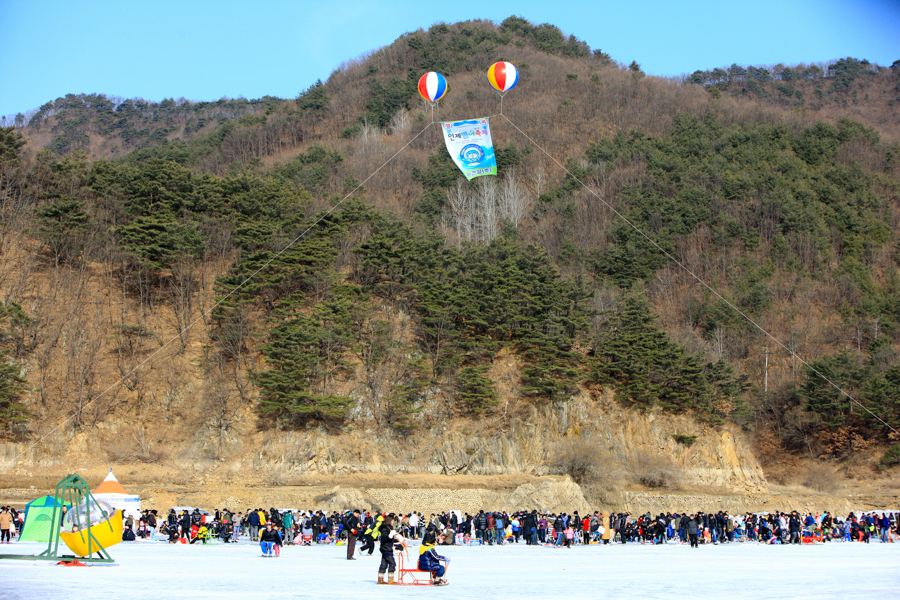 Held annually at the Soyang Lake located northeast of Seoul, the Inje Icefish Festival first began in 1998. Soyang Lake freezes over during the months of winter, becoming a full sized adventure playground hosting up to 50,000 people. One of the reasons why many tourists flock to this festival is to taste icefish – a variety of smelt known for its crunchy texture and a unique cucumber scent. You can indulge in some mouth-watering local delicacies or try your hand at a range of other activities including sledding, ice soccer, ice bowling and ice wall climbing.
Date: Jan 20 – Jan 29, 2024
Price: Free entrance, varying prices for activities
Taebaeksan Snow Festival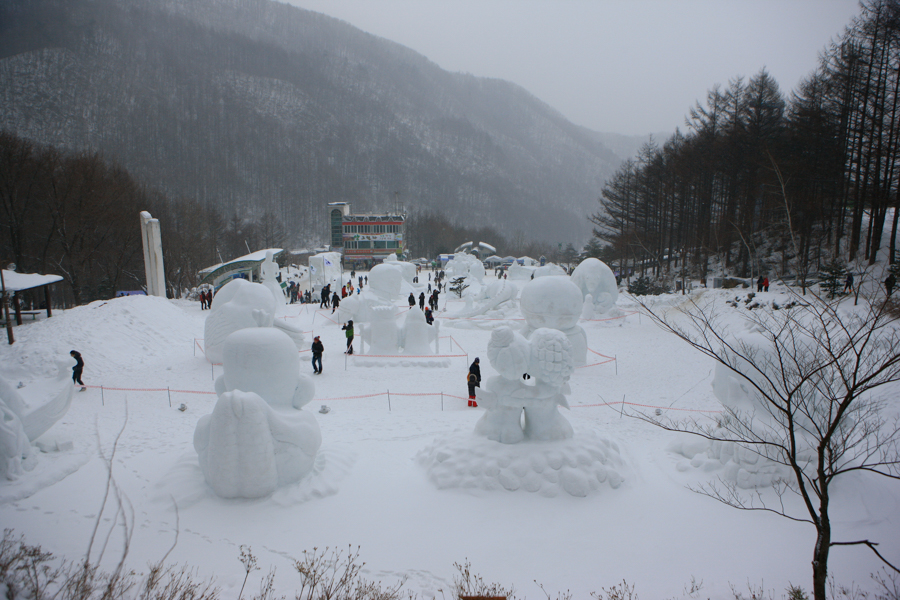 Hosted every winter amidst the backdrop of the majestic Taebaeksan mountains, the Taebaeksan Snow Festival features large snow sculptures spread throughout the city. Marvel at the handiworks of local students taking part in the National University Student Snow Sculpture Contest. Other fun-filled activities and attractions include the Taebaeksan Mountain Snowflake Hiking Competition, sledding, an igloo café, cultural performances and a starlight festival.
Date: Not announced yet for 2024
Price: Free entrance, varying prices for activities
Festivals In Korea
Festivals in Korea are a blast, and with so many different kinds to choose from, it's easy to find one that you will enjoy! Check out other activities that you can do in Korea, such as cafe-hopping. These 10 Korean phrases might come in handy on your next trip!
*Follow MiddleClass.sg on Facebook, Instagram, TikTok, and Telegram for more food, travel, and trending stories