Why ah?
It's been almost 4 or 5 years since the café scene started booming in JB. We saw amazing cafes in JB such as The Replacement, Bev.C, Flowers in the Window etc. From amazing interiors to cheap prices, Singaporeans flocked across the causeway to indulge in brunches and have conversations over good cups of coffee.
One may contend how prices have increased over the years, so really, it isn't that cheap in JB anymore but… we all know the basis of return to JB for most Singaporeans – the 3:1 SGD to RM exchange rate. In addition, we find ourselves flocking back to JB occasionally for that "overseas" experience. After all, most experiences are still relatively cheaper in JB, and we're literally going over seas right?
Not sure about how you're feeling, but for me? I'm kind of bored visiting the same old cafes in JB.
Thus, we have decided to do our own research and it turns out, there is still quite a bit of uncharted territory when it comes to cafes in JB. We have new cafe guides to places like Mount Austin, because now – We feel that Singaporeans are more willing to travel further in to explore newly discovered places. And life's a breeze with Grab, don't you agree?
Let's start off with the zesty places closer to home:
Merah Kitchen and Bar: Enjoy your food on… Mahjong Tables?
Located right behind the famous Hiap Joo Bakery, hidden amongst the midst of cafes such as Chaiwalla and Bev.C, Merah Kitchen can easily be overlooked, well, mainly because of its exterior.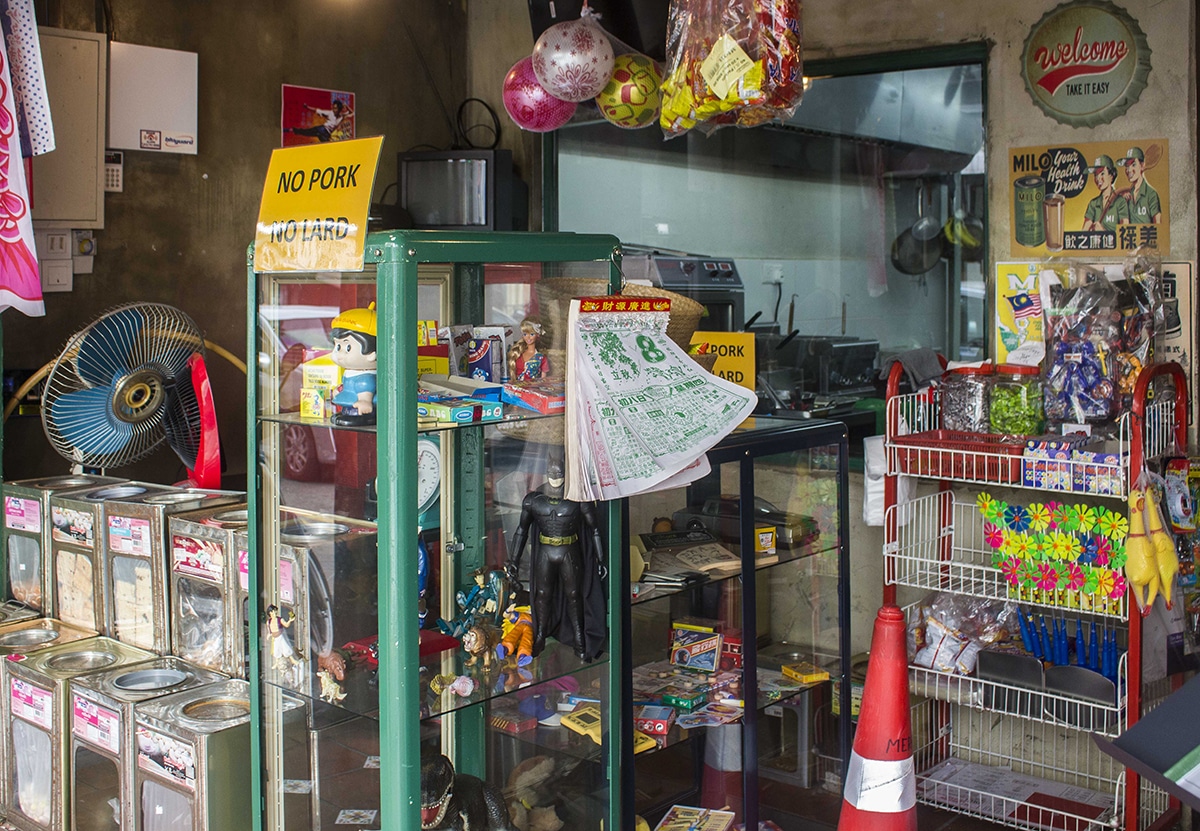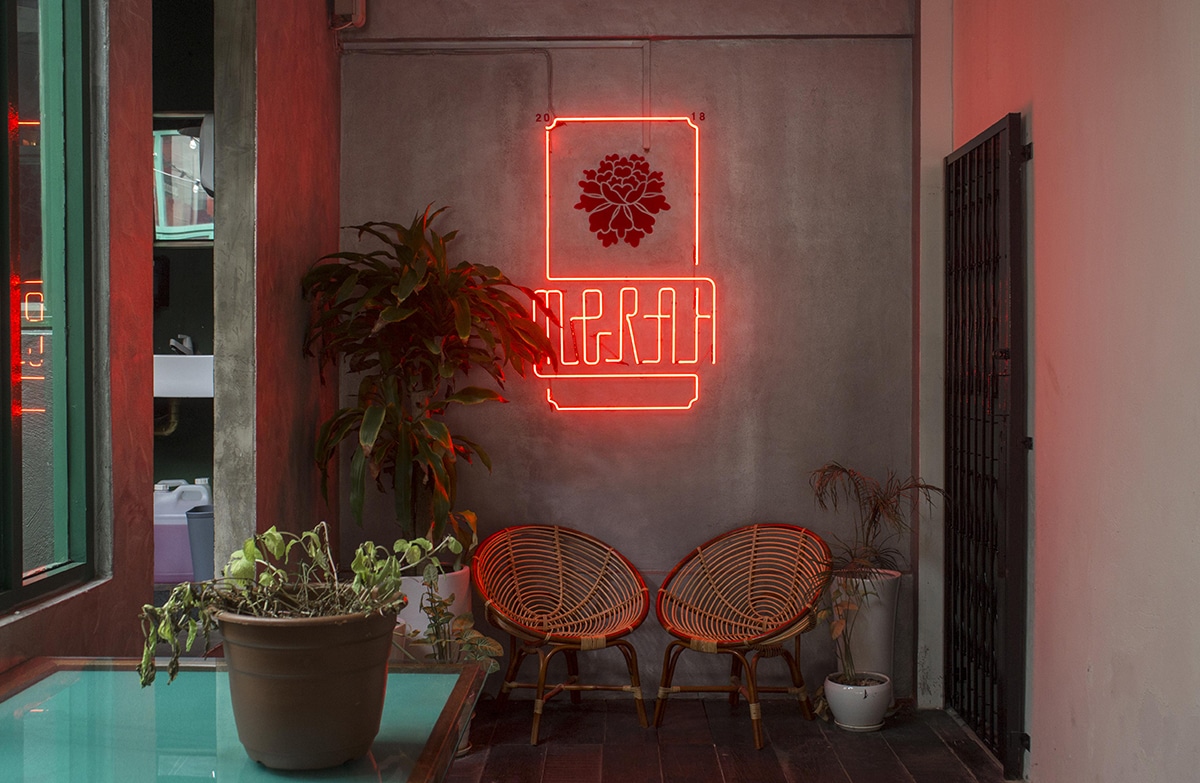 It just simply looks like a mama shop selling old school snacks and toys.
But if you pay closer attention, there's a kitchen right behind the counter, which hints at the place being more than just a mama shop. Walk up the staircase on the right and you'll be greeted with neon lights, music and a bar.
If you need to do a stock up for your Instagram feed with some Hypebeast themed photos, this is the place to be.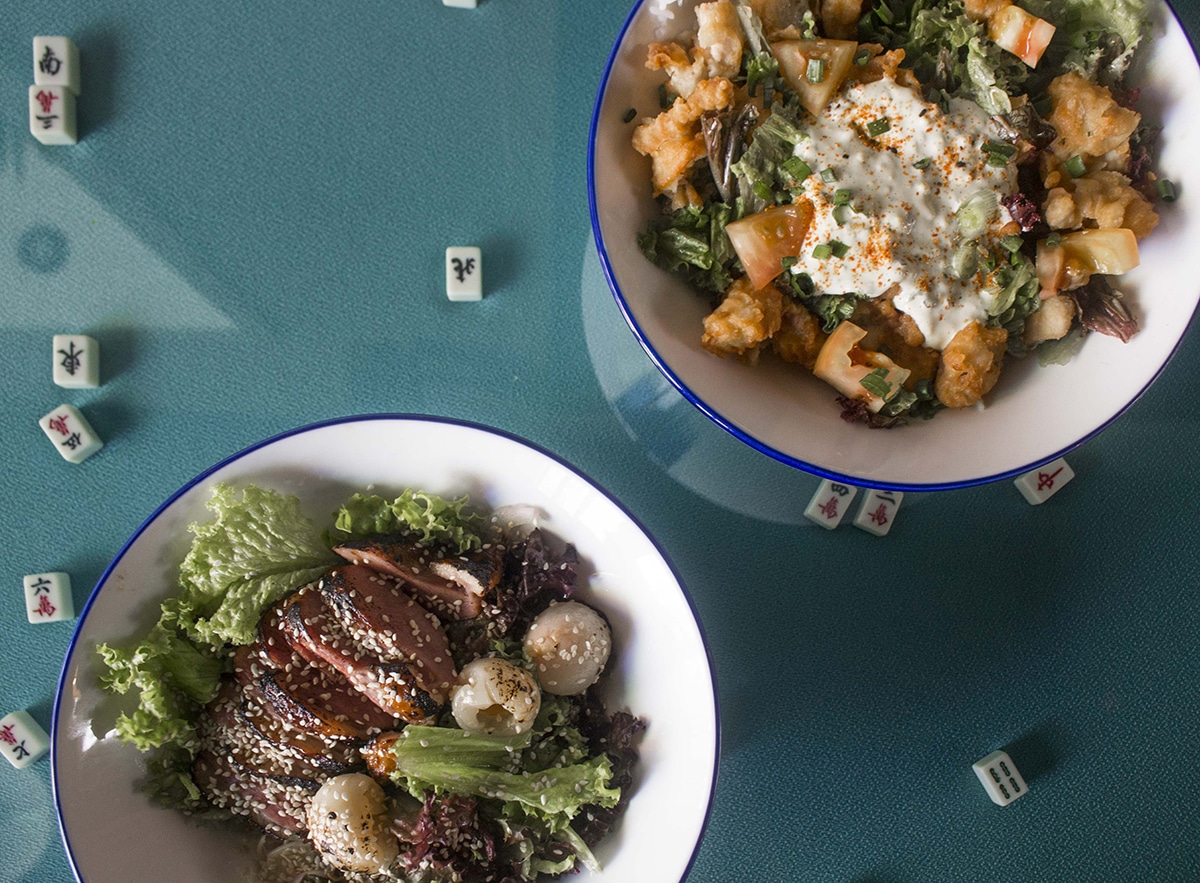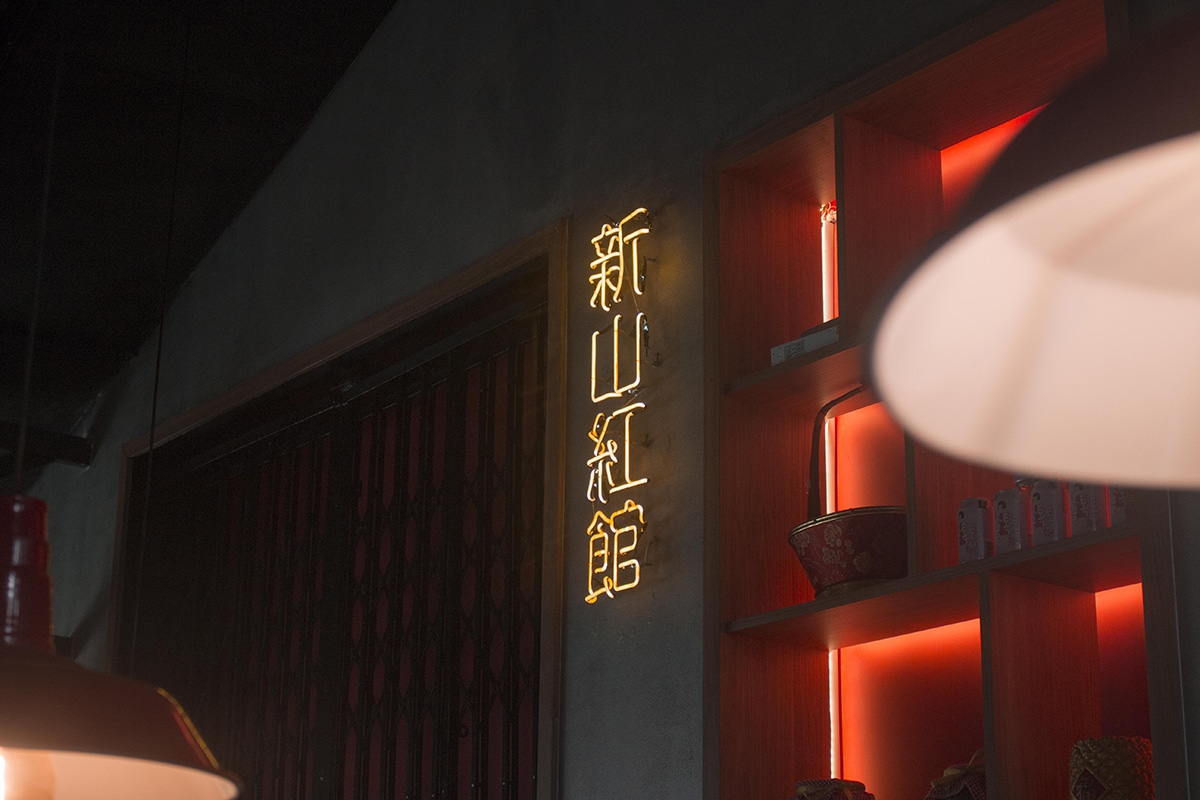 You'll uncover numerous surprises (pleasant ones we promise) here, such as the mahjong dining tables with tiny mahjong tiles in them! Is anyone up for a game?
Food-wise, I would say there's room for improvement, but a special shout out to the Lychee Smoked Duck –  we didn't expect much but the texture of the duck breast meat was amazing. Sometimes duck breast meat can come off as gamey but the duck served at Merah Kitchen is flavorful and pleasant.
At night, this place transforms into a bar! Beverages are pretty affordable, with a bucket of beer (4 bottles) going as low as 46.9RM. They sell soju here as well, four bottles for 84.9RM – which is roughly 7SGD per bottle.
I heard from the staff that for the month of August if you leave them a review on Google/Facebook – you get a free side of fries of your choice: Truffle, Sweet Potato or Wasabi. Go ahead and start redeeming your fries, we're quite sure they won't disappoint.
Merah Kitchen and Bar | Google | Facebook | Instagram
17-1, Jalan Ibrahim, 80000 Johor Bahru, Johor, Malaysia
Openwork – Gyozas and Coffee… by Xiaoming?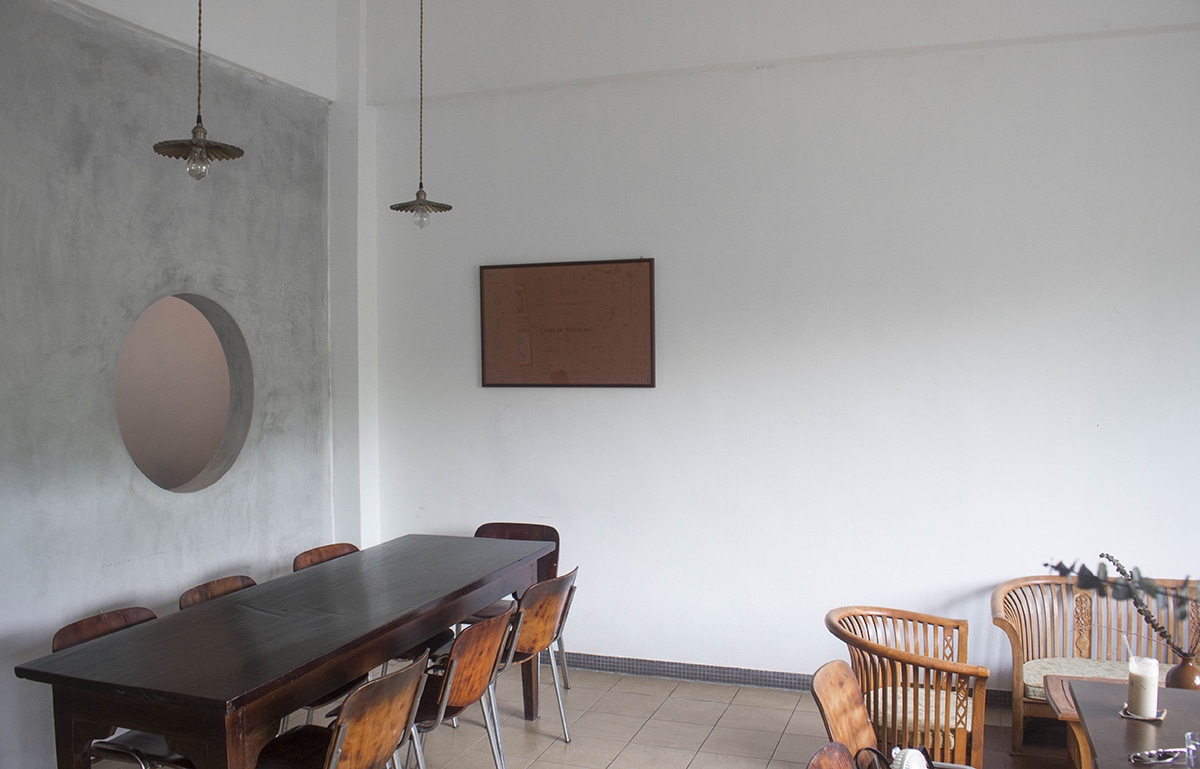 Honestly this is one of the more underrated cafes in JB. If you had ever made your way to KSL by car, chances were you would have seen this standalone café parked at the side of the highway.
I haven't encountered any coffee joint selling gyozas – interesting pairing indeed.
Their mascot – affectionately known as Xiaoming – is the cutest thing ever (Not Huang Xiaoming type of cute but still cute). Thinking that his hair looks familiar? Is it based on a 80s retro film? Guess what, it's a gyoza. 😉 Remember to snap a pic with this iconic character when you're there!
The menu here is amazing, with lots of interesting items such as the rice dons – some served with yuzu rice, some with sambal rice. We had the yuzu rice, which was an unconventional choice yet the dish spoke so close to heart. A distinctive yuzu flavour captured in every grain, with the texture of the grains super on point.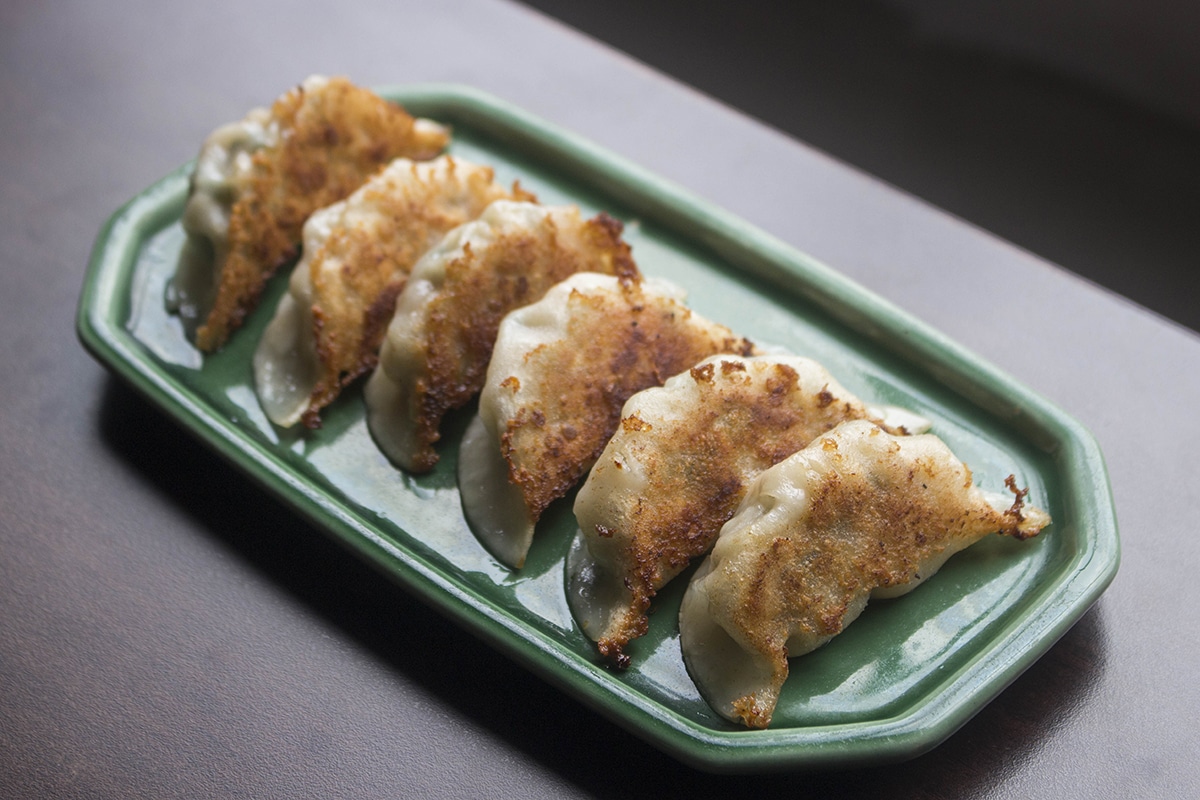 Besides coffee, Openwork offers some unique beverage options to help one beat the heat in summer, such as chrysanthemum lemonade, home-brewed hawthorn tea (reminded us of the pocky flavour we came up with!) and Liang Liang (凉凉) – a mixture of mint, green tea and honey.
For a place that markets itself as both a Gyoza and Coffee Joint – we're really glad that the gyozas did not disappoint. Think crispy on the outside, juicy meat filling bursting with flavour on the inside.
If you love minimalistic and clean cafes with good food, this place is for you. Adding this to my list of favourite cafes in JB.
Openwork | Google | Facebook | Instagram
236, Jalan Tun Abdul Razak 1/1, Wadi Hana, 80300 Johor Bahru, Johor, Malaysia
JUGOS Austin – Fresh Juice Bar with Honey Pearls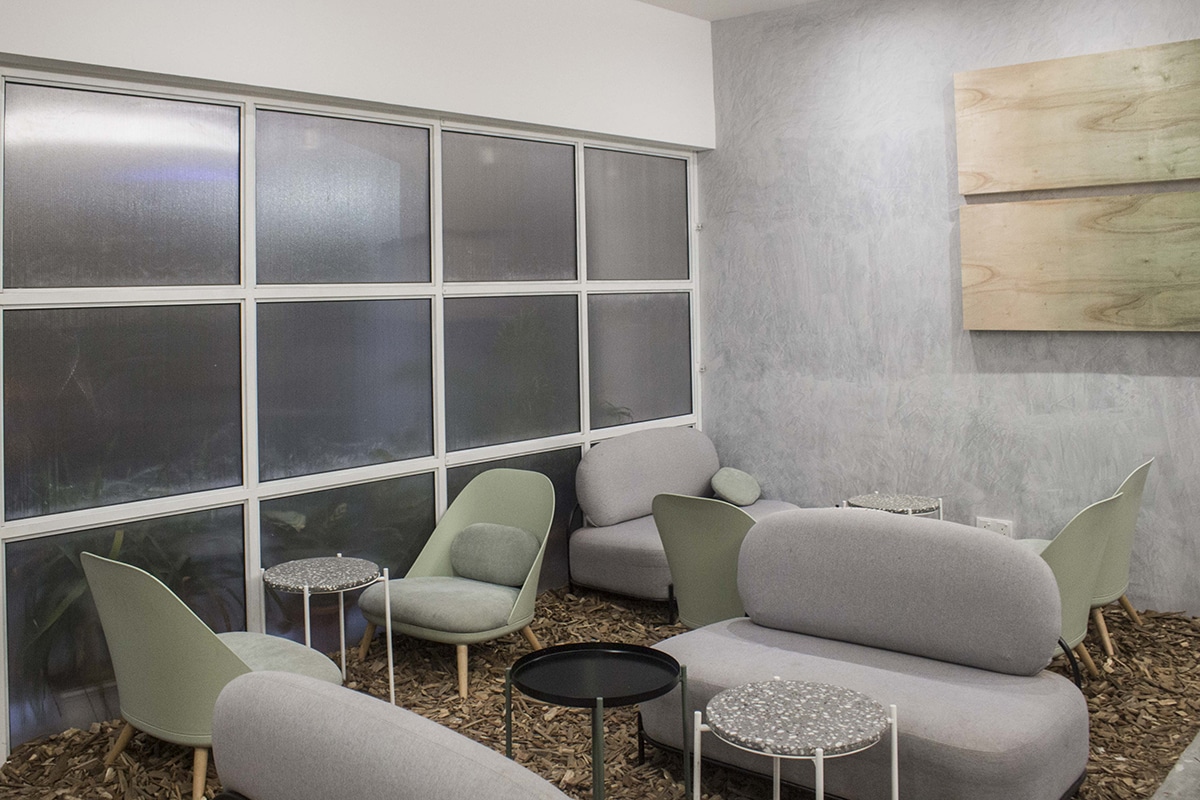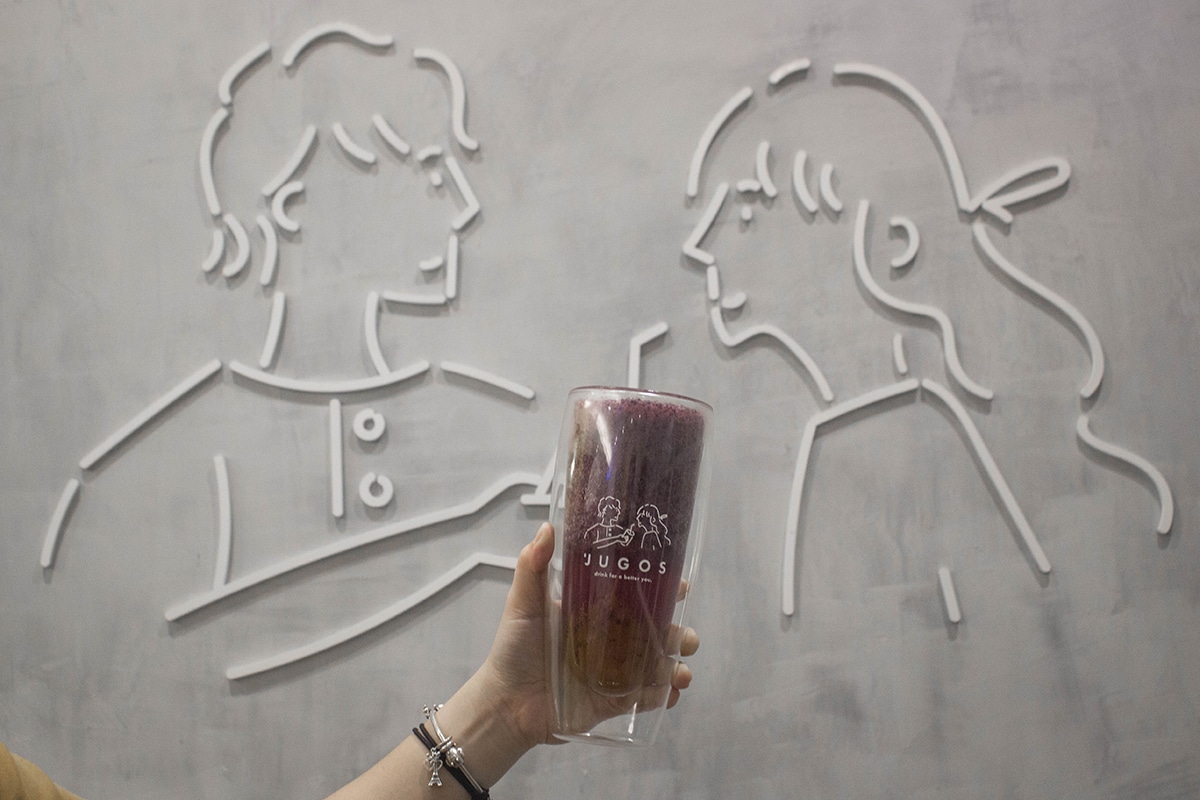 Jugos Malaysia has two outlets – one in Pelangi and another one in Mount Austin. Slightly further from the first two places, we visited the Austin outlet because we were drawn in by the interior, and truth be told, this place won a design award for best dining space!
The interior kind of reminded us of Hans Im Glück at Raffles. While the woodchips on the floor gave off a certain Korean Café/Gentle Monster vibe.
The main part of their menu features fresh juices – with the most famous one being the avocado milk. Jugos has hopped on the trend by offering golden honey pearls. With bubble tea drinks labelled as an essential beverage for millennials nowadays, it's heartening to see a juice place with a trendy twist gaining traction.
We tried one of their top 5 items – the Grape Juice paired with Golden Honey Pearls. Very refreshing, cold and sweet (in a non-artificial way). The pearls were great as well – chewy and you can definitely taste the honey.
There's a KTV lounge and a great number of Korean restaurants nearby if you ever need a late-night healthy thirst quencher instead of bubble tea – you can give this place a try. They are open till 1 am.
JUGOS Austin | Google | Facebook | Instagram
45, Jalan Austin Heights 3, Taman Mount Austin, 81100 Johor Bahru, Johor, Malaysia
Hāto Patisserie & Café – Cutest No-Face Dessert Ever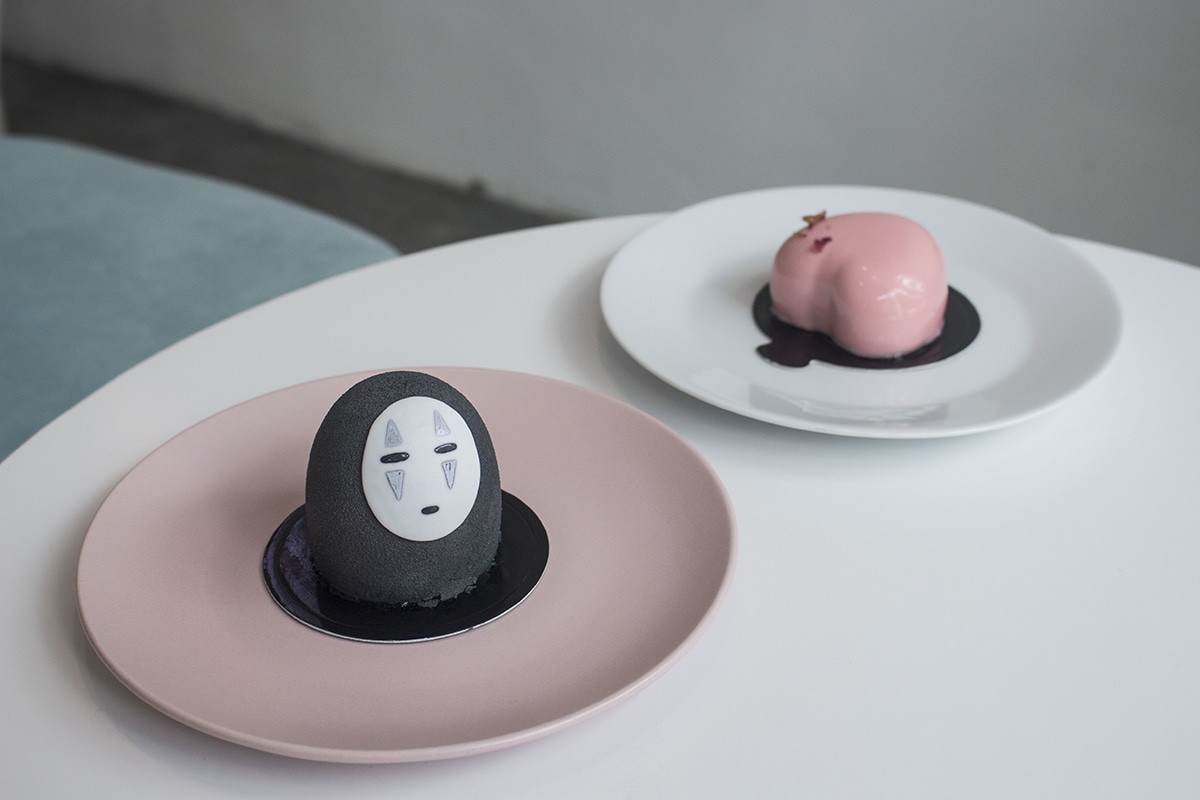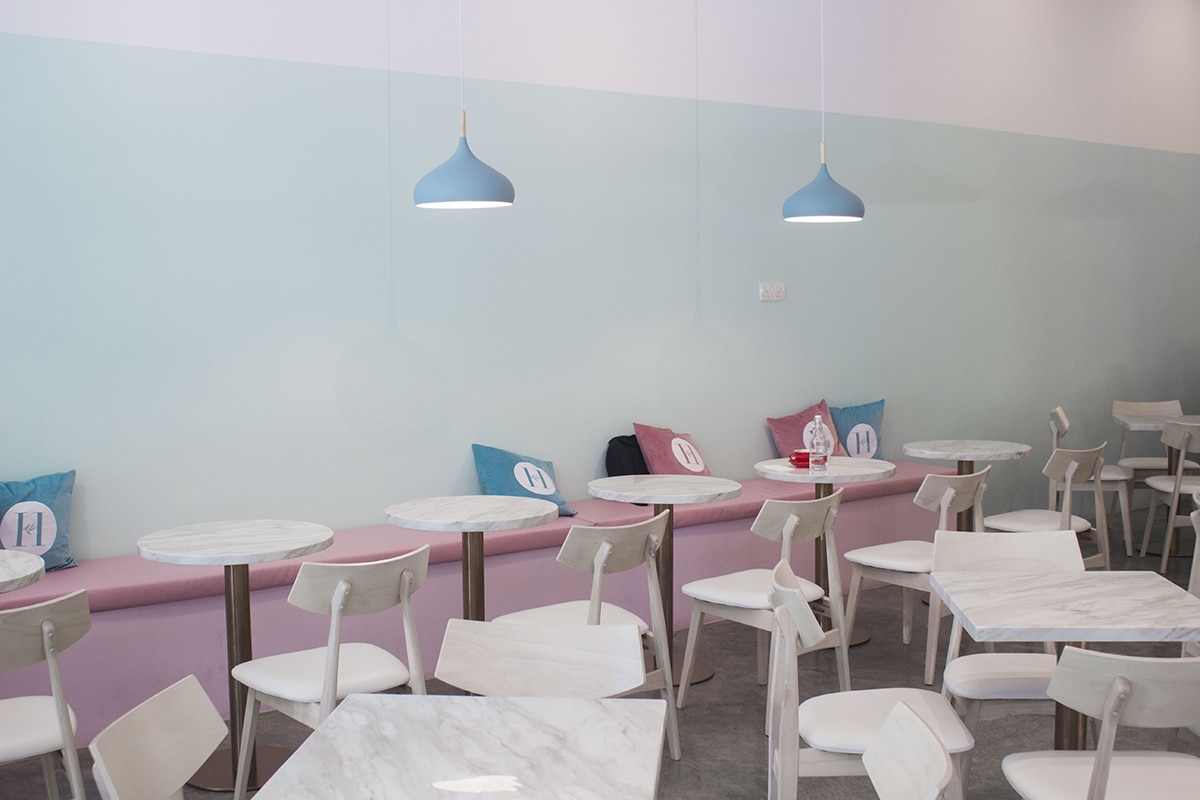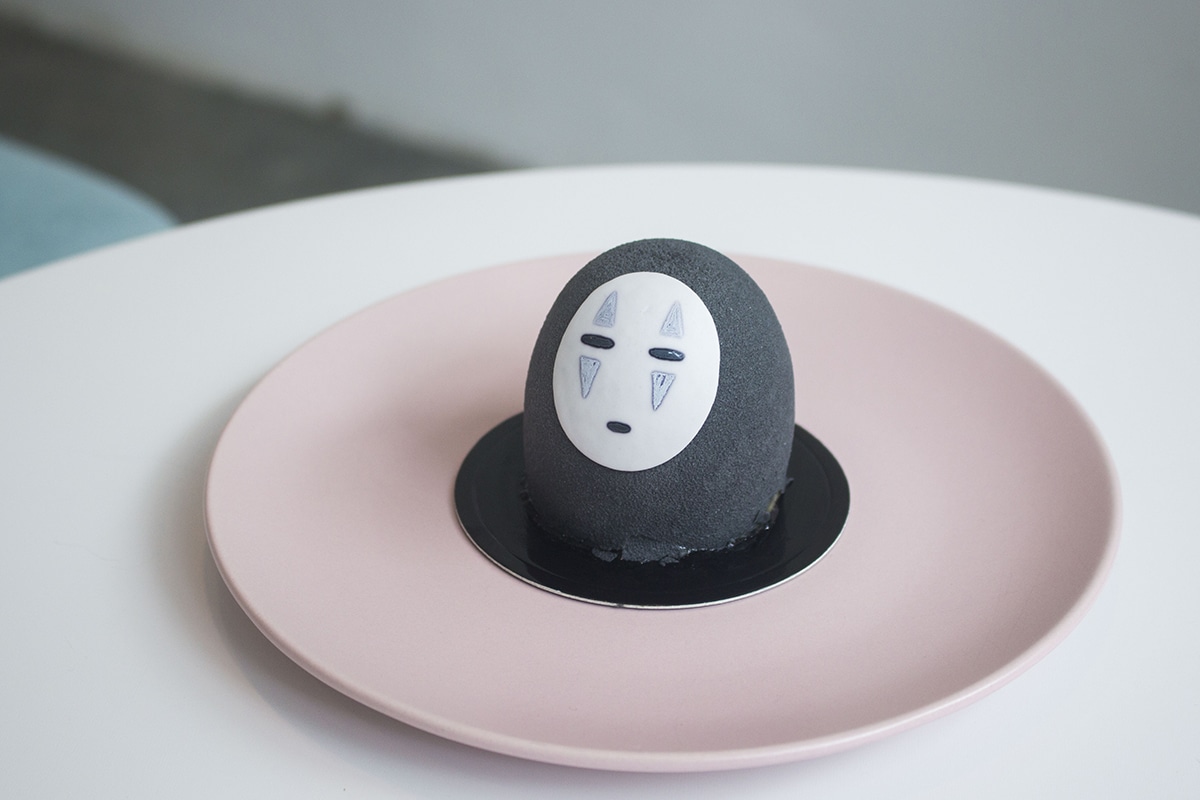 Just a stone's throw away from Mid Valley Mall, the legendary Spirited Away film character, No-Face, now comes in an adorable mousse cake dessert which you can devour.
I mean – need we say more? Too cute!!
If you're into pastel colours, white marble tables and Tiffany blue coloured couches – Hato Patisserie may be your next favourite cafe in JB. We are speculating that this place might just go viral and be holding the crowd soon because of the No-Face dessert.
The other cake – known as Hato, is a heart-shaped rose lychee mousse cake filled with strawberry and raspberry compote. It also slightly looks like two butt cheeks (yas we like), bearing some resemblance to the famous Apeach character from Kakao Friends.
And now for the most important question! What flavour is the Kaonashi/No-Face cake? We'll let you guys take a guess, share your answers with us in the comments section, we're curious to see what you guys can come up with. We'll let you know the answer on our Facebook & Instagram – so do like, follow us and stay tuned! 😉
Hāto Patisserie & Café | Google | Facebook | Instagram
No 01-15, Block F, Komersil Southkey Mozek, Persiaran Southkey 1, Kota Southkey, 80150 Johor Bahru, Johor, Malaysia
Disclosure: We had no issues finding a spot in these cafes over the long national day weekend, it's probably safe to say that these places won't be too crowded when you visit.
For now.