During peak summer, temperatures in Korea can go up to 36 or 37 degrees, sometimes surpassing Singapore's. This is why there's a whole range of food in Korea that's extremely popular during summer that helps with the heat. Here are 11 Korean Summer Foods you can try (even in SG!) when it gets too hot!
Popular Korean Summer Foods
Bingsu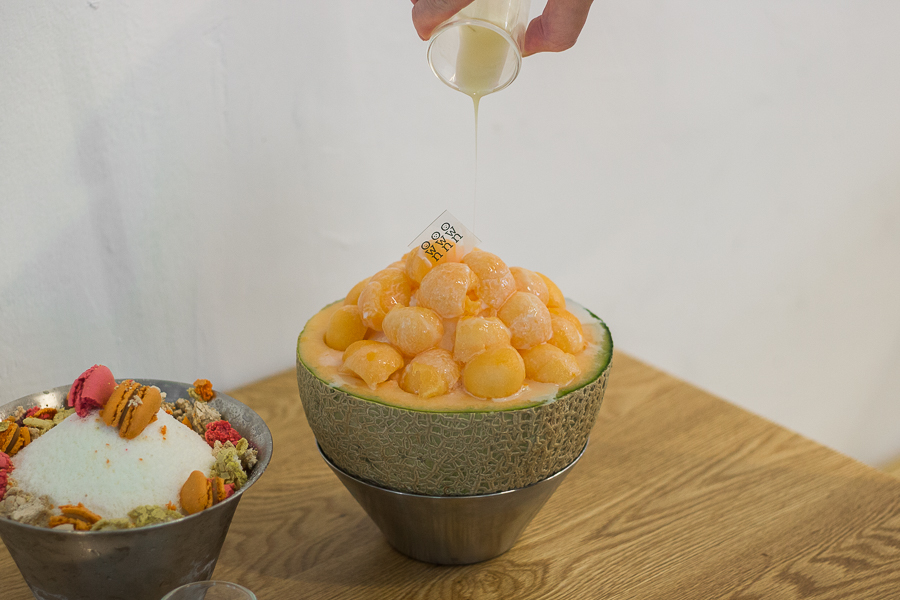 Bingsu from 82 Own
A Korean summer classic, Bingsu is a shaved ice dessert that comes in various toppings, with the most iconic being red bean (patbingsu).
In Korea, you can expect over-the-top Bingsu, some even come with a slice of cheesecake as a topping! There's also the famous Apple Mango Bingsu which's a summer seasonal menu from Shilla Hotel, priced at 64,000won for a serving in 2021.
Naengmyeon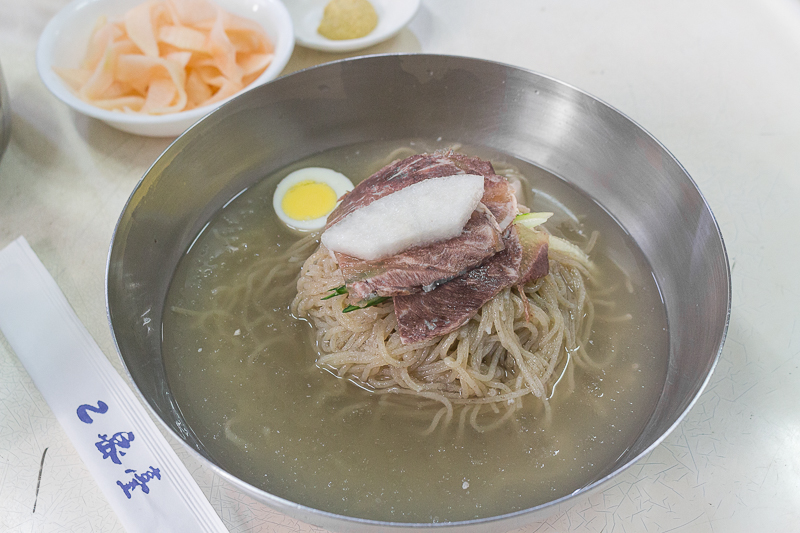 Another classic Korean Summer Food is Naengmyeon. Imagine chunks of ice in your clean-tasting broth with chewy buckwheat noodles.
The dish is usually topped off with julienned cucumbers, sliced Korean pear, radishes, boiled egg and slices of beef.
Depending on your taste preference, you can add in more vinegar or mustard sauce.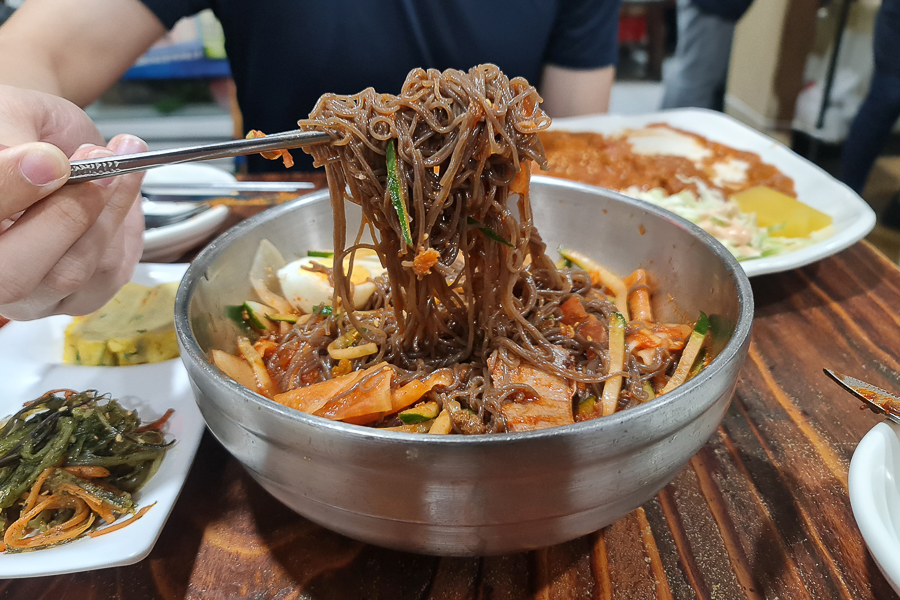 Bibim-Naengmyeon from Myung Ga II
There's also a dry version, known as Bibim-naengmyeon which usually comes with a spicy-sweet sauce.
Naengmyeon is also a speciality of North Korea, with several restaurants in South Korea specializing in the dish. You can check out our experience with Pyongyang Naengmyeon here.
Naeng-Jjamppong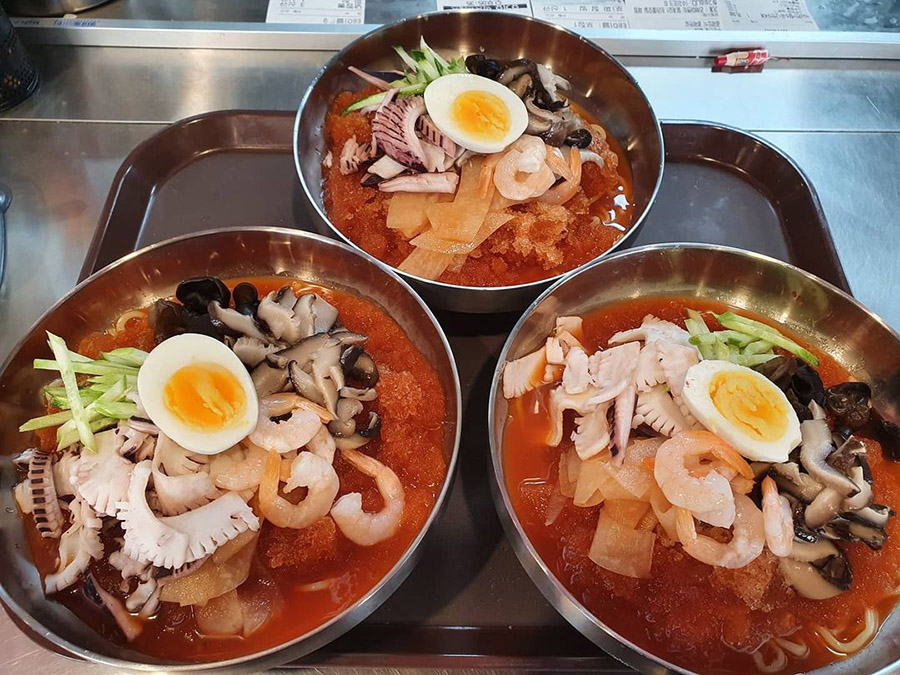 While most people know about the classic Jjamppong dish in Korean Chinese restaurants, did you know that it comes in a cold, icy version?
A summer special, Naeng-Jjamppong comes with a red icy broth with a nice spicy kick while maintaining its clean flavour.
The next time you're in Korea during summer, make sure to try this unique Korean summer dish!
Makguksu
Makguksu is what we like to describe as a mix of Naengmyeon and Bibim-Naengmyeon. It's usually served with cold broth, along with a spicy sauce, seaweed flakes and lots of sesame seeds.
The noodles used in Makguksu are usually of a darker colour because there's higher buckwheat content and the outer hull of buckwheat is processed together.
Jjolmyeon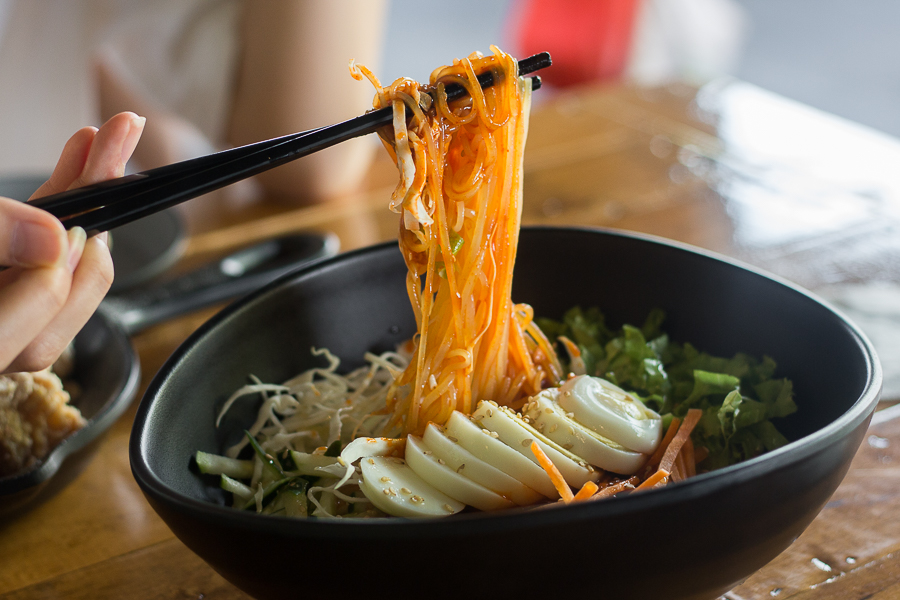 Jjolmyeon from Ahtti
Compared to Naengmyeon, the texture of Jjolmyeon is way chewier. It almost has this bouncy texture.
It's usually served with vegetables and a sweet & spicy sauce. Mix everything together just like how you would bibim-naengmyeon.
Samgyetang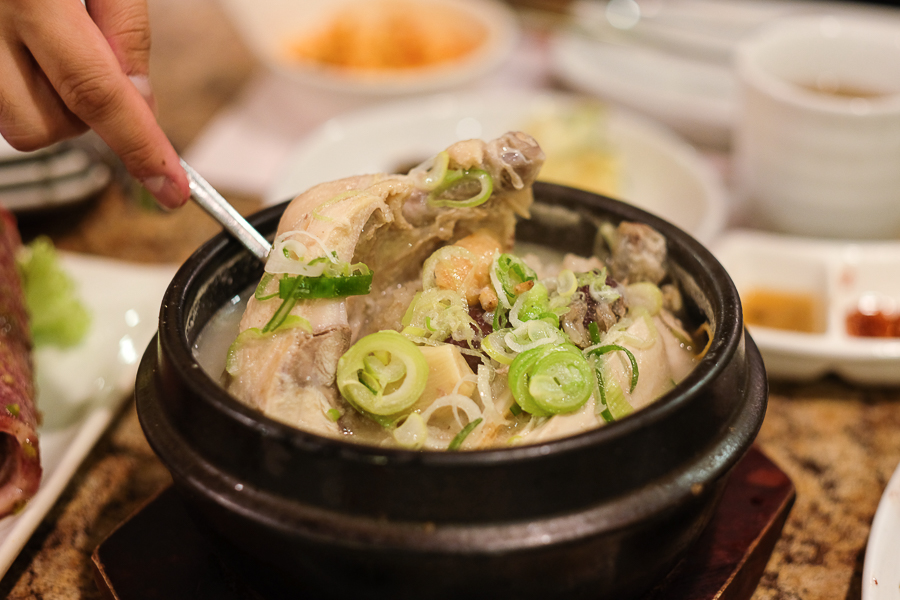 Samgyetang from Seoul Restaurant
Not only cold food get all the attention during summer in Korea! Samgyetang is one of the most classic Korean summer foods. The dish is also a hot favourite amongst tourists.
With a logic of fighting fire with fire, Samgyetang is commonly eaten during the three hottest days of summer, also known as sambok.
The dish is full of nutritious ingredients like ginseng, jujube, milk vetch root and garlic, which is said to help replace any nutrients lost from excessive sweating and physical activity.
Mulhoe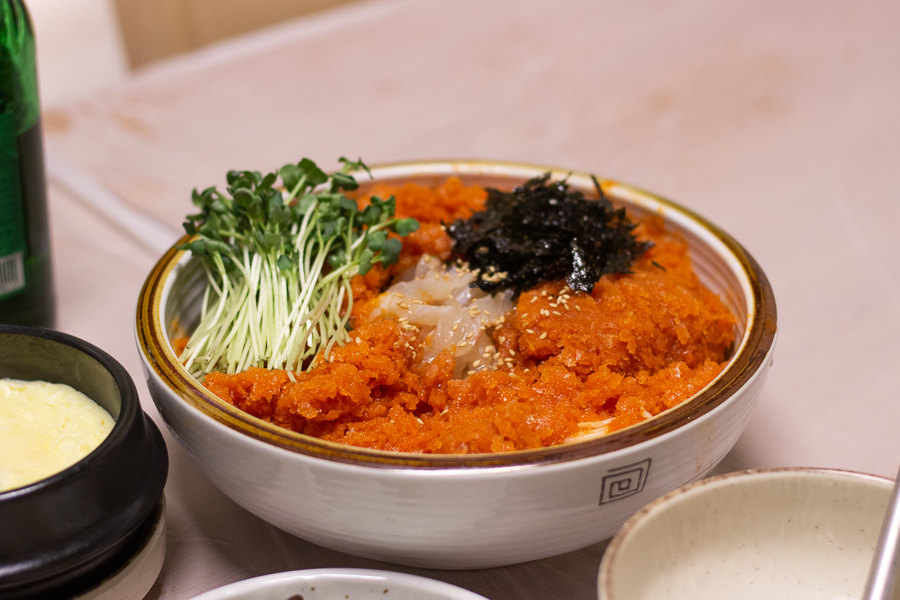 Mulhoe from Pohang Seafood
Known as raw fish soup, Mulhoe is a dish that originated from Pohang, South Korea. The dish comes with an icy, almost slushy textured broth that's spicy and refreshing.
It usually comes with noodles, vegetables and a generous serving of sliced raw fish.
If you're craving for Mulhoe, you can find it in Korean seafood and sashimi restaurants in Singapore as well!
Kong Guksu
Kong Guksu is a Korean summer classic, that's basically noodles in a cold soy milk broth. If you're thinking it's something like placing noodles in Mr Bean soy milk, you're wrong!
The soy broth tastes more savoury because of the addition of sesame seeds and different nuts. You'll also find the dish topped off with sliced cucumbers.
Oi-muchim/Oi-naengguk
Cucumbers are a hot favourite during summer in Korea because it's in season. The juicy and watery features of the cucumber also make it a very refreshing ingredient in various dishes.
Oi-muchim is a seasoned cucumber dish that has a nice spicy taste, and popular as banchan (side dish).
Oi-naengguk on the other hand is literally translated as Cold Cucumber Soup. It's made with julienned cucumbers, brine and lots of ice cubes.
Ice-cream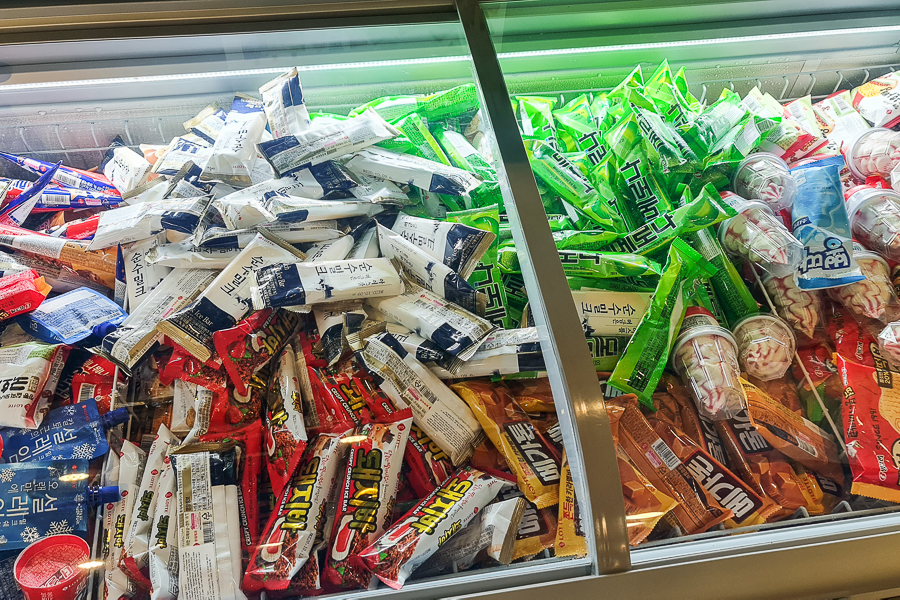 Who can forget about ice cream during summer?! Besides the popular Melona, brands tend to release seasonal specials during summer.
You can also head to Baskin Robbins, a popular brand amongst Koreans, and enjoy scoops of their delicious ice cream.
Hwachae
Hwachae commonly refers to Korean punches made using various fruits. A popular recipe during summer is using watermelon to make Hwachae.
Popular ways to make Hwachae include adding refreshing carbonated beverages like Cider (or Sprite) and milk together with the scoops of watermelon.
Bonus: Jangeo-gui
Grilled Eel, or Jangeo-gui, is a Korean food eaten typically during summer as well. In Korea, the dish is commonly known to bring stamina and for its health benefits in restoring energy level.
Korean Summer Foods To Try
With temperatures that call for a refreshing beverage, these Korean summer foods are a great way to help beat the heat. Maybe the next time you're perspiring like mad, you can whip up a cooling bowl of Oi-naengguk or head down for a bowl of Naengmyeon.
*Follow MiddleClass.sg on Facebook, Instagram and Telegram for more food, travel, and trending stories!