Located in the hip neighbourhood of Yeonnam-dong where aesthetic cafes are aplenty, one might pass by Butter & Shelter unknowingly because of how normal it looks on the outside – like a normal house.
However, the bakery cafe is a relatively popular spot for a wide range of bakes, such as cookies and scones. This feels especially in line with their cottagecore aesthetic, which makes one feel like you're somewhere in the countryside, having tea and scones.
Cottagecore Cafe in Seoul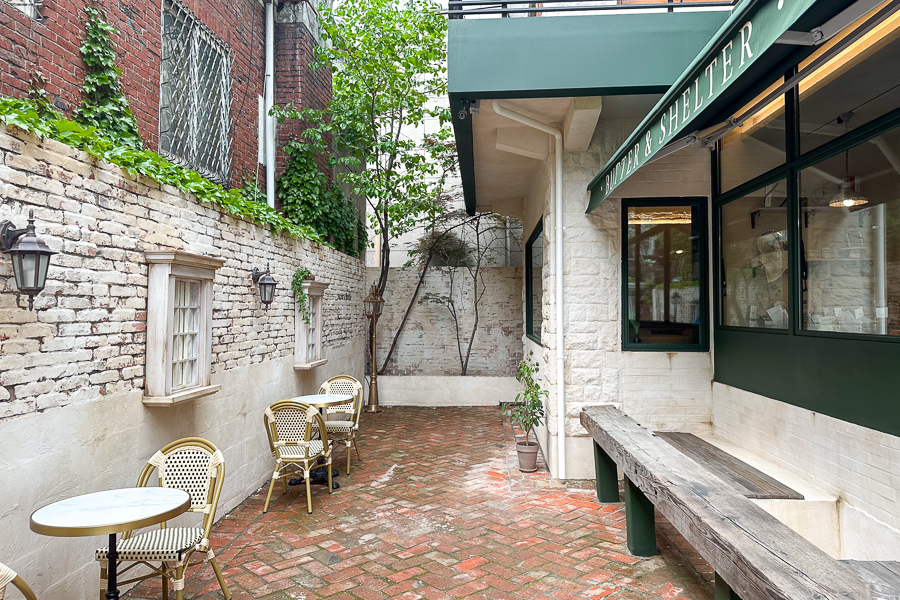 The alfresco seating area in front of the cafe is huge and is decorated with mirrors and streetlamps, which added a certain European flair to it, accentuated by the brick walls. There aren't many seats outdoors, but you'll find plenty indoors.
Inside, the interior is much more muted, with modern wooden furnishings and seats. However, the bake display and coffee counter area were gorgeous, with their bakes on display like many popular cafes such as Cafe Layered.
We recommend finding a seat outdoors for the best experience, though summer might not be the perfect season for this.
Butter & Shelter Yeonnam Menu
When we visited, the bakery cafe had two signature coffees, a Butter Spanner (6,500won) and a Shelter Spanner (6,000won). We tried both of these drinks, but more on that later. Recently, they added 2 new drinks, an Apple Spanner (6,500won) and a Supersweetcorn Spanner (6,500won) to their signature menu.
Other drinks included the basic Americano (4,500won), Latte (5,000won), and Vanilla Latte (5,500won).
Non-coffee drinkers can also opt for drinks like Strawberry Latte (5,500won), Green Graoe Ade (6,500won) & more.
Moving on to the main feature of Butter & Shelter – their bakes!
Just for cookies alone, we spotted a range of options, such as the Original Levain Cookie (4,200won), Oreo Smore Cookie (4,700won), Matcha Macadamia Cookie (4,500won), Yellow Cheese Cookie (4,700won), and Tiramisu Cookie (4,500won).
It doesn't stop there! For berry lovers, you can opt for either the Blueberry Cheese or Raspberry Cheese Cookies (4,700won).
There were also a couple of scones and brownie options.
In the chilled compartment, you can also dig into items like the Butter Sand (3,200won), Basque Cheesecake (7,500won), or Butter Bar (4,200won).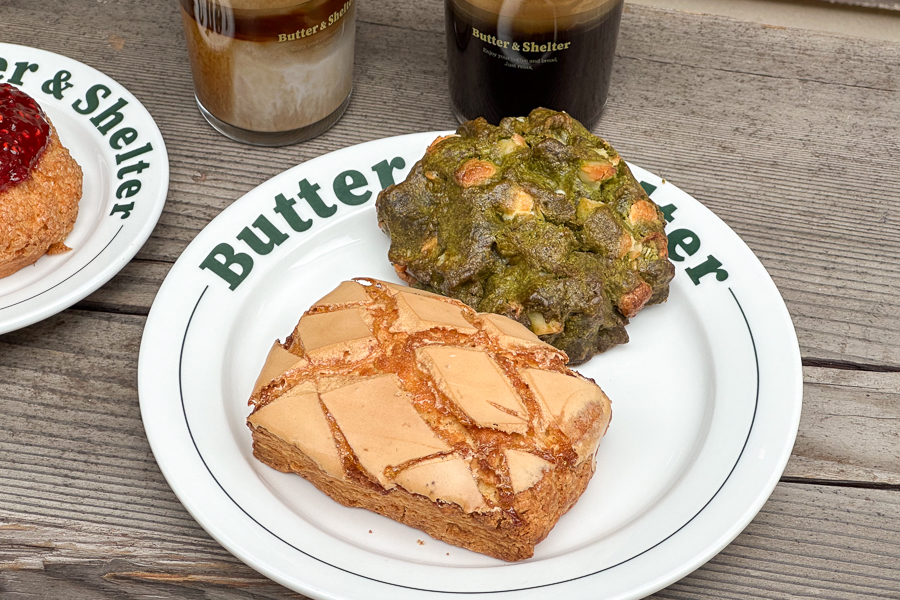 We opted for a Nuneddine Scone (4,700won) which intrigued us with its crumbly exterior and cute pattern, but it eventually left us slightly disappointed with its dry texture and interior. Perhaps a scoop of cream to go with it would've made the experience slightly better.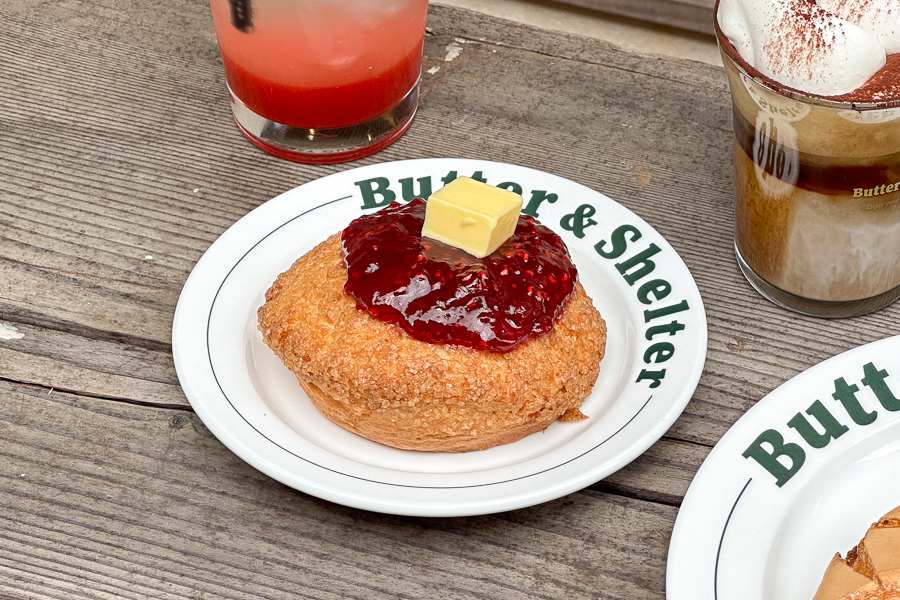 The Raspberry Scone (6,000won) was better in terms of overall texture, with the raspberry jam alleviating the texture of the scone. That small cube of butter was delicious by the way.
Moving on to their Matcha Macadamia Cookie (4,500won) which we weren't too impressed with, had a decent balance of matcha flavour and macadamia nuts, but was eventually too dry for us as well.
Their drinks, on the other hand, impressed us.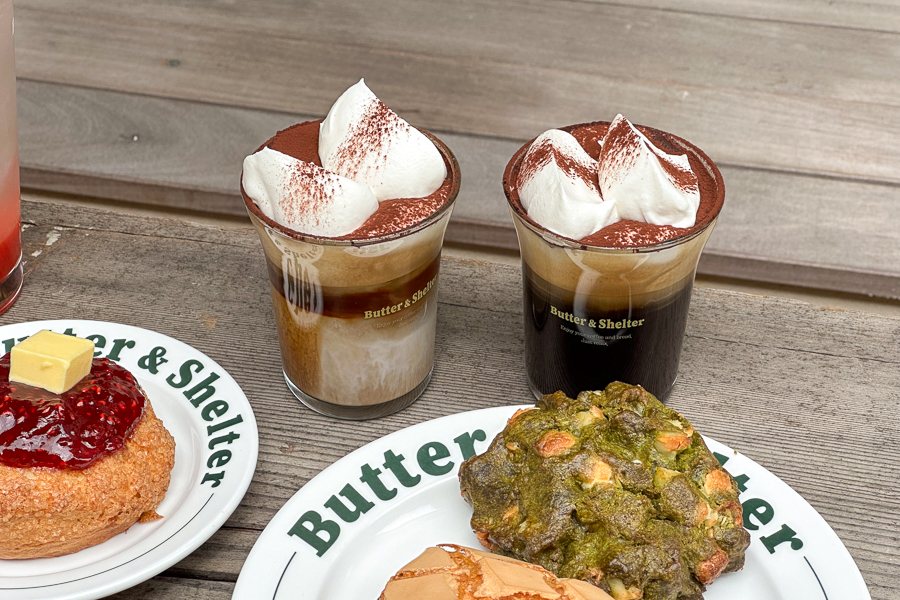 The difference between the Butter Spanner and Shelter Spanner is that one features a milk-based coffee, while the other only has black coffee. Both are topped with their signature butter cream, which was smooth and had just the right amount of sweetness.
We preferred the Shelter Spanner since the combination of black coffee and sweet cream felt more balanced, but if you're someone who has a sweet tooth, the Butter Spanner might be a better option.
Cafe in Yeonnam-dong
While their bakes didn't really impress us, we would definitely be back for the coffee. Maybe next time we'll try their Signature Butter Sand which seemed to be a hit among cafe patrons.
Butter & Shelter Yeonnam (버터앤쉘터 연남)
170 Seongmisan-ro, Unit 102, Mapo-gu, Seoul
서울 마포구 성미산로 170 102호
Mon-Sun, 10am-9pm
Nearest Subway Station: Hongdae University Station (Line 2), Exit 3
*This was an independent review by MiddleClass
*Follow MiddleClass.sg on Facebook, Instagram, TikTok, and Telegram for more food, travel, and trending stories