Honbo is a popular burger chain hailing from Hong Kong, and they have opened their first international outlet here in Singapore! The brand features American-style burgers made with full beef patties and simple ingredients. 
Diner-Inspired Retro Interior
The eatery sports a bright blue colour, making it stand out from its neighbours in CHIJMES. It takes after an American diner, with an open bar area and booth-style seating. 
The seats have a unique curved design in light wood, contracted by the dark red brick accent walls. It's definitely photo-worthy!
Honbo Menu
There is a variety of burgers available to cater to everyone's tastebuds. The signatures include the Honbo series ($18) which features a smashed patty and no lettuce. 
There is also the classic Cheeseburger ($18) with a regular thick patty, cheese and lettuce or the meaty The Gold Standard ($28). This burger comes with two thick patties and bacon! Non-beef eaters can get the Teriyaki Chicken ($18) and Impossible Burger ($22)!
There are a variety of sides like Lemon Pepper Wings ($15 for 5pcs), Tater Tots ($7) and Cheese Fries ($11).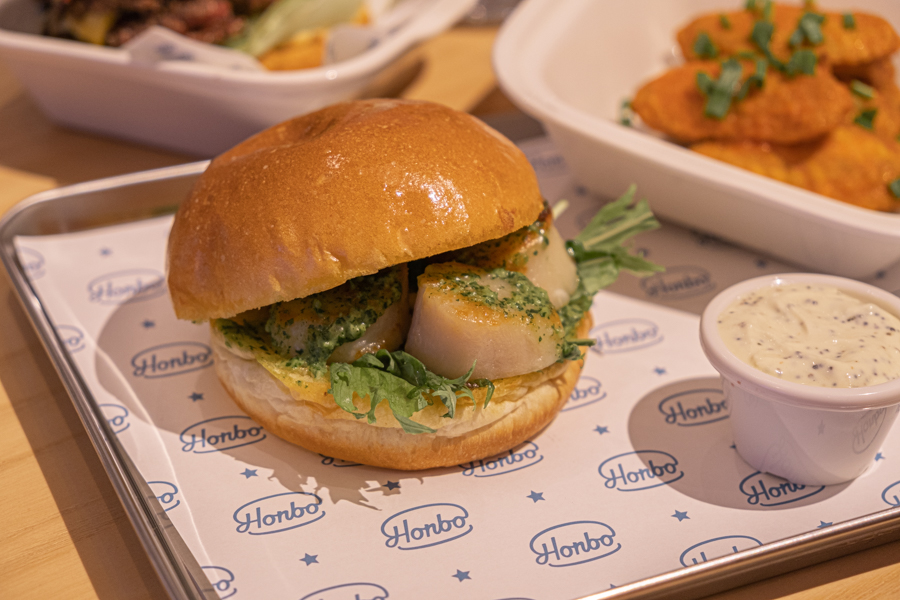 To celebrate it's opening in Singapore, there are also limited-time Singapore-exclusive items: the Scallop Burger ($26) with seared Hokkaido scallops and wasabi pico de gayo and the upcoming Soft Shell Crab Burger.
Wash everything down with their speciality drinks like Mike's Lemonade ($7) and Arnold Palmer ($7). Don't tell anybody, but you can add a shot of gin or whiskey for $7. 
Honbo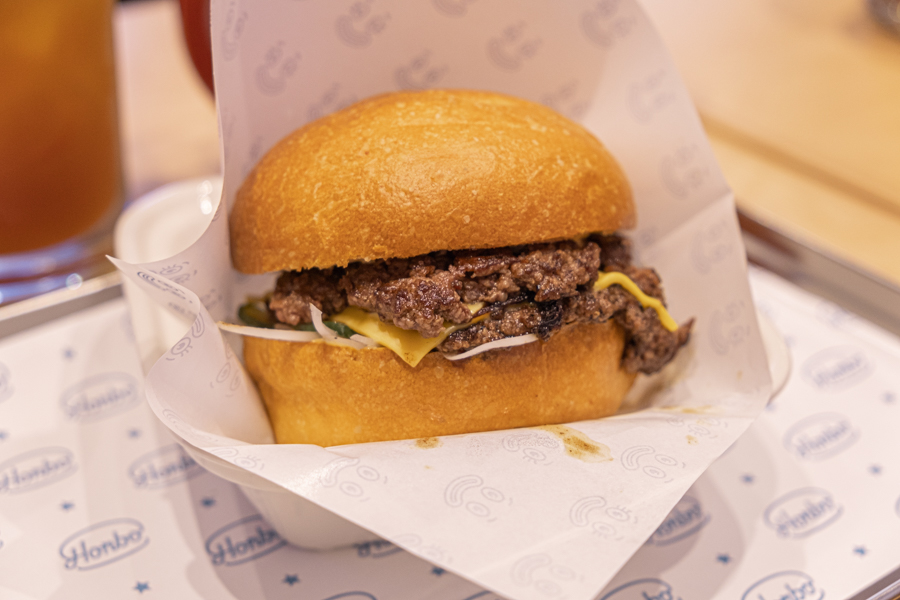 The Honbo ($18) looked unassuming, garnished simply with pickles and raw onion slices. It came with two smashed patties; their crispy edges peeking out of homemade potato milk buns.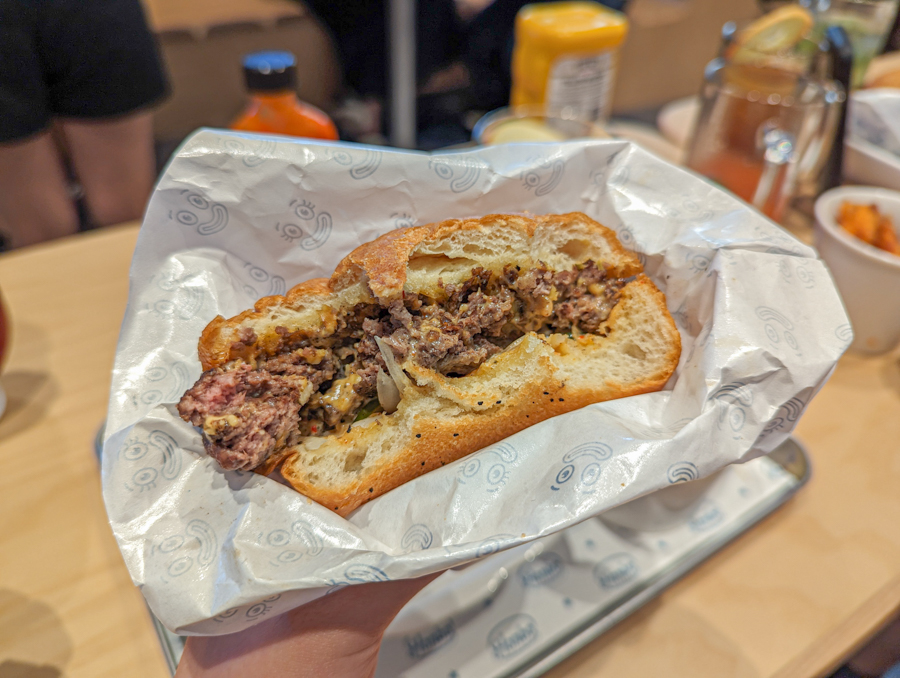 This was one of the better burgers we've tried so far! The patties had a clean but satisfying fattiness and a strong beefy flavour – you can tell it's quality beef. 
The addition of the crunchy, slightly tangy pickles and spicy house sauce further complemented the meat. The exclusion of lettuce was a good move as it highlighted the patty!
Chili Fries
An upgrade to the regular fries is the Chili Fries ($15). The chili was well seasoned, with an aromatic spice mixture. It made for a nice bite when combined with the salty cheese!
Sweet Potato Fries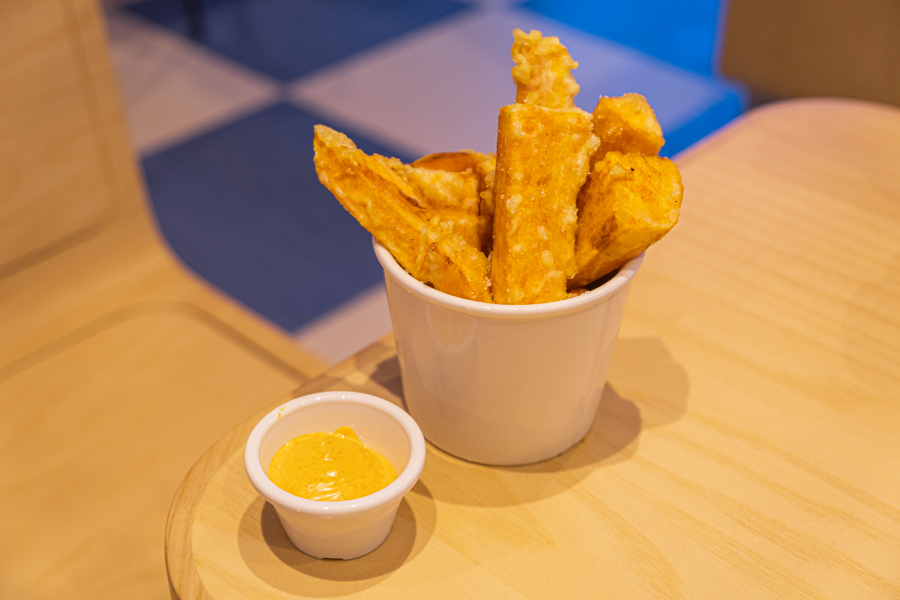 This was another highlight for us. The Sweet Potato Fries ($8) came in chunks, practically using a whole sweet potato! This was dusted lightly with sugar and served with a spicy dipping sauce. 
Each wedge had a crisp exterior and fluffy interior, with a pleasant earthiness from the sweet potato. We think the accompanying sauce did not complement the fries well, so it might be better to enjoy the fries on their own. 
Buffalo Wings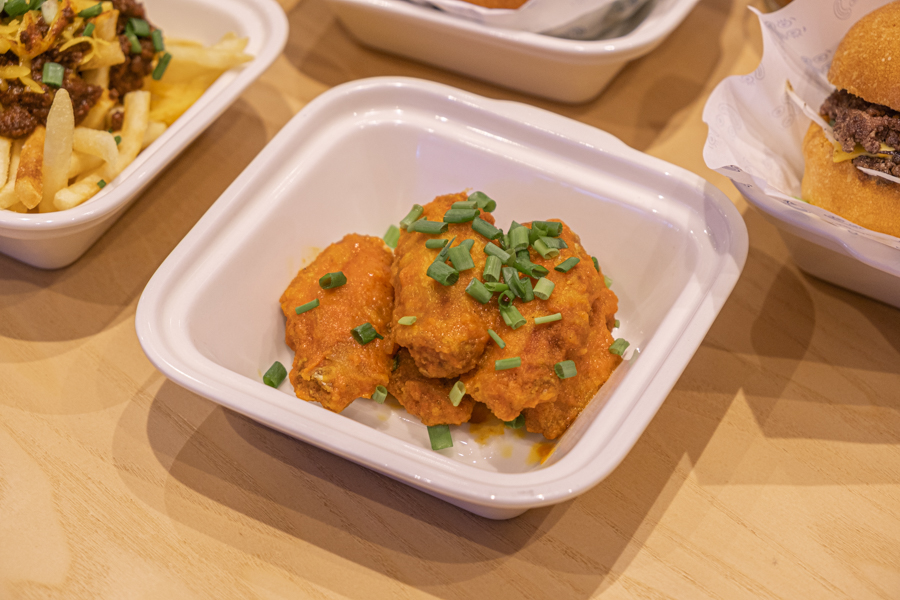 Honbo makes their own hot sauce and you can try it in their Buffalo Wings ($15 for 5 pcs). It's spicy, so proceed with caution!
This came with a blue cheese sauce which was strong so dip it sparingly. Nevertheless, the wings were well-fried and generously coated in the sauce. 
Apple Pie Iced Tea
The Apple Pie Iced Tea ($7) is one of the more unique drinks we've had. This was both refreshing and warming thanks to the cinnamon, plus it was not too sweet. We like the generous serving size too!
Burger Restaurant In City Hall
Honbo presents a menu of fuss-free, satisfying burgers that are sure to please! Their cute branding and stylish interior add to the dining experience, making it a good choice for a meal if you're in the area. 
Honbo
#01-09 CHIJMES, 30 Victoria Street, Singapore 187996
Open daily, 12pm to 10pm
*Follow MiddleClass.sg on Facebook, Instagram, TikTok and Telegram for more food, travel, and trending stories