Ikseondong has become a hot spot in Seoul as of late, with lots of aesthetic cafes and restaurants in the neighbourhood. One of the latest concepts to open in Ikseondong is Cheese Industry, a countryside-looking cafe that makes its own cheese in-house!
Cheese-Themed Cafe in Seoul
Located in the alleys of Ikseondong alongside other popular cafes, the exterior of Cheese Industry catches one's eye immediately. With moving wooden cow installations and a cheese-making display, almost everyone stops in their tracks to peek inside.
The cafe is so popular that it uses a queue system, so you will either need to input a Korean phone number to get a queue number or inform the staff at the cafe that you're queuing to dine in (in the scenario you do not have a Korean phone number).
It took around 30mins for us to get a table to dine in on a weekend.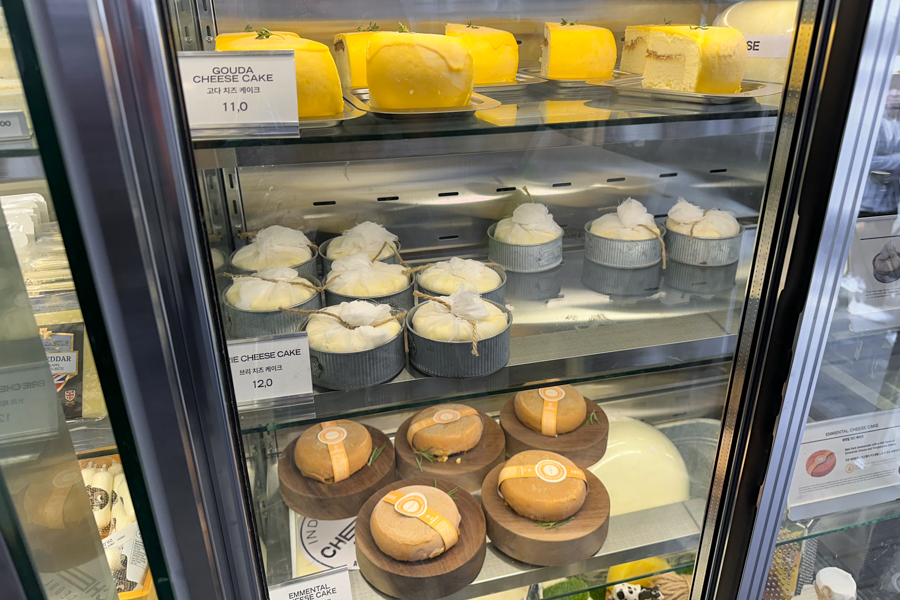 Near the entrance is where you'll find the menu and all the pastries on display. The refrigerated area is also where you can browse through the cheese products and wines alongside their cold desserts.
Cheese Industry Ikseondong Menu
The beverage menu at Cheese Industry is also filled with cheese-themed drinks, along with some exceptions such as the classic Americano (5,300won), Café Latte (5,800won), Berry Rose Wine Ade (6,800won) and Tomato Basil Ade (6,800won).
For the cheese drinks, you'll find items like Cheese Industry (6,300won) which is a cheese foam coffee, along with items like a more unique Blue Cheese Honey Shake (7,200won), Cream Cheese Milk (5,300won) and Chai Cheese Foam Tea (7,200won).
No worries as there's a huge menu above the counter with photos of the drinks if you need a visual aid.
As for food, pick from a range of pastries on display, such as the Tomato Basil Bocconcini Pastry (8,400won), Espresso Mascarpone Pastry (8,400won), Country Cheese Scone (4,500won) & more.
They also have a savoury menu which wasn't available when we visited, but you can look forward to items like Bacon Mac & Cheese, Gorgonzola Honey Panini, Bacon Cheese Fries & more in the future.
The highlight of Cheese Industry are the 3 dessert cakes that look like exactly like their cheese counterparts. You have the Emmental Cheese Cake (13,000won) which is a New York cheesecake made with Emmental and Gorgonzola alongside a Gouda Cheese Cake (11,000won) which is a souffle cheesecake made using Gouda.
The one we tried was the Brie Cheese Cake (12,000won) which looked exactly like Brie! The presentation was done perfectly, with the cake wrapped in cheesecloth. Made using a combination of cream cheese and whipped cream, the texture of the cheesecake was light and fluffy.
We also tried the Honey Brown Pastry (8,400won) and we absolutely loved the flaky texture of the pastry paired with the caramel-like cheese.
For drinks, we opted for the Brown Cheese Peanut Shake (7,200won) and the Jasmine Cheese Foam Tea (7,200won). The former was like a really thick and dense milkshake, with overwhelming peanut butter notes. This could be cloying after a while but was an enjoyable drink.
The cheese foam tea, on the other hand, was light and almost like the cheese drinks you get at certain bubble tea chains.
Must Visit Ikseondong Cafe
While the cafe might require some waiting time, we highly recommend visiting Cheese Industry especially if you're a cheese lover. While waiting, explore the shops in Ikseondong, or visit the shooting club for some adrenaline fun!
For more Korea-related articles, visit https://middleclass.sg/korea
Cheese Industry (치즈공업사)
33-7 Supyo-ro 28-gil, Jongro-gu, Seoul
서울 종로구 수표로28길 33-7
Mon-Sun, 10am-10pm, Last Order 9:30pm
Nearest Subway: Jongro-3-ga Station (Line 1, 3, 5), Exit 6
*This was an independent review by MiddleClass.sg
*Follow MiddleClass.sg on Facebook, Instagram, and Telegram for more food, travel, and trending stories