Hidden in an alley of Seongsu-dong is Foreplan, a cafe opened by a group of architects. Here, you'll find multiple elements in the cafe that reflect the profession, from unique installations to the interior of the space.
Unique Cafe in Seongsu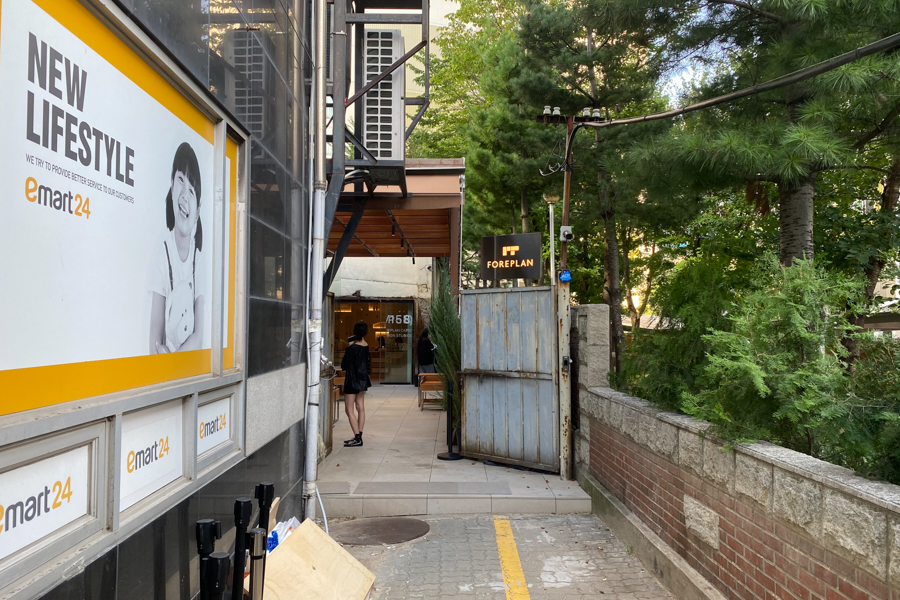 Foreplan (is this a wordplay on the term Floorplan?) took us some time to find even with the help of Naver Maps as it was hidden from the main street and located at the back of an alley, right beside an emart24.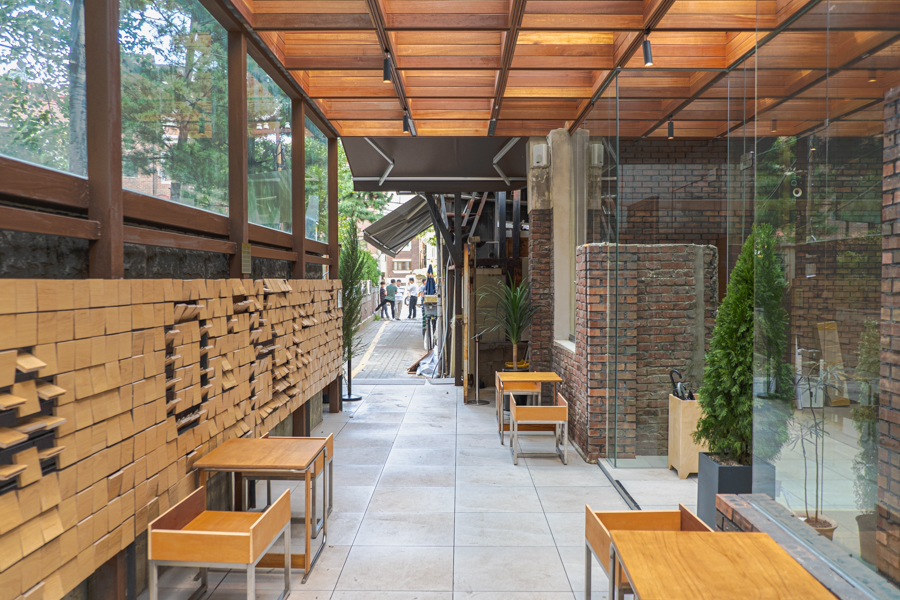 Even before entering the seating area, Foreplan immediately caught our eye with its unique interior. Near the entrance was a unique installation where you can flip the wooden blocks to create letters – almost like a playground.
Here you'll notice how the space combines elements of wood, glass, and bricks, giving it a modern yet rugged look.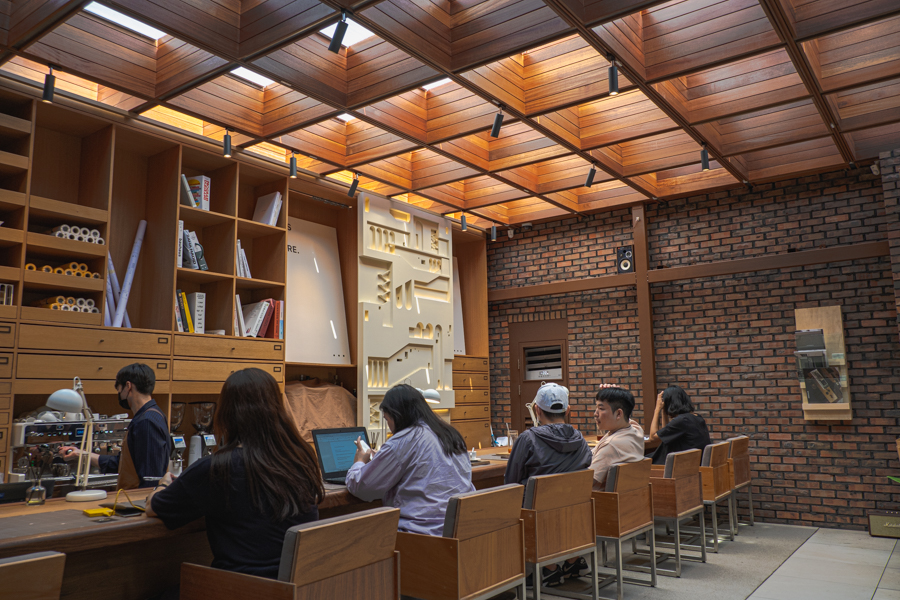 The ceiling is made of multiple wooden compartments/boxes, each with a clear glass ceiling that lets in the most gorgeous natural light. The space behind the counter is also decorated with items like tape and rolling paper, which makes the cafe feel like an architect's office as well.
Interestingly, the area behind the counter where the staff prepares coffee and food is lowered. This means if you're seating at the counter, they're interacting with you at eye level.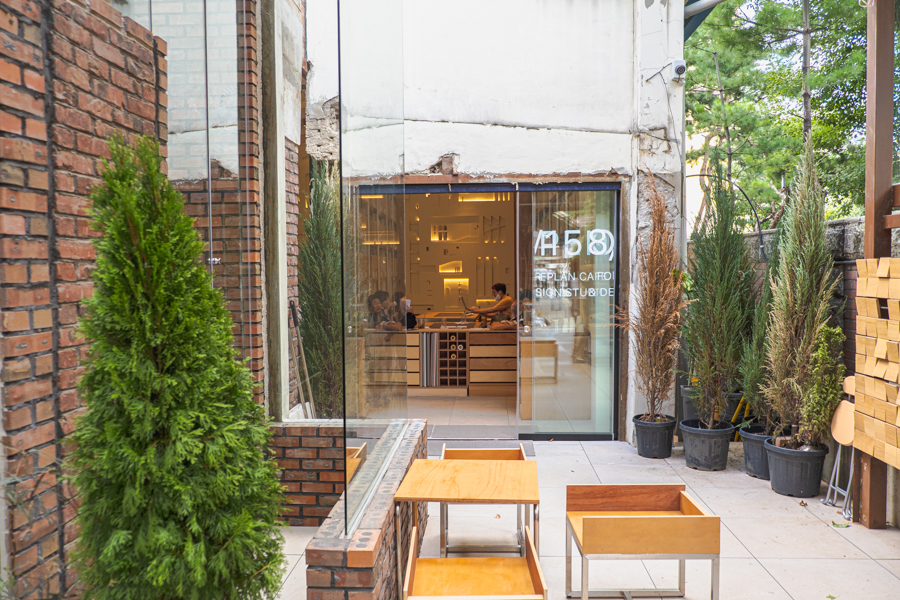 Just when we thought this was all, we discovered that there was another seating area near the back of the cafe! Resembling a huge warehouse, the second seating space at Foreplan Cafe has high ceilings and a unique backdrop that reminded us of the 3D models used in the architecture industry.
The multiple wooden cardboard boxes lining up the sides of the walls further accentuated the architectural office vibes.
Foreplan Cafe Menu
The Seongsu Cafe has a brunch menu alongside a wide selection of beverages. For brunch, you can choose from items such as Steak Sandwich (9,800won), Basil Chicken Sandwich (7,500won), and Lemon Cream Fish Steak (15,000won).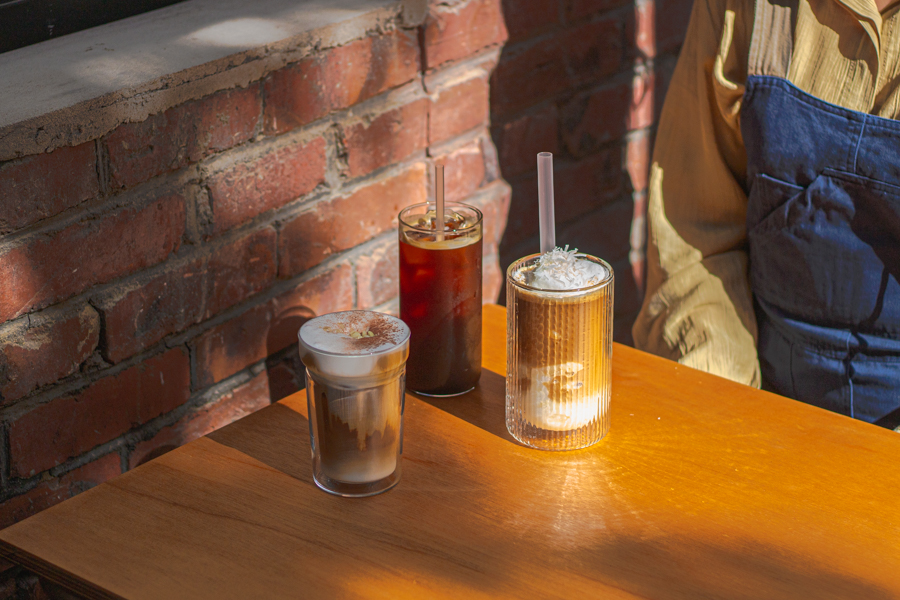 For coffee, you have items like Café Salentino (5,500won) which is an almond milk-based latte, Café Vienna (6,300won), Americano (4,500won), and more. Non-coffee drinkers can enjoy beverages like a Lemon Earl Grey Cream Tea (6,800won), Basil Milk Shake (6,800won), Triple Berry Ade (6,500won), and more.
When we visited, we tried their Coffee Coconut Smoothie (6,500won) which featured a blended coconut smoothie topped with shots of coffee and shredded coconut. This reminded us heavily of something you can find in Vietnam and was super enjoyable! However, if you don't like coconut, we would recommend going for something else.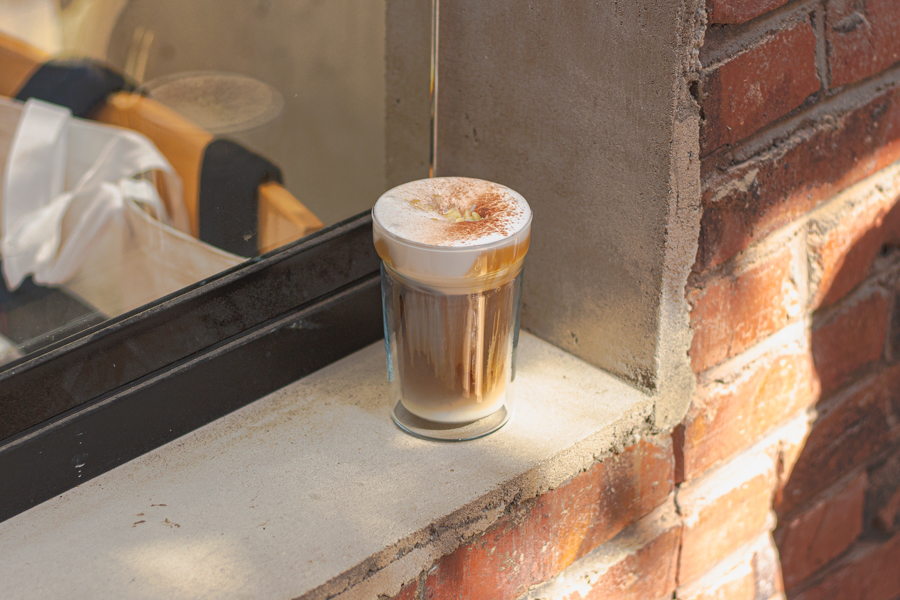 The Macadamia Cream Latte (6,500won) is a great alternative if you're looking for something other than the usual latte. Topped with a thick layer of smooth cream, and a sprinkle of crushed macadamia nuts, the drink was nutty and had a velvety texture.
Aesthetic Seongsu Cafe
Foreplan is indeed one of the more unique places for a cuppa in Seongsu with its interior resembling an architect's office. At night, the place is also open as a bar where you can have a chill time with some drinks.
If you're in the neighbourhood, perhaps you might want to check out some other aesthetic cafes in Seongsu while you're there!
Foreplan (포어플랜)
서울 성동구 왕십리로14길 30-11
30-11 Hwangsibri-ro 14-gil, Seongdong-gu, Seoul
Mon-Sun, 9:30am-11pm
Nearest Subway Station: Ttukseom (Line 2), Exit 2
*Follow MiddleClass.sg on Facebook, Instagram, TikTok, and Telegram for more food, travel, and trending stories