Mullae-dong is a neighbourhood similar to Seongsu-dong – the streets are filled with lots of factories yet within it lies an array of hipster cafes and restaurants waiting to be discovered. One of the more prominent cafes in this neighbourhood is Pont Cafe, a roastery cafe that attracts quite a crowd.
A Beautiful Blend of Modern and Industrial Vibes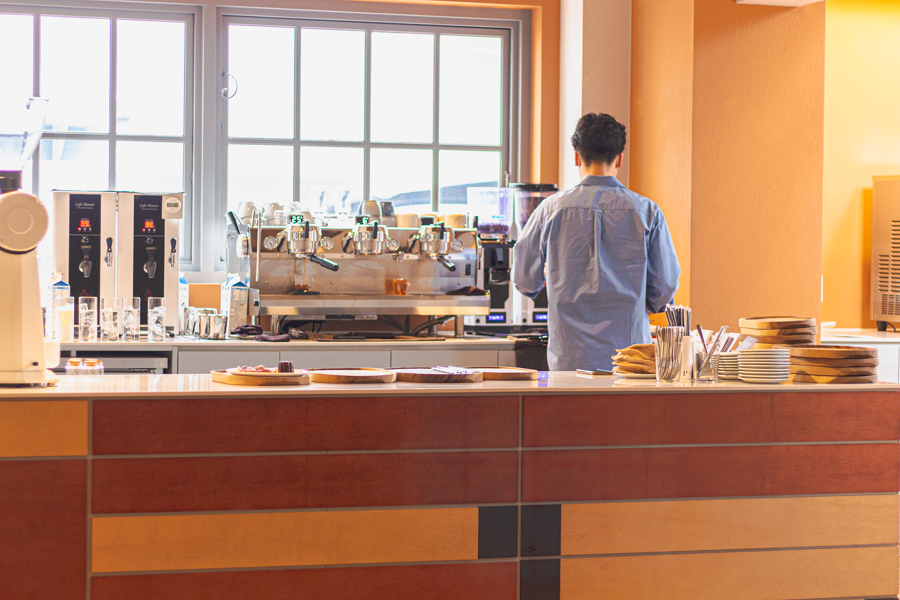 From the outside, Pont Cafe can be mistaken as a factory because the designers have managed to design it in a way that helped to keep the essence of Seoul's oldest factory area.
Fun fact: their Yongsan outlet used to be a railway office but is now a trendy, modern coffee shop.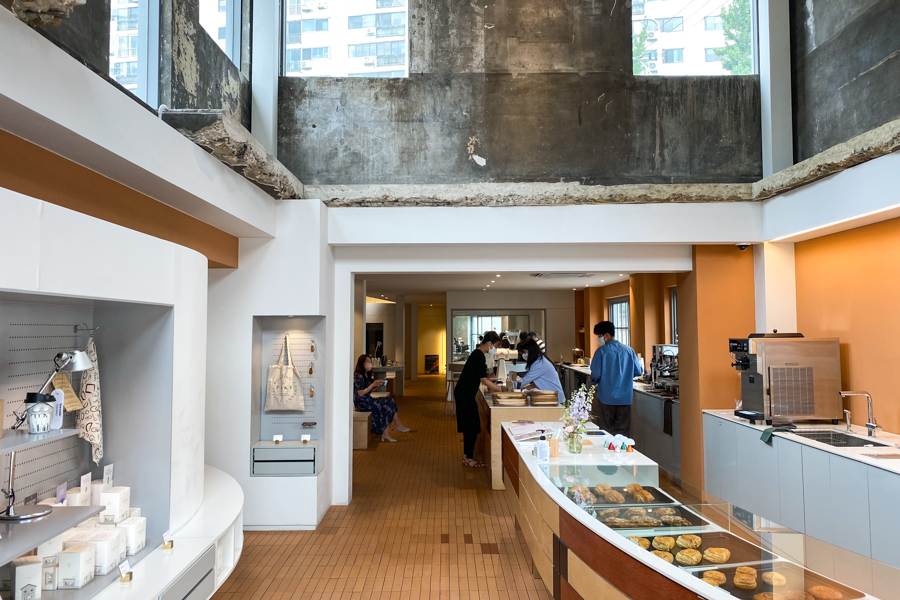 The first thing you'll notice when you enter the cafe is probably the curved table which contains a display of baked goods. You'll also realise a distinct difference between the interior of the "first floor" and "second floor". While keeping the raw concrete details of the previous factory walls, Cafe Pont's main interior uses a beautiful combination of terracotta tiles, white and orange painted walls.
This area is also where you'll find items for sale such as coffee beans and some lifestyle items.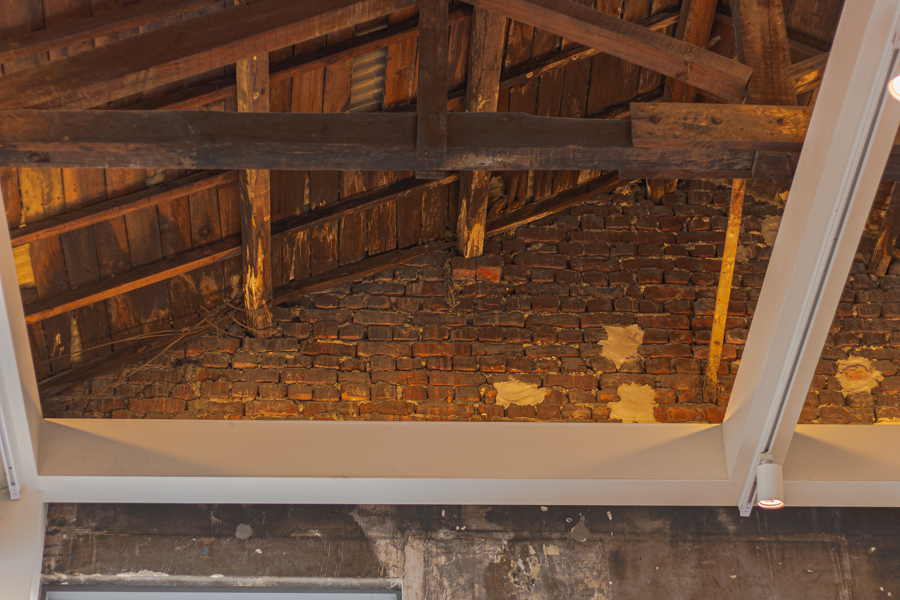 Following the curved display of bakes, you'll be led to the main dining area, where there are lots of tables and chairs for patrons to enjoy their bakes and coffee. Something unique is probably the open ceiling, where you can see the previous rugged interior of the factory, a huge contrast from the current interior of Pont Cafe.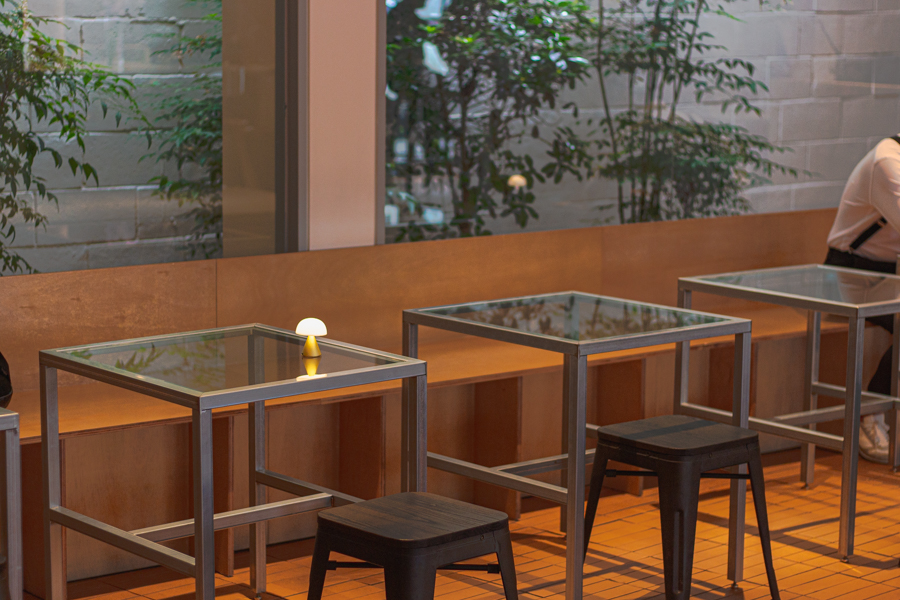 Pont Cafe Mullae Menu
Pont Cafe offers up a simple beverage menu, serving up classic items like Espresso (4,800won), Americano (4,800won), Latte (5,300won), Vanilla Latte (5,800won) and Sparkling Ade/Fresh Juice (6,000won) for non-coffee drinkers.
They also have a small collection of Tea, alongside several Single Origin Filter Coffee options such as Costa Rice Finca Macho Washed (6,500won) and Peru la Esperanza Washed (6.500won) to name a few.
As for their bakes, you can pick from the ones on display such as Almond Croissants, Apple Pie, Choco Palmer, Kouign Amann & more.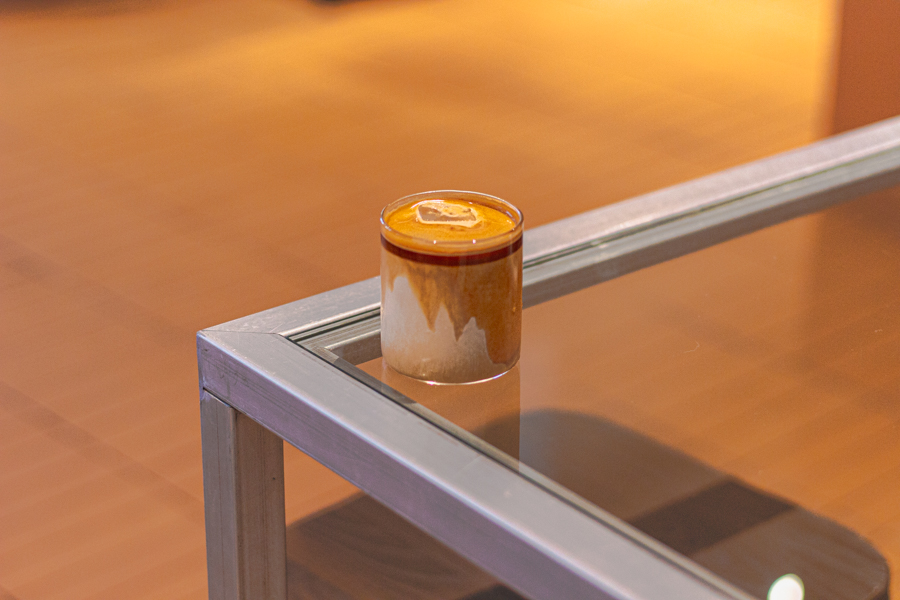 We opted for the Flat White (5,300won) which came in a smaller cup as compared to their Latte. So if you want a "bigger" drink, go for the Latte instead. The Flat White has less milk, so you can really get a dense, strong, aromatic coffee flavour.
To go along with our coffee, we ordered the Choc Twist (4,000won) and Canele (3,500won). If you ever order the Choc Twist, the staff will ask if you need help cutting it into smaller pieces, go for that – it helps lessen the mess you'll make.
Inside the choc twist pastry were bits of dark chocolate hidden within the creases, which went well with the buttery flavours of the pastry. On the other hand, the Canele had a lovely crust with a soft interior that was filled with a smooth vanilla fragrance.
Cafe in Mullae-dong Seoul
Mullae-dong is still quite a well-kept secret among tourists, but the neighbourhood does attract quite a crowd from locals due to the increasing number of cafes and restaurants. If you ever find yourself in this area, Pont Cafe is a nice spot to stop by.
Pont Cafe (폰트)
Yeongdeungpo-gu, Gyeongin-ro 77-ga gil 6
서울 영등포구 경인로77가길 6
Mon-Sun, 12pm-9pm, Last Order 8:30pm
Nearest Subway: Sindorim Station (Line 1, 2), Exit 1
*This is an independent review by MiddleClass.sg
*Follow MiddleClass.sg on Facebook, Instagram, and Telegram for more food, travel, and trending stories