You've heard of Bukchon Hanok Village, but have you heard of Eunpyeong Hanok Village? This hidden hanok village near Bukhansan is one of Seoul's best-kept secrets.
Hanok Villages in Seoul
There are several hanok villages in Seoul. These villages comprise of traditional Korean houses, known as hanoks. The most well-known hanok village in Seoul is probably Bukchon Hanok Village, a must-visit for first-timers in Korea.
A lesser-known hanok village is Namsangol Hanok Village, a great place to visit before you visit Seoul Tower.
Perhaps unknown to many is Eunpyeong Hanok Village. It's located near the outskirts of Seoul, right beside Bukhansan mountain. The hanok village is surrounded by hills and mountains, making it a picturesque location.
Cafe Near Eunpyeong Hanok Village
There is a cafe right beside Eunpyeong Hanok Village that gives you a bird's eye view of the entire hanok village.
1인1잔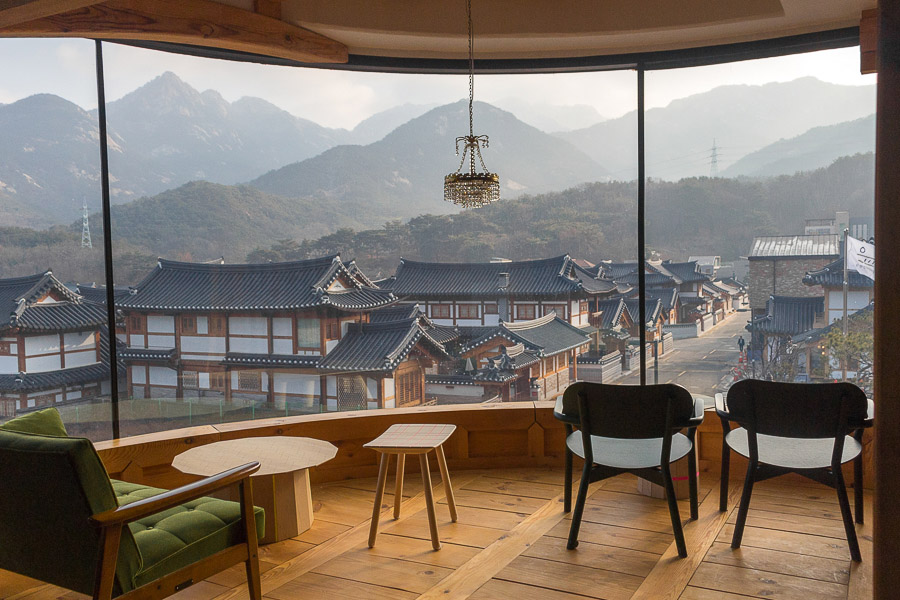 The café, pronounced il-in-il-jan, is housed in a 5-storey building.
The first and second floors are dedicated to the café, the third floor houses a Japanese furniture brand, while the 4th floor is home to 1인1상 (il-in-il-sang), a restaurant. The 5th floor also has a rooftop area, where you can enjoy your drinks and enjoy the view of Eunpyeong Hanok Village.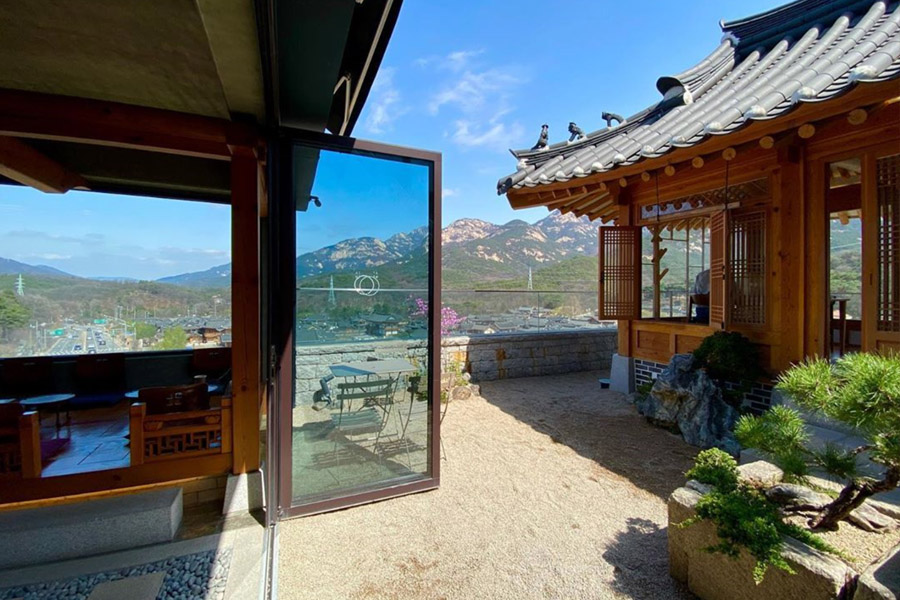 The interior is highly similar to an actual hanok, with wooden floorings and traditional furniture. However, at certain corners, there are definitely traces of modern influence.
Menu At Eunpyeong Hanok Village Cafe, 1인1잔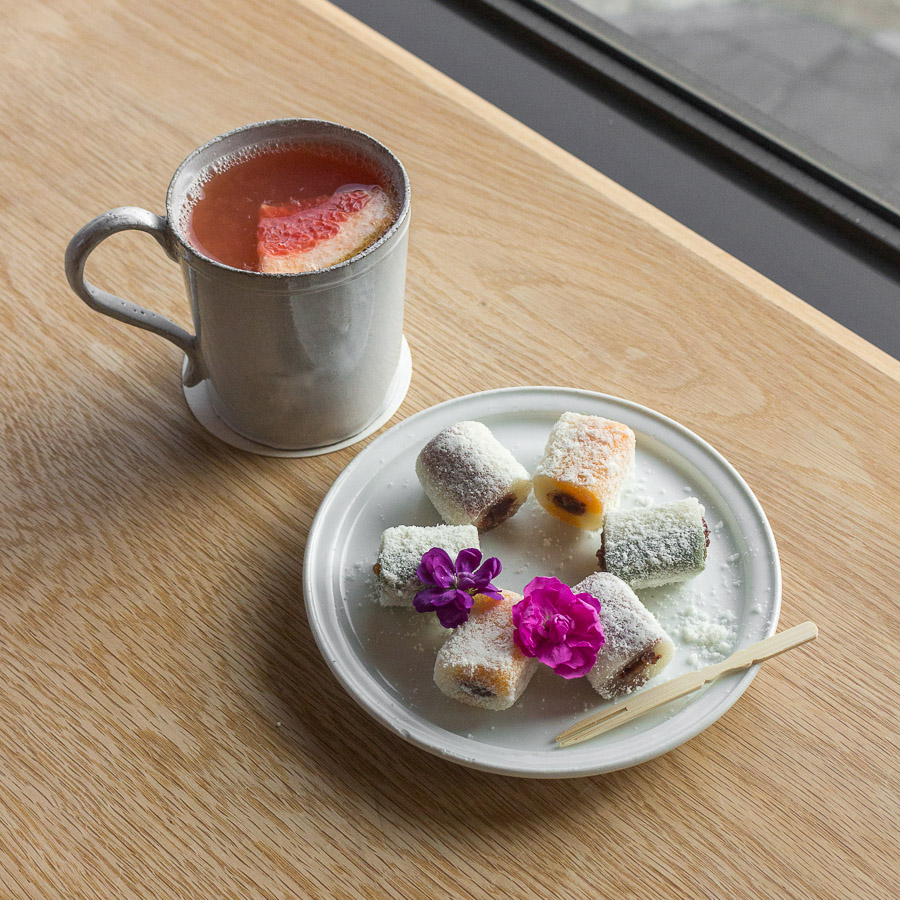 The cafe offers a simple menu, with basic espresso-based drinks such as Americano, Mocha and Flat White. They also have fruit-based beverages such as grapefruit tea and ade.
The fruit teas are said to be made from handmade concentrates. The Grapefruit Tea (6,000won) had pulps from grapefruit and wasn't too sweet. It had a nice, deep fragrance of grapefruit. Note: The fruit teas only come in a hot beverage, there are no iced versions.
For those who want something cold, we recommend their ades.
If you love rice cakes, you're in for a treat as the cafe serves different types of traditional rice cake desserts.
The 말이떡 (mal-ee-ddeok, 5,500won) was filled with red bean and had a chewy rice cake texture. Perfect with some tea or coffee.
With traditional rice cake desserts and a cup of tea, it almost felt like we were in a traditional tea house.
Some Things to Take Note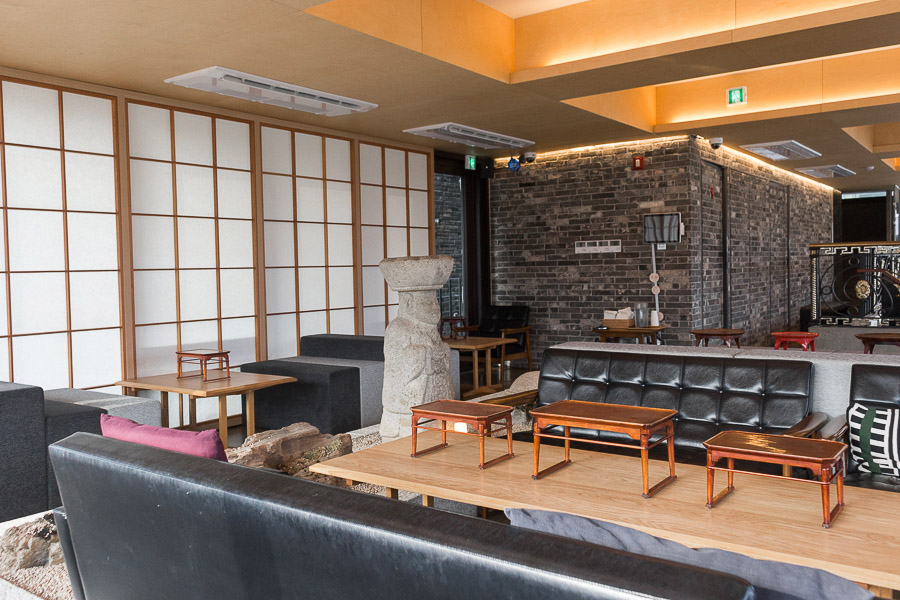 Customers who purchase a beverage from the café are allowed on the 1st, 2nd, 3rd and 5th floor of the café.
The 4th floor is only for customers visiting the restaurant.
The 3rd floor which houses the Karimoku Japanese Furniture showroom is only open from 12 pm onwards and no kids are allowed. Only takeout cups are allowed here.
The 5th floor is also a no-kids zone and is only open from 11 am onwards. Only takeout cups are allowed here.
Try to inform the staff where you want to enjoy your beverage so there won't be any confusion.
After Visiting The Café
Do take some time to walk around Eunpyeong Hanok Village. Compared to Bukchon Hanok Village, there are lesser people here so you can get some amazing shots for your social media.
There are also some cafes and shops located within the hanok village, so take some to explore and breathe in some fresh air away from the city.
How To Get To Eunpyeong Hanok Village
The nearest subway station is Gupabal Station (Line 3). You will need to transfer to bus 7211 or 7723 and alight at 'Hanago/Samcheonsa/Jingwansa Ipgu Station'.
1인1잔
534 Yeonseo-ro, Jingwan-dong, Eunpyeong-gu, Seoul
Tues-Sun, 10am-9:30pm. Closed on Mondays.
Instagram: https://www.instagram.com/1in_official/
*Follow MiddleClass.sg on Facebook, Instagram and Telegram for more food, travel and trending stories!