In Korea, there's a category of cafes known as 뷰맛집 (pronounced beu-mat-jip in Korean), which can roughly mean a place with a spectacular view. We've covered a few of these cafes previously, such as Tertre Cafe and Donut Jungsu. For this article, we're bringing you to a cafe that's widely accessible – Seoullo PH.
Cafe Near Seoul Station
Located near Seoul Station, where many people head for KTX rides to Busan, Seoullo PH is a cafe located on the 11th, 12th, and 13th floors of a building nearby. For easy reference, it's in the area directly opposite the Seoul Station Lotte Mart.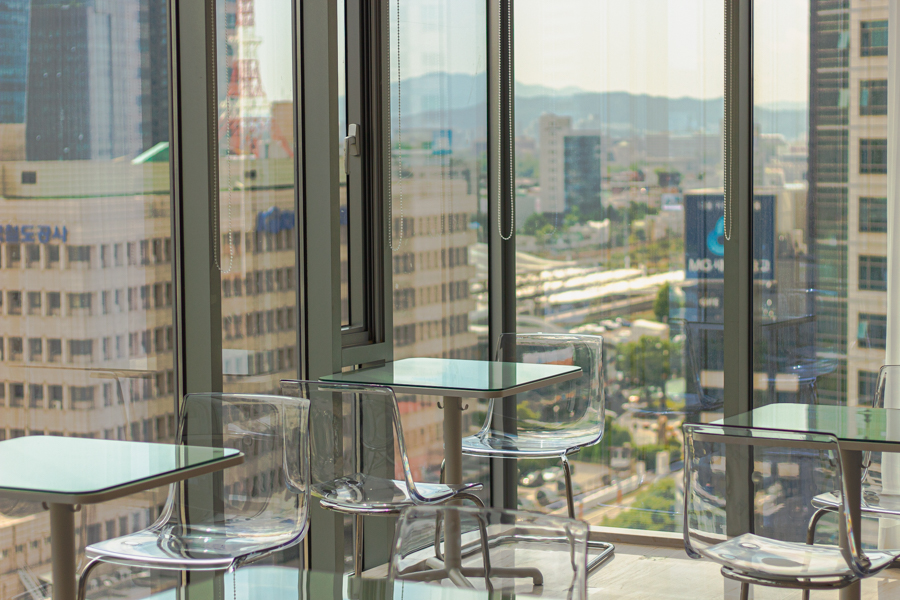 You'll have to take a lift to the cafe and once the doors open, you'll be welcomed by an ordering kiosk, and a peek of the view through the ceiling-to-floor glass windows.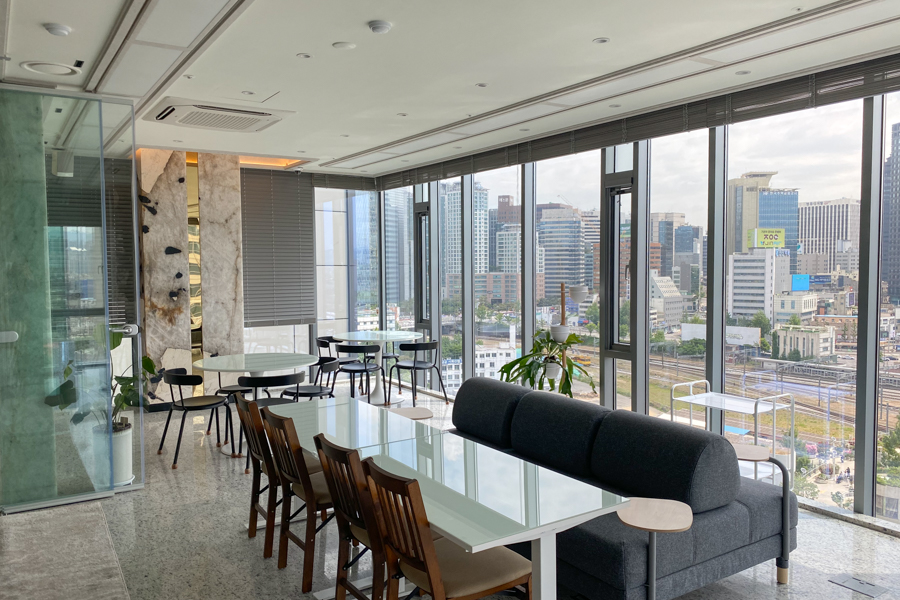 There are lots of seats spread throughout the 3 floors of the cafe, ranging from small intimate groups to large family groups. Lots of marble is used in the interior, making the place feel a bit posher than usual industrial-themed cafes.
The rooftop area on the 13th floor also has quite a view, but with limited seating. Since it's open-air, we would recommend only sitting here when the weather is not so harsh.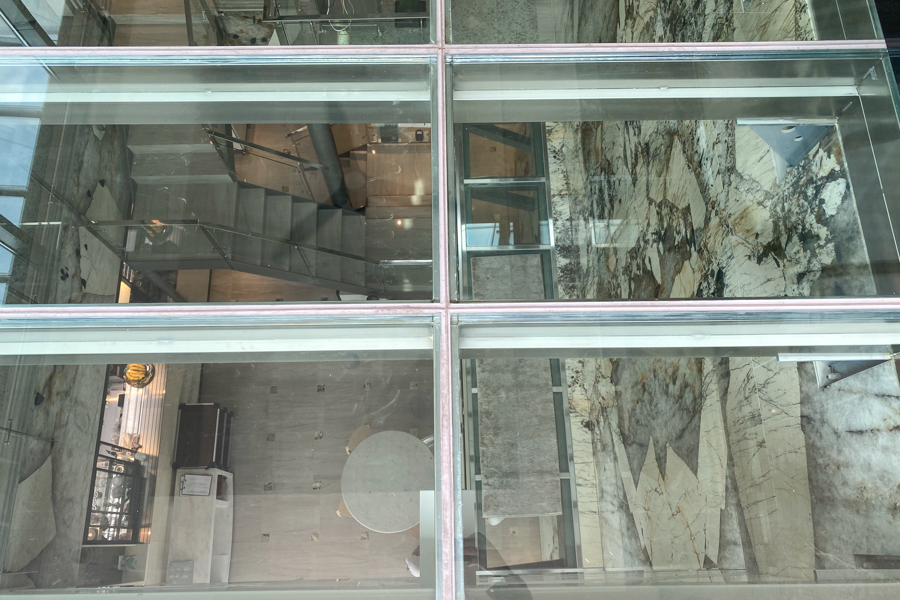 Ladies, do take note that there's a path leading to the balcony that's made using glass, so this means everyone can see from the bottom up from the 11th and 12th floors.
Menu at Seoullo PH
Seoullo PH is known as a spot for brunch, mainly selling salads and drinks. For food, they have the Patagonia Set for 2 pax (60,000won) which consists of chicken salad, grilled cheese eggplant, bacon, potatoes, ricotta cheese, and berry jam alongside items like jalapeno hummus, beet hummus, bread, and naan.
The remaining food menu consists of items like Steak Salad (29,800won), Burrata Cheese Salad (27,800won), and Caprese Salad (12,800won).
For dessert, they have a couple of cakes such as the Earl Grey Roll (8,800won), Black Sesame Roll (8,800won), Burnt Cheesecake (8,800won), and Fresh Strawberry Tiramisu (9,800won).
You'll also find Charcuterie Platter (48,000won) and Cheese Platter (15,000won) to go with some red or white wines for a good afternoon chill sesh.
If you're heading for a quick stop for coffee or tea, you'll find items like Hazelnut Latte (9,000won), Mocha Latte (9,000won), Vanilla Bean Latte (9,500won) and more unique drinks like an Iced Corn Latte (8,500won) or Hot Cornpuccino (8,500won). There are also non-caffeinated drinks like a La Vie En Rose Ade (10,800won) and freshly squeezed Orange/Grapefruit Juice (8,000won).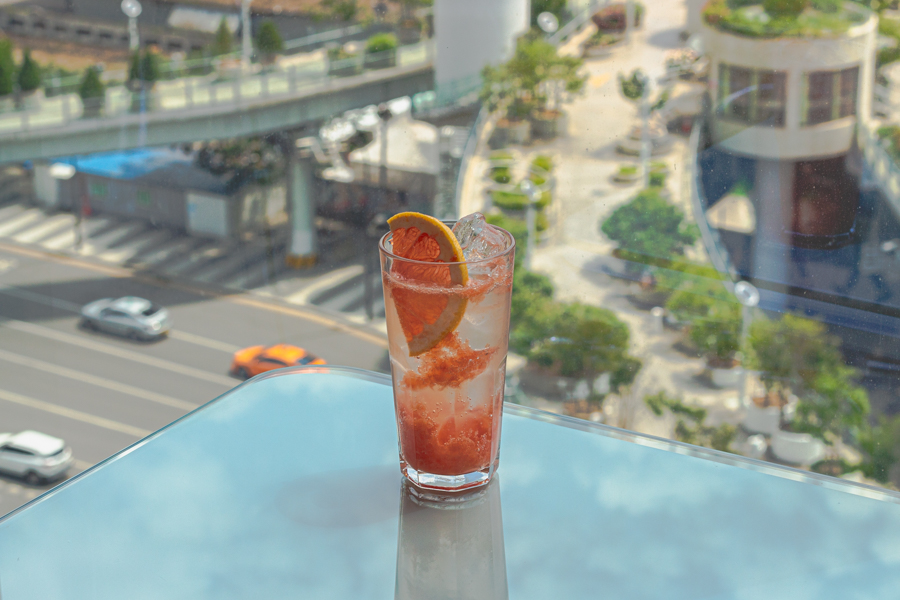 We opted for a Grapefruit Ade (9,000won) which came with lots of pulp and a refreshing soda base, a refreshing drink that couldn't do much wrong.
Cafe With A View in Seoul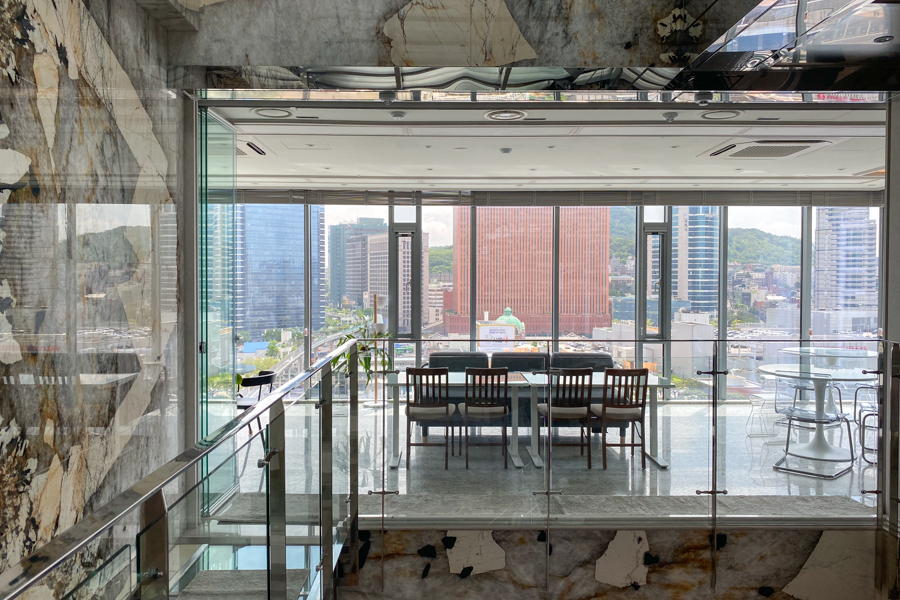 If you're looking for a space to chill before your KTX rides, Seoullo PH is a great spot to have a beverage while soaking in the views from a high-floored cafe. Do note that the cafe is strictly no kids and pets.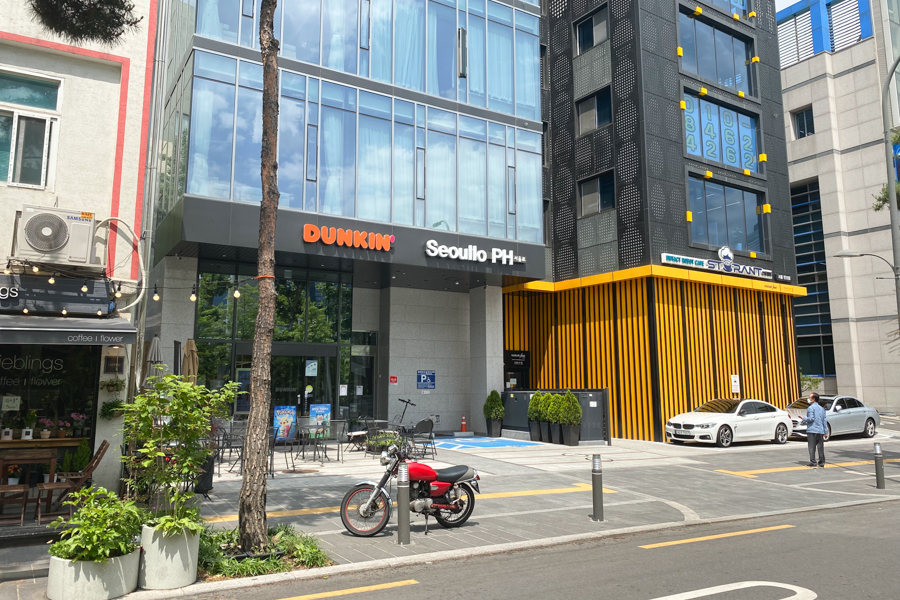 To easily locate the cafe, the building has a Dunkin Donuts on the first floor.
Seoullo PH (서울로PH)
서울 중구 만리재로 211 11층
11F, 211 Manrijae-ro, Jung-gu, Seoul
Tues-Sun, 11am-10pm (Closed on Mondays)
Nearest Subway: Seoul Station (Line 1, 4), Exit 15
*This is an independent review by MiddleClass.SG
*Follow MiddleClass.sg on Facebook, Instagram, and Telegram for more food, travel, and trending stories