Si Chuan Dou Hua has unveiled its indulgent Chinese New Year set menu options, available now till 5 February 2023! The menu can be customised by the number of pax and starts from $98++ per pax.
Si Chuan Dou Hua CNY Menu 2023 
The set menu begins with Si Chuan Dou Hua's first-ever Abundance Treasures Yu Sheng ($118 for S, $138 for L) that comes with Abalone, Salmon and a twist – their Signature La Zi Ji!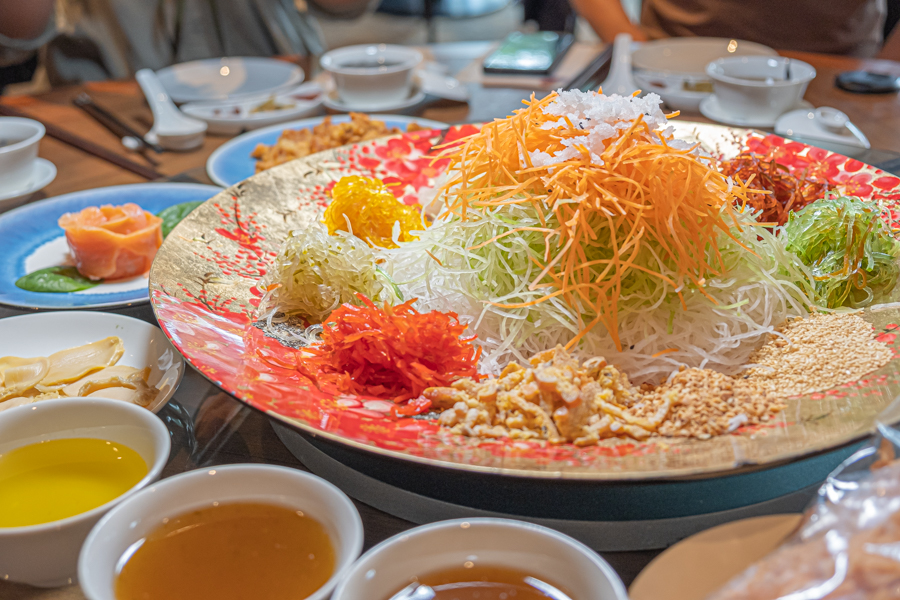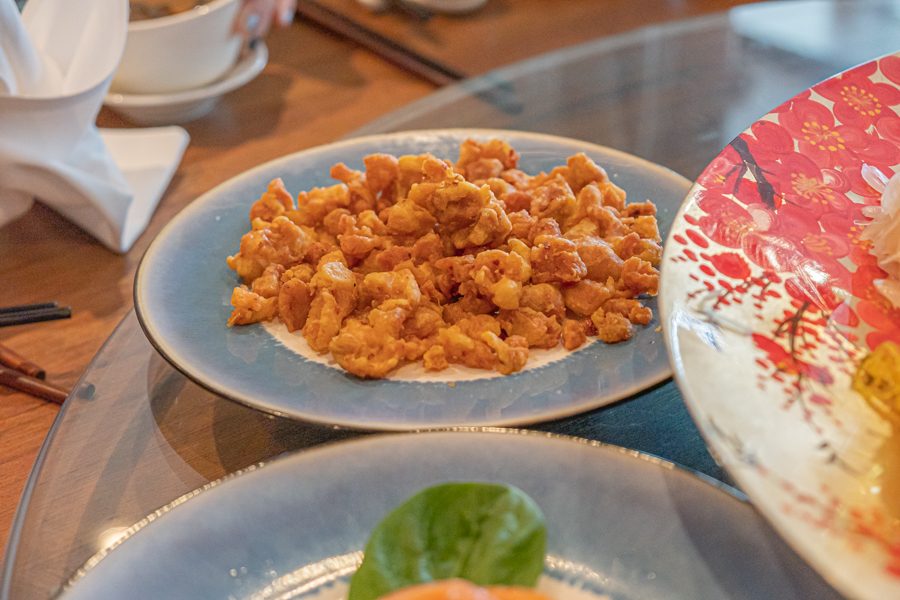 The crunch and spice from the La Zi Ji added a pleasant savoury flavour to the light and refreshing yusheng ingredients. Aside from the yusheng, there are also some items that are exclusive to the outlet at PARKROYAL on Beach Road. 
One such item is the King Garoupa with Fresh Sichuan Peppercorn featured Garoupa slices covered with a generous serving of green onions, Sichuan peppercorn and doused in hot oil.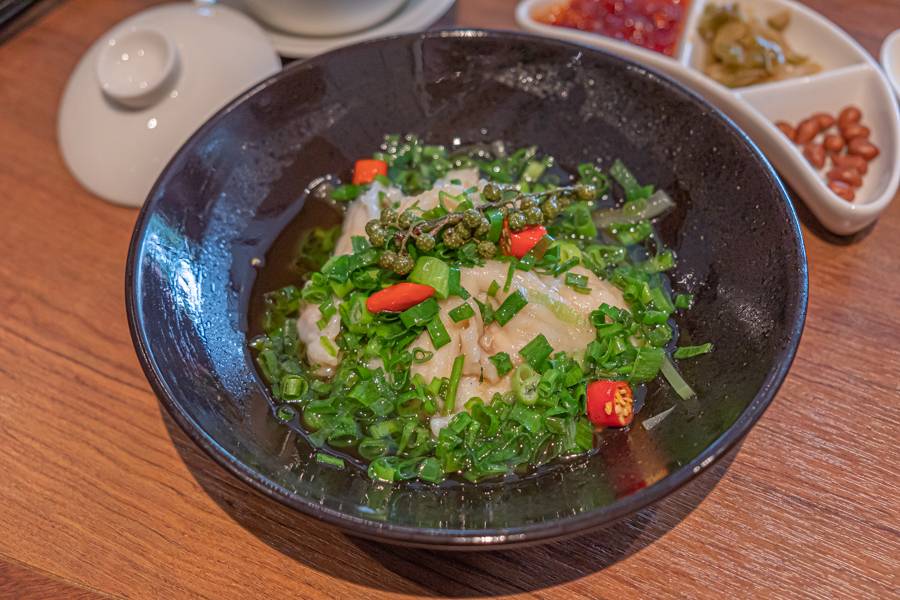 This was a highlight of the meal! The fish slices were tender and had a great bite, acting as the perfect vessel for the fragrant green onion oil and soy sauce. There was also a hint of numbing spice, enough to tingle the senses but not to overwhelm them.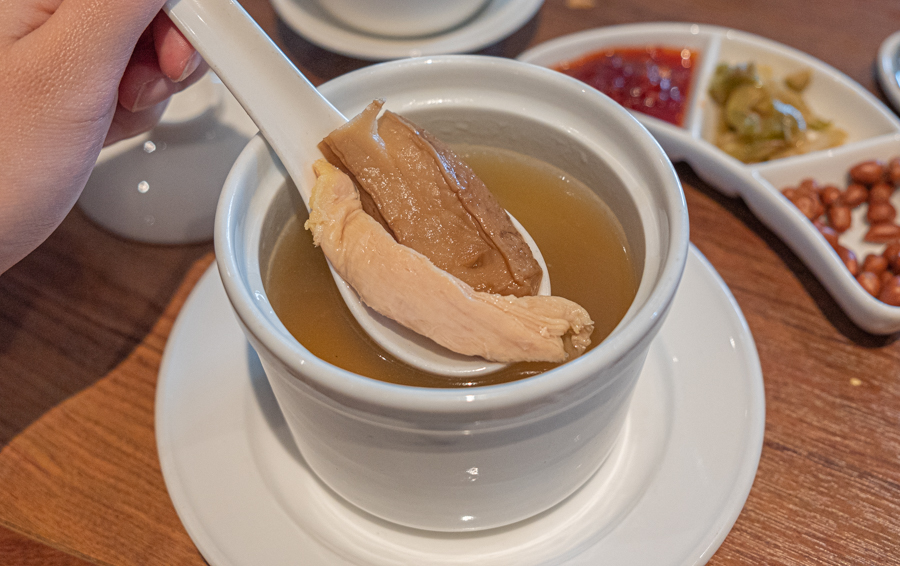 The Double-boiled Chicken Broth with Sea Cucumber, Matsutake Mushroom and Dried Scallop soup is another outlet exclusive with a sweet and nourishing flavour that was a perfect starter.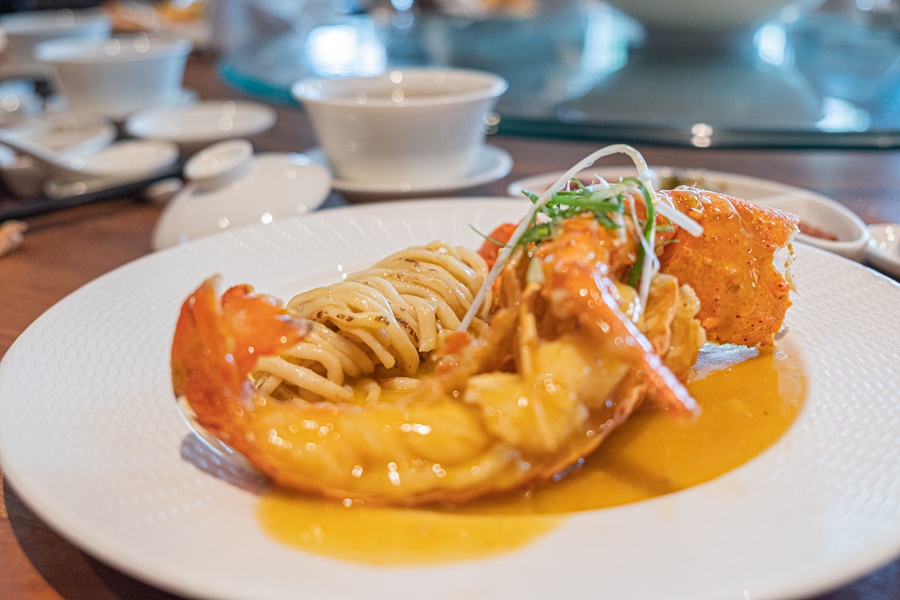 Other items include the Braised Lobster with Fish Paste Noodles in Superior Stock that featured half a lobster. The fish paste noodles are reminiscent of a fish ball, with a pleasing bite and savoury gravy. 
The Braised Bird's Nest with Fresh Fish Maw in Crab Meat Sauce was indulgent, with gelatinous pieces of Bird's Nest sitting in a rich, umami-packed crab sauce. Those who enjoy a meaty bite will enjoy the Braised 8-head Abalone with Hangzhou-style Pork Belly and Seasonal Vegetables that came with a tender slab of pork belly and savoury abalone.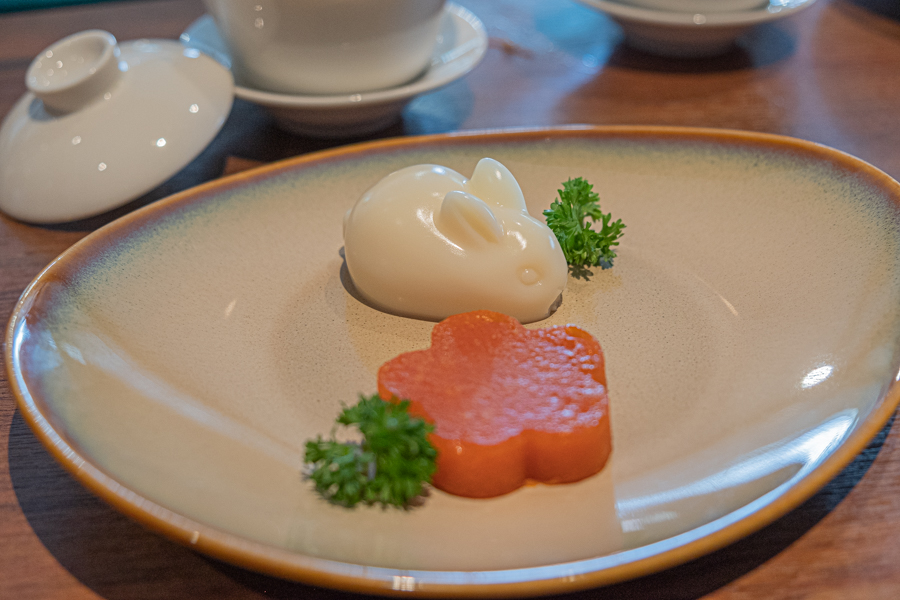 The meal ended with the adorable Pan-fried Auspicious Nian Gao and Bunny-shaped Milk Pudding that was pleasing to the eye and palette. 
Aside from the set menus, Si Chuan Dou Hua also offers a variety of takehome items like Treasure Pot Pen Cai ($288 for 3-4 persons; $488 for 6-8 persons), 'Gong Ting' Tea Hamper ($88) with 9 types of curated tea for your sampling. 
There's even a fully Vegetarian Set Menu ($98++ per pax) with items like Sautéed Monkey Mushrooms with Dried Chilli and Fragrant Fried Rice with Black Truffle – so there's something for everyone! 
CNY Promotion
UOB, DBS and Amex cardholders enjoy up to 20% off when they opt for self-pickup or takeaways. Pan Pacific DISCOVERY members enjoy up to 25% off for festive items only for direct takeaways or pick-ups. 
Do note an advance order of 3 days is required. Place your pre-order by calling 3138 6711 or email douhua.prsin@parkroyalhotels.com.
Photography Exhibition
Si Chuan Dou Hua has also partnered with Singapore artist Soo Bin for a limited-time photography exhibition titled 'Soo Bin at 90' showcasing his life captured in frames. You can enjoy his works along the Art Passage, a linkway space refurbished in 2021 that has been displaying art and exhibitions. The exhibition will run till 26 march 2023. 
Chinese New Year with Si Chuan Dou Hua
The flavours featured at Si Chuan Dou Hua showcase a delicate side of Sichuan cuisine, different from the usual explosive spice we are accustomed to. Their CNY menu highlights these flavours in a number of tantalising dishes sure to suit all ages! 
Their CNY menu is available for dine-in and takeaway options from now till 5 February 2023. For more information, visit their official website. 
*Follow MiddleClass.sg on Facebook, Instagram, and Telegram for more food, travel, and trending stories