Hear us out – we know Christmas just passed, but Chinese New Year 2023 is already creeping up on us! The big celebrations are happening on 22 January 2023, but the CNY festivities can last up to a month. 
So here's our guide to all things Chinese New Year, including yusheng, dinner menus, CNY snacks, and more!
Chinese New Year Menus 2023
Joyden Canton Kitchen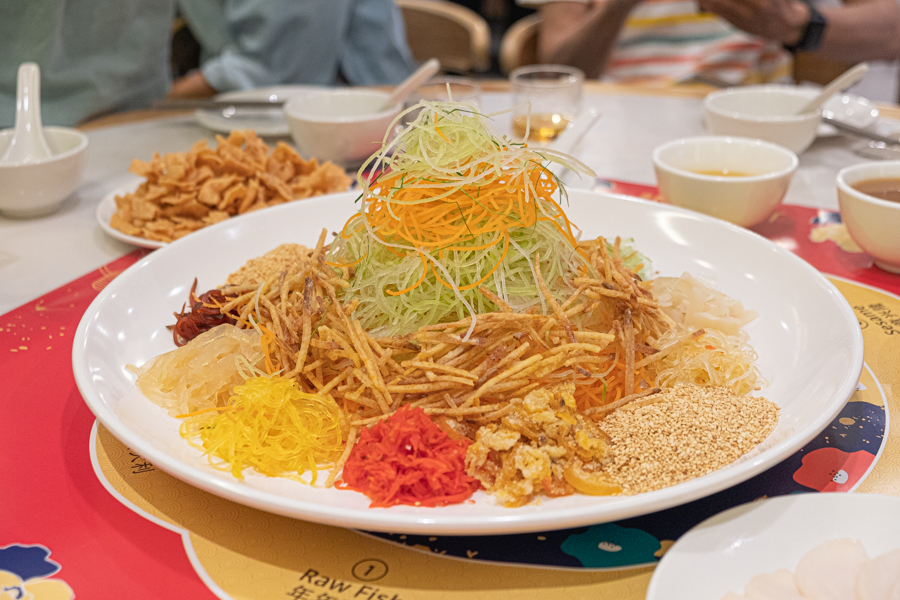 Joyden Canton Kitchen's CNY menu features duck and yam as the star ingredients in their dishes. Try their Crispy Yam with Salmon Prosperity 'Yu Sheng' ($68) topped with crispy shredded yam strips. 
The other dishes are Traditional Braised Eight Treasure Duck ($108) and Crispy Homemade Yam Ring with Pork Loin & Fresh Scallops in XO Sauce ($48) which are sure to please all ages. 
Check out our full article here! For more information, head to Joyden Canton Kitchen's official website. 
RE&S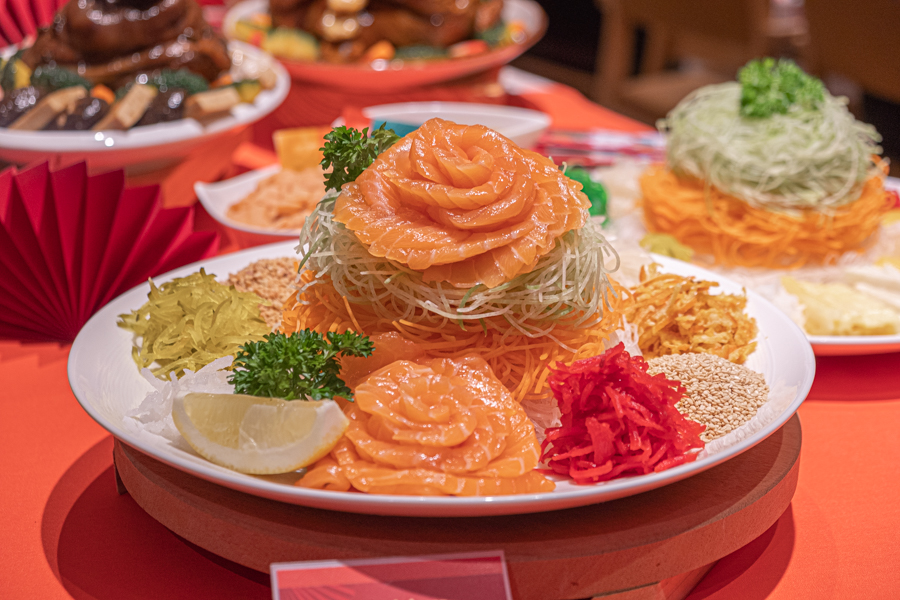 RE&S Group (which oversees restaurants like Ichiban Boshi, Ichiban Sushi, and Kuriya Japanese Market) has a hearty selection of Japanese-inspired Chinese New Year set menus. 
Get their classic Sashimi Yusheng (from $36.80) alongside new dishes like Yuzu Prosperity Duck ($108) and Arima Sansho Pork Knuckle ($68). If you're looking for CNY gifts, RE&S also has Japanese-flavoured Bak Kwa ($46.80 for 500g) in Yuzu and Arima Sansho flavours. 
Read our full article on RE&S Chinese New Year here. Check out their full selection online for Ichiban Boshi, Ichiban Sushi, and Kuriya Japanese Market!
White Restaurant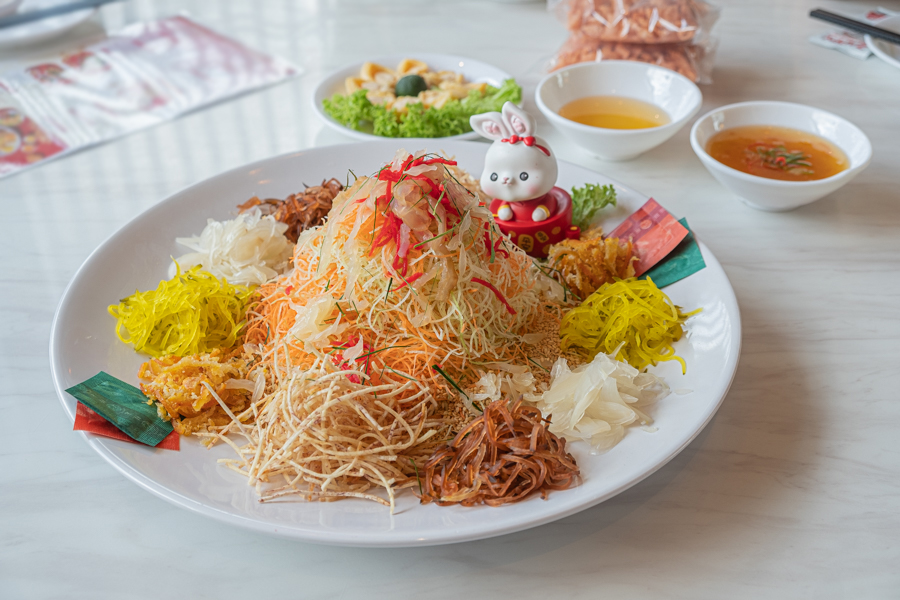 The famed Sembawang White Beehoon Restaurant has set menus available for dine-in and delivery. You can even customize the menu for 4, 6, 8, or even 10 people!
Dishes you can look forward to the Grand Fortune Abalone Yusheng ($49.90 for small), Prosperity Bag with Broccoli and Mushroom ($25.80), and Prawn and Broccoli in XO Sauce ($21.80). 
You can read our full article on it here, or head to their website for more details! 
Restaurant JAG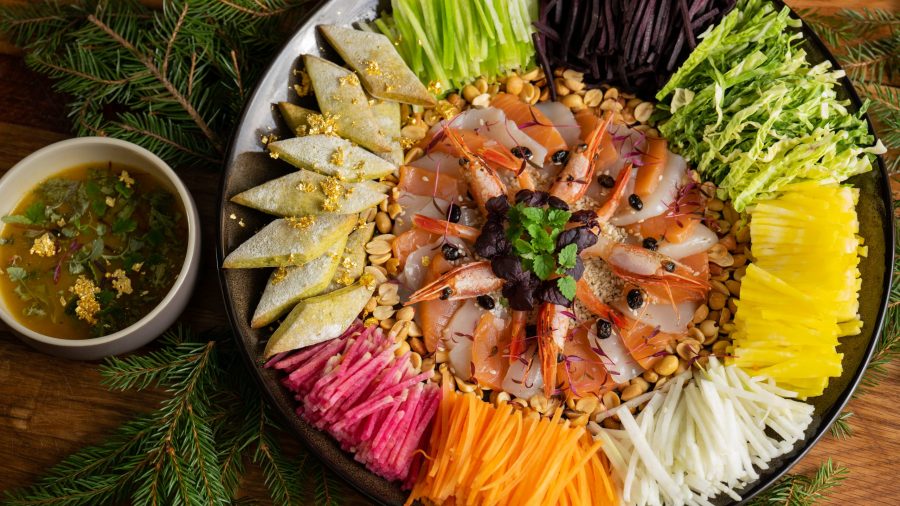 Usher in the new year with Michellin-starred Restaurant JAG's Yusheng ($128++ each, $198++ with caviar). Each element is specially curated by chef Jeremy Gillion and promises to be a feast for your eyes and your tastebuds.
Head over to Restaurant JAG from 5 to 28 January 2023 to enjoy their Yusheng, available from Lunch and Dinner.
Check out their website for more updates!
Wagatomo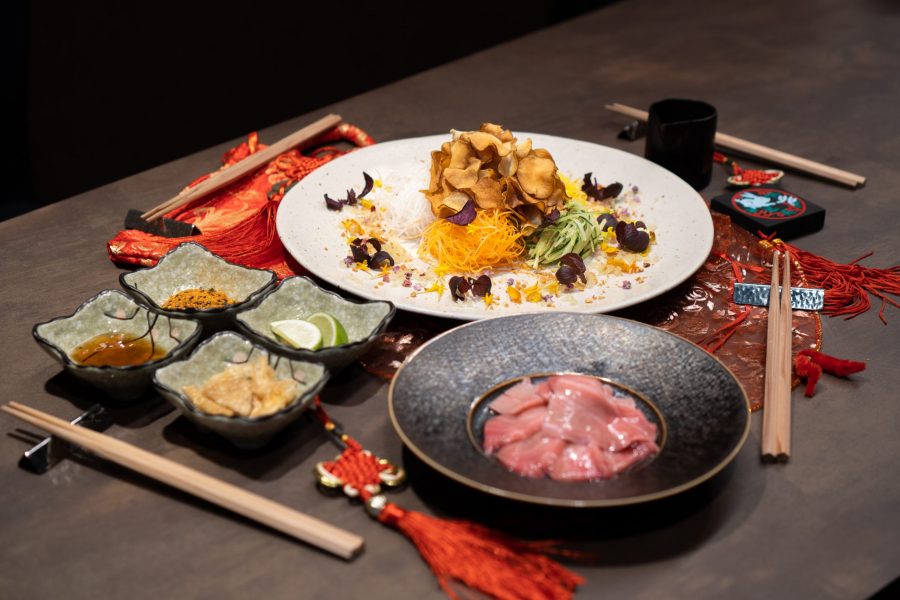 Have you ever had a Japanese-styled Yusheng before? Well, now you can with Wagatomo! Bringing a Japanese twist on the festivities, Wagatomo's Japanese-style Auspicious Yu Sheng ($88++ for 4-6pax) includes 8 main ingredients with eight condiments and a Hachimi eight-spice mix, an ode to the lucky number 888. Using Japanese ingredients such as julienned daikon, carrot, chuka wakame, takuwan, cucumber, and fennel with pickled ginger, shiso leaves, and more – one can expect a refreshing bite! Instead of the usual salmon, the Yusheng from Wagatomo is topped with thick slices of fresh chutoro.
Available for dine-in only from 3 Jan to 4 Feb 2023.
YUN NANS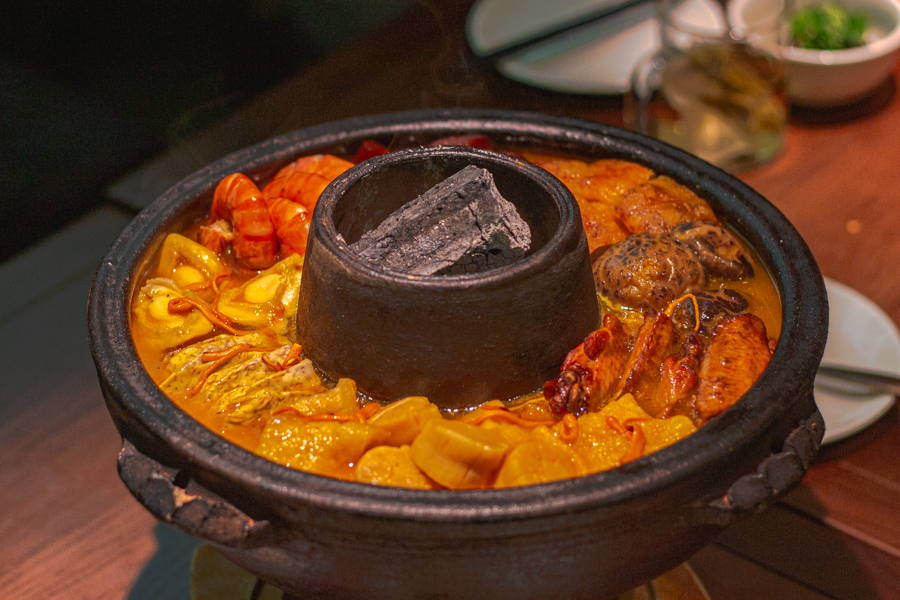 Available from 9 Jan to 5 Feb, YUN NANS is unveiling 6 different CNY set menus featuring lip-smacking dishes. 
You can expect dishes like the iconic Prosperity Treasure Hot Pot, which has a golden broth base that's been stewed for 6 hours with a medley of ingredients like Jinhua ham, pork bones, pork trotters, dried scallops, and more. It's then topped with auspicious ingredients like roast pork belly, bamboo pitch, sea cucumber, and abalone, just to name a few. 
You'll also find dishes like the "Bi Feng Tang" Style Pork Ribs with Truffles, Crispy Roast Chicken, and Sauteed Tiger Prawns with Superior Soy Sauce. 
These dishes will appear in different set menus ranging from 4 pax (from $338++) to 8 pax ($828++). The set menus will also come with Freshly Baked Rose Pastry, a traditional Yunnan dessert, and the new Prosperity Abalone Yu Sheng. 
There are also sets featuring the viral signature Live Soon Hock Stonepot Fish!
For more details on their CNY Sets, head over to their Facebook page. 
Paradise Group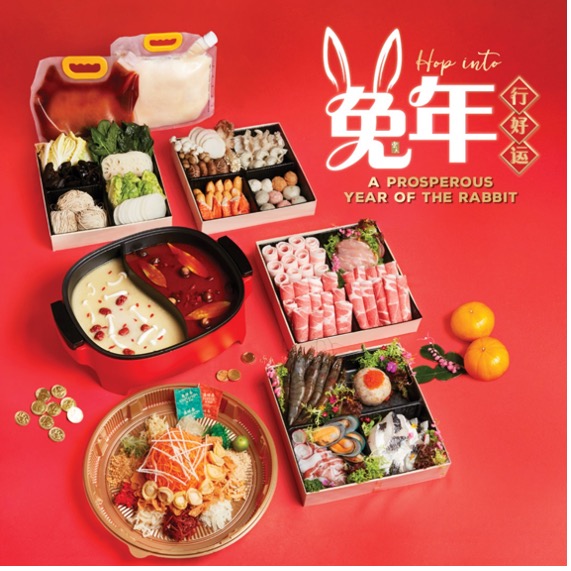 Paradise Group (which has many brands like Taste Paradise, Seafood Paradise, Canton Paradise, and Beauty in the Pot under its belt) has a wide range of CNY offerings that you can enjoy with your loved ones!
The Beauty in The Pot Abundance Takeaway Set ($348) comes complete with an electric pot for you to enjoy steaming hot pot in the comfort of your home! 
Toss to a prosperous new year with the Prosperity Abalone Yu Sheng ($48.80 for Takeaway). You can also indulge in some sweet snacks like Steamed Nian Gao with Coconut Milk ($27.80).
For more details, you can head over to their website.
DTF Yusheng
Din Tai Fung's popular CNY menu is back for the Lunar New Year! Kick off your festive celebrations with the Prosperity Smoked Salmon Yu Sheng ($53.80 per serving).
For some added crunchy goodness, you can opt to add on some Fried Salmon Skin ($5.00 per serving) or Crispy Yam Strips ($3.80 per serving). A vegetarian option is also available ($45.80 per serving).
You can pre-order your Yu Sheng online via Din Tai Fung's e-store. Place your orders from 16 December 2022 to 5 January 2023 and receive Din Tai Fung's limited edition red packets and a Premium Insulated Bag (worth $8.80).
Crystal Jade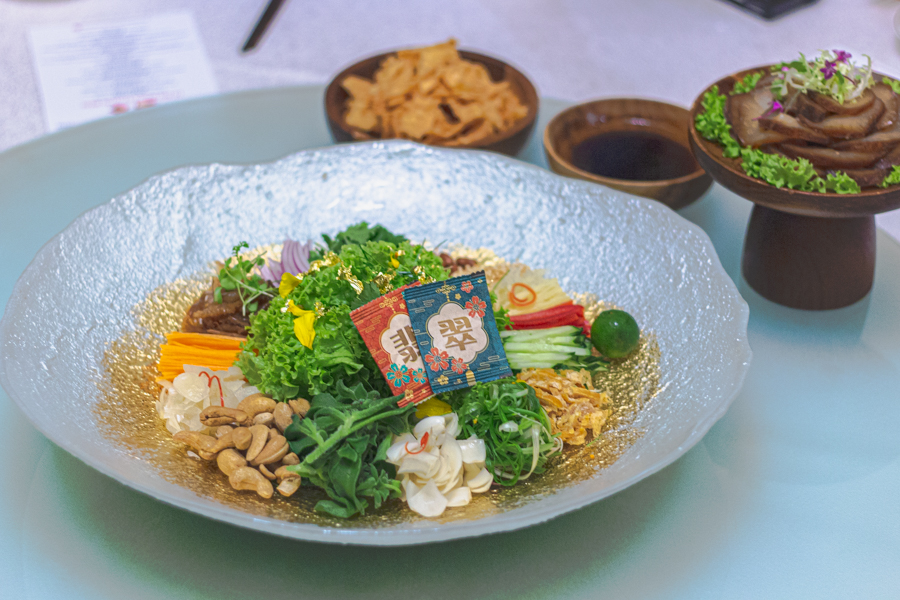 Crystal Jade has a selection of exclusive dishes for you to enjoy this new year. Start off with the Golden Harvest Sea Cucumber Yusheng ($208 for large, $138 for small). Other signature specialties include the Braised Abalone with Sea Cucumber, Fish Maw & Conpoy on Crispy Hor Fun ($68).
Set menus for five to ten people are available at Crystal Jade restaurants. A variety of festive goodies such as the Dang Gui Crispy Salted Chicken ($39.40 for whole) are also available for takeaway.
Check out our full article on Crystal Jade here.

Soup Restaurant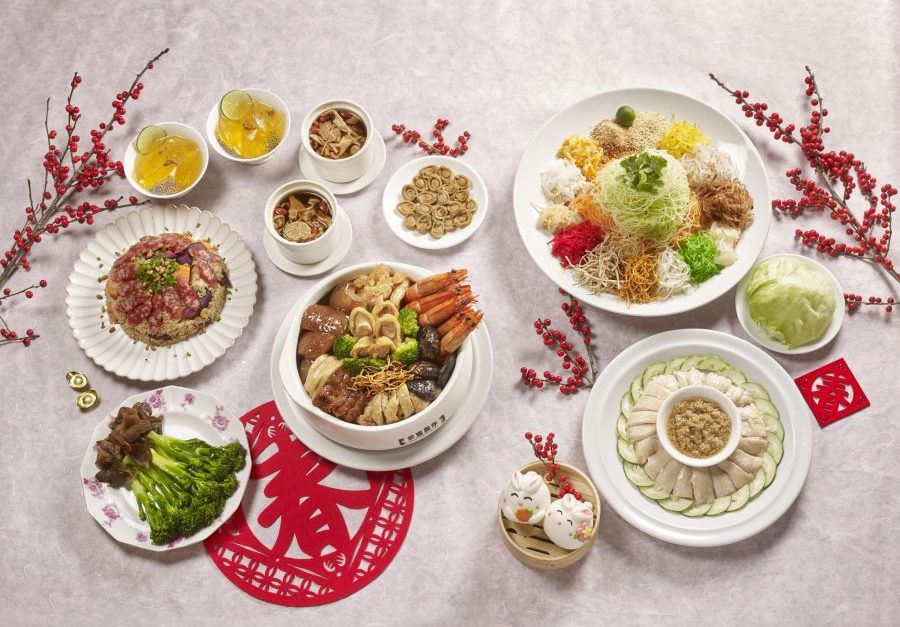 Soup Restaurant has launched various Chinese New Year sets available exclusively from 23 Dec 2022 to 5 Feb 2023. You'll be able to find some of the new menu items in the various CNY set menus, such as an Abalone Collagen Treasure Pot with Cordyceps Flower, Yuzu Pork Chop, Double Happiness Sweet Potato Steamed Rice with Chinese Sausage and Osmanthus Citrus Jelly, just to name a few.
For more information on the CNY set menus, you can visit this website.
Apart from that, Soup Restaurant is also offering a Take Home Reunion Set ($438) that's good for 5 pax, with items like Yu sheng, Samsui Ginger Chicken & more!
Restaurant Gaig
To commemorate the Year of The Rabbit, Restaurant Gaig has put together a special menu item available exclusively during the festive season.
Prepared by Chef Marti Carlos Martinez, the Catalan Rabbit Meat Stew ($68++) is a hearty dish that you can share with your family. It is available for lunch and dinner from 25th to 28th January 2023.
To find out more about Restaurant Gaig, you can head over to their website.
PizzaExpress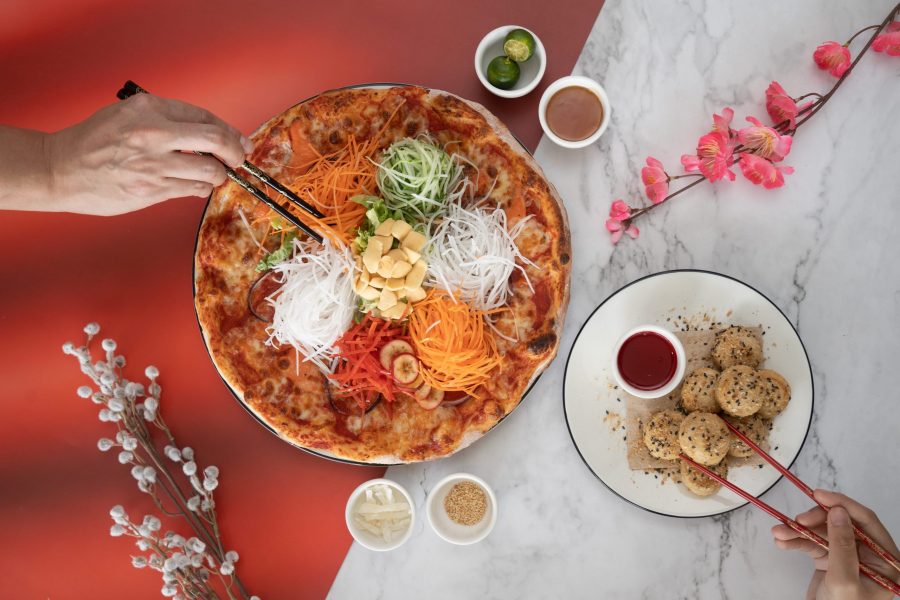 This CNY, enjoy Pizza with a Yusheng twist over at PizzaExpress, where a thin and crispy pizza crust is topped with yusheng staples like smoked salmon, baby romaine, red radish, daikon, carrot, cucumber, candied winter melon, crispy golden pillow crackers, and a bold tangy calamansi plum sauce. Their iconic dough balls have also undergone a CNY twist, coated in peanut powder, sugar, white and black sesame seeds served with a lucky red condensed milk dip on the side.
Available from 5 Jan to 5 Feb 2023 for dine-in and. takeaway at all PizzaExpress outlets. Islandwide delivery is available via this website.
Si Chuan Dou Hua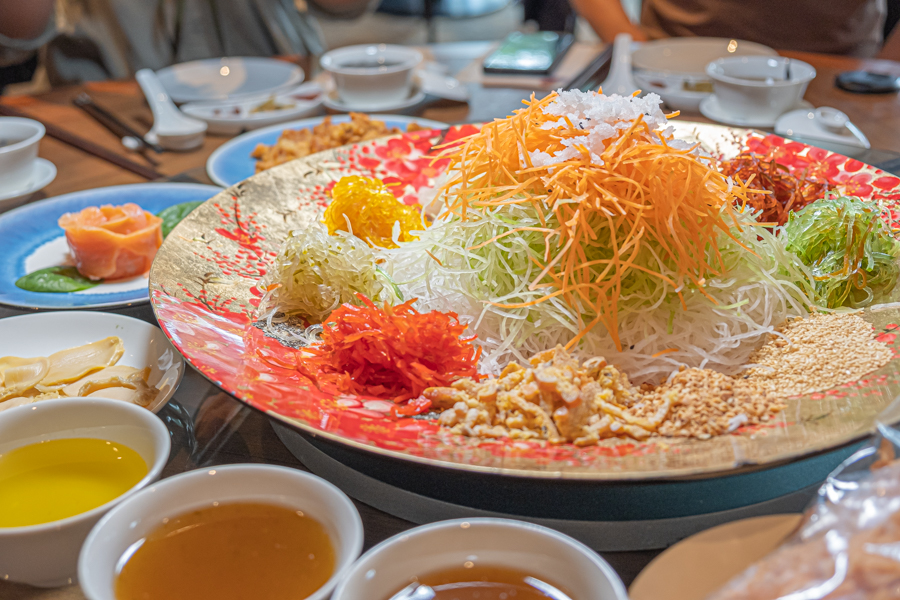 Si Chuan Dou Hua is offering their CNY set menu options that showcase some delicate and elevated Sichuan flavours. Start with their Abundance Treasures Yu Sheng ($118 for S, $138 for L) that comes with a twist of their Signature La Zi Ji!
Other tantalising menu options include the King Garoupa with Fresh Sichuan Peppercorn and Braised Lobster with Fish Paste Noodles in Superior Stock, which are exclusive to the PARKROYAL on Beach Road outlet. Check out our full article on Si Chuan Dou Hua!
For more information, visit Si Chuan Dou Hua's website.
Menya Kokoro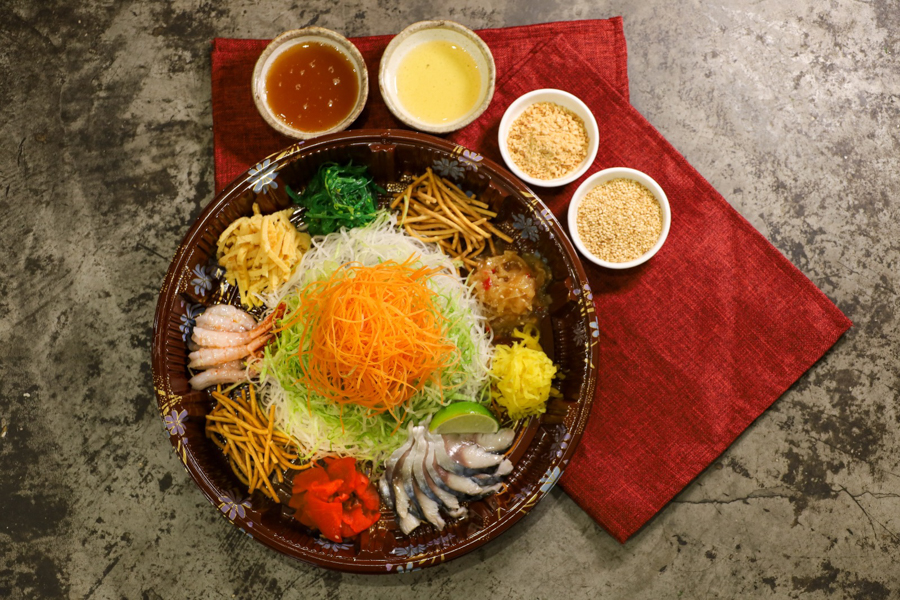 For a Japanese twist on CNY, try Menya Kokoro's Maze Lohei ($16.80 for 2 Pax, $26.80 for 4 Pax)! Instead of the usual golden crackers, Menya Kokoro's Yusheng iteration uses their signature deep-fried wholewheat maze soba noodles for an added crunch.
The platter also comes garnished with items like wakame, jellyfish,  shime saba (cured mackerel), fukujinzuke (red Japanese pickles) and amaebi (sweet shrimp). The platter is available for dine-in only from now till 31 January 2023.
JU Signatures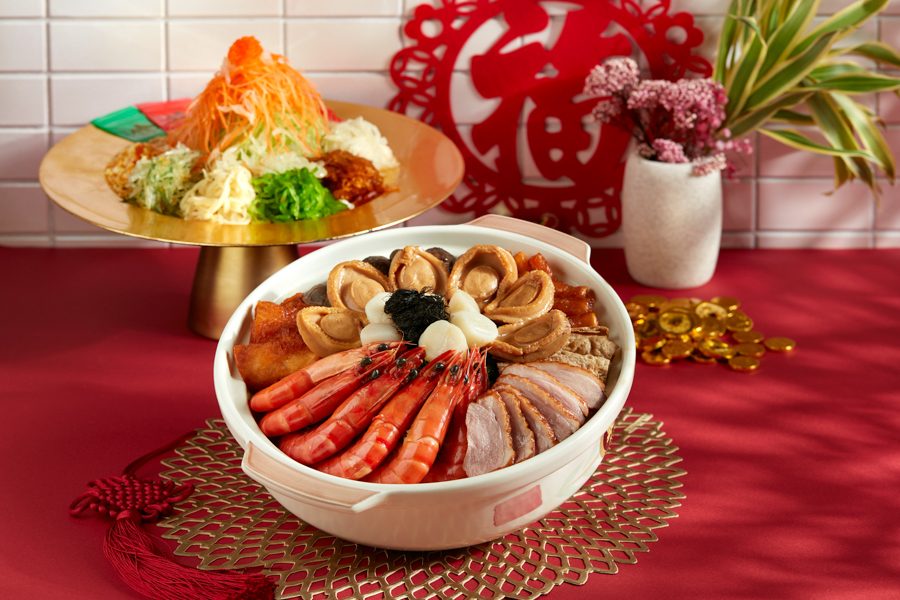 Known for its picturesque and quality dim sum, JU Signatures has launched their CNY menu with items like the JU Treasures Pot ($268 for 6 persons) that comes packed with prawns, scallops, pork belly and smoked duck. Each order of the JU Treasures Pot even comes with a free Prosperity Smoked Salmon Yusheng Platter ($38).
Other goodies you can enjoy include their 'Fortune' Abalone Carrot Cake ($38), 'Abundance' Lap Mei Yam Cake ($32) and Original Nian Gao with Coconut Milk ($28). They even have adorable Bunny Yam Snowskin Buns & Pineapple Ingots ($38). JU Signatures also offers a selection of Chinese New Year set menus that feature their signature dishes.
For more information, visit their official website.
Gyu San
For the ultimate CNY indulgence, Wagyu butcher Gyu Sanhas launched their limited-edition A5 Wagyu Shabu-Shabu Take Home Set ($200+, U.P. $223)! The set features 750 grams of Kamichiku 4% Miracle Gyu that you can enjoy with any broth of choice. There are both fatty, premium cuts and lean cuts included to better cater to everyone's tastes.
Gyu San also offers Sukiyaki and Yakiniku take-home sets that come with everything you need to enjoy a Wagyu experience at home! Get Gyu San's premium Wagyu take-home sets here.
True Cost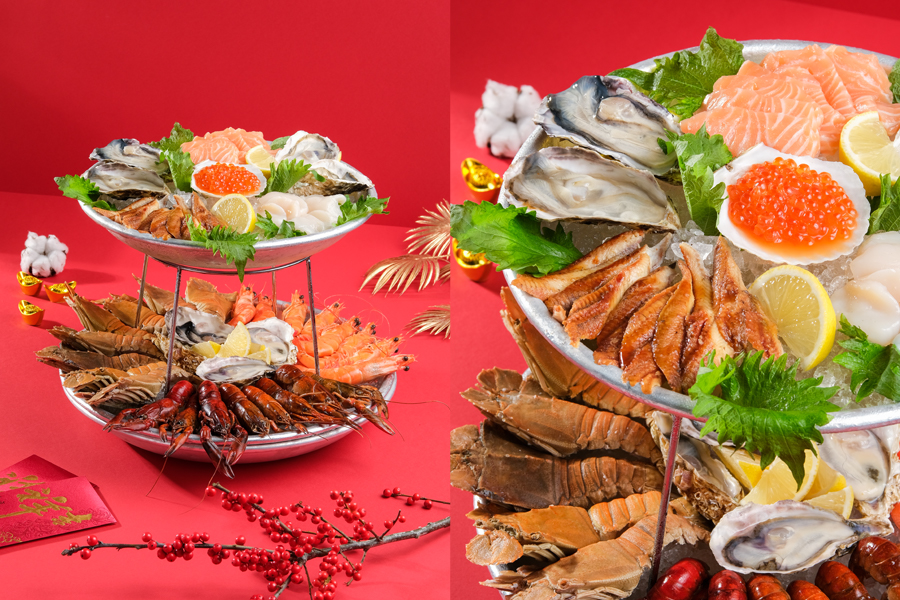 Seafood lovers, rejoice – True Cost is offering a premium Seafood Lucky Tower ($88+) that comes adorned with fresh seafood like scallop sashimi, Japanese oysters and baby lobsters. The tower can feed 4 to 6 people and would be a great centrepiece for CNY dinner.
The seafood tower is available only for dine-in at their restaurant space on Temasek Boulevard. Make your reservations here.
Nandos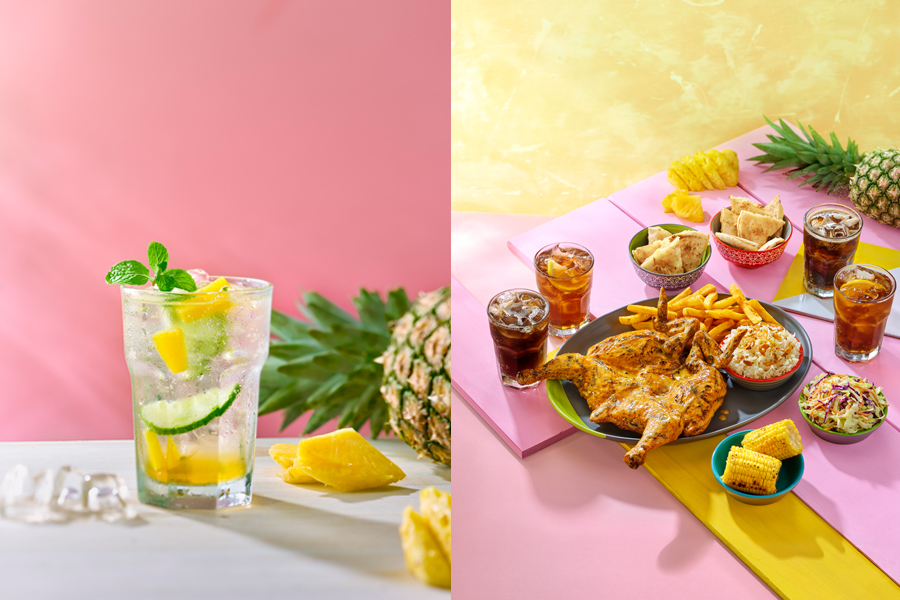 Nandos is offering a series of pineapple-inspired dishes for CNY! Try their Pineapple Edamame Corn Salsa and Pineapple Elderflower Cooler, or indulge in their CNY limited edition set meal ($73) that comes with a whole chicken, Cheesy Garlic Pineapple Pita and drinks.
The set meal is available till 28 February 2023.
Hotel Telegraph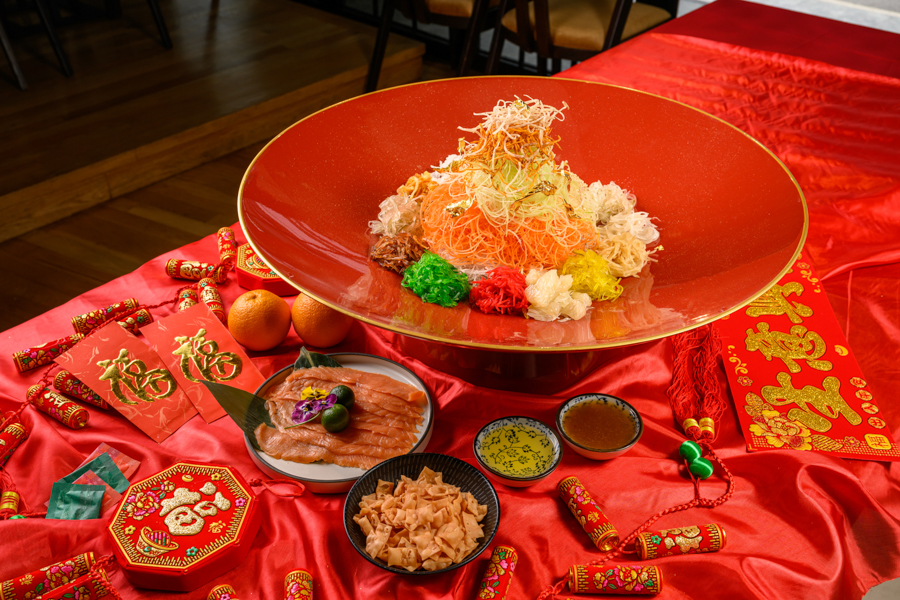 Hotel Telegraph in Robinson Road is offering a whole slew of Chinese New Year menus! Their in-house restaurant The Dining Room has a Chinese New Year Afternoon Tea Set ($68++ for 2 pax) with a selection of savouries and sweets like Truffle Bak Kwa and Cheese on Brioche Toast and Osmanthus Jelly with Wolfberries.
The 1927 Rooftop Bar also has a special Fortune Platter (from $38 for 2 pax) that has a selection of finger foods with happy hour on select beers and cocktails. Plus, The Dining Room will be having a Chinese New Year All Day Dining menu starting 16 January 2023 with classics like Prosperity Yuzu "Yu Sheng", Red Grouper and Braised 8-head Abalone.
For more information or to make a reservation, visit Hotel Telegraph's official website.
CÉ LA VI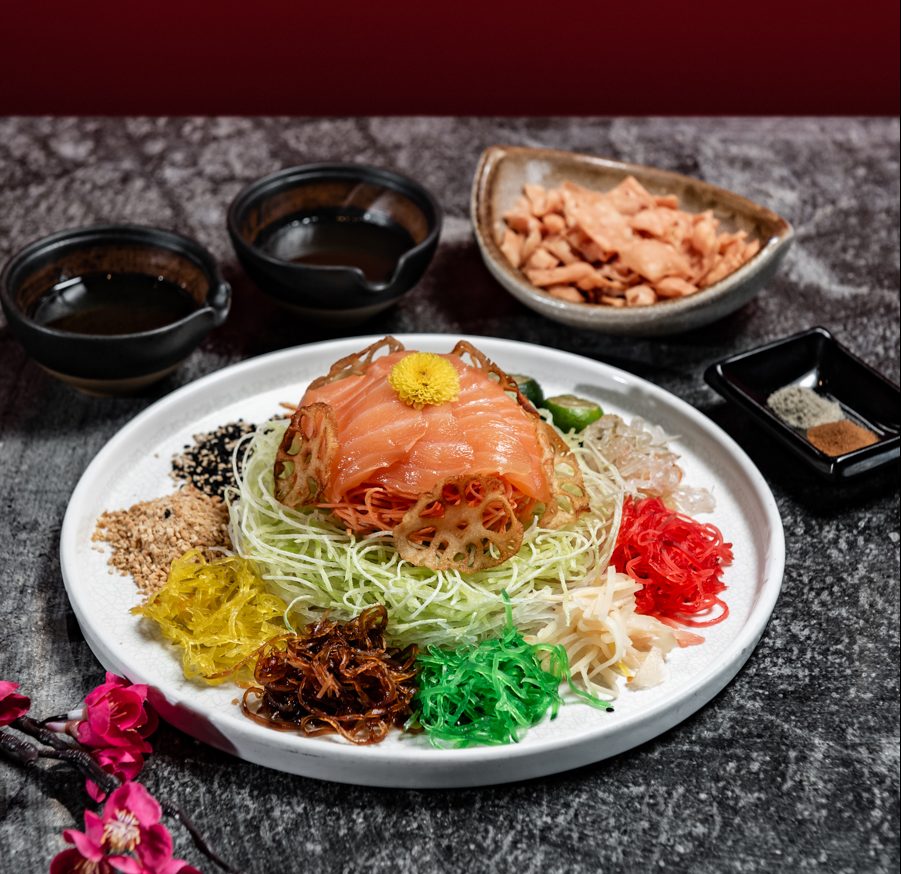 Enjoy CNY with a sky-high view of Singapore's skyline at CÉ LA VI! The restaurant has collaborated with Executive Chef Maksym Chukanov for an exclusive menu, including Yu Sheng ($38++) with sashimi-grade salmon and lotus chips.
There's also the festive dessert "Peace and Prosperity" ($24++) with white chrysanthemums and mandarin oranges. CÉ LA VI also has a Lunar New Year Menu starting at $38++ for 2 people.
Get a reservation online or call +65 6508 2188.
Chinese New Year 2023 Snacks, Drinks, And More
Janice Wong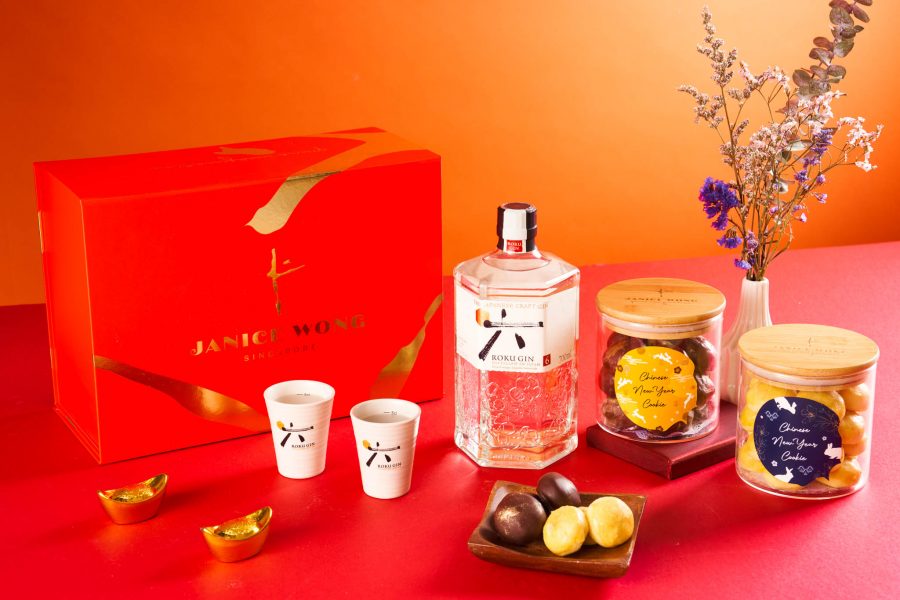 Renowned pastry chef Janice Wong has unveiled her Lunar New Year 2023 Collection. 
There are meticulously crafted confections like the Rabbit Chocolate Sculpture ($50) and the Chocolate Koi Fish ($58).
An array of gift options are available as well, such as the Cookie & Chocolate Hamper ($150) and festive bundles (from $140) which come with a bottle of spirit, wine, or champagne.
For more information, you can check out their website.
Mdm Ling Bakery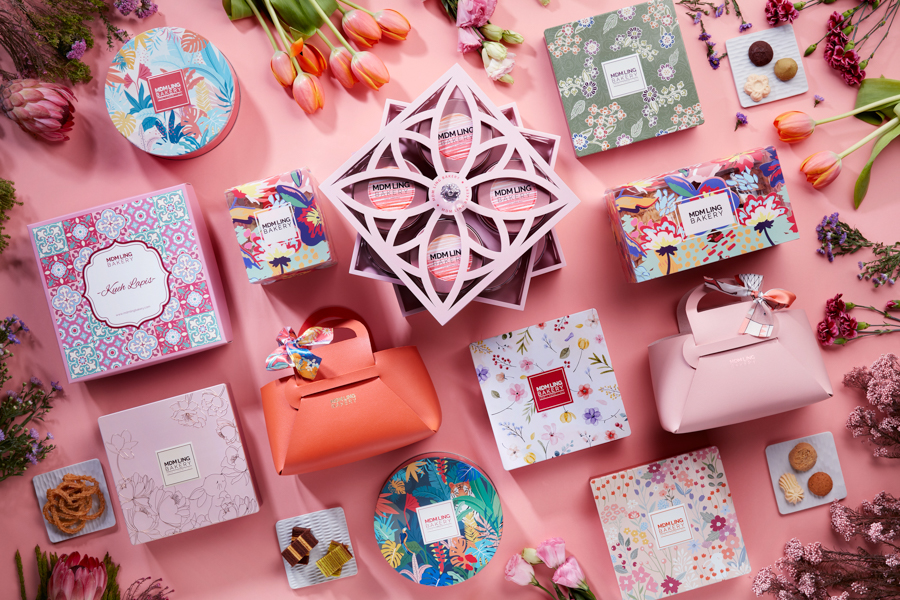 Mdm Ling Bakery has an extensive selection of goodies for you to choose from their Chinese New Year 2023 Collection.
The Layers to Success Kueh Lapis ($78) comes in a beautiful box packed with 4 flavours of kueh lapis, original, pandan, chocolate, and hawthorn. Their Tote of Wealth ($51.35) bags are perfect for gifting, coming with 4 containers of their CNY cookies.
Some of their other treats include Kopi Siew Dai cookies, Hojicha Butter cookies, Nanyang Love Letters, and more!
Read our full article here for more information on Mdm Ling Bakery's CNY snacks!
Butter Bean & Thye Moh Chan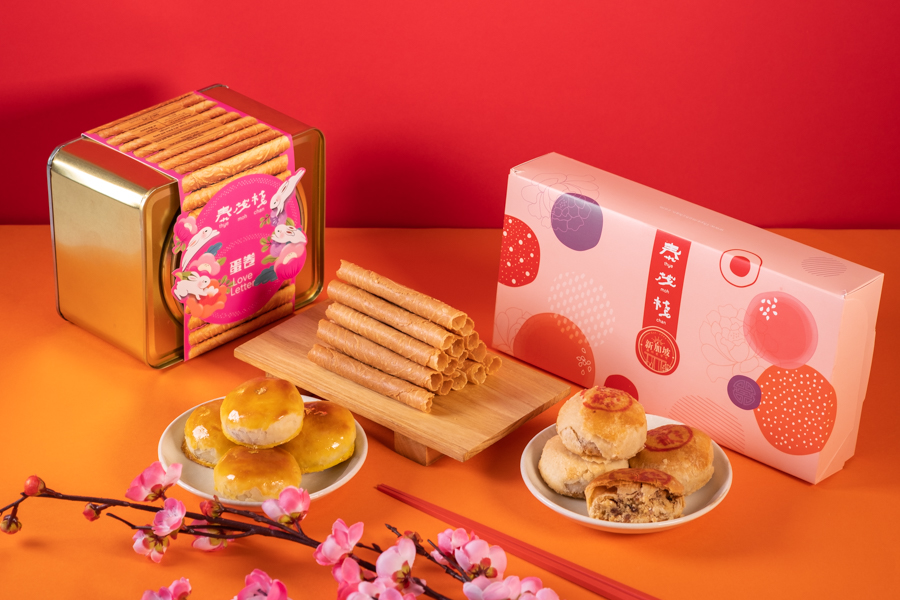 Butter Bean launches new Chinese New Year 2023 cookies in flavours like Hazelnut Chocolate and Strawberry Creme Rose ($14.80) alongside other snacks like their Pineapple Golden Cheese Tart. If you want something more traditional, Thye Moh Chan has launched their rendition of the traditional new year snack, with light and crispy egg rolls. 
They also have treats for the whole family such as the Bak Kwa Tau Sar Piah & Golden Joy ($2.80/pc or $20 for a box of 8). 
Read our full article here for more information.
BreadTalk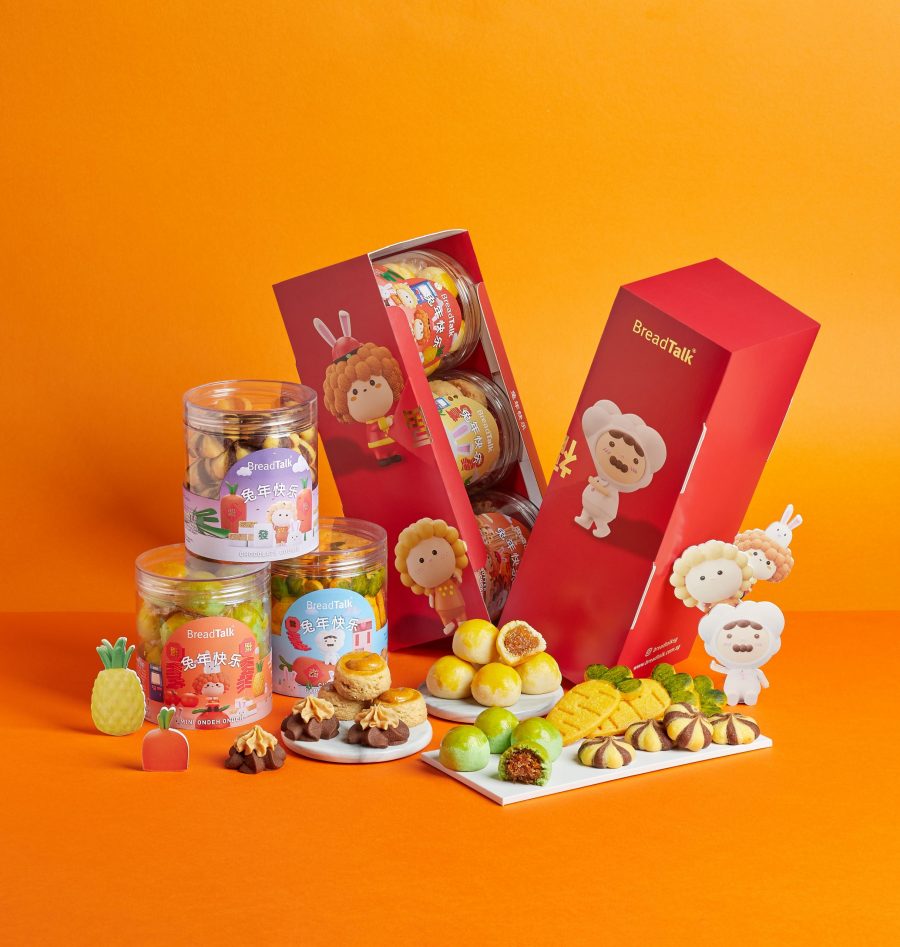 This year, BreadTalk has an enticing range of sweet and savoury cookies perfect for your guests to nibble on during CNY visits! Choose from the new Cheesy Carrot Cookies, Peanut Butter Chocolate Cookies, Chocolate Cookies, and Almond Crisps, or opt for favourites like the Mini Pineapple Pastry, Cashew Nut Cookies, or Mini Ondeh Ondeh. Each bottle is retailing for $14.80 and is available while stocks last.
They also have the addictive Bottled Flosses ($9.80, 3 for $28) available in three flavours: Original Pork Flosss, Spicy Pork Floss, and Crispy Pork Flosss.
For more information, head over to their website.
Bread Garden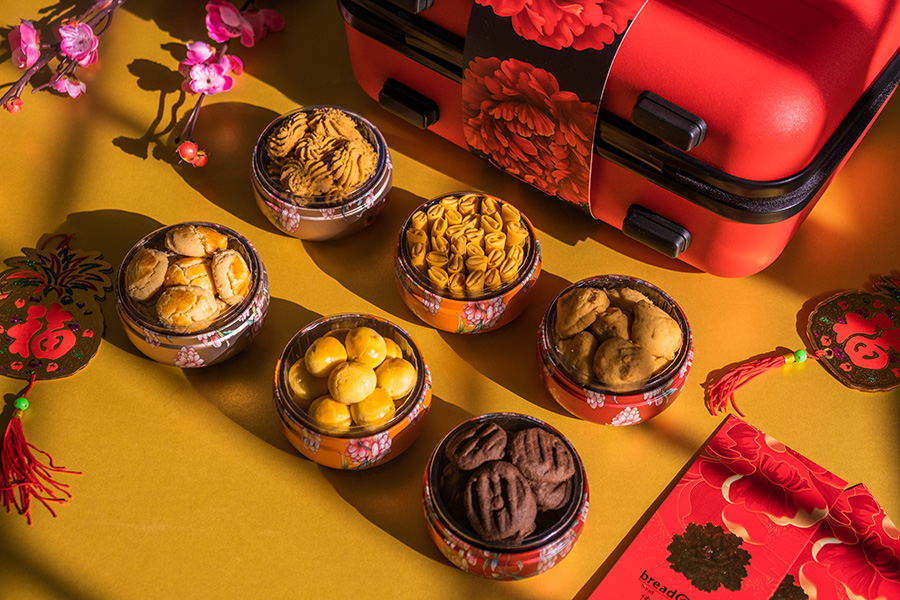 Handmade using freshest ingredients, made with low sugar and no preservatives, Bread Garden is ready to zest up your CNY with their snacks. They have a Bountiful Goodies Box ($70.80) which comes with 6 different snacks: Premium Pineapple Tarts, Signature Macadamia Buttery Cookies, Old School Almond, Dark Chocolate Sensation, Kopi Gao Siew Dai Cookies, and Spicy Shrimp Rolls. Our favourite among the lot was the Signature Macadamia Buttery Cookies which came with crunchy bits of Australian macadamia nuts. Coming in a close second were the Old School Almond Cookies, which had a crumbly texture and pleasant nuttiness to them.
Bread Garden cookies can be purchased via their website.
Golden Bridge Claypot Set
If you are hosting a reunion dinner at your house this year, Golden Bridge has a series of CNY specials that you can include in your feast.
The Golden Bridge Claypot Rice Kit ($20.99) comes with all the ingredients you need to prepare this classic hawker dish, and can be cooked in your rice cooker, serving up to 8 pax!
Gift options include the Iberico Bak Kwa Gift Box ($24.85) and the Singapore Orchids Series Wax Sausages ($16.50 for the Singapore Set and $16.30 for the Orchid Set), which comes in flavours such as chicken wine, liver, and tung yuen.
To find out more, you can head over to Golden Bridge's website here.
Humble Bakery
Humble Bakery is a homegrown brand that offers a selection of artisanal bakes, and they have a selection of CNY goodies! Try the Bak Kwa Cheddar Scones ($28.80 for 6) alongside cookies like Paprika Pork Floss ($18.80) and Gula Melaka ($18.80).
Get their CNY bakes online or at their storefront in Raffles Place!
POKKA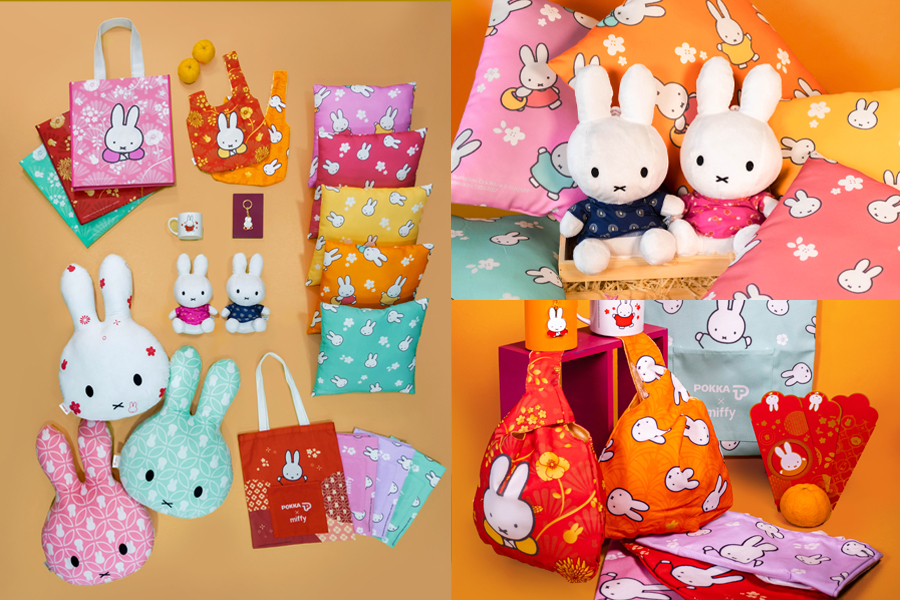 Everyone's beloved drink brand POKKA has released a CNY collection with Miffy! The POKKA x MIFFY collection features limited edition Miffy-themed collectables like cushions, tote bags and even a pair of Miffy plushies! You can redeem the goodies with a minimum spend on POKKA drinks at participating supermarkets:
Miffy Tote Bag, with minimum spend of $22
Miffy Cushion, with minimum spend of $32
Miffy Head Cushion, with minimum spend of $42
Miffy Plushies (1 Pair), with minimum spend of $52
Stand a chance to win a POKKA x Miffy 3D2N Staycation for 4 in Andaz Suite King at Andaz Singapore (worth $2,260) and $688 Cash with a minimum spend of $8 on participating POKKA products in a single receipt.
For more information and full details on the redemption, visit POKKA's website or head to one of their physical redemption spots.
Magnum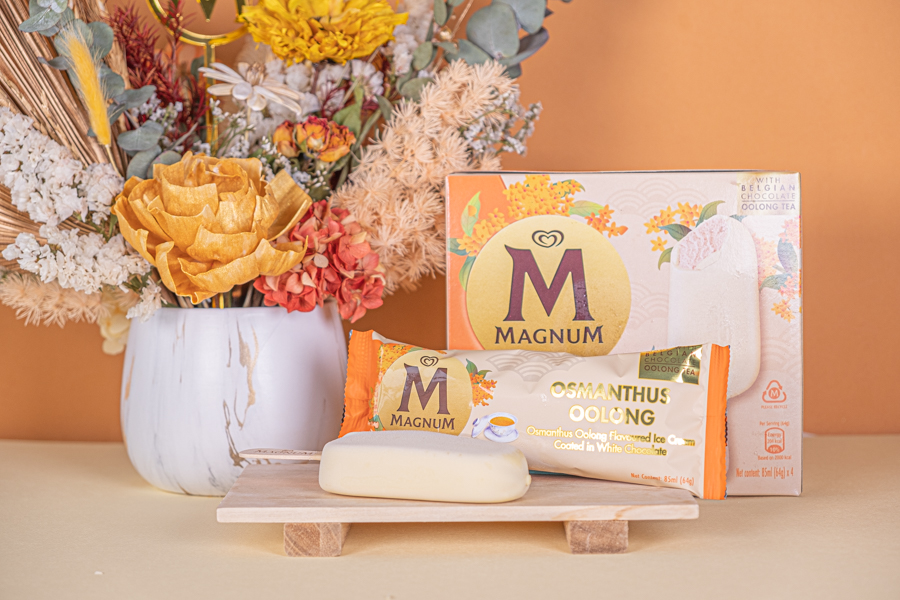 Magnum has released a limited-time-only flavour – Magnum Osmanthus Oolong! It features a white chocolate shell encasing a floral roasted oolong ice cream. With its dainty and intricate packaging, this ice cream was designed for Chinese New Year. The ice cream is available islandwide at $12.01 for 4 and $4.24 for one.
Shihlin Taiwan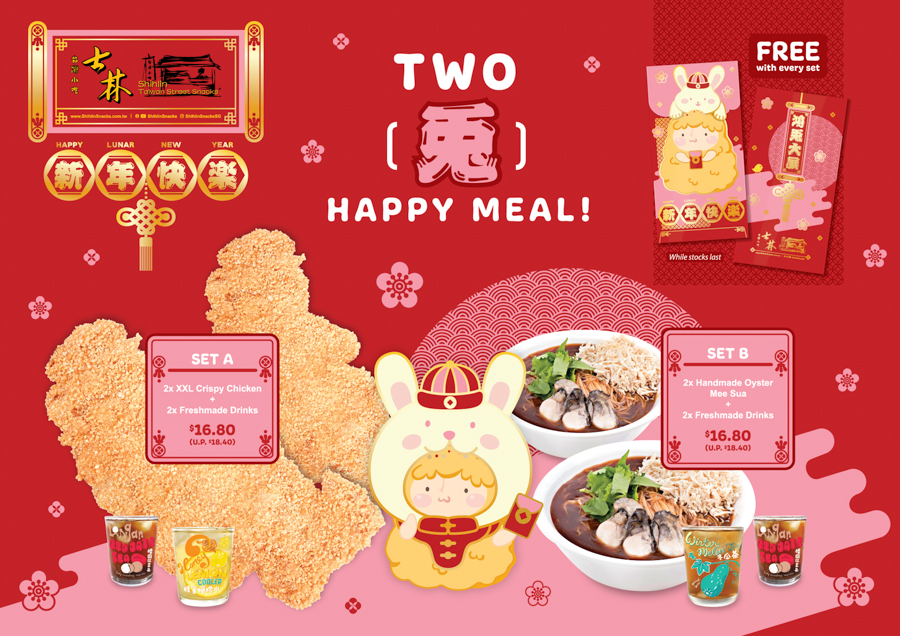 The popular Taiwanese snack chain Shihlin Taiwan is offering two '兔' Happy Meals! Choose from Set A ($16.80) which has 2 XXL Crispy Chicken and 2 Freshmade Drinks or Set B ($16.80) with 2 Handmade Oyster Mee Sua and 2 Freshmade Drinks, available now at all Shihlin Taiwan outlets islandwide.
Swensen's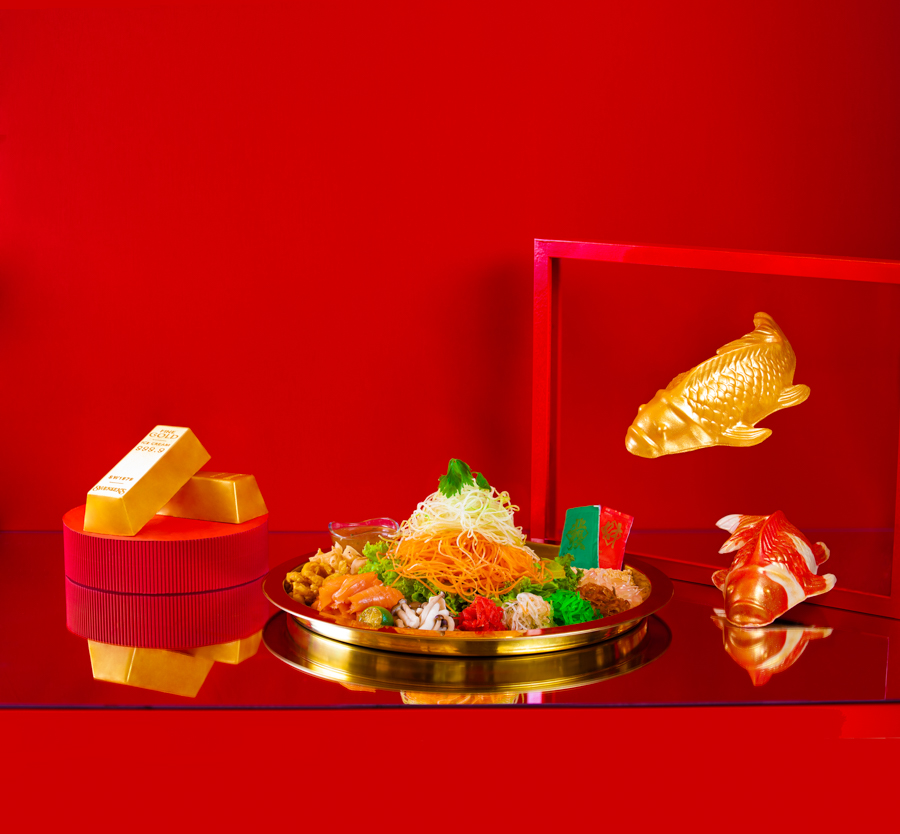 Swensen's is offering an auspicious selection of Chinese New Year desserts and Yusheng! Try their Fortune Gold Bar Ice Cream Cake ($38 for 2) that features Pineapple Tart ice cream moulded into a gold bar, or their ornate Koi ice cream cakes available in Red ($38) and Gold ($38).
The Yusheng options are the Abalone Prosperity Yu Sheng (from $38.80) or the Prosperity Yu Sheng (from $29.80) which is available for both dine-in and takeaway. For more information, visit their official website.
F&N
Gear up your home for CNY gatherings with F&N's 24 Cans Variety Pack ($13.60)! The pack comes with five of their signature flavours – Outrageous Orange, Groovy Grape, Cheeky Cherryade, Cool Ice Cream Soda and Sarsi – in a fitting CNY-themed box, perfect for housewarming.
Chinese New Year Alcoholic Drinks
Carlsberg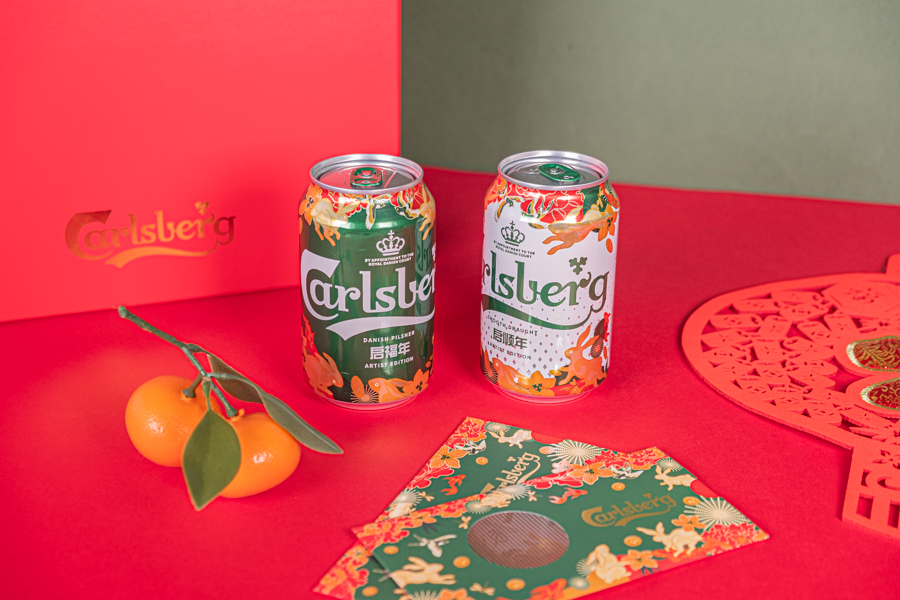 Carlsberg has partnered with local artist Feifei Ruan to produce limited edition festive beer can and red packet designs! Themed after the phrase 团团圆圆, the designs feature ornate rabbits and flower imagery in a dazzling array of rich green and gold. The cans are available for purchase at convenience stores such as Cheers, FairPrice Xpress, 7-Eleven and Hao Mart. You can even stand a chance to win a series of attractive prizes like $188 Grab Vouchers and a pair of return tickets to Tokyo worth $3,500!
For more details, check out the official website.
Maison Hennessy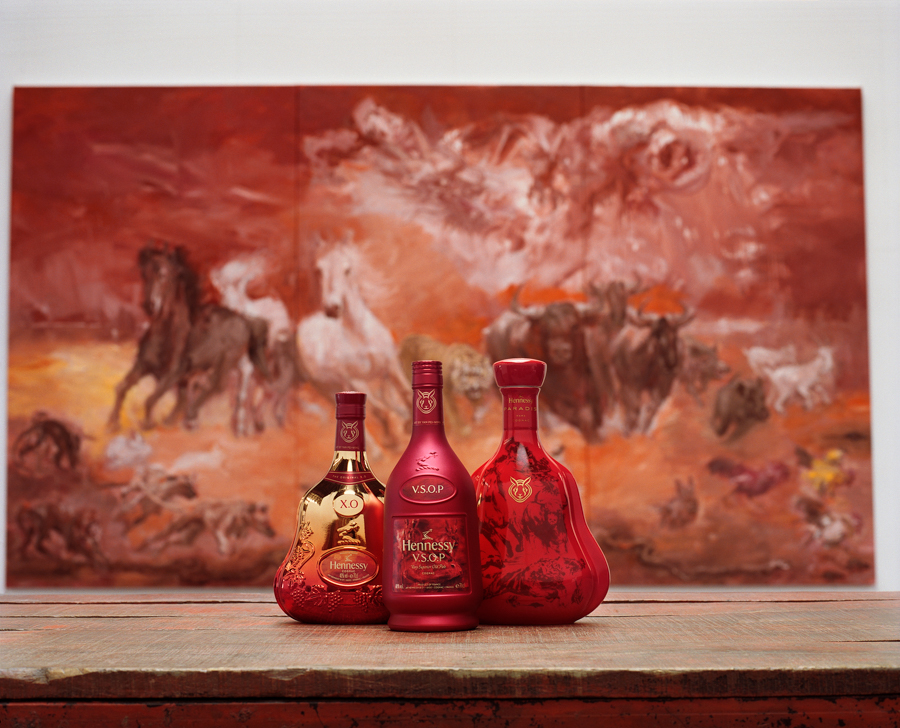 Hennessy has partnered with prolific Chinese artist Yan Pei-Ming for a series of limited-edition Hennessy V.S.O.P and Hennessy X.O cognacs embellished with elements of his work, La Grande Course.
On top of this exclusive collaboration, Hennessy will also be having tasting menus at MO BAR and the modern Chinese restaurant Cherry Garden. Some items you can look forward to include the Peranakan Cognac Old-Fashioned which features Hennessy XO and a Yu Sheng platter which consists of Atlantic Salmon, Canadian Lobster, and Oscietra caviar.
Secure the limited Lunar New Year edition of Hennessy V.S.O.P online here and Hennessy X.O cognac here.
Asahi Super Dry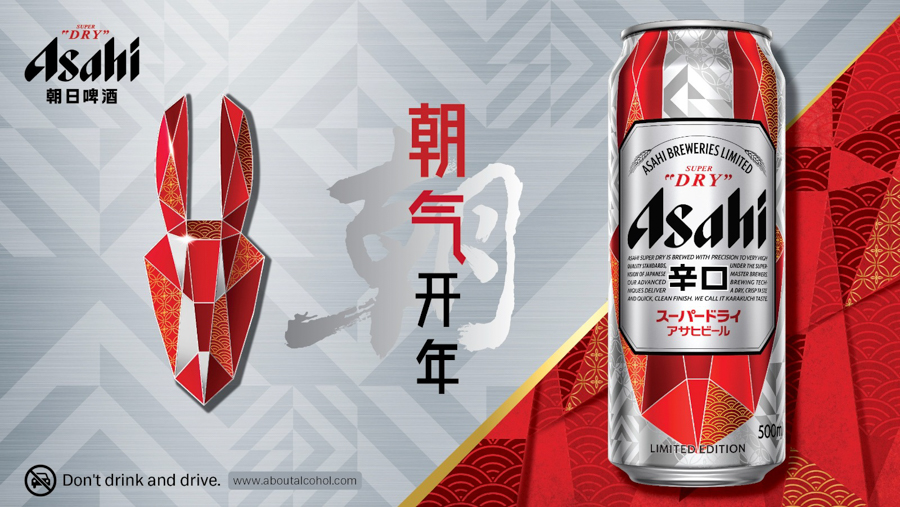 Asahi Super Dry has released a new, limited edition can design for Chinese New Year! The design incorporates elements of Japanese origami, creating the facial silhouette of a rabbit using geometric shapes. These limited-edition cans are now available for purchase!
Rémy Martin Cognacs
Rémy Martin Cognacs has launched three new CNY-exclusive packaging for three of their cognacs – Rémy Martin 1738 Accord Royal Harmonia, Rémy Martin XO Harmonia and Rémy Martin VSOP Harmonia. Each ornate box (starting from $110) comes with its own special touch and even some add-ons like a cocktail shaker!
All three limited-edition Rémy Martin Cognacs are available on Lazmall.
Chinese New Year Events
Lau Pa Sat x White Rabbit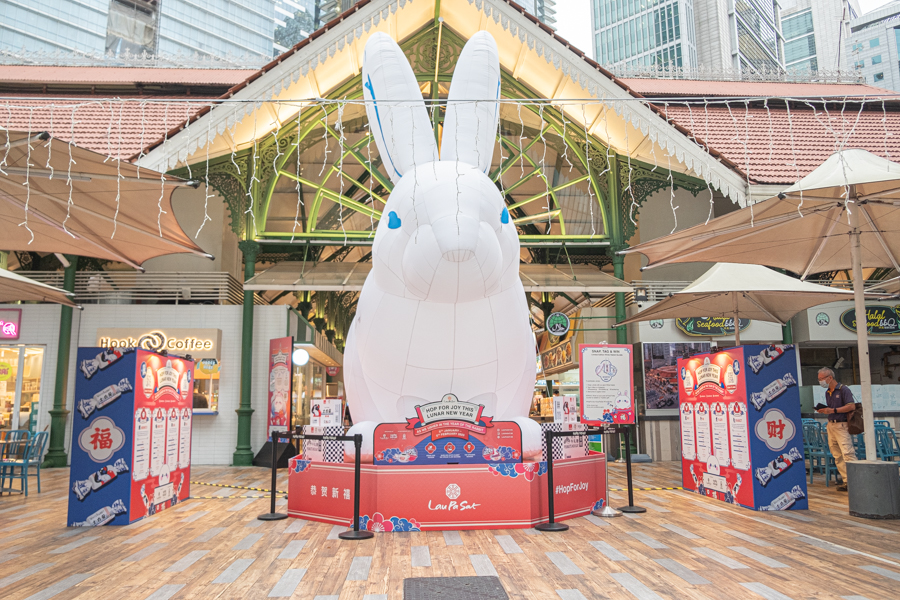 The famous hawker centre Lau Pa Sat is collaborating with childhood favourite White Rabbit for CNY! The star attraction is the 5.5 metre rabbit inflatable at the entrance, alongside a slew of goodies like free White Rabbit merchandise, ice cream and even White Rabbit-inspired foods from Lau Pa Sat tenants.
Check out our full article on it here, or head to their official website for more.
The Bay Spring Carnival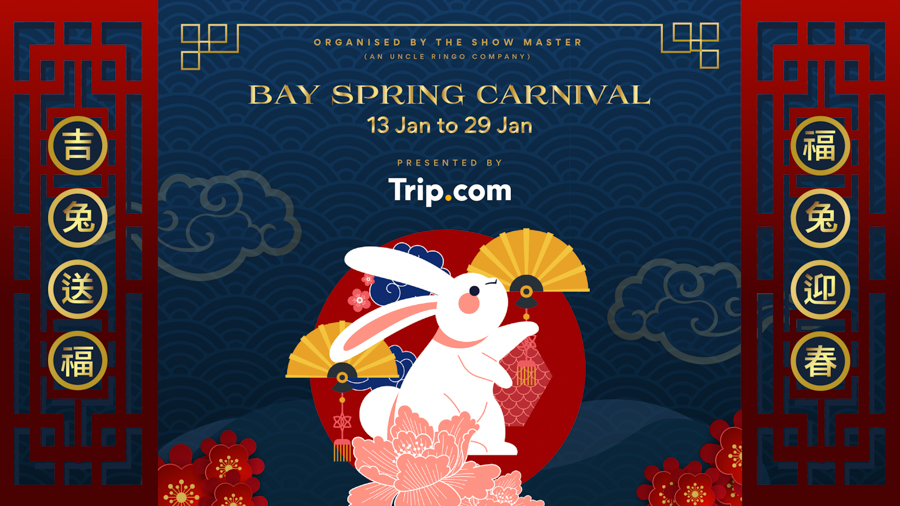 Head over to the Bayfront event space to enjoy The Bay Spring Carnival! You can look forward to exciting activities like Uncle Ringo carnival games, live music performances and the popular Ice Magic: The Great Fantasy On Ice.
For more information, head over to the official website. Get your tickets now from trip.com.
Hop Into A New Year
We hope with this humble Chinese New Year 2023 guide, you'll be able to spend a meaningful time with your loved ones at reunions! Here's wishing all our readers a prosperous 2023! Huat ah!
*Follow MiddleClass.sg on Facebook, Instagram, and Telegram for more food, travel, and trending stories