Korean cuisine has taken over the world in recent years and one of the most iconic things to eat is definitely Korean BBQ! From the grilling of meat, and having a shot of soju to making our own lettuce wraps – what's not to love? Here are 19 Korean BBQ Restaurants in Singapore where you can experience authentic KBBQ!
Authentic Korean BBQ Restaurants in Singapore
Mul Gogi Korean BBQ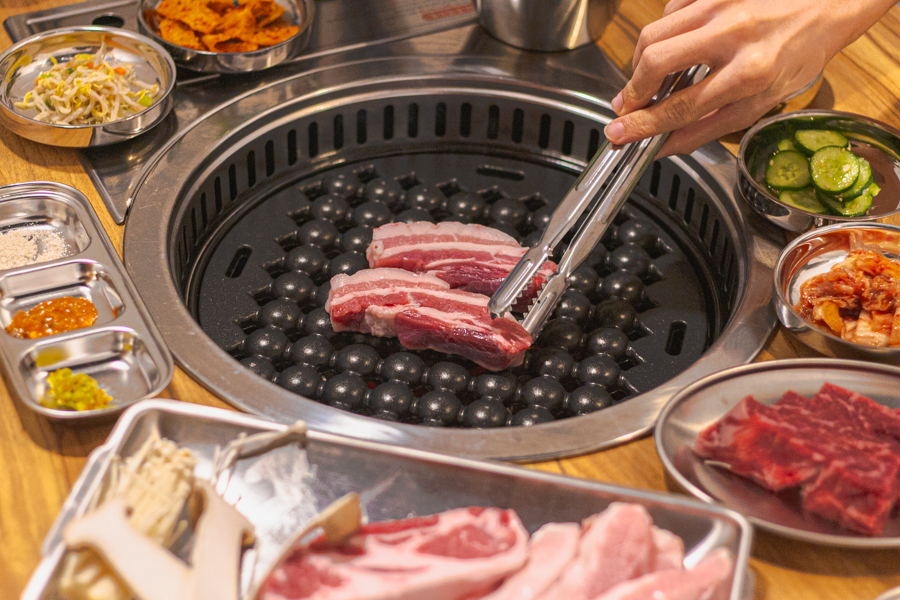 Located in Tanjong Pagar, Mul Gogi Korean BBQ serves up cuts of meat that have been through a water aging process. This helps increase the tenderness of the meat for a better KBBQ experience.
Not only that, they also use an egglet-looking grill that's placed on top of a charcoal fire. Enjoy thick slabs of Samgyeopsal along with delicious banchan. Make sure to also try their kimchi pancake which had a nice crispy exterior!
For the full review, head over to our Mul Gogi KBBQ Article.
Charim Korean BBQ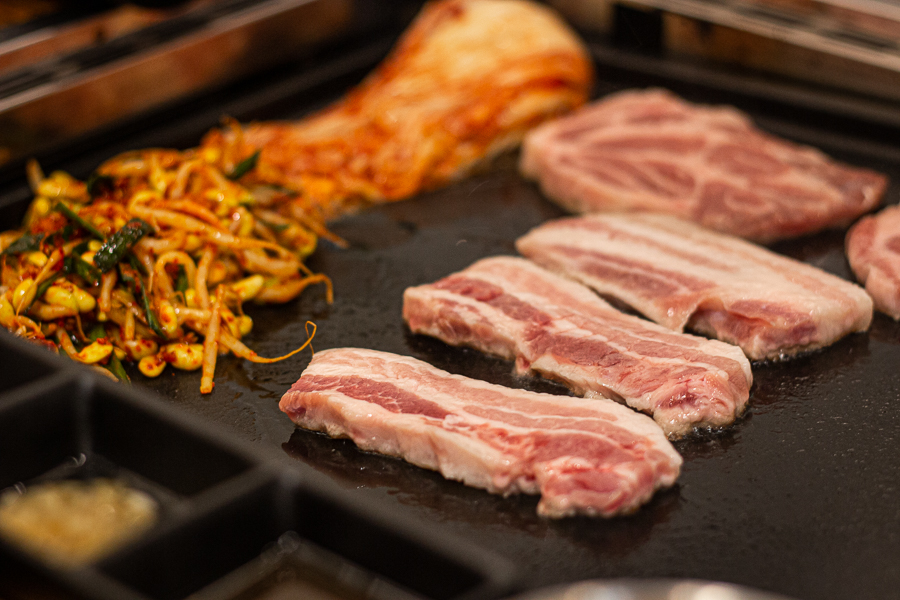 Quitting her dream job at Apple to help her mum achieve her dream of owning her restaurant, Charim Korean BBQ is not just another inspirational story. The KBBQ restaurant offers various set menus with multiple meat cut combinations alongside ala carte items like stews and cold noodles.
The more unique thing is how your meats will come with a pile of kimchi and beansprouts on the side, which means it's perfect to end with Korean-styled fried rice after the meal.
They also have something known as a DIY sushi set. Read our full review here.
Omma Korean BBQ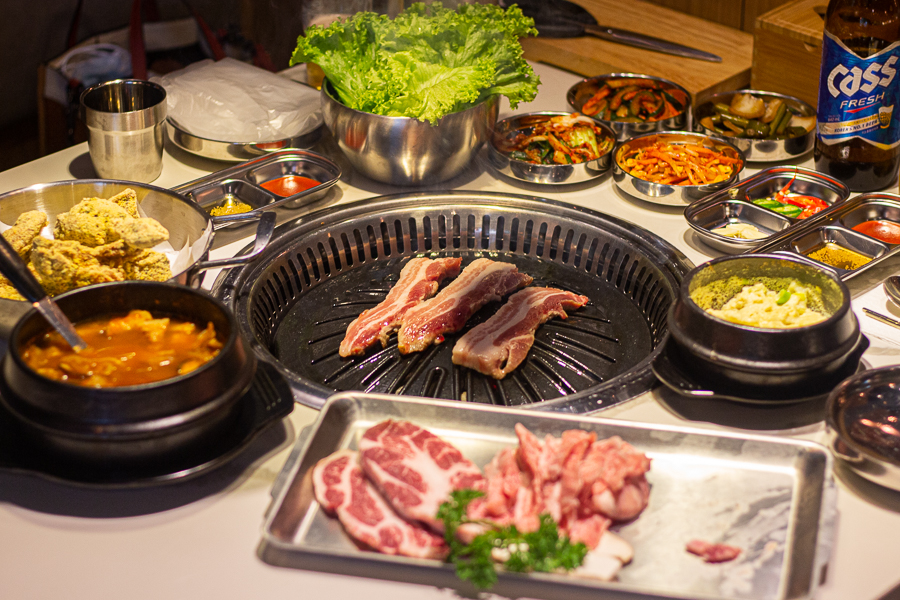 Now available at 2 locations, Beauty World and Holland Village, Omma Korean BBQ is a great kbbq option for those living in the West. Offering the option of allowing their customers to choose their choice of firewood for the meal, the addition provides an extra layer of smokiness to the meats.
Apart from the variety of meat cuts, the menu at Omma Korean BBQ is also quite comprehensive, with Korean Fried Chicken, Cold Noodles, Stews, and more available for order.
Check out our full Omma Korean BBQ Holland Village Review article if you're interested to dine here!
Wang Dae Bak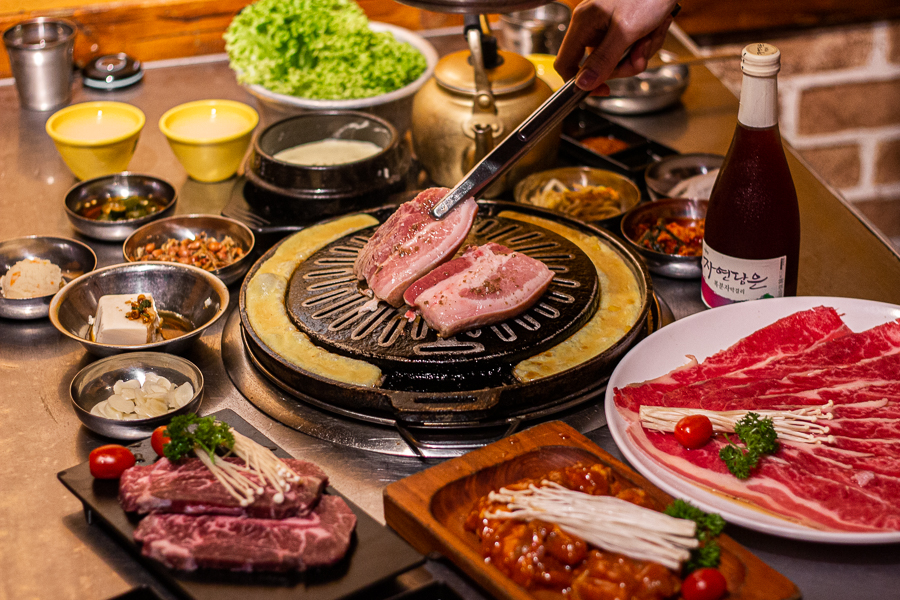 If you mention KBBQ to anyone in Singapore, Wang Dae Bak is probably one of the first few places that come to mind. The KBBQ restaurant has a couple of outlets, but we're talking about the one at Cross St for now.
Featuring a charcoal grill and free-flow eggs, Wang Dae Bak also has quality meat cuts such as Iberico Pork & more. One of their iconic menu items is undoubtedly the half-half pancake, where you can experience the best of both worlds: seafood pancake and kimchi pancake at the same time!
For our full review, head over to our article here.
Wang Dae Bak Grill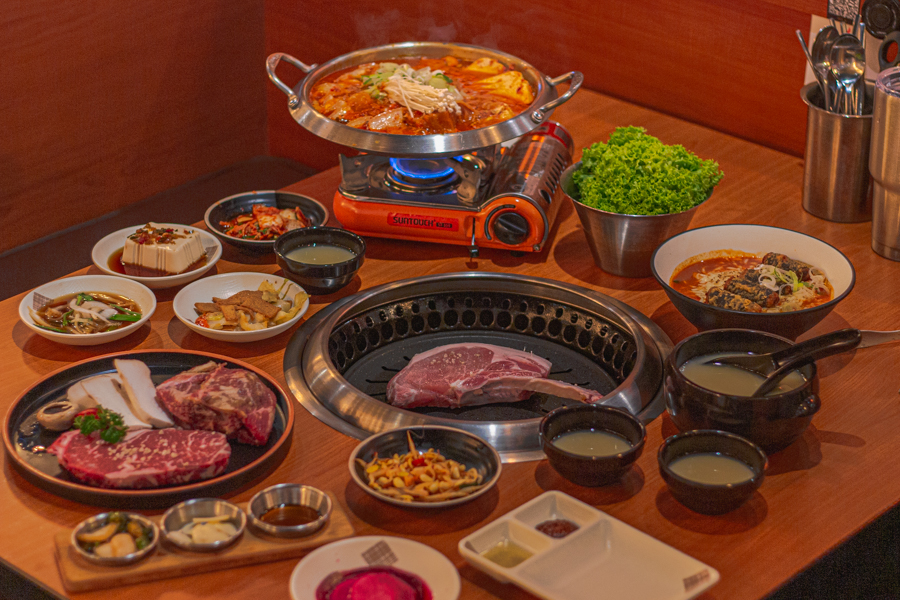 Wang Dae Bak Grill is one of the newer concepts by Wang Dae Bak. It's located in Holland Village and unlike the outlet at Cross St, they don't use charcoal grills here. However, this doesn't mean that the experience is diminished in any way.
The outlet offers amazing cuts of meat such as a US Prime Pork Tomahawk, Duroc Pork Collar, and US Prime Ribeye, just to name a few.
Read our full review over at our Wang Dae Bak Grill article.
Hanjip Korean Grill House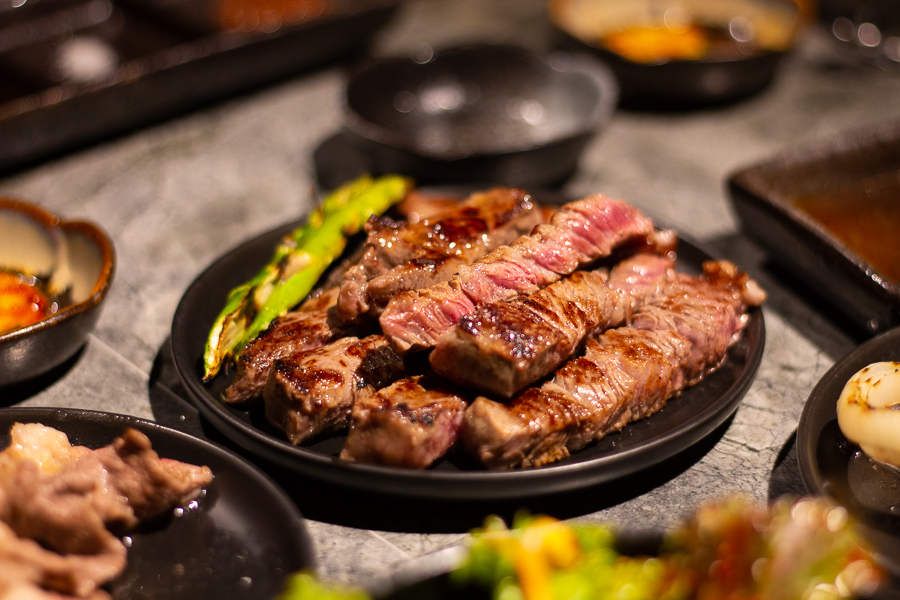 Located in Clarke Quay, Hanjip Korean Grill House is a slightly upscale KBBQ restaurant serving up premium cuts of meat. With a sleek interior, the kbbq joint is perfect for celebrating special occasions. The staff will help to grill the meats for you, with cuts such as Australian Wagyu and USDA Prime Beef.
Apart from the meat, their side dishes are also amazing (shoutout to the lotus root!), likewise for their a la carte dishes such as Gamjatang and Bibim Naengmyeon.
Find out more via our review here.
For reservations, click here.
Reply K1988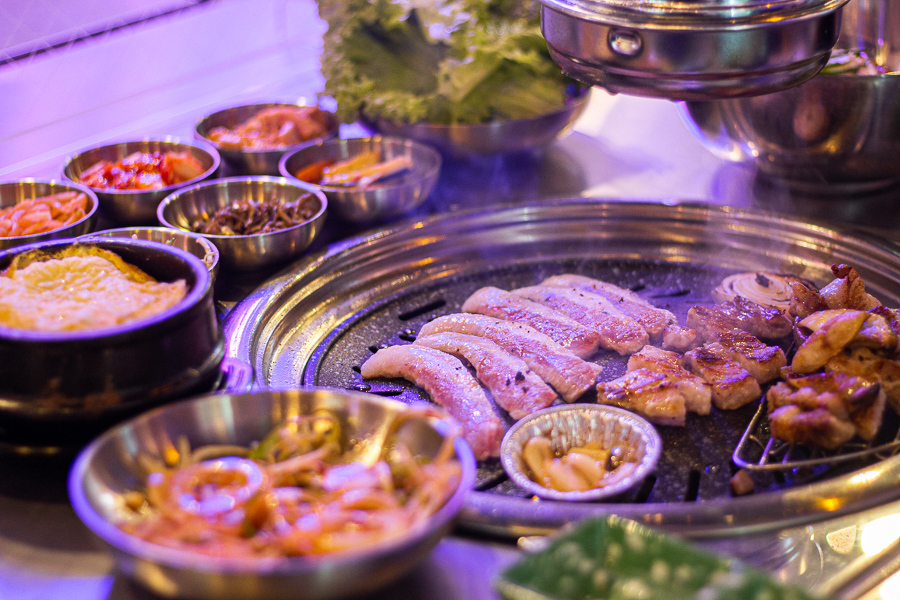 While one might not expect a Korean BBQ restaurant to be located in Jalan Besar, this is where you'll find Reply K1988, a Korean-owned kbbq joint serving items ranging from grilled meats, beef intestines to a la carte items like bibimbap and Korean chicken.
The place is known for its quality food at reasonable, affordable prices! It does get pretty crowded, so reservations are highly recommended.
Our full review of ReplyK1988 can be found here.
For reservations, click here.
Yuktan Chobeolgu-i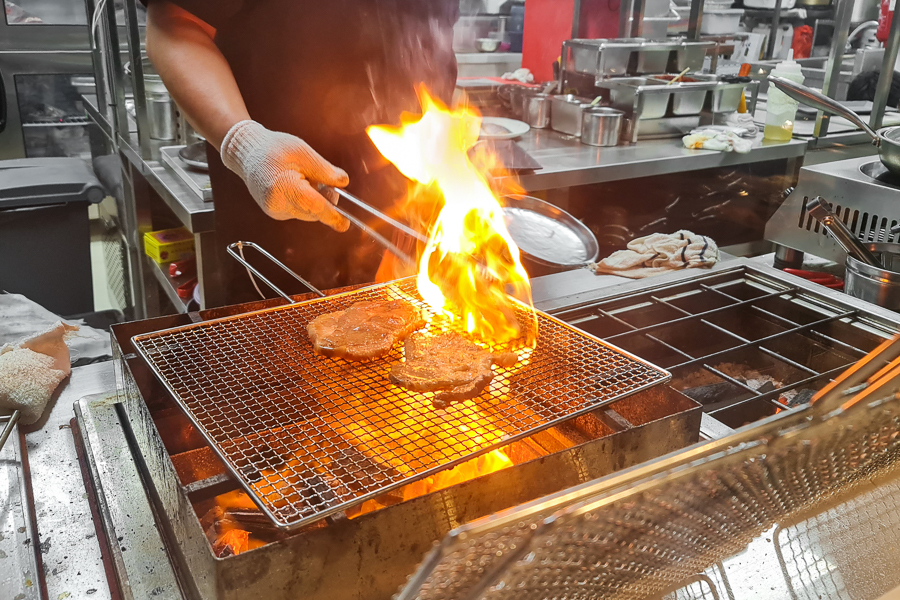 Yuktan Chobeolgu-I features a chobeolgu-i style of Korean BBQ, which means that the meats are grilled over a charcoal fire before they are finished on the grill plate at your table. Because most of the grilling is done in the kitchen, chances are, you'll leave the place without smelling like kbbq!
The last we heard, they've also opened a Jjajangmyeon concept right beside.
Read our full review over at our Yuktan Chobeolgu-i article.
Nami Korean Grill House
Nami Korean Grill House is a Korean BBQ restaurant by the folks over at Hanjip Korean Grill House and it's located on Greenwood Avenue, which is near Bukit Timah.
Just like its sister brand, the meats here are also of good quality, with items such as Kurobuta Pork, Wagyu, and USDA Prime cuts. There's also Korean abalone, like the ones you'll find in Jeju, alongside rarer Korean dishes like soy-marinated raw crabs (ganjang gejang).
There's also a lot of comforting Korean dishes such as Soondubu Jjigae, Samgyetang, and more!
Read our full review here.
For reservations, click here.
Pujim BBQ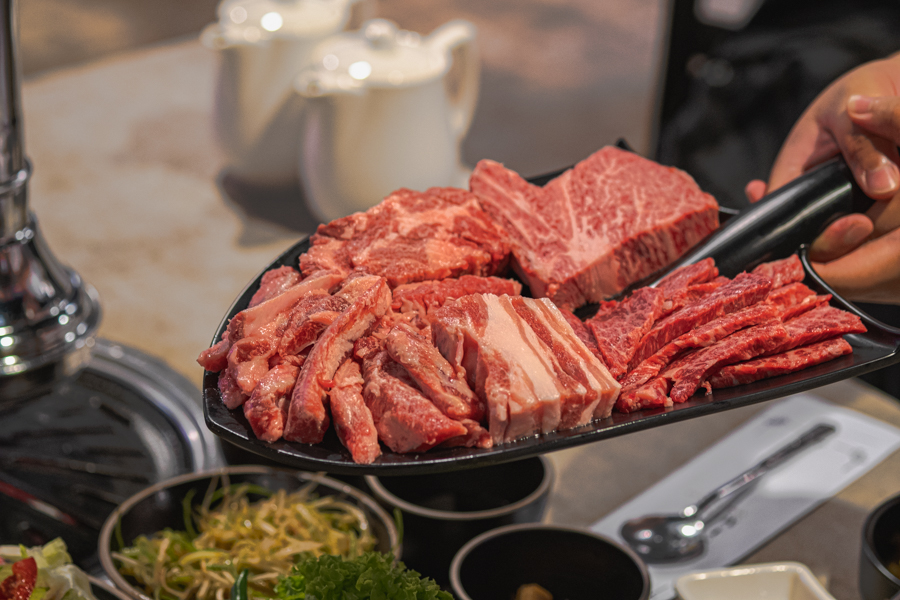 Pujim translates to abundant or plentiful in Korea and the restaurant definitely fulfills this in terms or quality. Alongside premium Wagyu and Iberico Pork cuts, Pujim BBQ has some rare cuts such as Saewoo-sal – a whole cow has less than 1kg of this!
One unique thing Pujim BBQ offers are its set menus, which consist of multiple cuts of meat served in shovels! If you're worried about your cooking skills, fret not as the staff will help to grill everything to perfection.
Continue reading the full Pujim BBQ review here.
For reservations, click here.
Seoulizm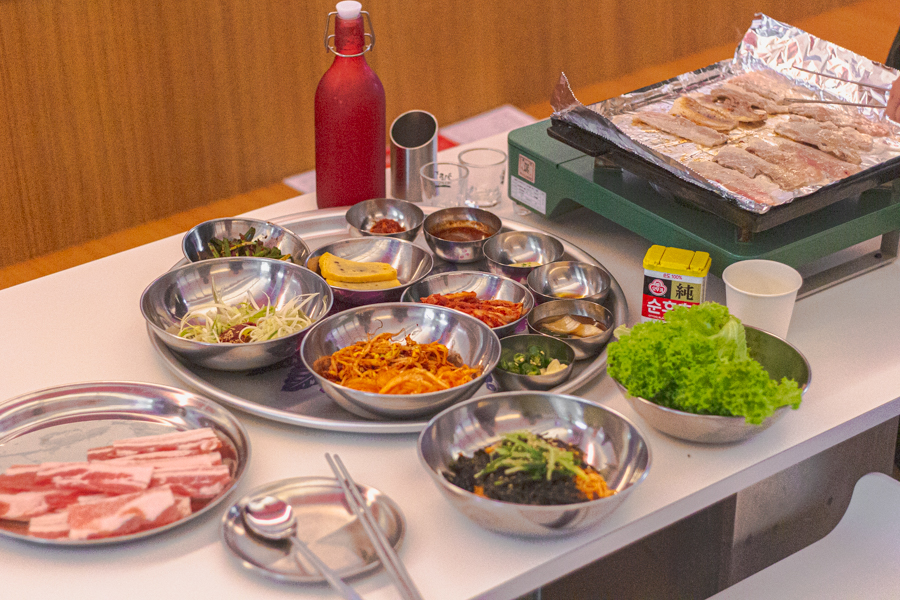 Seoulizm is a restaurant near Maxwell MRT focusing on thinly sliced pork belly, an old-school kind of KBBQ popular in Korea! Here, the meat is served with a platter of side dishes and sauces, which make the dining experience more fun. Make sure to try their Mentaiko Cheese Steamed Egg and Cheese Fried Rice as well! You might also want to wash it down with their special Seoulizm Red Bottle, which is a Sparkling Lemon Soju!
Read our full article on Seoulizm here.
For reservations, click here.
Mimi Korean BBQ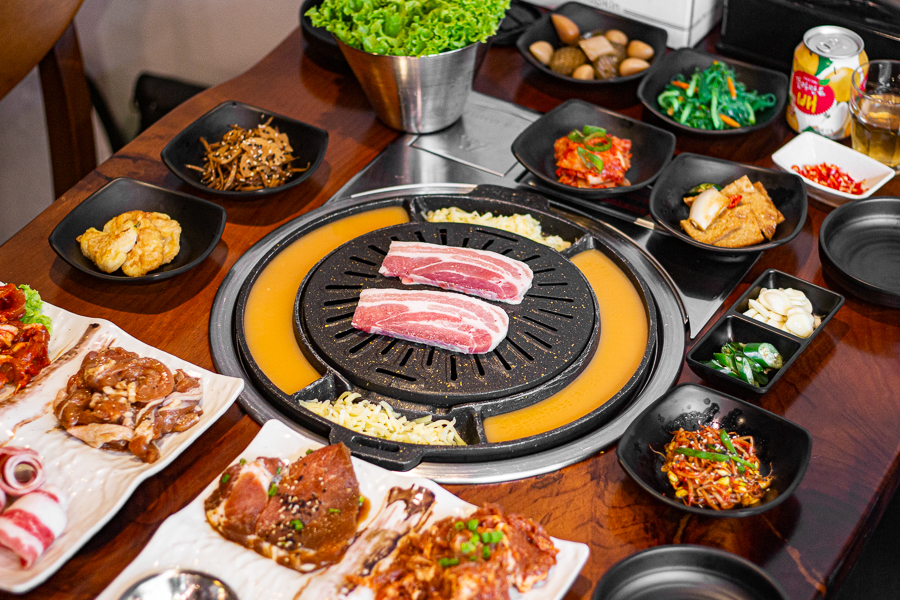 Offering both a la carte menu options and an unlimited buffet, Mimi Korean BBQ is the perfect place for those wanting a hearty KBBQ meal. The buffet is well-known to be value for money, consisting of items like Beef Short Plate, Pork Belly, Bulgogi, and more!
If that's not up your alley, Mimi also offers Steamed Beef & Vegetables with Cypress Steamer – read more here.
For reservations, click here.
Chang Restaurant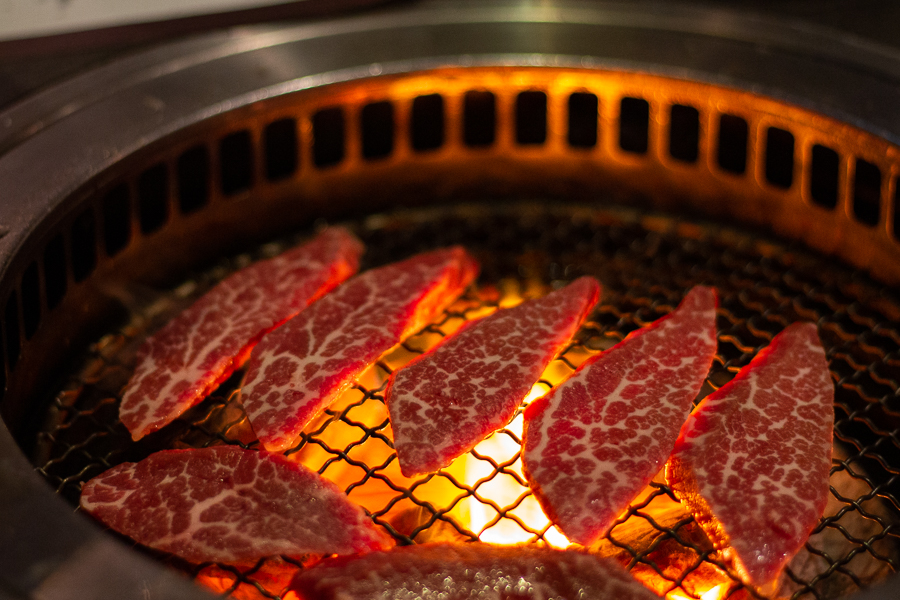 Located in Dempsey, Chang Korean Charcoal BBQ Restaurant is a place known for its service and quality cuts. The place is great for special occasions, where you'll have staff members helping you to grill your meats.
One of our favourite cuts here was the Sliced Ox Tongue, which was exceptionally good and had a nice chewy texture. Other cuts like the Prime Boneless Short Rib and Marinated Prime Rib Eye were also of high quality.
Read our full review of Chang Korean BBQ here.
For reservations, click here.
Seoul Restaurant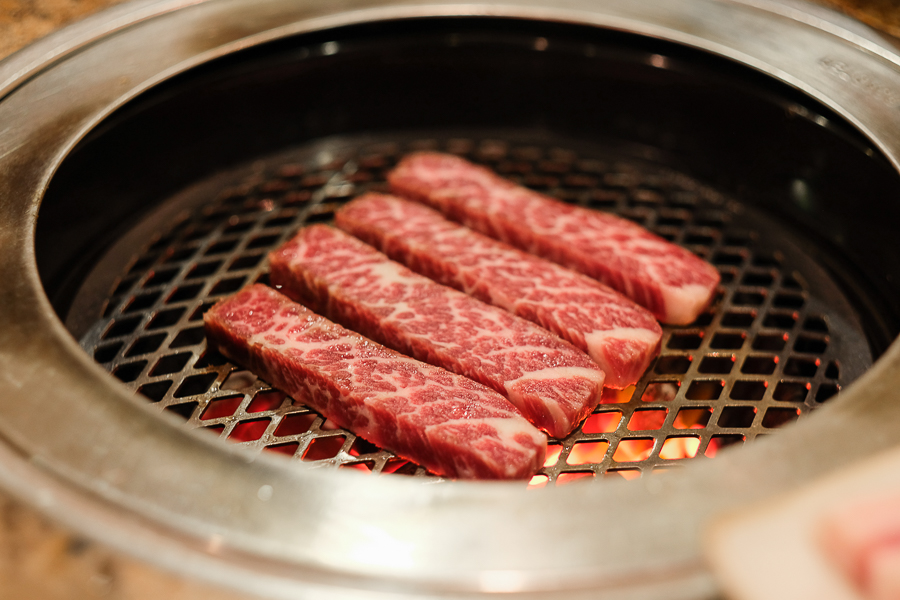 Hidden within Regent Hotel in Orchard is Seoul Restaurant, a kbbq joint that looks like it has withstood the test of time. While the spot offers buffet options, we tried the a la carte options which really shone. Items like the Seoul Galbi and Deungsim were immaculate, with gorgeous marbling and balanced flavours.
Check out the full review over at our Seoul Restaurant article.
Taste of Korea JJIN
Offering an extensive menu, Taste of Korea JJIN has everything you could want from Korea! They have items such as Jjajangmyeon, Bulgogi, Jokbal, and Marinated Prawns/Crabs. For BBQ, you can find different beef and pork cuts grilled over a charcoal fire.
The restaurant is conveniently located at Telok Ayer, along Amoy Street. Read the full review here.
Go! K-BBQ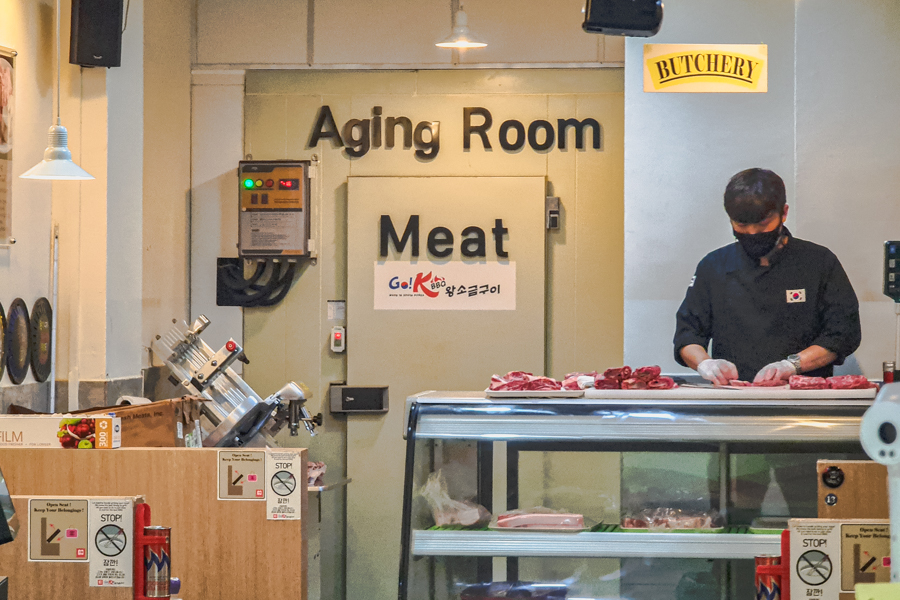 Go! K-BBQ serves up wet-aged meats such as Premium Wagyu Ribeye, marinated Wagyu Brisket, Black Pork Belly, Collar, and Jowl. Their a la carte menu also features lots of other items such as Beef Ribs Soup with Ginseng, Tteokbokki, Hand-made Tonkatsu, Beef Tartare & more.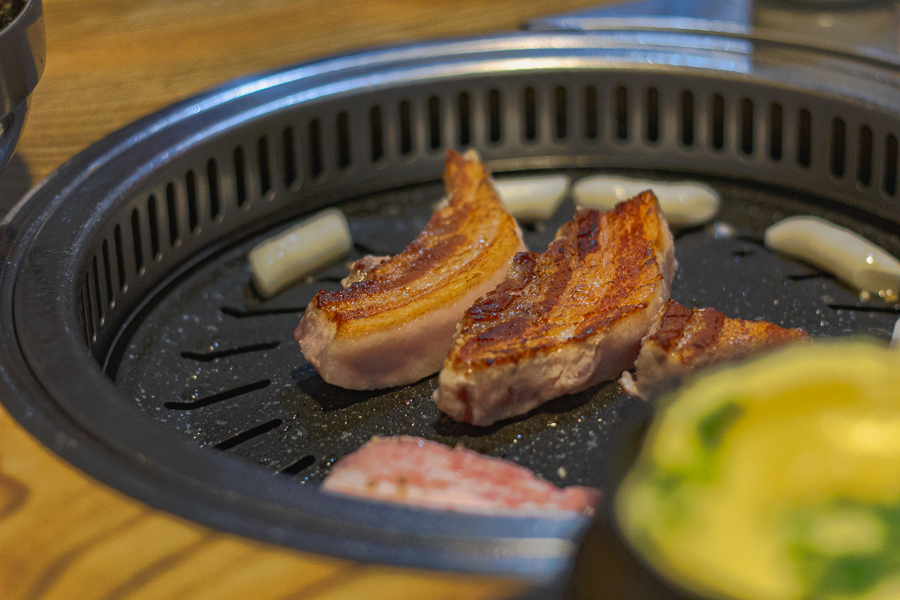 One of the best parts of Go! K-BBQ is how you can order a small portion of Naengmyeon, Bibim Naengmyeon, or Kalguksu if you are having the BBQ. This means less food waste and ordering only what you need!
Wonderful Bapsang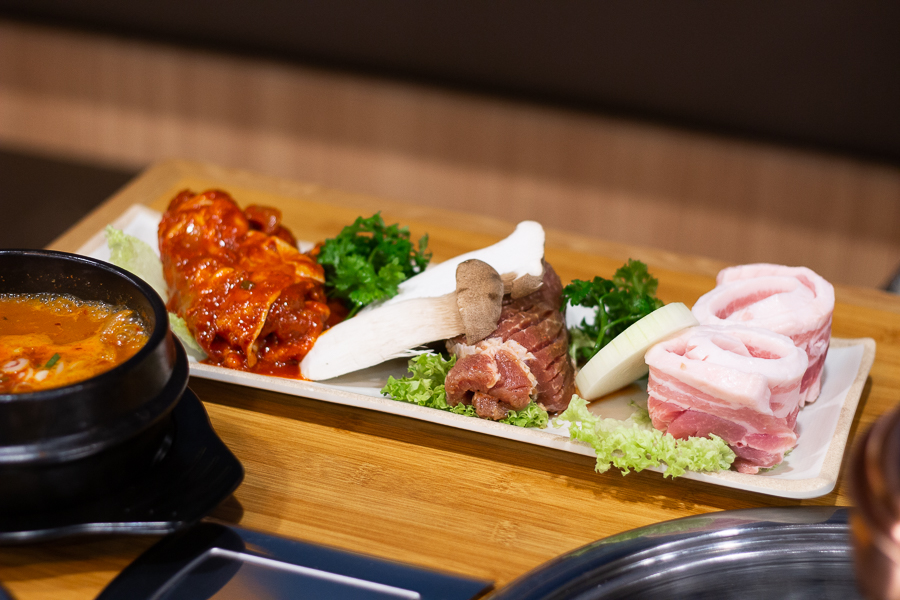 With 3 outlets islandwide at Thomson Plaza, IMM, and Suntec, Wonderful Bapsang is a Korean restaurant that usually comes with a Korean mart. The BBQ menu consists of various cuts such as beef rib fingers, pork belly & more. The Suntec outlet has a sharing platter with items such as tteokbokki, kimbap, rice balls and more.
Read our review of the Wonderful Bapsang IMM outlet here!
On Dol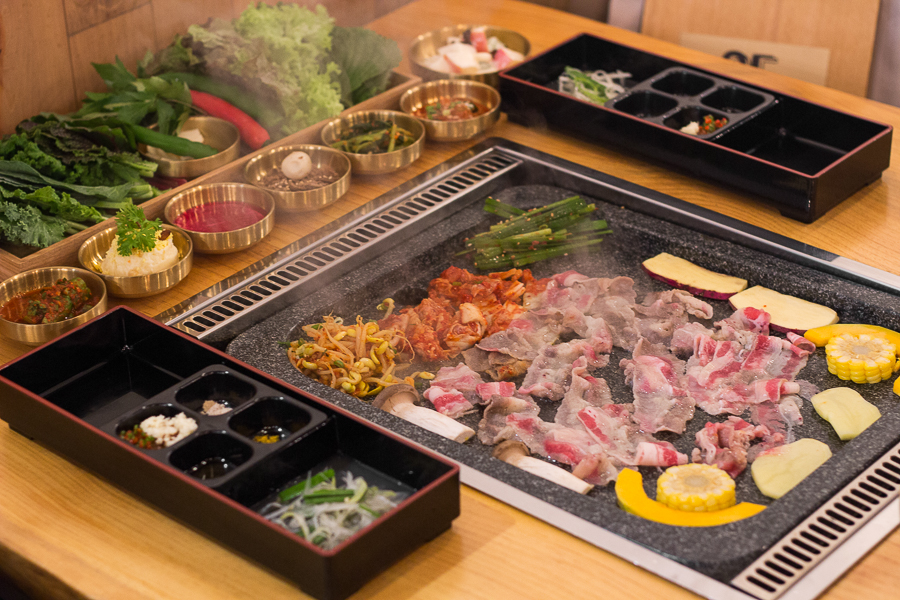 Located in Tanjong Pagar, On Dol has a similar concept to Charim BBQ, with the meats cooked on a flat iron grill. The restaurant will place the kimchi and beansprouts on the grill together with the meats, which makes it perfect as a base for fried rice later on.
More information is available in our On Dol BBQ Article.
Ssak3 Bras Basah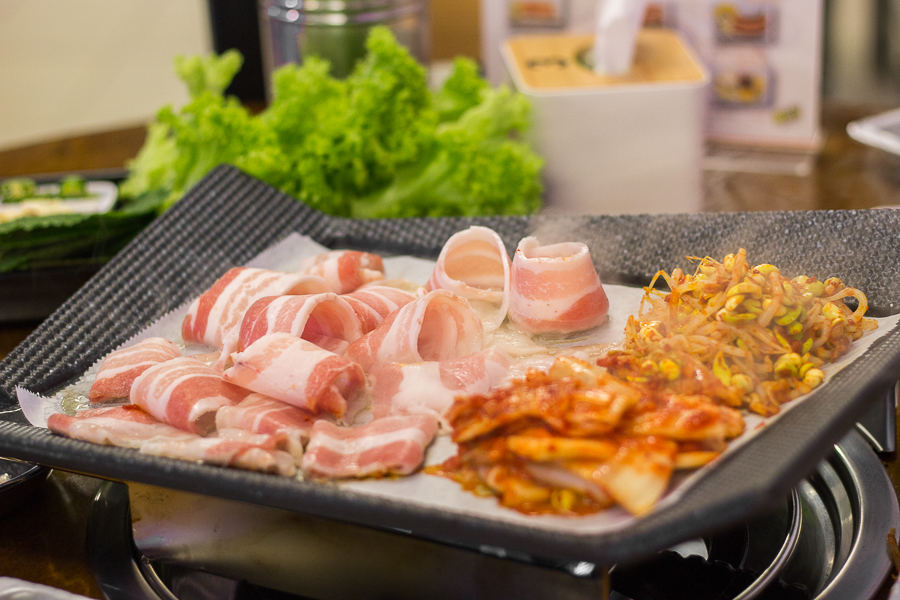 Located in Bras Basah Complex, Ssak3 is a place to go when you're craving for thinly sliced pork belly. There's an option to get it with kimchi and beansprouts which you should go for! They use an angled grill, so put the pork belly near the top and the vegetables at the bottom, using the fat to cook the kimchi for the best flavour.
Read the full review here.
For reservations, click here.
Korean BBQ in Singapore
For days when you're craving for some grilled goodness and want to pair some samgyeopsal with a shot of soju, we hope this list of Korean BBQ restaurants in Singapore has helped you find one to dine in!
If you're a fan of charcoal-grilled KBBQ, you can visit our Charcoal KBBQ Restaurants Listicle.
*Follow MiddleClass.sg on Facebook, Instagram, and Telegram for more food, travel, and trending stories