The K-wave pushes on with popular K-pop groups and dramas reaching our sunny shores, along with new Korean restaurants opening up. Chingu @ Rochester is the 2nd Chingu outlet to open, after their first outlet at The Oval which opened back in Nov 2022.
Charcoal Korean BBQ Restaurant in Singapore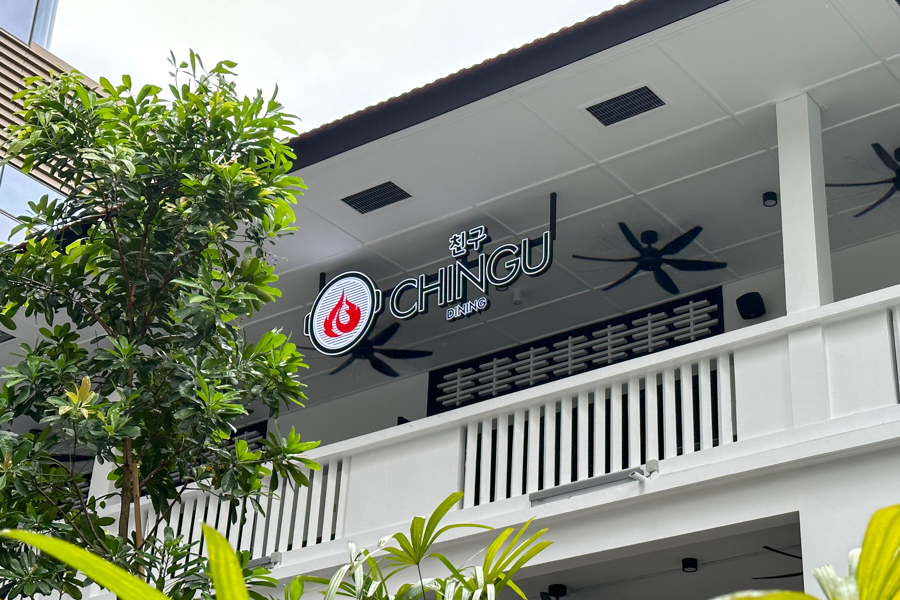 If you noticed, both Chingu Korean BBQ outlets are housed in colonial-looking houses so far, as the brand wants to provide a more unique Korean dining experience.
The one at Rochester Commons is housed in a black-and-white, two-floored heritage bungalow, and has a modern interior. The tables are lined with a marble design, and they stray away from the usual kbbq ventilation system but opt for a more modern smoke-free bbq system instead.
Chingu @ Rochester Menu
The menu here at Chingu @ Rochester is more extensive than at The Oval outlet. Here, they also have a Korean chef who oversees the kitchen and makes all the side dishes (banchan) presented on the table.
Over at this outlet, they have a range of premium meat cuts, where the beef is dry-aged, and the pork is water-aged to provide a more flavourful meal experience.
Just for beef alone, they have quite a line-up, with items such as Kagoshima A4 Wagyu Rib-eye Steak ($145), Hokkaido A4 Wagyu Rib-eye Steak ($112), Grass-Fed Tenderloin ($62), USDA-Prime Rib-Eye Steak ($56) and more. For pork, you'll find wet-aged Pork Jowl ($35), Pork Belly ($35), Pork Collar ($35), and Marinated Pork Ribs ($38).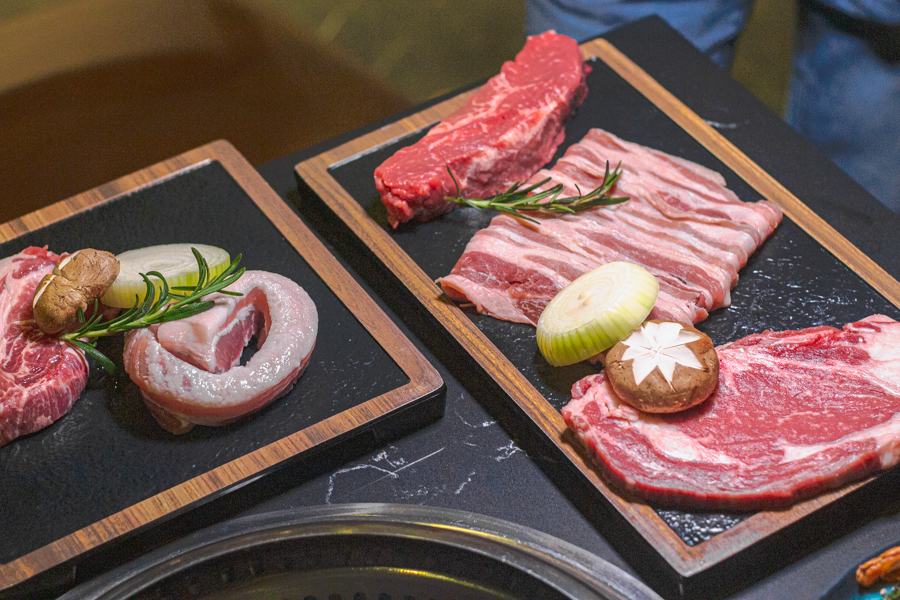 If you're spoiled for choice, go for their BBQ platters which come with a range of cuts so you can experience a little bit of everything.
Apart from all that, there also have a la carte dishes like Korean pancakes, various stews, Korean fried chicken, tteokbokki, Korean noodles, and even a Beef Bulgogi Pizza ($20).
Chingu @ Rochester Review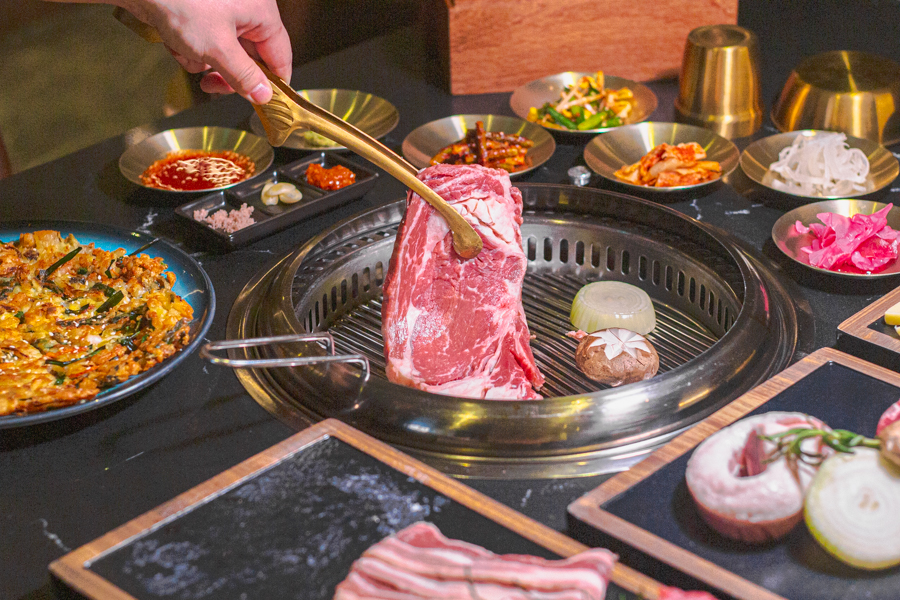 One of the most eye-catching cuts was the Hokkaido A4 Wagyu Rib-Eye Steak, which is first dry-aged for 7 days. Here, the staff will carefully grill each piece of meat for you, and you'll walk out not smelling like KBBQ because of their smokeless grill system.
The KBBQ is served alongside a series of banchans, such as kimchi, marinated beansprouts, and spicy garlic scrapes. There are also two condiments you can dip your meat into, the classic ssamjang and what looked like pink salt. Sadly, they didn't include a sesame oil dipping sauce, which is quite common in Korean BBQ restaurants.
We also tried the Boneless Beef Short Ribs and Grass-Fed Beef Brisket, both of which were also dry-aged for 7 days, with the boneless beef short ribs being one of our favourite cuts of the meal.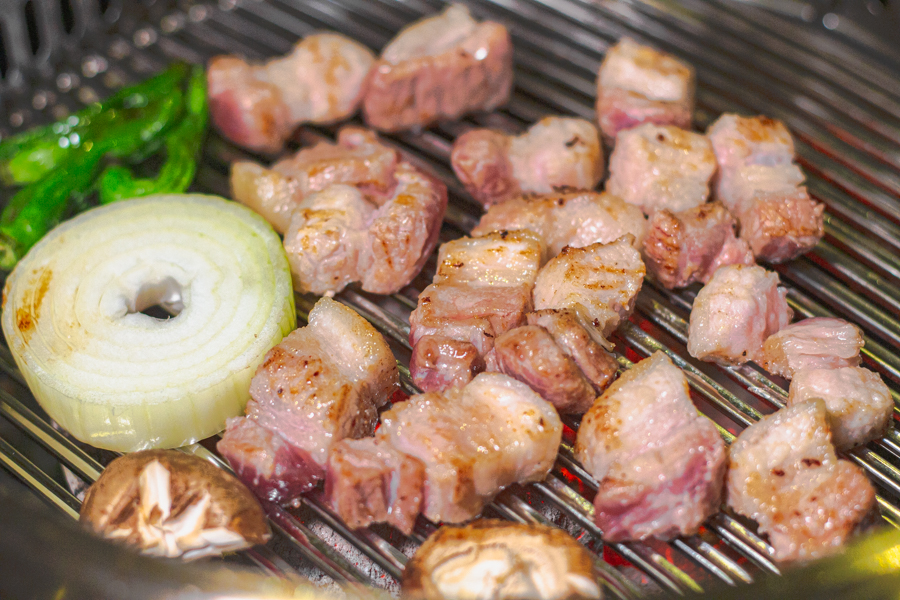 As for pork, we opted for the classic Pork Belly and Pork Collar, which are both wet-aged for 7 days. There was a good ratio of meat to fat for the Pork Belly, and the meat was on the juicier side for the Pork Collar.
Along with the meats from the different BBQ platters, Chingu also serves sliced Mozzarella Squares, pineapples, and king oyster mushrooms. While mushrooms are pretty common in KBBQ restaurants, pineapples, and sliced mozzarella squares were quite an eye-opener.
The staff helped to grill the mozzarella cheese and wrapped it with the pork belly and served it to us like a wrap. This was delicious, and we wished that there were more mozzarella squares to go around! (Good news, they are available a la carte)
As the meats were on the heavier side, the grilled pineapples helped to relieve some of the greasiness and added a refreshing texture.
We also tried the Korean Longevity Stew ($24) which is Chingu's take on the Doenjang stew. Here, the stew is made with an 80-Years Fermented Soybean Paste and packed with seafood items like mussels and prawns. We did hope for a deeper and richer taste of doenjang, but the seafood taste slightly overpowered it.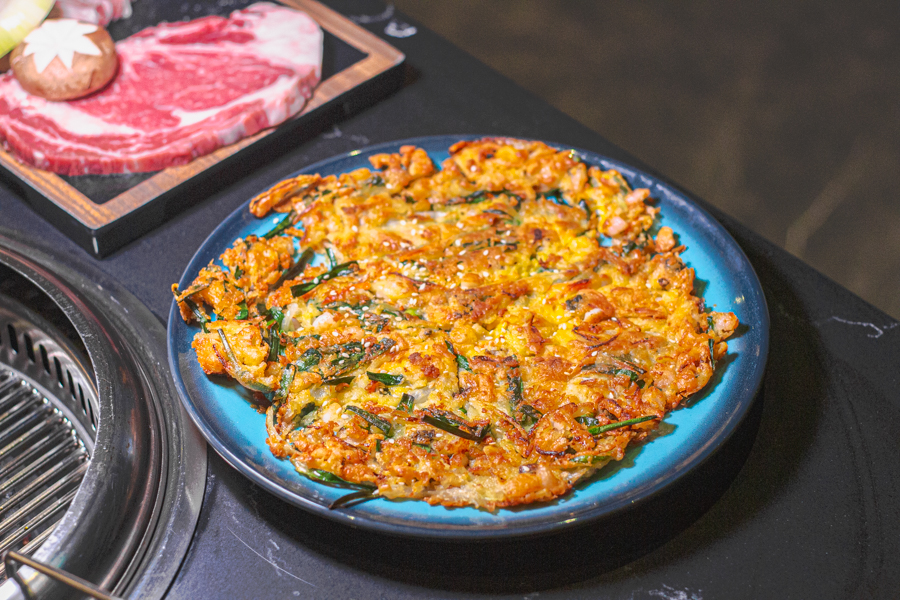 The Seafood Pancake ($24) had a crispy exterior and the overall texture was to our liking. There could've been a little more seafood though!
Contemporary Korean BBQ in Buona Vista
Chingu @ Rochester does impress with its modern interior, smokeless BBQ system, and range of premium meats. There were also a few unique items that accompanied the meal such as the grilled pineapples and mozzarella squares which we don't see much elsewhere. However, we did think that the basic platter sets should've come with a stew and steamed egg, which most places do offer.
Overall, the place does make a great option for special occasions like birthdays or anniversaries thanks to its ambiance and premium offerings.

Chingu @ Rochester
2 Rochester Park, Singapore 139213
Mon-Sun, 11am-10pm
*Follow MiddleClass.sg on Facebook, Instagram, TikTok, and Telegram for more food, travel, and trending stories