If you're a fan of all things Wagyu, you'll enjoy Gyu San! The Wagyu speciality store in Tanjong Pagar features premium A5 Wagyu from Japan in various delicious methods including sandos and steaks. 
Gyu San New Menu
The restaurant has unveiled new Wagyu dishes and sides! The first is their 'Poketto' Pocket Sandwiches, named aptly because of the easy-to-eat shape. They will be officially available for order on Monday, 6 March. 
Two fillings are available: A5 Yakiniku and A5 Pastrami, both encased in Gyu-San's shoku-pan milk bread. 
A5 Yakiniku Poketto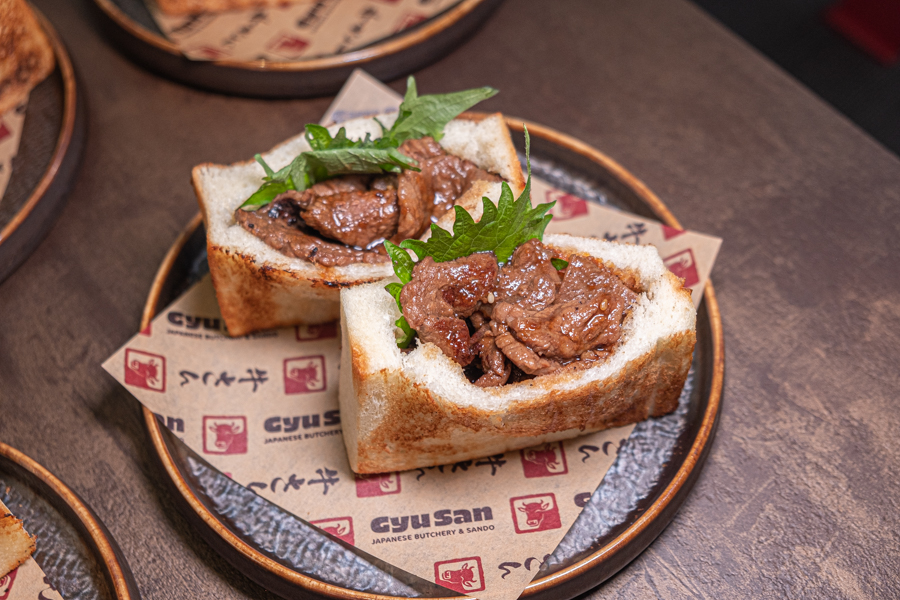 The A5 Yakiniku Poketto ($45) comes with wagyu steak slices in a sweet soy sauce glaze and spicy wasabi aioli. An interesting feature of both sandwiches is the use of Japanese shisho and ohba leaves that add a unique floral fragrance. The pungence from the wasabi and shisho made the dish easy to eat without being cloying.  
A5 Pastrami Poketto
Our highlight was definitely the A5 Pastrami Poketto ($48), with 5-day-cured Wagyu slices and daikon pickles. The savoury beef, acidity from the pickles and sweetness from the shoku-pan bread made for the perfect bite! 
Wagyu Croquettes
The menu also comes with three sides, the first being Wagyu Croquettes ($15). Each ball has minced wagyu with onions, potatoes and Chef Tomoyaki's secret Tare sauce. These were crisp on the outside and fluffy on the inside with a great meaty flavour! Chef's secret dipping sauce was a great accompaniment, with notes of maple syrup and hoisin sauce. 
Wasabi Chips
The Wasabi Chips ($8) are a twist on the original Gyu San chips with a wasabi furikake seasoning. The thinly sliced potatoes are fried in Wagyu fat, which made for a highly addictive snack. 
Padrón Peppers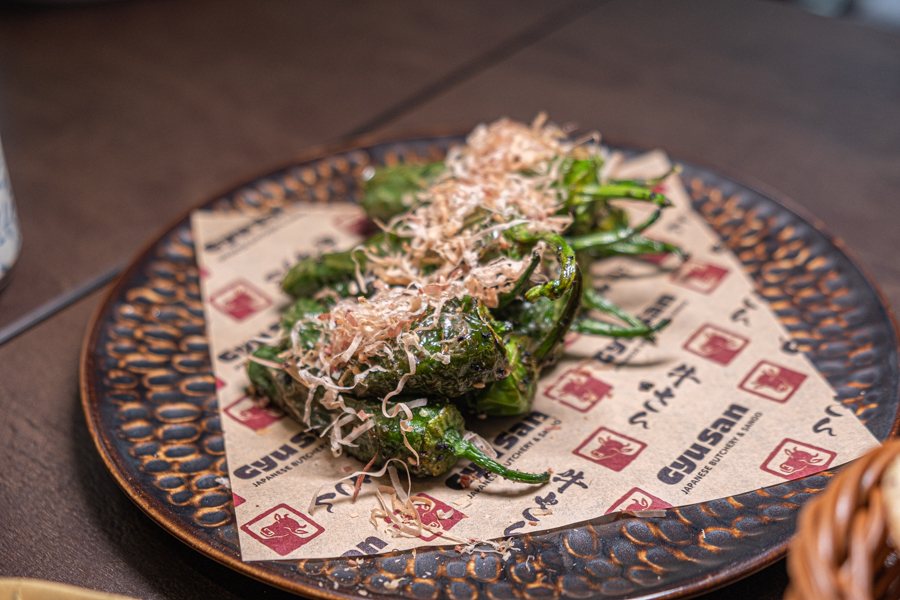 For a break from the meat, try the Padrón Peppers ($14), topped with shio kombu and katsuobushi. The peppers were smoky and had a slight crunch, pairing well with the umami from the katsuobushi. 
Fruit Sando
There's even a sweet treat to round up your meal in the form of the Fruit Sando ($12). The cross-section features an ornate arrangement of strawberries, orange and kiwi with a generous slathering of custard whipped cream. We found that the cream wasn't sweetened so it was easier to eat! 
Wagyu Speciality Restaurant In Tanjong Pagar 
Gyu-San's storefront at Guoco Tower looks unassuming, but their selection of Wagyu is some of the best in Singapore! A perfect dinner spot for a meat-loving friend or a special occasion dinner. 

Gyu-San
#01-03, Guoco Tower, 7 Wallich Street, Singapore 078884
Open daily: 11.30am-3pm, 5pm-9pm 
*Follow MiddleClass.sg on Facebook, Instagram, TikTok, and Telegram for more food, travel, and trending stories