We love a good KBBQ. Everything from the side dishes (banchan) to the quality of the meat comes together to create an amazing KBBQ experience. One place that does Korean BBQ justice in Singapore is Wang Dae Bak.
Wang Dae Bak Korean BBQ Restaurant
Wang Dae Bak has 3 outlets in Singapore currently:
22 Cross St & 98 Amoy St – Charcoal grill BBQ concept
93 Amoy St – This is the Wang Dae Bak Pocha outlet which has an iron grill BBQ concept
We paid a visit to the 22 Cross St outlet that's near Chinatown.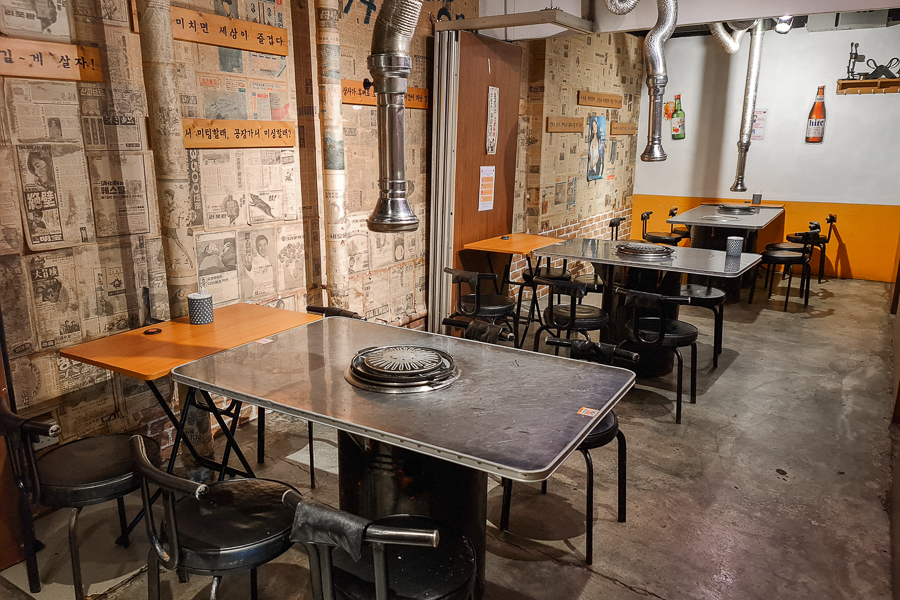 The interior of Wang Dae Bak over at Cross St reminded us of BBQ places over in Korea, with retro newspaper cuttings pasted on the walls.
For some reason, the place gave us vibes from the popular Korean crime drama, Signal.
Menu at Wang Dae Bak Cross St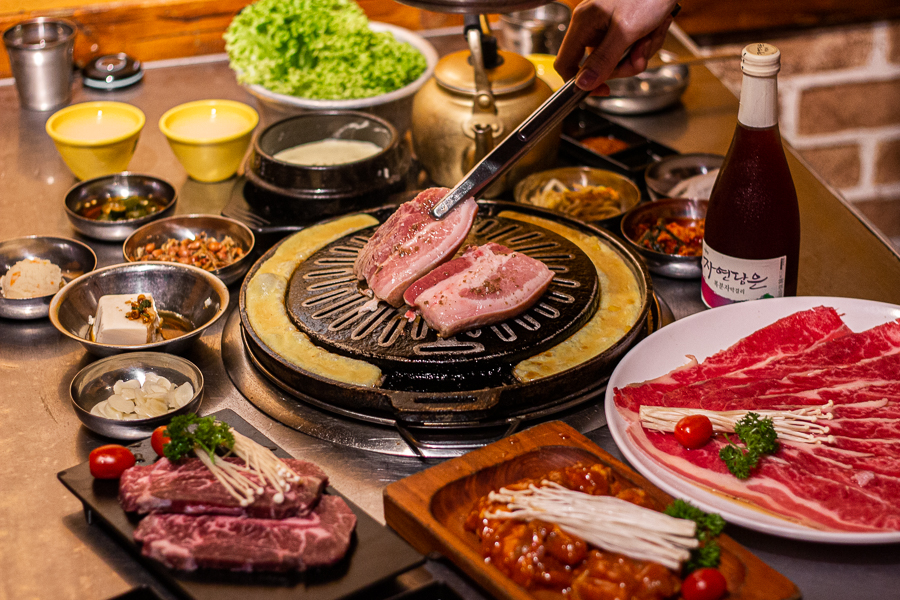 Here at the Cross St outlet, they use charcoal instead of electric grills for their KBBQ. While they specialize in BBQ, you can also expect items like Stews, Bibimbap, and Naengmyeon.
Side dishes served here were aplenty, which included commonly seen items like kimchi, tofu, and soybean sprouts.
Wang Dae Bak is also known for its grill that comes with free-flow eggs. One side is filled with corn and egg, while the other side is just eggs. It kind of replaces the need for a steamed egg dish.
We had their Daebak Set ($135) which is meant for 3 to 4 pax and contains several premium cuts, a Half-Half pancake, and mozzarella cheese dip.
Truffle Duroc Pork Belly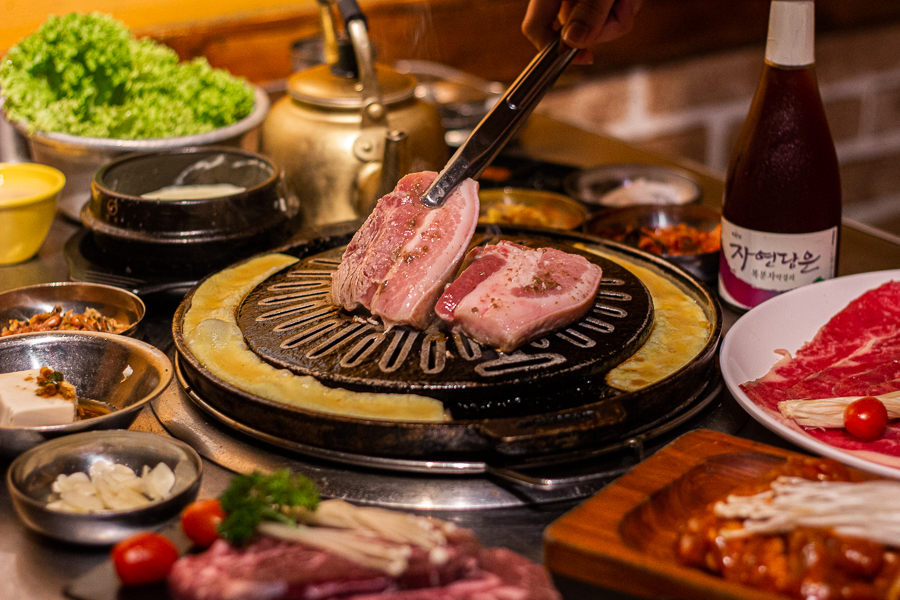 While we were pretty apprehensive about having something truffled flavoured in a KBBQ setting, the Truffle Duroc Pork Belly was a pleasure.
When the meat was served, there was a strong scent of truffle. However, when cooked, you only get a faint aroma of truffle which doesn't overpower the smoky flavours from the BBQ. The meat was also thick and juicy.
Australian Wagyu Oyster Blade MB5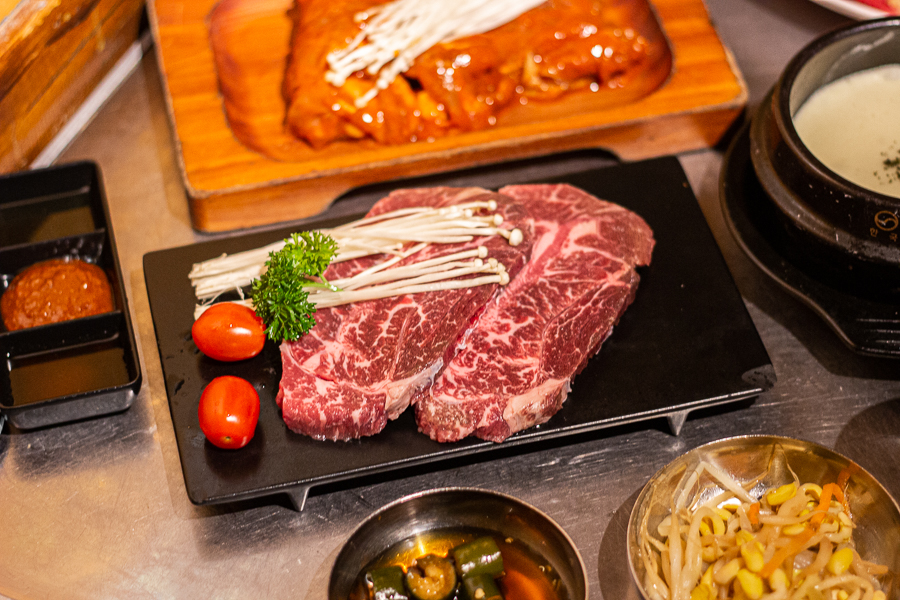 This particular cut of meat is located under the shoulder blade and can only yield around 4kg from each cow.
The marbling of the cut was amazing and the meat was so tender. It was good on its own, but we recommend dipping it in the pickled pepper side dish's (고추장아찌) sauce for an explosion of flavours.
Thin Sliced Beef Belly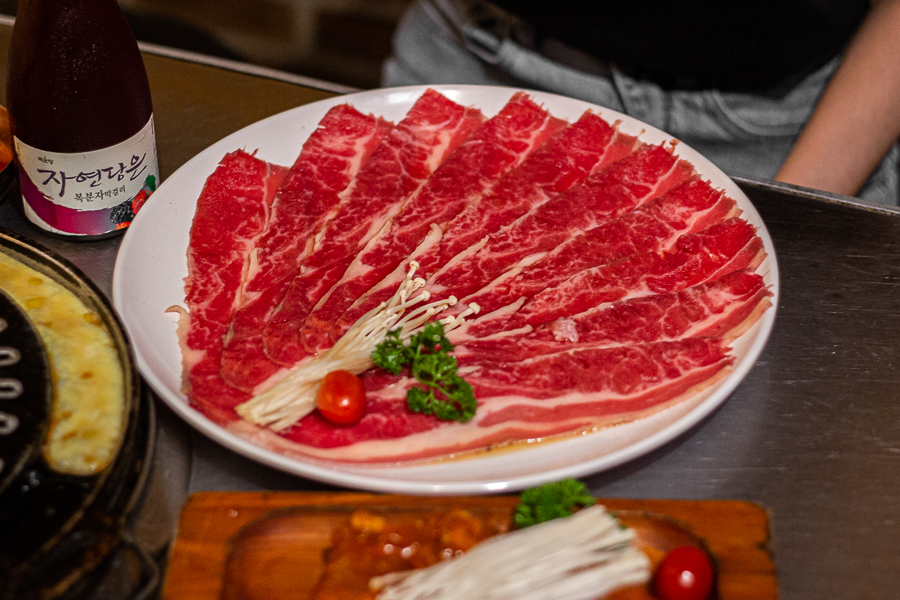 Widely known as Chadolbagi (차돌박이) at Korean BBQ restaurants, this particular cut of meat cooks really fast and is perfect for anyone who doesn't want to wait.
Spicy Marinated Chicken
The staff recommended that we dip the grilled chicken into the mozzarella cheese dip.
For those who can't take spicy foods, the mozzarella cheese dip helps the chicken taste less spicy. We liked how the cheese wasn't too salty and had a nice hint of creaminess.
Half Half Pancake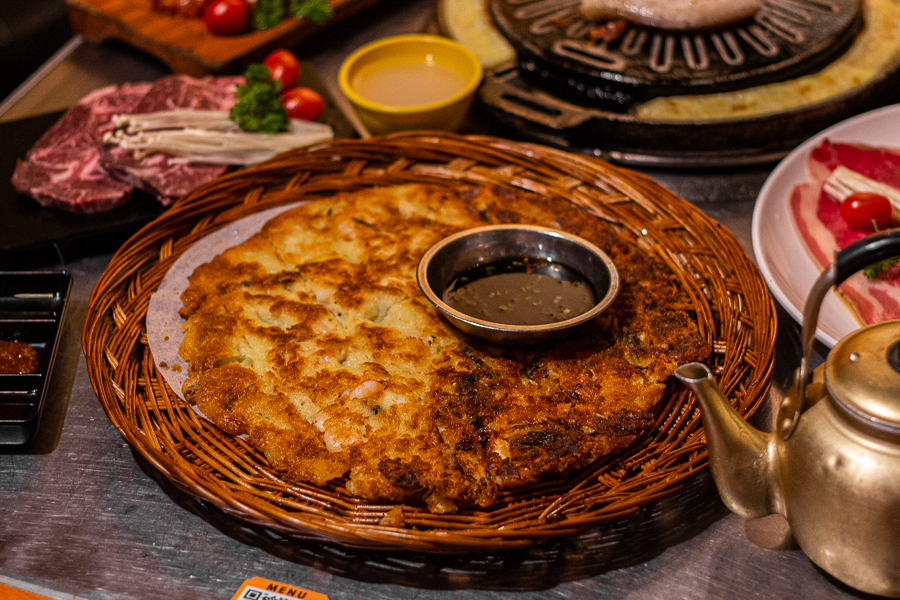 Besides the delicious meats at Wang Dae Bak, the Korean pancake here was to die for. We might go as far as calling it one of the best Korean pancakes in Singapore.
The Half Half Pancake is great for those who want the best of both worlds. It comes with half a kimchi pancake and half a seafood pancake.
Both pancakes were crispy on the outside. We preferred the kimchi version as it was well-balanced with sour and savoury flavours. If we had to nitpick on something, it would be the dipping sauce being too salty (but it was good enough on its own).
Doenjang Jjigae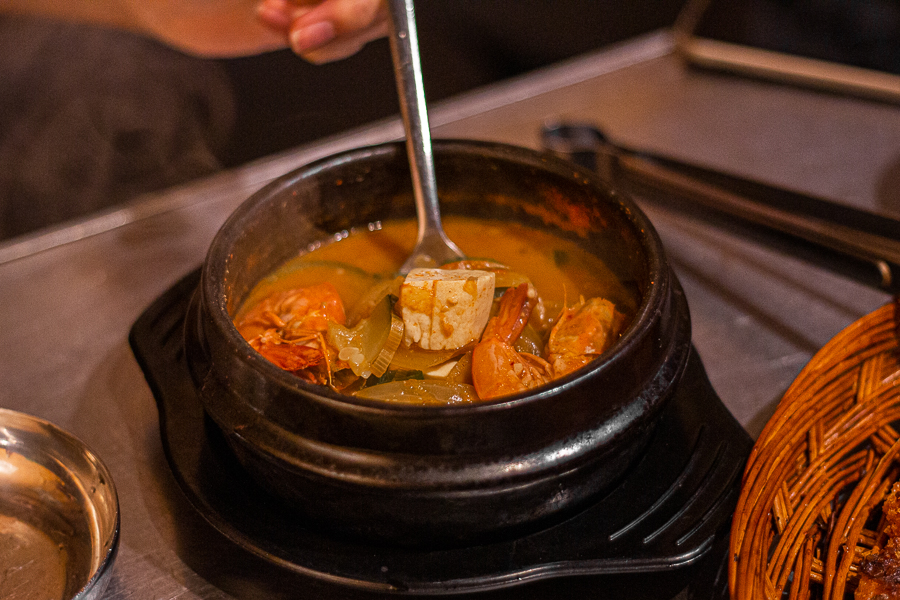 The Korean bean paste stew, or Doenjang Jjigae, was something we always had when we had KBBQ in Korea.
Wang Dae Bak's version was decent and packed with lots of ingredients like prawns, clams, and tofu. We like to have a sip of this whenever the meal starts to feel a little heavy.
Drinks at Wang Dae Bak
Apart from the usual soju and beer, Wang Dae Bak also has drinks like Green Grape Makgeolli and Bokbunja Makgeolli.
We found that both were really fragrant and smooth, with the Green Grape Makgeolli tasting similar to a Korean beverage known as Bong Bong. Great for those who still need to work the next day but want some alcohol.
One of the Best Korean BBQs in Singapore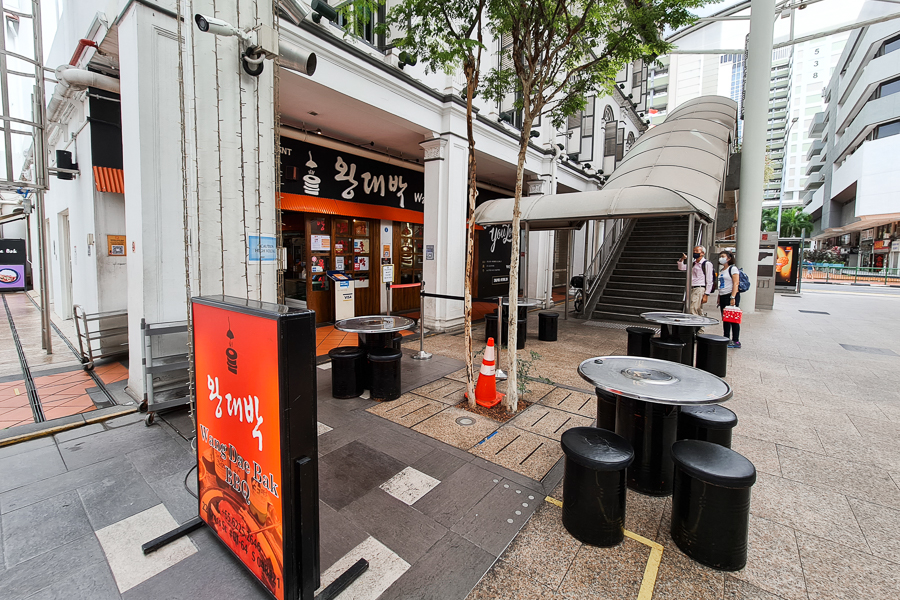 Wang Dae Bak definitely got a lot of things right, from the atmosphere to the food served. The staff were also really quick to respond whenever we required assistance through the bell.
We left the place filled with praises for the Korean pancake and charcoal KBBQ, as well as the refillable egg.
They are also currently having a 15% off promotion for their Weekday Lunch KBBQ (except PHs). This promotion is available at all Wang Dae Bak outlets and for dine-in only.
We are also having a giveaway over at our Instagram where you can stand a chance to win $50 Wang Dae Bak dining vouchers. (From now till 25th July, 7pm)
*This giveaway is brought to you in collaboration with Wang Dae Bak
*Follow MiddleClass.sg on Facebook, Instagram, and Telegram for more food, travel, and trending stories!