The Bukchon Hanok Village and Gyeongbukgung area is one of our favourites in Seoul. From places with a rich history to a wide selection of popular cafes like Cafe Onion Anguk, TYPE and more. We ventured deeper into the neighbourhood and came across Samcheong-dong Gwasuwon.
Gwasuwon (과수원) in Korean is the word for Orchard, a piece of land that's planted with fruit trees. While you can't expect rows of trees, there's actually an apple tree planted right near the entrance of the cafe.
Natural Cave, Pub, Cafe and Gallery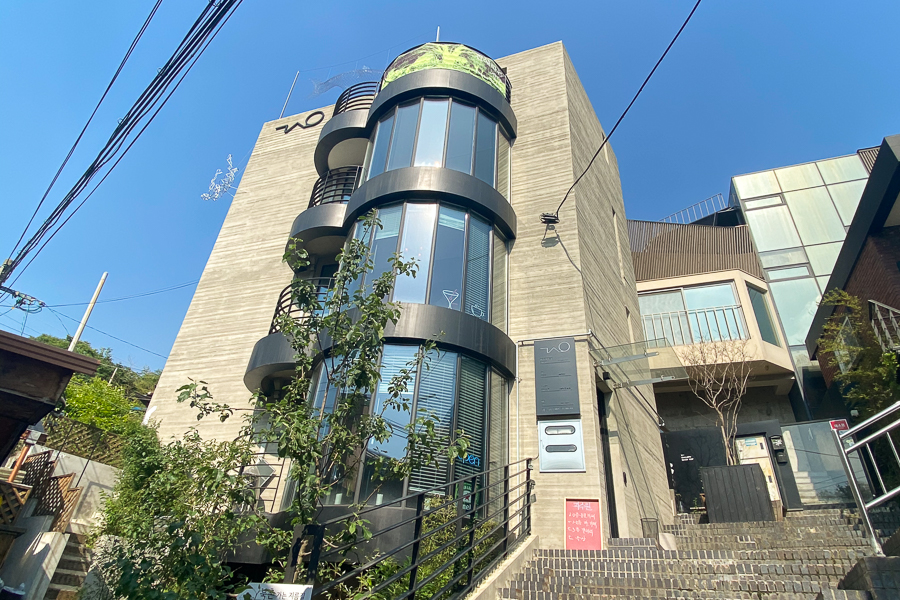 At Samcheong-dong Gwasuwon, you can experience entirely different vibes on each floor.
Basement
Located in the basement is a small space that's known as a cave cafe. There's a small portion of a natural cave located right inside the cafe.
It's said that when they were constructing the building, they came across the cave and a constant flow of groundwater. Eventually, they decided to leave it as it is.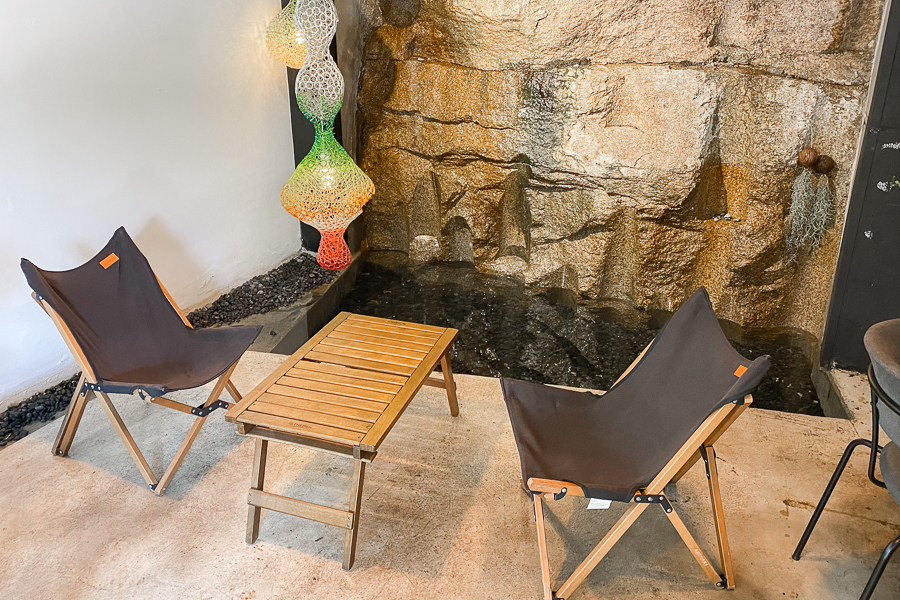 Sitting beside it almost makes you feel one with nature with the sound of flowing water bringing a strange sense of calm.
The basement is decorated with camping chairs which is super different from the rest of the cafe.
First and Second Floor
The first and second floors are dedicated to being a cafe during the day and a pub at night. There's a jazz bar kind of atmosphere, with several LPs displayed on the shelves.
You can also see a corner filled with instruments, where performances are held occasionally.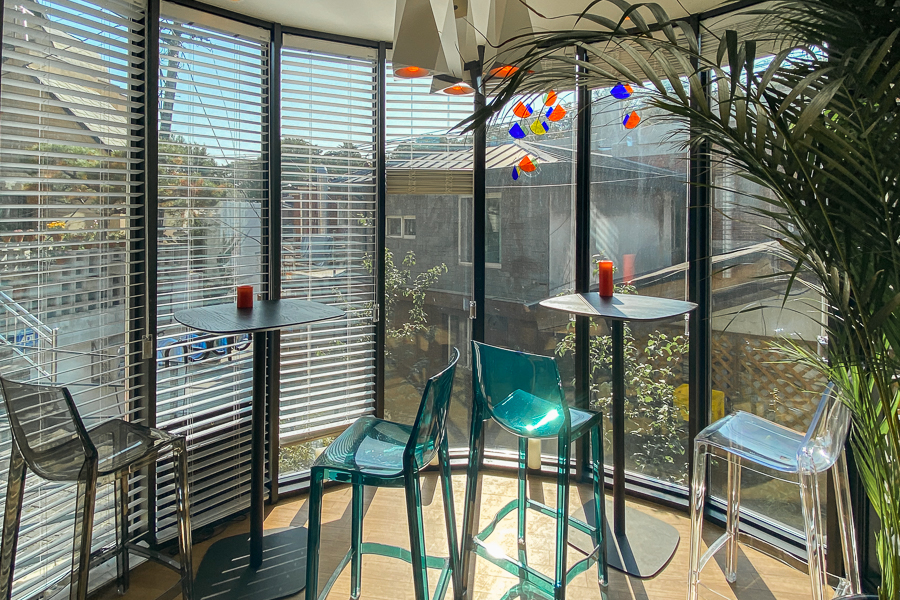 During the day, it receives lots of natural sunlight thanks to the glass windows, and you can get a view of the Samcheong-dong neighbourhood, with beautiful traditional hanok roofs.
Third Floor
On the third floor, you'll experience an entirely different vibe as the space is dedicated to being a gallery.
You can see different exhibitions on display here from time to time. When we visited, the exhibition was titled 'Dear Earth' by Korean artist Im Heung Soon.
Rooftop
There's also a rooftop area at Samcheong-dong Gwasuwon, with a seating area and wired displays of art.
We would imagine this area to be popular during the Spring and Autumn seasons.
Menu at Samcheong-dong Gwasuwon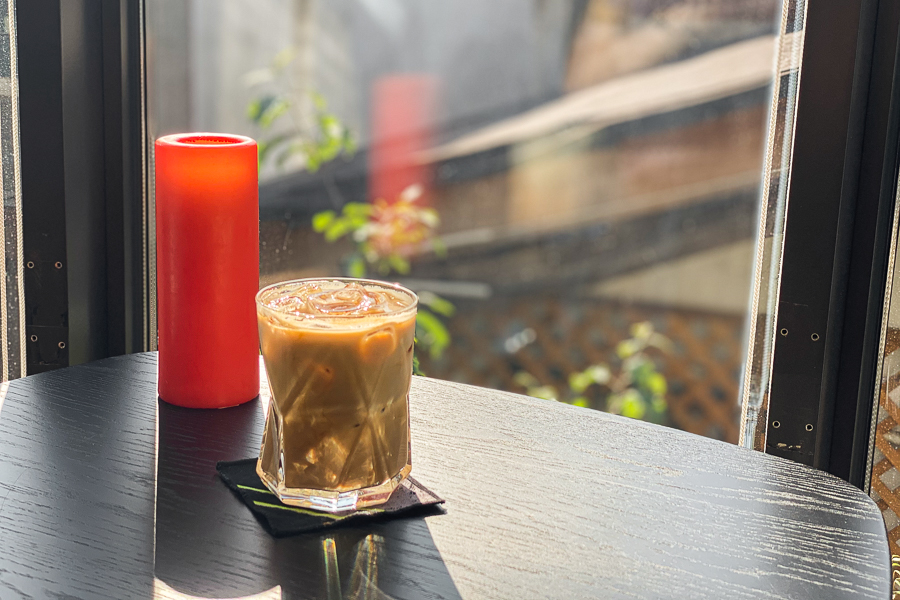 There's a drinks menu with items like Americano (4,500won), Caramel Macchiato (5,500won) and Grapefruit Ade (6,000won).
There's also a small selection of handmade desserts like Lemon Butter Cream Cake (7,500won), Cheesecake (7,000won) and a Gluten-Free Choco Almond Cake (7,000won).
We tried their Café Latte (5,000won) that's made using single-origin Columbian beans. It was well-balanced with a slight acidity.
Hidden Away From The Usual Spots
While Samcheong-dong Gwasuwon might be hidden deeper in the neighbourhood, that's exactly what we love about it.
Here, you can get a view that's different from the usual touristy spots, and almost feel as though you're truly exploring the neighbourhood.
What's better is that within the building itself, you can experience different vibes, almost like visiting multiple cafes in a day.
The cafe announces which are their off-days on their Instagram, so do take a look before planning a visit down.
Samcheong-dong Gwasuwon (삼청동 과수원)
106-9 Samcheong-ro, Samcheong-dong, Jongno-gu, Seoul
Tues-Sun, 2pm-12am, Closed on Mondays
Nearest Subway: Anguk Station (Line 3)
*This is an independent review by MiddleClass.sg. 
*Follow MiddleClass.sg on Facebook, Instagram, and Telegram for more food, travel, and trending stories!