One of the most well-loved dishes in Korea is Jeon, widely known as Korean pancakes. A classic combination in Korea is to have some makgeolli and jeon on a rainy day. Here are 11 different types of Korean pancakes you should check out!
Types of Korean Pancakes
Green Onion Pancake (파전, pa-jeon)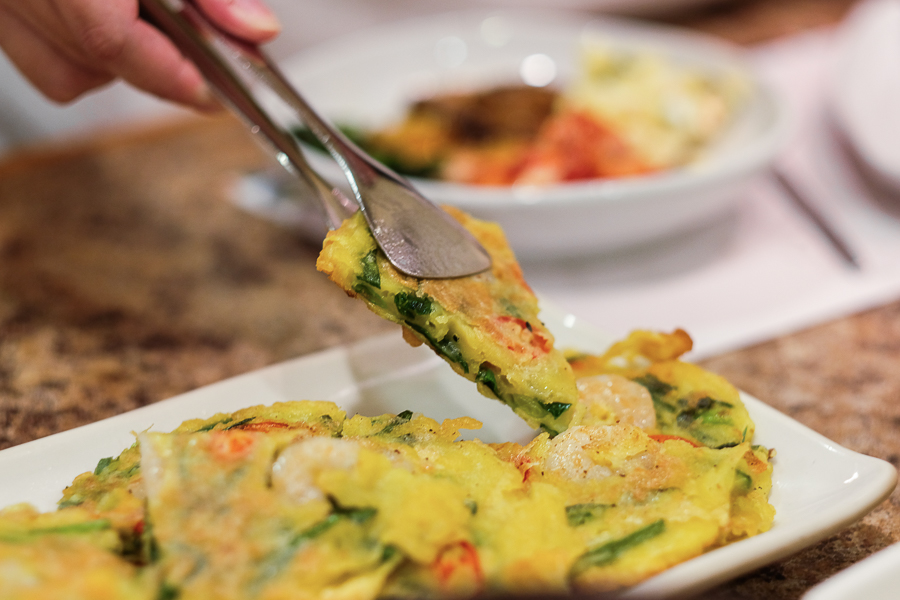 Seafood Pajeon served at Seoul Restaurant in Singapore
A common type of Korean pancake that mainly uses green onions/scallions. The dish is also commonly made together with seafood which gives rise to Haemul Pajeon.
Kimchi Pancake (김치전, kimchi-jeon)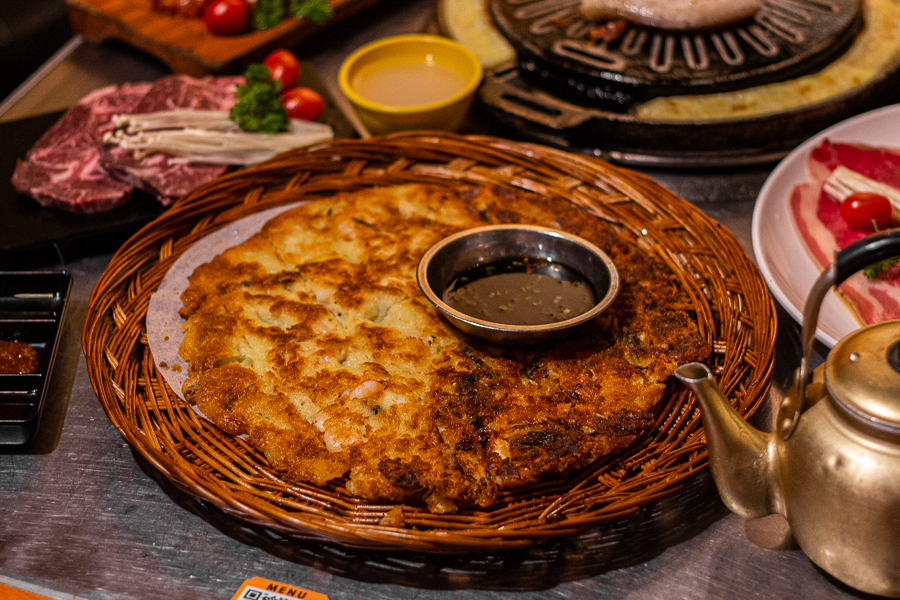 Half-Half Pancake served at Wang Dae Bak, Singapore
Another common type of pancake in Korea is the kimchi-jeon. It usually comes in a bright red colour, thanks to the juices from kimchi.
A nice kimchi-jeon has perfectly well-balanced flavours, where you can taste the sourness of the ripe kimchi.
Potato Pancake (감자전, gamja-jeon)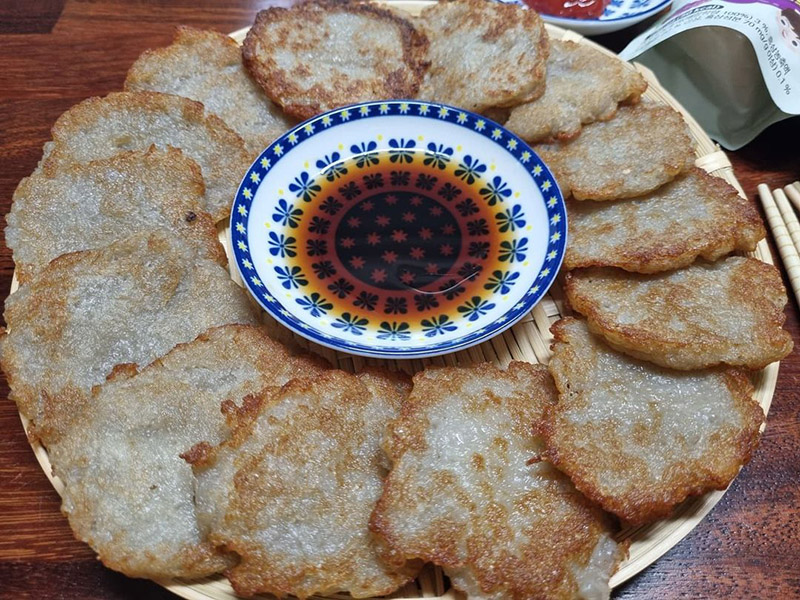 We like to call this the Korean version of rosti. While the dish is relatively simple to make, it takes a lot of work to grate the potatoes.
The interesting thing is – you don't need to add any flour to make gamja-jeon. The drained water from the potatoes contains starch you can add to your grated potatoes.
Mung Bean Pancake (빈대떡, bindae-tteok)
When we talk about bindae-tteok, Gwangjang Market comes to mind. The dish is especially famous in the traditional market, where you can find different stall owners frying the pancake in oil.
It's made by using ground soaked mung beans and usually contains other vegetables as well, such as beansprouts.
Buckwheat Pancake (메밀전, memil-jeon)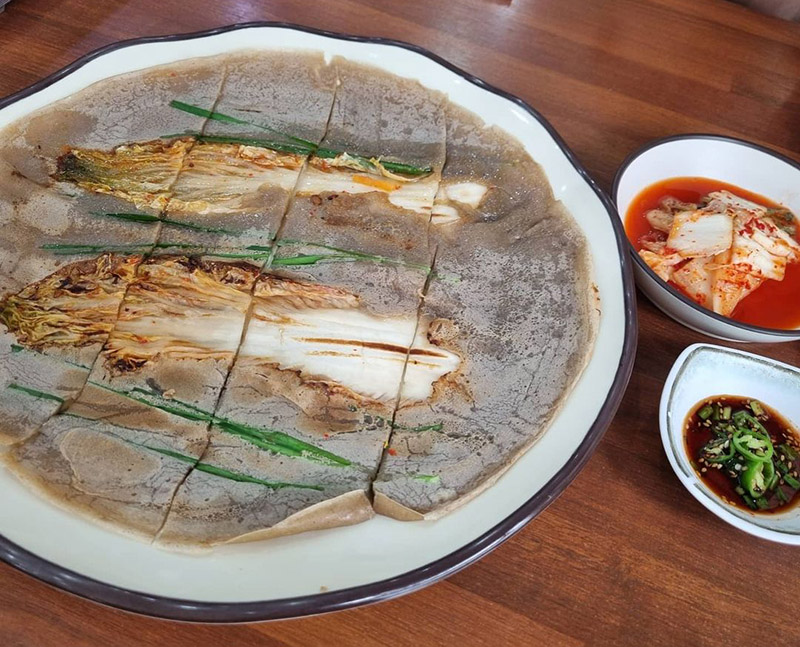 You've heard of buckwheat noodles in Korea, but did you know that there's buckwheat pancake as well?
The thin pancake is a speciality of the Gangwon Province and is usually made with napa cabbage and other vegetables.
Korean Pan-Fried Skewers (꼬치전, kkochi-jeon)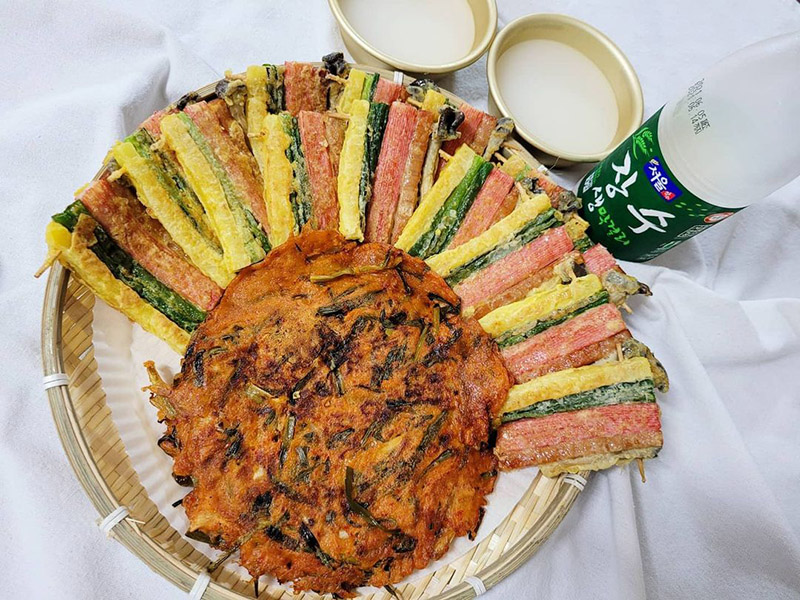 These also go by the name of three/five-coloured skewers since they use various ingredients. Common combinations include using ham, imitation crab meat, mushrooms, peppers and more.
They are also commonly seen during Chuseok.
Chive Pancake (부추전, buchu-jeon)
Many people can't tell the difference between a green onion pancake and a chive pancake at first glance.
One uses green onions, while the other uses chives.
Korean Zucchini Pancake (호박전, hobak-jeon)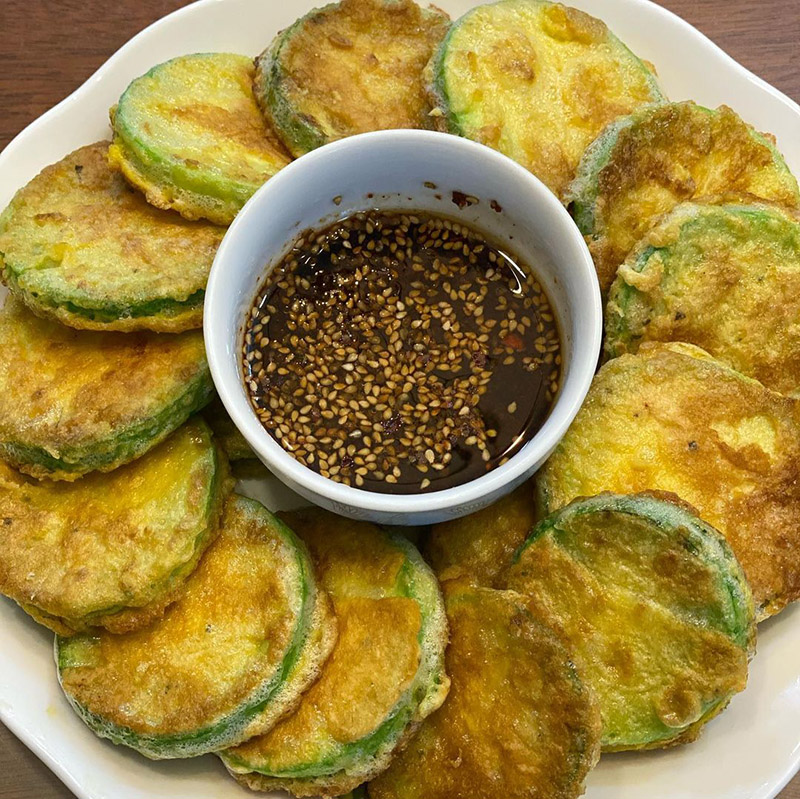 Thinly sliced zucchini, or aehobak in Korean, is coated in a batter of flour and egg before being pan-fried.
There's also a version called hobak-buchim, which uses julienned zucchini with a savoury pancake mix.
Meat Pancakes (육전, yuk-jeon)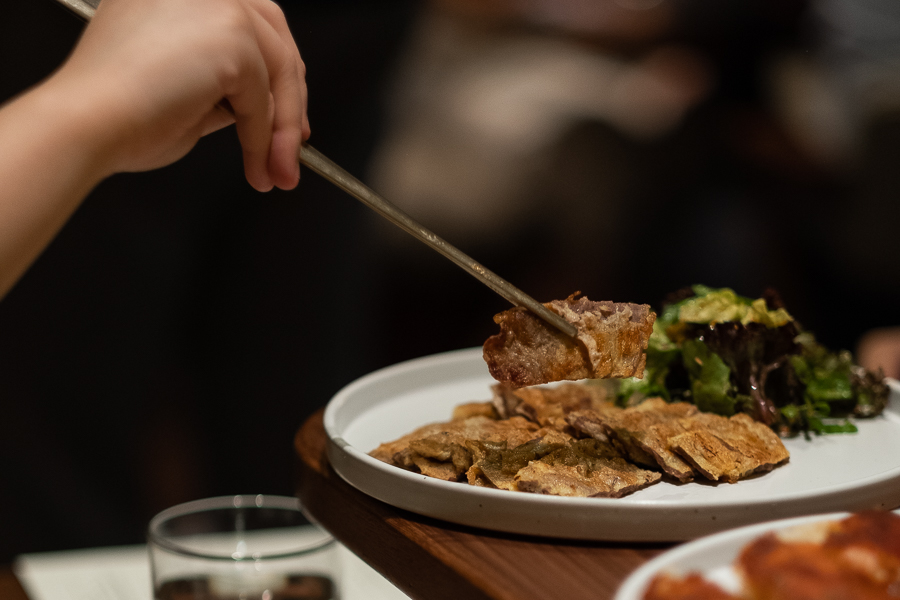 Yukjeon served at ANJU, Singapore
While the term Yukjeon can be a generic term for jeon made using meat, the dish is usually made using thinly sliced beef that's coated with a light batter of flour and egg wash before being pan-fried.
Flower Pancake (화전, hwa-jeon)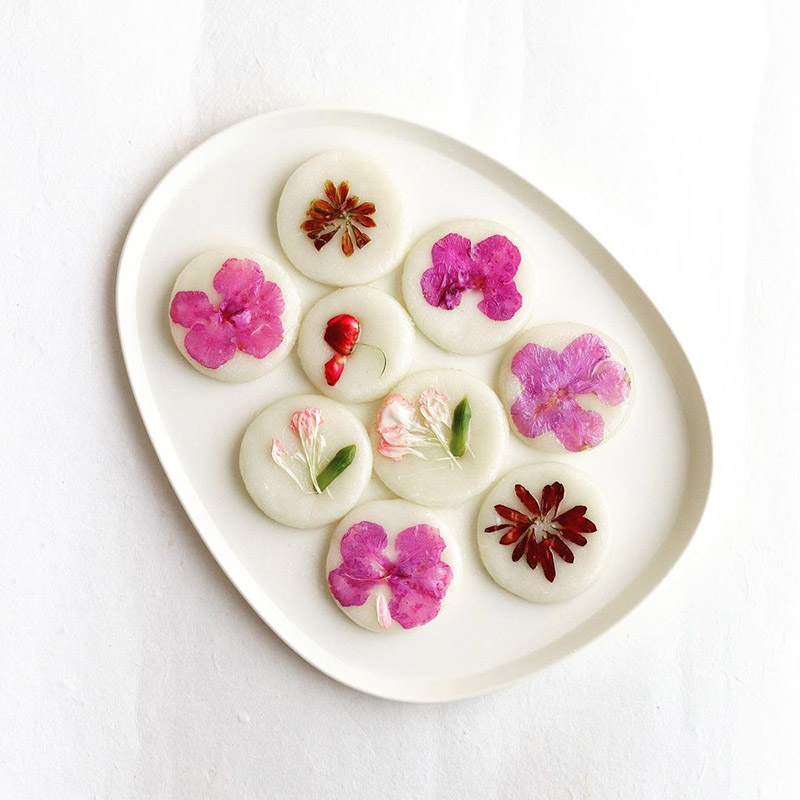 The uncommon, pan-fried pancake is made using glutinous rice flour, honey and edible petals.
Korean Sweet Pancakes (호떡, hotteok)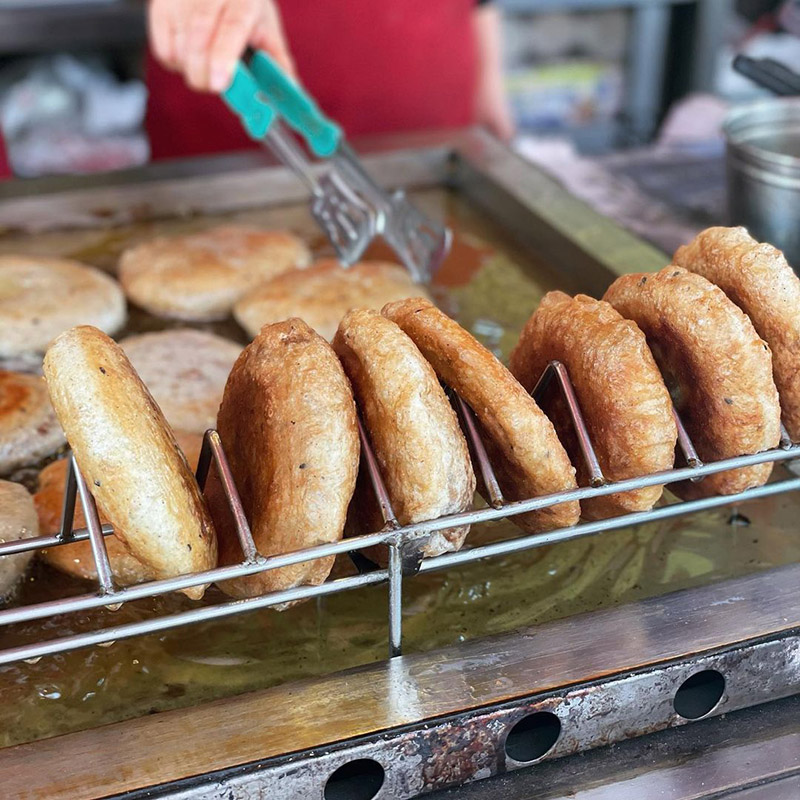 Hotteok is a common street food in Korea, that usually comes with a sweet filling, such as honey or brown sugar.
Towards the south in Busan, the popular hotteok filling is a mixture of sunflower seeds and nuts. Over at Namdaemun market, there's one with a vegetable filling.
You can choose to make this from scratch using the hotteok kits sold in Korean marts, or just heat up the frozen readymade ones.
Best Korean Pancakes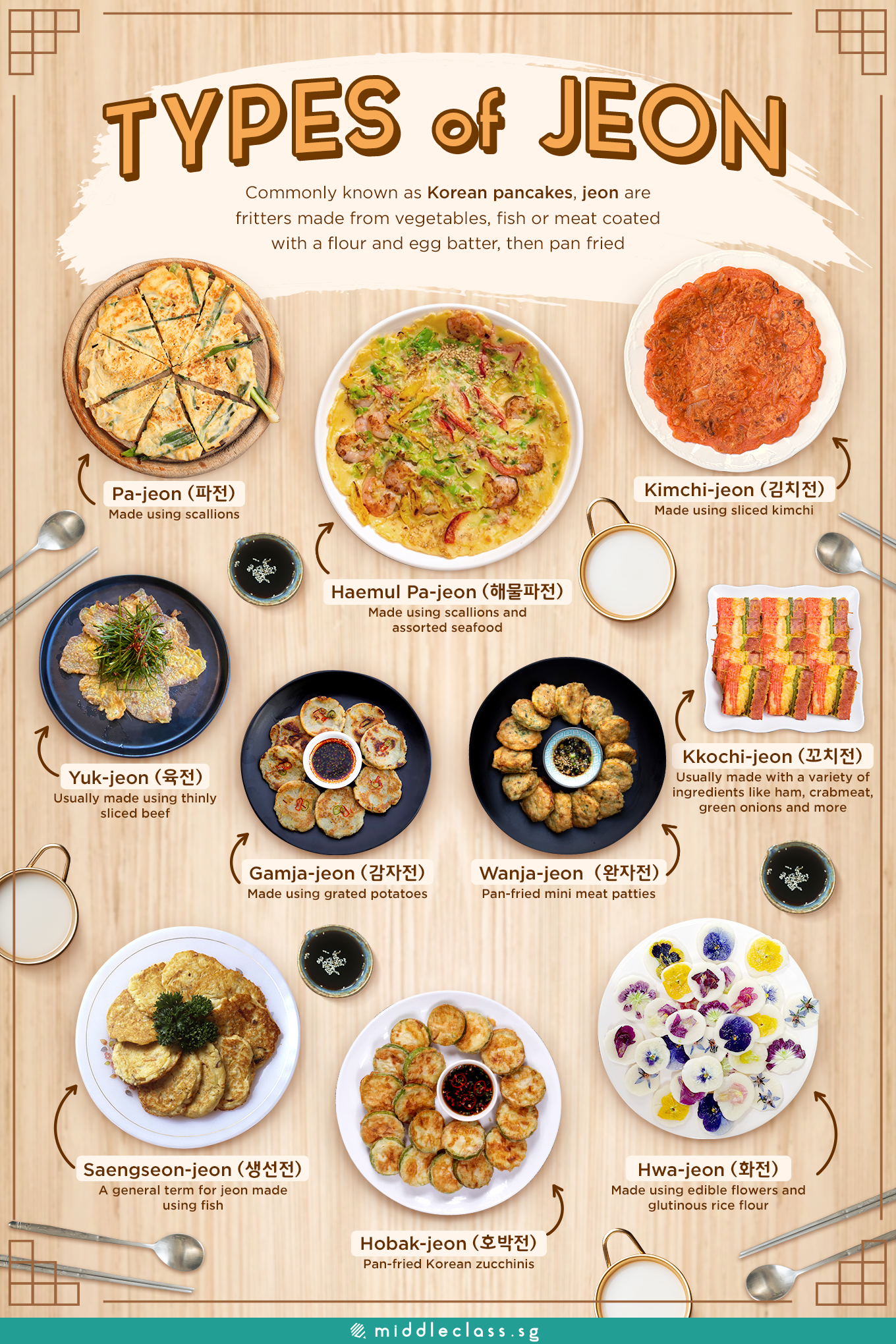 Are you someone who loves your Korean pancake with a crispy exterior or someone who loves it if it's slightly chewy? No matter, these different types of Korean pancakes are a must-try no matter where you are in the world.
You can easily make them or find them at a Korean restaurant near you. Let us know which is your favourite type of Korean pancake!
*Follow MiddleClass.sg on Facebook, Instagram, and Telegram for more food, travel, and trending stories!