As we've emphasized over and over again, Korea is a food haven. While the food in Korea is good on its own, here are some iconic Korean food combos you have to try out because it's simply that good!
Must-Try Korean Food Combos
Chimaek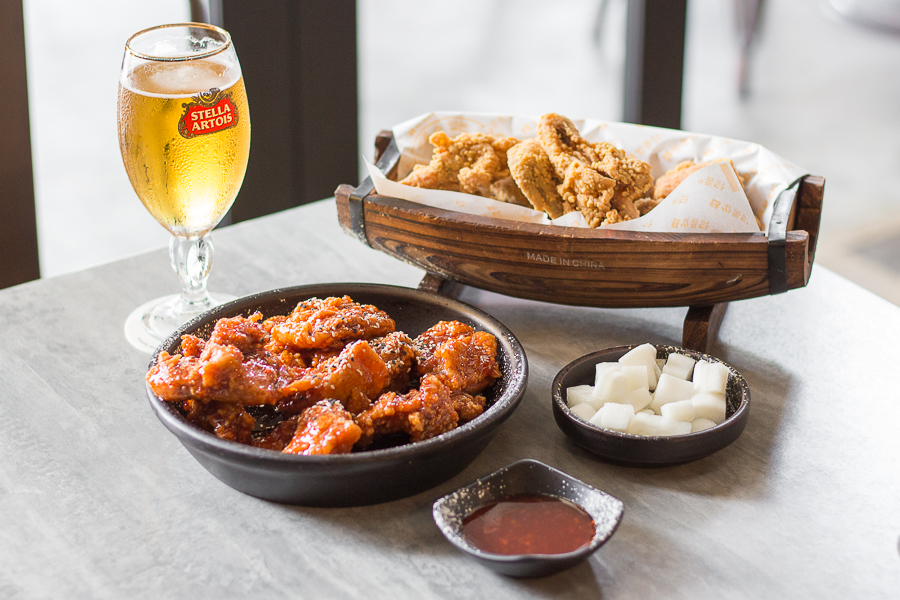 While we agree that Korean fried chicken is delicious on its own, Chimaek is one of the most iconic food combos in Korea. Think crispy and crunchy fried chicken washed down with cold, refreshing beer.
In Korea, fried chicken stores are aplenty and easily available via food delivery apps as well. They even deliver the beer to wherever you are. This makes it really easy for you to have a Chimaek party along the Han River as well.
While we're at it, make sure to try the cubed radishes that usually come you're your fried chicken. Pop one (or more) in when you've had too much fried chicken to get rid of the greasy feeling.
You can enjoy Korean Fried Chicken and Beer in Singapore as well, at places like Oven & Fried Chicken and Ahtti 아띠식당.
Korean BBQ with Soju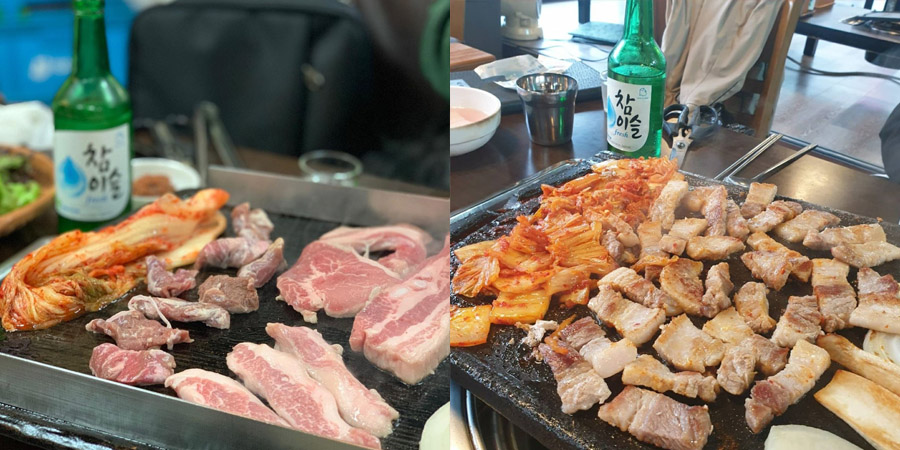 Freshly grilled samgyeopsal wrapped in lettuce, kimchi and pickled onions is a form of art. However, having a shot of soju after that – *chef kisses*
The reason why soju is so good with Korean BBQ is that it washes away all the greasiness, making it easier for you to reach out for that next piece of grilled meat.
In Singapore, you can check out the Korean restaurants along Tanjong Pagar for Korean BBQ, such as On Dol, Sin Man Bok or even the newly opened Songane Korean BBQ over at Jalan Besar.
Pajeon and Makgeolli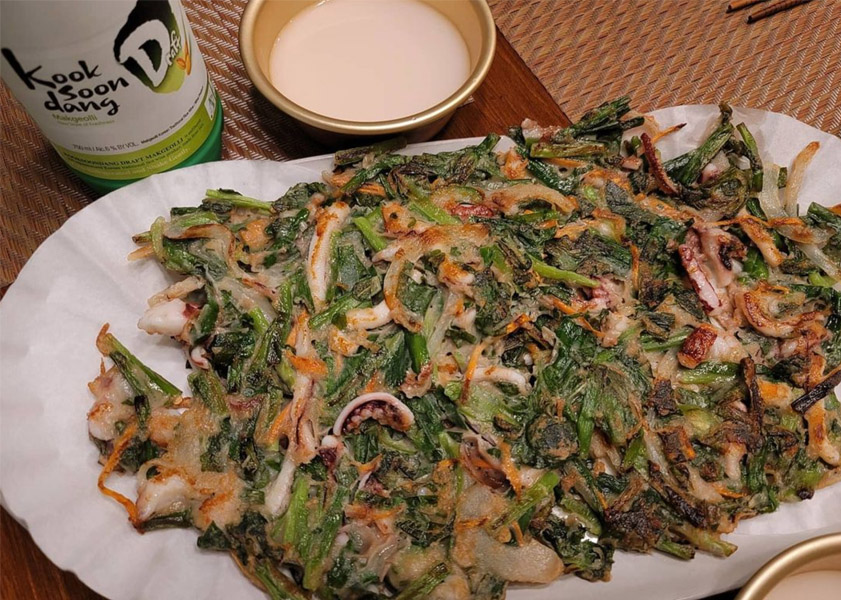 In Korea, people tend to crave for Pajeon and Makgeolli on rainy days. The sound of raindrops reminds people of the sizzling sound from frying pancakes which goes so well with Makgeolli.
The savoury flavours of pajeon, our favourite being the haemul pajeon, a seafood version of the green onion pancake. For some reason, makgeolli tastes better when poured out of a kettle and served in a metal bowl.
The dish is widely available in Singapore in places such as Wang Dae Bak.
Fresh Watermelon and Soju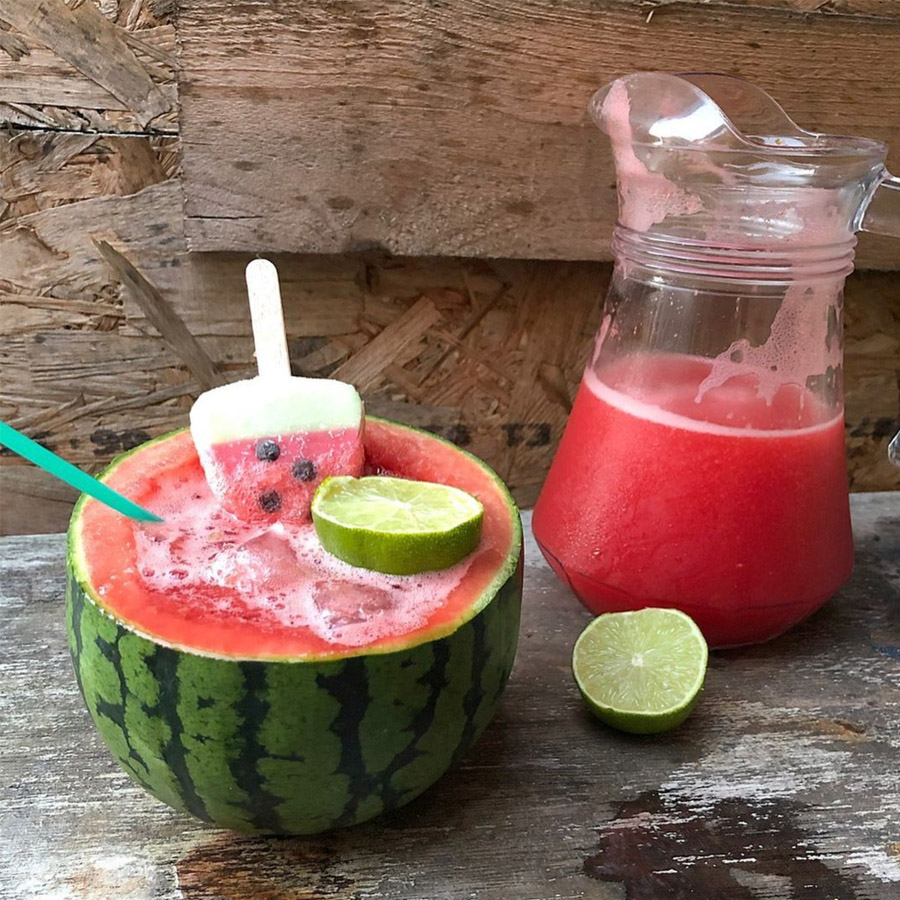 Before flavoured sojus were a thing, digging a huge hole in a fresh watermelon and pouring soju in was the 'in' thing.
This was a great beverage for non-soju drinkers as the combination had a nice sweetness to it.
In Singapore, you can find this at Chicken Up in Tanjong Pagar or Buangkok.
Jjapaguri
Widely known as the dish from Parasite, Jjapaguri is made using a combination of two well-known Korean instant noodle brands.
It combines the sweetness and savoury flavours of Jjaphagetti with the spiciness of Neoguri. You can also add slices of beef just like the movie for a more luxurious experience.
These two instant noodles are widely available in Korean marts in Singapore. You can also get them from Shopee.
Bibimmyeon with Samgyeopsal
This combination can be easily made at home using instant Bibimmyeon and grilling some pork belly. Since Bibimmyeon is cold, the hot piping sensation of the grilled pork belly goes really well with the noodles – much like ice cream and warm brownies.
One of our favourite brands has got to be Paldo Bibimmyeon, which has a nice blend of spicy and sweet flavours. It's also easily available at Korean marts in Singapore and online via Shopee.
Jjajangmyeon and Danmuji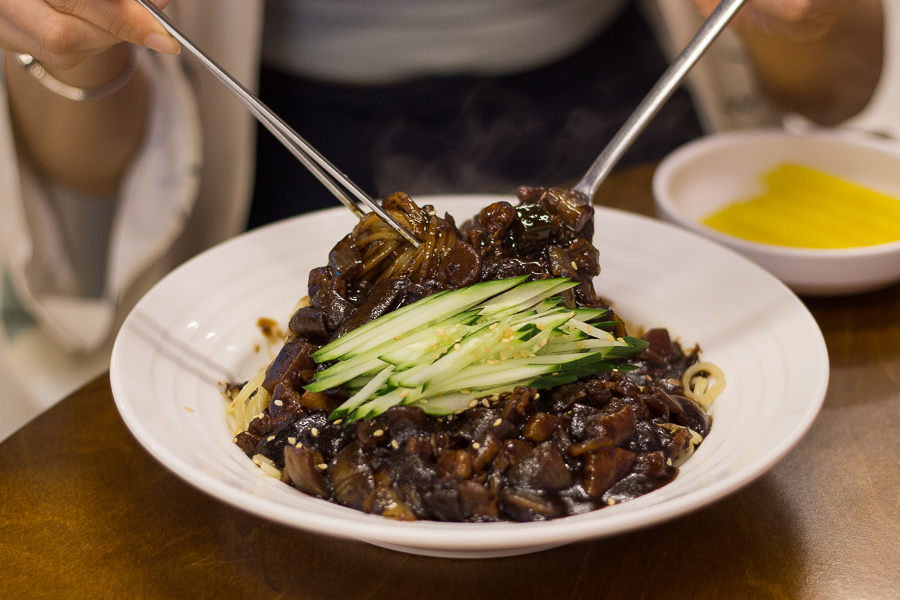 Did you know that some love adding a fried egg to their Jjajangmyeon? There's also those who love adding some gochugaru (Korean red chilli powder) to their Jjajangmyeon for a spicy kick.
However, the yellow pickled radishes that come as banchan with the Korean-Chinese noodle dish is one of the best combos you can have with Jjajangmyeon.
There are plenty of places to have Jjajangmyeon in Singapore, but here's our top few picks:
Korean Sashimi with Chungha Soju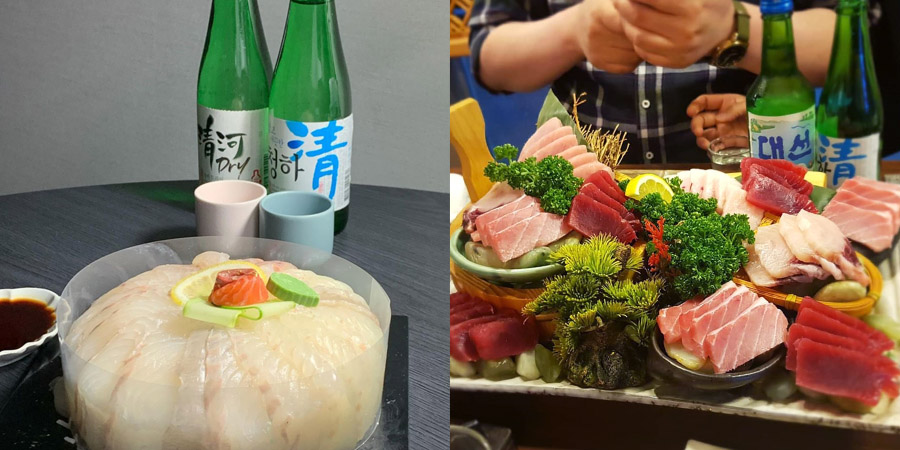 While sashimi seems to be a more Japanese thing, it's actually a rather popular dish in Korea. Besides salmon, more well-known cuts of fish include yellowtail (방어) and flatfish (광어).
Chungha Soju has a really clean taste and a nice sweetness that goes well with seafood.
It's made from rice and is refined three times after fermentation, so there's not many residual flavours and smells.
While Korean sashimi places are not common in Singapore, there are a few such as Badam in Tanjong Pagar and Pohang Seafood along Jalan Jurong Kechil.
Spicy Chicken Feet with Jumeok-bap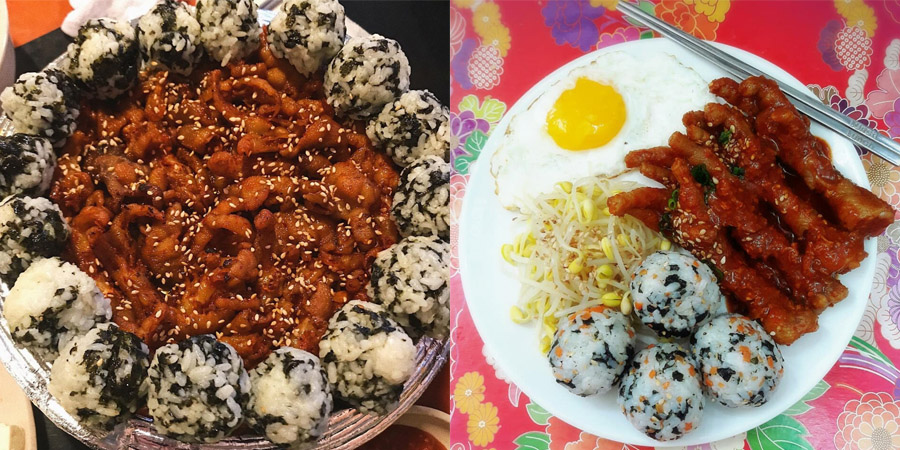 If you love spicy food, make sure to try spicy chicken feet when you're in Korea. The spiciness is on a whole new level compared to anything you've eaten so far.
A common dish seen together with spicy chicken feet (불닭발) is Jumeok-bap. It's actually rolled rice balls, and some places in Korea let you roll it yourself.
The rice helps to relieve some of the spiciness, or you can also dip it in the spicy sauce and enjoy the best of both worlds.
Grilled Sweet Potatoes with Kimchi
A popular winter snack is grilled sweet potatoes, which you can make easily at home using an air fryer.
Fun Fact: There's a huge debate in Korea when it comes to sweet potatoes: chestnut or pumpkin variety?
Ok, putting that aside, sweet potato actually goes really well with kimchi. Some Koreans love putting a slice of kimchi on their sweet potato before having a bite. Instead of the usual sweetness from the sweet potato, there's now an addition of sour and spicy flavours.
In Singapore, you can find authentic Korean sweet potatoes in K-marts such as Chorok Market.
Tteokbokki and Gimmari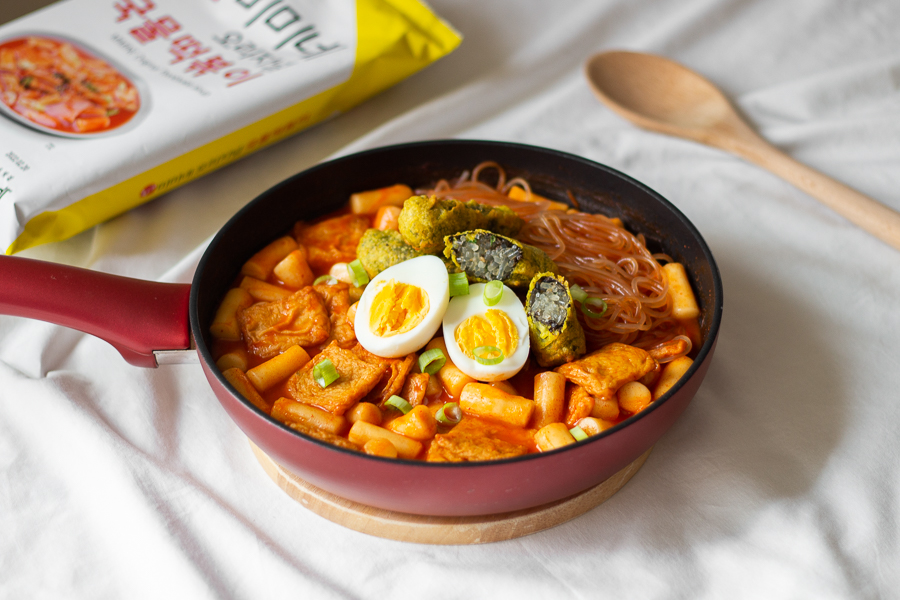 You're probably familiar with Tteokbokki – the chewy rice cake doused in a spicy umami sauce is a Korean comfort food that has made its way into most Korean restaurants in Singapore. To elevate your Tteokbokki experience, pair it with a few pieces of Gimmari on the side.
Gimmari is made by rolling glass noodles between sheets of nori and deep frying it with a light batter. Gimmari adds a delicious crunch that complements the soft and chewy texture of Tteokbokki and is perfect for sopping up that delicious Tteokbokki sauce, hitting all the right sweet, savoury and spicy notes.
Galbi and Naengmyeon
Galbi which literally translates to "ribs" is a Korean favourite when it comes to barbecued meats. It is typically made with beef short ribs that are marinated in a sweet and savoury soy-based sauce before being grilled to smoky perfection.
A great pairing for Galbi is Naengmyeon, or Korean cold noodles. It usually consists of buckwheat noodles served in a chilled broth made from beef and radish water. Naengmyeon has a mild, refreshing flavour that helps to cut through the more intense meaty flavours from the Galbi. It's sure to cool you down after devouring the hot and smoky Galbi fresh off the grill.
Bonus: Fried Rice After Mains
It's common to order some rice after a meal in Korea so you can make fried rice using the remaining oil/sauce. The result is a plate of fried rice bursting with savoury flavours.
Korean Food Combinations You Need To Try
Have you tried any of these Korean food pairings? If you are ever in Korea in the future, make sure to try these Korean food combos for a gastronomic experience. Fret not, as we mentioned in this article, there are places in Singapore where you can try these combos as well!
*Follow MiddleClass.sg on Facebook, Instagram and Telegram for more food, travel and trending stories!