MukJja, a wordplay between the phrase 먹자 (mukja, which means let's eat in Korean), and the 짜(Jja) from 짜장면 (Jjajangmyeon).
MukJja is a new Korean Chinese restaurant located directly opposite the Novena church, opened in March 2020, right before the implementation of the circuit breaker.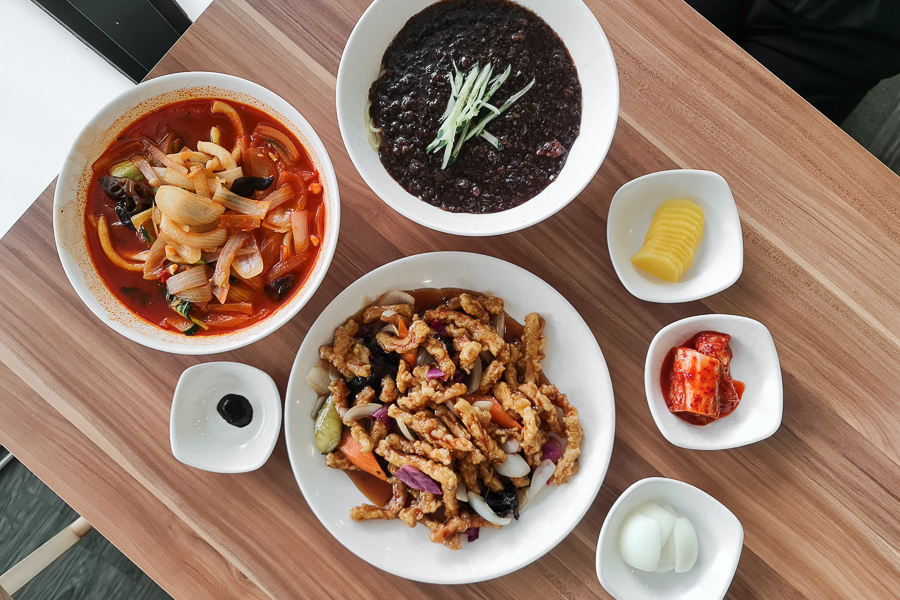 Completely run by Koreans, the boss of MukJja is also the founder of Tae Woo Ban Jum, a Korean restaurant that used to be at Clarke Quay. However, due to personal reasons, they had to pass the business to someone else before heading back to Korea.
After a while, they decided to come back to Singapore and started MukJja focusing on Korean Chinese dishes. (yay for us!)
Best Jjajangmyeon In Singapore?
Visually, the Jjajangmyeon ($11) looks similar to most black bean noodles. However, what sets MukJja apart is that they make their noodles from scratch, in-house.
The result? Chewy and smooth textured noodles that don't puff up from sitting too long in the sauce. With every bite of the evenly sauce-coated noodles is an explosion of sweet and salty flavours from the black bean sauce.
This might just be one of the best Jjajangmyeons in Singapore. Daebak.
Jjamppong (Spicy Seafood Noodles)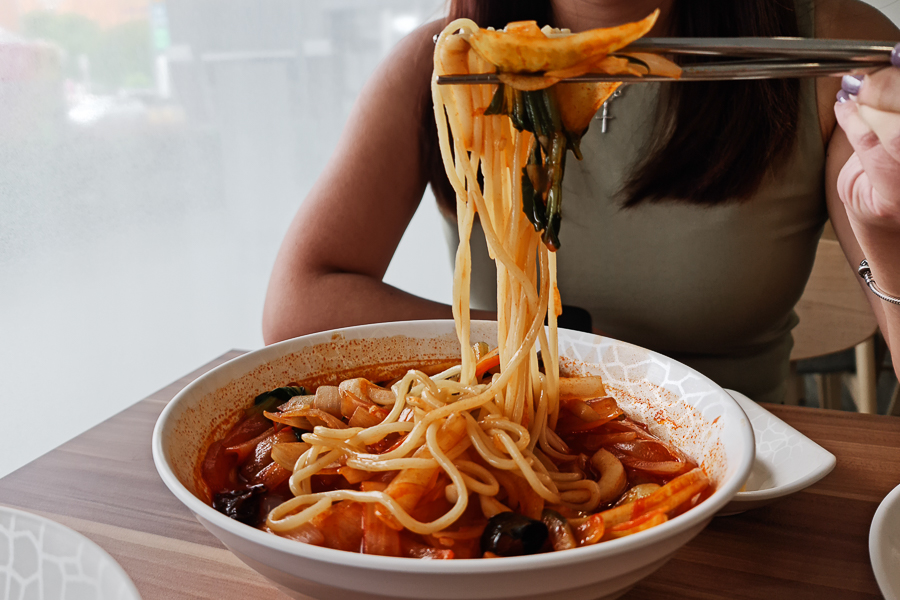 Another classic Korean-Chinese dish is Jjamppong ($14).
The dish comes with squid, black fungus and assorted vegetables in a bright red coloured broth. It's the kind of spiciness you crave for on a rainy day or when your nose feels slightly blocked. While the broth was clean and refreshing, we do think it could have a slightly deeper seafood flavour.
Do note that MukJja also has a premium version of the Jjamppong that's served with more seafood such as octopus and prawns.
Tangsuyuk at MukJja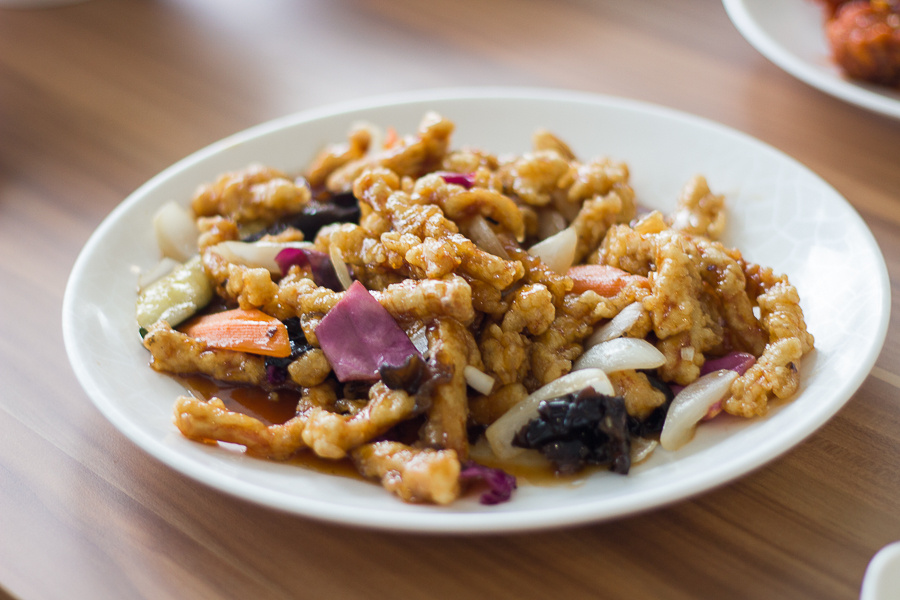 In Korea, there are two kinds of people. Those who pour the sauce over the Tangsuyuk (S: $24, L: $43) when served, and those who dip the deep-fried meat in the sauce.
Here at MukJja, by default, the meat is stir-fried together with the sauce, something not commonly done at Korean restaurants.
However, you can still request for them to separate the sauce if you're someone who prefers dipping your meat in sauce.
One thing we noticed is that the meat here is sliced into smaller bite-sized portions and coated with a thin layer of batter. While we did expect the sauce to somehow interfere with the meat's texture, it wasn't bad at all.
While we did find the meat slightly tough, the tangy sauce did make the entire experience better.
The S size is more than enough to share between 2 to 3 people.
Kkanpunggi (Spicy Garlic Fried Chicken)
If you love spicy stuff, the Kkanpunggi (S: $32, L: $58) is the dish for you. The dish reminds us of a Korean-version Mala, with a kind of spiciness that hits you straight in the face.
While it is spicy, it makes you go back for more after each bite. Perfect spicy food for stressed-out souls.
Set Meals At MukJja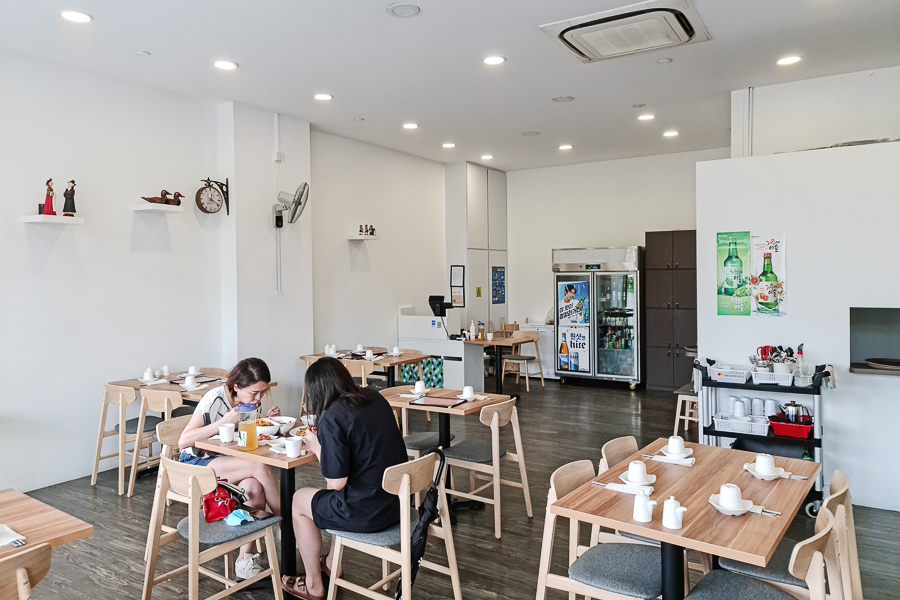 For those who are thinking of visiting with friends/family can consider getting their sets.
A bowl of Jjajangmyeon, Jjamppong and a plate of Tangsuyuk is only priced at $46.
Also if you're torn between Jjajangmyeon and Jjamppong, you can get the JjamJjaMyeon, which is half a bowl of black bean noodles and half a bowl of spicy seafood noodles.
You can check out their full menu on their Instagram page.
MukJja
275 Thomson Road #01-07, S307645
Wed to Mon, 11:30am-2.30pm and 5pm-9.30pm
Closed on Tuesdays
*Follow MiddleClass.sg on Facebook, Instagram and Telegram for more food, travel and trending stories!