Tucked away in the areas of Tan Kah Kee and Sixth Avenue is Nami Korean Grill House. Serving up an unpretentious and hearty menu of Korean BBQ, Nami Korean Grill House is by the team behind Hanjip Korean Grill House in Clarke Quay. 
Experience Nami Island In Singapore
True to its name, Nami Korean Grill House embodies the vibes of Nami Island in its decor. The entranceway is decorated with dried river grass, and there are branches of orange autumn leaves adorning its walls.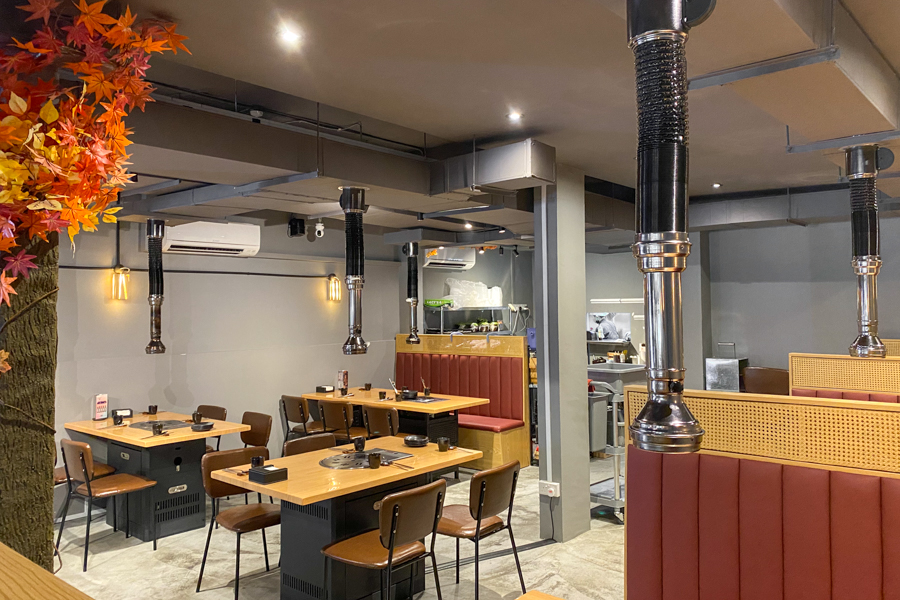 The interior is dark but cozy, with dark wood finishes and group seating. 
Nami Korean Grill House Menu
Nami Korean Grill House uses charcoal grills for its meat, which definitely makes the experience all the more authentic. The Korean BBQ menu has an extensive selection of different meat cuts, including Wagyu, USDA Prime cuts, Kurobuta pork, and even Korean abalone! They also have meat platters to choose from like the Kurobuta Platter ($98 for 450g), Beef Platters (from $138), and the Nami Signatures ($178 for 600g). 
Nami Signature Platter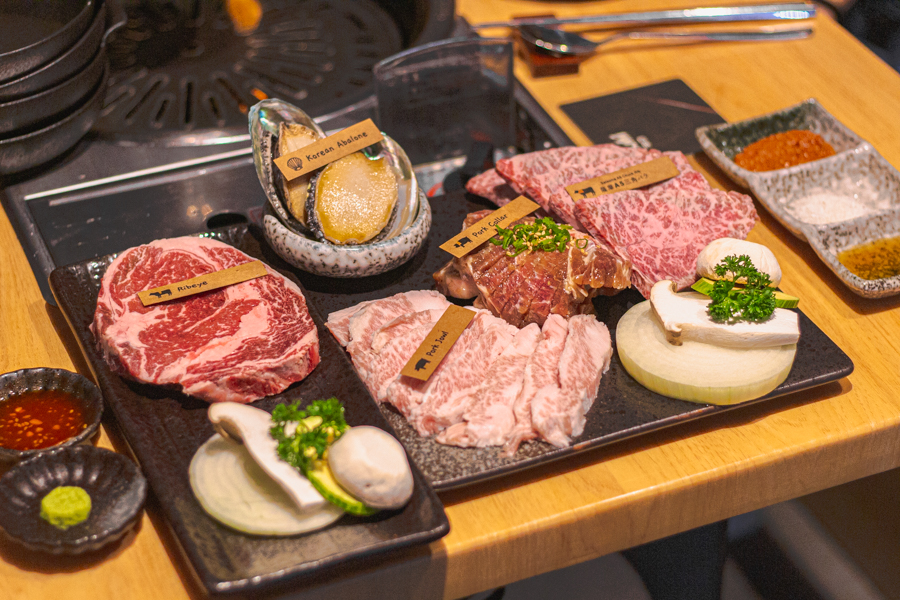 The Nami Signatures platter comes with a mix of their signatures – Korean Abalone, Japanese Wagyu Chuck Ribs, Kurobuta Pork Jowl, and Marinated Pork Collar. Everything was barbecued for us by the staff, which made for a pleasant eating experience.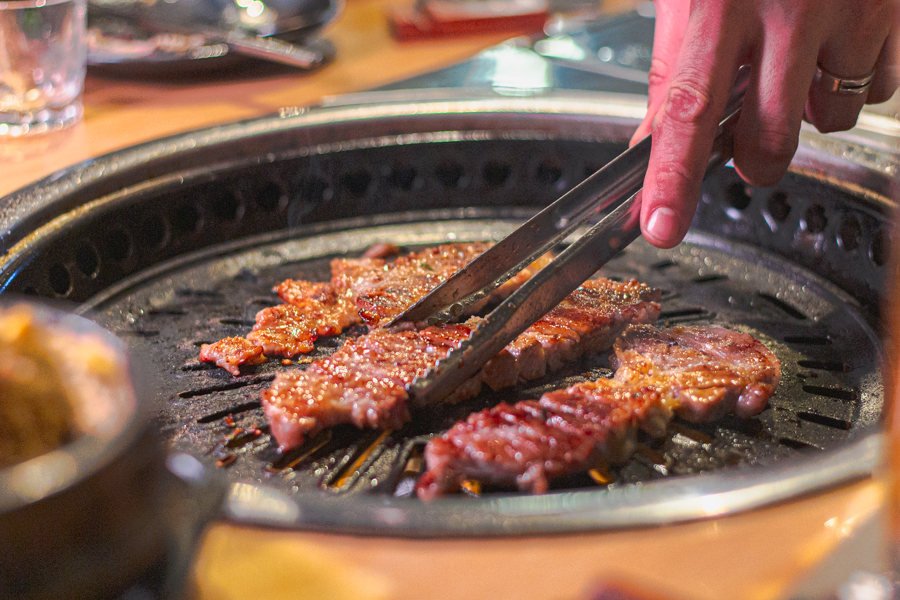 Our highlights of the meal were definitely the Wagyu Chuck Ribs. With a slightly crisp exterior and melt-in-your-mouth meat, the charcoal grill provided that extra char that made each bite extra delicious. Those who enjoy a fatty cut will also love the bite of the barbequed Pork Jowl.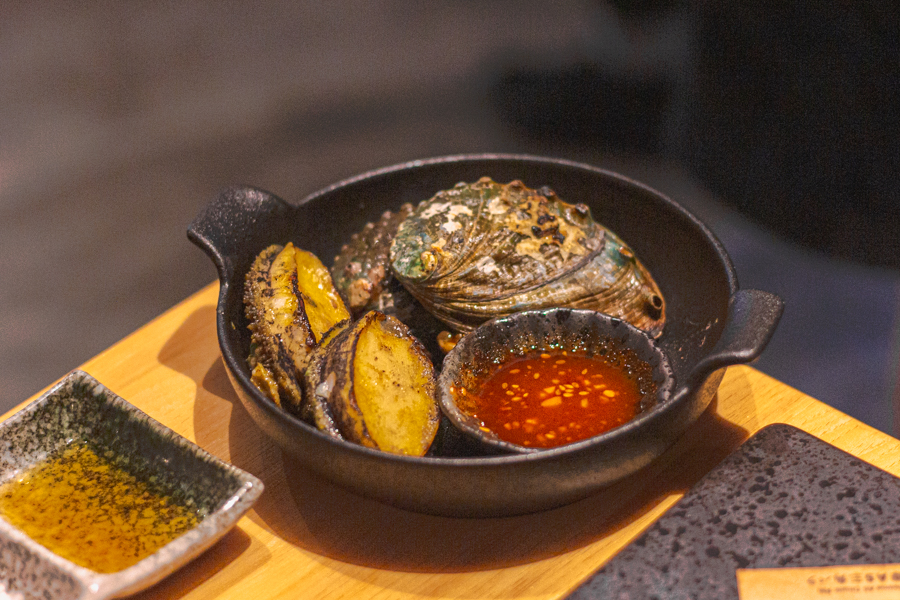 The Korean abalone was also an interesting addition, with a tender mouthfeel and a sweetness from the shellfish. Once again, the charcoal grill gave a char to the seafood that added a smoky flavour. 
You can also order a variety of a la carte menu items to enjoy with your meats, including pancakes, noodles, and stews. We got a few to try!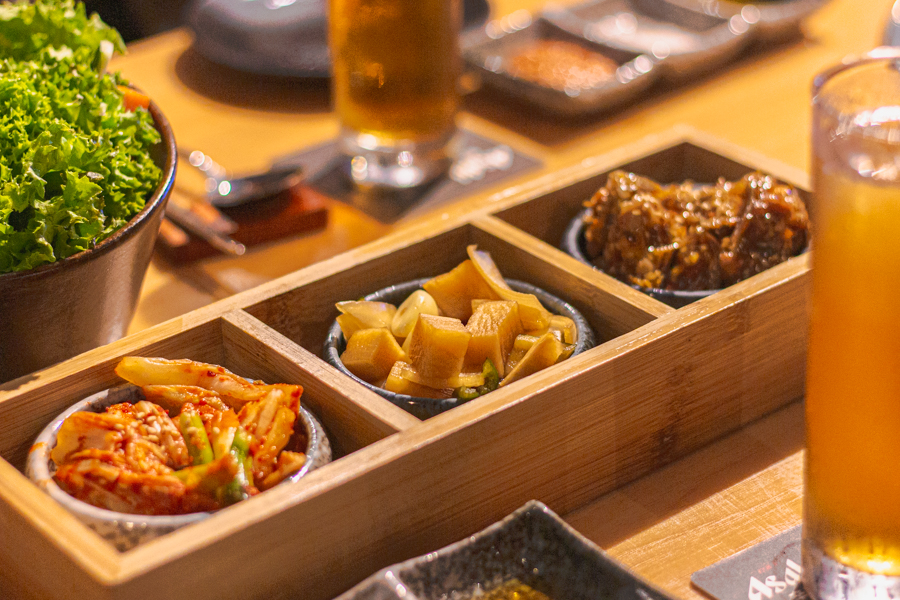 The meal started with a trio of Korean banchan or side dishes – we got a serving of kimchi, pickled radish, onions and garlic, and sweet-salty anchovy and cashews. These paired very well with the barbecued meats, especially the pickled onions!
Soy Marinated Crab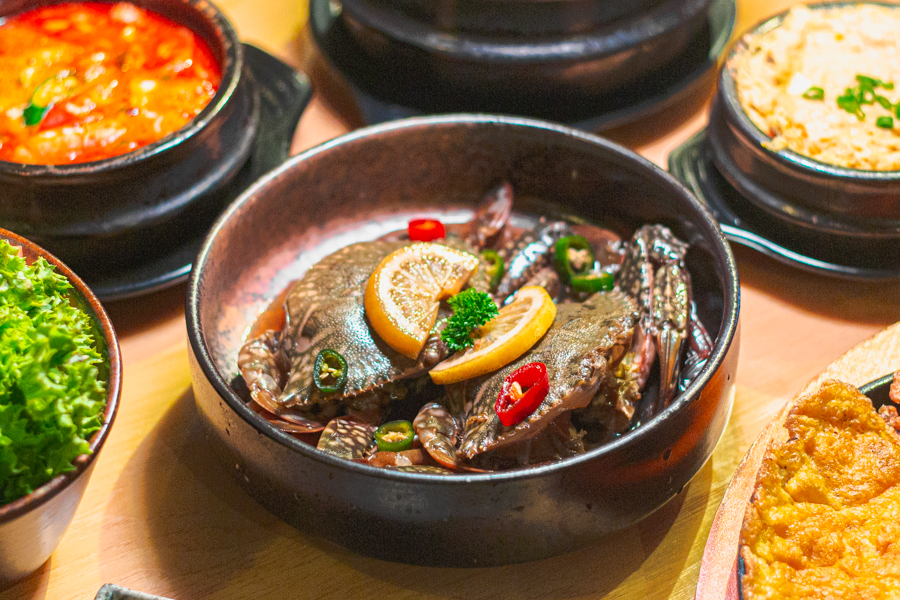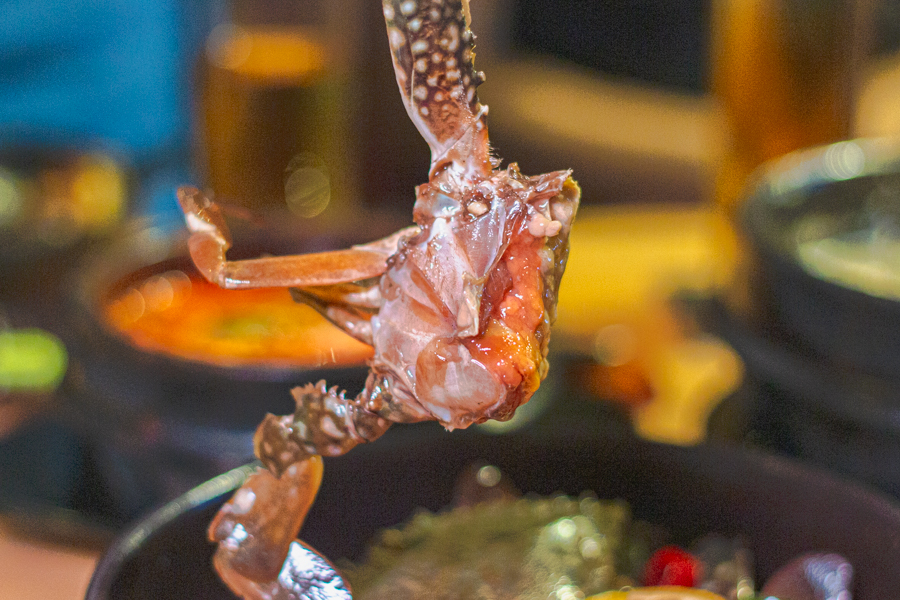 The highlights were the Marinated Crab ($68) in soy sauce with two whole crabs. This dish is not as common in other Korean BBQ restaurants, making it a unique offering for Nami Korean Grill House. The crabs were sweet and packed with crab roe, plus a savouriness from the soy sauce marinade! It had a slight fishiness at the end but we still think it's one of the better versions in Singapore worth a try.
Seafood Pancake
Their Seafood Pancake ($22) had seafood and green onions that paired perfectly with the slightly spicy soy dipping sauce. Crispy outside and fluffy inside, the pancake is a good starter to share amongst a group.
Steamed Egg

The Steamed Egg ($10) was fluffy and a great accompaniment to the barbequed meats. You should eat this while hot so you get the best texture!
Spicy Handmade Tofu Stew
Any kind of Korean stew is another must-have at Korean BBQ! We tried the Spicy Handmade Tofu Stew ($25) and it had a generous addition of mussels, clams, and soft tofu in a spicy thick soup. The spice of the soup cut through the fattiness of the meats and we found ourselves going back for more bites throughout the meal!
Ginseng Chicken Soup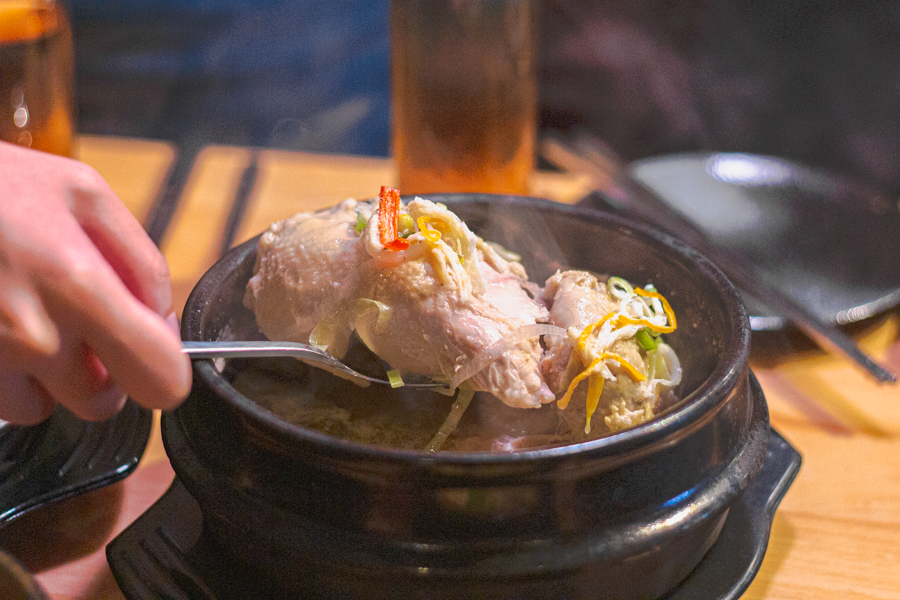 The Ginseng Chicken Soup ($30) is a good non-spicy alternative. Nami Korean Grill House's iteration comes with a whole chicken and glutinous rice, best eaten with a side of salt for dipping. The chicken was fall apart tender and the broth was concentrated with a sweet and rich flavour. 
Korean Alcohol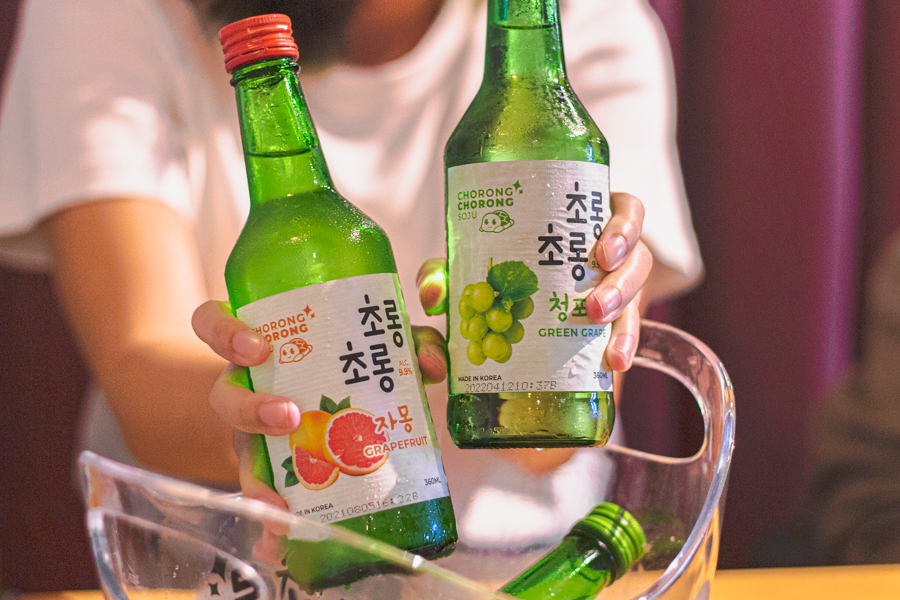 No Korean BBQ is complete without alcohol, and Nami Korean Grill House has an extensive menu! They have Chorong Chorong Soju at $48 for 3 bottles, Draught Beer, Somaek (Soju and Beer) towers, and more. 
Korean BBQ Restaurant In Bukit Timah
Nami Korean Grill House provides some quality Korean BBQ in a unique setting! Secure a reservation with them online or follow them on Instagram for more information. Do note they close at 2.30pm and only reopen at 5pm, so head down early!
Nami Korean Grill House
18 Greenwood Ave, Singapore 289212
Open daily, 11.30am-2.30pm, 5pm-11pm
*This was a media tasting by Nami Korean Grill House, however, all opinions are ours. 
*Follow MiddleClass.sg on Facebook, Instagram, and Telegram for more food, travel, and trending stories