Opened by the folks behind B For Bagel and Blue Basket, Market Blue is the place for all things Korean in Singapore. Located in Tanglin Mall, this Korean food hall not only has various food stalls, but also a lifestyle corner and even a ramyeon library!
All Things Korean in Singapore
Previously operating as an online marketplace for Korean produce and items, Blue Basket has opened up a physical store in Tanglin Mall with various concepts, where you can get Korean foo, lifestyle items and more!
The space is located right beside B For Bagel, and even before entering the space, you'll be able to get a glance of the Korean aesthetic interior.
There are multiple concepts here, so let's bring you through them one by one.
Donas 8 is the first thing you'll see near the entrance of Market Blue, and it's going to be a spot where you can get donuts, drinks, and traditional bakes like Gwabegi. Reminds us slightly of Cafe Knotted in Korea!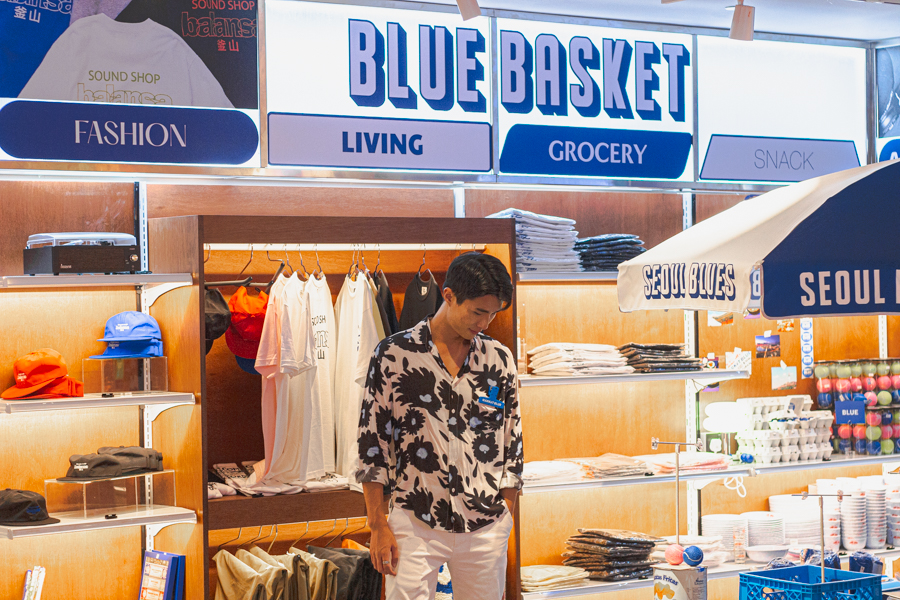 To the left is a lifestyle store where you'll find trendy items like t-shirts and bags. They've also stocked up on various types of incense, which are a huge thing in Korea right now, alongside lots of homeware such as plates and cups. Inside this corner is also a photo booth, where you can take fun photos with your friends!
At this point, you'll also be able to spot a booth decorated by LPs, which also acts as a cashier for lifestyle items. There are multiple LPs by Korean artists, such as Blackpink and Jannabi.
This spot is definitely one of the more aesthetic ones, which makes it a great photo spot!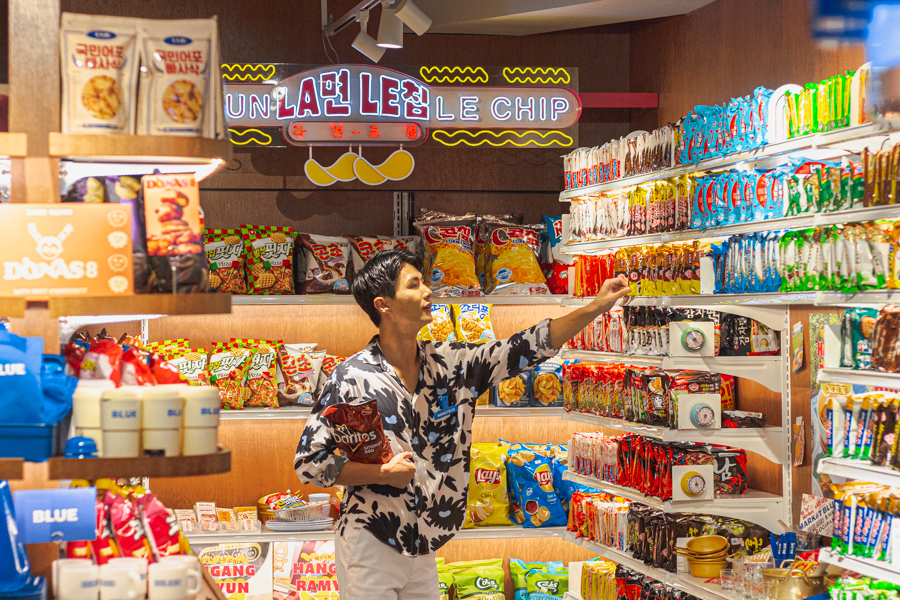 Right next to it is a Ramyeon Library, a spot where you can see different types of Korean ramyeon on display! They are all available for purchase individually. Not only ramyeon, there's also a whole display dedicated to chips!
If you move right from Donas 8, you'll see the food stalls with the Boonsik corner being the first of 3 stalls.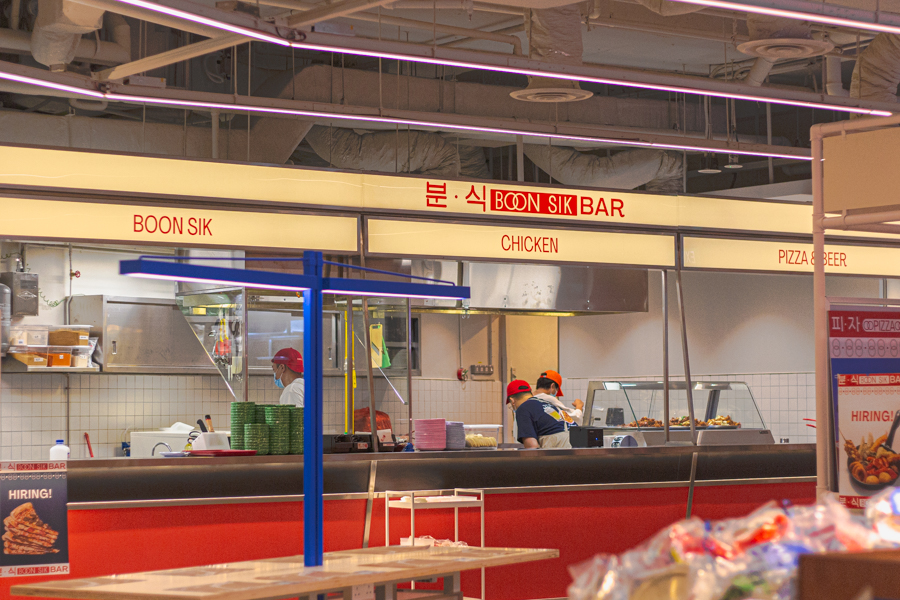 At the Boonsik corner, you have items like Tteokbokki, Chicken and Pizza. There's also Jumak right next to it, which will a food stall where you can get items like jeon, to go with their housemade makgeolli! Next to Jumak is Gogipan, which is the stall for Korean BBQ.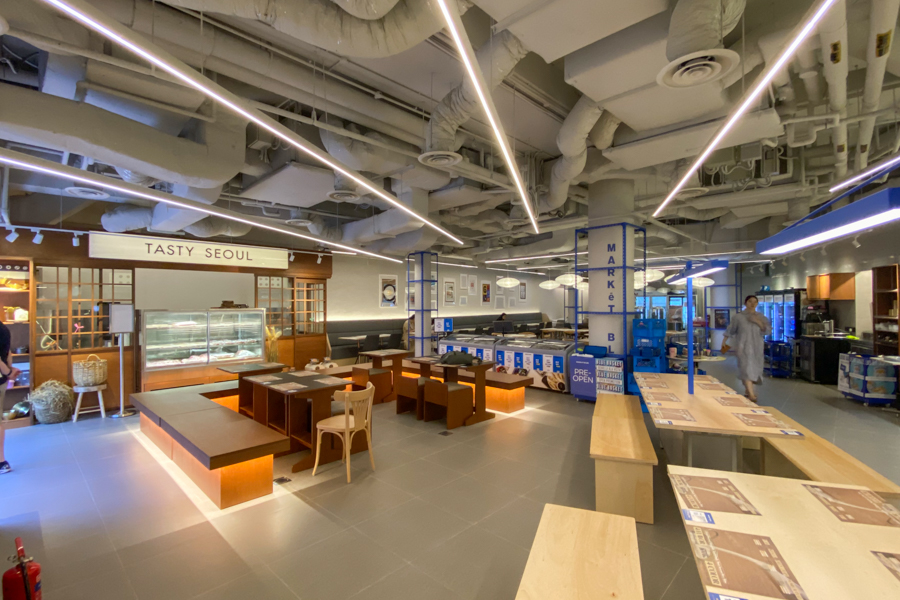 The entire food hall is also filled with seats and can fit quite lots of people. There's a QR code at each table where you can scan the menu and order via the link provided.
Right now, Market Blue is still in its soft launch, so not all the food stalls are open yet. However, you can still get items from the Boonsik stall and Baekban from Gogipan.
Baekban at Gogijp
During their opening promotion, Market Blue is offering the baekban set at $19.90/person, with a min order of 2 pax.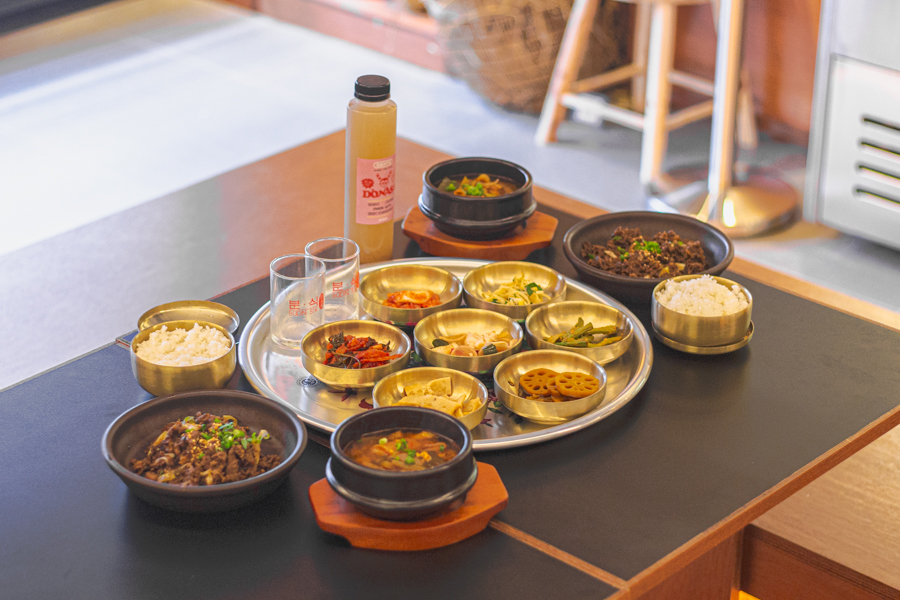 If you're unfamiliar with what Baekban is, it's almost like a typical meal that Koreans have at home. There's usually a soup, side dishes, rice and a main. Here at Market Blue, you'll be able to pick between 3 mains: Beef, Fish or Pork.
For the side dishes, there were items like braised lotus roots, stir-fried fish cakes, kimchi, beansprouts, pickled cabbage & more.
We opted for the Beef, and it came bulgogi-style, which had a nice soy-sweet flavour. The beef was also not too tough and paired amazing with a spoonful of rice. The soup reminded us of Yukgaejang, with its refreshing spiciness.
Boonsik Bar
Over at the Boonsik Bar, you'll find items like Tteokbokki ($9.90), Bibim Mandoo ($15.90), Jjolmyeon ($15.90) and Fried Chicken. Pizza is still currently unavailable.
We opted for the Rose Tteokbokki ($12.90) which was creamy and cheesy and topped with tater tots. This was the perfect sauce for our Assorted Twigim (($15.90), which was a generous portion of fried food such as dumplings, gimmari and prawns! It reminded us of our Korean market food adventures, where we could dip fried food into tteokbokki sauce.
There were also traditional Korean beverages available such as Sikhye ($4.20) and Sujunghwa, which is a Korean Cinnamon Ginger Punch.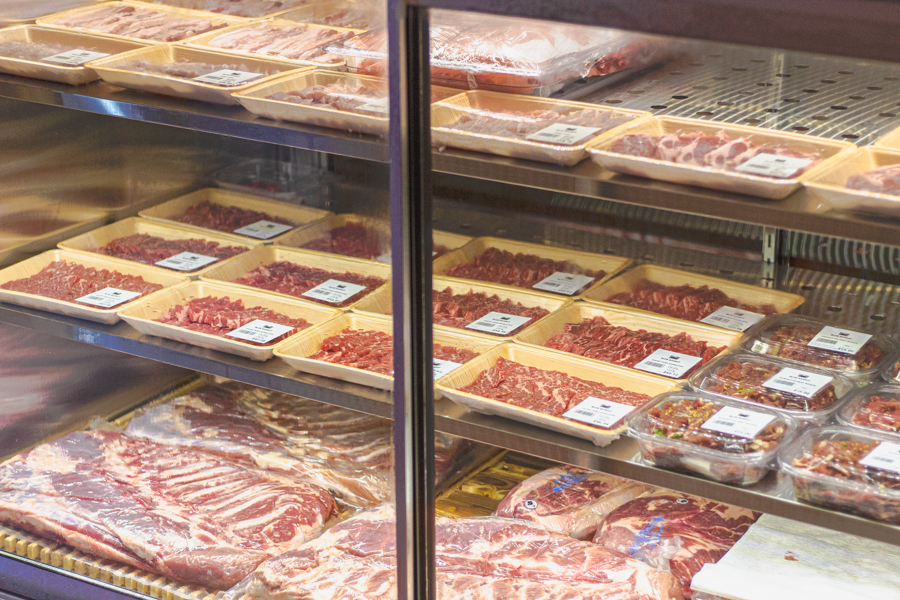 If you're done with your food, pay a visit to Tasty Seoul, a corner where you can get Korean side dishes. When we visited, there were items like Kimchi, Salted Squid banchan & more. There's also a butchery, where different cuts of beef and pork are on sale.
Market Blue in Orchard
Even during its soft launch, Market Blue has undoubtedly sealed its position as a spot for all things Korean in Singapore. Everything from the branding to the different food concepts screams Korean and we can't be more excited for what's about to come.
Psst, we're most excited for the homemade makgeolli by Jumak and we heard there's gonna be a 4 colour makgeolli platter with flavours like Mango, Green Grape and Pomegranate.
Along with the opening of Orchard Boulevard MRT on the Thomson MRT Line, visiting Tanglin Mall will also be a breeze!
Market Blue
Tanglin Mall, 163 Tanglin Rd, #B1-122/123/124, Singapore 247933
Mon-Sun, 11am-5pm (Soft Opening)

*Follow MiddleClass.sg on Facebook, Instagram, and Telegram for more food, travel, and trending stories