First, we had Obba, now comes Omma. Omma is a new Korean Charcoal BBQ restaurant in Holland Village where you can get the usual K-BBQ fare and other Korean dishes as well. If you're unfamiliar with the Korean language, Omma translates to mother in Korean.
Choose Your Firewood For The KBBQ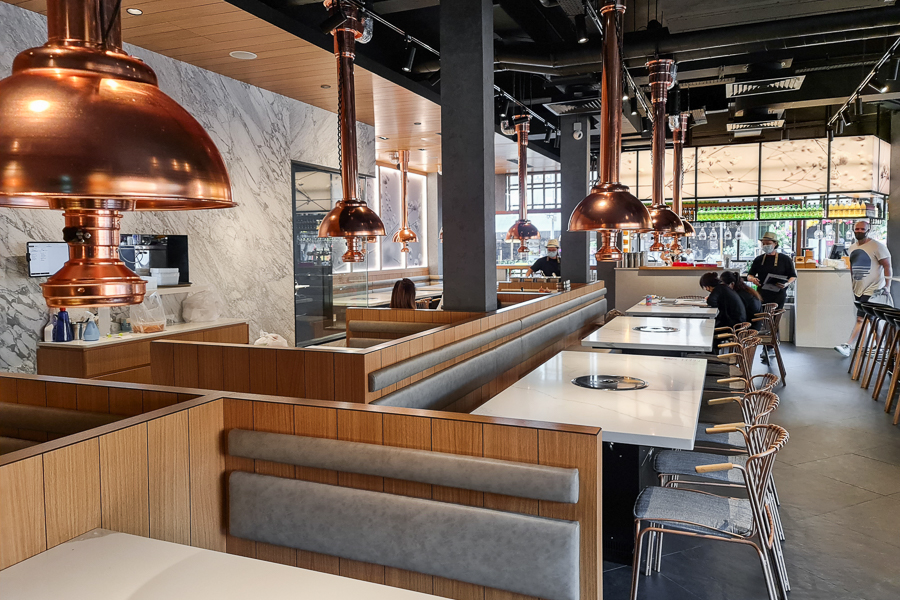 One of the more interesting aspects of Omma Korean Charcoal BBQ is how you can add your choice of firewood to the charcoal fire. This will cost an additional $2 for 30g of wood chips.
There are several types of firewood here at Omma such as Apple Wood, Cherry Wood, Hickory Wood, and Lychee Wood. We went for the Hickory Wood.
They add a layer of wood chips below the charcoal so that the fragrance of the wood seeps into your meat when cooking.
Omma Korean Charcoal BBQ Menu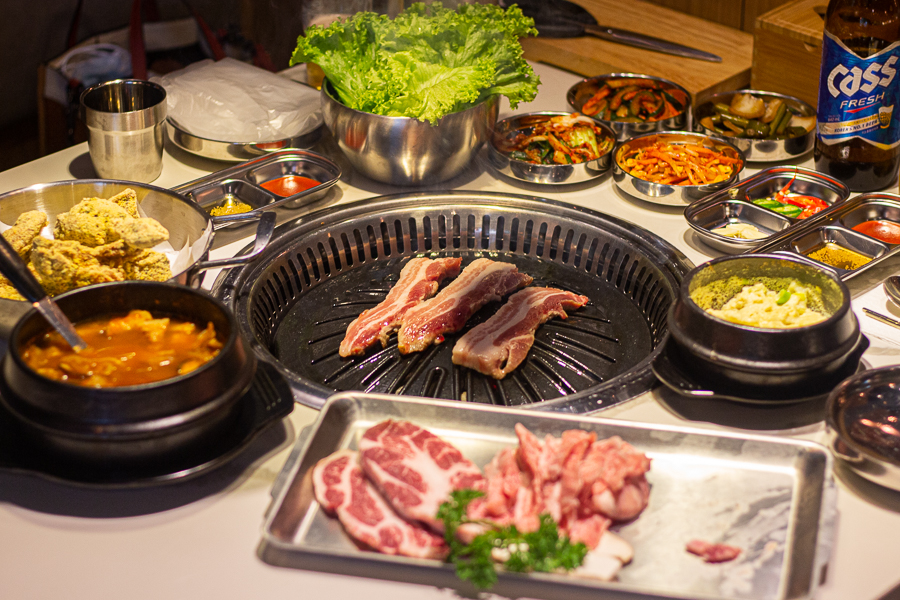 Apart from the usual pork and beef cuts you see at Korean BBQ restaurants in Singapore, Omma also has more interesting items like Beef Large Intestine or Daechang in Korean and Pork Skin.
They also have a pretty extensive menu that consists of Fried Chicken, Bossam, various stews and soups, Korean pancakes, grilled fish, and even a whole deep-fried octopus!
Pork Omma Set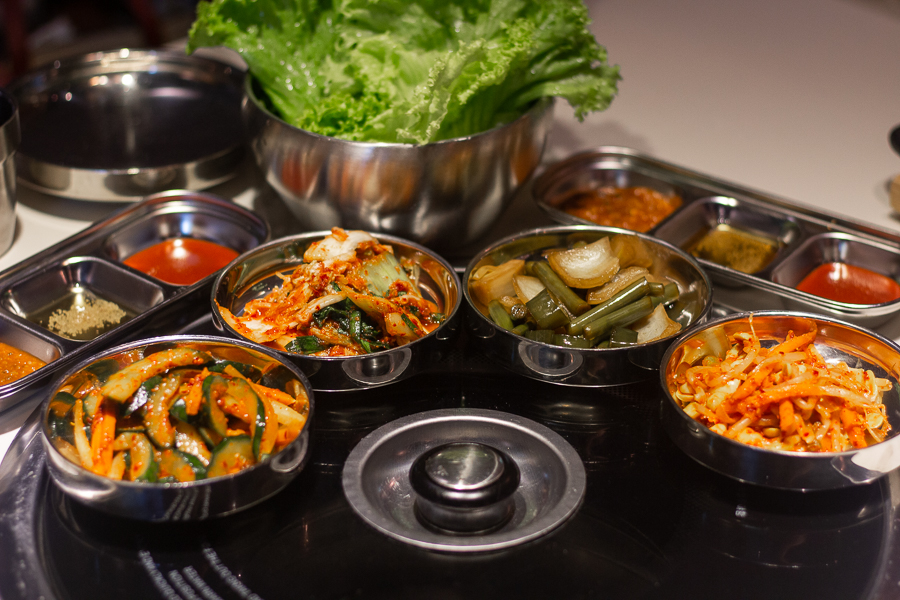 We opted for the Pork Omma Set ($60) which came with 180g of Iberico Pork Collar, Black Pork Belly, and Iberico Pork Jowl. The set also includes your choice of Soybean Paste/Kimchi soup, a steamed egg, and free-flow side dishes.
The ironic thing was that all the cooked food we ordered was served first and we had to wait for a long time until the pork cuts were served. During this period, our grill had already begun to overheat and started turning dark, so we had to request for them to change it for us.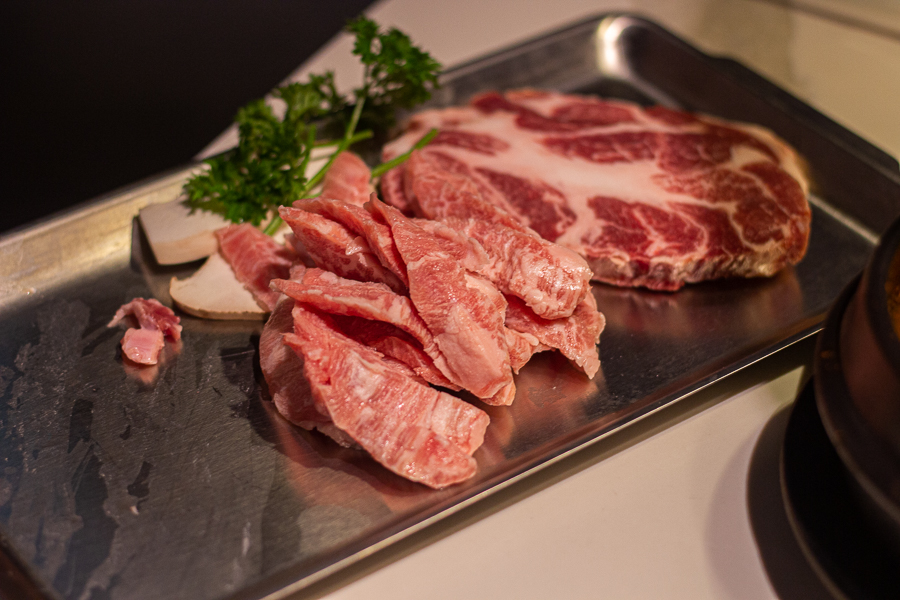 During the wait, we munched on their side dishes such as kimchi, cucumber, and beansprouts.
For the grilling of the meats, you will have to do it yourselves.
The quality of the meats was okay, but it didn't blow us away. We did wish for the thickness of the pork belly to have been thicker.
We could taste the smoky flavour from the Hickory wood when we finished grilling our first meat, which was the pork belly. However, when we grilled the remaining meat, there was little to none of the smoky flavour.
Kimchi Soup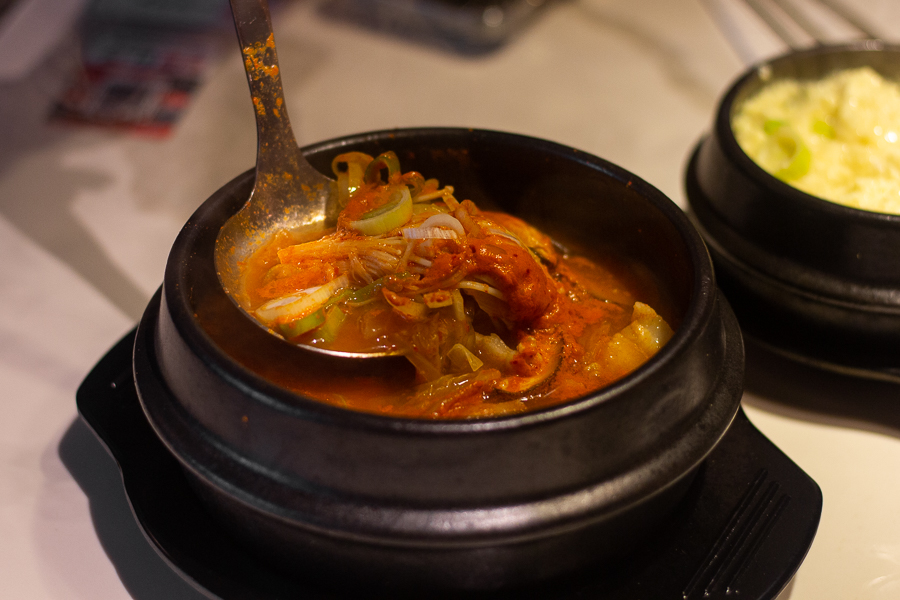 The Kimchi Jjigae was packed with ingredients such as mushroom, tofu, kimchi, glass noodles, and onions. We loved how it had just a tinge of spice and wasn't overly salty.
Cheese Sprinkle Chicken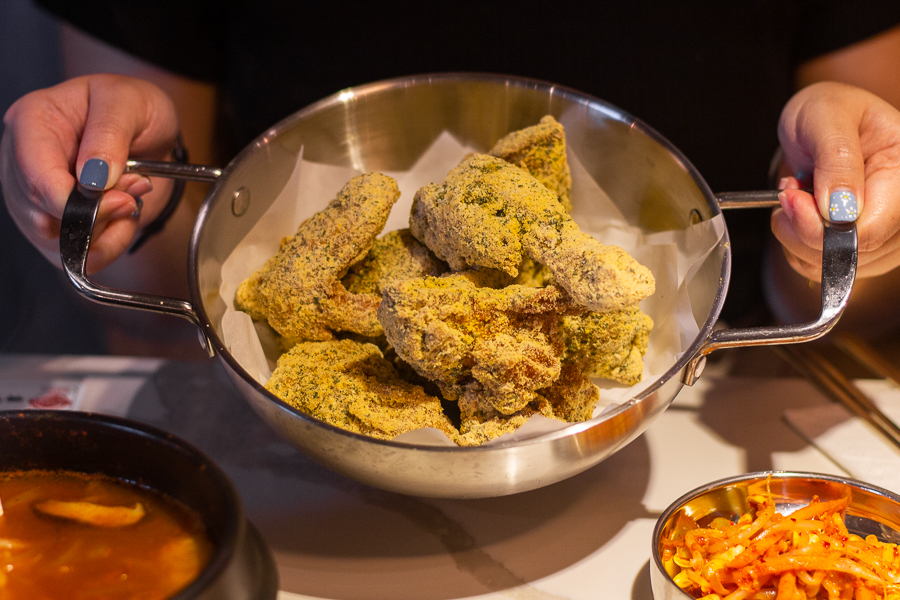 The Cheese Sprinkle Chicken probably takes inspiration from the famous Korean BHC Bburinkle chicken.
The cheese coating incorporated nicely and was not too heavy that'll you find it jelak after a few bites.
There's also a subtle sweetness that goes really well with the crispy and juicy chicken. However, at $35 for half and $45 for a whole chicken, most might find it to be on the expensive side.
Korean BBQ Restaurant in Holland Village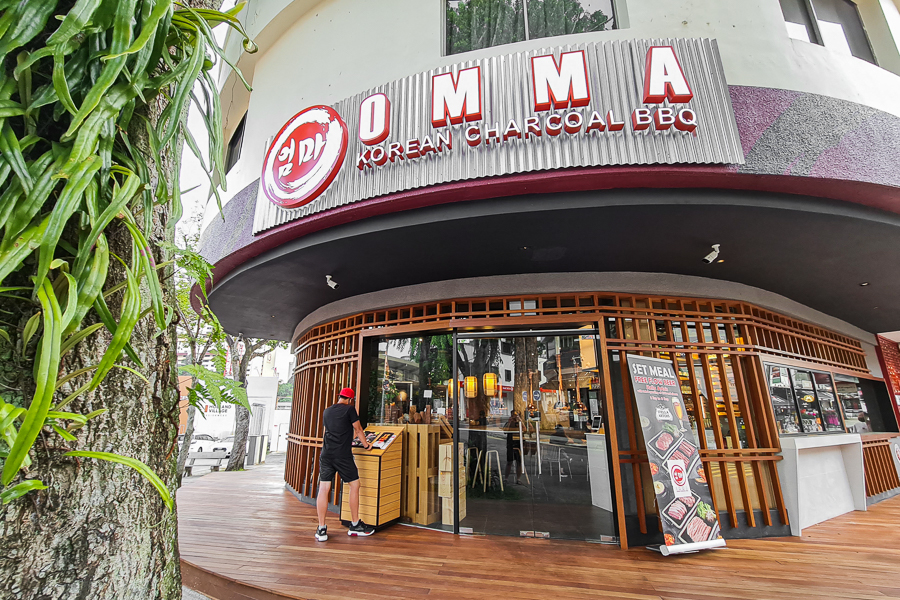 The restaurant was only a few weeks old during our time of visit, but they seem to still be facing some operational hiccups. We had to wave our hands to get the staff's attention to check on our orders after waiting for a long time.
Hopefully, in the days to come, Omma Korean Charcoal BBQ manages to finetune their operations as their concept is something that's pretty unique and might attract quite a following.
Omma Korean Charcoal BBQ
21 Lor Mambong, Singapore 277680
Mon-Sun, 11am-12am
*This is an independent review by MiddleClass.sg. 
*Follow MiddleClass.sg on Facebook, Instagram, and Telegram for more food, travel, and trending stories!