The creators of the popular gukbap restaurant Um Yong Baek have opened a new concept – Sodeng Korean Charcoal Grill! The Korean restaurant is located in Telok Ayer, specializing in Korean-style duck KBBQ. 
Unique Modern Korean Restaurant 
Much like the interior of Um Yong Baek, Sodeng has a unique interior that brings together traditional Korean hanok elements and modern-day designs.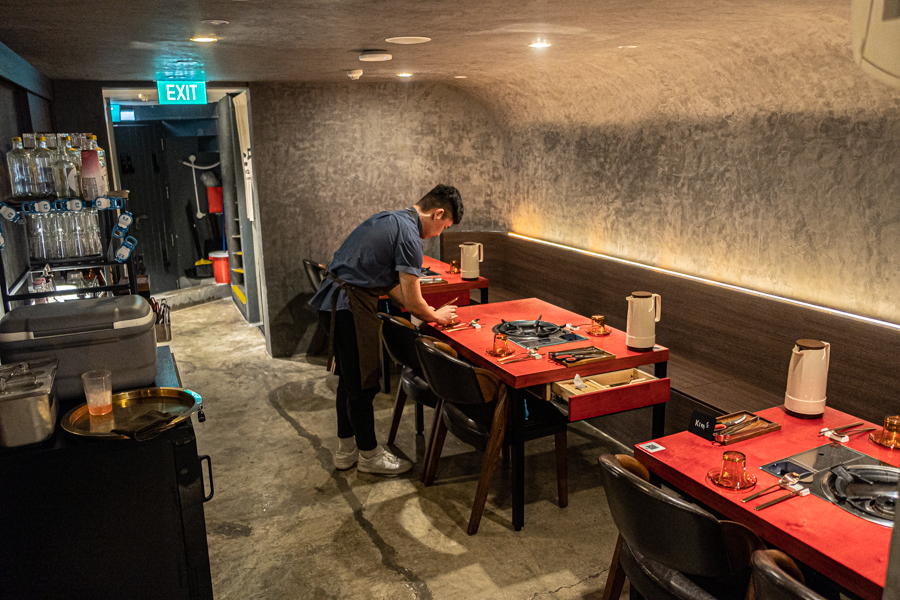 The beige wooden pillars were contrasted by bright red tables and golden utensils, with traditional Korean artwork on the walls! You can peek at the chef grilling the meat in their open kitchen. There is more seating further inside the store, including private rooms and a whole second floor! We also noted their staff and patrons were mostly Korean, marking its authenticity. 
Sodeng Menu
Sodeng is still in its soft launch phase, so its current menu is streamlined to a simple lunch and dinner menu. 
Their specialties are mostly reflected on the dinner menu, with the Duck BBQ available plain or in a spicy hand-rubbed marinade ($35/serving). Do note the minimum order is 2 servings. 
There's also the Woo-Dae Galbi ($42/serving) that features a charcoal-grilled 72-hour marinated beef rib, which you can enjoy with add-ons like mozzarella cheese ($8) and the Sodeng Pot Lid Stir-Fried rice ($17 for 2 servings). 
Sodeng also offers a lunch set option for 2 ($64) or 3 people ($89). Each set comes with charcoal grilled pork collar, rice, and a 'Meal' – which you can choose from options like Kimchi Cold Noodles or Spicy Tofu Stew.
Their official opening is in mid-June so there might be more options then!
Banchan (Side Dishes)
We have to give a shoutout to their side dishes! Everything is shipped directly from Korea, down to the dipping sauces like ssamjang. 
Each table gets cucumbers, spicy peppers, a sweet pumpkin salad, marinated Perilla leaf (깻잎 마늘 장아찌), and kimchi.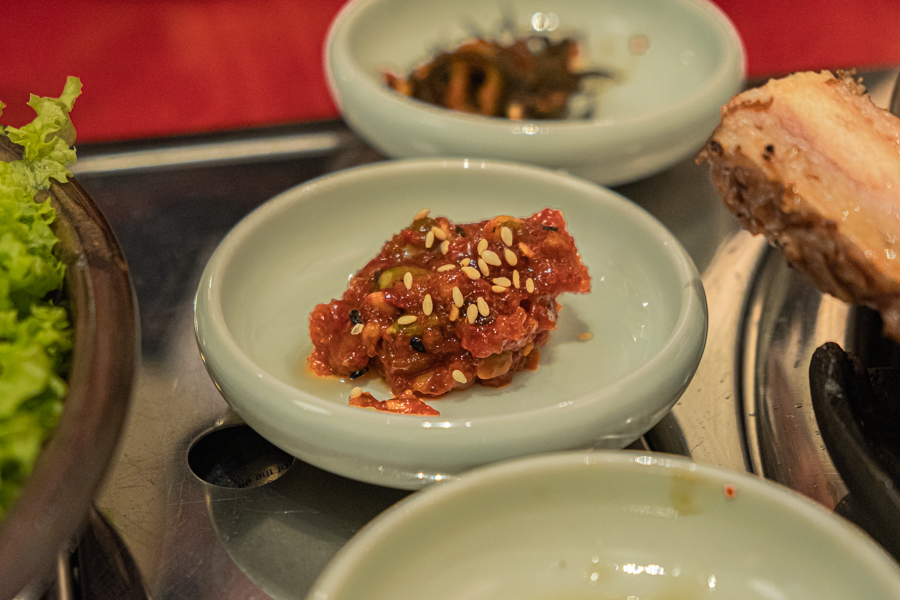 One unique banchan was 씨앗젖갈 (Ssi-at Jeotgal), a spicy fermented herring roe mixed with nuts. It wasn't fishy at all and had a pleasant umami that paired well with their meats! If you're wondering why the word Ssi-at is so familiar, it's because Busan offers the famous Ssi-at version of the popular Korean street food, Hotteok, near Nampo-dong! 
One thing we found really special was their house-salted peppercorn. The salting process removed most of the pungency so it's not too spicy – you just taste the fragrance of the pepper. It might be because it's from Korea, but we think their side dishes had an authentic taste that really elevated the meal. 
Plain Duck BBQ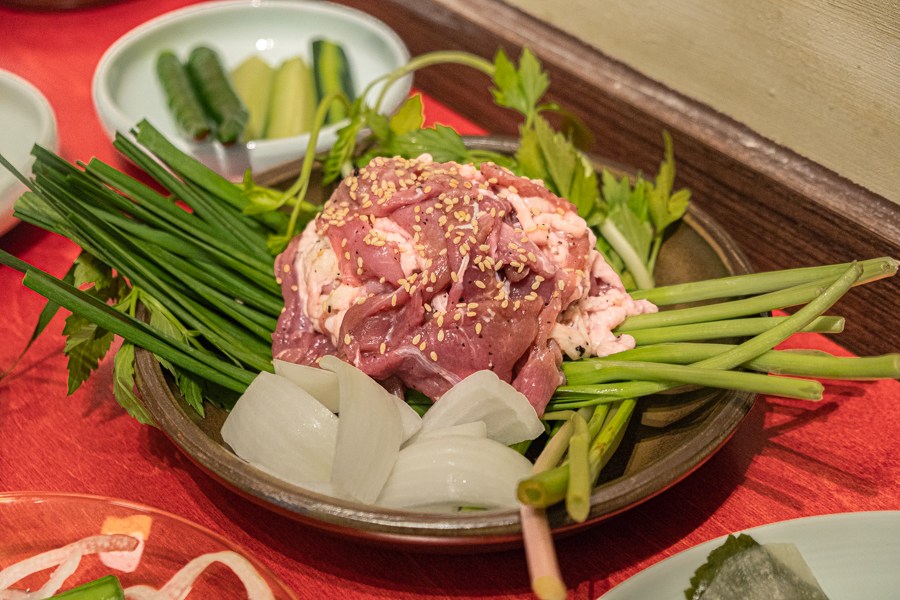 Sodeng actually refers to a metal pot lid, which is exactly what they grill their meats on! The Fresh Plain Duck ($34/serving) comes completely unseasoned, garnished with chives, onions and minari (Korean water celery). While the idea of duck in Korean cuisine might seem foreign to many, some Korean restaurants in Singapore have previously introduced it. One example is Songane Korean BBQ, which offers a Spicy Duck Stew known as Oritang. 
Here at Sodeng Korean Charcoal Grill, they use tender duck meat from a younger duck and grill it directly on the sodeng till it's crisp on the outside.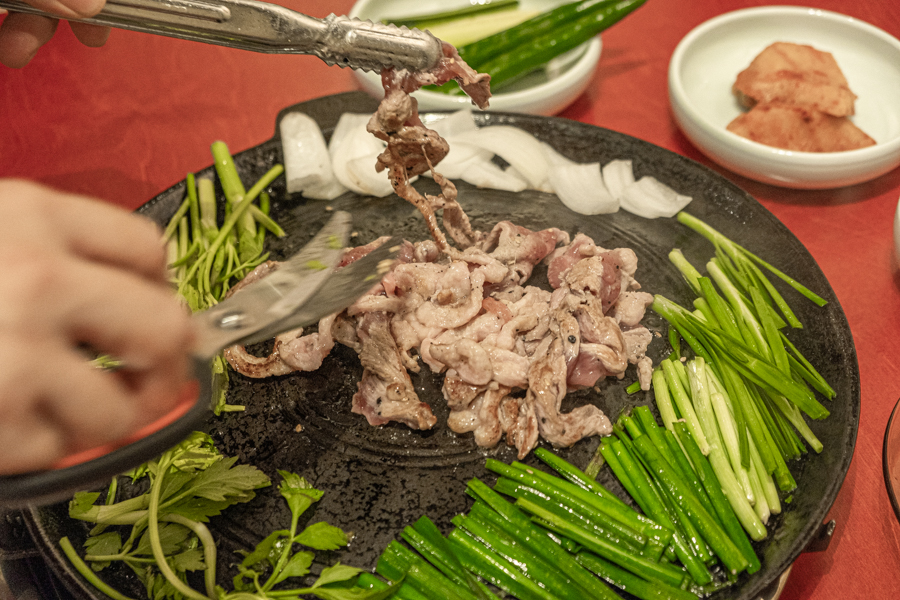 The meat was not gamey at all and had a pleasant sweetness. We think it might have tasted better if it was slightly salted, and might try the house-marinated one next time.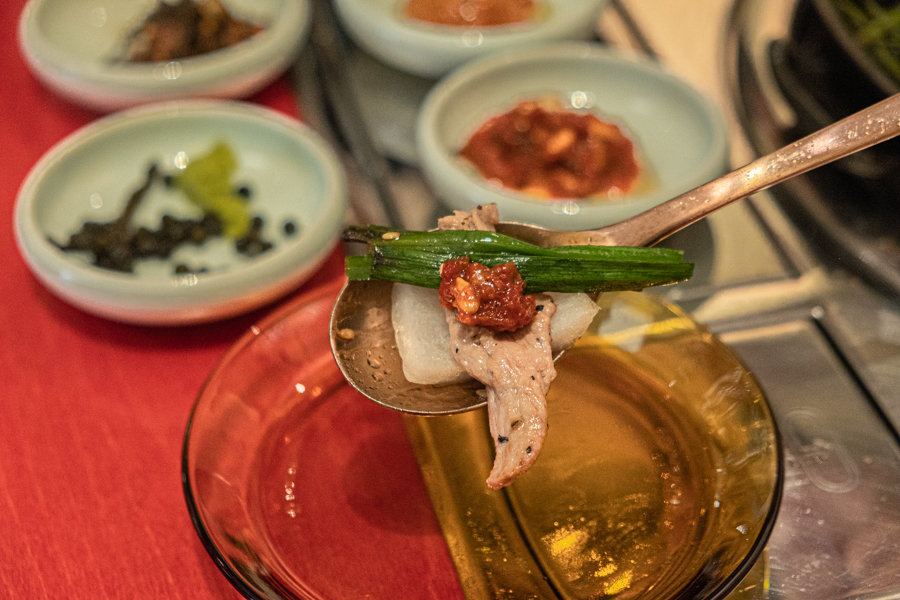 This is where the banchan comes in: you can enjoy your meats in a variety of ways! The staff served it to us with grilled rinsed kimchi, which was quite tasty. 
We also tried it with the grilled onion and salted peppercorn, which left us speechless. The sweetness of the onion and the bite from the peppercorn was the perfect combination! 
Woo-Dae Galbi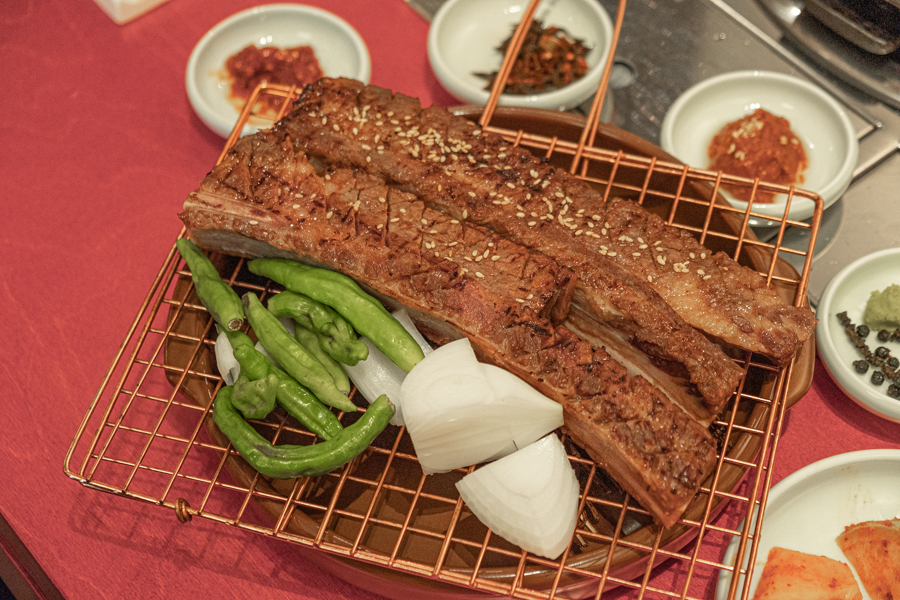 The definite highlight of the meal was the Woo-Dae Galbi ($42/serving), which was first charcoal grilled.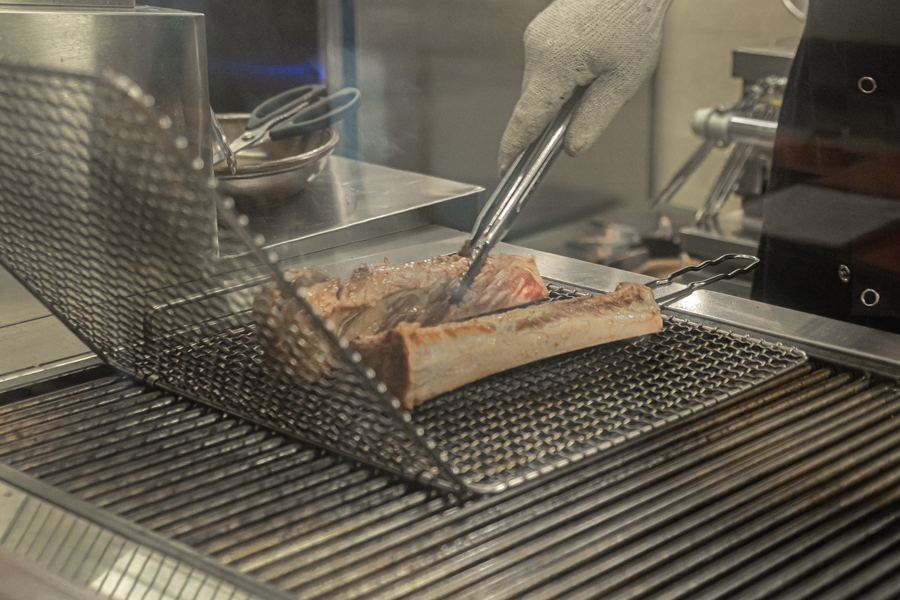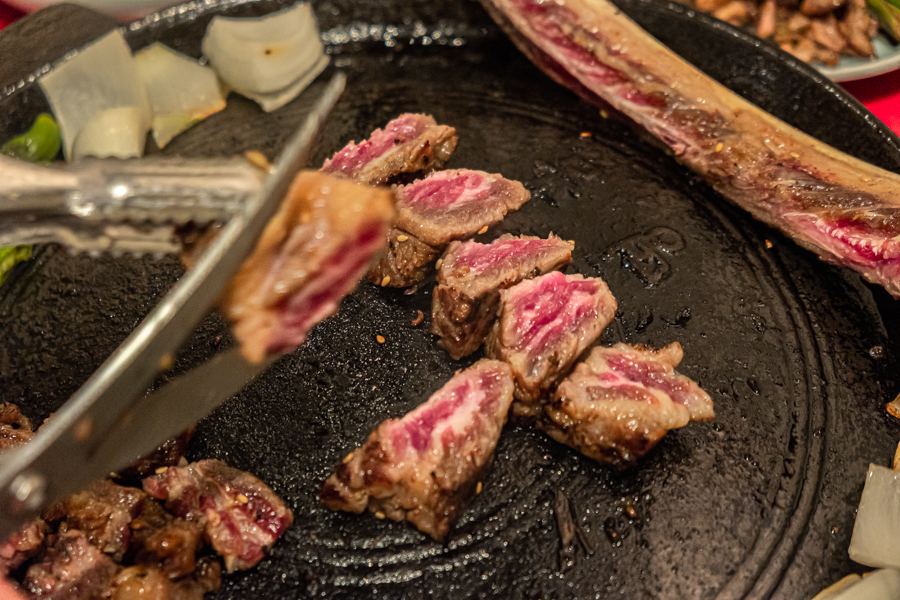 Each bone is one serving, and it's massive! Before serving, the meat is grilled once more to cook it through. 
It was truly a delicious experience. Each bite was melt-in-your-mouth tender with the fattiness from the beef, further complimented by the caramelization from the grill. 
The marinade was slightly sweet and savoury; the 72-hour marinade time really allowed the flavours to permeate the meat.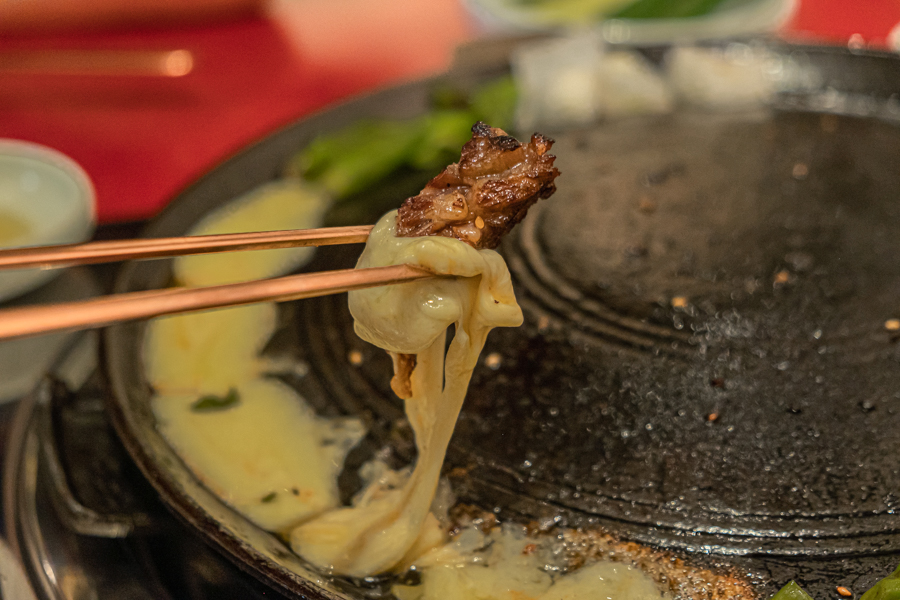 We also got to try the grilled mozzarella cheese. It sounds like such a gimmick, but it actually went very well! The salty cheese and slightly sweet marinade made for a great combination. 
Do note that there are only 30 servings of the ribs per day, so make sure to get it while you can! 
Sodeng Pot Lid Fried Rice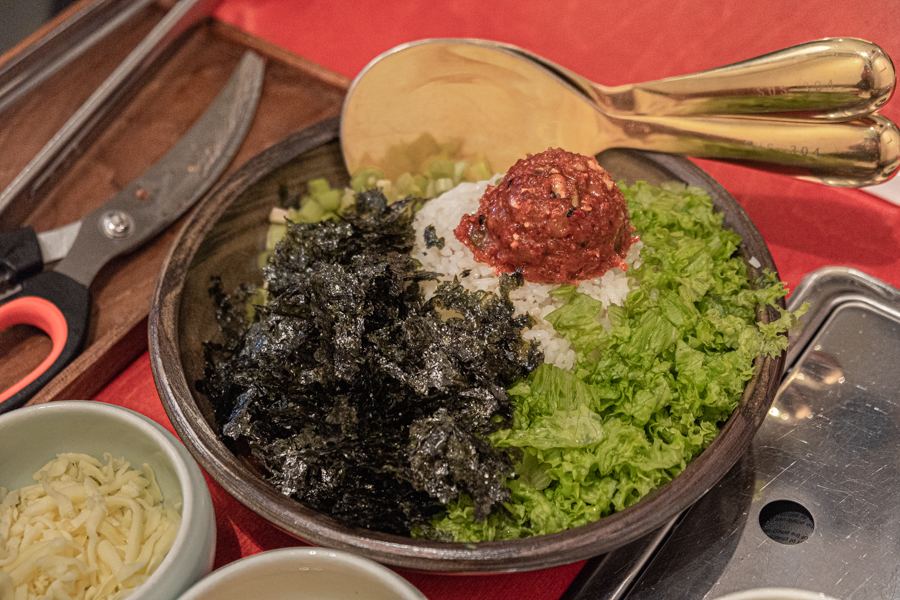 In Korea, it's common to finish your KBBQ with fried rice (a.k.a K-dessert). The Sodeng Pot Lid Fried Rice ($17/2 servings) comes with egg, cheese, green onion, and seaweed; mixed with the rib meat from the galbi.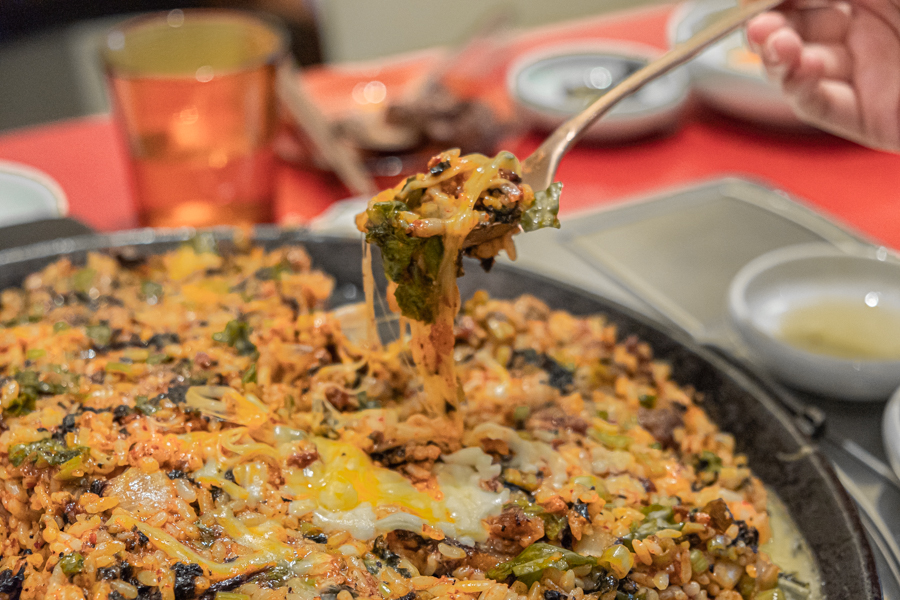 It's cooked on the grill until the bottom of the fried rice is crisp, seasoned with the 씨앗젖갈. 
Though it seemed like a lot, it was the perfect ending! The rice was coated with the fat from the galbi and duck, making each bite packed with umami. The addition of the cheese and occasional burst of meatiness from the rib meats made us go back for more. 
Duck Mandu Jeongol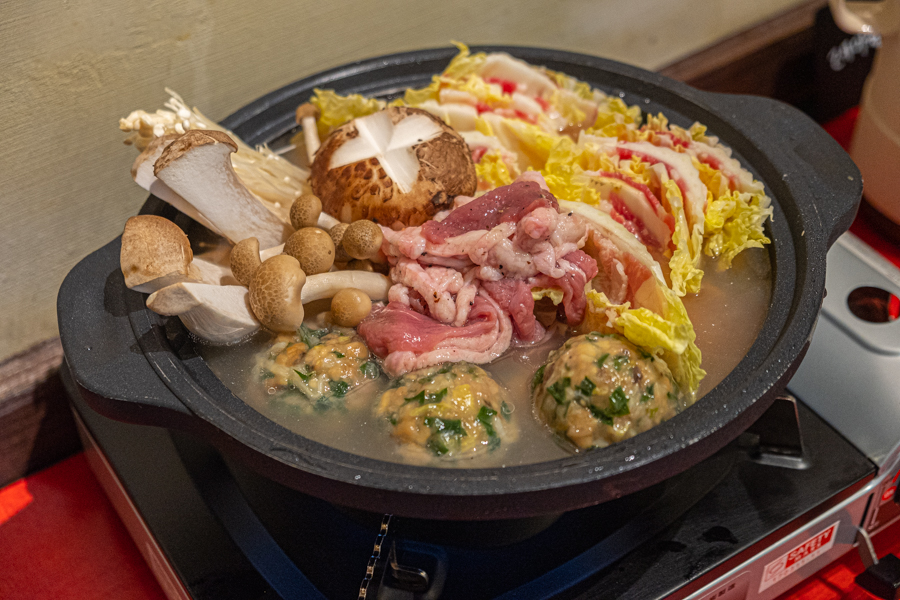 Another special duck dish is the Duck Mandu Jeongol ($58), a hotpot with housemade duck dumplings! 
The dumplings were closer to meatballs, with a thin layer of potato starch to protect the filling of duck, chives, and mushrooms. Each dumpling was quite sizeable and tasted homey with a hearty filling.
The duck broth is made through a 36-hour cooking process which helps it achieve a milky finish. It was slightly gamey but not too overwhelming, and had a rather clean finish!
We definitely see ourselves craving this dish on rainy days!
Unique K-BBQ In Telok Ayer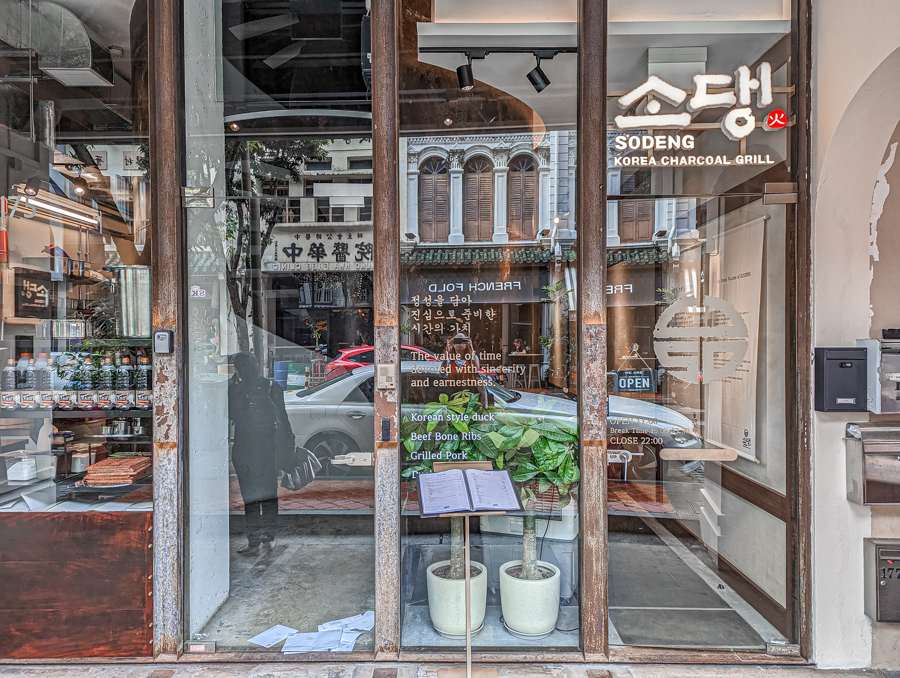 Sodeng Korean Charcoal Grill provides an authentic charcoal KBBQ experience with an equally authentic menu, which we think is worth the try! Also, a big shoutout to their staff who were friendly and explained everything to us throughout our meal. 
*This is an independent review by MiddleClass.sg 
*Follow MiddleClass.sg on Facebook, Instagram, and Telegram for more food, travel, and trending stories