You've probably heard of the cafe that never stops raining in Seoul. Rain Report, which is originally situated in Yongsan-gu, has opened Rain Report Croissant in Seongsu, and from the name, you can probably tell that it focuses on croissants.
Aesthetic Cafe in Seongsu
While cafes tend to be on another level in Korea, Rain Report Croissant really outdid themselves for the interior. Maintaining a sleek black interior throughout, the cafe had multiple screens showing weather forecasts and scenes of rain falling, along with cute props like a satellite dish which added an industrial flair to the cafe.
Right smack in the middle of the cafe are bamboo shoots that shoot up all the way to the 2nd floor. There's also a small rain fixture here that's constantly letting down rain droplets, which add to the atmosphere of the cafe. The seats surround the bamboo tree, allowing every customer to have a view of it.
There's also a corner in the cafe where you can take off your shoes and sit (or even lie) down with comfortable cushions. It almost looks like a mini movie theatre!
If you can't find seats on the first floor, fret not. The 2nd floor is filled with plenty of seats. There's even an area where you sit on the floor with water flowing right next to you!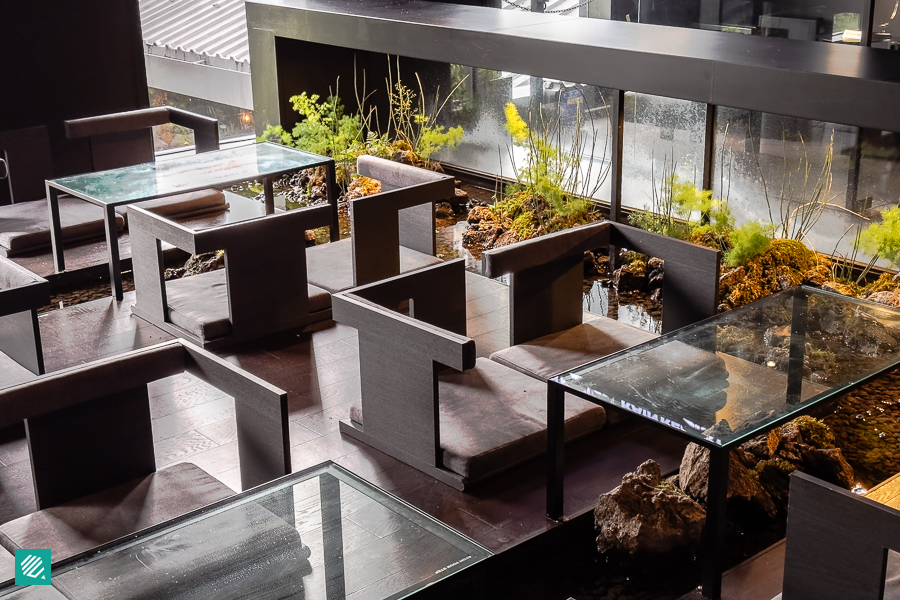 Usually, outside the cafe, you'll find water features to make it feel as though it's raining. However, when we visited, it was actually raining, which might explain why we didn't experience or see the water features operating.
Rain Report Menu
The beverage menu at Rain Report Croissant is split into Drip, Espresso-based Drinks and Non-Coffee drinks. For drip, the options are aptly named, Sunshine (8,800won), Wind (7,800won), Cloud (6,800won), Raindrop (7,300won) and Storm (7,300won). Each one has its unique taste profile – for example, Wind is sweet and aromatic while Storm is on the dark and heavier side.
As for their Espresso-based drinks, pick from signatures like the Sesame Cloud (7,800won), Pepper Cloud (7,800won), Espresso Romano (7,200won) and classics like Latte (6,800won) and White Vanilla Latte (6,300won).
For non-coffee drinkers, they have a range of juices, ades and teas.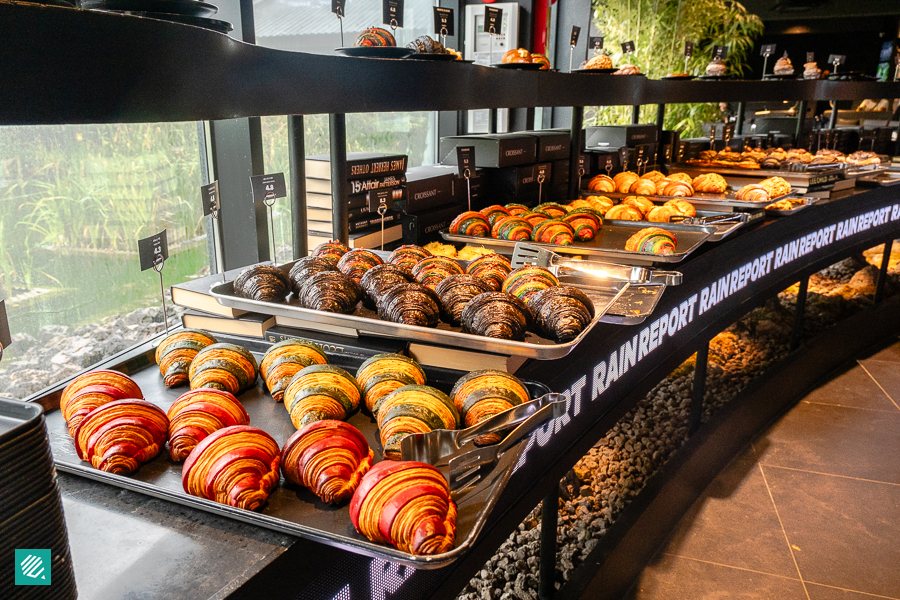 As for their bakes, you'll find them all on display, with more than 20 items to choose from. Just croissants alone, you already have 12 different flavours such as the Rainbow Milk (5,300won) with an intense milk cream, the Dark Cloud Croissant (4,800won) which is glazed with truffle oil, and a Storm Smoke Croissant (4,800won) that brings together a harmonious blend of black and pink pepper.
This is followed by cruffins, with flavours such as Lemon Yoghurt (6,800won), Green Tea Chocolate (6,800won) and more. It doesn't stop there. There are also Kouign Amanns, from the original (4,800won) to Pistachio (5,800won), Caramel Almond (4,800won), Sweet Potato (4,800won), Garlic (5,300won) and more!
For drinks, we tried the Sesame Cloud (7,800won), which was a black coffee topped with a decadent sesame cream. If you're a fan of black sesame, this drink is the one to go for. There was also the Chocolatte (7,800won) which usually comes with an espresso shot. However, we opted for a non-coffee version, and the cafe was happy to do it!
While the cream on top of the drink had an intense chocolatey flavour to it, once it was mixed into the drink, it felt more balanced overall.
The Cloudy Day Ade (7,800won) shocked us with its presentation, served in a tall glass with a sprig of rosemary and lemon slice. The Ade was also topped with a black lemonade gelato, which made it even more refreshing.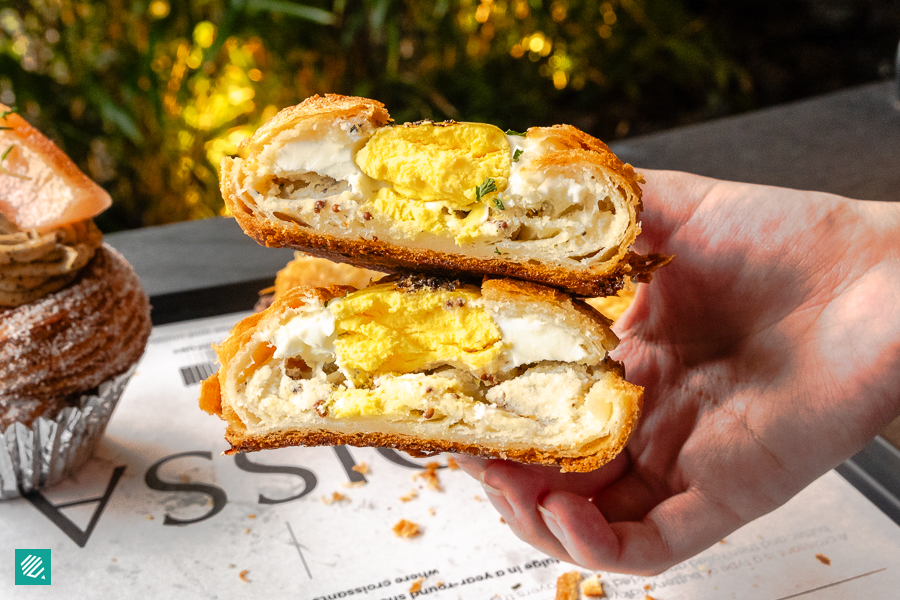 To go with our drinks, we indulged in the savoury Egg Potato Croissant (5,800won) which had a whole baked egg in the centre. We did hope for a more flowy egg yolk centre, which could've elevated the pastry experience.
Rain Report also has a corner with toasters for you to warm your bakes. All the instructions are provided, down to the duration for each bake, so don't worry about burning them!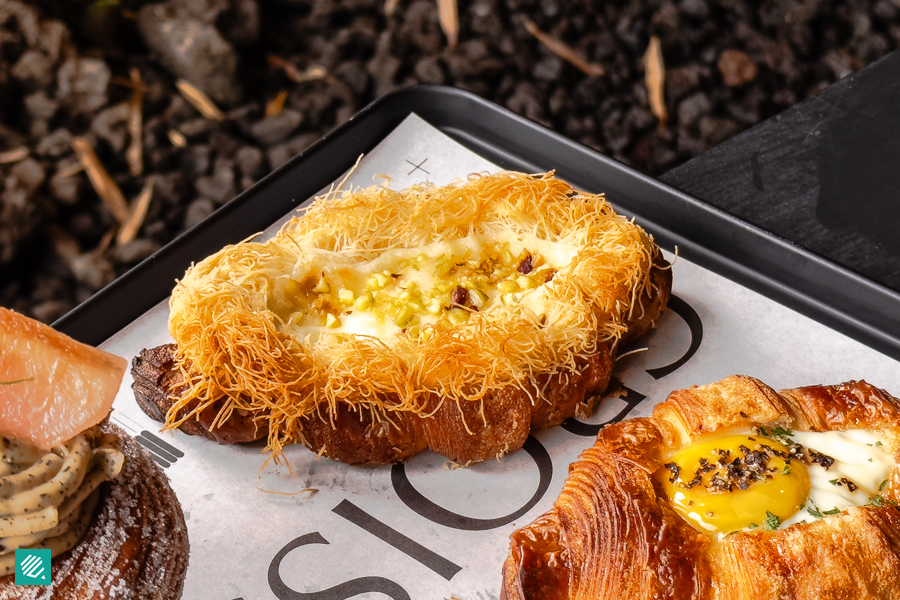 For sweets, we tried the White Cloud (5,300won) which is a Kaymak-inspired croissant topped with crispy Kadaif noodles and pistachio bits. The different components here contributed to the textures of the croissant. It was also not too sweet, which we appreciated.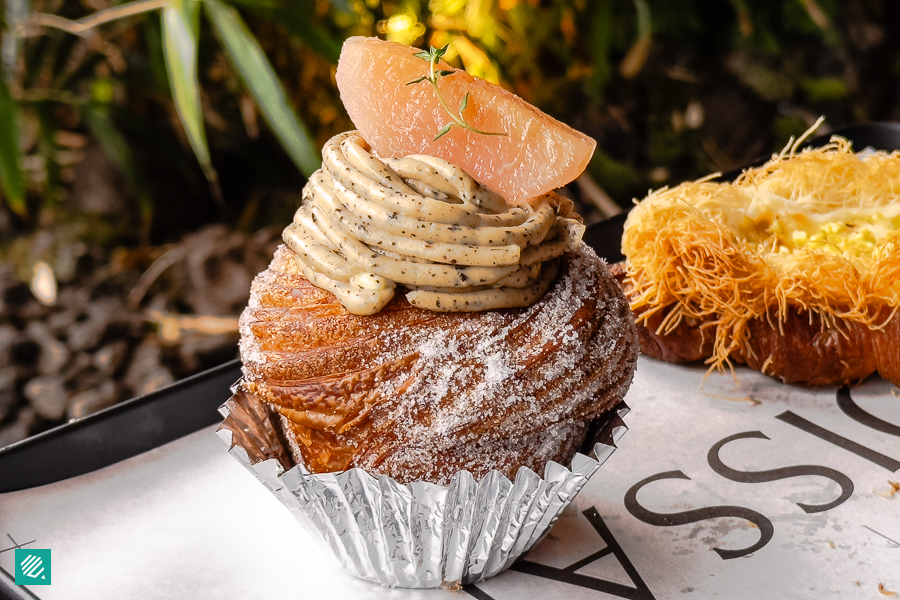 Other than croissants, we also tried the Earl Grey Peach Cruffin (6,800won) which featured a heavier Earl Grey fragrance. It would have been better if the peach flavour was slightly more prominent.
Rain Report Croissant Seongsu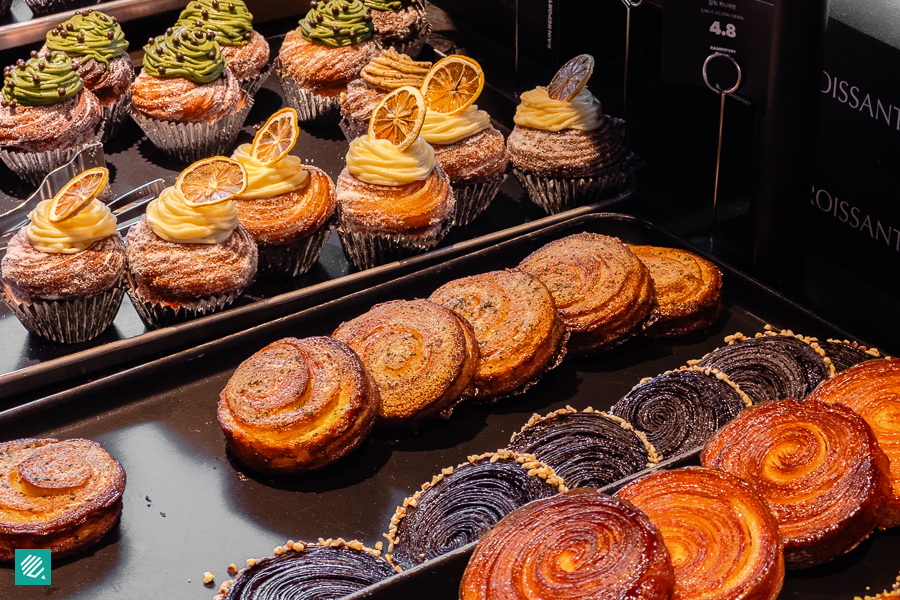 If given a chance to visit Rain Report Croissant again, we might have gone with a different selection of bakes, such as their Garlic Kouign Amann and Pepper Croissant. However, based on the atmosphere and the aesthetic space of Rain Report, we would gladly make our way here for a short break when exploring the neighbourhood of Seongsu.
Rain Report Croissant (레인리포트 크루아상)
서울 성동구 성수이로16길 32 주3 1,2F
1st & 2nd Floor, 3 Seongsui-ro 16-gil 32-ju, Seongdong-gu, Seoul
Mon-Sun, 11am-10pm, Last Order 9pm
Nearest Subway: Seongsu Station (Line 2), Exit 3
*This was an independent review by MiddleClass
*Follow MiddleClass.sg on Facebook, Instagram, TikTok, and Telegram for more food, travel, and trending stories