Le Matin Patisserie is probably not an unfamiliar name to many, with the brand offering pastry boxes for delivery during the peak of the pandemic. After some time, we saw the brand opening in Paragon and Robinsons (both now closed), which made their bakes slightly more accessible as compared to the Raeburn Park outlet.
Fast forward to 2023, Le Matin Patisserie has rebranded and opened an outlet at ION Orchard, the only place where you can walk in and take away their famed pastries.
Le Matin Patisserie ION Orchard
Featuring a brand-new logo that screams elegance and chicness, the new Le Matin Patisserie at ION Orchard features an elegant interior that's simple yet modern. With lots of neutral colours, wooden chairs, and marbled tabletops, the 37-seater will most likely attract crowds.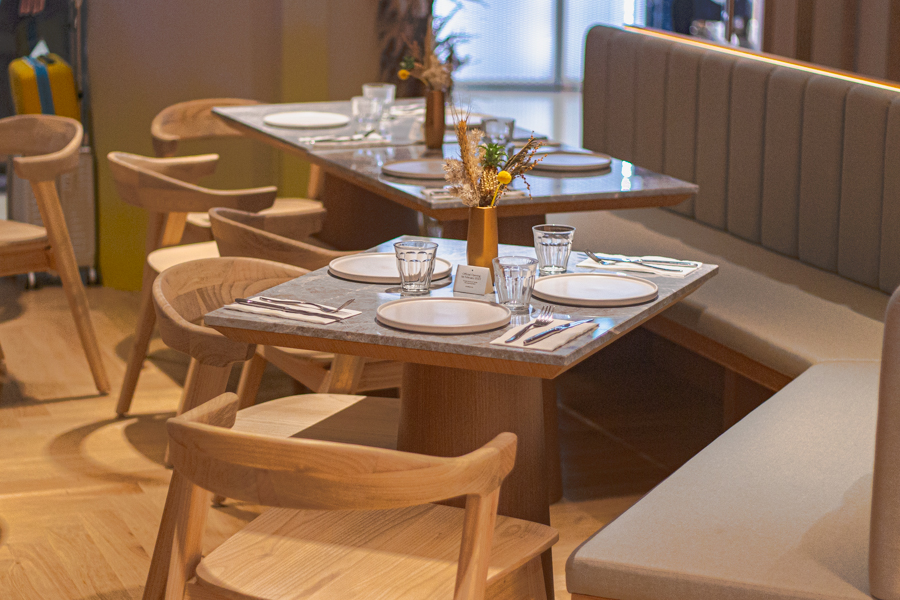 After all, Chef Matin has quite a resume to back his delicious creations, having worked alongside world-renowned chefs from establishments like Restaurant Andre, Adriano Zumbo Patisserie, and Black Star Pastry. He was also the Pastry Sous Chef of Noma, also known as the world's best restaurant.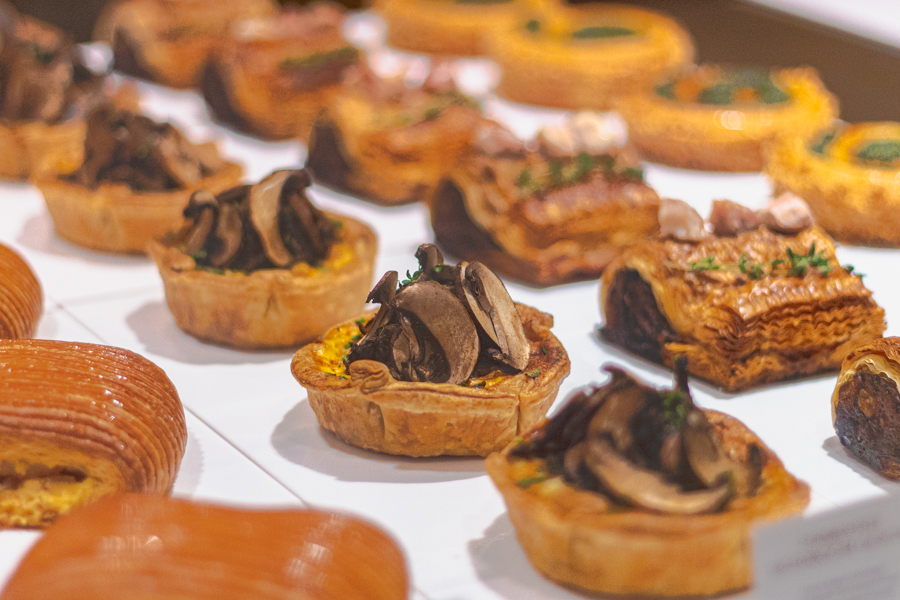 The new ION Orchard outlet will not only serve pastries, but it will feature a wider menu with brunch, dinner, and plated desserts.
Le Matin ION Orchard Menu
The menu is split into 4 main portions.
First, we have the Pastries, Tarts, and Cakes. Here's where you'll find the usual classic Le Matin Pastries such as the Kouign Amann ($7.5), Almond Croissant ($7.5), and newer additions like the Mango & Macadamia Pain Suisse ($9).
Next, there's the Brunch Menu, available on Wednesdays to Sundays from 11am-3pm. Their menu has expanded to include entrees, mains and even desserts! You can enjoy items like Chicken Liver Pate ($16.90), Ox Tongue Bone Marrow Lasagne ($33.90) and Crème Caramel Pain Perdu($16.90). Classics like the popular Black Truffle Scrambled Eggs Croissant ($34) are also still available.
There's also the Dinner menu, currently subject to store availability from 6pm to 10pm, which will feature items like the Steak Tartare ($28), Tarte Tain de Topinambour ($28), and Vivaneau Rogue Poele ($32).
Lastly, there will also be plated desserts, available from 6pm to 10pm with items like the Pain Perdu ($18) which is a jazzed-up French Toast with date and lacto-fermented plum jam, walnut praline, and a topping of brown butter ice cream.
Cakes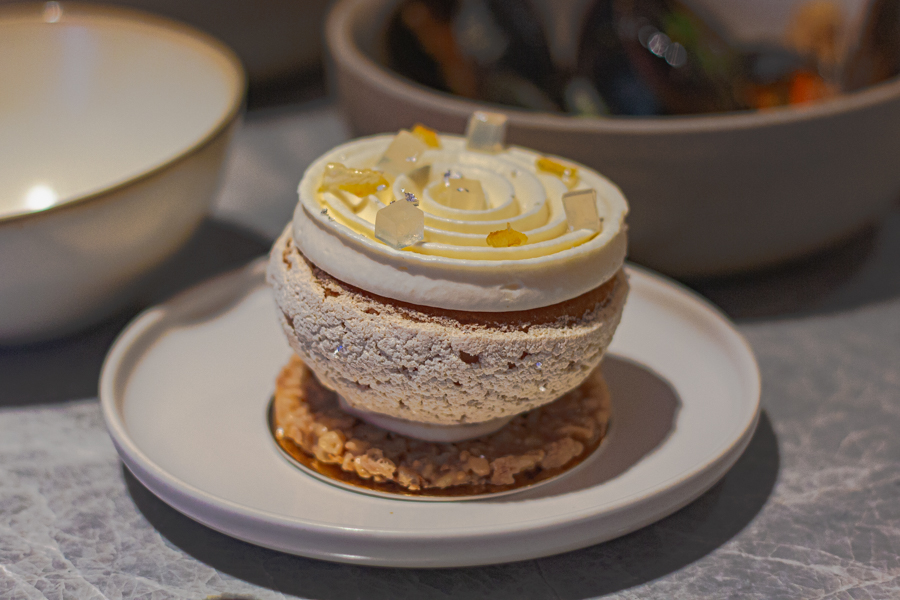 One of the new items over at Le Matin Patisserie is the Sake Lees Choux Bun ($14), which had a Sake Lees mousse and a macadamia praline center. The choux bun is placed on top of a macadamia yuzu crunch base, which added a beautiful contrast of textures. It is finished with some Sake Lees jelly, yuzu, and a dusting of silver flakes.
Brunch
Brunch features a French bistro-inspired menu, with items reflecting Chef Matin's expertise combined with food he enjoys, The Black Truffle Scrambled Eggs Croissant ($34) is presented like a burger, with croissants for buns, stacked with black truffle aioli, truffle paste and buttery scrambled eggs. On top is 8g worth of sliced black truffles for the ultimate indulgence.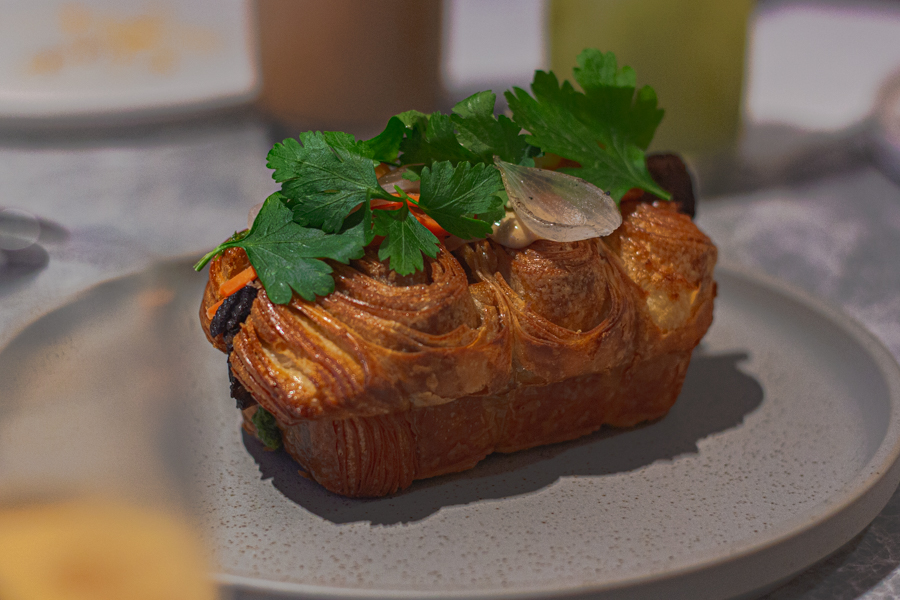 One of our favourite items was the returning Smoked Beef Bahn Mi ($18) which sees a 48-hour braised and smoked wagyu beef cheeks sandwiched in between a laminated brioche feuilletee with pickled carrots and daikon, black garlic, and parsley. The beef was melt-in-your-mouth, while the pickled vegetables added a nice crunch and refreshing touch to the overall dish.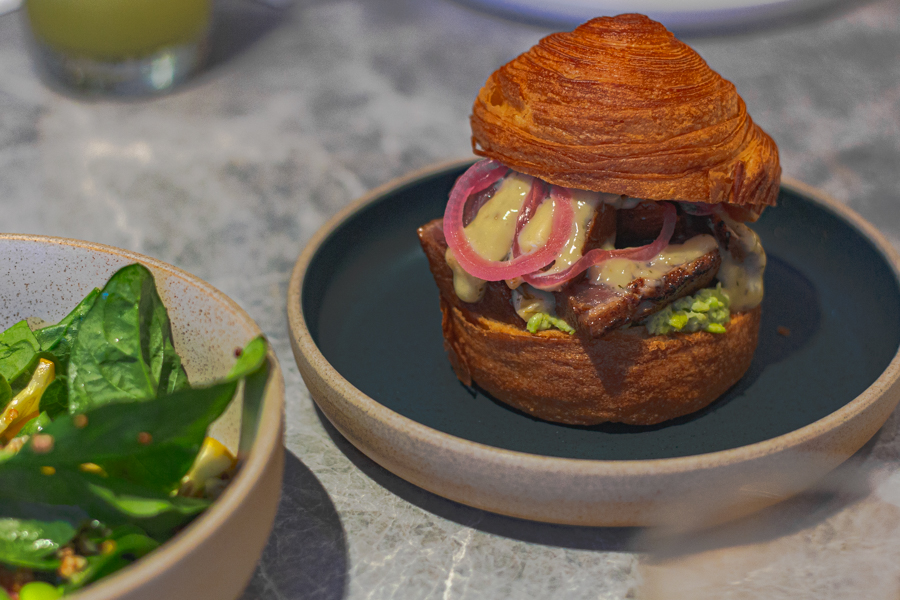 The new Chutoro Brioche Feuilletee ($38) also impressed us with a delicious tamari-cured Chutoro paired with sea urchin butter, edamame mash, wasabi yuzu mayo, and pickled red onions. An umami treat that will delight anyone.
Packed with a ton of treasure from the sea, the Seafood Pot Pie ($24) is a combination of Snapper, Salmon Belly, Tiger Prawns, Green Mussels, Clams, Scallops, Mashed Potatoes, Garlic Rosti and Trout Roe.
All of the brunch menu items come with a side salad.
Entrees & Sides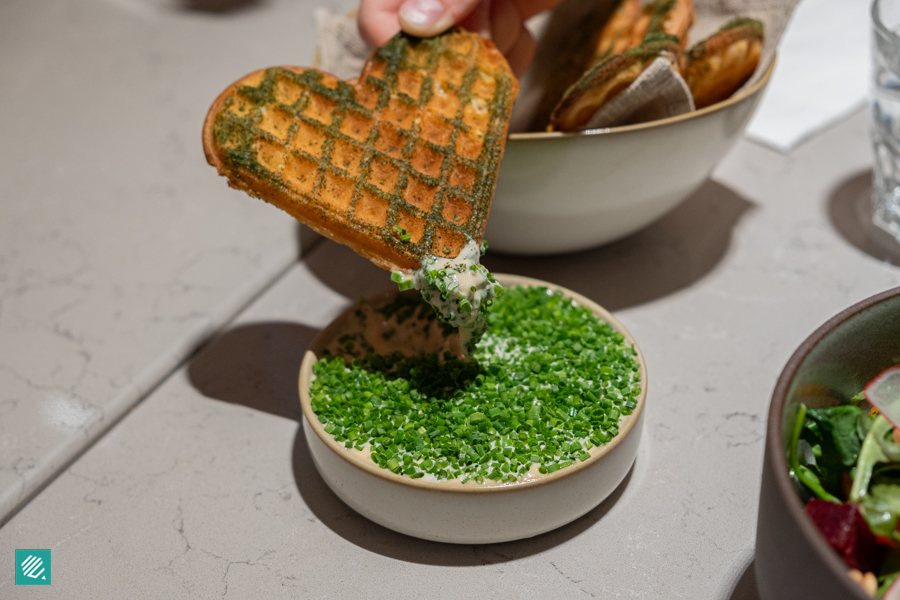 A new addition to the brunch menu is the entrees. We tried the Crab Waffles ($20.90), featuring cute heart-shaped seafood butter waffles and a smoked taramasalata dip. The warm, crisp waffle was the perfect vessel for the creamy seafood dip.
Another highlight was the Brown Butter Artichoke Wedges ($16). Served with a lemon thyme aioli, each morsel was crunchy and well-seasoned making them super addictive!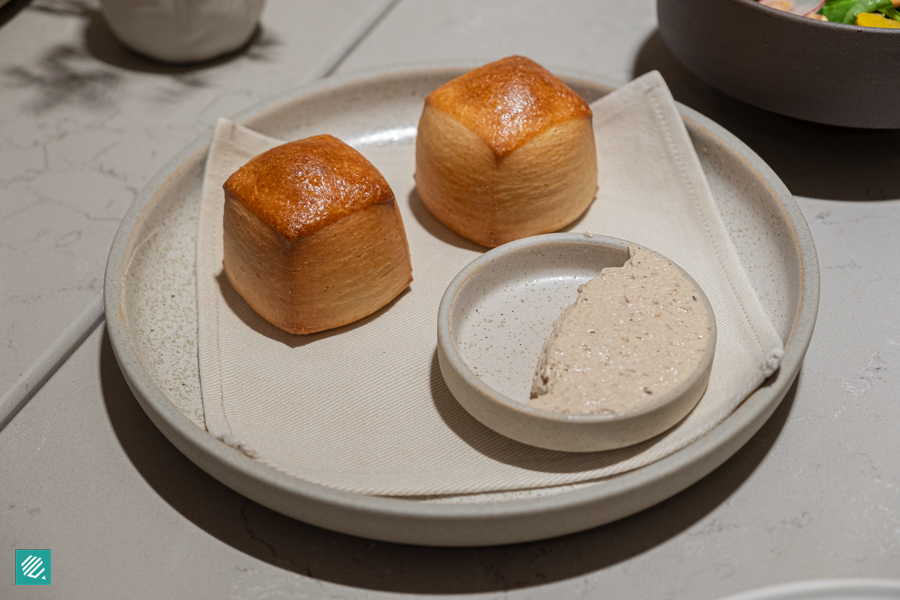 An unassuming item was the Bread & Butter ($9). The two wholewheat milk breads were pillowy and soft with an enjoyable grain fragrance. But the star of the show is the fermented porcini butter – it was delicious, with a savoury umami from the mushrooms. It was chef's kiss when paired with the warm bread!
Mains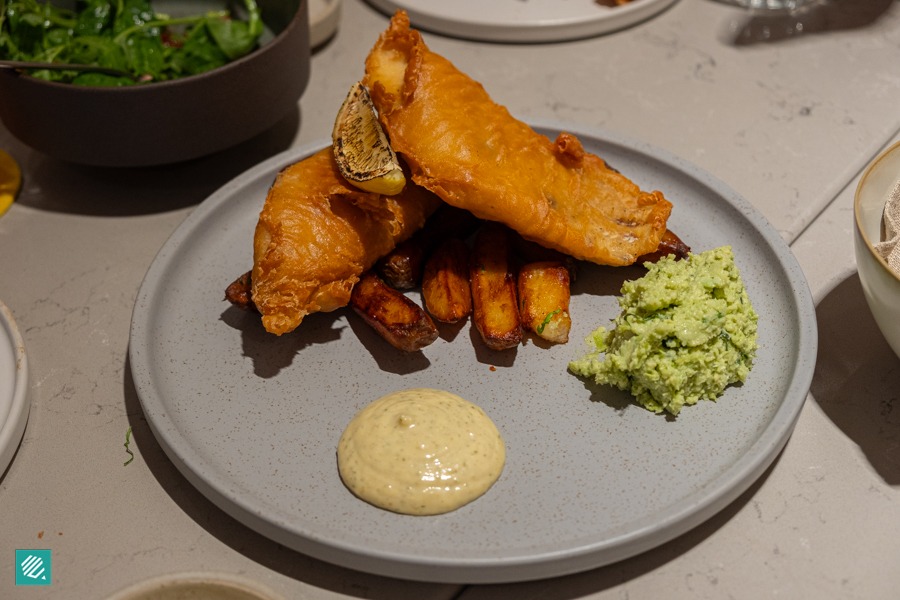 For mains, we started with the Fish & Chips ($35.90). It came with battered haddock fillets, triple-cooked fries, and a side of edamame mash. We enjoyed the texture of the fish, which was meaty and juicy. The star of the dish was the fries – they were crisp, fluffy, and buttery all at the same time!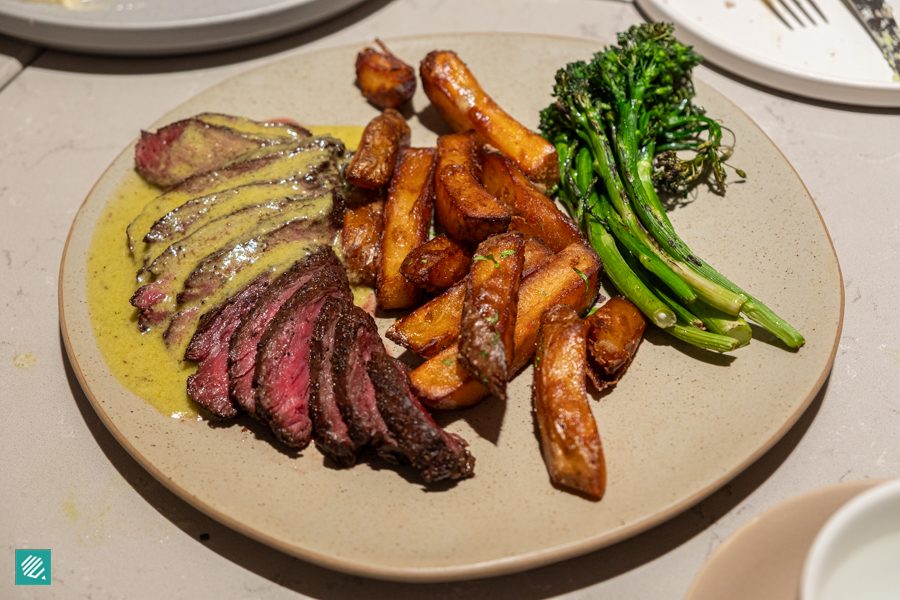 For something meatier, there's the Steak Frites ($42.90) with the same fries and Cafe de Paris sauce. This was one of our favourites! The steak was cooked to a tender medium rare, complemented perfectly by the herby sauce and hearty fries.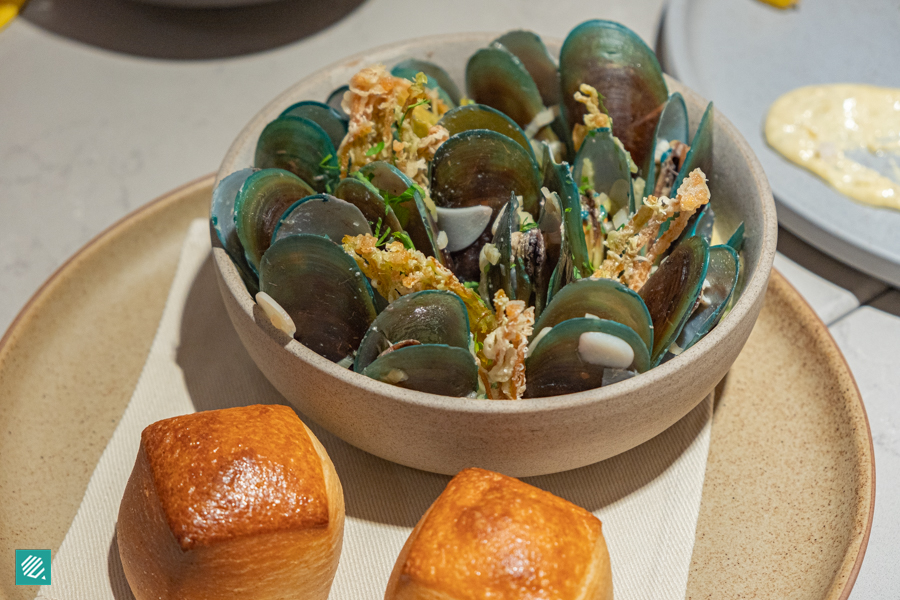 The Moule Marinière ($35.90) featured green mussels in a clam broth and parsley oil. They provide two buns for dipping, which we highly recommend doing – the broth was packed with umami and the sweetness of seafood! The mussels were meaty but we had a hard time eating them as they were not fully open.
Dessert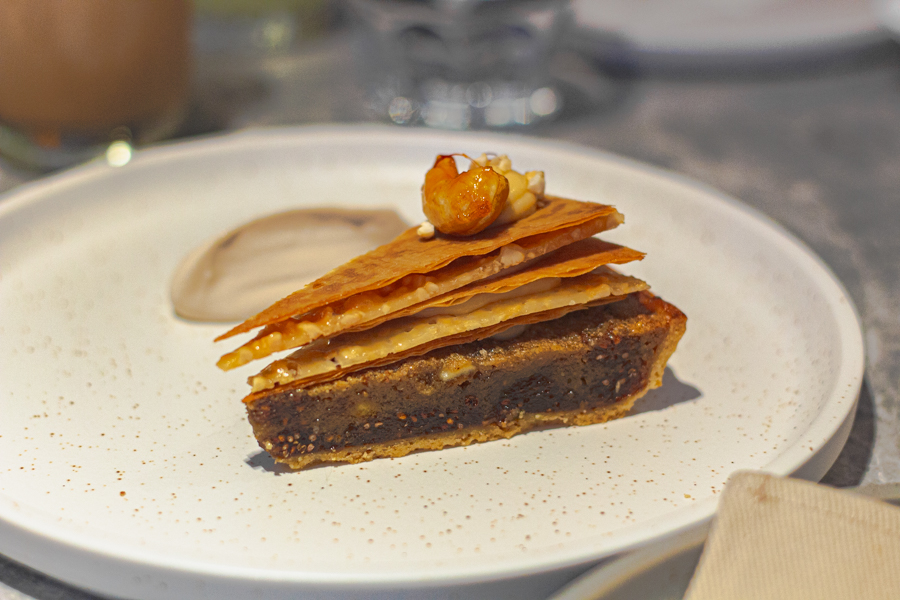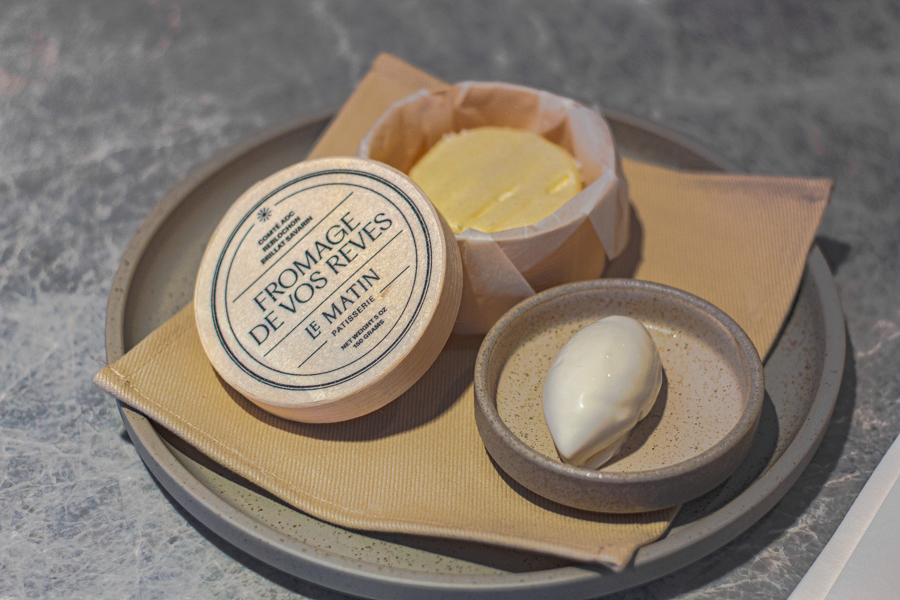 For Dessert, we had the Tarte Aux Moix de Cajou ($20) which is essentially a Cashew Tart topped with cashew nougatine and filo pastry served with a side of Pedro Ximenez cream. Cheese lovers will enjoy the Fromage de vos Reves ($21) which features 3 types of cheese: a Brillate savarin mousse, reblochon creameux and comte sponge topped with a milk crumble and served with crème fraiche ice cream.
There's also the Mangosteen & Lychee Granita ($14.90) topped with a lemongrass-infused foam. The combination of the fragrant lychee and mangosteen was the perfect palette cleanser after the meal!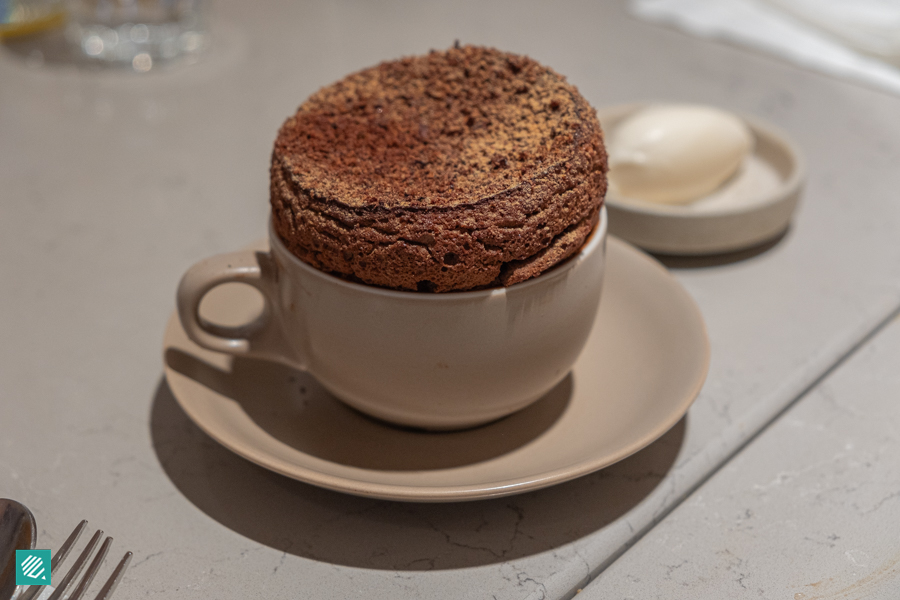 The Soufflé Au Chocolat ($18.90) is a decadent chocolate souffle, paired with reduced milk ice cream. It's worth the 20 minute wait with a rich, oozy center.
New Cafe At ION Orchard
The new outlet is also welcomed with an exclusive collaboration with Nylon Coffee Roasters, with a special blend created exclusively for Le Matin Patisserie. Known as le Soleil, the blend is made from 2 single origin coffee beans – El Huerta from Nicaragua and El Puente from Honduras.
Le Matin Patisserie will officially open on 1 February 2023.
Le Matin Patisserie
ION Orchard #B2-49, 2 Orchard Turn, Singapore 238801
Mon-Sun, 10am-10pm
*This article is based on a media-tasting event, but all opinions expressed about the food are entirely our own.
*Follow MiddleClass.sg on Facebook, Instagram, TikTok, and Telegram for more food, travel, and trending stories