Le Matin Patisserie was a huge hit during the circuit breaker with their bake boxes (they still are). But did you know? You can get their bakes at their test kitchen over at Outram Park as well!
Bakery by Famous Pastry Chef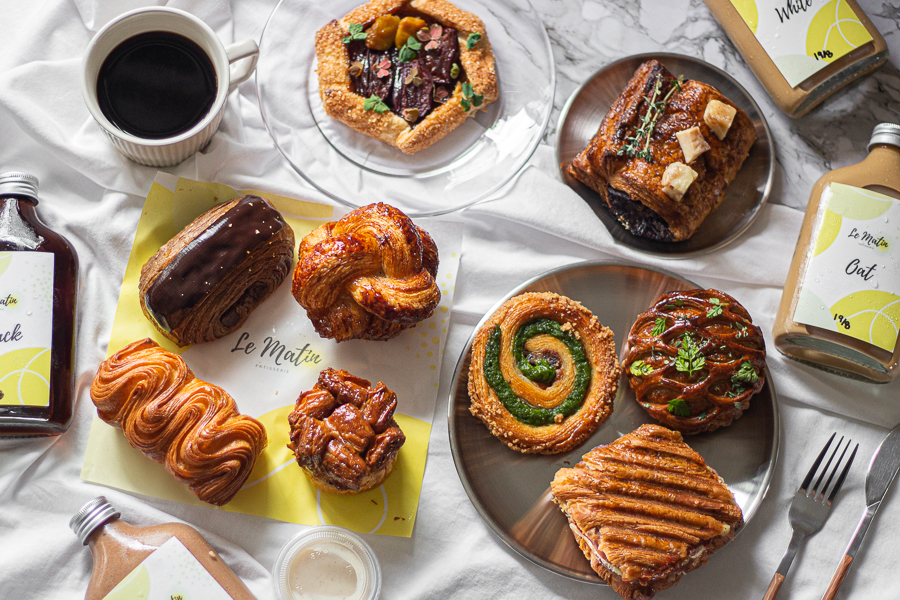 Le Matin Patisserie is headed by Chef Matin, who used to work at the likes of Restaurant Andre and Noma, one of the world's best restaurants.
Currently, they are still selling their bake boxes online, where you can get either a box of their basic bakes or savoury bakes. You can also visit them physically at their kitchen over at Outram Park for some coffee or ala carte bakes.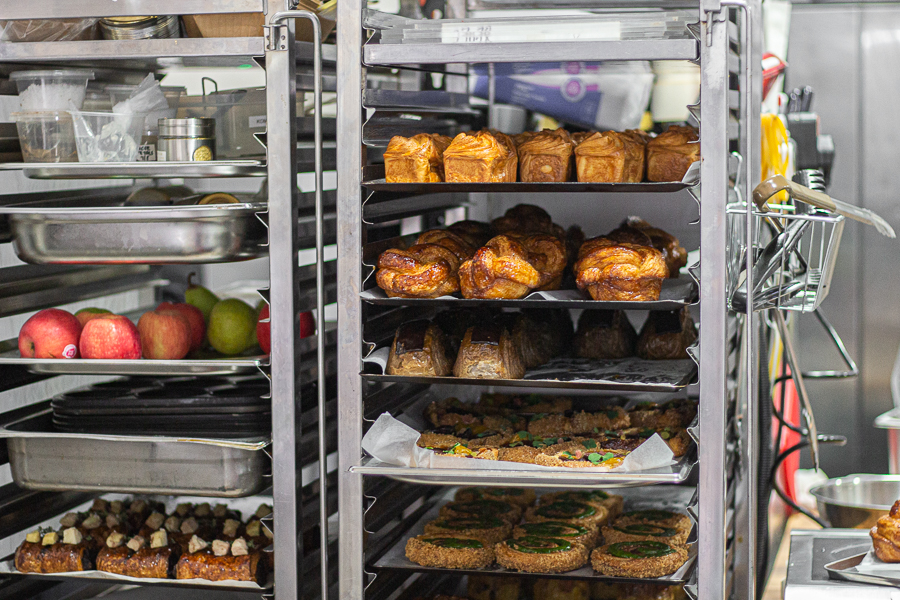 The lineup of bakes does change from time to time, such as the Pistachio Escargot, Almond Croissants being available on weekends only.
There are a limited number of seats available at the test kitchen, where you can sit down and enjoy a bake or two.
Le Matin Basics (Magnifique Matin)
This box of pastries ($34) came with a Kouign Amann, Pain Au Chocolate, Lacto-fermented Plum Galette, Brioche Feuilette and Bread & Butter Pudding.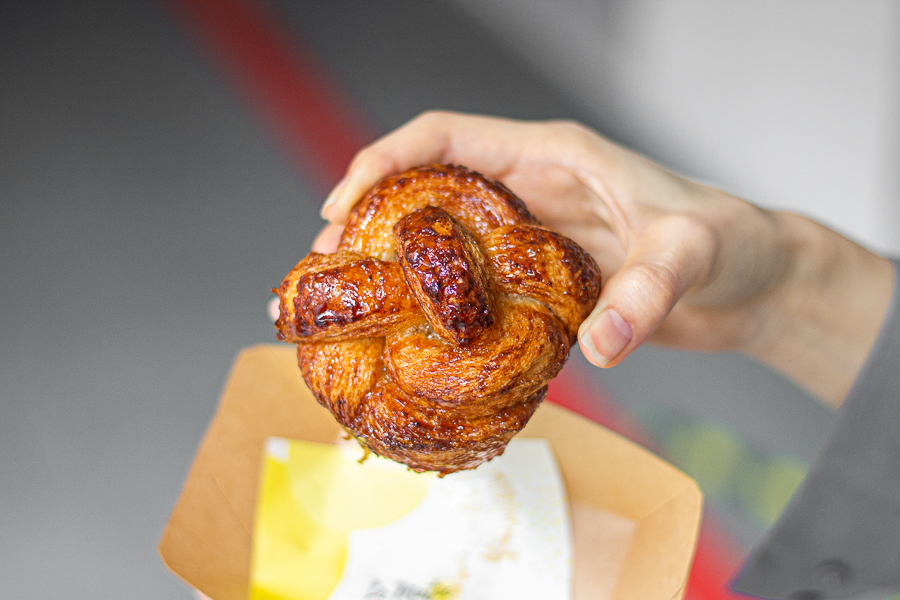 The Kouign Amann is Chef Matin's signature bake and one of the bakery's best sellers. The flaky pastry was crispy on the outside and had a beautiful, caramelized finish. On the inside, if was soft, fluffy with a nice chewy texture. The butter fragrance draws you in and is one of the better kouign amanns we had in Singapore thus far.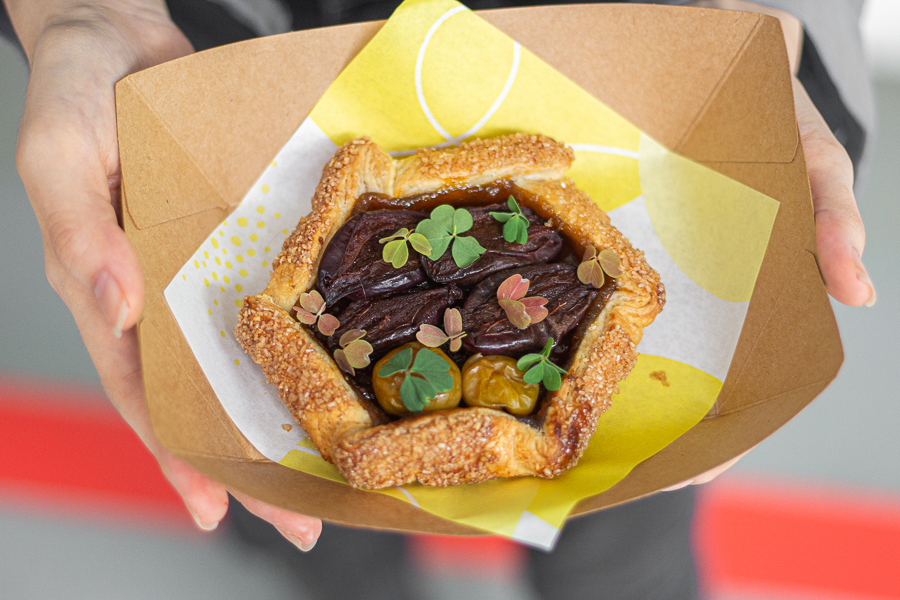 For something tangy and tart, the Mixed Plum Galette is a great choice. Unlike the Kouign Amann, the galette had a shortcrust pastry that crumbles when you bite into it. The base has a layer of plum jam with hints of vanilla and licorice root.
The oxalis leaves you see on top of the galette? They are locally sourced, and you can spot them growing near the entrance of Le Matin Patisserie when you visit!
Imagine a brioche combined with a croissant, and you'll have the Brioche Feuilletee. This particular brioche has the flaky textures of a croissant, resulting in a delicious buttery burst of flavours.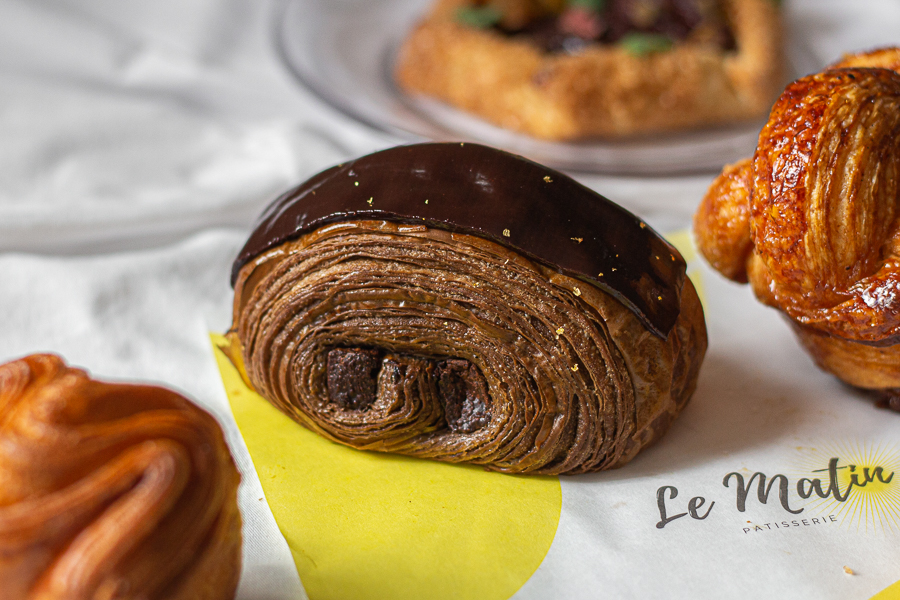 We absolutely loved the Pain Au Chocolat, which is a chocolate croissant dough stuffed with luscious Valrhona dark chocolate. The chocolate flavour was deep, rich, and intense.
Lastly, the Bread & Butter Pudding is essentially pieces of croissant soaked with vanilla cardamom milk, baked and glazed with apricot and bergamot. It comes with a side of Amazake (Fermented Rice) Anglaise.
Le Matin Patisserie Savoury Box
The savoury items are pretty new to Le Matin Patisserie, but already gaining lots of attention.
It comes with four items ($58), a Lamb & Red Wine Pie, Wagyu & Bone Marrow Sausage Roll, Beef Tongue & Cheese Croissant Panini, and an Escargot Escargot.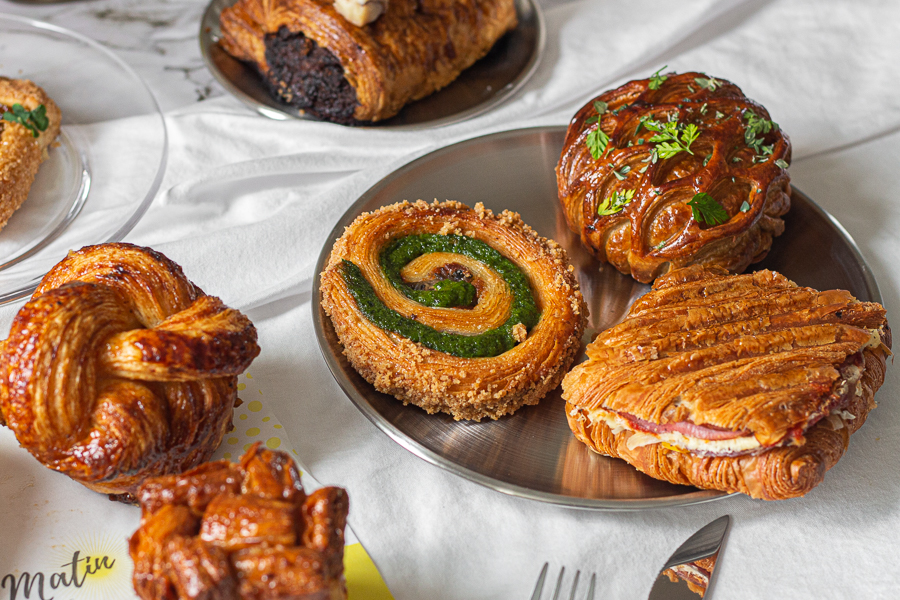 One of the more unique items in the savoury box would have to be the Escargot Escargot, which is a traditional croissant pastry shaped like a snail and stuffed with juicy escargots from France.
It had subtle garlic and mushroom fragrance, probably from the mushroom ricotta custard and garlic crumb. We loved the garlic crumbs surrounding the exterior of the pastry which gave it an extra crunch.
We recommend having the Beef Tongue & Cheese Croissant Panini in-store, where the folks over at Le Matin Patisserie will toast it for you, providing you with the best experience. It's a croissant layered with Beef Tongue, Wagyu Bresaola, and a mix of 4 types of different cheeses. To break through the greasiness, pickled rose petals, butternut and horseradish are also added.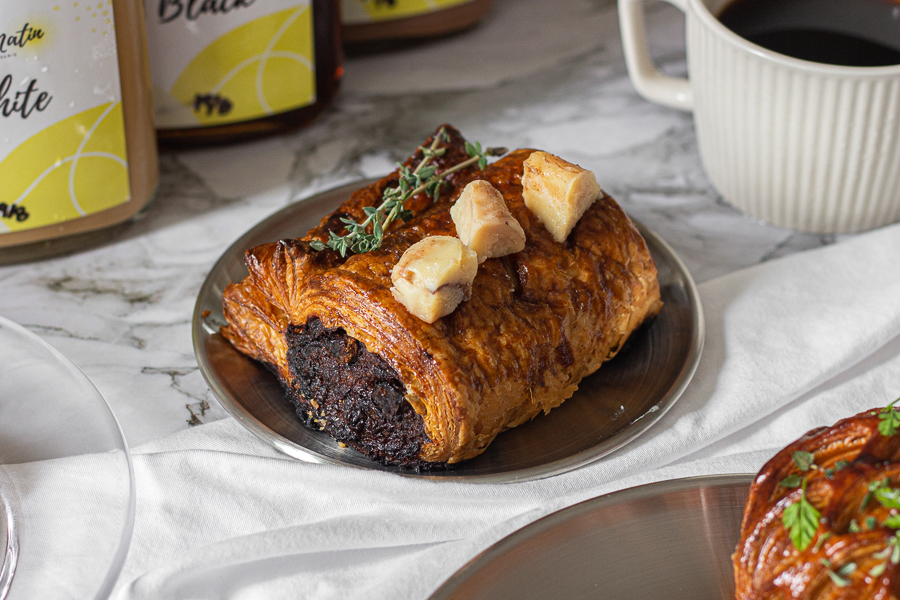 The highlight for us was the Wagyu & Bone Marrow Sausage Roll, which was flaky, buttery and bursting with umami flavours. It's stuffed with wagyu beef mince, walnuts and celeriac which gave it a nice crunch. The pastry is then glazed with black garlic and garnished with a thyme stem and pieces of bone marrow. When toasted, the bone marrow sort of melts and gives the pastry a fatty and rich taste.
Lastly, the Lamb & Red Wine Pie is a pastry packed with a braised lamb stew that's cooked for over 8 hours. It's finished with a glaze made from lamb jus and garnished with fresh thyme, chervil, and rosemary salt.
Coffee and Beverages at Le Matin Patisserie
For our Iced White ($5) we had over at the test kitchen, it was well-balanced and not too acidic. They used Ethiopian beans for the coffee.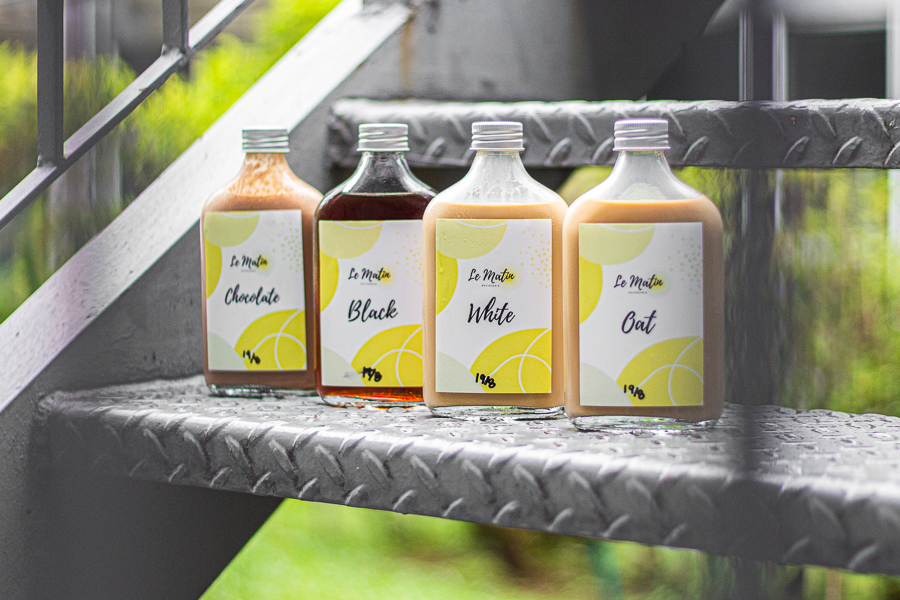 Le Matin also has a range of bottled brews – White, Black, Oat Milk Coffee and Chocolate that you can order together with your bake boxes or physically at the test kitchen.
One of the Best Pastries in Singapore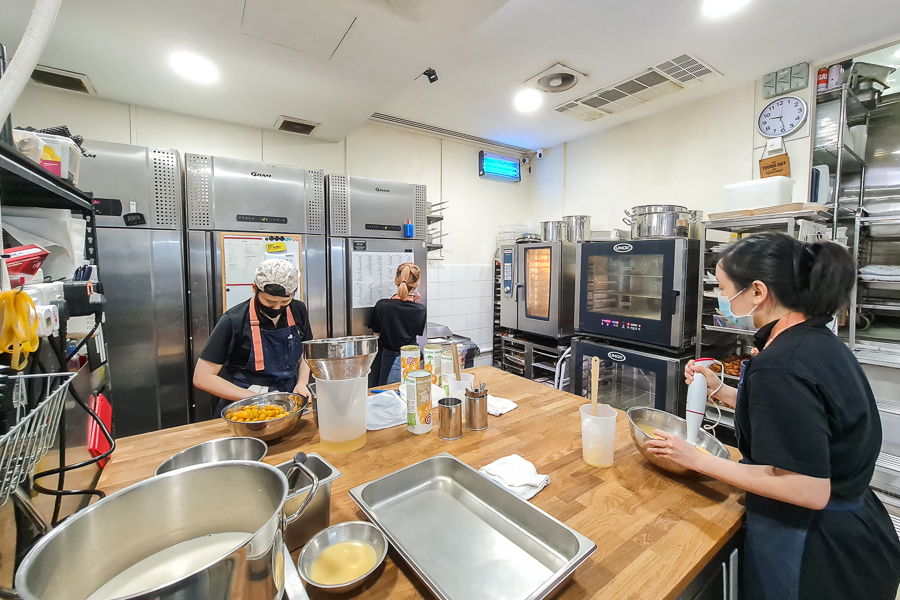 While the price tag might look intimidating to some, the stellar pastries proved to be worth every cent. Some of the unique creations by Le Matin Patisserie cannot be found in Singapore and is probably one of the reasons why the place continues to see huge crowds. Despite its location, the trip down was definitely worth it.
Le Matin Patisserie
Blk B, 10 Raeburn Park, #01-25, Singapore 088702
Wed-Sun, 8am-5pm
*Follow MiddleClass.sg on Facebook, Instagram, and Telegram for more food, travel, and trending stories!