You've probably seen those iconic red tents in Korean dramas where the lead actor orders a bottle of soju and drinks his sorrow away. Well, now you can reenact that very scene over at Pocha in a Forest!
Pojang Macha Vibes in Singapore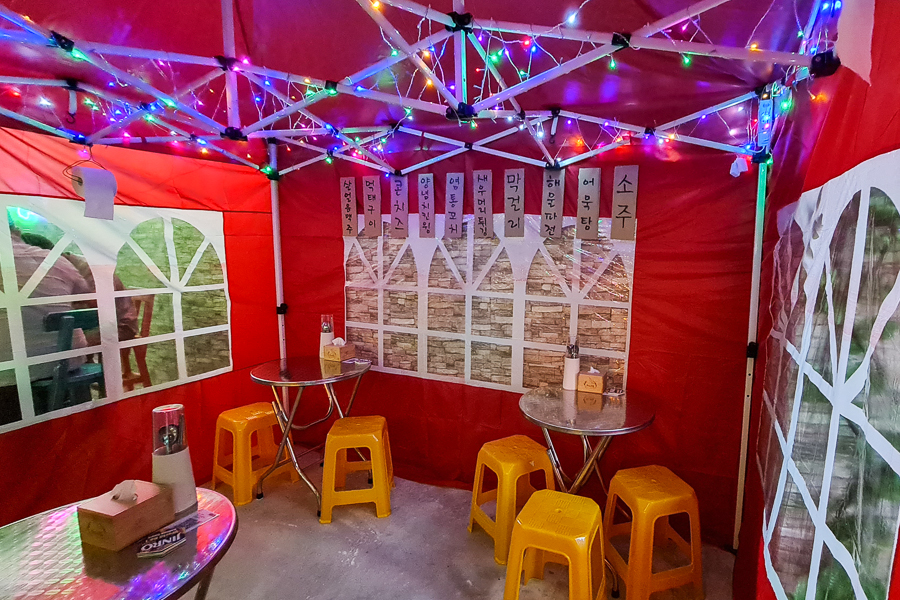 Pojangmacha (포장마차) are stalls that can be usually found along the streets, selling food in a small tent and are really popular in South Korea.
Opened by a Singaporean Korean couple, Pocha in a Forest is a new spot along Prinsep street with neighbours like PlusEightTwo and 90 Minutes Tteokbokki Buffet.
Lots of Korean options along that street now.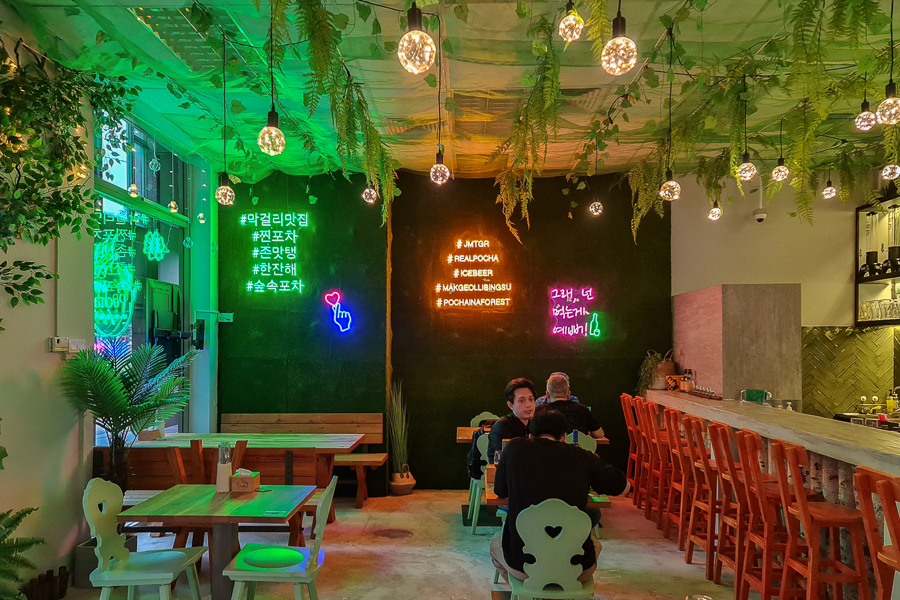 The place is decorated with lots of neon lights, giving off youthful, hip vibes. One of the highlights is the red tent that gives off pojangmacha vibes.
Make sure to sit under the tent for the best experience!
Pocha In A Forest Menu
The Korean pub has a lunch menu as well as a dinner menu. For lunch, you can expect items like Kimbap ($7 to $11), Kimchi Fried Rice ($15) and Grilled Meats ($18 to $24). For dinner, they have Kimchi Pizza ($18), Kimchi Stew with Tuna or Pork ($16) and more.
They also have bar bites such as Chicken Heart Skewers ($12), Fried Prawn Heads ($12) and Corn Cheese ($10).
Spring Onion Pancake
We got a Spring Onion Pancake ($14) from the Bar Bites menu to try. It's had crispy edges and a slightly chewy centre. While we ordered the spring onion pancake, it was made using chives. There might have been some confusion in the kitchen or could have been due to opening jitters.
Spicy Sauce Chicken Wing (6pcs)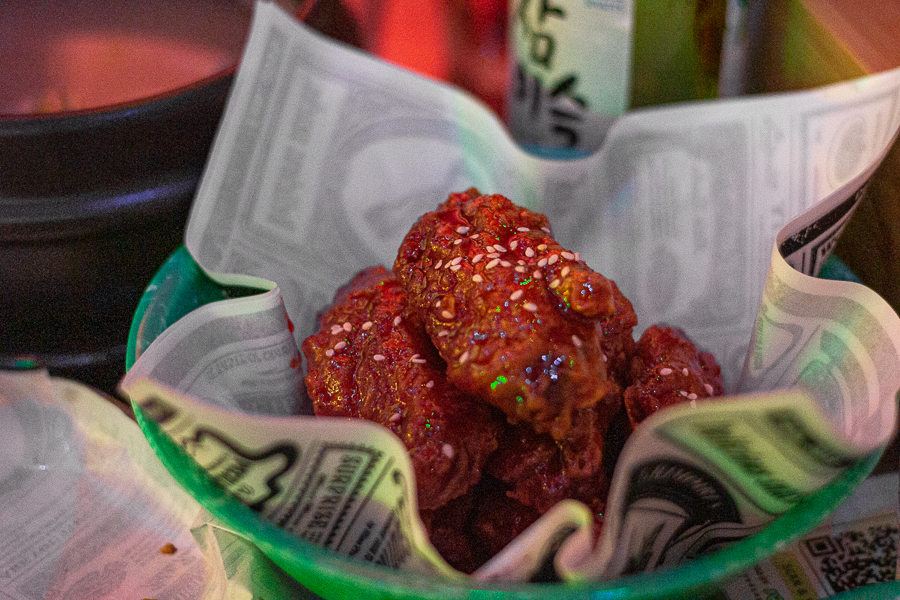 The Yangnyeom Chicken Wing ($18) managed to retain its crispiness even after being tossed in the sweet and spicy sauce.
It had a pretty familiar scent which we couldn't figure out, but it was a decent bar bite.
Fish Cake Soup
The Fish Cake Soup ($15) was different from the ones served in other Korean restaurants, which usually serve their fish cakes in skewers. The one here at Pocha In A Forest contained different types of sliced Korean fish cakes in the soup.
The soup had a nice spiciness to it, with the chilli padi taste being quite prominent. We did wish they used the Korean green peppers in the soup instead for a more authentic taste.
Fish cake texture-wise, it was too mushy for our liking, and we gave our feedback to the owners hoping it will improve the next time we visit.
Dried Pollack
The Dried Pollack ($12) is a classic bar bite in Korea and was even featured in the Korean drama, Crash Landing on You.
We would say that the texture is something along the lines of cotton candy that doesn't melt. It's airy, crispy and has a really savoury taste. It tastes best when dipped in their mayo soy sauce.
Highly recommend pairing this with beer!
Pocha In A Forest Drinks Menu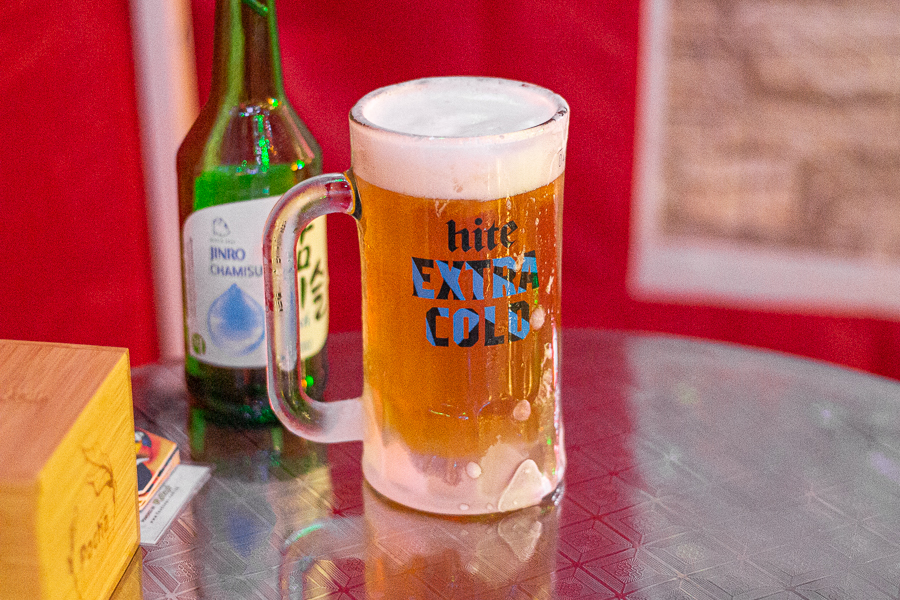 The signature here is probably their Ice Beer or 살얼음맥주 in Korean. It's served in a beer jug ($15/pint) that's kept in a freezer. Because of the low temperatures, the foam of our beer turned into ice for a split second.
It's perfect for Singapore's weather and goes well with a lot of their bar bites.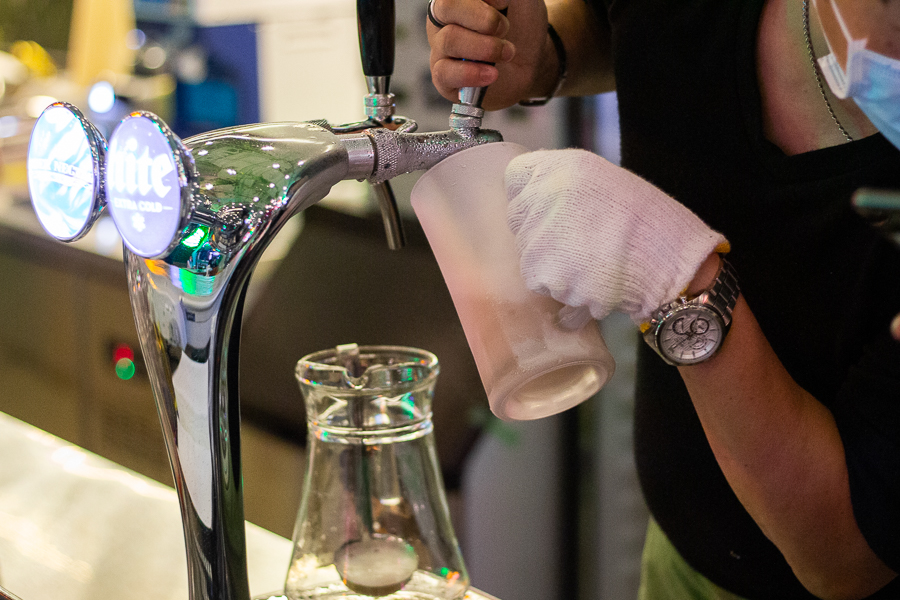 Other drinks include Makgeolli, where they have a Makgeolli Sampler Set ($36) with flavours like blueberry, strawberry, kiwi, yuzu, red grapefruit and lychee.
You can also find the classics like Soju (Jinro or Chamisul).
Korean Pub Along Prinsep Street
Since Pocha In A Forest only opened recently, they probably still have some ironing out to do in terms of food, but service was generally good while we were there.
We do see ourselves popping by once in a while for that Ice Beer x Dried Pollack combo, especially on a hot day. The corner with the red tent is also a great photo spot to feel like you're in Korea! We loved the details in the pub, from the type of plates and bowls used, to the cute Korean neon signs.
Pocha In A Forest
36 Prinsep Street, #01-01, Singapore 188648
Tues-Sun, 12pm-10:30pm, Mon, 3pm-10:30pm
*This is an independent review by MiddleClass.sg.
*Follow MiddleClass.sg on Facebook, Instagram, and Telegram for more food, travel, and trending stories!