If you search for cafes in Seoul, Cafe Onion is probably one of the cafes on various websites telling you that it's a must-visit. With the opening of Cafe Onion Anguk, the brand has attracted visitors from all over the world, following the high of their first outlet in Seongsu. Their latest outlet, Cafe Onion Gwangjang, comes after a long pandemic, and is probably their most unique outlet yet.
A Small Cafe In The Corner Of A Traditional Market
If you've been to any of the Cafe Onion outlets, you'll know that the cafe tends to be on the elaborate and bigger end of the spectrum. The Seongsu outlet boasts an industrial theme filled with a concrete-themed interior, while the Anguk outlet is located within a traditional hanok.
Cafe Onion Gwangjang, on the other hand, is merely a small shop located on the corner of Gwangjang Market. However, the concept works. In a place filled with countless things to eat, such as Mung Bean pancakes, kalguksu, and dumplings, Cafe Onion Gwangjang feels like another store that's incorporated together with the traditional market – with its own twist of course.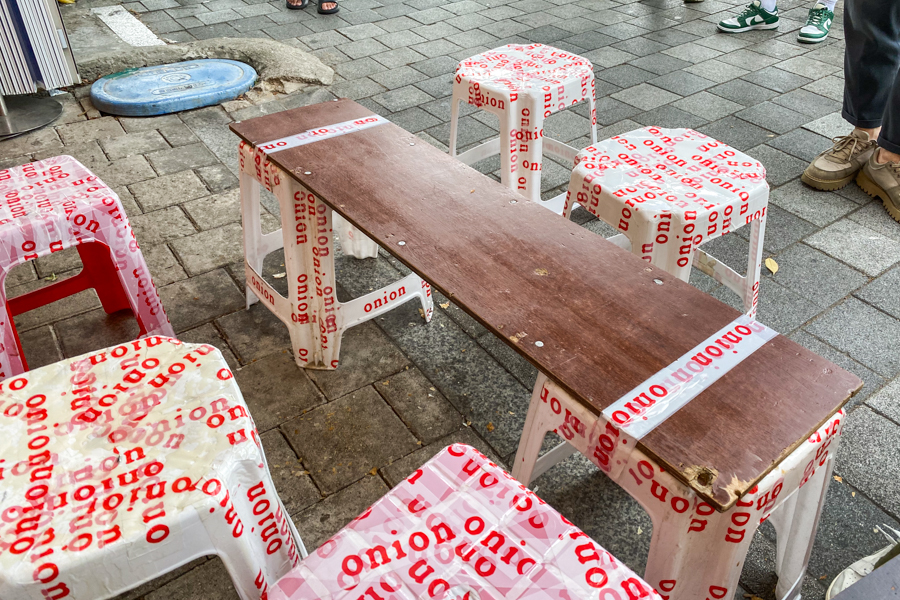 Featuring bold red & white branding, the cafe has plastic seats with a height that remind us of eateries along the streets of Vietnam. There isn't a huge seating area for you to choose from, so most people simply queue up and opt for takeaway.
However, if you're willing to wait, you'll get a unique experience of sipping coffee along the streets of Korea.
Menu at Cafe Onion Gwangjang
Unlike the wide spread of bakes available, Cafe Onion Gwangjang only has one food item on their menu, and that's the Pastry Pizza (4,000won for a slice, 29,000won for a whole pie). This was rather surprising as Cafe Onion is pretty well known for their spread of bakes – but we guess this is what makes this outlet unique.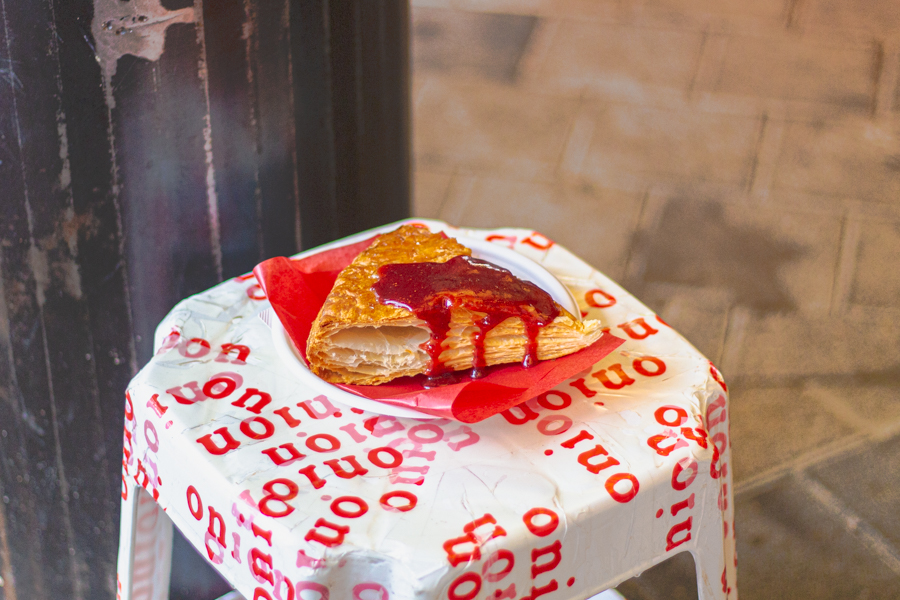 Currently, there's only a strawberry "flavour", which means you get handmade strawberry jam with the pie, for you to pour over the pastry.
As for drinks, the menu is rather simple as well, with items such as Cafe Latte (4,500won), Vanilla Latte (5,000won), and Iced Honey Green Tea (4,500won).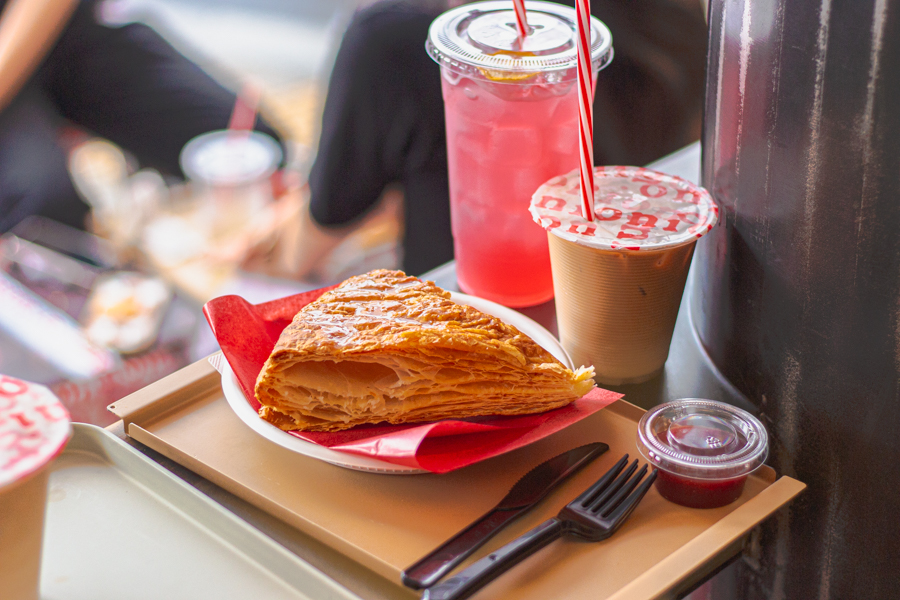 We opted for the Pastry Pizza which caught our attention thanks to the alluring, freshly baked smell of pastry. Cafe Onion calls it a pizza, but it really was just layers of buttery pastry that flakes upon each bite, much like a croissant! The addition of strawberry was a nice touch as it helped to balance out the rich butter flavours. Caution, because of its texture, the pastry pie is quite a messy treat.
Don't expect instagrammable cups of coffee here at Cafe Onion Gwangjang. Sticking to its concept near a traditional market, the coffee is served in simple plastic cups and sealed for convenience.
The Hazelnut Latte (5,000won) was marketed as their signature drink, which had an aromatic, sweet tinge of hazelnut. The Omija Tea (4,500won) on the other hand, was a refreshing beverage that went well with the atmosphere of a traditional market.
Cafe Onion in Korea
After a long 2 years, Cafe Onion is expanding its range of outlets, with the Gwangjang outlet being the most interesting one yet. Since it's located near the ever-popular Gwangjang Market, visitors can drop by the cafe for a quick cuppa or just to catch a glimpse of its unique, hip exterior.
p.s. the bungeo-ppang stall right next to the cafe is a popular spot among locals and tourists as well!
Cafe Onion Gwangjang (어니언 광장시장)
215 Cheonggyencheon-ro, Jongro-gu, Seoul
서울 종로구 청계천로 215 1F
Nearest Subway: Jongro-5-ga Station (Line 1), Exit 7
*This is an independent review by MiddleClass.sg
*Follow MiddleClass.sg on Facebook, Instagram, and Telegram for more food, travel, and trending stories