You might have come across the brand Deus Ex Machina before, which primarily focuses on motorcycles and bike-related apparel. But now, the brand is seen as a streetwear brand with riding gear influence. The fashion brand has a couple of stores in Seoul, but Deus Cafe Samcheong is one of our favourites.
Deus Cafe Samcheong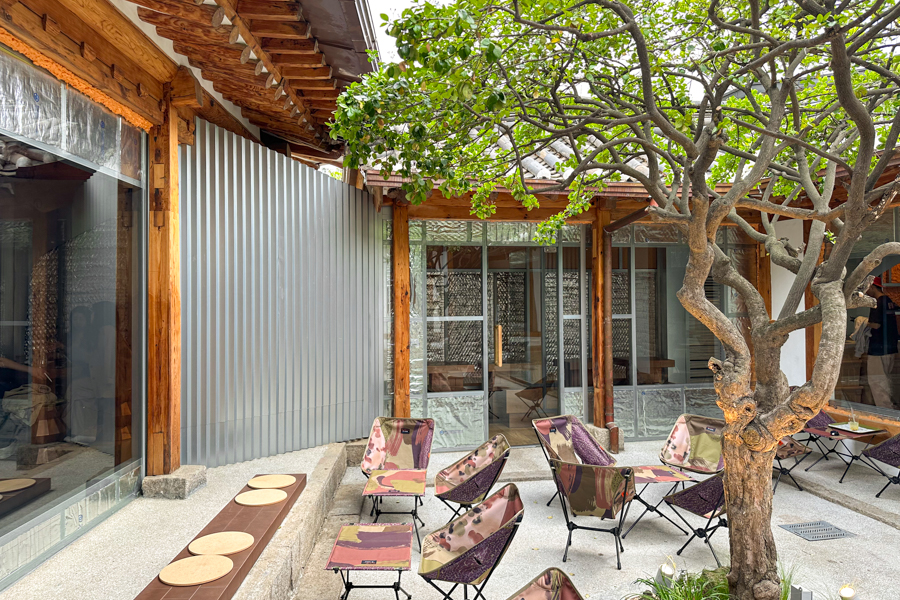 Aptly named The Old House of New Customs, Deus Cafe Samcheong is housed in a traditional hanok with a modern interior and is located near the famous Samcheong-dong stretch.
Deus Samcheong adopts a square-shaped hanok layout, with the hallways connected to each other. The apparel store is located at one corner, while the cafe seats are spread out along the hallway.
There's also a main hall where you can find the counter along with a display of baked goods.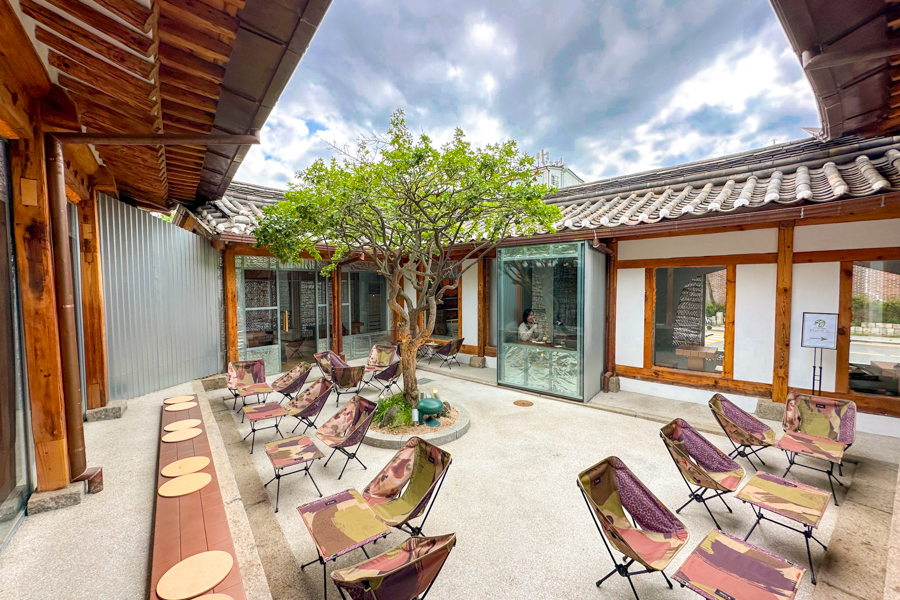 The highlight of this place is the open yard in the center which has been converted into an alfresco seating area. Decorated with camping chairs and tables, the space gave off carefree and comfortable vibes. It was also interesting to see how camping equipment could go so well in a traditional hanok backdrop.
Deus Cafe Samcheong Menu
The menu at Deus Cafe Samcheong consists of their signature drinks, alongside coffee, tea, and a range of beverages. Pick from signatures like the Lemon Macha Latte (7,000won) or classic caffeinated drinks like the Cafe Latte (6,000won), Vanilla Bean Latte (6,500won), or Americano (5,500won).
They also have more interesting drinks like the Honey Pumpkin Latte (6,500won) and Caribbean Cocktail Tea (6,000won).
As for food, they have a mix of bagels, pound cakes, cookies, and madeleines. Some of the options are Chocolate Levain Cookie (4,800won), Onion Bagel (3,500won), Orange Madeleine (3,500won), and Earl Grey Pound Cake (4,500won).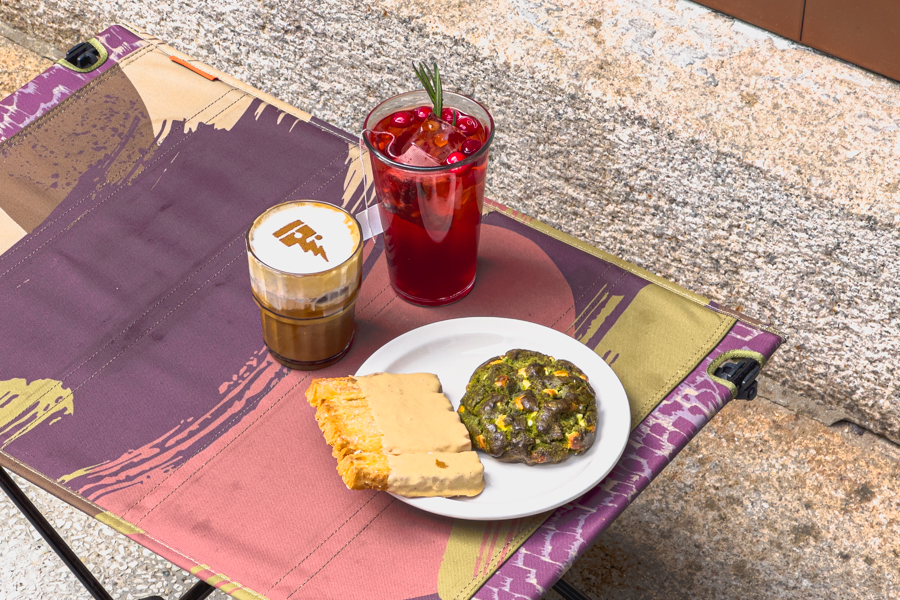 Among the items we tried, we enjoyed the Injeolmi Palmi Carre (4,000won) the most. It's a buttery flaky pastry with a layer of Injeolmi Chocolate, which had both amazing texture and flavours. The Green Tea Levain Cookie (4,500won) on the other hand felt a little too dry for our liking.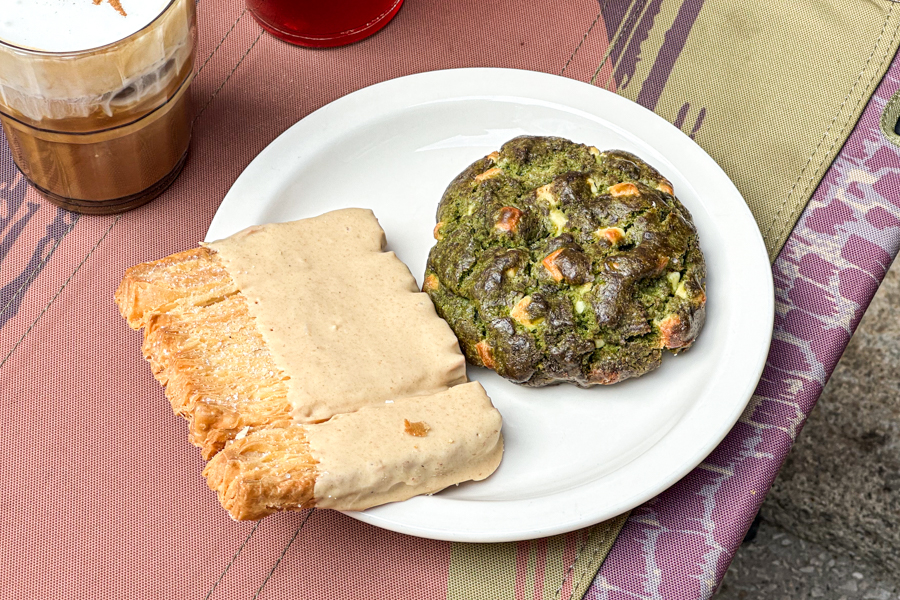 As for drinks, we tried the D.E.M Coffee (7,000won) which was a hazelnut latte topped with smooth almond cream and cinnamon powder. It was nutty, slightly sweet which makes it perfect for sweet tooths.
Apparel Section
For those intending to purchase clothing from Deus, do note that there isn't a changing room here.
Hanok Cafe in Samcheong-dong
For those interested in both fashion and cafes, Deus Cafe Samcheong-dong is a perfect place to visit during your trip to Korea. Even if you're not intending to browse the apparel, the cafe is a gorgeous blend of both modern and traditional elements which makes it worth a visit. We highly recommend visiting on a weekday as it does get pretty crowded on weekends.
Deus Cafe Samcheong (데우스 카페 삼청점)
134 Samcheong-ro, Jongro-gu, Seoul
서울 종로구 삼청로 134
Mon-Fri, 11am-9pm, Sat-Sun, 10am-9pm, Last Order 8:30pm
Nearest Subway: Anguk Station (Line 3), Exit 2
*This was an independent review by MiddleClass
*Follow MiddleClass.sg on Facebook, Instagram, and Telegram for more food, travel, and trending stories