GastroBeats 2023 is back with a bang! This year's culinary lineup is happening alongside the annual iLight 2023 showcase, boasting an impressive selection of local and international food brands to choose from. 
GastroBeats and iLight 2023 is happening from 1 to 25 June 2023 at the Bayfront Event Space. This year, the entrance to GastroBeats 2023 is free!
Festival Layout
The food stalls span across both ends of the entire space, complete with plenty of seating!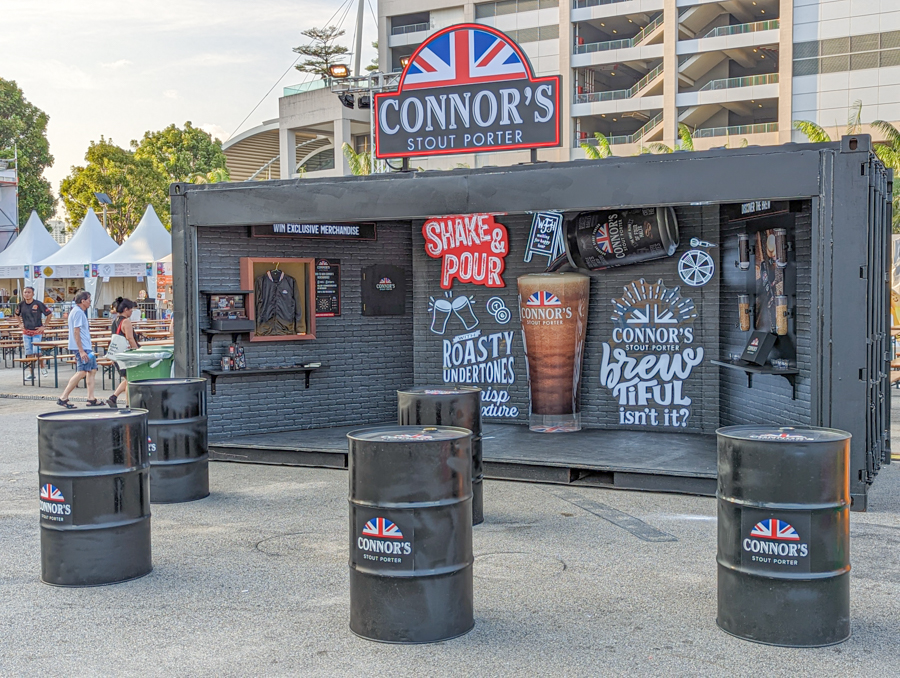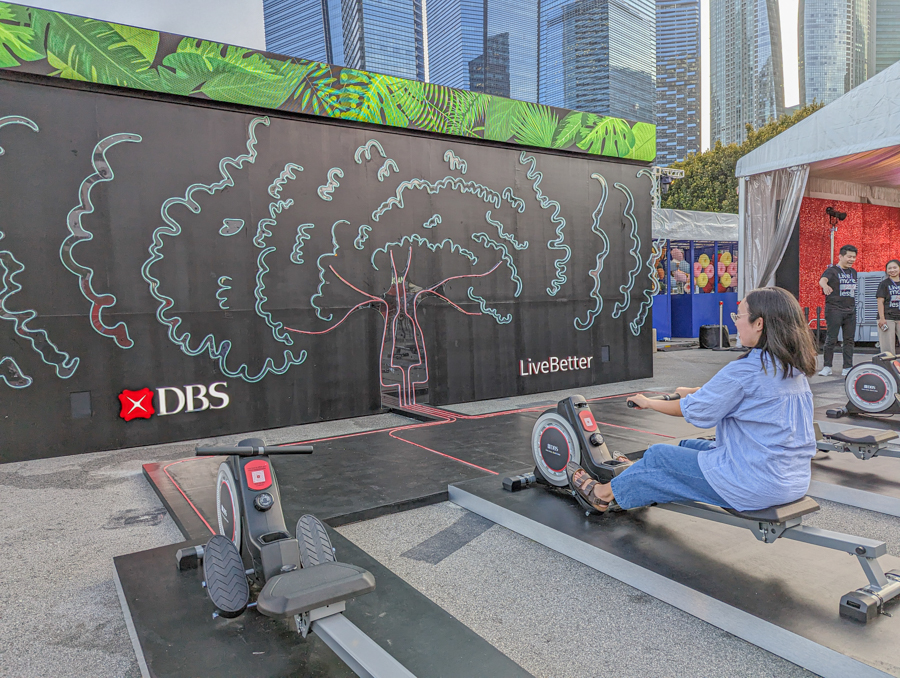 A few brands also have their own independent booths including Foodpanda, Connor Stout and DBS. You can get fresh beer on tap from Carlsberg, Kronenbourg 1664 Blanc and even Somersby.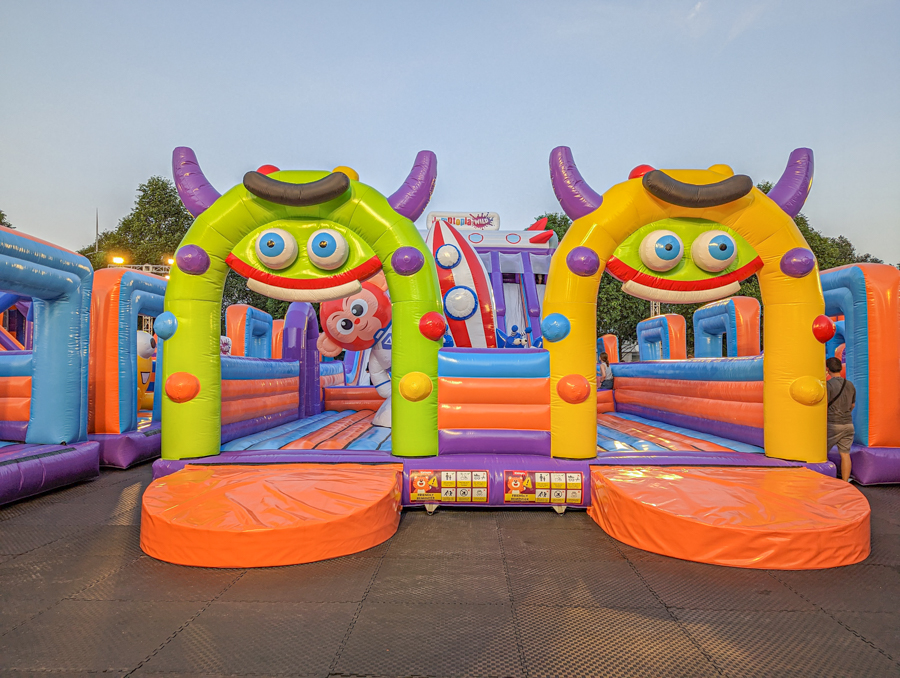 There's even an entire section with giant bouncy castles by Jumptopia, perfect for kids. It has a small water boat area! 
GastroBeats 2023 Food Options
As mentioned, there are over 20 food brands to try including some from Taiwan and Thailand! All the stalls accept cashless payment so it's much easier. 
Some names you might recognise include Swensens, more batter, Sofnade, La Levain, You Tiao Man and more. 
We tried our best to cover a little bit of everything, and here's what we tried: 
Ahjumma's Nacho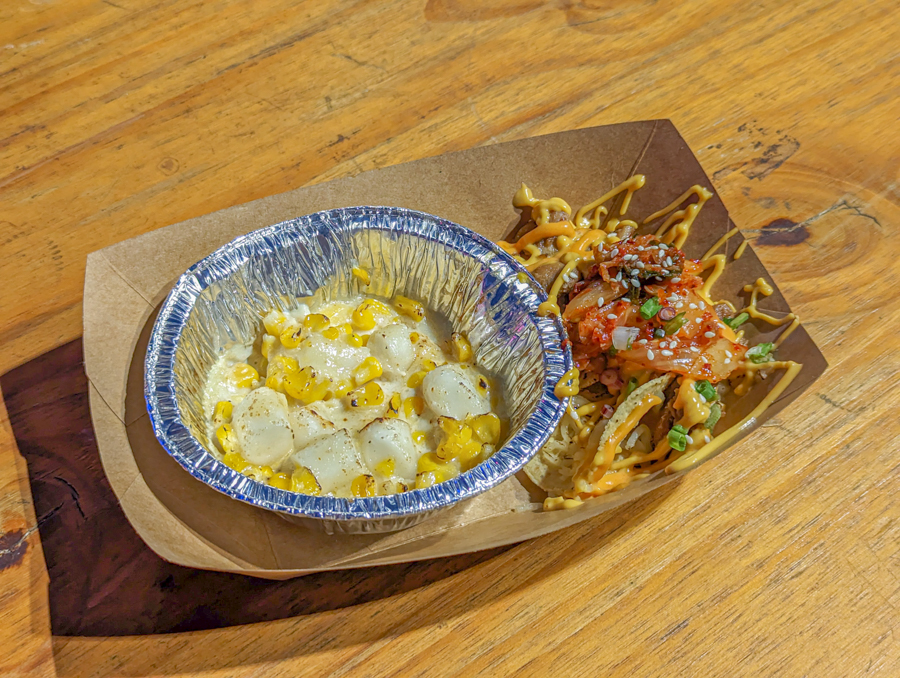 The first savoury dish we had was the Dakgalbi Chicken Nachos ($15) and Cheesy Corn with Tteokbokki ($8). 
The combination of the crunchy nachos, savoury chicken and sour kimchi was surprisingly good, with the creaminess from the nacho cheese!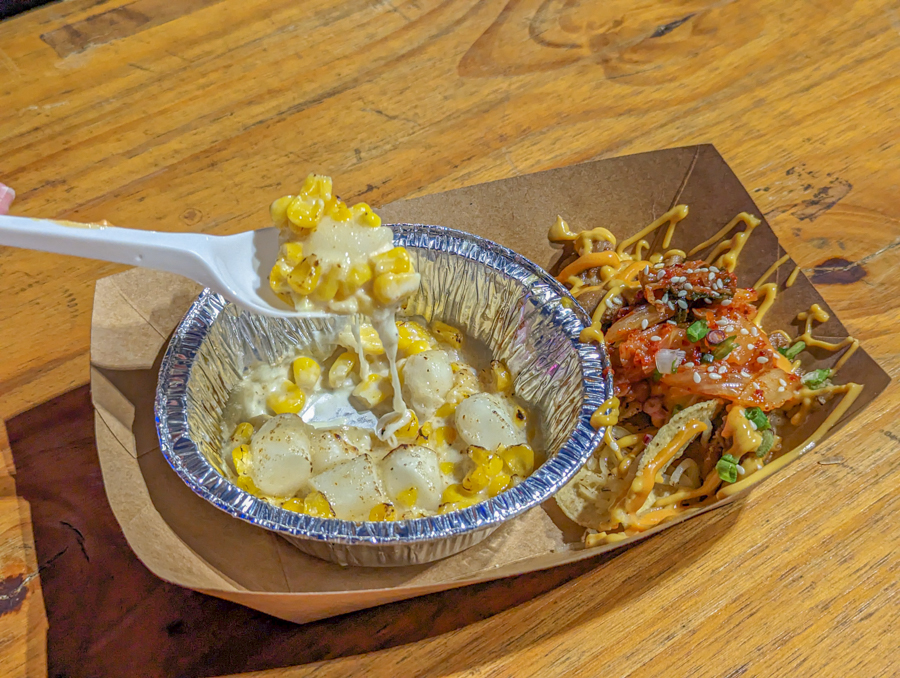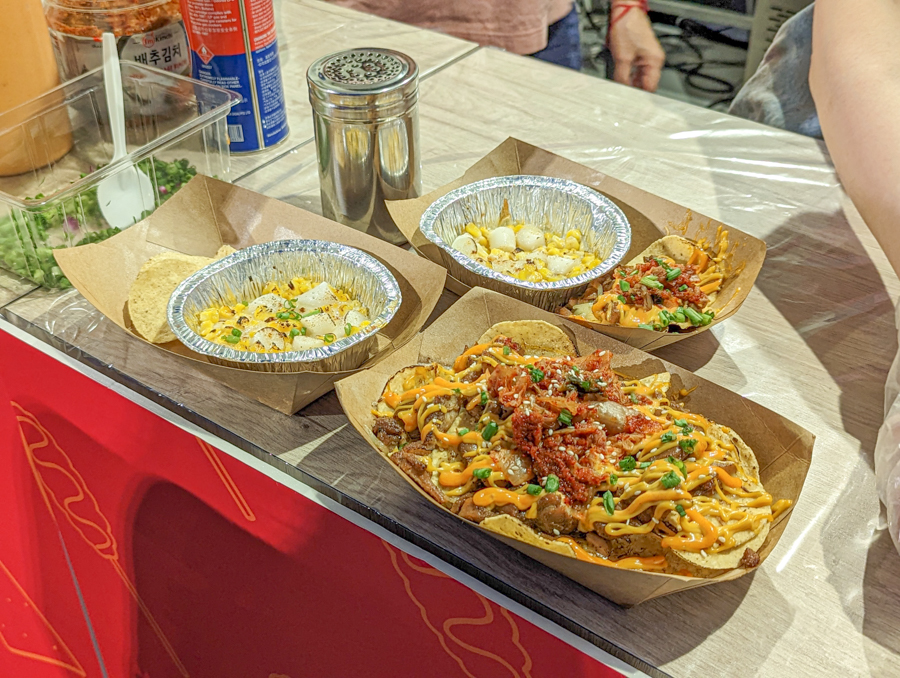 We recommend you eat the cheesy corn quickly so you can enjoy the cheese pull. The tteokbokki may seem out of place but added a nice texture contrast to the corn.
No Time Hot Pot
One of the brands from Taiwan, No Time Hot Pot offers a convenient hotpot cup you can enjoy on the go! 
There are two options: No Time Anyhow ($23.80), which is a bigger-sized tub with only one flavour; and No Time Share Share ($18).
We tried the No Time Share Share, which comes with a Mala broth and a Tomato broth. From what we saw, these were the only two flavours available. 
Each tub is quite generous with the toppings, including pork belly slices, meatballs and fried tofu puffs that soaked up the soup. 
The mala broth was flavourful and had a good spice without being too overbearing, making it drinkable! We preferred this over the tomato soup which was too tangy and concentrated for our taste. 
However, the tomato soup was equally flavourful and a good non-spicy alternative. 
DAMN (Dry Aged Meats & Needs)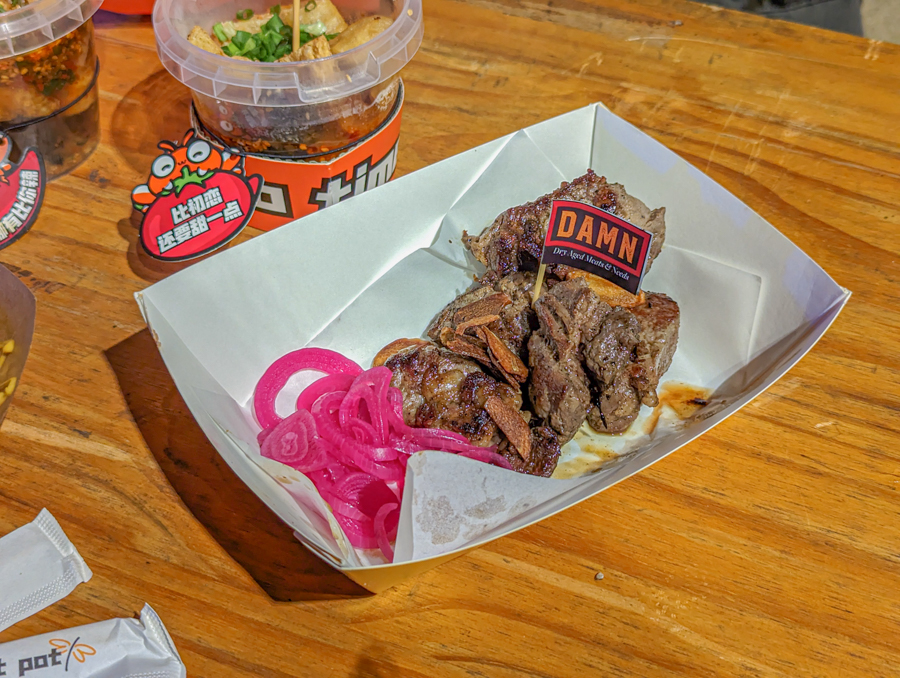 The Dry-Aged Wagyu Cubes ($25) were charred on the outside but tender on the inside, despite not being a fatty cut. 
The provided pickled onions also help cut through the fat, plus the crunch from the crispy garlic chips! 
La Levain
Popular for their circular croissants, La Levain is bringing their selection of bakes! 
We tried the Bobochacha Croissant ($6.80) and Carbonara Croissant Pasta ($11.80 for 8, $15.80 for 12). The Croissant Pasta is a GastroBeats 2023 exclusive!
We know Croissant Pasta sounds confusing but it was quite delicious! The dish features mini croissants covered in a pasta sauce of your choice. 
Their carbonara sauce was creamy, savoury and had a nice cheesiness with a kick from the pepper. It paired perfectly with the flaky, butter croissants.
You can also get it in Kimchi and Chicken Bolognese, alongside their new menu addition of pizzas. 
The Bobochacha Croissant was topped with a sweet yam paste, filled with cream and yam cubes. It wasn't too sweet and had a pleasant fragrance from the yam. We definitely think it's better eaten warm!
Central Siam Cuisine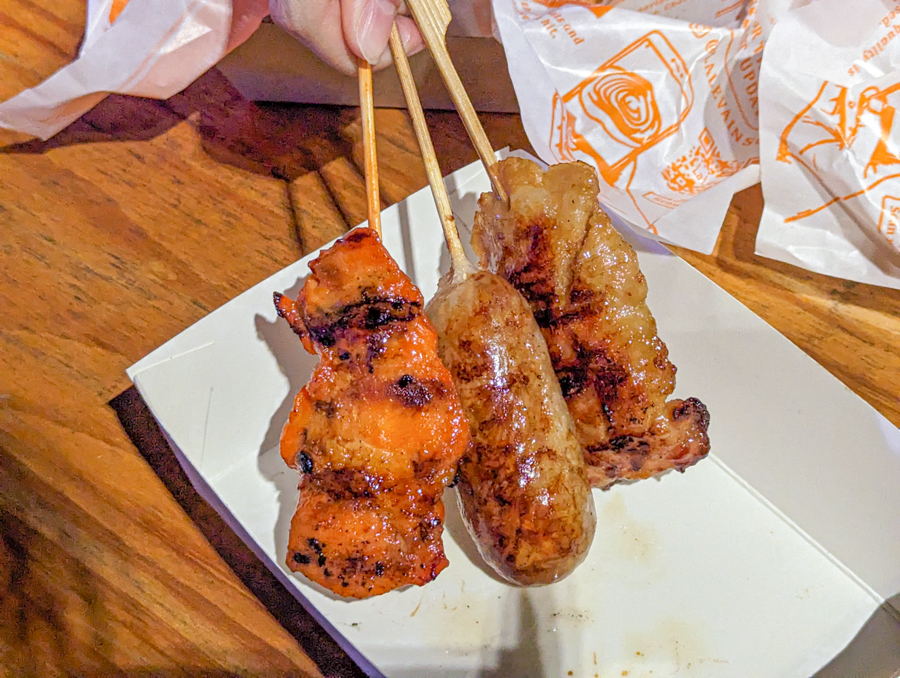 From the row of Thai stalls, we tried the Moo Ping Set ($8 for 3 pieces). It came with three different skewers of Thai sausage and meat patties. 
They did provide options for seasoning like Cheese and Mala, but we opted to have them as is. 
However, we felt they were slightly underwhelming. It could do with stronger flavour in the skewers itself or a dipping sauce, but maybe it may have been better with the added seasoning.
 And we only scratched the surface with these options! There are stalls offering Praffles, Taiwanese peanut ice cream rolls, cookies, burgers and more – we think you could definitely get creative with your choices. 
Jumptopia
The bouncy castle options in Jumptopia are worth the hype, both for kids and grown kids/adults! There is a segment with smaller bouncy castles, a ball pit and a water boat ride! 
Those with children who prefer more challenging courses can opt for the right section, with larger slides, obstacle courses and more. A big plus is the super cute inflatable designs, perfect for pictures!
Jumptopia has a separate admission fee of $19 per person for 1 hour and $29 for unlimited play time. Do note you must have socks, or you need to purchase them separately for $3 (we found out the hard way). 
Bonus: iLight 2023
Just like its previous iterations, iLight 2023 features interactive installations along the stretch of the waterfront in Marina Bay. 
Unfortunately, we didn't get to experience the installations personally but they were all alluring and great for pictures!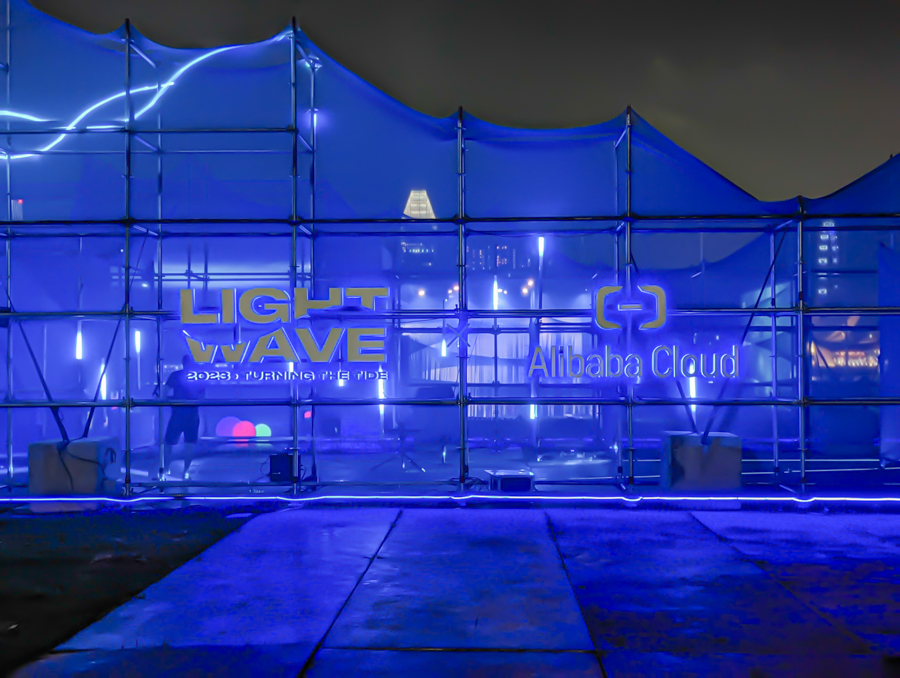 The highlight has to be the installation by Alibaba Cloud, which ties in with the theme of the ocean and sustainability for this year. 
Like GastroBeats, iLight 2023 is open to public from 1 to 25 June. 
GastroBeats 2023 In Singapore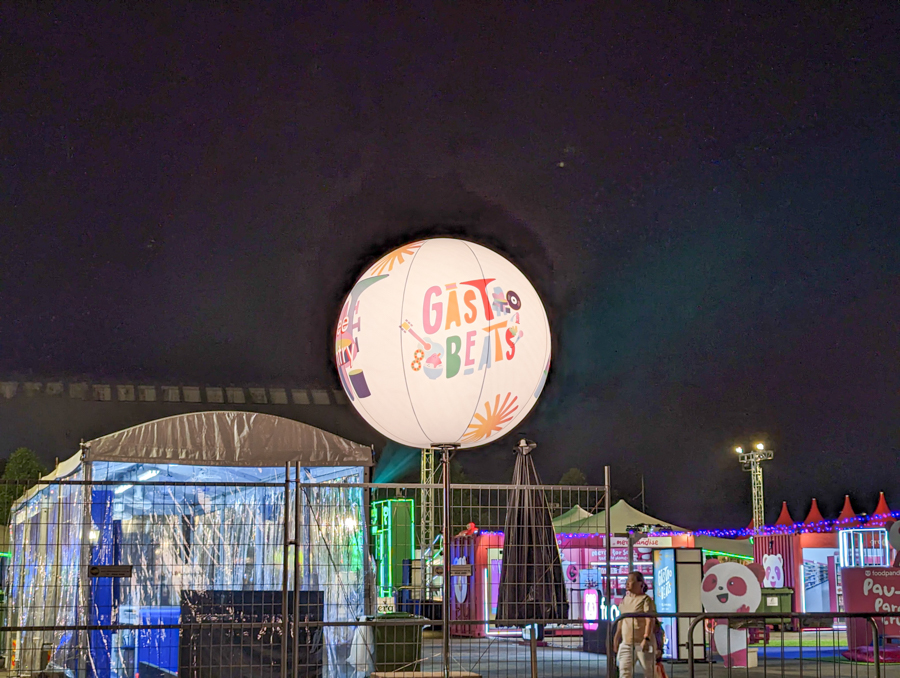 Overall, we think the large variety of food stalls makes GastroBeats 2023 worth a visit! However, we think the steep prices make it difficult to enjoy all the food – we recommend sharing a few dishes together to make it worthwhile. For more information, visit the official website. 
GastroBeats 2023
1 to 25 June 2023
4pm to 11pm
Bayfront Event Space, 12A Bayfront Ave, Singapore 018970
*Follow MiddleClass.sg on Facebook, Instagram, and Telegram for more food, travel, and trending stories