Autumn is a beautiful time in Korea. Trees turn into gorgeous, alluring shades of red, orange, and yellow, transforming mountains into paintings and almost every single corner is worthy of a photo. South Korea is a huge country, and you might not know where to begin, so here are some spots you should visit when travelling to Korea during Autumn!
Where To Go In Korea
Palaces in Korea
Deoksugung in Autumn
If you're a first timer visiting Korea (or not), palaces are a must-visit during autumn! Thankfully, Seoul is home to many attractive palaces such as Gyeongbukgung, Deoksugung, and Changdeokgung. The palace grounds are usually surrounded by autumn foliage which makes it a pretty sight – something you cannot experience in Singapore!
These palaces are also a great place to visit while trying on traditional Korean clothing, known as Hanbok.
Temples in Korea
Usually located near mountains or within national parks, temples in Korea are a great way to experience autumn. Witness the grandeur of autumn in a Zen environment – some of you might even want to opt for a temple stay to reconnect with yourself.
There are some exceptions, such as a temple known as Haedong Yonggunsa Temple, which is a temple by the coast of Busan. A beautiful sight to witness in person as well!
Korea National Parks
22 areas in South Korea have been designated as national parks and you've probably heard of some! Jirisan National Park, which has been featured in the popular Korean drama, Jirisan, is a great place to visit during autumn. Other popular national parks include Daedunsan National Park & Naejangsan National Park.
Coastal Areas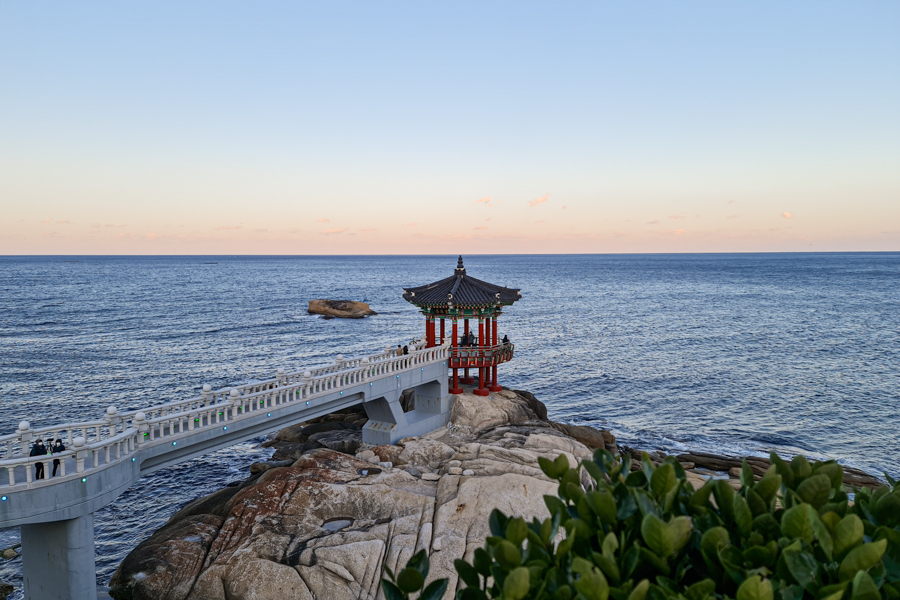 Sokcho in Gangwon-do
While we've been mentioning a lot about trees and forests, the coastal areas of Korea also hold a different charm during autumn. Venture out to places like Busan, Gangwon-do, and Jeju where you'll experience a different side of Korea.
Nami Island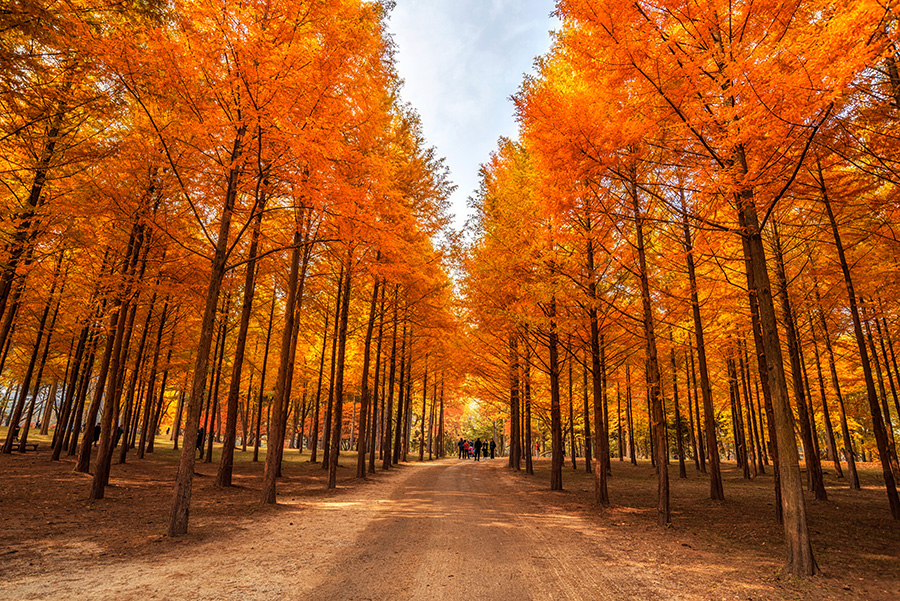 Nami Island is an attraction you have to visit at least once when heading to Korea. The island located in Gyeonggi-do is known for several things, with one being the filming site for Winter Sonata. During autumn, you can witness rows of trees in charming shades of red & orange, which make perfect photo backdrops! If you've never been to Korea, we recommend going at least once just to experience it.
Planning A Trip To Korea
If you're looking for a fuss-free way to travel to Korea, you can opt for one of the many tours that will bring you straight to the land of kimchi. These tour packages take care of everything for you and are a great way to bring your entire family on a trip to Korea after they've indulged in countless Korean dramas.
ASA Holidays
ASA Holidays has an 8D Best of Korea & Santorini tour which covers places like Andong, Busan & Seoul. You'll get to visit more traditional places like the Andong Hahoe Folk Village, engage in a fruit picking session, and experience Busan!
Check out more tours from ASA Holidays here.
Azza Travel & Tours
For our Muslim friends out there, Azza Travel & Tours offers Muslim-Friendly Travel itineraries to different parts of Korea. If you want to have more freedom in the places you go, opt for their 4 Days Korea Free & Easy Tours where you can plan your own itinerary and go see some hidden popular autumn spots in Seoul!
You can also extend your trip to fit in more places!
Start planning your trip with Azza Travel & Tours here.
Chan Brothers Travel
A familiar name when it comes to overseas tours, Chan Brothers Travel brings you an exclusive autumn edition tour where you'll get to visit places like Naejangsan National Park & Baekyangsa Temple with 500m Long Maple Tunnels! Learn more here.
CTC Travel
Want to explore a different area of Korea but don't know how? CTC Travel has an itinerary where they visit Gangwon-do and stop by places such as the BTS Bus Stop and 'Goblin' Drama Filming Site in Gangneung!
Learn more about their Gangwon-do tours here.
EU Holidays
For those wanting to explore the Southern parts of Korea, EU Holidays brings you to Busan, one of the most popular cities in Korea. They also venture out of the port city to cities like Gyeongju, where you'll explore UNESCO sites.
Check out more tours by EU Holidays here.
Hong Thai Travel
Hong Thai Travel has a 9D7N I Love Korea Package with visits to places like Byeongbangchi Skywalk, Haeundae Coastal Train, and Gamcheon Cultural Village. You'll even enjoy comfortable stays at Seoul Novotel Ambassador Yong Hotel!
Check out more Hong Thai Travel information here.
Jun-Air Travel
Embark on an 8D Romantic Autumn trip with Jun-Air Travel where you'll get to visit Daedunsan Nation Park over at Jeollabuk-do.
Find out more about Jun-Air Travel here.
LGE Travel
LGE Travel has a classic tour package exploring the best of Korea & Busan, but if you love nature spots and want an escape from city life, opt for the 10D Best of Korea, Jeju, and Seoraksan.
Find out more about tour packages LGE Travel has to offer here.
Nam Ho Travel
Pick from tours such as the 8D Rejoice in Korea which covers places like Jeonju, Busan, Suwon & Seoul – where you can have a hanbok experience over at Jeonju Hanok Village and get a panoramic view of Mt Daedunsan on a cable car ride. There's also an 8D Inspiring Korea tour which covers Jeju, Busan, Gyeongju & Seoul. You'll explore UNESCO sites and get to wear a hanbok while Gyeongbukgung.
Find out more at Nam Ho Travel's website here.
Super Travels
Perfect for those who've visited Korea previously, Super Travels explores areas outside of Seoul with their 8D Jeonju, Busan, Gyeongju & Daegu tour package! Catch a glimpse of Bulguksa Temple in Gyeongju and Haedong Yonggungsa Temple in Busan!
Learn more about Super Travels here.
Travel Star
With the tours from Travel Star, you'll get to visit Korea's Top 10 Instagram photogenic spots such as the COEX Starfield Library. With their tour, you'll also get to visit other spots like popular Nami Island, Everland Theme Park & N Seoul Tower which are among some of the must-visit places when visiting Korea for the first time.
Find out more about Travel Star here.
WTS Travel & Tours
Explore the best of Seoul, Busan, and Jeju in a single trip with WTS Travel & Tours' 8D6N Best of Korea! Visit places like Lotte World Theme Park, Jagalchi Fish Market, and Gyeongbukgung Palace.
Learn more about WTS Travel here.
Pinnacle Travel
Worried about hitting the minimum pax for a tour? No worries as Pinnacle Travel has a 2-to-go 5D4N package that has tours for Nami Island, Petite France & Seoul. If you're thinking of planning a trip for the extended family, they also have private tours that can take 20 pax! Find out more here.
SA Tours
If you like shopping, SA Tours has an 8D6N Simply Korea tour that will bring you to various places like Myeongdong, Dongdaemun, and Premium Outlet Stores where you can go shop your heart out! Don't worry, you'll also get to play your heart at places like Everland!
Find out more about their SA Tour's Korea packages here.
Splendour Holidays
Experience the best of autumn with Splendour Holidays where they'll bring you to places like Suncheon, Naejangsan National Park, and the drama filming location for Twenty-Five, Twenty-One! You'll also get to enjoy Seoul at spots like Gyeongbukggung Palace. Learn more here.
UOB Travel
Jump into activities like ginseng harvesting and traditional Hanji craft making with UOB Travel's South Korea Autumn Delight Tour. You'll also visit Daewallyeong Farm in Gangwon-do, surrounded by gorgeous mountain views.
Click here to browse more Korea tours by UOB Travel.
Dreamcation Cruises and Tours
Providing Muslim-Friendly meals on their 8D6N tours, Dreamcation's Korea packages will take you to an array of places such as the BTS Bus Stop, Goblin Drama Filming Site, Everland, Gyeongbukggung Palace, and more! Learn more here.
NATAS Holidays 2022
With the NATAS Holidays 2022 happening from 12 to 14 Aug at Singapore Expo, Hall 5, you can head down to learn more about the different Korea tour packages, or even learn more about the destination by visiting the Korea Tourism Organization booth at 5H32! This year, there will also be a series of complimentary workshops, activities, and games at their booth!
Do note that not all of the above-mentioned travel agencies will be present at the NATAS Holidays 2022, but you can find out more about their tours via the links provided.
*This article is brought to you in partnership with Korea Tourism Organization (Singapore).
*Follow MiddleClass.sg on Facebook, Instagram, and Telegram for more food, travel, and trending stories!