One of the regions in South Korea we highly recommend visiting is Gangwon-do. Not only home to pristine waters, but certain areas are also well-known for mountains and forests. In this Sokcho travel guide, we'll share some of the most amazing spots, cafes, and restaurants to check out when in Sokcho.
How To Get To Sokcho From Seoul
Getting to Sokcho from Seoul is pretty simple. First, choose your desired form of transportation: Intercity Bus or Car.
Taking A Bus to Sokcho
There are several bus terminals in Seoul, but for this article, we'll be focusing on the Express Bus Terminal. Before you even book your accommodations for Sokcho, we suggest keeping a mental check on the available bus timings going to Sokcho.
If you do not have a Korean credit card (basically if you're a tourist), you won't be able to book a bus ticket online. However, you can still use the website to check for the bus timings and see how many seats are left.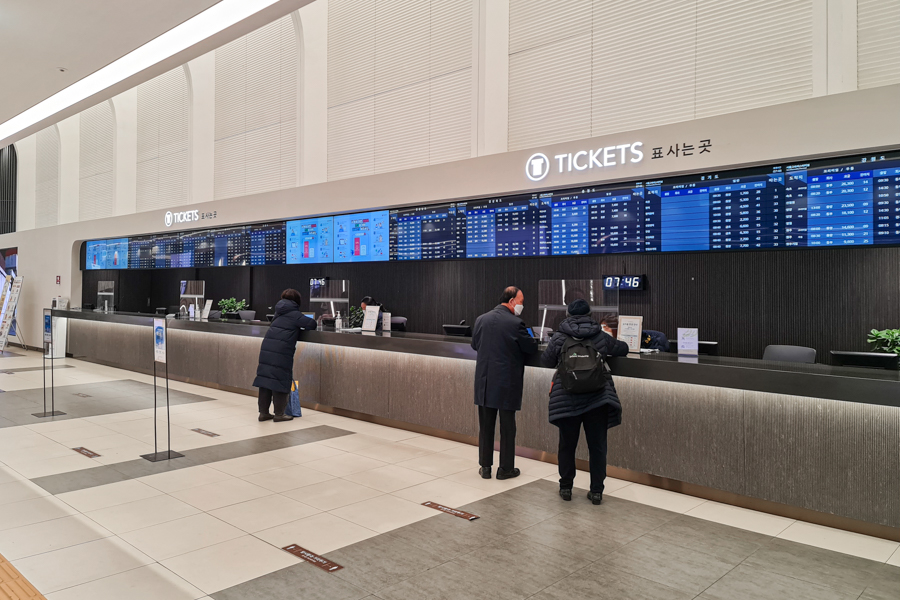 To purchase a ticket, simply head down to the counter at Express Bus Terminal at least 15 mins before the departure time.
Make sure to scan your ticket when you board the bus and remember your seat belts. For the Premium buses, you get USB charging ports and a TV for some entertainment along the way.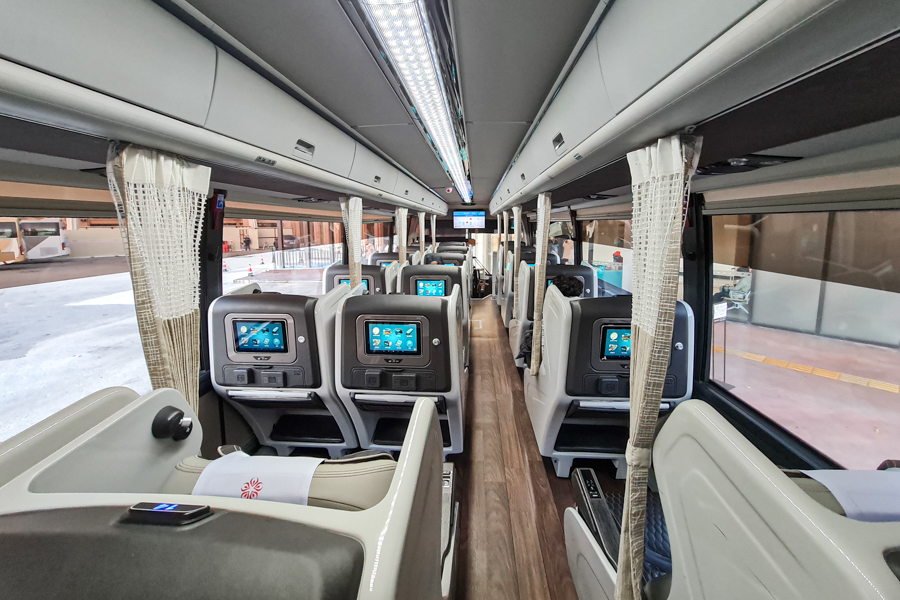 During the bus ride, the bus will stop at a rest stop along the way for a quick break. Take this time to visit the toilet or purchase some popular rest stop snacks. You do not need to show your ticket again when you re-board the bus.
The trip to Sokcho from Seoul will take approximately 2 to 2.5 hours depending on traffic.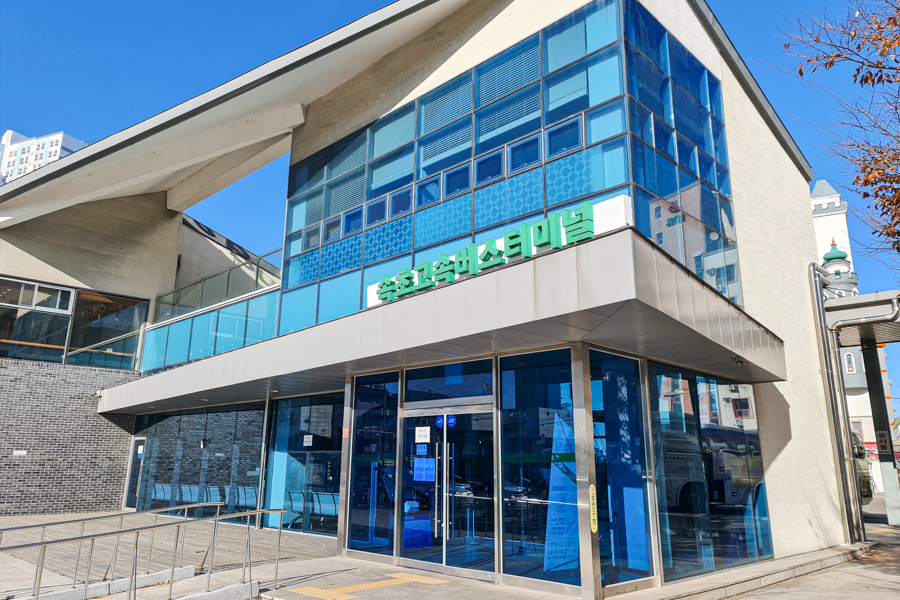 Taking A Car to Sokcho
You can also rent a car in Seoul, and simply drive up to Sokcho! Klook has a range of cars for you to choose from. You can even enter different locations for car pick-up and car drop-off.
Accommodation in Sokcho
If you're planning on staying overnight, you'll need to book accommodation. Sokcho has plenty of well-known hotels such as Lotte Resort Sokcho, Sea Cruise Hotel and more! However, if you're like us and want a more unique experience, pick from an array of Airbnbs depending on your budget.
Read more about our Airbnb Experience in Sokcho with a view of the East Sea here!
Getting Around in Sokcho
Unlike Seoul, Sokcho has no subway system, and getting around is mainly done via Taxi or Bus. You can grab a taxi using apps like KakaoTaxi or simply flag one down at the side of the road. The fare is not too shocking, and you're able to take one to the next city (E.g., Goseong, Gangneung) without forking out too much.
Things To Do in Sokcho
Sokcho Beach
A walkable distance from the Sokcho Express Bus Terminal, Sokcho Beach is a great spot for you to visit upon arrival. You can find take a few photos at some of the photo spots located along the sandy beach while you listen to the clear waves crashing onto the shore.
Sokcho Jungang Market
Visiting a market is a must for anyone visiting Korea! Here, you get to experience a slice of local life, plus, the food is really good in traditional markets! Apart from food, you can usually spot stalls in Sokcho Jungang Market (속초중앙재래시장) selling seafood, vegetables, and seasonal fruits.
This particular market is also very famous for one thing! Scroll down to find out what it is.
Visit Seoraksan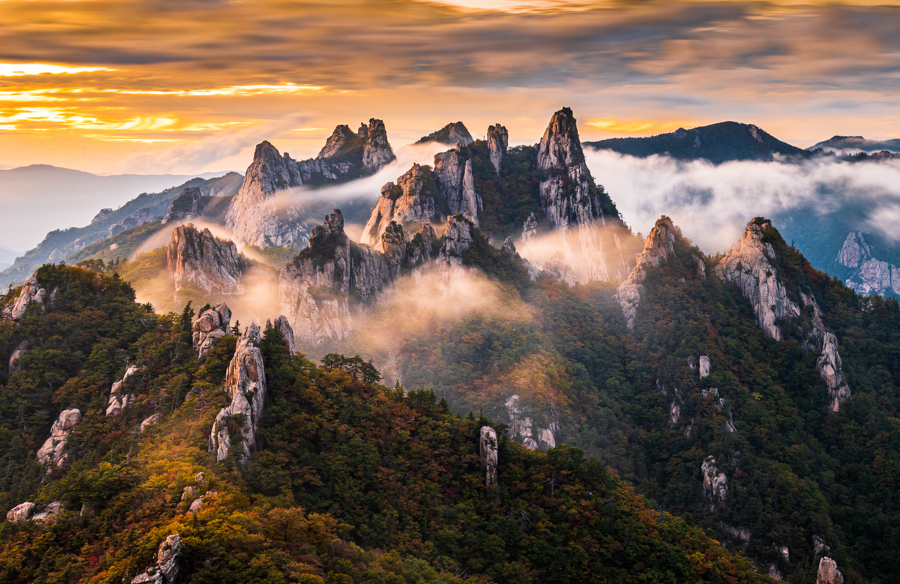 When it comes to Sokcho, most people think of Seoraksan (설악산). Being the third highest mountain in South Korea, hiking towards the summit of Seoraksan is a common activity amongst locals and tourists.
For those who don't wish to hike, there is also a cable car that will take you near the top of the mountain. Be prepared for beautiful sights along the way, be it hiking or taking a cable car up. Not to be missed, especially in autumn!
Yeonggeumjeong Pavilion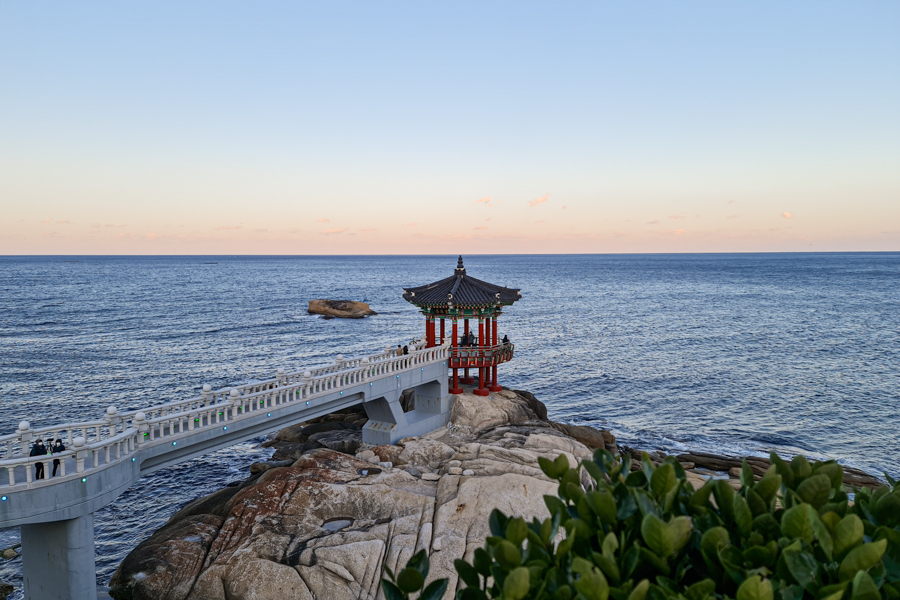 A 50m-long bridge built over a rocky peninsula allows visitors to get an unobstructed view of the East Sea from the Yeonggeumjeong Pavilion (영금정). While the spot is famous among sunrise chasers, we felt that it looked pretty during sunset as well. At night, the bridge is lit up by lights, which gives it a totally different kind of vibe.
For parents with strollers, don't worry as there is an elevator that will allow you to head to the bridge without climbing the stairs.
Yeongnangho Lake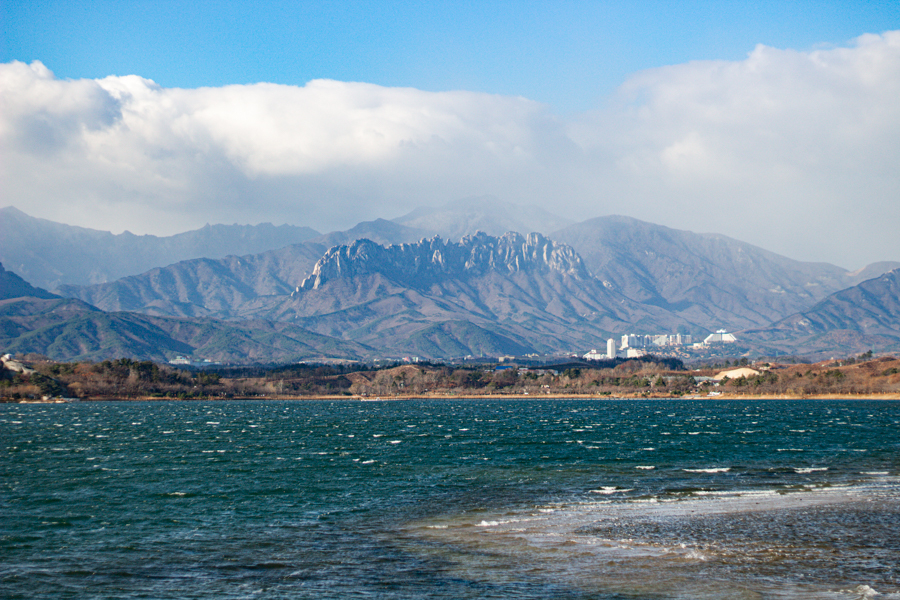 On a sunny day, you'll be able to spot Ulsanbawi Rock from Yeongnangho Lake (영랑호). You can take a quick stroll in the morning around the lake, which is filled with cherry blossoms during Spring.
Stroll Along The Coast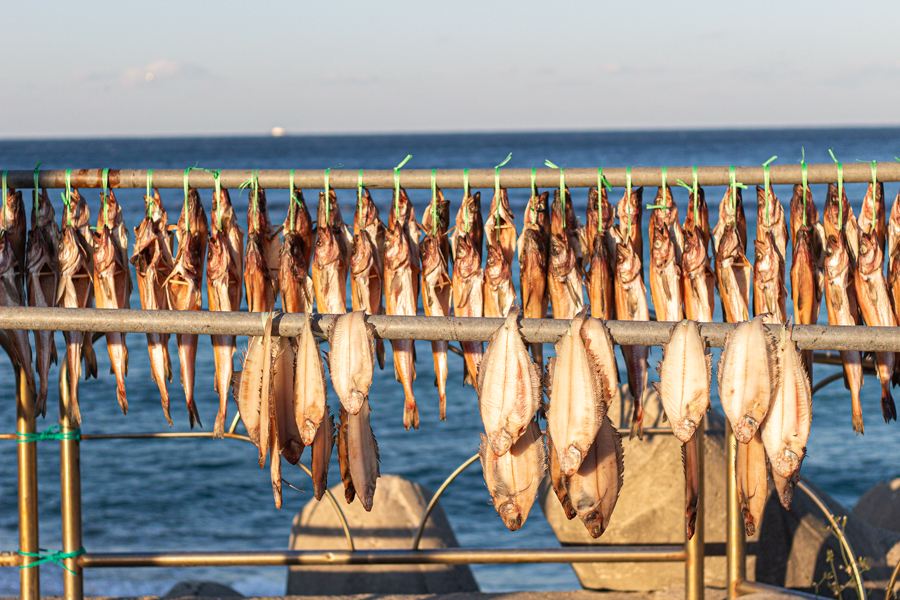 While you're in Sokcho, make sure to take some time to stroll along the coast. Along the way, you might spot some sights that will give you an idea of how the locals live. Forgo your Airpods and listen to the waves crashing onto the shore, and have a healing moment enjoying being in Gangwon-do.
Food in Sokcho
There are plenty of restaurants in Sokcho for you to choose from. Some dishes you need to try when in Sokcho are Squid Sundae, Mulhwoe, and anything seafood-related! Here are some of the popular spots we tried:
Bukcheong Sundae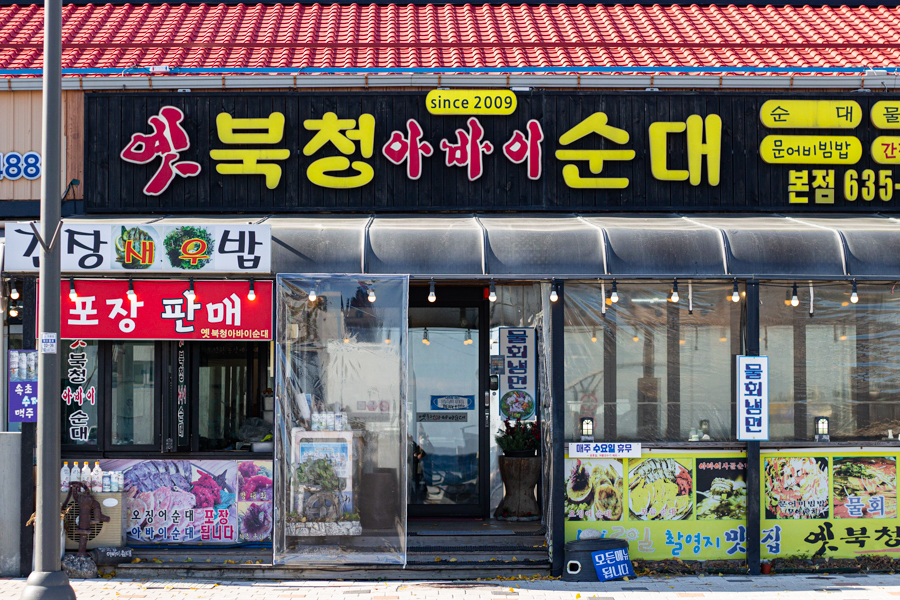 Selling one of Sokcho's specialties is Bukcheong Sundae (옛북청아바이순대), a restaurant close to Sokcho beach. Here, you can find Squid Sundae, which is a squid stuffed with meat and pan-fried in egg wash.
What we liked about Bukcheong Sundae is how they have a set for 1 pax, where you can try almost everything – perfect for solo travellers! In a set, you get a main of your choice (we went for Sundae stew), a Sundae platter, side dishes, and squid bibimbap! All of that for only 16,000 won!
Address: 강원 속초시 해오름로 137
Mon-Sun, 9am-9pm
Manseok Chicken
When we visited Sokcho Jungang Market, we realized almost every single local was carrying a box labeled Manseok Chicken. That's when we knew, we had to locate the stall and get one for ourselves!
Manseok Chicken (만석닭강정) is famous for Dakgangjeong, which is sweet and spicy chicken. They have a normal spiced level one, along with a super spicy level one. The chicken is boneless, which makes it super convenient to eat.
The store located in the market is mainly for takeaway, and they already have boxes stacked and ready for sale, so it was a rather fast transaction.
We really enjoyed the normal spiced level Dakgangjeong from Manseok Chicken, with a nicely balanced level of sweet and spicy flavours, along with the tender meat.
Cafes in Sokcho
When in Sokcho, enjoy the ocean view to your heart's content by visiting some of these cafes in Sokcho!
Cafe Ayatt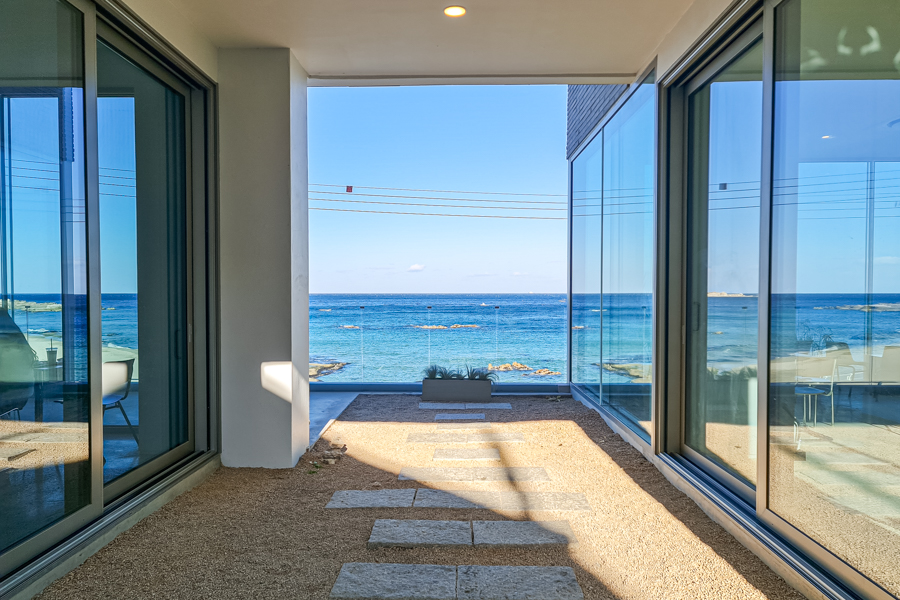 A 15 mins drive from Sokcho, Cafe Ayatt (아야트커피) is a gorgeous cafe with an ocean view. The cafe is located right beside Ayajin Beach, which is also a photo spot by itself thanks to a rainbow path.
Read the full review of Cafe Ayatt here.
Cafe Tacit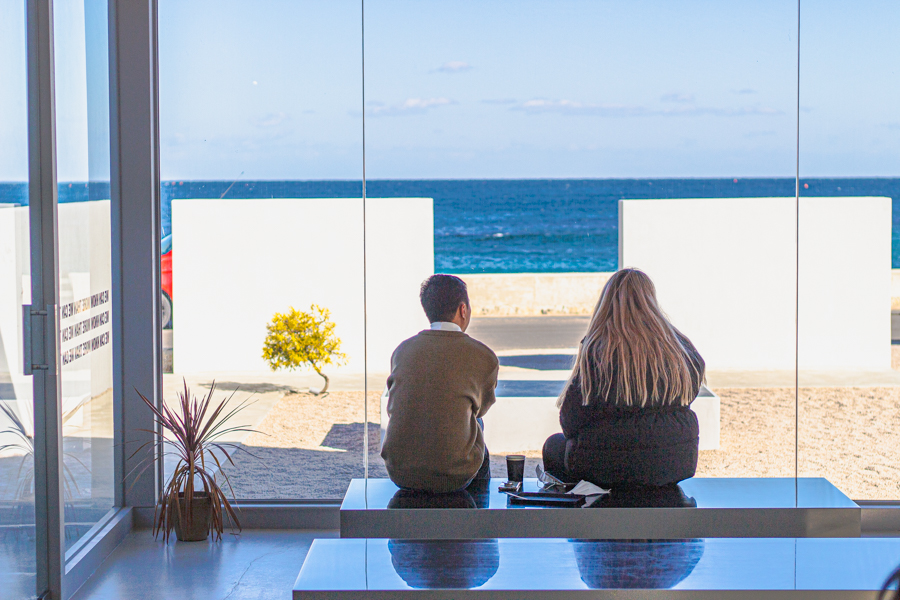 Another cafe near Sokcho, Cafe Tacit (태시트) is almost like a glasshouse cafe right along the coast, offering views of the East Sea.
Read the full review of Cafe Tacit here.
Bossanova Coffee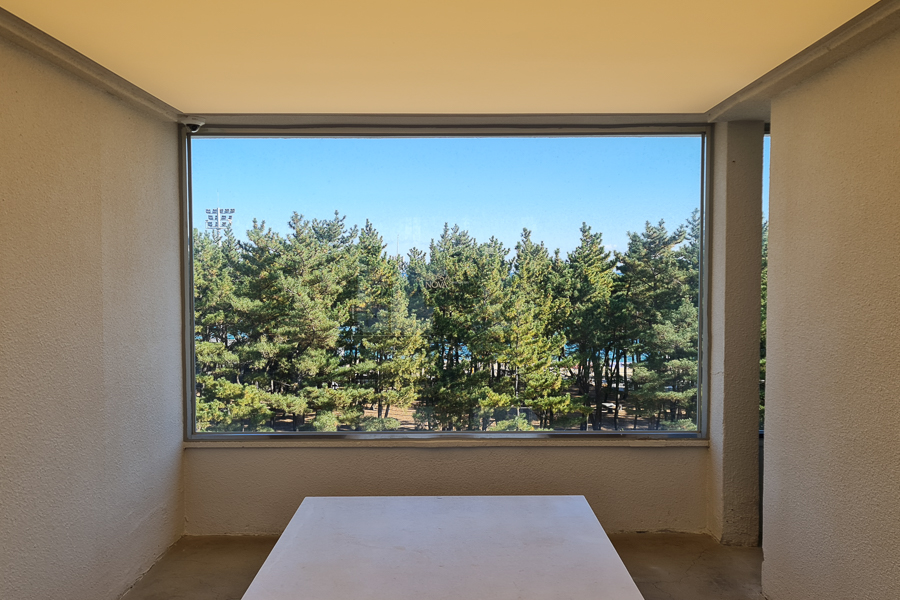 Located a quick walk away from the Express Bus Terminal in Sokcho, Bossanova Coffee in Sokcho is a great stop for coffee once you arrive. The cafe is 4 storeys tall, with plenty of seating.
With the ocean right behind the pine trees, the scenery from a seat over at Bossanova Coffee Sokcho is bound to be healing.
Read the full review of Bossanova Coffee Sokcho here.
Visiting Sokcho
If you're thinking of what to do in Sokcho, look no further as the city is filled with pretty spots everywhere. From cafes to nature spots, Sokcho offers everyone a healing time that you can't find in cities like Seoul.
More Korea-Related Articles
*Follow MiddleClass.sg on Facebook, Instagram, and Telegram for more food, travel, and trending stories