Busan is often on the list of places to go for anyone who is visiting Korea. A well-known seaside city, Busan is famous for its seafood, night views and beaches. Thanks to its location, Busan has some amazing hotels near the ocean, making them the perfect place to view the sunrise or sunset. If you're thinking of where to stay in Busan, here are some hotels with amazing views.
Best Hotels in Gwangan
Hotel1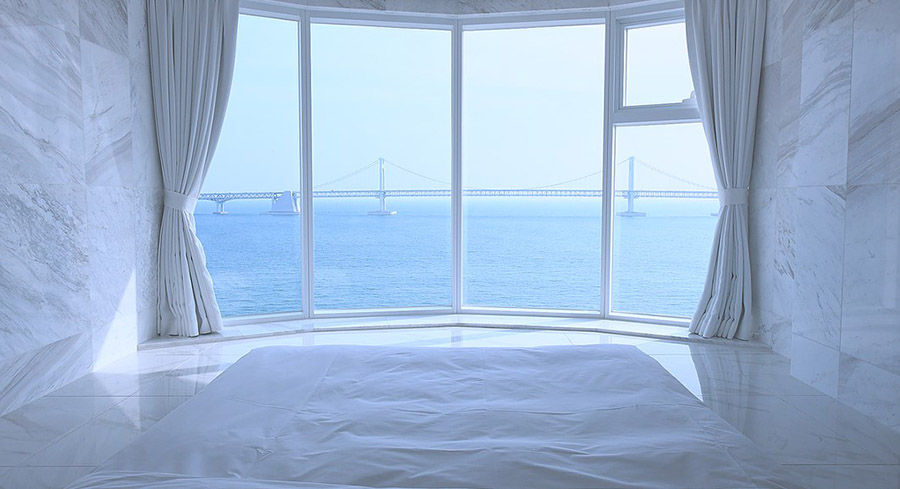 If you like clean, white aesthetics, Hotel1 near Gwangalli beach is the place for you. Decorated in marbled floors and walls for that extra luxury touch, the hotel is known for its view of the Gwangan bridge.
This means you'll get an unobstructed view of the bridge, so you can stay in the comfort of your room to admire the bridge when illuminated at night.
If you're on a budget, good news: Hotel1 is also a capsule hotel. A standard capsule is priced from as low as 30,000 won, while the ones with an ocean view are slightly more expensive.
All guests can enjoy the afternoon at the first or second floor, with an equally awesome view of the beach and the Gwangan bridge. At night, head to the rooftop to have a can of beer while taking in the view of Busan.
Book via their website or via booking.com
Lost Penguin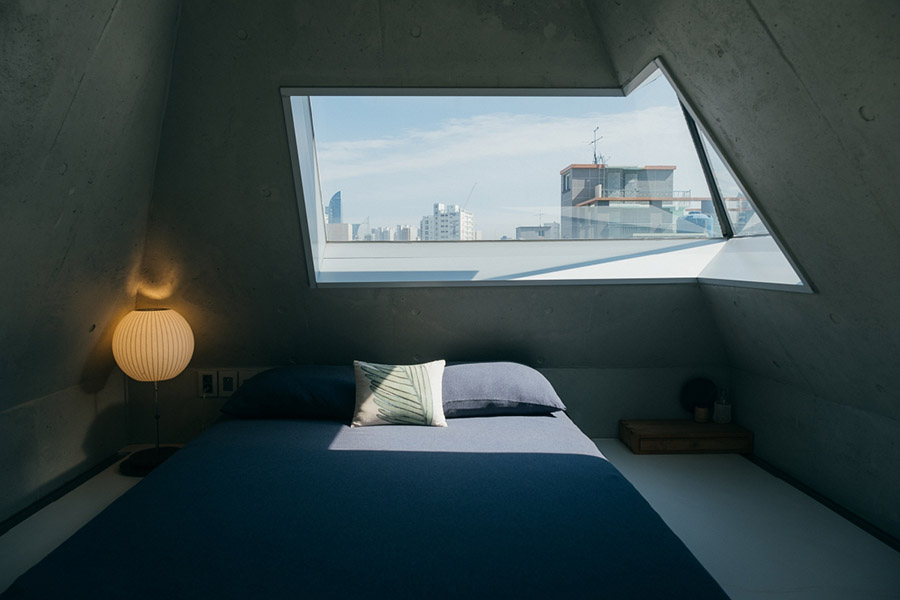 This accommodation, just 5 mins away from Gwangalli station, is a place to call home for travellers wanting a different experience. Lost Penguin offers a cozy space for friends and family members with 3 different room options. Instead of ocean views, you'll be introduced to a concrete jungle outside your window.
The Rooftop Room reminds us of a studio apartment, fully equipped with a kitchen and a terrace. The concrete walls coupled with the unusual wall angles make this place look like a modern art museum.
The Studio room has more of an industrial feel and is perfect for anyone travelling alone or visiting for business trips.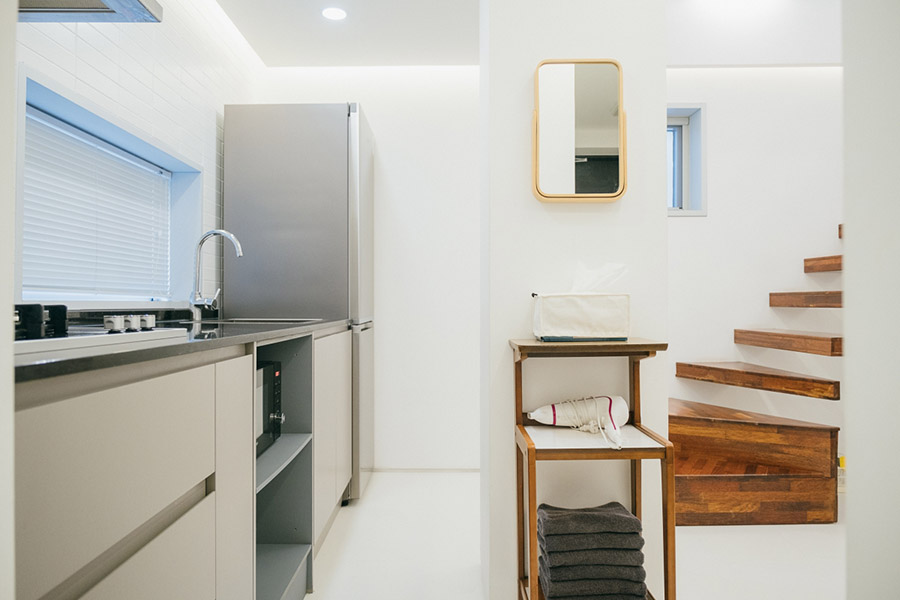 The Loft room is packed with white and wooden elements.
Learn more at their website
Best Hotels in Haeundae
If you're looking for a clean ocean view, a hotel near Haeundae beach is the best option. Haeundae beach is also a summer paradise. If you visit during the peak of summer (Jul-Aug), you'll probably see hundreds of parasols lining along the beach.
Paradise Hotel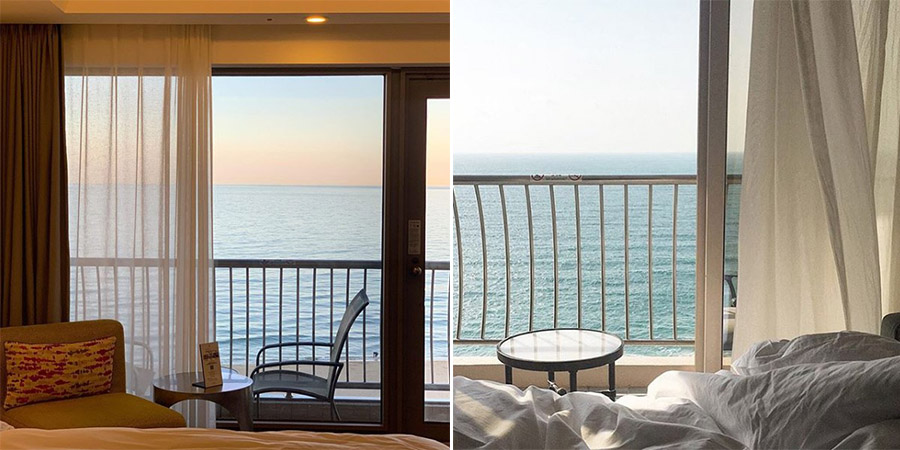 Located right along the sandy Haeundae beach, Paradise Hotel Busan not only has an indoor golf practice range but an amazing outdoor hot spring, outdoor pool overlooking the ocean as well as a casino.
The Deluxe Ocean Terrace rooms also have balconies overlooking the sea, a perfect place for your morning coffee. It is also a family-friendly hotel, with lots of kids facilities such as a driving zone for preschool children, kids' lounge and PlayStation areas.
Book via their website or via booking.com
Park Hyatt Busan
Park Hyatt Busan is located in between Haeundae Beach and Gwangalli Beach. Right beside it is the Busan Marina, so you may see a dock filled with yachts.
The great thing about Park Hyatt Busan is that it offers a different perspective of the famous Gwangan bridge. Usually, the bridge is viewed from Gwangalli beach. However, at Park Hyatt Busan, the bridge is seen from the side, and it makes a majestic sunset view.
Book via their website or via booking.com
Mipo Oceanside Hotel
Compared to the other hotels near Haeundae beach, Mipo Oceanside Hotel is a great mid-tier hotel choice for those wanting an ocean view accommodation in Busan at a more affordable price.
Book via their website or via booking.com
Best Hotels in Nampo
La Valse Hotel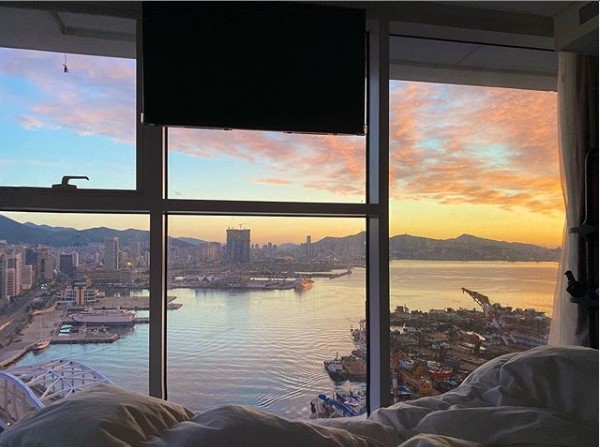 Offering a different view of Busan, La Valse Hotel near Nampo-dong showcases Busan port in all its beauty. From the room, you can spot the iconic Lotte Mall, Busan Tower, Yeongdodaegyo bridge and Busandaegyo Bridge.
The hotel also has a rooftop where you can get amazing views of the city.
Book via their website or via booking.com
Planning A Trip To Busan?
Check out our guide to a healing experience in Busan and other attractions like visiting a temple by the sea.
*Follow MiddleClass.sg on Facebook, Instagram and Telegram for more food, travel and trending stories!