Staycations have become the remedy for travel deprived Singaporeans over the past 2 years and will most probably continue to be something explored by Singaporeans since it offers a quick respite without having to go overseas. Here's our review of Conrad Centennial Singapore, a great place for a quick weekend staycation.
Conrad Centennial Singapore
One thing we realized about Conrad Centennial is that most of their rooms are of an equal size, ranging from 40-43m2, with exception of their suites. We're guessing the difference is probably the view and floor you get, but judging from the photos online, there doesn't seem to be much difference between the rooms in terms of interior.
Getting to Conrad Centennial is quite simple as the hotel is conveniently located right beside Promenade MRT.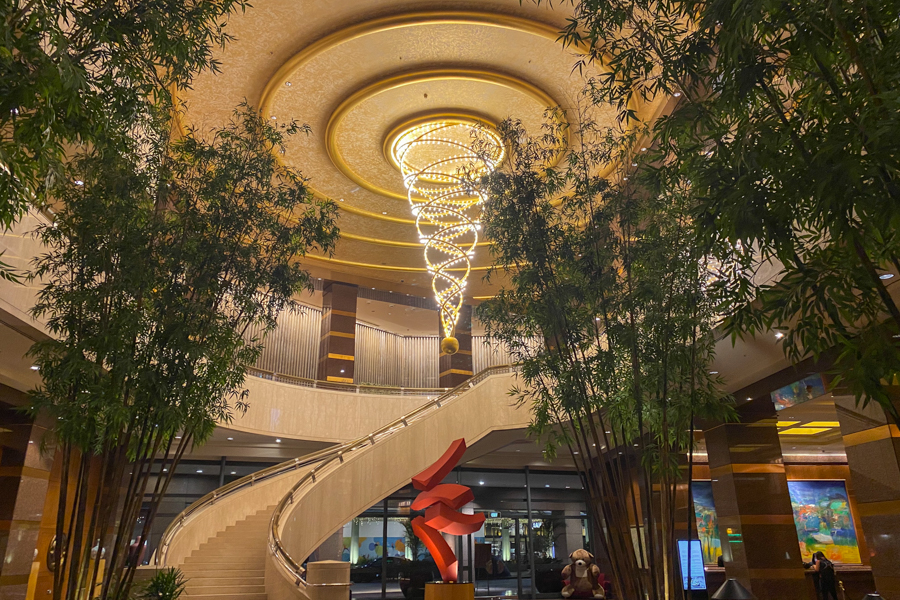 We were greeted by the grand lobby and helpful doormen who were friendly and polite, which provided a nice first impression of the hotel.
Check-In
Usually, before checking into hotels, we would usually receive emails regarding our stay, with information on how to book hotel facilities, but strangely we didn't receive one from Conrad Centennial. Strange.
We were allowed to check in from 3pm onwards, but we decided to be kiasu and try our luck around 2pm and the staff allowed us to check in.
The process was pretty straightforward and required a credit card for a safety deposit. Soon, we were issued our room keys and instructions for Wi-Fi, breakfast timings, etc.
Conrad Centennial Singapore Grand Deluxe Twin Room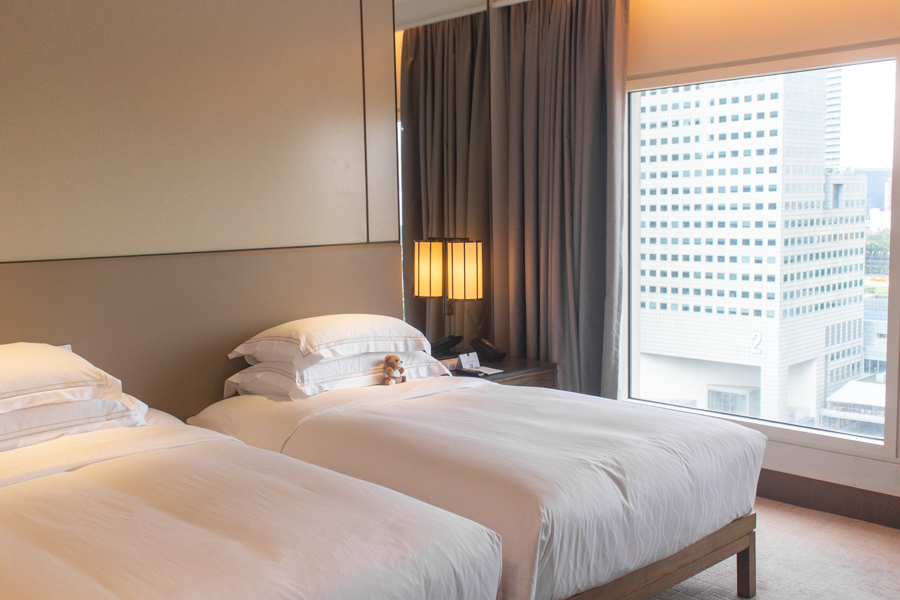 At 40m2, the Grand Deluxe Twin Room is one of the larger rooms when it comes to basic tier rooms.
Our room came with a view of Suntec's Fountain of Wealth, as well as a distant view of the National Stadium that's located in Kallang. We also requested for connecting rooms before our stay, and Conrad has kindly provided them for us.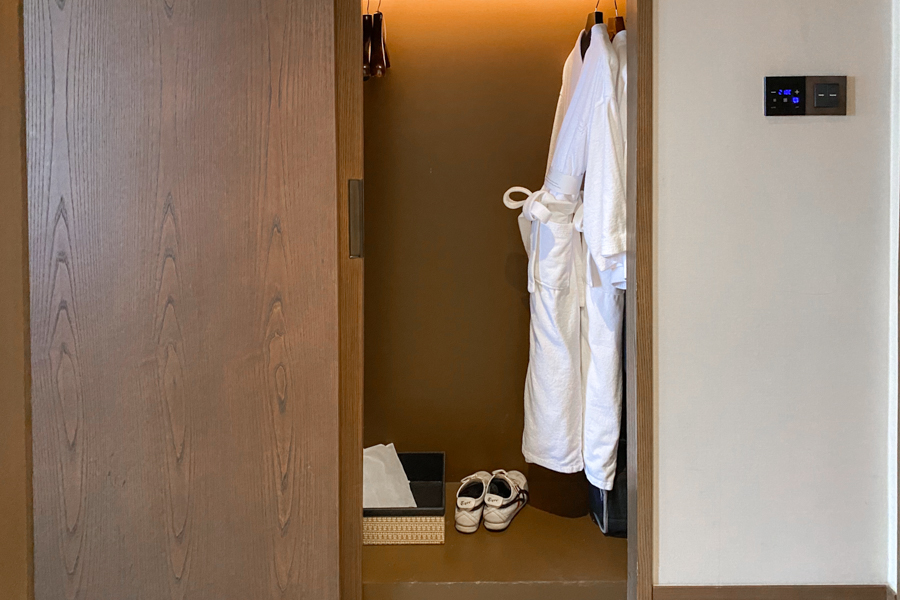 Near the entrance was the closet area which had bathrobes, hotel slippers, and an ironing board.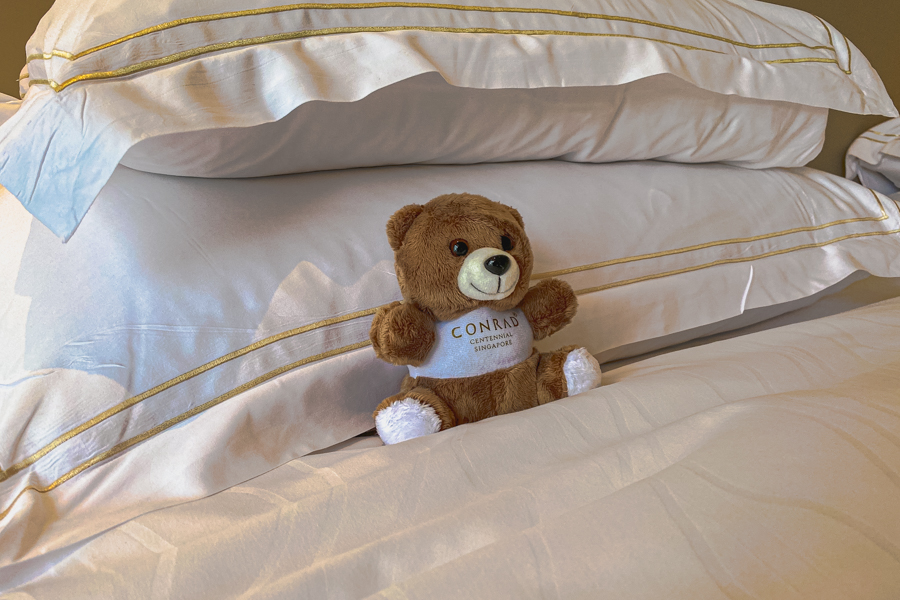 There was a cute Conrad bear plushie placed on one of the beds, which is the mascot for Conrad Singapore. And yes, you can bring this home!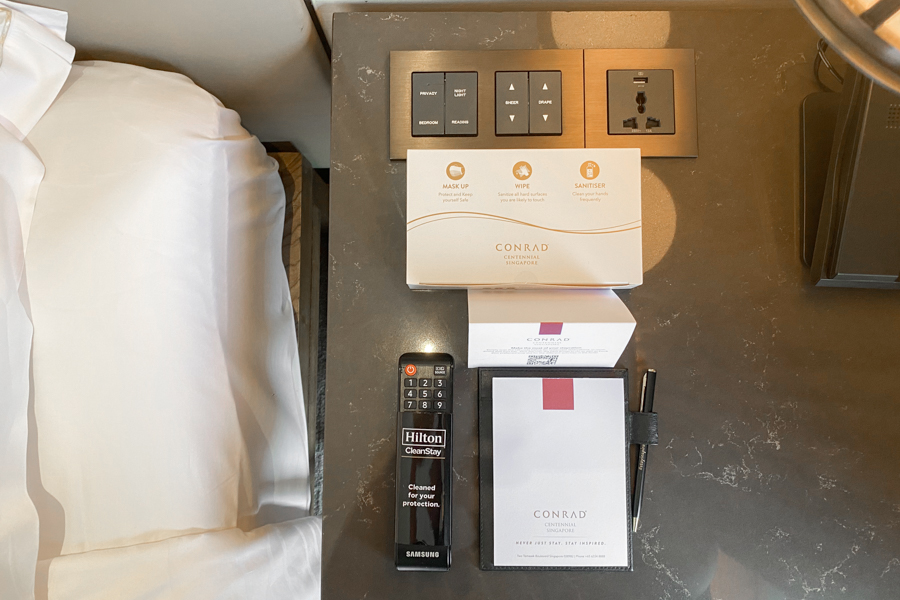 On the bedside table, there were controls for the room lights and curtains, as well as a universal power plug and USB port for charging. The hotel also provided a small care kit, which contained face masks, sanitizer, and wet wipes. There was also a QR code where we could make bookings for hotel facilities such as the pool and gym.
Since we weren't sent an email regarding the booking of facilities beforehand, we were only left with the 7am pool slot on a Sunday and a 7pm pool slot on the Saturday we checked in.
There was also a round table and sofa in the corner of the room, which we found convenient for takeaway dinners. Not sure how business travelers would find this as a work desk though.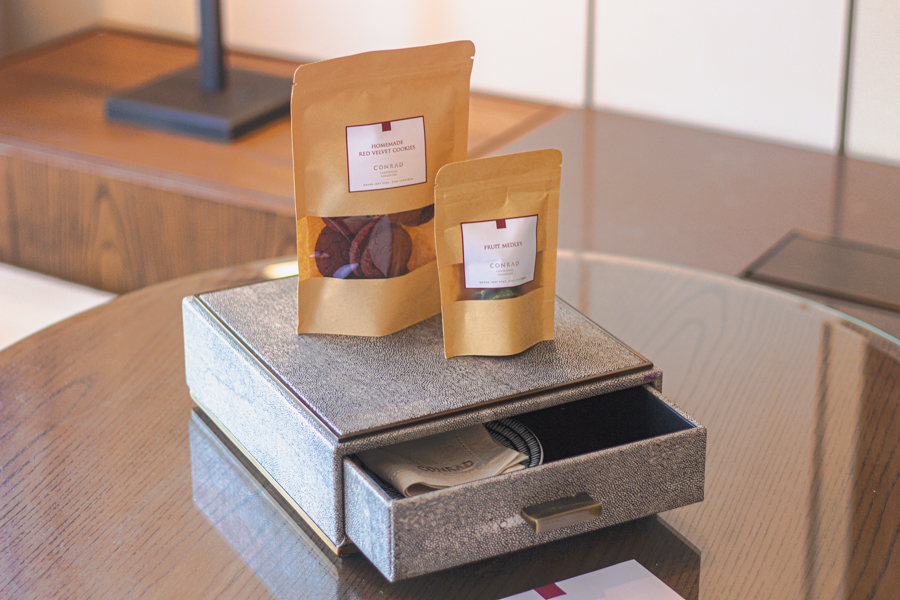 We were also greeted with goodies from the hotel, with Red Velvet Cookies and a packet of Fruit Medley placed on top of the table.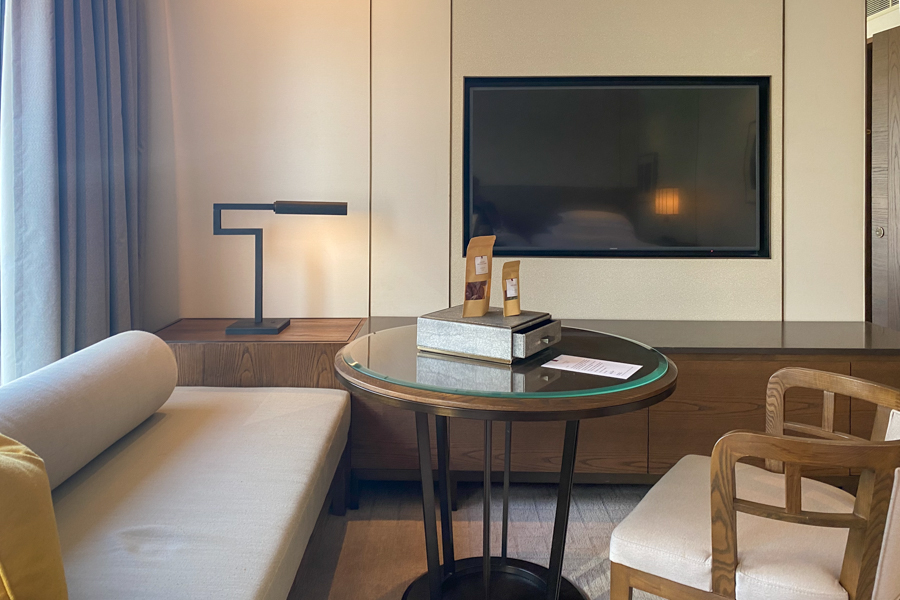 We especially loved the Samsung TV which allowed Samsung phone users like us to connect via Smart View and cast Netflix shows.
Coming with the room was also a minibar area with 4 bottles (or boxes in this case) of water, glasses, an ice bucket, a kettle, and a Nespresso machine. There were no complimentary snacks and drinks, but we still had access to packets of tea and Nespresso capsules.
Bathroom at Conrad Centennial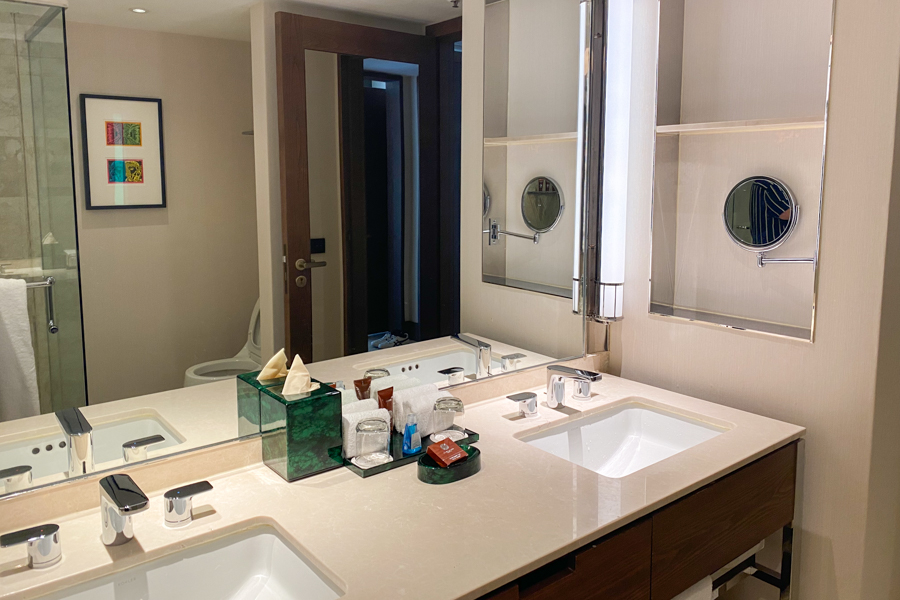 The bathroom at Conrad Centennial was relatively large, with double sinks, a shower area, and a bathtub. The bathtub also came with a rubber duck (which you are allowed to bring home as well) and bath salts.
Amenities are from Shanghai Tang, which includes items like Lotion, Bath Gel, Shampoo, and Conditioner. Everything you need from toothbrushes, sewing kits, cotton buds, and more are available in the drawers as well.
The toilet bowl didn't come with a bidet for those who are curious.
Conrad Centennial Lobby Lounge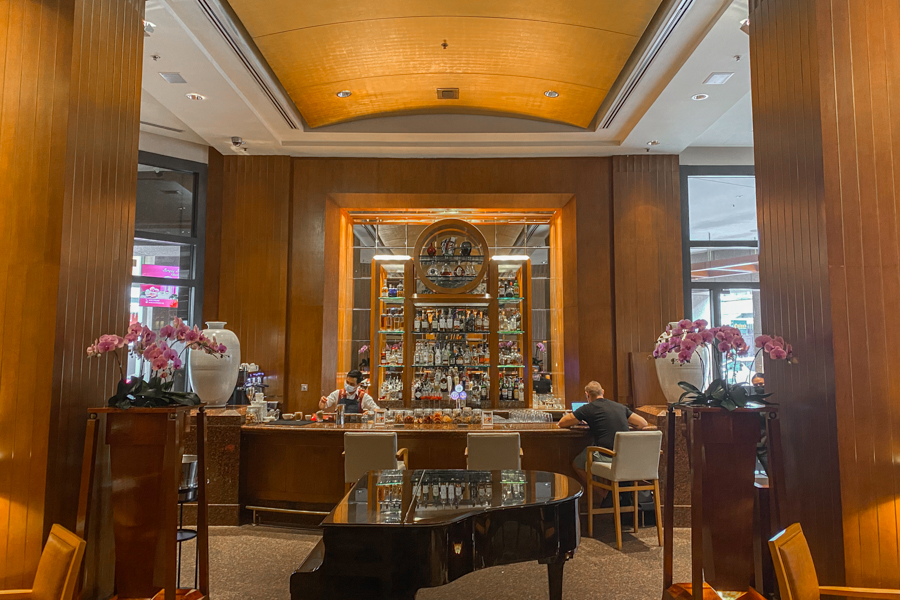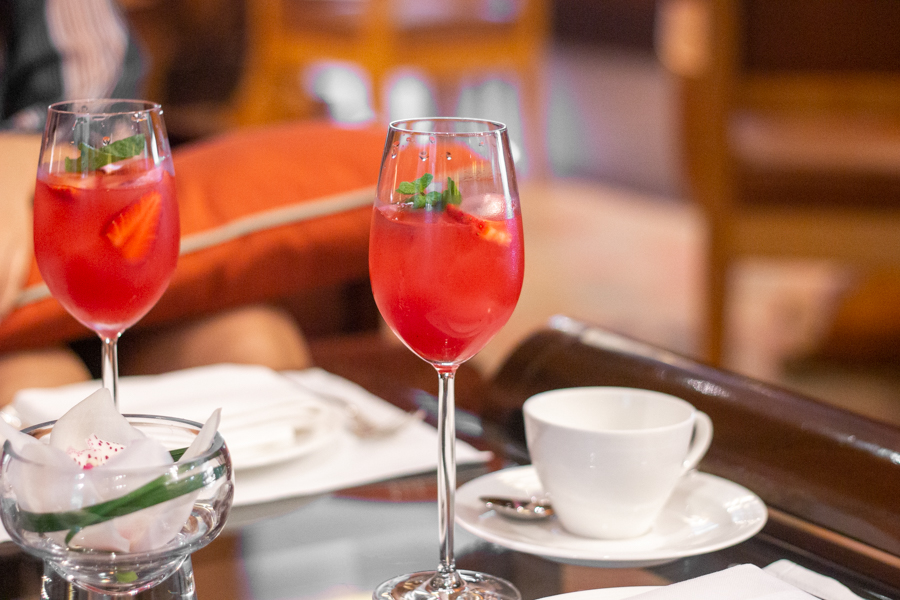 For those who want a quick bite, the Lobby Lounge was one of the places that we felt had a good atmosphere and was perfect for afternoon coffee/tea.
If not, Millenia Walk and Suntec are just nearby, so you'll be spoiled for choices.
Turndown Service
After heading out and coming back around 7pm, we found out that the service staff had left extra boxed water on our bedside tables and carefully arranged our bedroom slippers by the bed. It was something small, but it was things like this that made our experience at Conrad more special.
Swimming Pool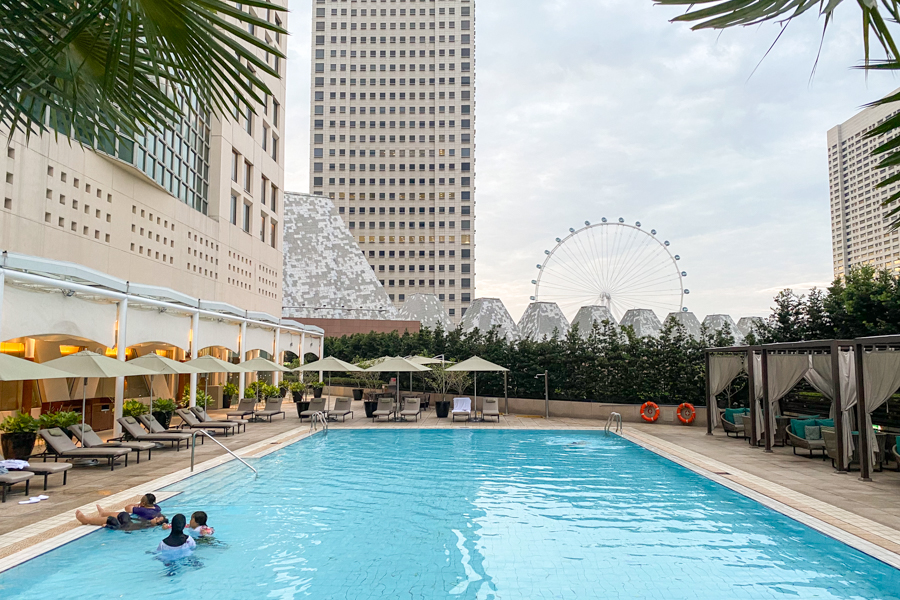 The pool at Conrad Centennial is open from 7am to 10pm, and booking is required beforehand. Time at the pool is limited to 60 mins per day.
There are cabanas and pool deck chairs available for those who need some shade during the day. Towels were available near the entrance of the pool, though there wasn't any staff enforcing anything when we visited at 7am.
The nicest view you'll get is probably one of the Singapore Flyer.
There is also a gym available at Conrad but we didn't get to check it out during our visit.
Breakfast at Conrad Centennial Singapore
Our room came with breakfast at Oscar's, which is located right beside the lobby. Breakfast is served from 7.30am to 11am on weekends, and we highly recommend going early to secure a seat.
We headed down around 9.30am and had to wait for 30mins before seats were available. Dining in was limited to 60 mins, and it was a buffet-style breakfast.
We thought the selection was pretty good, amazing creamy scrambled eggs, and the century egg porridge had the crispiest youtiao. For those who want plain bread, you'd realize it's not available at the counter, but you can request for it via the staff.
Overall Thoughts
Conrad Centennial seems like a great place for a staycation with friends and family. The service staff was also all ready to help with any of our requests. The service during breakfast could be better, with the staff clearly overwhelmed by the number of people turning up.
With the travel situation slowly going back to normal, will you still opt for a staycation?
If you're interested in a Conrad Centennial Staycation, Klook has a package deal for a 3 person stay, which comes with $100 F&B credits and breakfast.
You can get 5% on your first booking via Klook's mobile app using code 'BetterOnApp'.
Conrad Centennial Singapore
2 Temasek Blvd, Singapore 038982
*This is an independent review by MiddleClass.sg, article may contain some affiliate links. 
*Follow MiddleClass.sg on Facebook, Instagram, and Telegram for more food, travel, and trending stories