What are some of the Korean foods you've tried in Singapore? Korean BBQ, Army Stew, and Fried Chicken? Well, Woohyang Korean BBQ Restaurant is here to offer lesser-seen Korean food in Singapore, such as Gopchang and Yukhoe!
Korean-Owned Restaurant in Telok Ayer
Having been around for more than 3 years, Woohyang Korean BBQ Restaurant is a Korean-owned restaurant in Telok Ayer, a place where you can have KBBQ and other a la carte dishes.
The restaurant can accommodate up to 76 pax and has three separate dining rooms for a more private dining experience.
Menu at Woohyang Korean BBQ
Woohyang offers a variety of meat platters from pork-centric ones, and beef-focused ones to a mixture of both cuts. There is also a wide range of items to pick from the bbq a la carte menu, such as Wagyu Striploin ($58), Black Pork Belly ($29), Pork Intestine (Makchang) ($28), and Pungcheon-style grilled freshwater eel ($108).
As for hot dishes, they have a Noodle Hotpot with Beef ($55 Small, $75 Large), Spicy Beef Intestine Hotpot ($68), Kimchi Jjim with Black Pork Belly ($58), Fish Roe Seafood Hotpot ($68), and more.
More common dishes include items like Jokbal ($55), Spicy Chicken Stew ($55), Spicy Boneless Chicken Feet ($35), Spicy Rice Cake ($22), and Kimbap ($13).
For items that go well with soju, dig into items like Stir Fried Octopus ($48), Stir Fried Beef Intestines ($48), or Stir-Fried Chicken Gizzard ($28).
If you're dining alone, they have a variety of stews such as Ground Loach Soup ($20), Seafood Tofu Stew ($16), and a variety of noodles like Kongguksu ($18), Yeolmu Kimchi Noodles ($18) and Seafood Kalguksu ($20).
Lesser Seen Korean Dishes in Singapore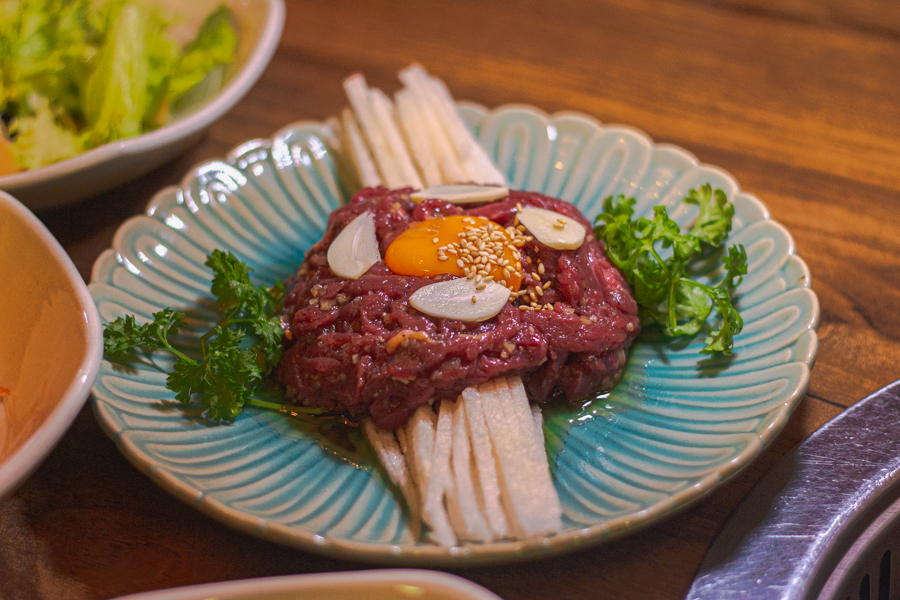 We started our meal with the Yukhoe ($38) which is the Korean version of beef tartare. It was served with a generous serving of sliced pears, sesame oil, and golden egg yolk. The meat itself was fresh and the combination of nutty sesame oil, beef, and crunchy pear never fails.
Following this was a 5-layer Pork Belly and Octopus dish ($29/$20) where the pork belly was first grilled over a charcoal fire at our table. The octopus was cooked in the kitchen and then served to us. The way to eat this dish is to place a slice of pickled radish on a perilla leaf, together with a slice of pork belly, octopus, and seasoned wild garlic leaves.
We loved the combination of flavours and textures, with a slight sweetness from the radish and pickled wild garlic leaves and the smokiness from the meat. However, if you're not a fan of perilla leaves, lettuce is also a good alternative!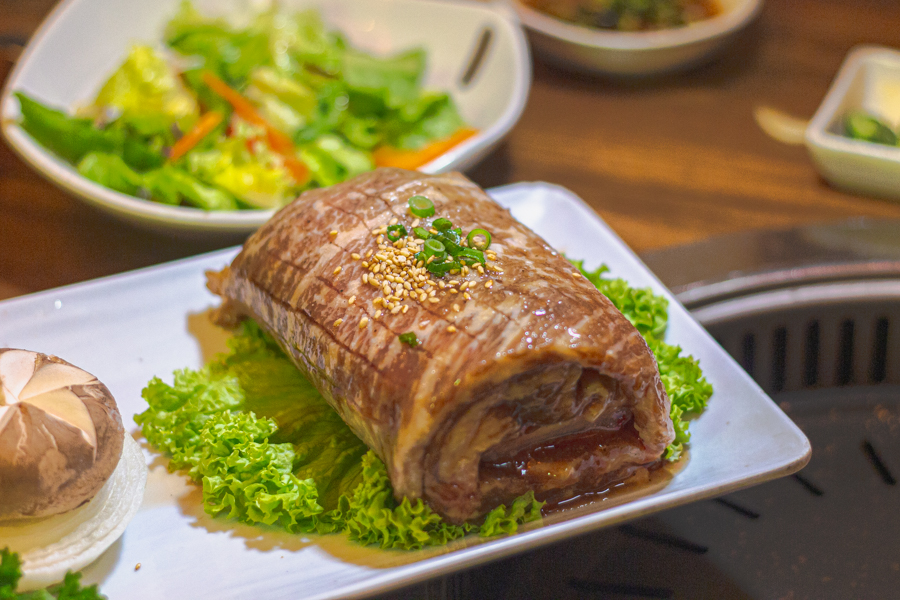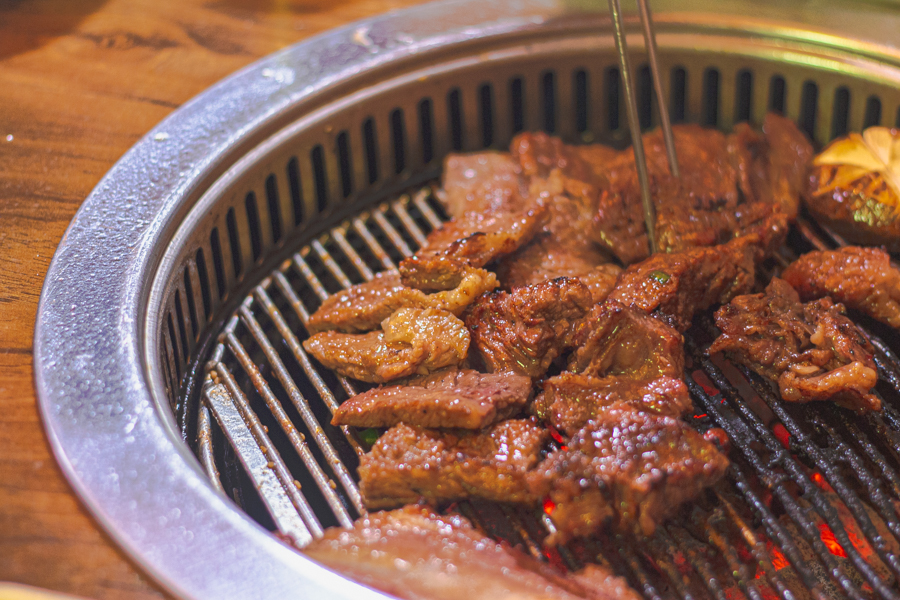 The Marinated King Galbi ($76) isn't called king for no reason – the cut of meat was massive! Grilled over charcoal fire, we loved the tender cut of meat with its slight smokiness.
We also tried a mixture of Gopchang, Daechang, and Teukyang, which are the small intestine, large intestine, and chain tripe of the ox. The cuts are available a la carte, but also available in a set. Do note that this is subject to availability, and it's best to let the staff know beforehand when making your reservation.
The cuts were juicy and did not have a particular smell to them, with the Daechang being our favourite cut. They also added chives to the grilling plate which tasted amazing when soaked and grilled in the oil from the intestines.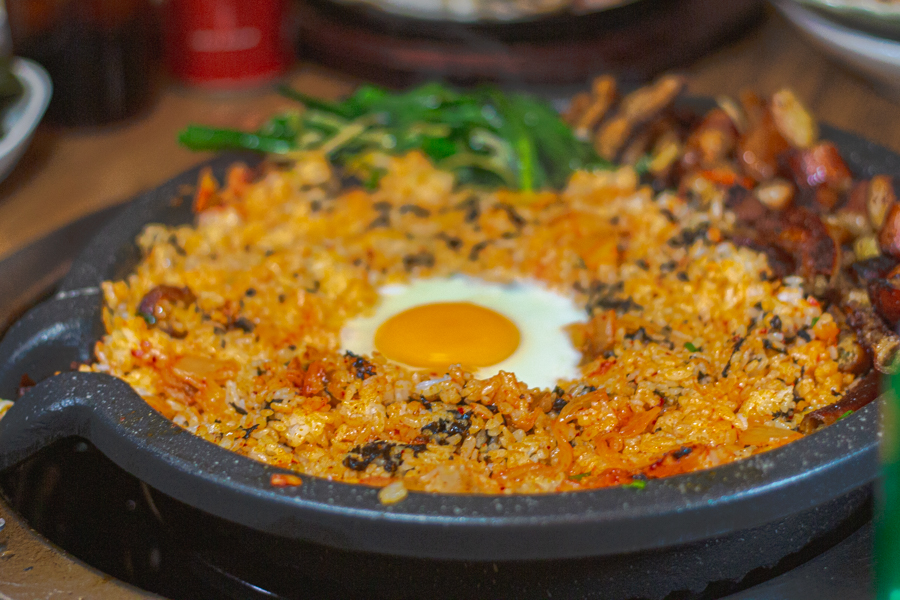 Once you're done with the intestines, make sure to opt for the fried rice, where they'll stir-fry the remaining bits with seaweed and kimchi.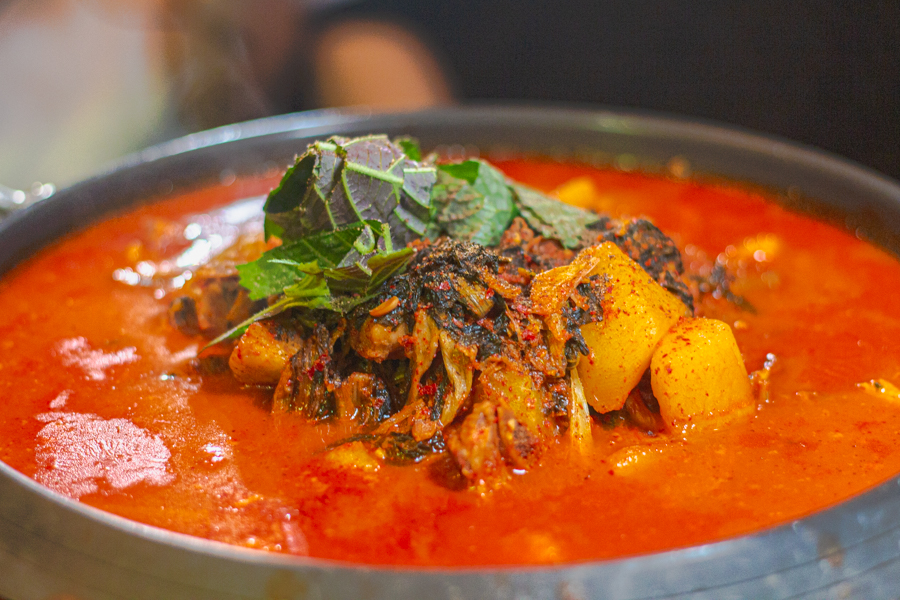 If you don't wish to have some kbbq, you can opt for stews to share like the Pork Bone Gamjatang Stew ($55) which has a blend of vegetables and meaty pork bones that perfectly go with a shot of soju.
Authentic Korean Restaurant in Singapore
Woohyang Korean Restaurant has one of the most extensive menus in Singapore when it comes to Korean food. Their grilled intestines are worth a try if you're thinking of trying something different. If not, their menu also has lots of other lesser-seen Korean food items!
During the month of March 2023, Woohyang is celebrating its revamped menu and is offering all BBQ diners a FREE bottle of Korean beer or Grape Soju! All you need to do is to follow them on Instagram and provide a Google review. Each table is entitled to only one free bottle of Korean beer or soju.
Woohyang Korean BBQ
89 Amoy St, Singapore 069908
Mon-Sat, 11:30am-2:30pm, 5:30pm-11pm, Sun, 5:30pm-11pm
*Follow MiddleClass.sg on Facebook, Instagram, TikTok, and Telegram for more food, travel, and trending stories