Best known for their steak and free-flow fries, Les Bouchons has opened a third outlet over at Rochester Park, and we can confidently say that this is their prettiest outlet yet. Les Bouchons Rochester is housed in a black and white, two-storey bungalow with plenty of seating.
There's Even A Pétanque Court!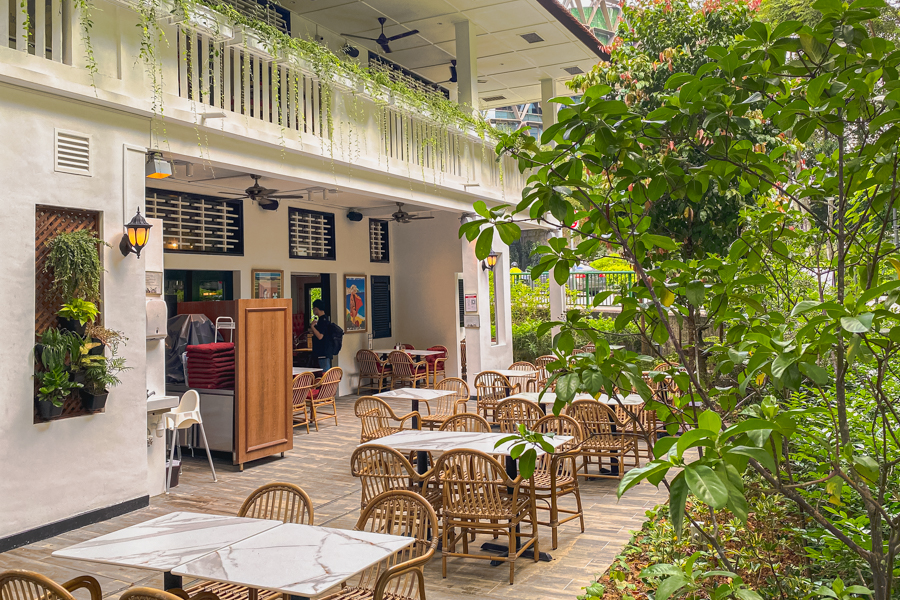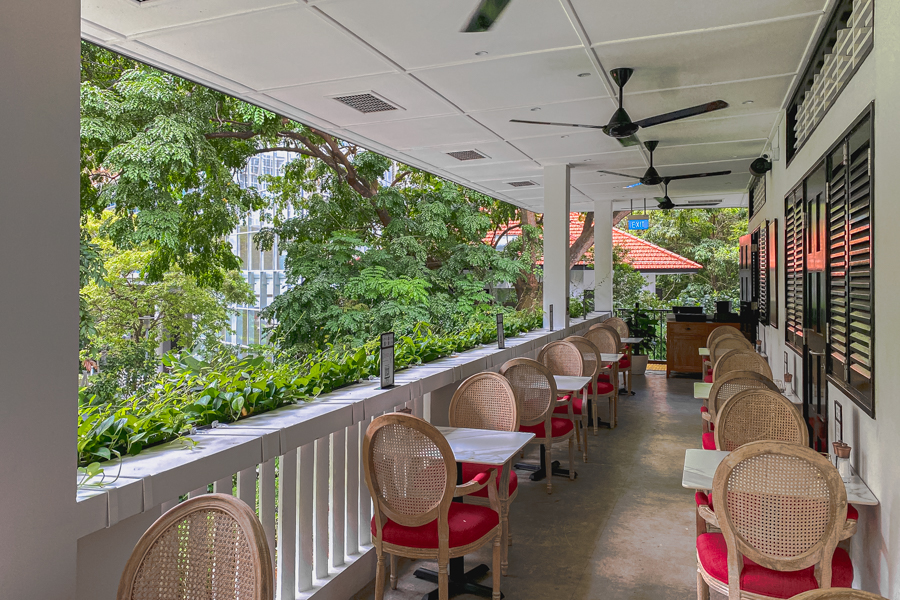 The 94-seater restaurant is split into two seating areas – indoors and alfresco (on both floors!) For a more romantic experience, opt for the pet-friendly alfresco seating on the first floor, that's located right next to trees decorated with fairy lights. During the day, the alfresco seating on the 2nd floor offers shade and ceiling fans for a more comfortable experience.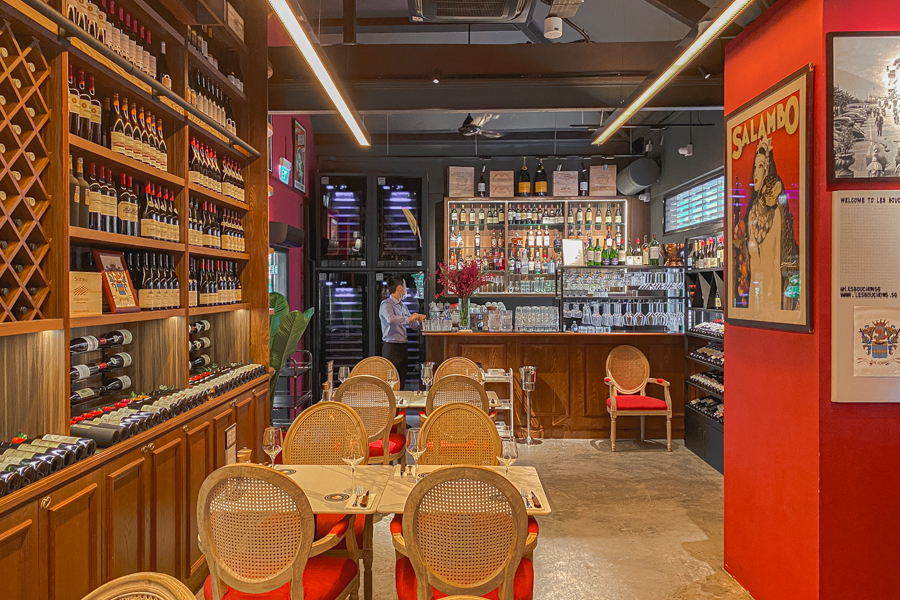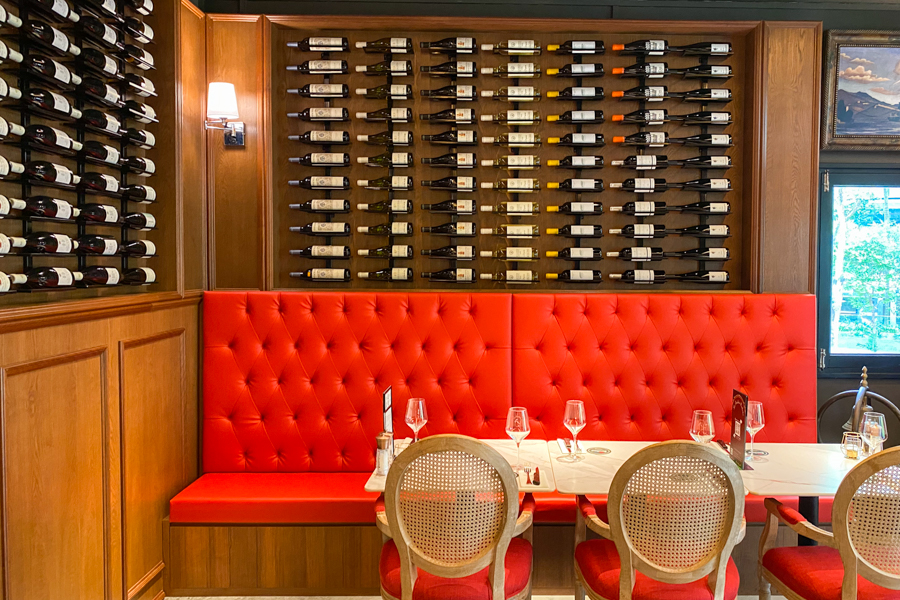 If not, the indoor seating is decorated in elegant, bright-red chairs and paintings sourced from French vintage stores. There are also more than 2000 bottles of wine from over 100 different labels stored on the second floor of the bungalow.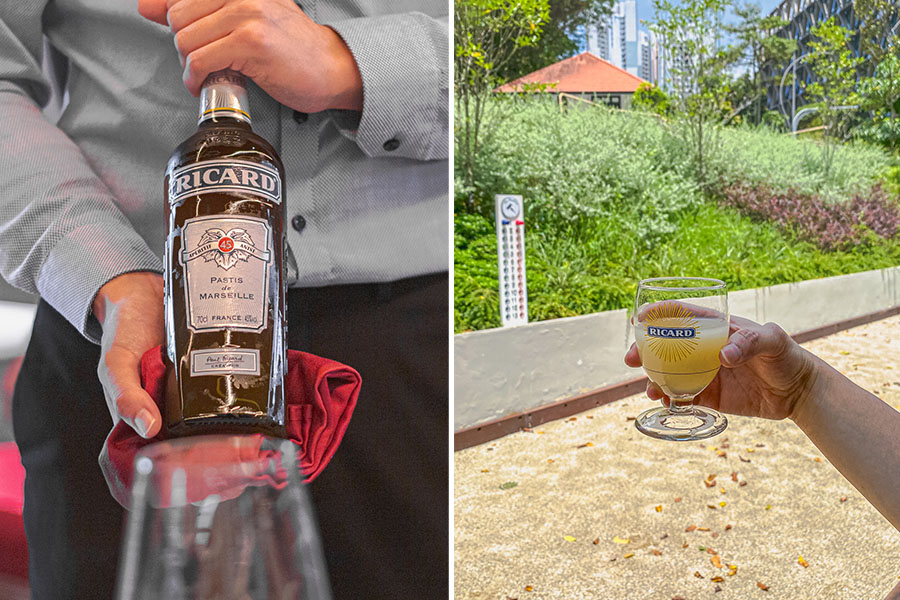 Hidden at the back of Les Bouchons Rochester is a pétanque court, a rare sight in French restaurants in Singapore. Diners can experience the popular summer pastime of pétanque and pastis – a game that involves throwing metallic balls as close as possible to a small ball known as a cochonnet.
In between turns, players usually sip on pastis, an anise-based aperitif best enjoyed with a splash of water and ice.
Food at Les Bouchons Rochester
Les Bouchons Rochester's menu is a combination of the ever-popular signatures along with some new and exclusive items.
Starters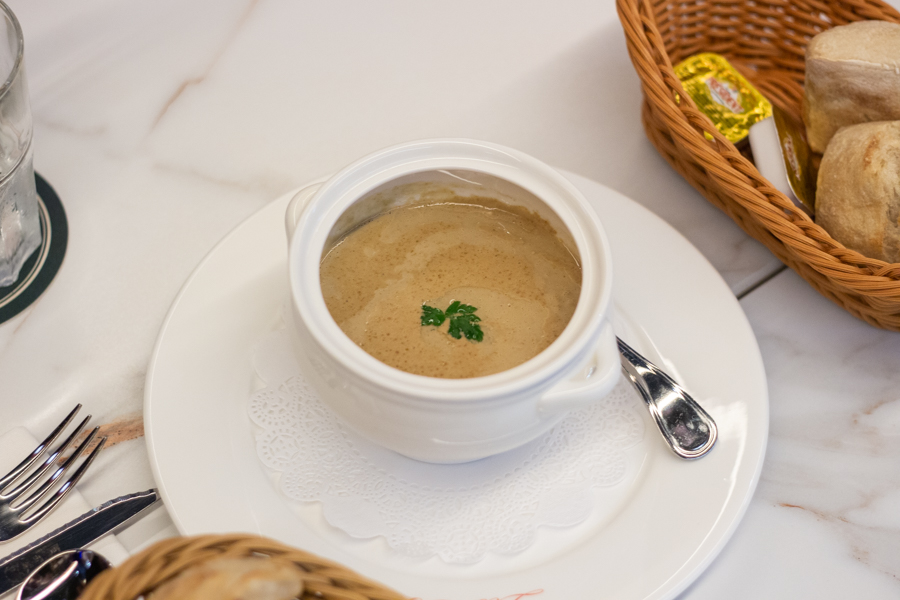 The meal was off to a great start with the amazing truffle fragrance from the French Ceps Soup with Truffle Oil ($16). The soup is served with bread and butter which we enjoyed dipping in the creamy concoction. While it can be shared, we would have no problem finishing this on our own.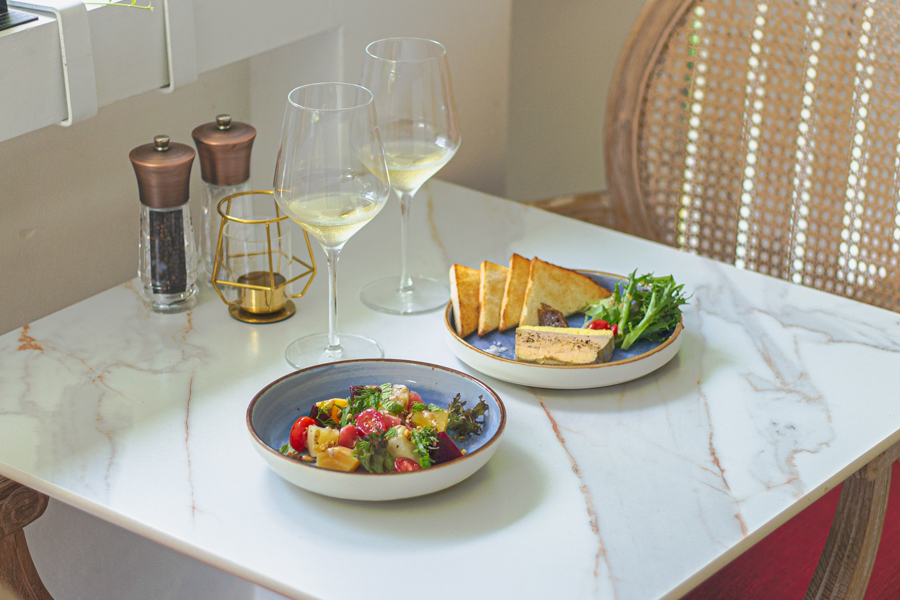 Fans of foie (liver) would enjoy the Terrine de Foie-gras "Maison" ($26) which is a foie-gras terrine served with onion chutney and toast. Made in-house with Moscato, salt and pepper overnight with a slab of liver fat on top, the creamy and smooth foie-gras terrine was well balanced by the onion chutney. We found this to go well with their House White ($20).
While we're familiar with the deep red-purple colour of beetroot, the French Heirloom Beetroot Salad ($17) is made with 4 different coloured beetroots, cherry tomatoes and a sprinkle of nuts. There was a slightly sweet aftertaste, and we really enjoyed how refreshing the dish was.
Mains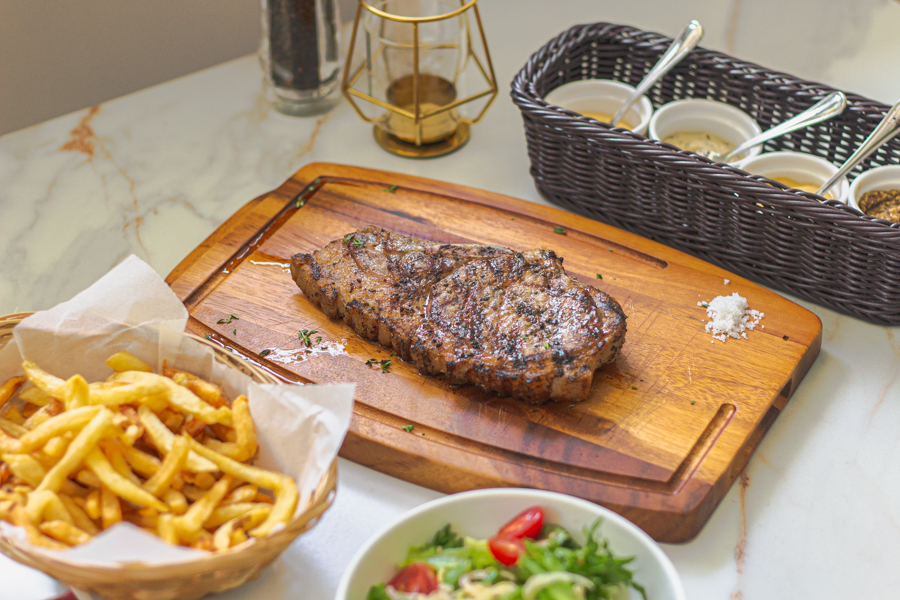 Starting with the Grilled Canadian Pork Chop 400g ($44) which was served medium well, with salt & pepper. This was meaty and well-seasoned, perfect for those opting for a pork main. Pair the meat with the sauces provided, Dijon mustard, grain mustard, homemade mayo and homemade béarnaise.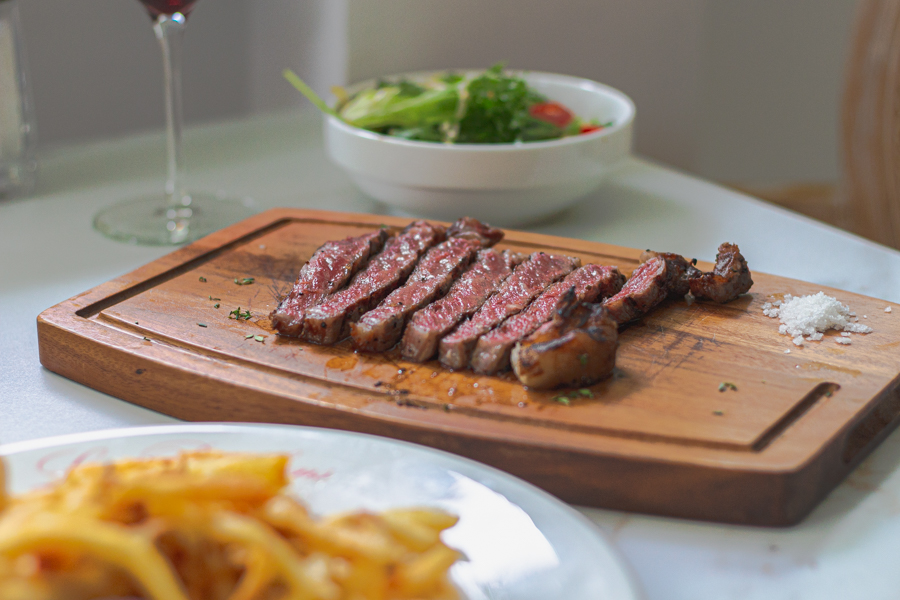 The Grilled Sirloin Wagyu ($78) was one of the highlights of our meal at Les Bouchons Rochester. The meat is sourced from Hokkaido with a marbling score of 6/7 – which meant a tender and creamy bite. True to the marbling score, the first bite was met with a burst of juices and soon after, melted in our mouth.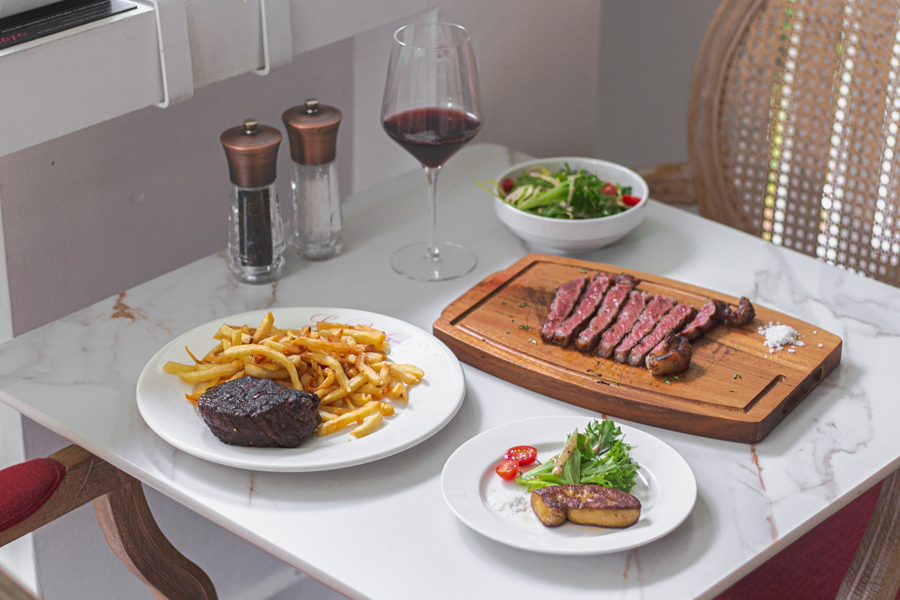 One of the popular signatures at Les Bouchons is the Extra Tender Angus Beef Fillet ($50) which was a flavour-packed piece of meat that went super well with their creamy black pepper sauce, that's enhanced with cognac. To further enhance the experience, pair it with some pan-fried foie gras.
Desserts
If you're reluctant to end the night, slice into the new Truffle Brie "Maison" ($10), a slice of mascarpone cheese with homemade truffle pate and continue your heartfelt conversations with some wine.
For the sweet tooths, give the Ile Flottante ($13) a try, a classic Floating Island made with meringue and crème anglaise. One of our favourites was the Crème Brulee ($13), a sweet treat given a refreshing touch of orange Curacao which provided a burst of citrusy flavours.
You can also stick to the classics with the homemade Double Chocolate Lava Cake with Vanilla Ice Cream ($15), a treat chocolate lovers will have no problem finishing.
Opening Promotion
To celebrate their new outlet, Les Bouchons Rochester will be having a soft launch promotion from now till 31 March 2022, where you can enjoy 10% off your total bill (not applicable for the Weekday $32++ 3-Course Set Lunch and/or with any other promotions, discounts and privileges unless otherwise stated).
You can also look forward to the outlet offering breakfast and teatime items in the future!
Les Bouchons Rochester
10 Rochester Park, Rochester Commons, S139221
Tues to Sun, Closed on Mondays.
Breakfast: 10am to 11.45am (coming soon)
Lunch: Tue-Fri – 12pm-2pm, Sat-Sun, 12pm-3pm
Teatime: 2pm-5pm (coming soon)
Dinner: Tue-Thu, 6pm-10pm (Last order: 9.30pm), Fri-Sat, 6pm-10.30pm (Last order: 10pm), Sun, 5pm to 9pm (Last order: 8.30pm)
*Follow MiddleClass.sg on Facebook, Instagram, and Telegram for more food, travel, and trending stories
*This was a media tasting by Les Bouchons. However, this is not a paid review, and all opinions are ours.