Compared to the light-hearted legal K-dramas we've seen so far like Extraordinary Attorney Woo and One Dollar Lawyer, May It Please The Court is a dark legal mystery drama starring Jung Ryewon (Witch At Court, Prosecutor Civil War), Lee Kyoohyung (Prison Playbook, All of Us Are Dead) and Jung Jiyoung (Love Rain, Brain) as their characters navigate a complex web of legal cases, politics, and justice. 
A Complex Series Of Relationships
We are introduced to the series's two main characters: Noh Chakhee, a feared and tenacious lawyer with the large Jangsan Law Firm and Jwa Sibaek, an unassuming but driven public defender in the state of Jeongsan. 
After mishandling a big pharmaceutical case, Chakhee loses her promotion and is sent to work with Sibaek in the public defender's office for a year before she can return back to Jangsan. Chakhee maintains her sharp demeanor despite these setbacks and learns to work with Sibaek's oddball personality, while they unravel a deadly mystery that implicates both of them. This all happens under the watchful eye of Jang Gido, the current senior partner of Jangsan Law Firm, who has hidden aspirations of his own. 
Viewers will have to keep watching to follow how their partnership grows as they tackle difficult cases, all while solving the mystery unfolding in the background. The story is gripping from the first episode, and all the actors embody their characters perfectly, making for compelling on-screen interactions. 
A Stellar Cast Fit For The Story
Those who recognize Jung Ryewon will know this is the third legal drama she's been cast in over the past four years, a role she almost turned down until she was drawn by the unique script and story. "Usually in dramas, you would be rooting for a character within the first episode. But with this show, you're left doubting the person you rooted for!" Jung Ryewon shared, a sentiment echoed by co-star Lee Kyoohyung who plays Jwa Sibaek. "There is a deep story behind all the courtroom scenes… You have to keep watching all the episodes to piece the story together."
Both co-stars have strong backgrounds in legal dramas, and ace the execution of challenging courtroom scenes despite the heavy legal jargon. Noh Chakhee is as fashionable as she is driven, something that Jung Ryewon shared was a defining difference from her other courtroom roles that are usually 'ice queens' and unapproachable. On a similar vein, Lee Kyoohyung describes Jwa Sibaek as someone who 'will stop at nothing for justice', an underlying theme that drives his character's decisions throughout the story.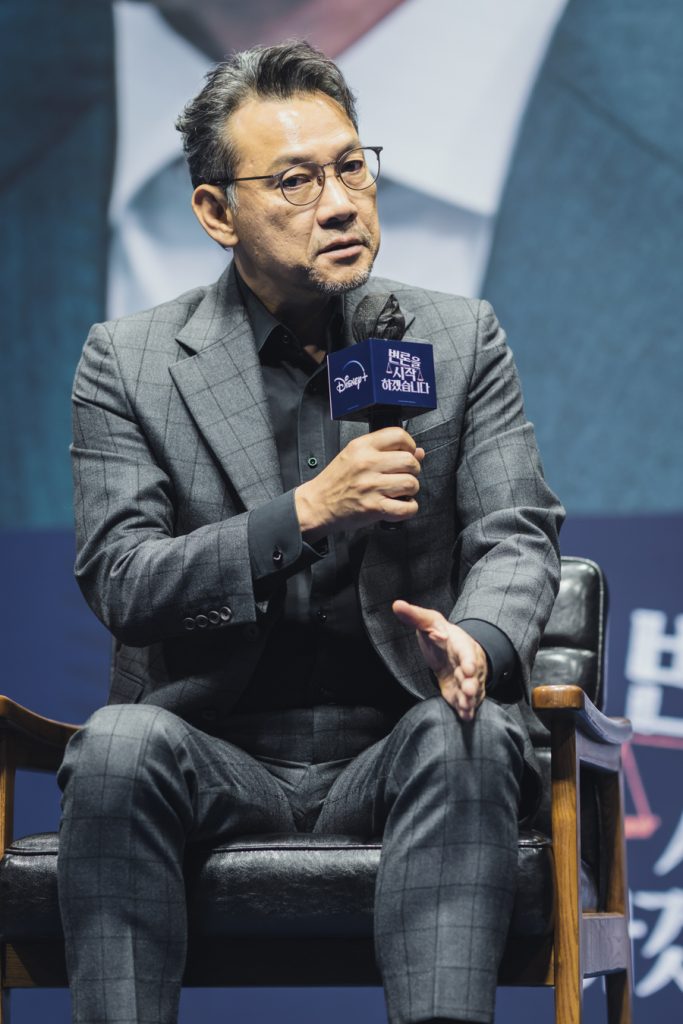 Jung Jinyoung, who portrays the show's antagonist Jang Gido, shared praise of their performance, saying they were able to play characters who were not just 'hilarious and interesting' but also with 'depth and sincerity'. He himself is a veteran actor, with a commanding aura that captures the attention in every scene he appears in. "When I first filmed with him, I peed in my pants a little," joked Lee Kyoohyung. Jang Jinyoung teased that his character plays a key role in the development of the story, and while viewers will intuitively identify him as a villain, they will need to continue watching to understand why.  
The first two episodes of May It Please The Court are now available for streaming on Disney+! Follow the rest of the show to see how the characters work together – or against each other – in this new riveting legal K-drama.
*Follow MiddleClass.sg on Facebook, Instagram, and Telegram for more food, travel, and trending stories