Hidden right in the heart of Tokyo over at Minato City is Little Darling Coffee Roasters, a spacious cafe that we honestly didn't expect to find. In a city like Tokyo where buildings and crowds are aplenty, the roastery cafe made us feel like we were in California with its spacious interior and lush green lawn.
Spacious Cafe in Tokyo
Part of the Share Green Minami Aoyoma retail and event space, the cafe took a little time to find as the entrance was quite secluded. Leading to the entrance was a carpark space so one might get confused if they're in the right place.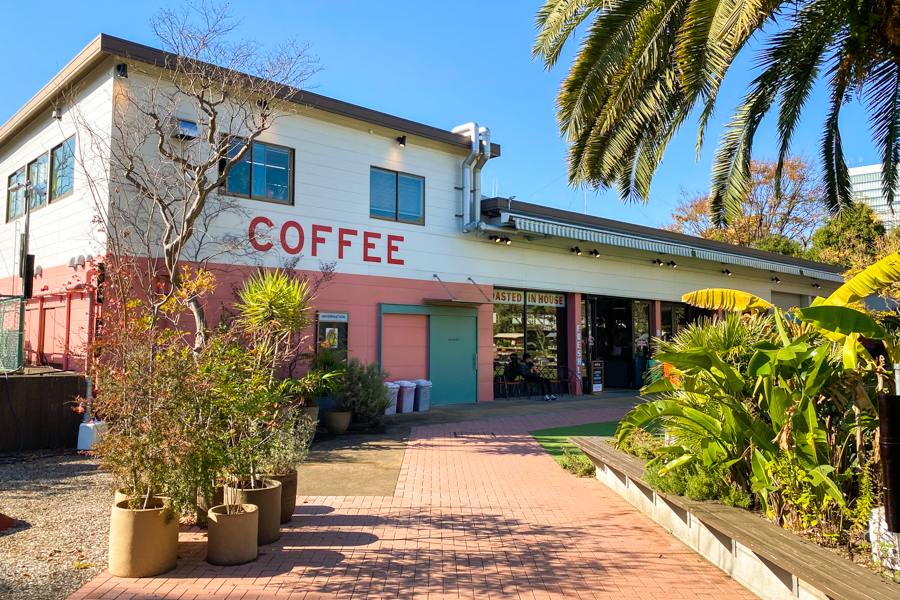 However, once you pass by the entrance, you'll be greeted by a bright pastel-coloured building with the word 'coffee' on it. With the palm trees, warehouse-looking exterior, and bright colours, Little Darling Coffee Roasters indefinitely screams California. The gorgeous blue sky helped a lot too!
The main area of the cafe is located inside the warehouse building, where their roastery is located as well. You'll find the ordering counter dividing the roastery and cafe, along with a display table of their range of beans and merchandise.
There's an English menu available here, but one thing to take note of is that the establishment is cash-free and only accepts card & local app payments.
The rest of the cafe has seats spaced out evenly, with plants acting as dividers, which contributed to a very pleasant dining-in experience. The tall ceiling also helped to make the space feel even larger!
Moving to the outdoor area, you'll be greeted with lush greenery and deck chairs, where we found lots of families letting their kids run around the lawn. There's also a shaded area surrounded by plants where you can enjoy your coffee, along with a flower shop right next door with plenty of instagrammable spots.
Little Darling Coffee Roasters Menu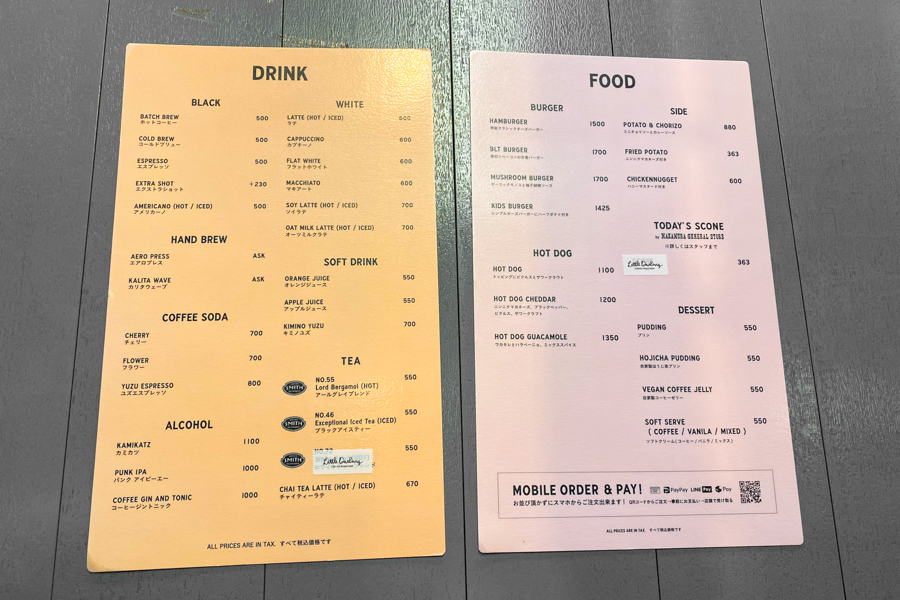 The coffeehouse serves up a range of food and drinks, with familiar items like Cold Brew (JPY 500), Cappuccino (JPY 600), and Flat White (JPY 600). They also have soy and oat options. More interesting items would be their coffee soda, which comes in 3 flavours: Cherry (JPY 700), Flower (JPY 700), and Yuzu Espresso (JPY 800).
As for food, the cafe serves Burgers, such as the BLT Burger (JPY 1700) and Mushroom Burger (JPY 1700). They also have Hot Dogs, in Original (JPY 1100), Cheddar (JPY 1200), and Guacamole (JPY 1350) options.
You can also pick from the dessert menu with items like a Pudding (JPY 550), Vegan Coffee Jelly (JPY 550), and Soft Serve (JPY 550).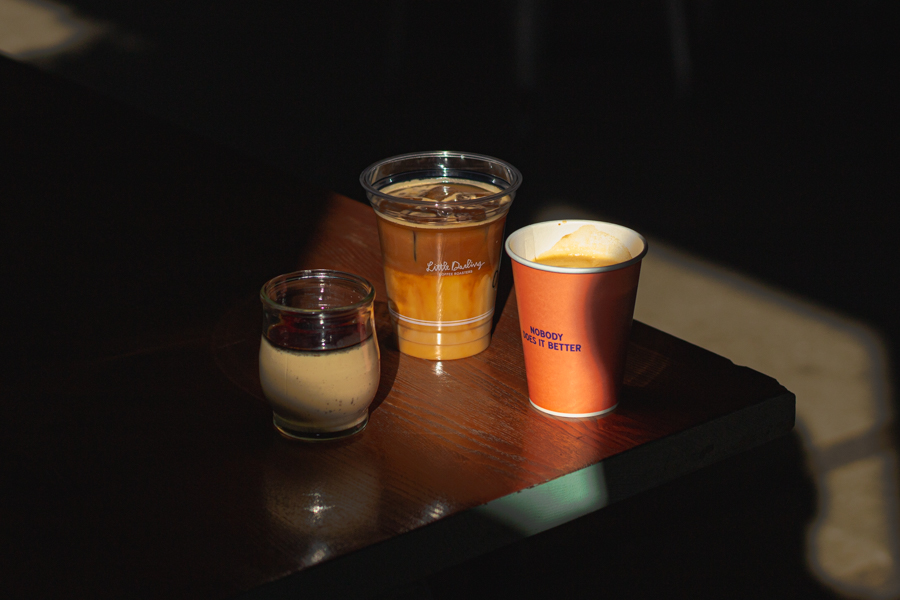 We opted for both the hot and iced versions of the Latte (JPY 600) and it was a smooth fragrant concoction. For dessert, we tried the Hojicha Pudding (JPY 550) which came in a cute glass cup. It had a layer of intense hojicha syrup on top of the soft, custardy hojicha pudding. We enjoyed this very much, as they did not hold back on the fragrance and taste of the hojicha.
Relaxing Coffeehouse in Tokyo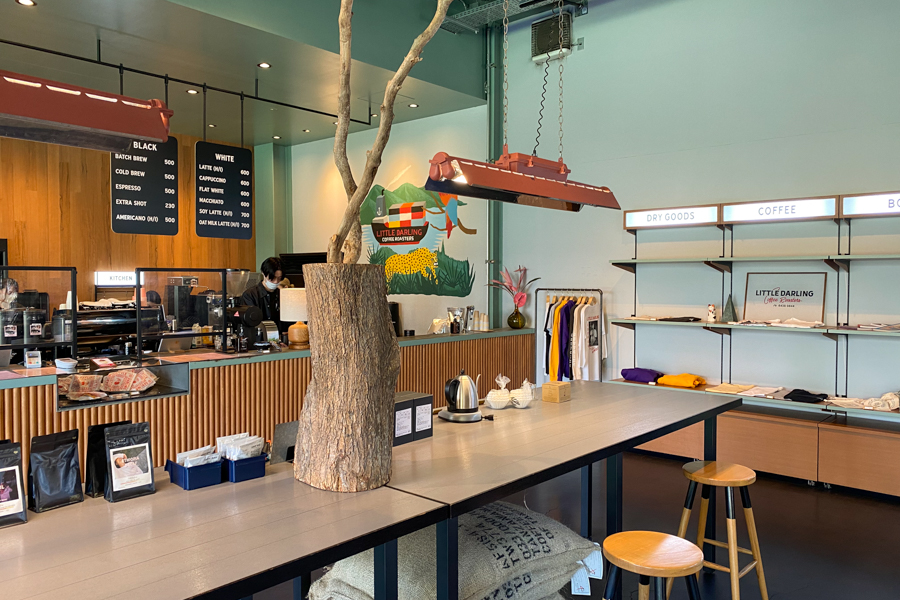 Overall, Little Darling Coffee Roasters provides a certain calm that you can't find in the busy streets of Tokyo. It's ideal for a day of relaxation where you just need to slow down and rest. Best part? The coffee's good too.
Little Darling Coffee Roasters
1 Chome-12-32 Minamiaoyama, Minato City, Tokyo 107-0062, Japan
Mon-Sun, 10am-7pm
Nearest Station: Aoyama-itchome
*This is an independent review by MiddleClass.sg
*Follow MiddleClass.sg on Facebook, Instagram, TikTok, and Telegram for more food, travel, and trending stories