Lau Pa Sat is an iconic monument in the heart of Singapore encompassing the best of our local hawker fare. After enduring the challenges of COVID-19, its now back in full swing with a lineup of over 80 food stalls and a selection of 100 local retail brands! 
New Revamped Interior, Same Delicious Cuisine
Patrons are sheltered by the recognisable high ceilings and comfortable seating options that can comfortably seat two to four people. Despite its refreshed design, the food selections inside Lau Pa Sat hold the same memorable flavours.
Choose from the classics like prawn noodle, Bak Kut Teh and braised duck rice, each stall helmed by an experienced hawker. We got to try offerings from both established and newly opened stalls. Our highlights include the Moonlight Hor Fun by newcomer Wok of Wonders (Stall 38 and 39) and the Braised Chicken Hor Fun by Shi Hui Yuan (Stall 23), a Founder's stall.
True to its name, the Moonlight Hor Fun comes with an egg to be mixed into the noodles, and can easily feed two people. The gravy had a deep soy sauce flavour that was very satisfying, complemented with the creaminess of egg yolk. The Braised Chicken Hor Fun had a unique herbal flavour in its sauce that cannot be found elsewhere, topped with braised mushrooms and tender chicken pieces. You can also get items like Hokkien Mee, Thunder Tea Rice and Scrambled Egg With Pork Chop, meaning that's something for everyone!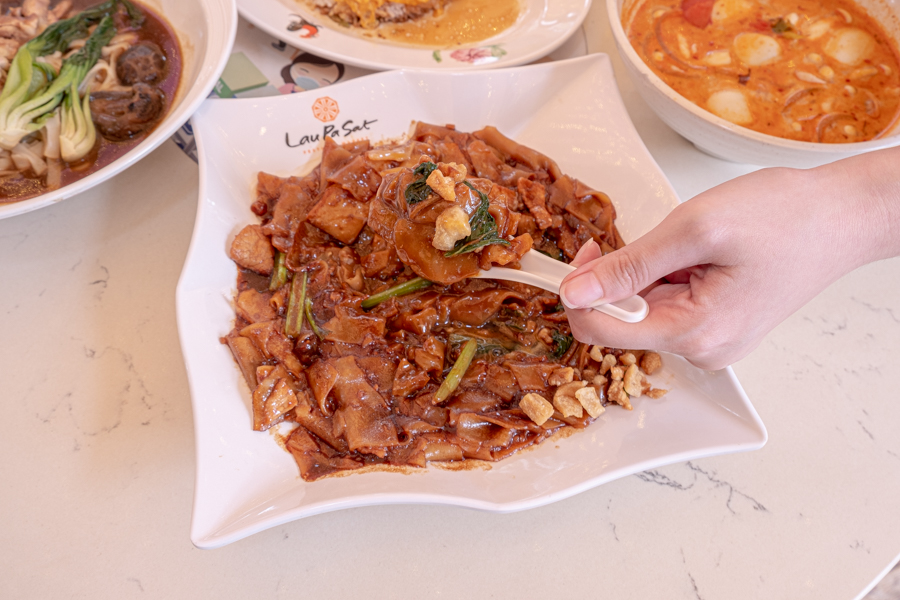 There's also a selection of new-age hawkers supported by the HawkerBosses program, where subsidies are provided to support enterprising individuals who want to open their own stalls. As part of the effort to sustain and revitalise the hawker culture here, these subsidies offset the higher costs needed to operate a stall. You can recognise these stalls by the 'HawkerBosses' stickers on the storefront, like the one on the stall Butter & Cream Bakery (Stall 6).
This stall offers a mouthwatering array of freshly baked muffins and egg tarts that are brimming with fillings like chocolate chip and blueberry. They sell out quickly but are replenished frequently, so make sure to head down early!
There are also international cuisines ranging from Thailand, Korea, Mexico, Vietnam and Turkey, each with their own tantalizing offerings. We got to try the Mexican Bowl from Mexican Cuisine & Chinese Cuisine (Stall 8) that came with seasoned meat, spicy mango salsa and guacamole and the Seafood Tom Yum Soup from Mr. Tom Yum Thai Kitchen (Stall 5). The broth was creamy and flavourful and still packed a spicy punch, on top of the generous servings of fish balls and prawns included. There's even a choice of over 30 international craft beer brands for you to choose from!
The Best of Singaporean Brands At Food Folks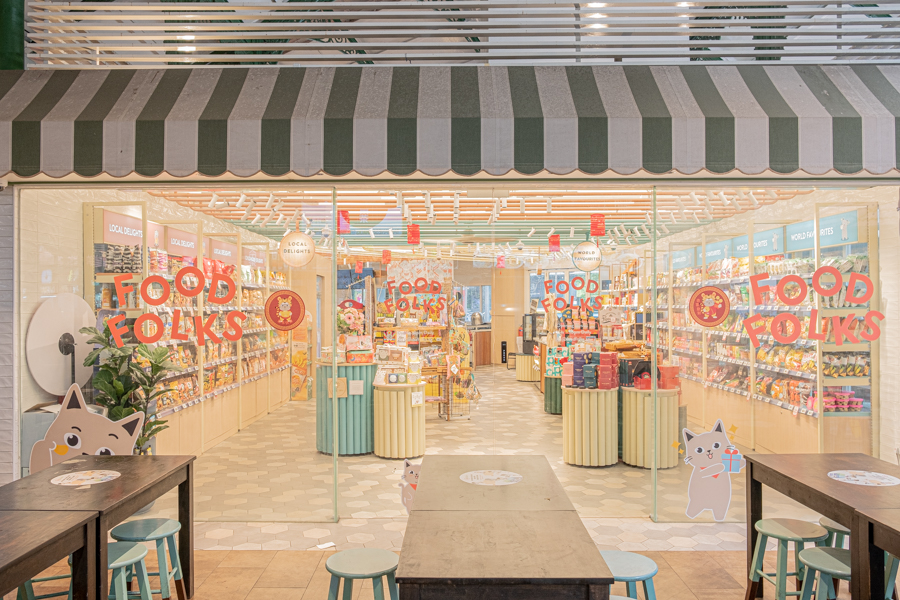 La Pa Sat also boasts Food Folks, an initiative that brings together local F&B and retail brands to showcase the best of what Singapore has to offer. The space now offers over 200 Singaporean retail brands like Matchaya, Fossa Chocolate, MAD Coffee and even White Rabbit candy! They also have an international section where you can purchase snacks from Korea, China and Japan. 
There's also an F&B section that has offerings like Creme & Cone, An Acai Affair and Hooks Coffee, all proudly homegrown brands. Sit down in the air-conditioned seats and take time to enjoy your snacks while browsing the many offerings available! 
CelebrATE Lau Pa Sat With Limited Time Carnival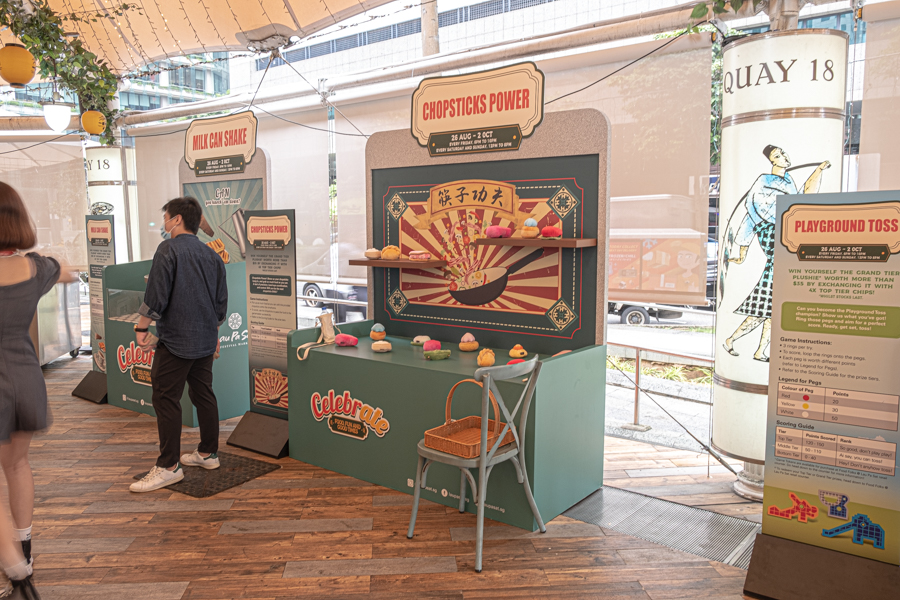 To commemorate the significance of Lau Pa Sat, an exciting lineup of weekend festivals is in full swing! From now till 2nd October, enjoy six weekends of carnival games and festivities with CelebrATE @ Lau Pa Sat! Located along Quay 18, there's a line of family-friendly games, an Instagram photo spot and a super attractive lucky draw with over $5,000 worth of prizes to be won.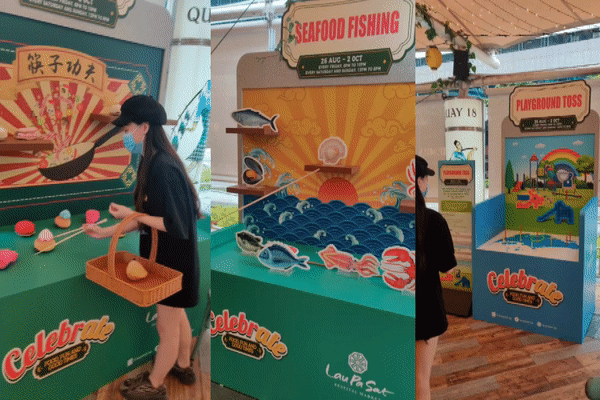 The games are a Singaporean take on carnival classics like Playground Toss, where you throw rings to the sticks and Seafood Fishing, to test your skills by hooking fish cut-outs with fishing lines. Spend a minimum of $10 on up to two combined receipts to get a CelebrATE booklet worth $25 with food vouchers, four game tokens for the carnival and a lucky draw ticket! 
Head down to Lau Pa Sat today to enjoy its new yet familiar selections, immerse yourself in the best of Singapore's food heritage and play some fun carnival games!
Lau Pa Sat
18 Raffles Quay, Singapore 048582
Open 24 Hours
CelebrATE @ Lau Pa Sat
26 August to 11 September
Every Friday: 6pm to 10pm
Every Saturday and Sunday: 12pm to 8pm
*Follow MiddleClass.sg on Facebook, Instagram, and Telegram for more food, travel, and trending stories