Soju is known as a type of alcohol that Koreans turn to when they are tight on finances. However, in Singapore, it's not exactly an affordable type of alcohol (well alcohol is not really affordable in general in SG). If you're thinking of having a gathering with your friends over some drinks or soju cocktails, here are 10 places in Singapore where you can get soju for $10 or less.
Places To Get Cheap Soju in Singapore
GetIt By Changi Recommends
An eCommerce site by Changi Travel Services where you can get things ranging from beauty items to electronics. The great thing about GetIt by Changi Recommends is that they have a next-day, same-day and even a 2hr Express Local Deliveries!
They usually sell it in a set of 20 bottles, from brands like Chuga Soju and Jinro. They range from around $8/bottle to $10/bottle depending on the brand and flavour you choose.
Stickies Bar
Selling Soju from as low as $6.50/bottle, you can get it delivered to you even till late at night. They carry Jinro Soju and OneShot Sojus.
Stickies Bar even has a Shiok Savers Soju menu where you can choose 1 main and 2 bottles of soju for just $22. Main menu items include Korean dry noodles and even Truffle Mac & Cheese!
Alcohaul
Who doesn't love a website with a good name? Alcohaul sells various types of alcohol with Korean soju and wines included.
You can find plum wines and makgeollis here, alongside Jinro Soju and Oneshot Sojus. For Jinro Sojus, prices range from $33 to $36 for 4 bottles and $159 to $168.99 for 20 bottles. They are also on Shopee.
Shopee
Speaking of Shopee, it's a great place where you can browse and compare prices. Scroll through an array of stores selling Soju such as HiMart, Alcohol Express, BoozeBuddy and more.
Wines N Spirits
Wines N Spirits is a premium wine and alcohol delivery service in Singapore with wholesale pricing. They have a range of items like whisky, spirits and beers.
For Soju, they carry Chuga Soju in sets of 20. Prices start from $148 to $160 for 20 bottles.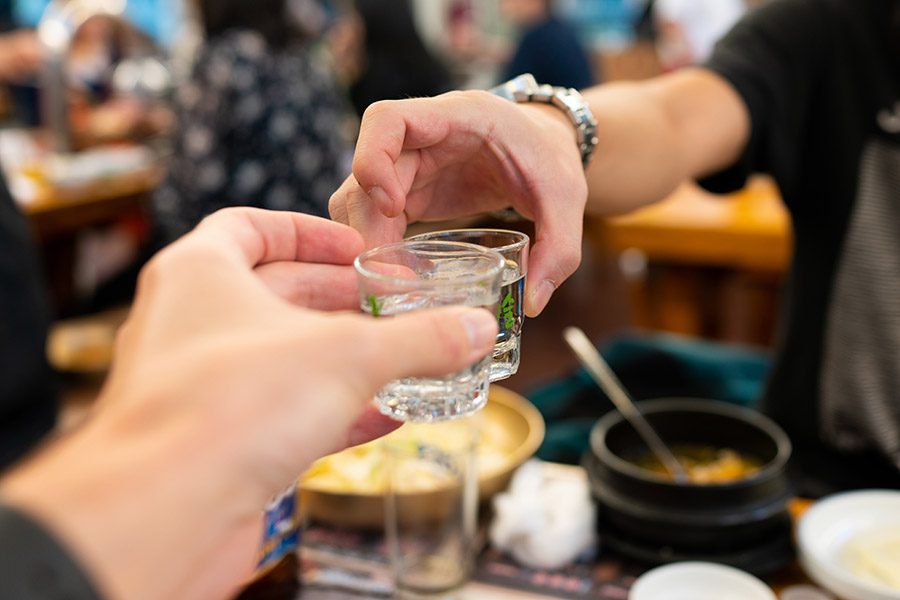 Alcohol Giants
Alcohol Giants provide free delivery for orders above $120. They also have islandwide delivery and even a same-day delivery option.
The last we checked, a bottle of soju is priced at $9 each. They also have other liquors such as whisky, vodka and gin.
Check out their Instagram for details on how to place an order.
Booze Buddy
If you're planning for a last-minute gathering, Booze Buddy offers a Same Day Delivery and even a 1-hour Delivery option. All FREE for orders above $80.
One bottle of Soju can go as low as $7.80 over at Booze Buddy.
They have a Soju Sampler Set, which comes with a combination of 13 bottles of soju with different brands and flavours.
You can also opt for their Soju Milkis or Soju Somaek Deals if you want to make some simple Soju cocktails.
Harinmart
Harinmart is an online Korean mart in Singapore that delivers right to your doorstep. Apart from Korean groceries, you can find soju as well.
They carry bottles from Jinro (Chamisul) and Good Day. Fruit sojus are relatively cheaper, priced at $9 per bottle.
DRINQ
DRINQ provides speedy 1-hour Islandwide Alcohol Delivery and boasts to have one of the best prices for alcohol in Singapore.
They have an extensive list of 8 flavoured sojus priced at $8.50 per bottle and are open till 6AM on weekends.
Check out their Instagram/Telegram group for more information.
Chorok Market
One of the first few Korean marts in Singapore to offer lesser-seen items such as those from Pulmuone. Chorok Market has an offline store at Orchard, as well as an online store that offers delivery.
Besides fresh Korean vegetables and unique frozen convenience foods, Chorok Market sells soju at affordable prices, starting from $9.90.
They also have a range of Korean craft beers for those who are interested.
Where To Get Cheap Soju in Singapore
We understand that alcohol is not the most affordable in Singapore, so we hope these cheap soju places in Singapore help with your gatherings.
Do remember to always drink responsibly!
*Follow MiddleClass.sg on Facebook, Instagram, and Telegram for more food, travel, and trending stories!