If you've never been to Korea before, you're in for a treat, especially if you're into cafes. From the interior, all the way to how the drinks are made and presented, it's all so aesthetic. One of our personal favourite neighbourhoods is Seongsu-dong, also known as the Brooklyn of Seoul. Here are some aesthetic cafes in Seongsu you might want to check out!
Raw Coffee Stand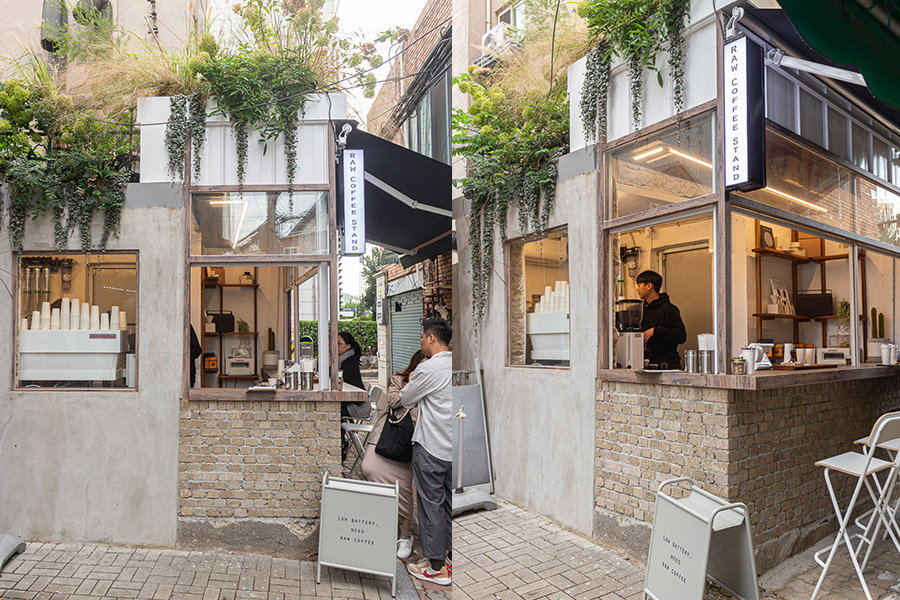 Raw Coffee Stand is a perfect place to grab some coffee if you're not intending to find a cafe to sit down and chill. The takeaway cafe kiosk does have limited seats available but is perfect for those who are intending to go for a stroll at the nearby Seoul Forest to catch cherry blossoms or autumn foliage.
Raw Coffee Stand (로우커피스탠드)
Address: 28-2 Wangsimniro 4(sa)-gil, Seongsu 1(il)-ga 2(i)-dong, Seongdong-gu, Seoul
Mon-Fri, 8am-5:40pm, Sat-Sun, 10am-5pm
Matchacha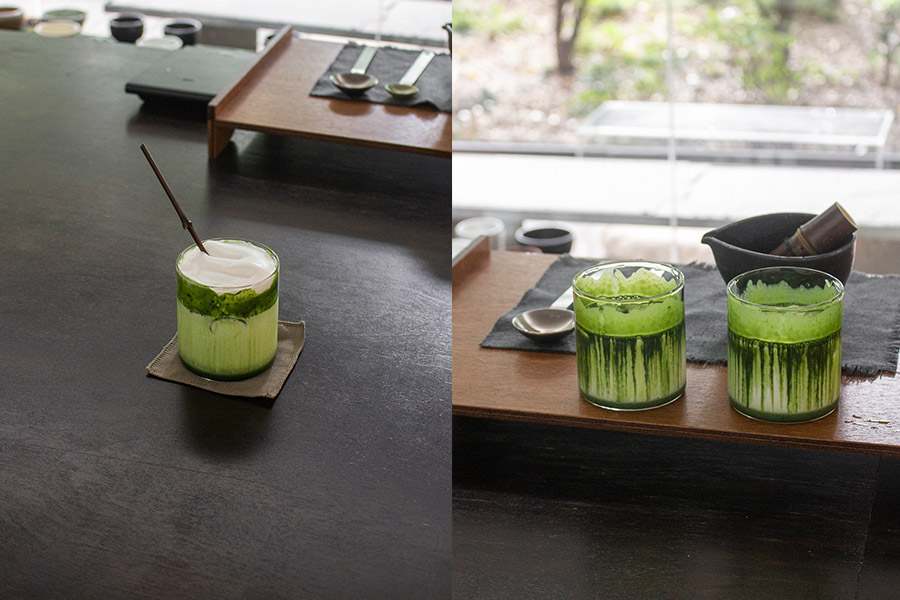 One of our personal favourite cafes in Seongsu is Matchacha, a matcha-themed tea house right beside Seoul Forest. 
You'll be transported to a space unlike Seoul, filled with soft background music that's peaceful and zen. Make sure to try their Matcha Blanc, a super aesthetic drink topped with a floral, chamomile cream. 
MatChaCha (맛차차)
Address: 685-450 Seongsu-dong 1(il)-ga, Seongdong-gu, Seoul
Wed-Sun, 11am-7pm
Center Coffee
Not far from Matchacha is Center Coffee, a two-story cafe in Seongsu-dong. The cafe has seats on the 2nd floor overlooking Seoul Forest, which is a great place to just zone out and enjoy the afternoon. 
Center Coffee (센터커피)
Address: 28-11 Seoulsup 2(i)-gil, Seongsu-dong 1(il)-ga, Seongdong-gu, Seoul
Mon-Sun, 10am-9pm
D Flat Cafe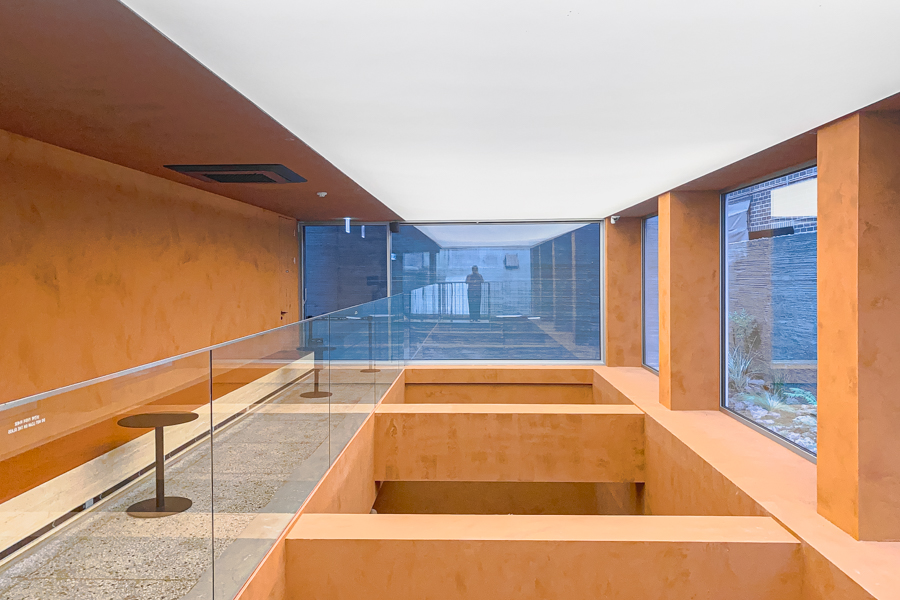 Decked in alluring shades of camel, D Flat Cafe is a 3-storey cafe in Seongsu. The cafe is frequented by lots of Koreans looking for a space to do some work as there are plenty of seats and power plugs spread throughout. The interior is also very instagrammable, with various corners perfect for a photo.
D Flat Cafe (디플랫)
90 Yeonmujang-gil, Seongdong-gu, Seoul
Mon-Sun, 11:30am-10pm
Blue Bottle Korea
A famous coffee chain worldwide, Blue Bottle Korea's first outlet is the one located here in Seongsu. While the entrance might be on the first floor, the large seating area is located in the basement. 
Here, you can get the iconic Blue Bottle drinks as well as some menu items unique to Korea, such as the Float.
Blue Bottle Seongsu (블루보틀 성수)
Address: 7 Achasan-ro, Seongsu-dong 1(il)-ga, Seongdong-gu, Seoul, South Korea
Mon-Sun, 8am-8pm
Myosa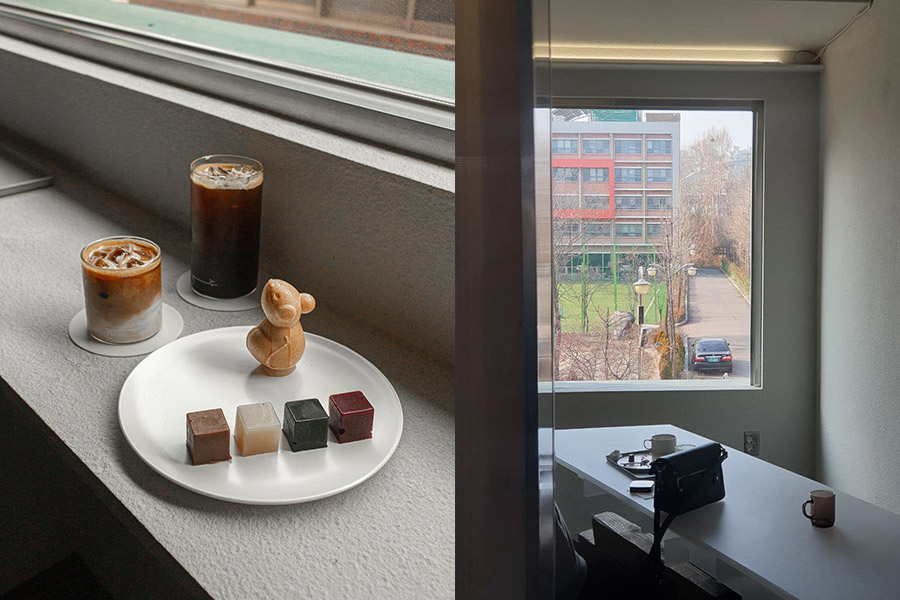 Myosa is a cafe that adopts a very simple and minimalistic interior. There aren't many seats here at this popular cafe, so we opted to stand near a ledge that acted as our table. 
The cafe has a seasonal menu that's inspired by traditional snacks like Bungeo-ppang. We had the 2020 special, which came in the shape of a rat, last year's zodiac sign! The accompanying cubes were known as Ang Cubes, which came in different flavours such as Chocolate, Mugwort, and Beetroot. 
Myosa Seoul (묘사서울)
Address: 2nd Floor, Seoulsup 2(i)-gil, Seongsu-dong 1(il)-ga, Seongdong-gu, Seoul
Mon-Sun, 12pm-10pm
Cheongsang Gaok (천상가옥)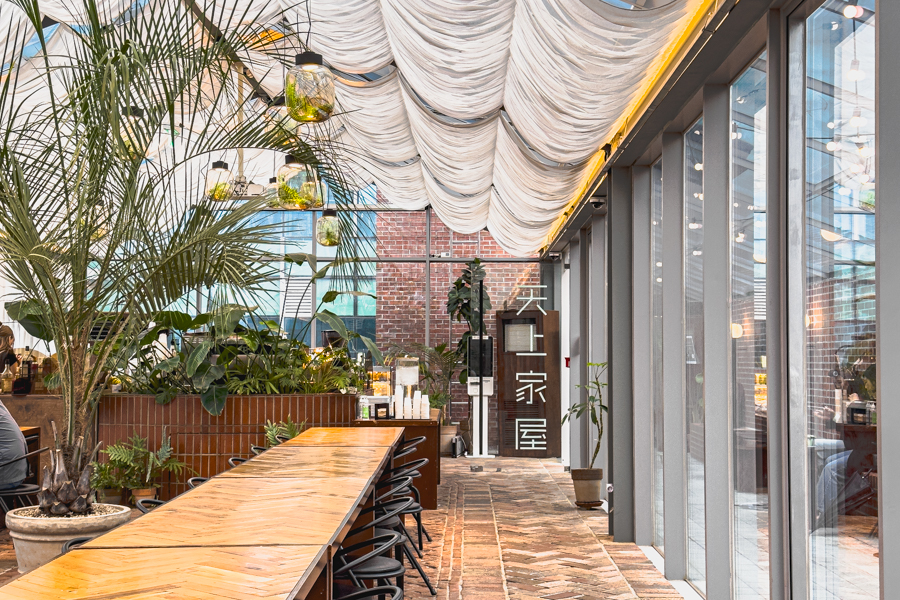 Cheongsang Gaok is a hidden cafe located on the rooftop of Seongsu Yeonbang. The building itself is home to lots of cafes, but the posters promoting Cheongsang Gaok caught our eye. On a good day, you'll be welcomed by rays of natural light thanks to its location. However, on a rainy day, the cafe exudes a comfy and cozy vibe where you can sip a cuppa while waiting for the rain to pass by. Make sure to try their signature coffee, which surprised us with its multiple textures and creamy flavour that left us wanting more and more!
Cheongsa Gaok (천상가옥)
Address: 3F, Block A,  Seongsui-ro 14-gil, Seongdong-gu, Seoul
Mon-Sun, 11am-10pm, Last Order 9:30pm
Super Matcha
Super Matcha is a modern cafe with sleek, metallic elements located right in the heart of Seongsu-dong. The main attraction here is the robotic arm that whisks the matcha for you.
They use organic matcha and sugar replacements like stevia for their drinks here for an ultra-nutritious experience. 
Super Matcha Seongsu (슈퍼말차 성수)
Address: 668-90 Seongsu 1(il)-ga 2(i)-dong, Seongdong-gu, Seoul
Mon-Sun, 11am-9pm
Foreplan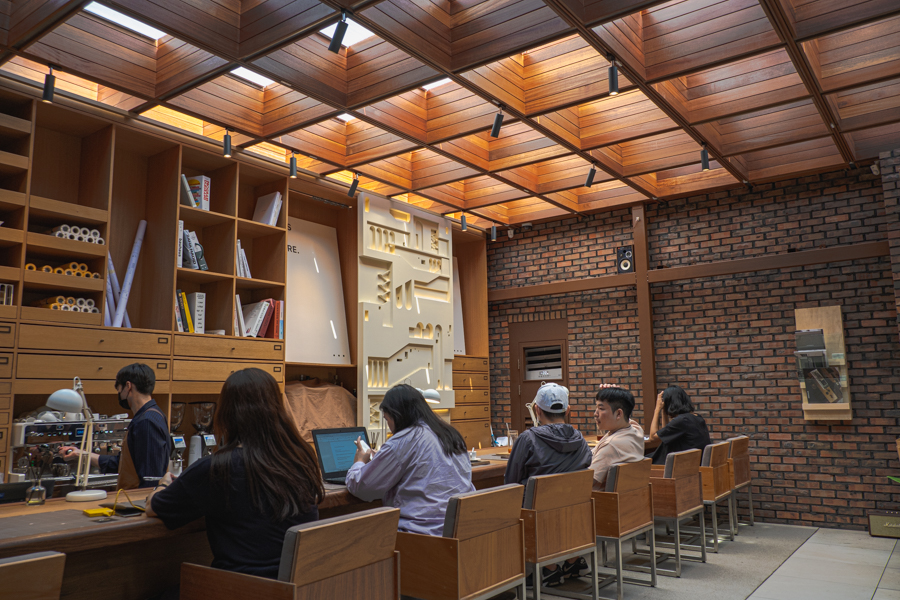 Hidden in an alley, Foreplan is a cafe opened by architects. The interior is a beautiful combination of wood, glass, and brick elements. The glass ceiling lets in lots of natural light so it's best to visit the cafe during daytime. At night, it transforms into a bar serving drinks.
Foreplan (포어플랜)
30-11 Hwangsibri-ro 14-gil, Seongdong-gu, Seoul
Mon-Sun, 9:30am-11pm
Lowide Coffee Bakery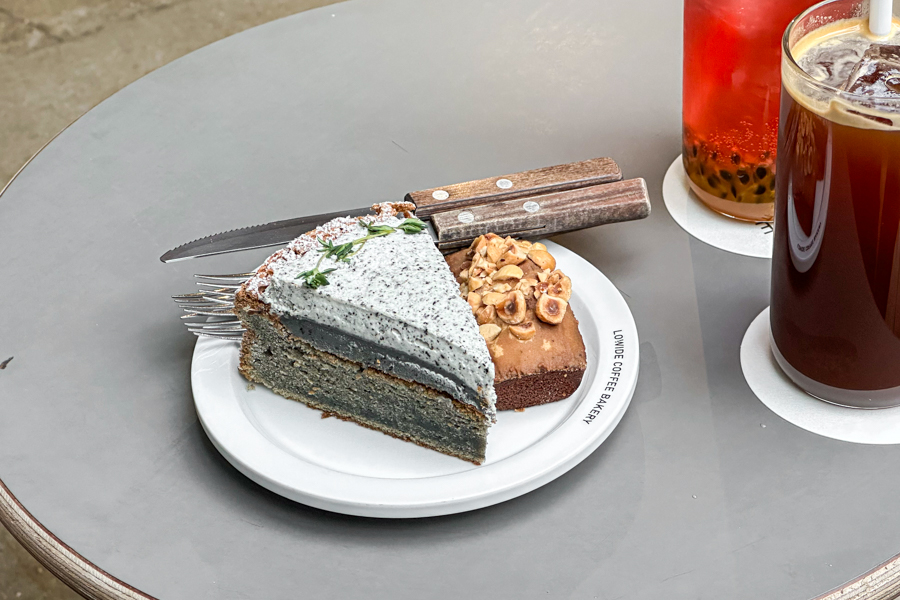 Lowide is a popular bakery cafe near Seoul Forest and there were lots of foreigners and locals when we visited. Both indoor and outdoor seating are available, which makes the place even more popular during Spring, Summer, and Autumn. The bakes offered range from scones, and madeleines, to savoury options like pastries and croissants and are all on display.
Lowide
Address: 22-1 Seoulsup-gil 2-gil, Seongdong-gu, Seoul
Mon-Fri, 10am-8pm, Sat-Sun, 11am-9pm
Grandpa's Factory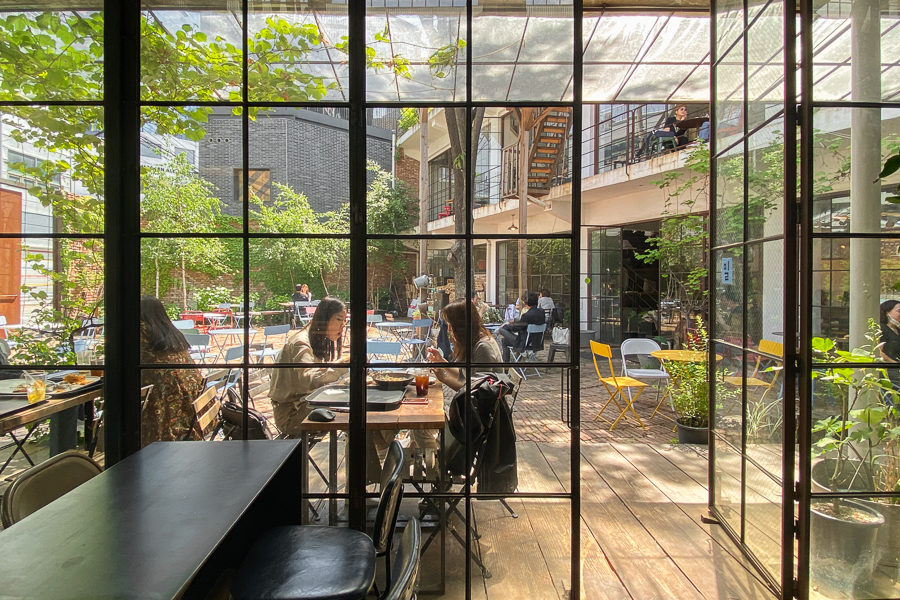 Grandpa's Factory is a cafe that has appeared in various Korean dramas such as the popular Vincenzo. The warehouse-themed cafe is huge, with various seating areas such as a patio, indoors, and even on the rooftop! 
There's also a treehouse right in the middle of the cafe, where you can actually visit and live out your childhood dreams! 
You can check out the review of Grandpa's Factory here. 
KANTO 
Located within an alley in Seongsu-dong, KANTO is best known for their black & white aesthetic. From their coffee equipment to the overall interior, everything is either black or white. 
Even their desserts and drinks tend to follow the same aesthetic! We tried their Iced coffee which came in a beautiful gradient of black to white. 
You can read the full review of KANTO here. 
Cafe Knotted Peaches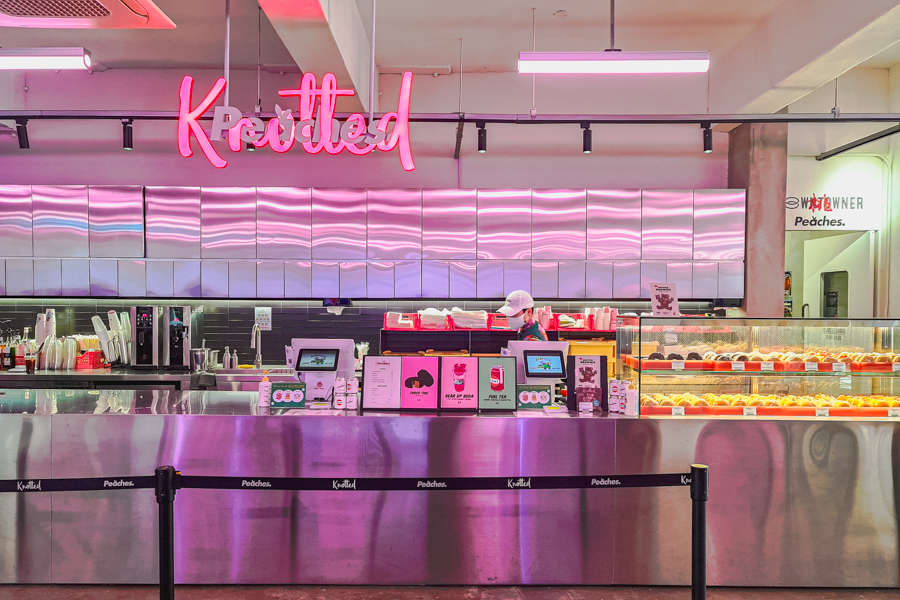 Cafe Knotted is one of the most well-known brands in Korea for donuts. Attracting queues despite several outlets spread across the country, Cafe Knotted Peaches is one of the more unique concepts from them. Here, you'll find a collaborative space for events, and other brands such as Downtowner Burger. There's even a small stand selling gelato here at Cafe Knotted Peaches.
We tried one of their signature donuts and were immediately convinced as to why there were queues at their outlets. The donuts were light and fluffy, and there wasn't a greasy feeling to them.
You can read the full review of Cafe Knotted Peaches here.
Seoul Angmusae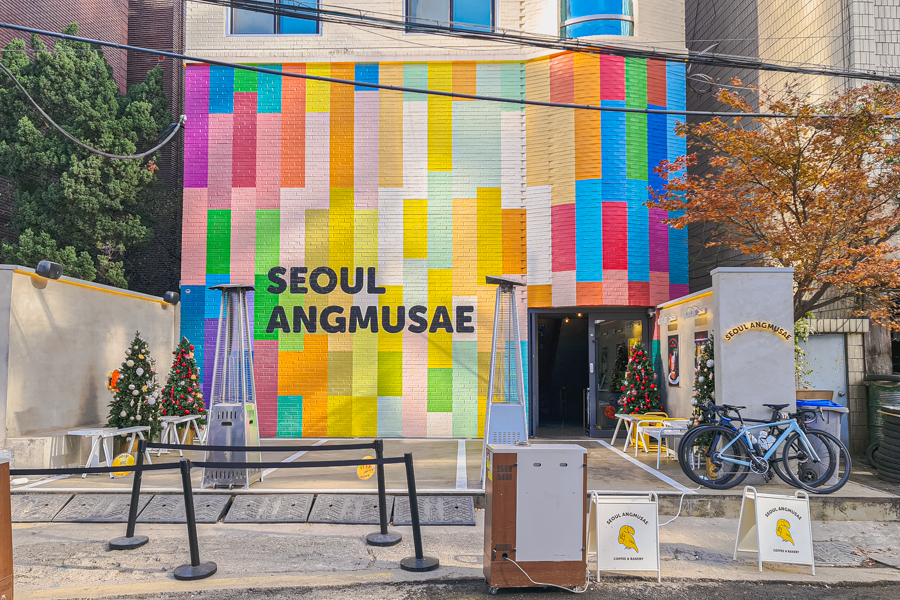 Seoul Angmusae attracts even subway riders along the Line 2 track thanks to its brightly coloured wall. Besides being known for its wall photo spot, the cafe is also famous for their Kouign Amanns and Cinnamon Rolls. You can find an array of flavours here, from flavours like Rum & Raisin Kouign Amann to Basil Onion Cinnamon Rolls.
They also have a selection of coffee, such as canned cold brews to go with your sweet treats.
You can read the full review for Seoul Angmusae here.
Cafe Marly
If you think Cafe Marly gives off familiar vibes, it's because this was the spot for a popular cafe known as Shared Table a few years back. After undergoing renovations, Cafe Marly in Seongsu now has a heavily concrete-themed interior, with elements of wood infused into its furniture.
Serving cakes and beverages, this cafe located within the industrial estate is a nice spot to rest your feet before exploring the rest of Seongsu-dong.
Amazing Cafes in Seongsu, Seoul
Seongsu is no doubt one of Seoul's most hipster neighbourhoods. Now that travel to South Korea is slowly returning to normal, what are some things you miss the most about Korea?
*The cafes featured in this article are all independent reviews by MiddleClass.sg. 
*Follow MiddleClass.sg on Facebook, Instagram, and Telegram for more food, travel, and trending stories!