If there's one thing we know for sure, it's how Korea has a better café scene than Singapore. They are leaps and bounds ahead of Singapore in terms of interior, food and drinks. Here is one example of how they've managed to outdo themselves again: A Robot Matcha Whisker in Super Matcha
If you're looking for a new café to visit in Seoul, look no further!
Super Matcha
Cafes focusing on Matcha is nothing new, with many well-known Matcha-centric brands such as Osulloc and Matchacha. However, Matcha lovers now have something unique to look forward to with Super Matcha.
The core of Super Matcha is reflected in the word 'Super' which stands for:
S – Sugar-free
U – Ultra nutritious
P – Purely Organic
E – Energy Booster
R – Rich Antioxidants
According to their website, the matcha here is organic, contains L-tannin, and is said to be 10x more nutritious than normal matcha. It also has 25x more antioxidants than acai berries. At Super Matcha, stevia is used as a sugar replacement.
The café is situated within the Seongsu neighbourhood, a hip and popular neighbourhood where small cafes and restaurants are aplenty.
From the outside, the café looks like another sleek and modern café, filled with clean lines and lots of metal elements. However, a step in and you'd be surprised by the highlight of this place – a robotic matcha whisk.
Robot Matcha Whisk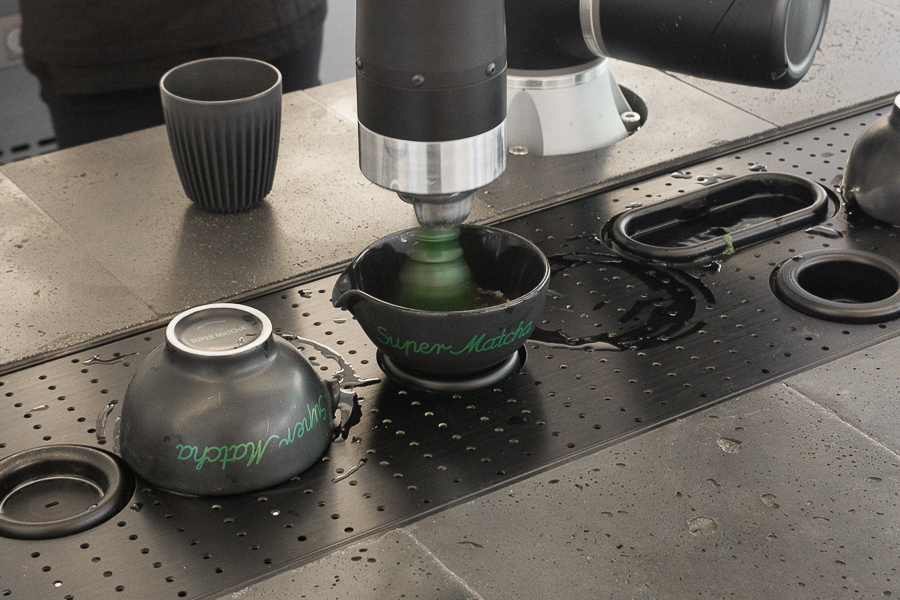 When you order a matcha-based drink, the staff would prepare the perfect ratio of matcha with water in a bowl and place it on an exact spot. What the robot does is simply whisking the matcha to perfection.
Preparation of the drinks is completely done by the staff.
Liquorice in A Matcha Drink?!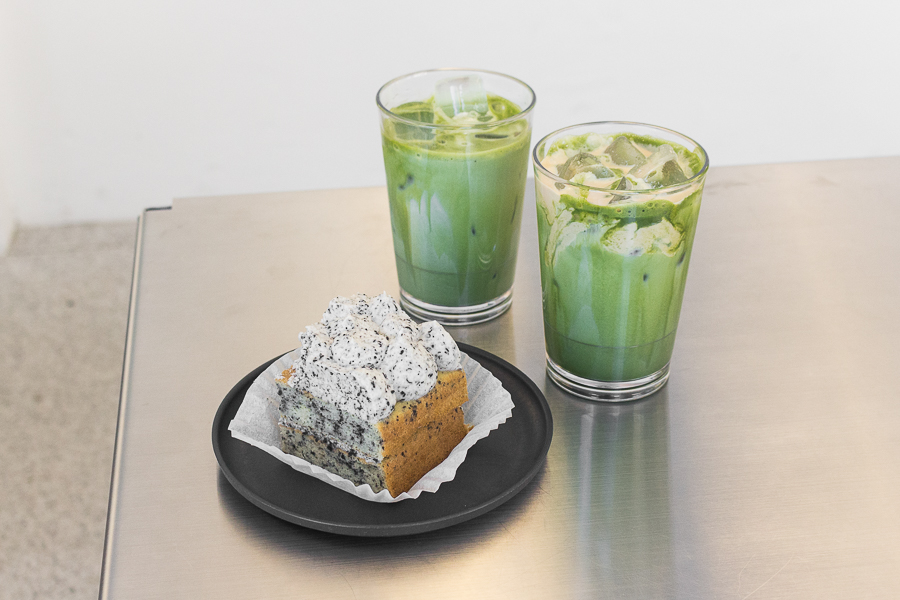 The signature menu here at Super Matcha is called the Grand Ma-cha. It contains Organic Matcha, rice milk, pumpkin cream and liquorice. Despite our intense hate for liquorice, aka. whenever we accidentally bite into a black coloured jellybean, this wasn't half bad at all.
Although the combination of ingredients isn't something we are used to seeing on a daily basis, the drink had a nice sweetness from the pumpkin without an overwhelming liquorice taste. Despite the number of things in the drink, the matcha flavour stood out and was deliciously fragrant. We reckon matcha lovers will really love this new and rarely seen drink.
We also tried their Black Sesame Cake which did not stand out in comparison to the Grand Ma-cha. The gluten-free cake is soft and fluffy with a slight fragrance of black sesame. The texture kind of reminded us of the Pandan Cake we have in Singapore.
Will You Visit Super Matcha?
Cafe hopping is not a new thing in Korea. We would love to visit this cafe again, once the Covid-19 pandemic is over. Seongsu is also home to other insta-worthy cafes, so you can spend a full day exploring hidden shops and cafes or hop over to Seoul Forest for a nice picnic/chi-maek session.
Super Matcha currently has 2 outlets
Seongsu Outlet
1F, 19, Seoulsup 6-gil, Seongdong-gu, Seoul, Republic of Korea
Mon – Sun: 11:00 – 21:00
Garusogil Outlet
545-18 Sinsa-dong, Gangnam-gu, Seoul, Republic of Korea
Mon – Sun: 11:00 – 20:00
*Follow MiddleClass.sg on Facebook and Instagram for more food, travel and trending stories!
We visited this Cafe before the Circuit Breaker and before Travel Restrictions were in place back in Jan 2020. MiddleClass.sg does not encourage non-essential travel during this period. Please save this article and visit in the near future. Stay safe everyone.