Yes, it's official – Mariah Carey is out of her cave, the festive decorations are out, and we're feeling the holiday cheer. We are counting down to the most wonderful time of the year: Christmas! With Christmas comes a whole slew of exclusive experiences, festive menu options and attractive discounts. In this article, you'll find a collection of Christmas discounts, deals & limited-time menus that will make your holiday a little bit easier. 
Christmas Experiences 
It doesn't snow here in Singapore, but you can still enjoy an immersive Christmas experience with these festive-themed events!
Christmas Wonderland 2022
The beloved Christmas light-up experience is back at Gardens By The Bay! Revel in the colours at Christmas Wonderland 2022, from the 21-metre high Spalliera structure alongside other photo-worthy light displays like a 50-metre walkway. 
Read more on our full article about Christmas Wonderland 2022 here, and get your tickets online here. 
Raffles City 
Immerse yourself into the Christmas spirit in the heart of Singapore at Raffles Place! The CBD will be lit-up with light installations daily from 7 pm to midnight with a number of unique light structures. 
The cool part? You can use your phone to enjoy a personal 2-minute light show with a Christmas music playlist, plus customise the colours of the lights! Six of the eleven light installations have this feature, so have fun with the lights. The installations will be up till the end of December, so head down to snap some pictures!
i12 Katong
For a fun-filled family outing, head to i12 Katong for their Christmas celebrations! There's an entire line-up of Christmas musical performances and workshops for the family – highlights include Robocar POLI, a showcase by the talented il Grande Piano and story-telling sessions.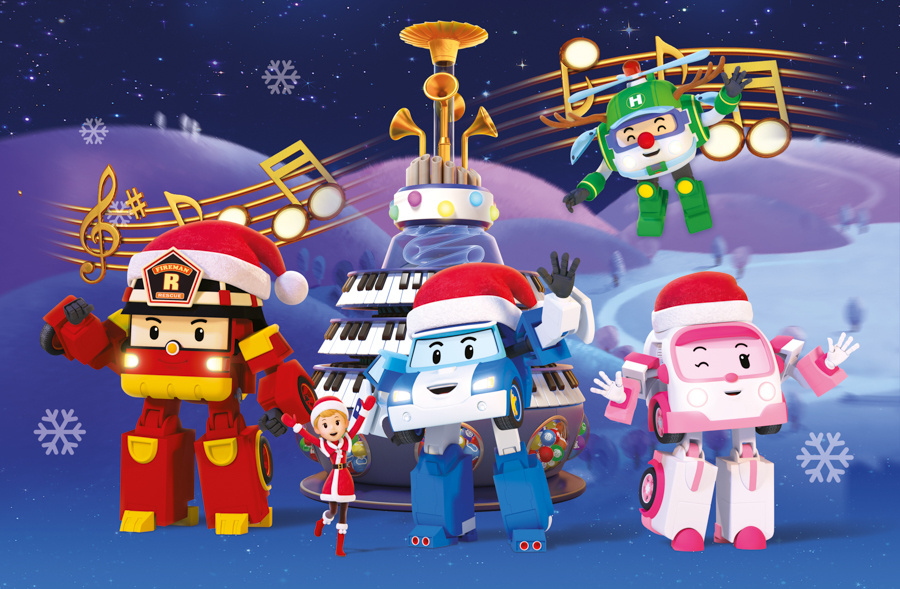 Enjoy benefits when you sign up as a KLIK Member, including discounts at Bistro Bytes, Janice Wong vouchers and more. Plus, you can stand a chance to win attractive prizes with i12 Katong's 12 Days Of Christmas Lucky Draw! For more information on the full lineup of exciting events, refer to their website here. 
Museum Of Ice Cream 
Celebrate a pink Christmas at the Museum of Ice Cream! They are holding a limited-time all-pink Christmas display including a sea of pink Christmas trees and Christmas menu items like a Gingerbread milkshake.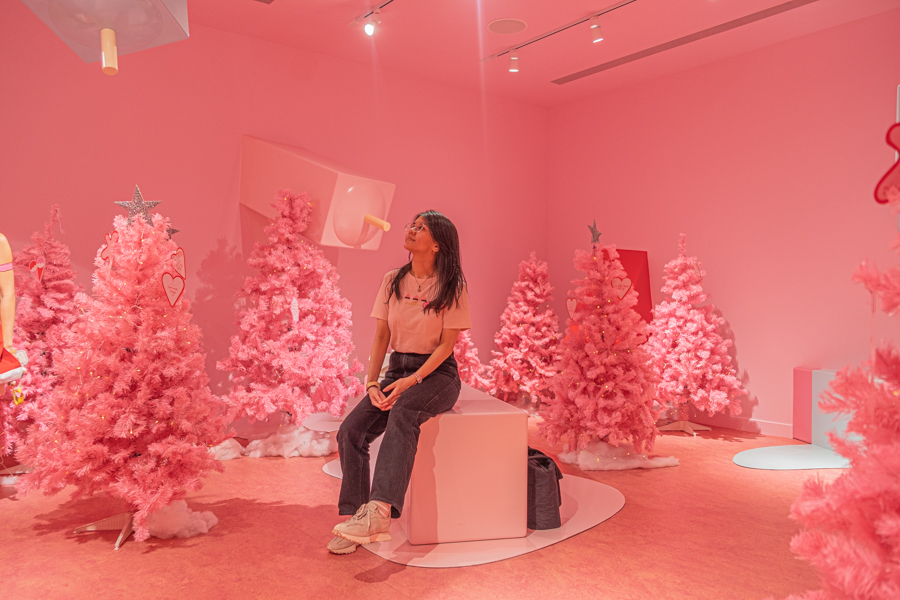 Read our full article on the Museum of Ice Cream's Pinkmas here, and get your tickets here.
Christmas In The City at Suntec City 
If you fancy Carnivals, Christmas In The City at Suntec City is the place to be! The carnival will feature carnival rides from Uncle Ringo, games, NFTs and live music performances by local artists.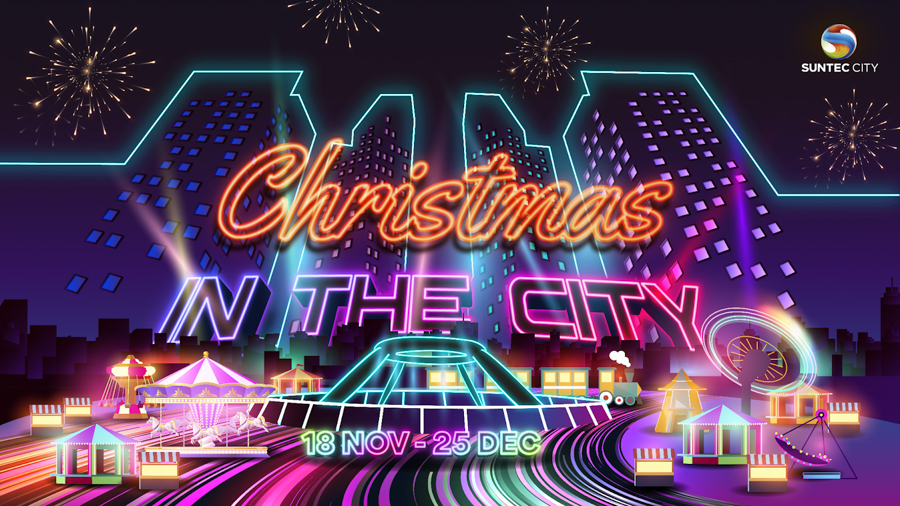 There are even digital art workshops, light installations and food stalls to round up the authentic carnival experience right in Suntec City. To get tickets, head over to the official website. 
Christmas Menus  
Whether you're dining out or staying in, there's a slew of festive menus to look forward to! In the first part, we're sharing a list of restaurants in Singapore offering Christmas dinners and menus. 
Altro Zeffano 
Altro Zeffano is offering a selection of festive Christmas menus, ranging from brunch to dinner! 
From 24 to 25 December, there's the four-course table d'hôte Christmas brunch ($198++ per person) that offers a lineup of their signature Italian dishes like Capon ravioli with black truffle and Kinross Station lamb rack with fava beans and herbs salad and figs vincotto. 
Diners can also enjoy the three and five-course Christmas dinner set menus ($148++) that boast treats like bluefin tuna tartare with Oscietra caviar and walnut milk. Check out the full details online.
L'Angélus Group
The L'Angélus Group of restaurants includes names like Les Bouchons, Tapas,24 and L'Angélus, each offering its own selection of festive menus!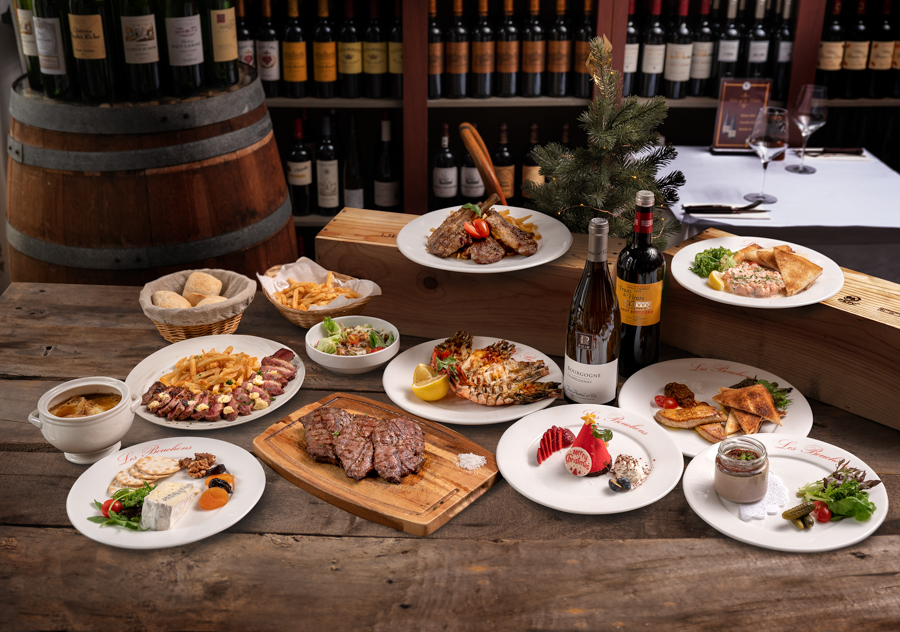 L'Angélus has a 3-Course Festive Menu ($98) with refined French flavours like Foie Gras and orange duck, or a comforting US Short Rib and Dumpling stew. Les Bouchons's 3-Course Festive Menu ($76) features tantalising mains like Grilled Beef Wagyu Oyster Blade MB6/7 and Grilled Whole French Duck Breast. These dishes (called plats) come with free-flow homemade fries!
For something that can be shared with friends, Tapas,24 is offering a series of meat-free and seafood dishes! Enjoy dishes like Tomato Tár Tar with toast on the side ($12) and Homemade plant-based meatballs in Catalan Ratatouille ($28) with Impossible meat, alongside an exquisite selection of wines from their online arm Magnum Opus. 
All three restaurants are offering their festive menus now till 31 December 2022. For more information, visit the official websites for L'Angélus, Les Bouchons and Tapas,24 respectively. 
Lime Restaurant
Lime Restaurant @ PARKROYAL COLLECTION is offering a whole feast of Christmas buffets! This includes festive buffets, afternoon tea, and speciality roasts. Their festive lunch and dinner buffets include fishes like Pickering Lobster Laska, Spicy Prawn Wantons and more.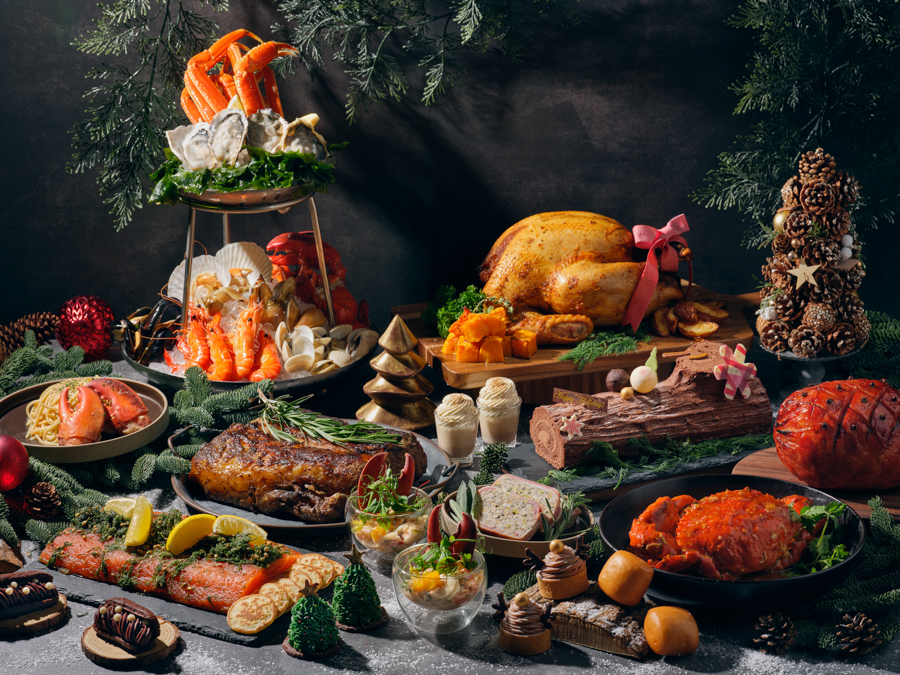 They also have artisanal log cakes like the Chocolate Pear Yule Log, Peach Oolong Yule Log and more. Their buffets run through the month of December, and they also offer festive takeaway sets! P.S.: UOB, Citibank, Amex and DBS cardholders enjoy a 10% discount now till 1 January 2023.  Check out Lime Restaurant's full Christmas range here. 
Jack's Place
Singapore's longest-standing steakhouse,  Jack's Place, is also offering a full Christmas menu, available for both dine-in and delivery. Options include a Traditional Roast Turkey, Tenderloin Steak and more, including a number of takeaway sets that are perfect for a party.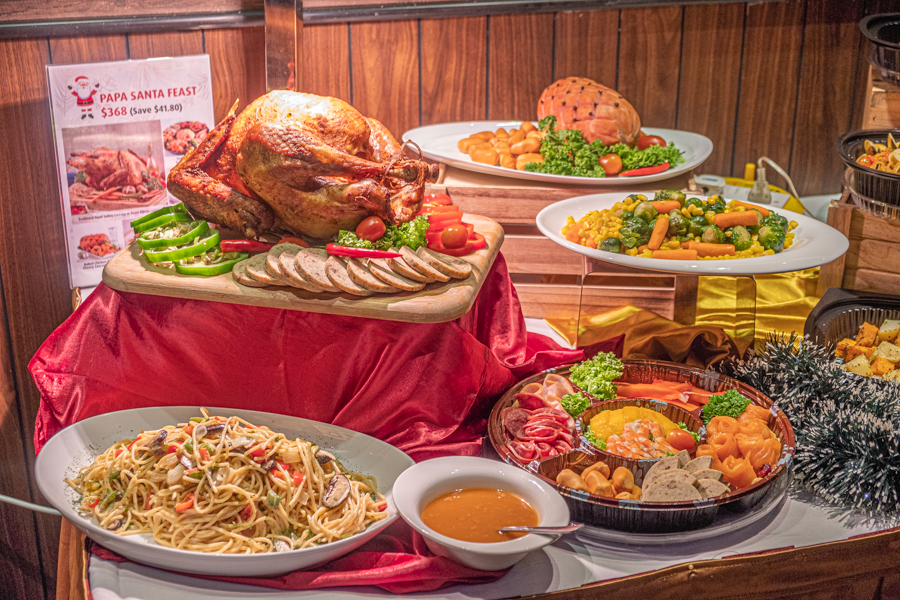 Check out our full article on Jack's Place, or visit their website to place your orders!
Swensen's
Celebrate Christmas with Swensen's Christmas menu, now with a few new options! Choose from the Christmas Chicken Waffles and Lamb Shank Shakshouka with Garlic Sourdough Bread, or their enticing lineup of festive ice cream sundaes and ice cream log cakes.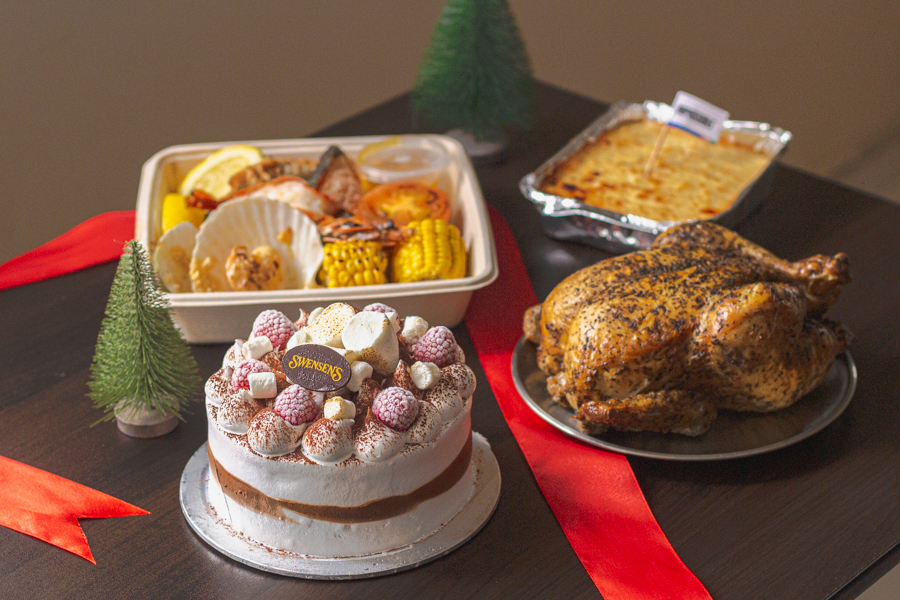 Their Christmas menu is available for dine-in and takeaway from now till 3 January 2023. Read our full article featuring the Christmas menu here! Visit Swensen's website for the full list of offerings and exciting bundle deals. 
Pizza Hut
Naughty or nice? Pizza Hut says the former with their new Knotty Cheese Pizza (From $18.45), featuring a knotted crust with oozy mozzarella cheese. It's available in 5 flavours including Chipotle Ranch and Super Supreme.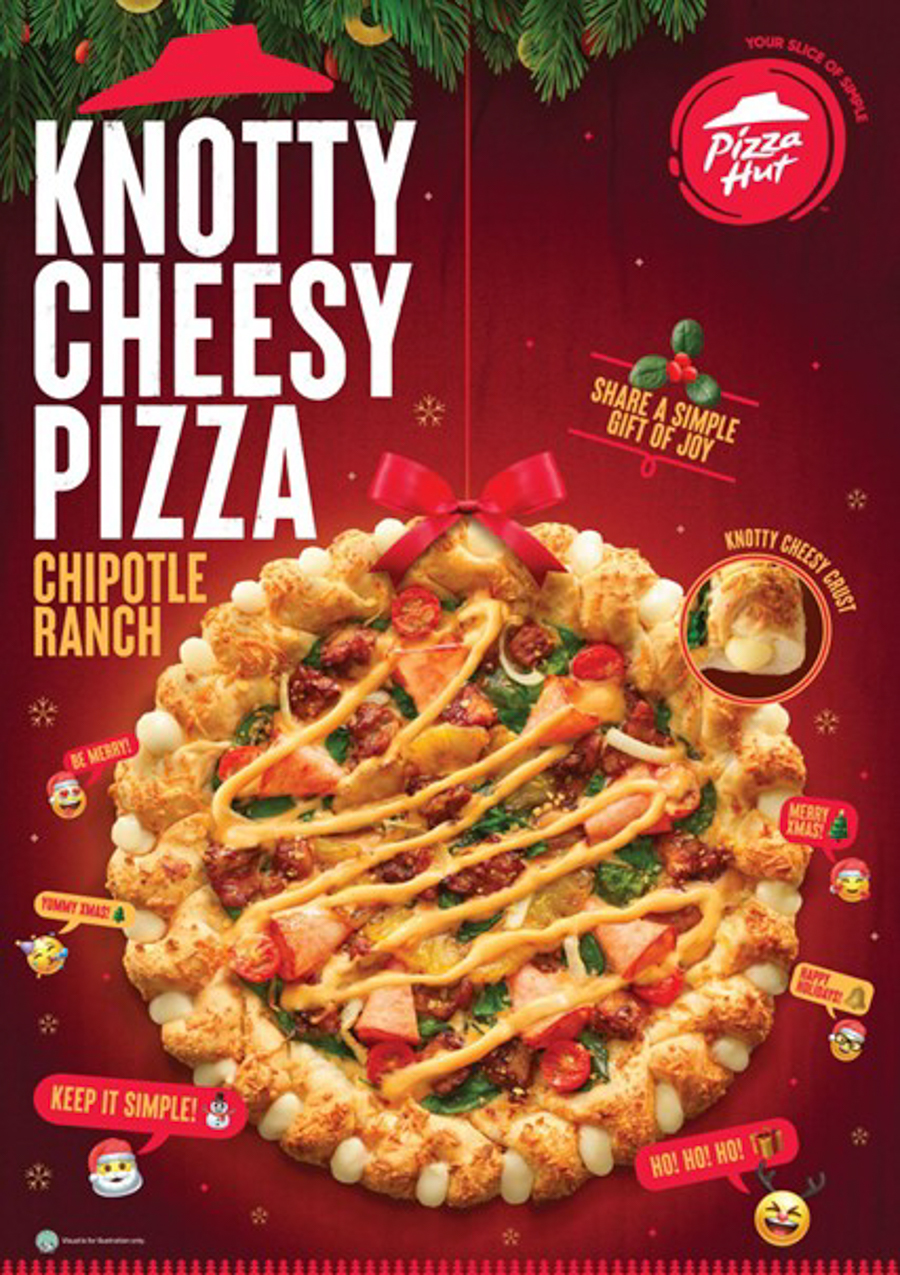 They are also offering a dine-in exclusive menu like Prawn and Spinach Risotto and Merry Cheese Fondue. There are even Party Bundles for both dine-in and delivery! Pizza Hut's Christmas menu is available now till 1 January 2023.  For more information, visit Pizza Hut's official website. 
Ohayo Mama San 
Ohyao Mama San is offering a unique Japanese twist on a Christmas menu. They have rolled out a sushi tower, an exclusive high tea set and cocktails with Sui Gin that look as good as they taste.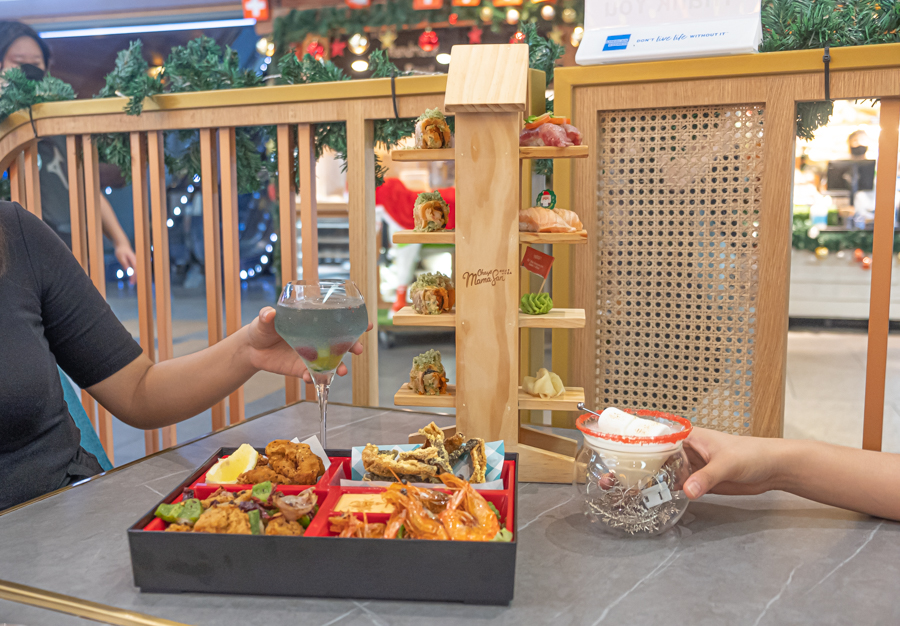 Check out our full article on Ohayo Mama San here, or visit their website for more details!
Kam's Roast
For a more Chinese twist on Christmas, consider Kam's Roast and their Kam's Christmas Special Set ($96.80, U.P. $102). The set comes with their signature Roast Duck, Soya Chicken, Crispy Roast Pork and more – perfect for sharing! 
The set is available for dine-in only at their Jewel Changi Airport branch, but they also offer takeaway and delivery now till 31 December 2022. Visit here for more information.
Oriole Coffee + Bar x Jack Daniels
Homegrown cafe Oriole Coffee + Bar has partnered with Jack Daniels for a limited-time collaboration festive menu! There are savoury items like Jack's Apple Ribs ($32++) with Jack Daniel's Tennessee Apple and cocktails like the Main Squeeze ($15++) that feature Jack Daniel's Tennesse Fire.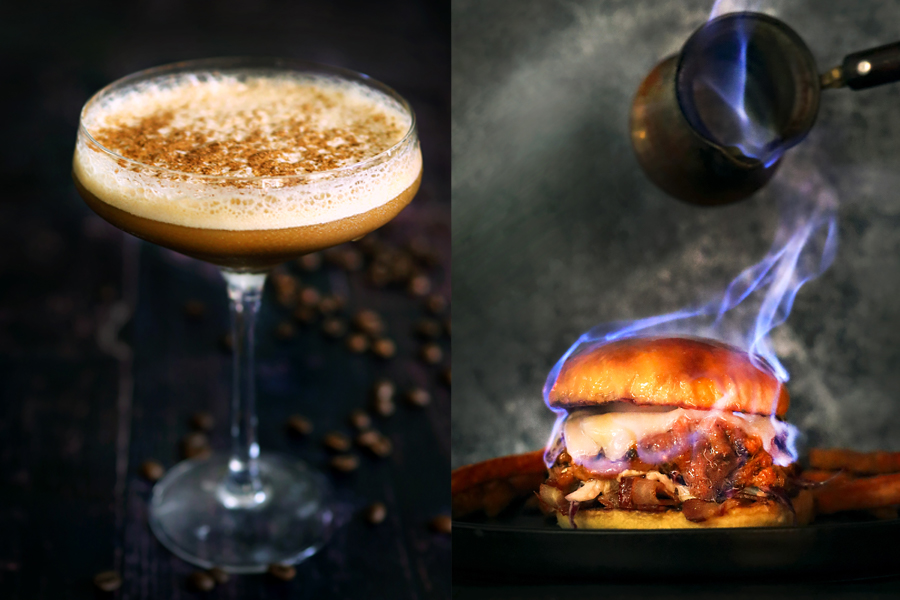 The collaboration menu will be available till 28 February 2023 at their outlet in Orchard. For more information and the full menu, visit their website. 
Restaurant Gaig
Restaurant Gaig serves up a Spanish touch on Christmas with their festive menu available for both dine-in and takeaway. The dine-in menu features items such as the crowd-favourite Stuffed Spring Chicken with Pork Belly, Truffle, and Nuts ($36++) and Stuffed Squid Stew ($28++). 
There is also a Christmas Gourmet Box ($150+) with a selection of Jamon, Duck Pate and more that's only available as takeaway or delivery. Restaurant Gaig's full Christmas menu is available now till 31 December 2022. Those interested in the Christmas Gourmet Box can order it online here. 
Restaurant JAG 
Restaurant JAG is a Michelin-starred French restaurant offering a festive dine-in menu for the 24th and 31st of December 2022. The menus ($398++ per pax, $498++ per pax) has 17 dishes, featuring freshly baked bread and seasonal ingredients.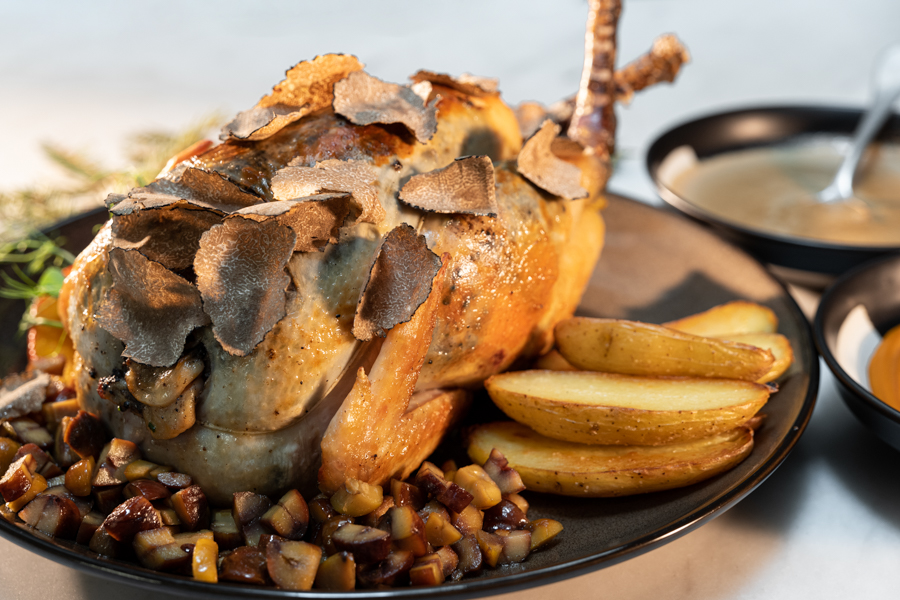 They also offer a Christmas Gourmet Takeaway for delivery on 24th and 25th December with options like Lamb, Chapon de Bresse chicken and Smoked Salmon Blinis – with the option to add Black Winter Truffles. 
For a truly decadent Christmas dinner, you can order Restaurant JAG's festive takeaway menu online, open now till 18th December 2022. 
Flow Bar
Flow Bar is a bar extension of Restaurant JAG co-founded by Master-Mixologist Ricky Paiva focused on artisanal cocktails. They are offering a curated menu of five Christmas cocktails, including a Mulled Wine and Nutcracker, made with vermouth. Noix walnut liquor and hazelnut liquor.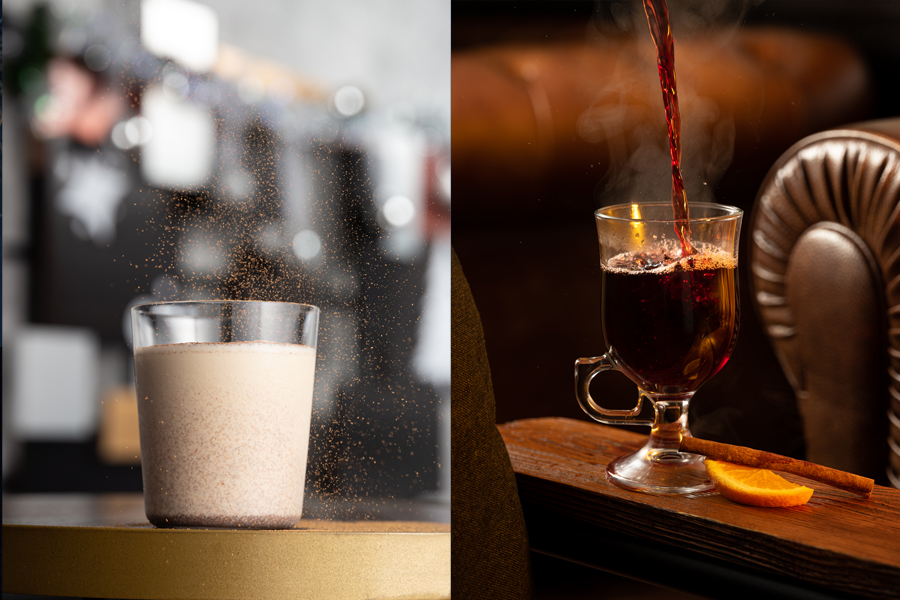 There's also Santa's Day Off, a warm drink with  holiday spice blend, cream and egg; Oh Christmas Tree! with Botanist gin, sapinette and soda and Christmas Spritz with Christmas-spiced Aperol and prosecco.
The festive cocktails are available until 7 January 2023, from 5pm to 12pm Tuesdays to Sundays. Secure a reservation online.
PAZZION 
You might know PAZZION for their shoes, but did you know they have a cafe concept as well? PAZZION Cafe is offering a festive menu selection with the Festive Soiree Platter ($29) with camembert cheese and garlic bread, and A Merry Matcha Christmas ($9) only available until 25 December 2022!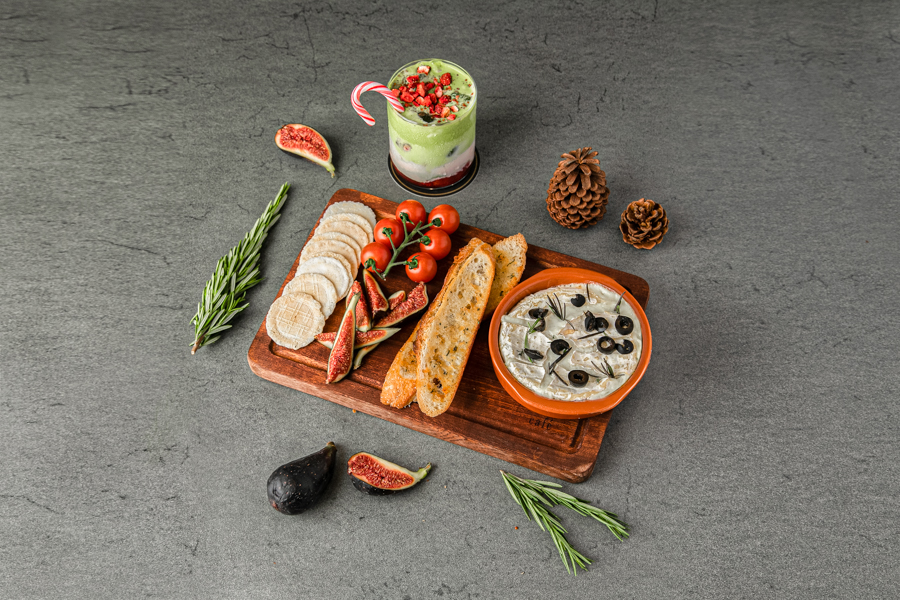 Their festive options are only available for dine-in at their Takashimaya outlet and Jewel Changi Airport outlet. 
Christmas Takeaway & Delivery
If you fancy staying at home, this second part is all about Christmas delivery-only and takeaway-only options! Dig into items like Baked Turkey Ham or festive meat/seafood platters that are bound to satisfy your friends & family!
RE&S 
For a Japanese twist on Christmas foods, RE&S's festive menu is ready for takeaway, delivery or pick-up! There's a selection of sushi platters, hot dishes like Yuzu Duck With Chestnut Stuffing and a selection of log cakes. They even offer Christmas Bundle Menus for bigger parties. 
Check out our full article here. Get their full takeaway menu here! 
CaterCo
As the name suggests, CaterCo offers a selection of festive catering and buffet options but with a premium touch. Their Christmas Buffet Menu comes with Baked Dory, Chicken Stroganoff Shepard's Pie, Festive Centerpieces and more that can feed a minimum of 30 guests ($35.88+ per pax).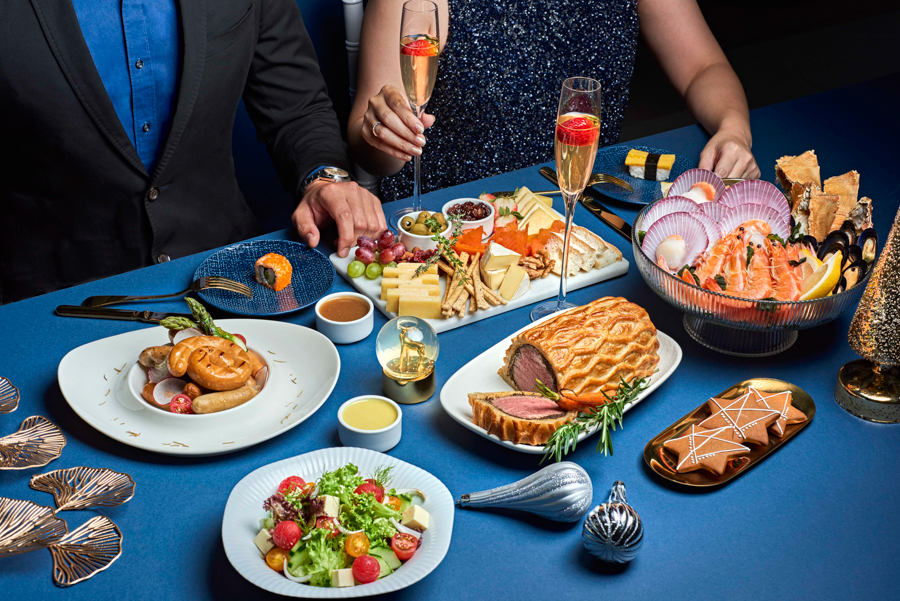 Their holiday menu items are varied and can be easily customised to meet your needs. Have CaterCo at your Christmas party and secure a slot online. 
Cold Storage
Cold Storage also has an inclusive festive menu with plant-based, vegan and halal dishes! There's the Hearty Christmas Feast ($95) that can easily feed 8 to 10 people, plus meatless options like a Golden Vegan Cottage Pie ($40). 
There are even discounts for UOB Card users and the new yuu rewards club! For more details, check out our full article here. Get Cold Storage's Christmas takeaway online!
Fairprice 
With everything from food to decoration, Fairprice has it all with their Christmas selection! Choose from over 130 items, with many under $30 – including halal-certified feast sets and more.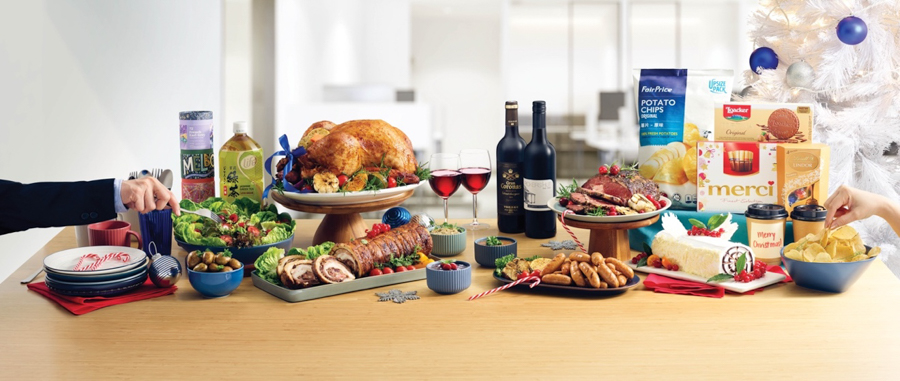 One such brand is Kelly's, with its ready-to-eat meat options. Their festive lineup include the new Korean BBQ Gochujang Pork Ribs ( $29.90 for 2-3 pax) and Roasted Roulade Pork Belly ($26.00 for 3-4 Pax). Check out the full catalogue here!
Country Foods
Country Foods is one of the largest food importers in Singapore, and they're bringing in three new brands:  Farmpride, Kuro and Butcher's Ridge. Each brand is offering a series of ready-made meat cuts and dishes to make Christmas dinner preparations easier!
Farmpride offers a selection of burgers and ready-made dishes like buffalo wings and Funghi pizza. Those who fancy premium meat cuts can patronise Kuro for pork cuts and Butcher's Ridge for beef and chicken. Country Food's selection of products are available at major supermarkets, Redmart, Pandamart and Amazon Fresh. 
Christmas Desserts, Snacks And More
This final section is dedicated to other festive desserts and treats like log cakes, snacks and other goodies! 
Châteraisé
Everyone's favourite Japanese cake brand Châteraisé has unveiled its new Christmas cakes! Try the Xmas Premier Rouge ($52 for 15cm) with strawberry and cream cheese mousse or the Xmas Japanese Specialty ($45 for 11cm) that features hojicha cream, Hokkaido red beans and a wasanbon sponge.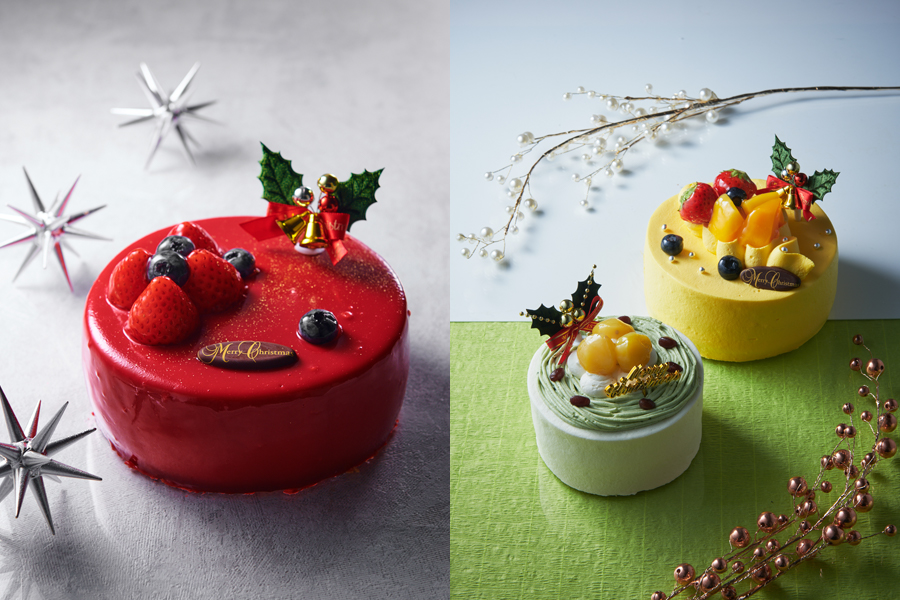 There is also the Xmas Mango Dream ( $45 for 14cm) jam-packed with mango cream, fruit and jelly perfect for mango lovers. Their usual Christmas log cakes are also available. You can get their cakes online. 
For the best Christmas surprise, stand a chance to win a 3D2N trip to Hokkaido at the Châteraisé Hotel when you make a paid reservation for a Christmas whole cake ($34 and above)! This promotion is only until 20th December 2022 and covers both online and in-store reservations. 
Paris Baguette
Hailing from South Korea, Paris Baguette has festive cakes for your choosing! This year's new selection includes the 2-tier Choco Banana Mousse Cake ($68) and tree-shaped pancakes.
The tree-shaped pancakes are picture-perfect for a Christmas party, in flavours Fresh Choco & Apricot ($68) and Fresh Yogurt Mango & Passion ($68). Other Christmas goodies include their Silky Roll Cake ($16.90) and the savoury Basil Pesto Cranberry Chicken Pastry Wrap ($13). 
They are having early bird promotions now till 15 December, alongside Grabfood perks! Check out more details here. 
Janice Wong 
Janice Wong's festive chocolate lineup includes two different chocolate advent calendars, Christmas cakes, cookies and more! These would make perfect gifts for chocolate lovers.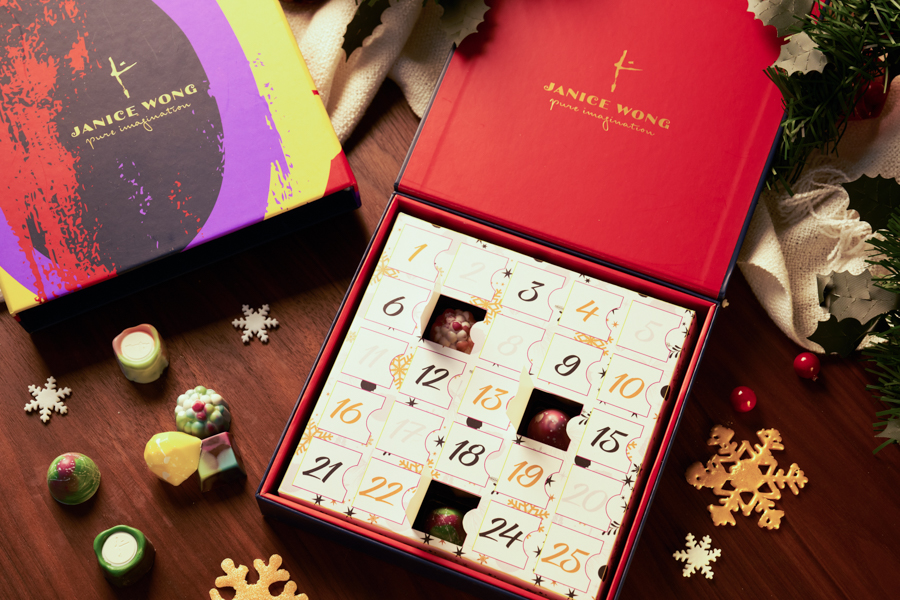 Check out our full article here, and you can order her selection online here. 
BreadTalk 
Bread lovers, gear up for BreadTalk's uber-cute Christmas bread! This year's selection has festive donuts, a log cake fashioned like a house and a snowman bun – need we say more?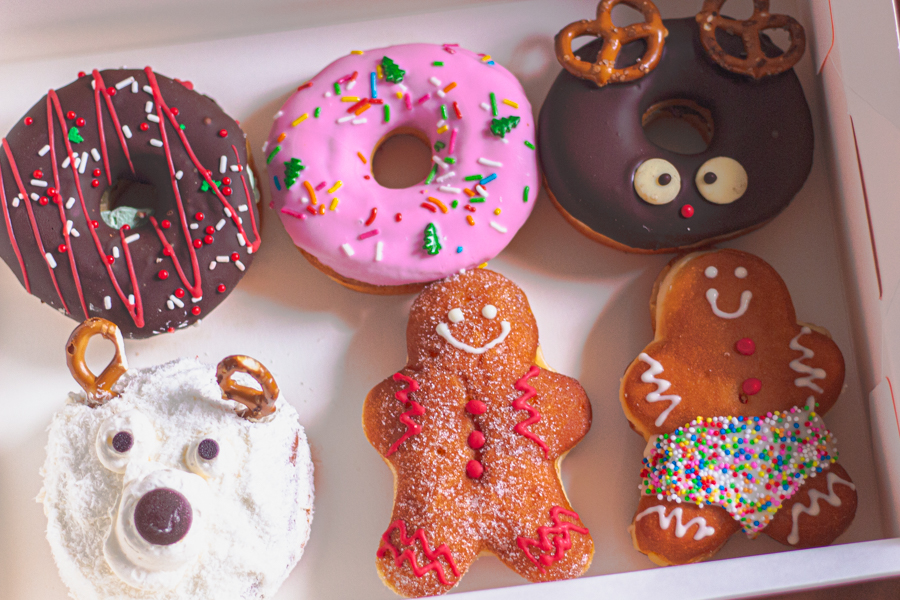 Read more on our full article here or browse BreadTalk's e-store here.
Hainan Story 
For a more traditional take on Christmas, Hainan Story is offering a dainty Christmas tea set with their signature items.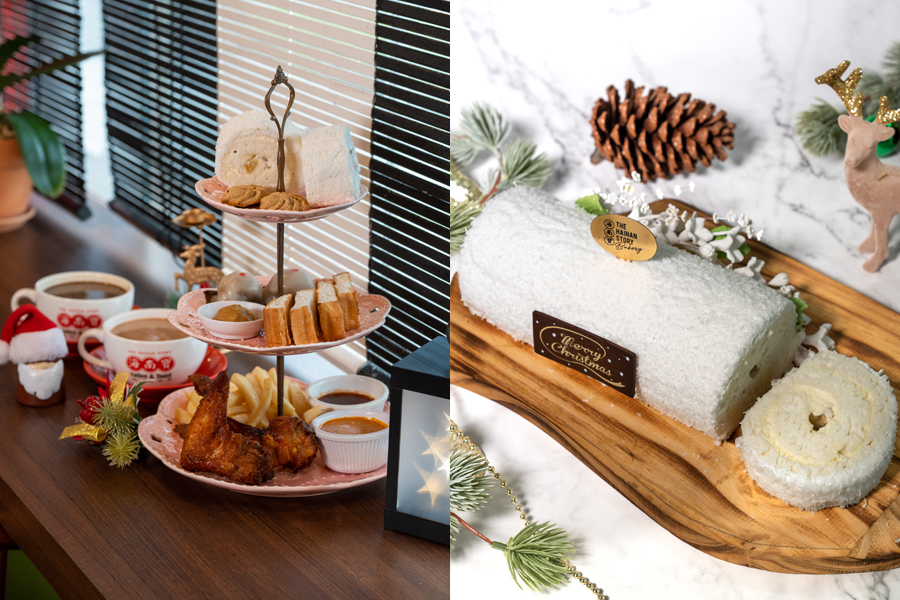 The Na Gu Hor High Tea Set ($9.90 per pax, minimum 2 to dine) comes with sweet and savoury options for a leisurely tea session. The sweets include their new Christmas edition Champagne Coconut Swiss Roll and traditional Hainanese toast with kaya, while the savouries include chicken wings and fries. 
The tea set is now available in stores in Hillion, Hotel Boss and Jewel Changi Airport. 
Christmas Gift Ideas 
Having a headache trying to figure out what gifts to give your friends? Here are some options to consider for that perfect gift. 
waterdrop® 
waterdrop® is blending hydration and style with their drinkware. They are having a Christmas promotion for their bottles – every purchase of a waterdrop® bottle will come with a 12-pack of waterdrop® Microtea worth $14.90!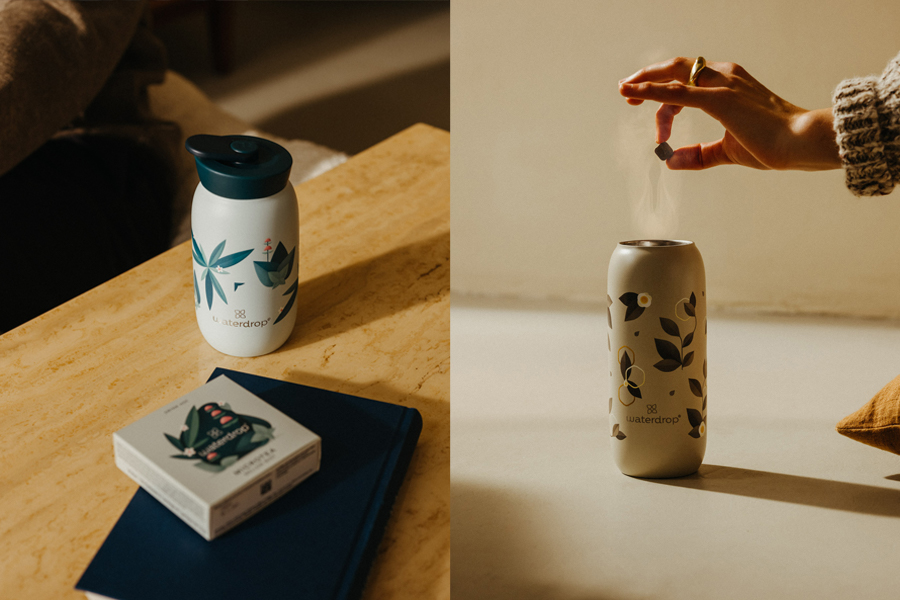 The waterdrop® Microtea is a small dissolvable cube with fruit and plant extract that's also sugar-free. They have a varied selection of bottles from steel to glass, making it a memorable gift option. This promotion runs till 24 December 2022; find out more online here. 
PAZZION
For shoe lovers, PAZZION has released their new Christmas Capsule Collection with a variety of heels, sandals and flats finished with a bit of bling.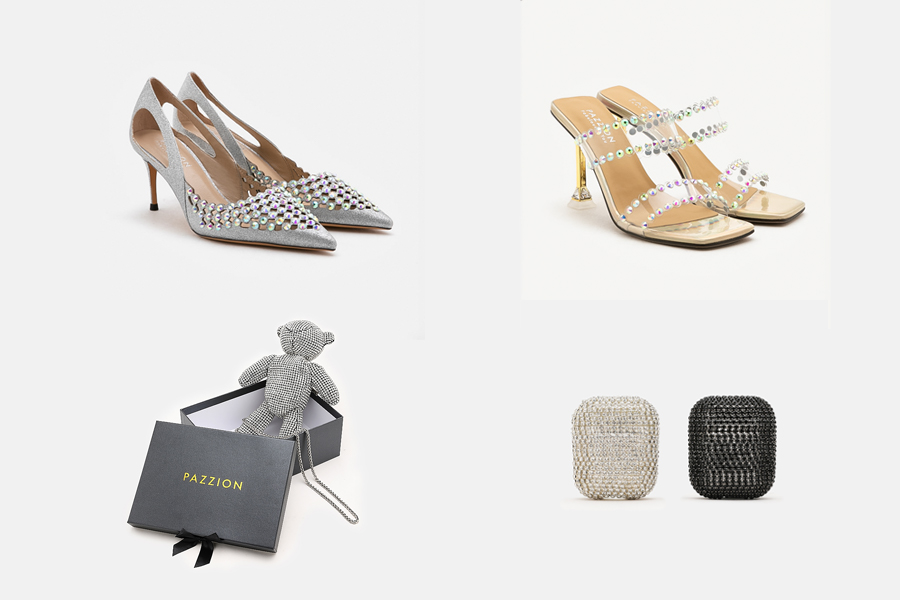 They also have a variety of lifestyle gifts you can get including embellished AirPod cases, headbands and even a fully encrusted diamante teddy bag! If you (or your friend) can't decide, consider their Lifestyle Mystery Box ($29) with a selection of items from their lifestyle range.
Check out PAZZION's Christmas collection here.

belif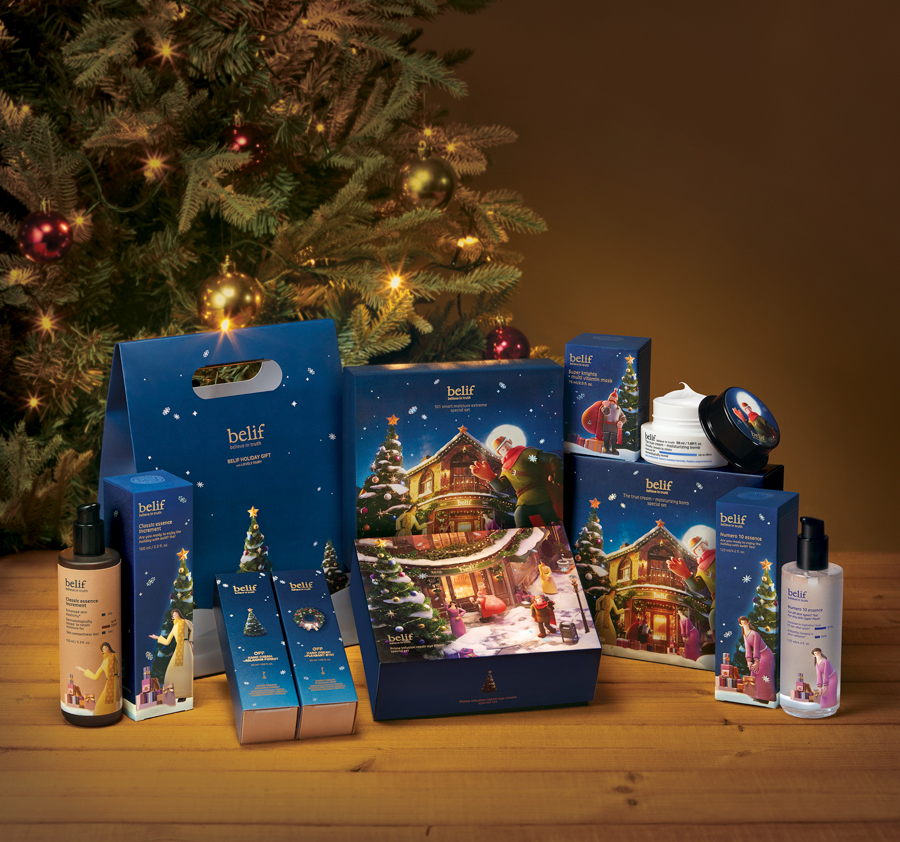 The best gift is good health and well-being, and skincare falls under this category. Get some of the best Korean skincare with belif's curated Christmas skincare sets! With everything from anti-ageing creams, cleansers and ampoules, there's sure to be a product for everyone. 
Check out belif's Festive Sets online. 
The Kettle Gourmet
Send your loved ones some gourmet popcorn from The Kettle Gourmet! Their YUMI Christmas Box ($24) comes with 4 mini boxes with 20 cornsticks in original, cheese and chicken flavours.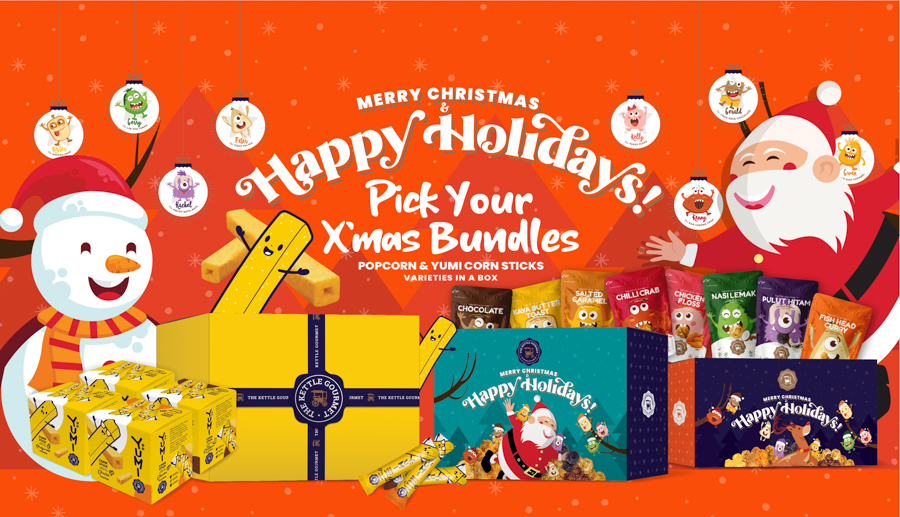 You can also opt for their Popcorn Christmas Box (from $24) comes with 8 flavours of your choosing including Nasi Lemak, Chilli Crab and Kaya Butter Toast. The Kettle Gourmet is halal-certified, non-GMO and has no trans fat, so you can snack with ease. Get their Christmas boxes online with island-wide delivery above $50.
Try Swedish 
Did you know that Oatly is a Swedish brand? There are actually quite a few Nordic brands that would be perfect as unique Christmas gifts!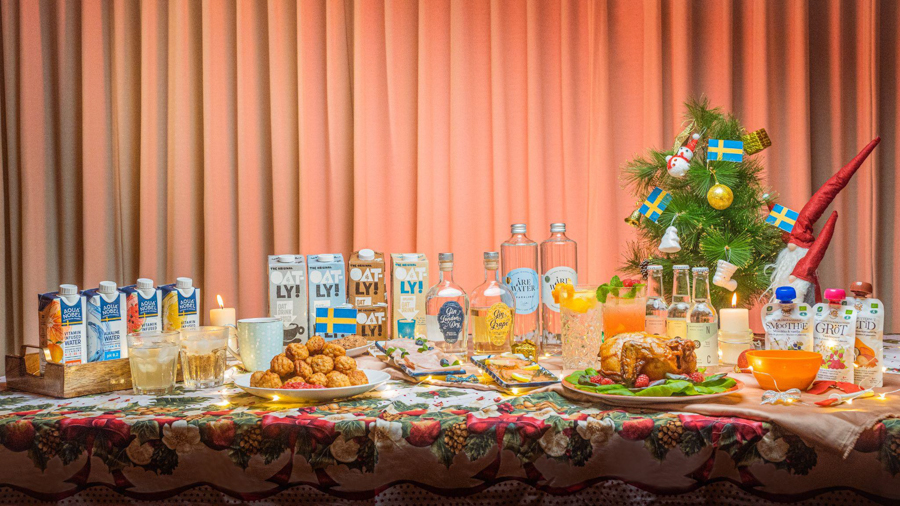 Try Swedish is a program promoting the best Nordic brands, with something for everyone. Grab a bottle of Swedish Skånska Spritfabriken's Gin for those who appreciate alcohol, or Alex&Phil's nutrient-dense baby foods for new parents – and there's more to offer! 
You can find Try Swedish products on Redmart. 
Christmas Discounts & Promotions
With the holiday comes the best gift – discounts! Read on for some of the attractive promotions and sales you can get online. 
Shopee 
Shopee is offering a variety of discounts on Christmas log cakes! The selection includes Marriot Tang Plaza Hotel, Annabella Patisserie and more with big discounts like $55 Upsized Cashback, $6 off $50 Brand Vouchers, and Free Shipping (min. spend $0)! 
These discounts are in conjunction with Shopee's 12.12 sale happening now till 15th December – browse the full Christmas sales here.
Oddle Eats 
Enjoy up to 25% off Christmas feats with Oddle Eats! Their Fantastic Festive Feasts has Early Flash Specials on brands like The St. Regis Singapore, The Plattering Co, Ristorante Da Valentino, COMO Cuisine and more. 
You can even stack additional bank card discounts to maximise your savings! Oddle Eats is also offering 12 Days of Festive Treats, with different merchants being highlighted every day from now till 21st December 2022. For more information, visit the official website here. 
Cheers 
Cheers is offering a selection of Christmas deals on its products! From now till 25 December 2022, enjoy a slew of discounts on products from Swiss Bakery, Hagen Daaz and more. Here's a look at everything you can get: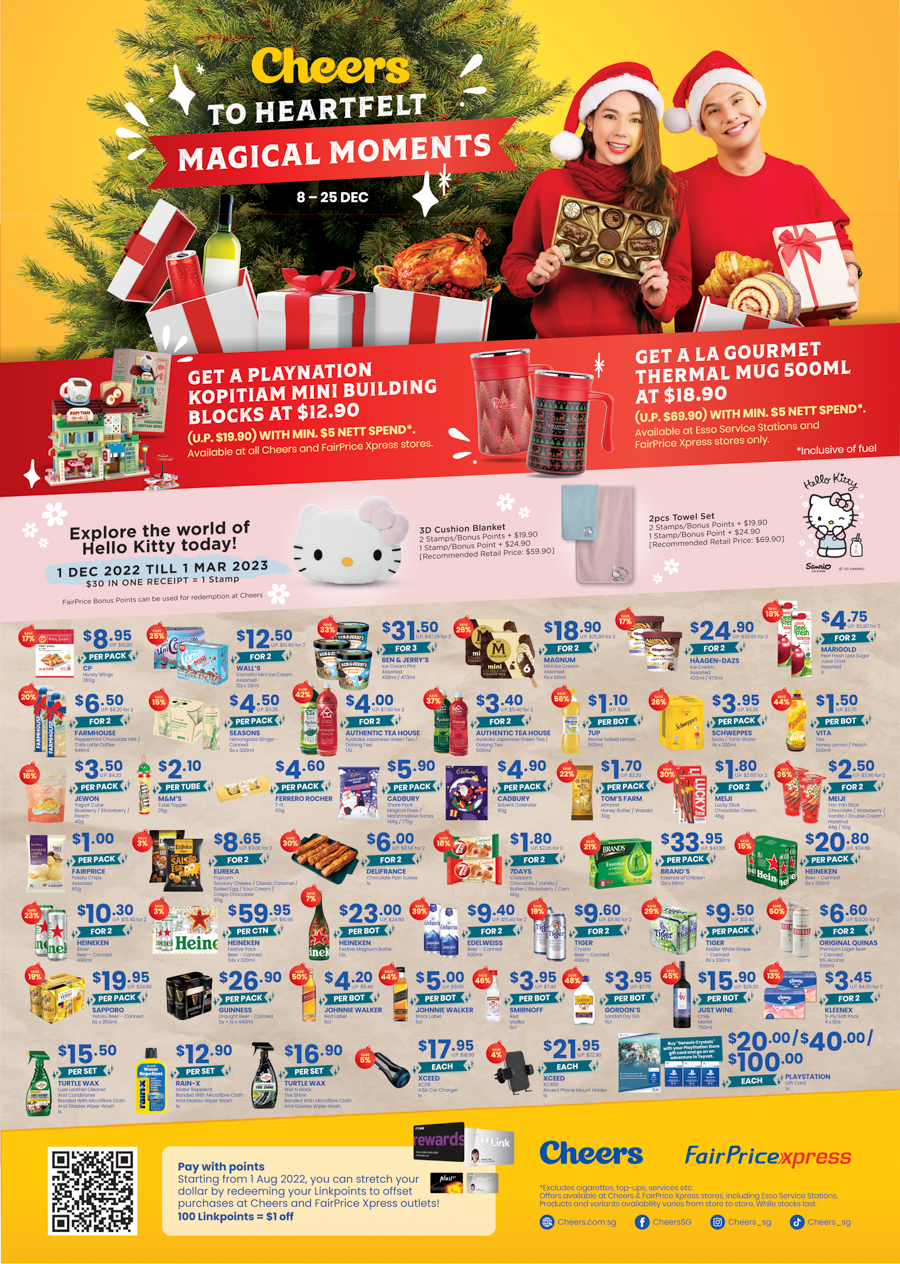 There are even daily flash deals you can catch! For more information, you can visit their website.
Christmas Ideas In Singapore
Even though we don't experience a white Christmas in Singapore, the wide expanse of festive foods and things to do in Singapore during Christmas make it just a bit more fun. We hope our Christmas guide will help you tide through this festive season, and the team here at MiddleClass wishes you a happy holiday with all your loved ones! 
*Follow MiddleClass.sg on Facebook, Instagram, and Telegram for more food, travel, and trending stories