The countdown to Christmas is beginning soon! Usher in the holidays with Janice Wong's new festive chocolate collection – Christmas with Janice Wong. The Singapore pastry chef and chocolate maker has launched a selection of sweet treats guaranteed to make everyone jolly. 
Janice Wong Christmas 2022 Collection
Chocolate Advent Calendars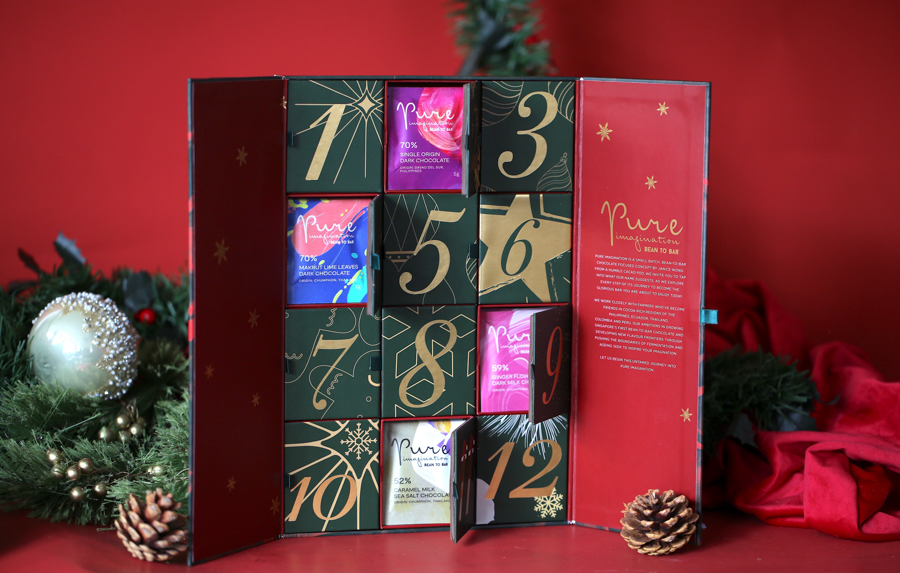 If you (or your foodie friends) are looking for a unique advent calendar, consider Janice Wong! The brand has two calendars for your choosing this year: The Bean to Bar Advent Calendar ($98) and the Box of 25 Advent Calendar ($107).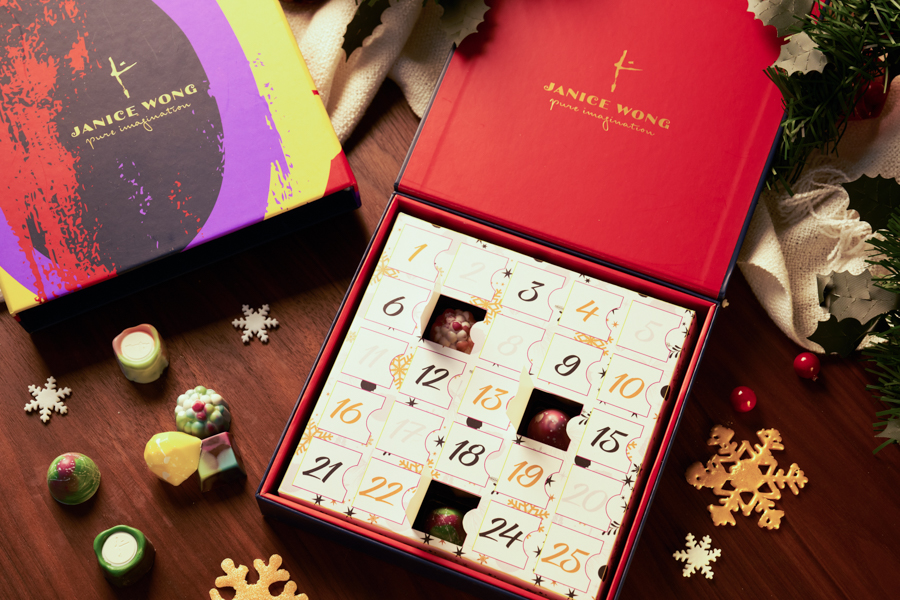 The Bean to Bar calendar features 12 different Pure Imagination single-origin chocolate bars from Janice Wong's own chocolate brand, while the Box of 25 has 25 pieces of chocolate Bon Bons in flavours from their Christmas, Signature Singapore Series and Classic collection. We think it might be hard to open only one each day! 
Christmas Cakes
There is also a slew of Christmas cakes available. There's the Santa Pom Pom Celebration Cake ($88) with a beetroot sponge paired with cherry compote, vanilla chantilly mousse and Champagne mousse.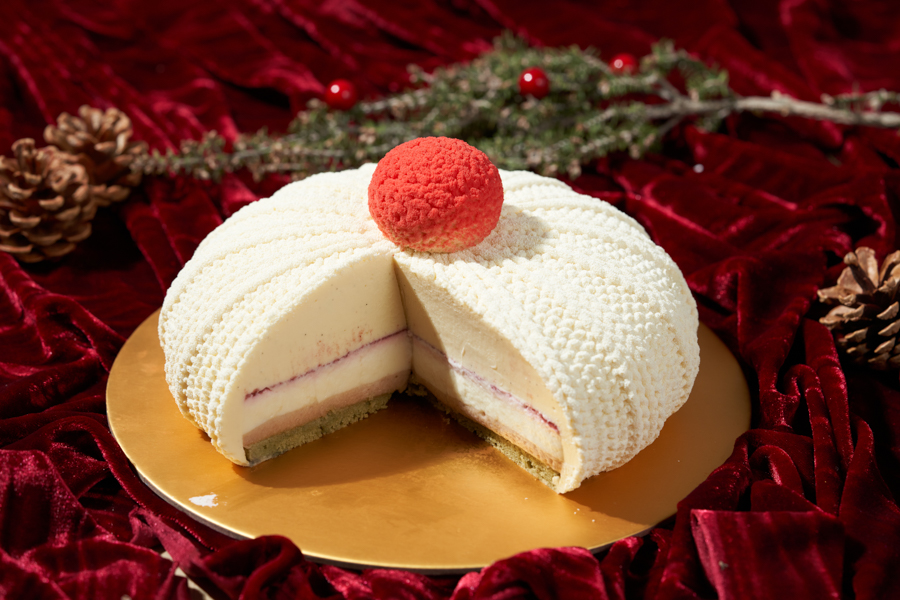 There is a lineup of miniature cakes: Pine Nut, Starry Night, Christmas Wreath, and Santa Hat ($12 each) that look too cute to eat.
Other festive cakes include the Christmas Tree Praline Chocolate ($228) with chocolate praline balls and a classic Christmas Log Cake ($78) featuring a chocolate sponge with a lotus praline and apricot compote.
Festive Cookies And Chocolates
Perfect for gifting, Janice Wong also has a selection of treats perfect for those with a sweet tooth. The Christmas Edition Expression Series Pure Imagination Bean to Bar Chocolates ($12 each) comes in seven unique flavours including 49% Laksa Leaf Lemongrass Milk Chocolate and 68% Peppermint!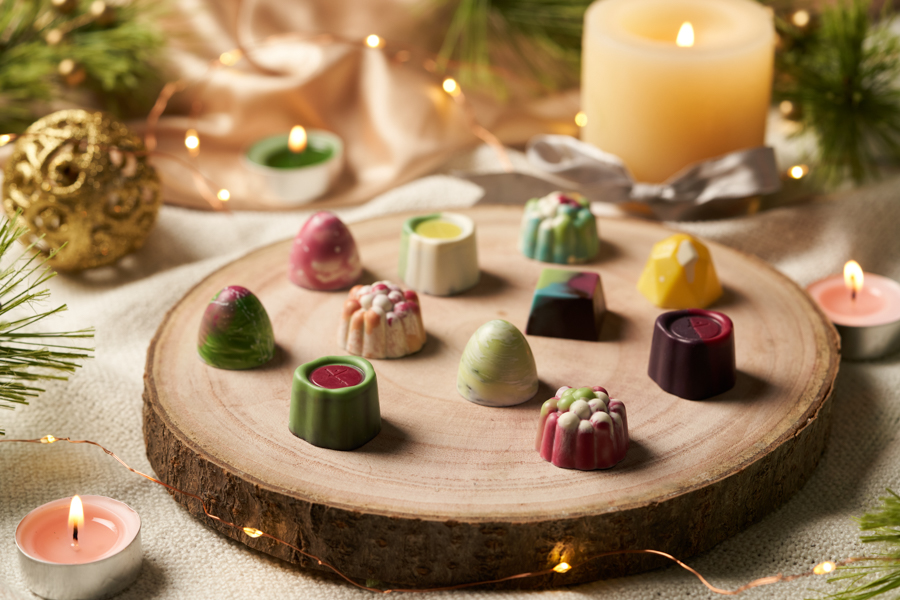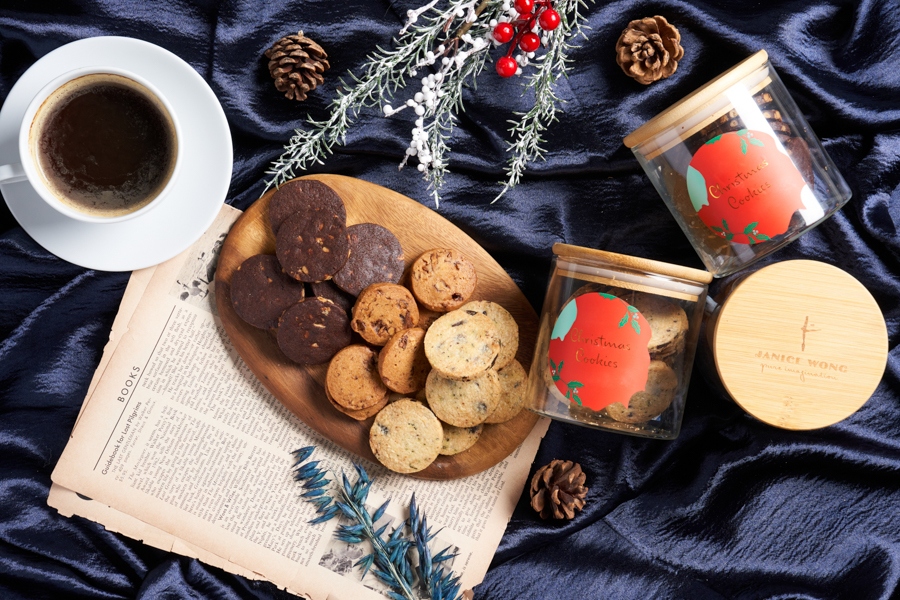 There are also Chocolate Boxes (from $26 for 5 to 25 pieces) where you can enjoy their Chocolate Bon Bons, or snack on their seasonal cookie flavours Pine Nut Chocolate Cookies and Caramelized Pecan Nut Cookies ($28 each).
If you can't decide, pick a holiday hamper (from $80) with a bottle of premium champagne and an assortment of their Christmas confections!
Christmas Chocolates By Janice Wong
With a selection of treats perfect for sharing and gifting, Janice Wong's Christmas collection is a great way to usher in the holidays with a sweet note. Get the Christmas collection online or at the physical stores at Great World, i12 Katong, and Paragon. 
*Follow MiddleClass.sg on Facebook, Instagram, and Telegram for more food, travel, and trending stories