Now premiering on Disney+, The ZONE: Survival Mission is a new Korean variety show featuring recognisable names Yoo Jaeseok, Lee Kwangsoo and Kwon Yuri! Spread over 8 episodes, the variety TV trio endure immersive 4-hour simulations with the goal of survival using teamwork, determination and a touch of witty humour.
The Concept Of Endurance, Not Elimination
The goal of each episode is deceivingly simple: The three-man cast has to endure a 4-hour real-life 'simulation' to earn a mysterious currency called Z-coin. However, as time progresses, they are faced with puzzles and obstacles that continually challenge their mental and physical strength. The simulations are massive and highly immersive, including multi-storey buildings, guest actors, and items that either help or hinder their survival.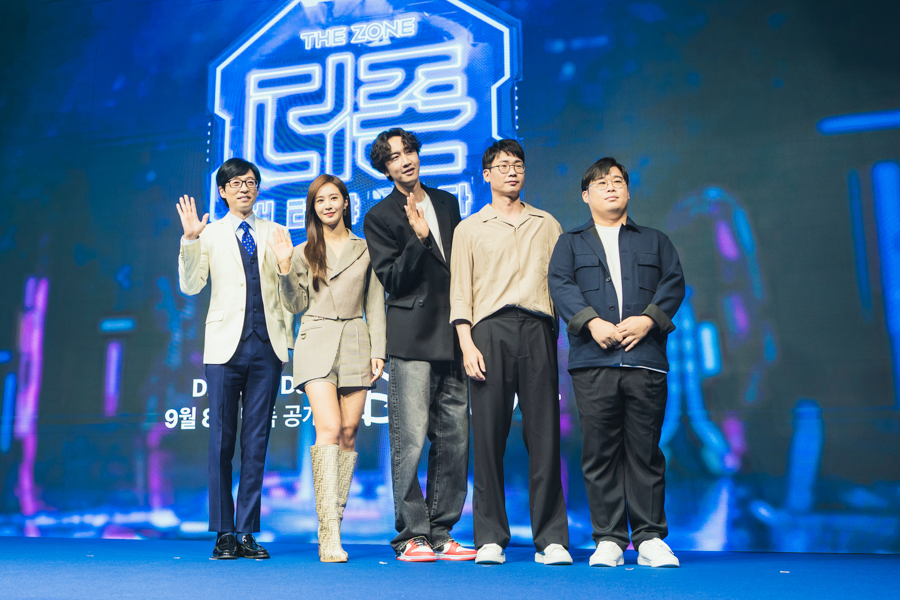 Left to right: Yoo Jaeseok, Kwon Yuri, Lee Kwangsoo and show producers Cho Hyojin and Kim Dongjin. Image courtesy: Disney+
The show's key concept centers around resilience, which differs from usual Korean variety show tropes that use timed challenges and focus on finishing them in the shortest time possible. The producers Cho Hyo Jin (the brains behind Running Man) and Kim Dong Jin shared that the inspiration came from the perseverance displayed during the COVID-19 pandemic, and they hoped to create a show that highlighted this in a relatable way while providing some needed relief. 
Unlike most Korean variety shows, the entire show has no external prompts from the production team and relies solely on the wits of the cast to complete the given tasks. Yoo Jaeseok admitted that he was surprised by the intensity of each game as the filming was done with no breaks during the harsh Korean winter, and in many parts of the show, Lee Kwangsoo can be seen at the brink of defeat. Despite these grueling circumstances, viewers can enjoy the scenes of them overcoming the challenges by working together to build a strong camaraderie.
A Hilariously Fitting Cast: The Variety TV Show Kings And Queen 
No Korean variety show is complete without a charismatic cast, and The ZONE: Survival Mission is no different. The synergy between Yoo Jaeseok, Lee Kwangsoo, and Kwon Yuri is prominent from the first moments they meet in the show and continue to add comedic relief that makes you laugh out loud.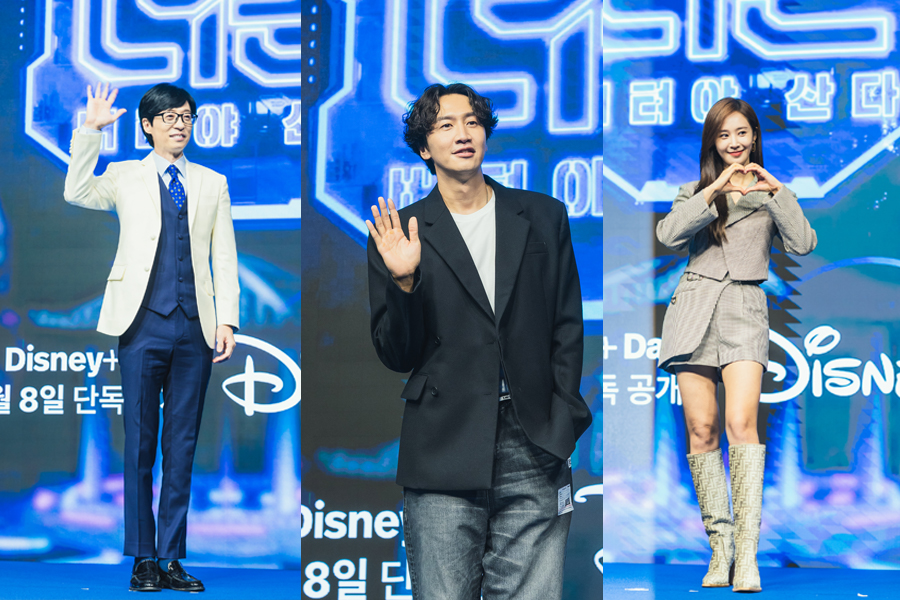 While the former two are veterans in the space, Kwon Yuri is a fresh face that came at Yoo Jaeseok's personal recommendation. "I really wanted her to be on a variety show. I thought she would say no because she's so busy!" he shared, and viewers will agree that Kwon Yuri is the perfect addition to the cast with her grit and honesty. Kwangsoo admits that if they "didn't have Yuri, [they] wouldn't have survived", and that she "had to be strong because two of us [Kwangsoo and Jaeseok] are weak."
Kwon Yuri brings her steely resolve and focuses that motivates the team to complete the challenges, no matter how desolate the situation. For reference, there is an in-game mechanic called the "Exit Button" that allows the cast to end the simulation immediately provided all three agree to exit together. Yoo Jaeseok and Lee Kwangsoo repeatedly opt to use this when things get difficult, but it is Yuri that quickly shakes them (literally and figuratively) to their senses. "If it wasn't for me, the show would be over!" joked Kwon Yuri, "Somebody's got to keep the show going." 
Each episode has its twists, and every little moment of peace seems to be shattered by an unexpected shock – without spoiling anything significant, you can expect zombies, a traditional Korean sauna, and something eye-catching. With Lee Kwangsoo's unadulterated wit, Yoo Jaeseok's honest reactions and Kwon Yuri's driven personality, you'll find yourself drawn into the never-ending list of fun but chaotic moments that occur in the show. 
An Extra Special Disney+ Premiere
In conjunction with Disney+ Day, The ZONE: Survival Mission will be having a special launch – instead of one pilot episode, there will be three episodes available for your viewing! At only about one hour per episode, The ZONE: Survival Mission is the perfect weekend binge or lunchtime companion that will provide an escape to your day. If you can't wait and are looking for more Korean variety shows, check out our other articles for some you must watch!
Check out The ZONE: Survival Mission now streaming on Disney+!
*Follow MiddleClass.sg on Facebook, Instagram, and Telegram for more food, travel, and trending stories